Its been a good six months since my arrival at The Hundreds and its taken all of those days, hours and minutes to build a department I felt would produce awesome things for a brand already 10 years deep in rich streetwear culture. That old saying: it takes a whole village, is an accurate description of what the process has been like for us to bolster our web presence and bring back our print magazine from a year long hiatus. Without all the hard work and dedication of our in-house dream team and list of awesome contributors, none of this would be possible.
With that being said, we spent the past few weeks learning the process of print production and getting down to really understand how a magazine comes together. Battling super tight deadlines and all the obstacles in front of us, we can happily present Vol. 05 / Issue. 1 of The Hundreds Magazine, featuring Karrueche as our cover model. This 9th installment of our print publication officially releases on May 1, 2014 and will be available through all four of our retail flagship stores, online and via select The Hundreds retail accounts. Below is a little preview of what's inside.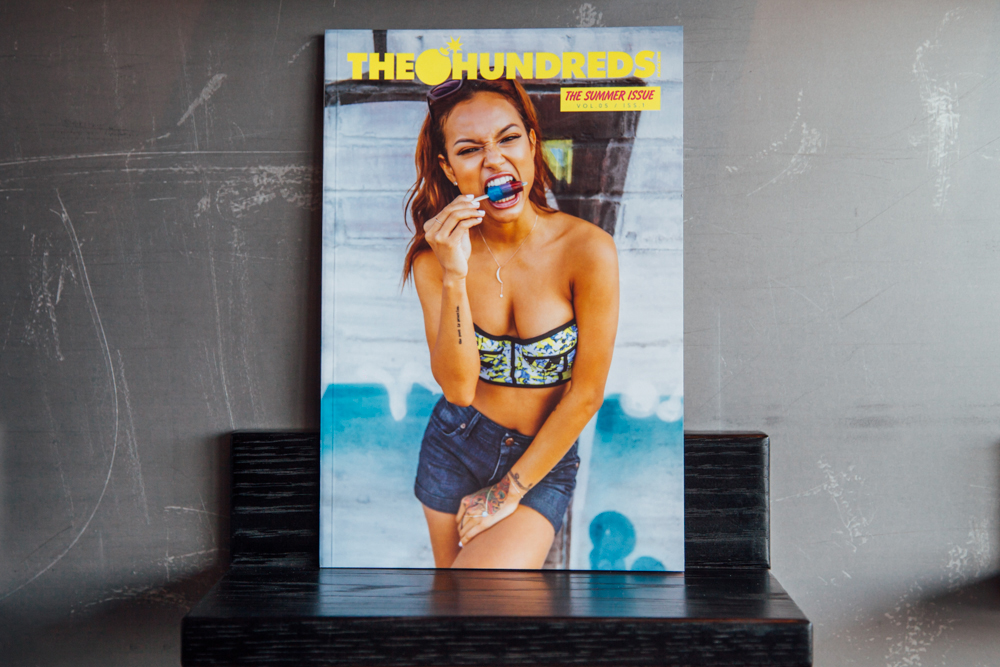 TAPATIO
Kicking things off for Cinco de Mayo is our collaboration with iconic hot sauce specialists, Tapatío. Fortunate enough to meet and create with the Saavedra family, founders of the Tapatío brand, we quickly learned about their family-first approach to just about everything they do, including running their storied family business and making some of the most aromatic chile rellenos ever. Stationed just a few blocks from our HQ in Vernon, CA, they welcomed us with open arms and allowed The Hundreds to be the first brand to ever alter Tapatío's bottle labels. Keeping the integrity of the Tapatío legend in tact, Ben and Bobby make a Mariachi-clad guest appearance next to the famous charo in a limited run of promotional 10 oz. hot sauce bottles and both long and short sleeve shirts. Stay tuned for full details in the coming days.
So I read that your father had a day job, or several, when he started the company in '71.
My father started the company in 1971. Between my mom and my dad, they used to make this hot sauce and sell it at his place of work in Vernon... But when the company shut down, due to the recession and he really didn't have another means of income. So my mom encouraged him to go out and sell the hot sauce. In order to do that, he opened up a small place in Maywood and had to have two part-time jobs to be able to pay for the rent. In the morning, he'd pick up his worker... and then he'd go to his first part-time job. Then during his break, he'd come back to the plant, see what he had done, then give him instructions to finish the bottles and label the bottles. Then he'd go to his second part-time job. Then he'd bring me and Dolores or Jackie–sometimes all three of us–to fill the remaining orders for the next day. So we'd finish our homework and go to the plant. Sometimes we'd fall asleep on the stainless steel tables. [laughs] That went on for about 4 years.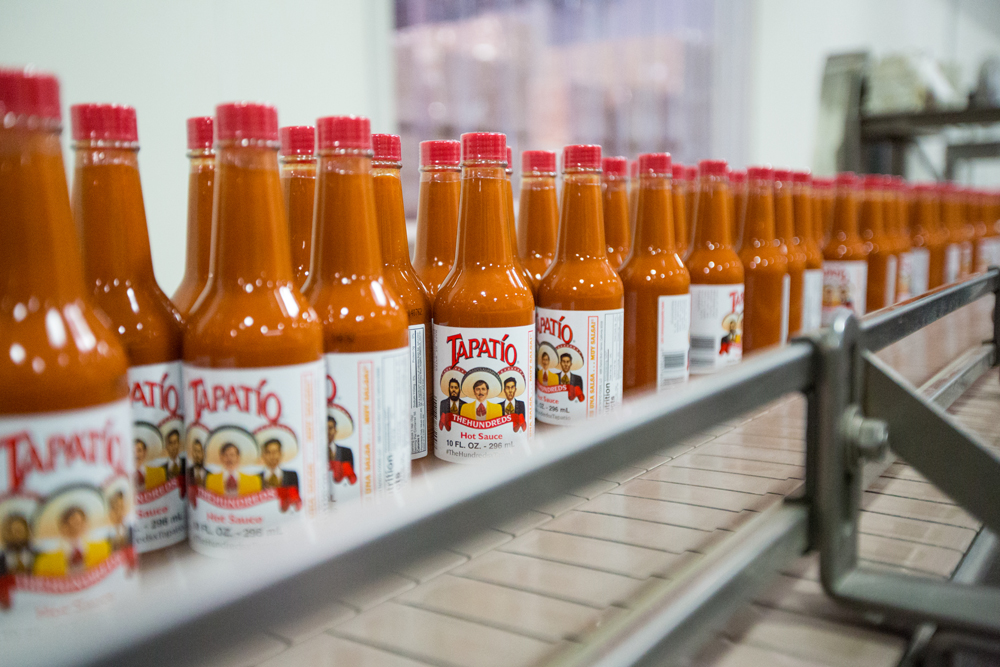 Our special The Hundreds X Tapatio bottles on the assembly line
MODERNICA
Just a couple of miles away from our HQ lies another storied company, furniture makers Modernica. After hearing the tale of how the company came to be, we took a tour of their facility and witnessed first-hand how the company makes its signature fiberglass chairs. Building off a CMYK color palette, we took a literal approach to the project and created a limited run of Rocker Chairs, which will soon be unveiled in all their glory.
Down at the plant, Modernica owner Jay Novak expounds upon the importance of the Case Study chairs, "It's pretty historical as far as industrial history goes. The design is so perfect that it looks contemporary. There's no improving it, really. Any change you make to it–which we've seen–doesn't work. It goes negative." He continues, "Millions of (the chairs) have been made and they seem to last indefinitely. The fiberglass, if anything, it gets better looking over time. I have one at my house; it's about 64 years old. It's from the first few months of production. It looks new."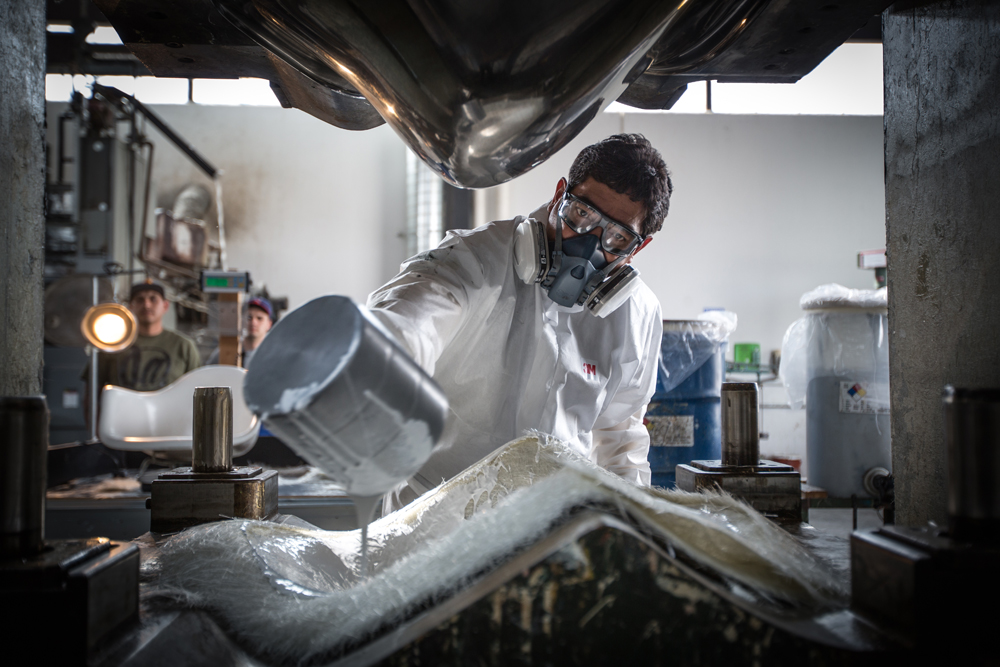 Pouring in some color during the production of a classic Modernica rocker chair
SUS BOY
When the team first brought the idea of featuring SuS BoY in the summer issue I wasn't really sure what to think. I hadn't really heard of him and wasn't sure what he did exactly. Upon meeting the real SuS BoY, I was quickly intrigued by his mystique and unusual approach to art. I then promptly realized why he was tapped by the likes of Skrillex and RL Grime to produce visuals on their tours.
"That's him in the leather mask. I think that's SuS BoY." I overheard a wide-eyed guy whisper-yell this to his friend at the recent event, where SchoolBoy Q played as a secret surprise guest. The mysterious SuS BoY was behind all the event's infernal Web 1.0 visuals engulfed in Diablo II-looking flames, but the man himself was impossible to pin down. There appeared to be not one, but three guys dressed in leather masks with the words SUS BOY inscribed across their backs. They were posted up on the fringes of the dance floor and walking ominously through the crowd that night. We later discovered that it's not uncommon for SuS to bring "decoys" with him, further enforcing the careful and deliberate persona of him as an anonymous Internet entity whose plurality is questionable.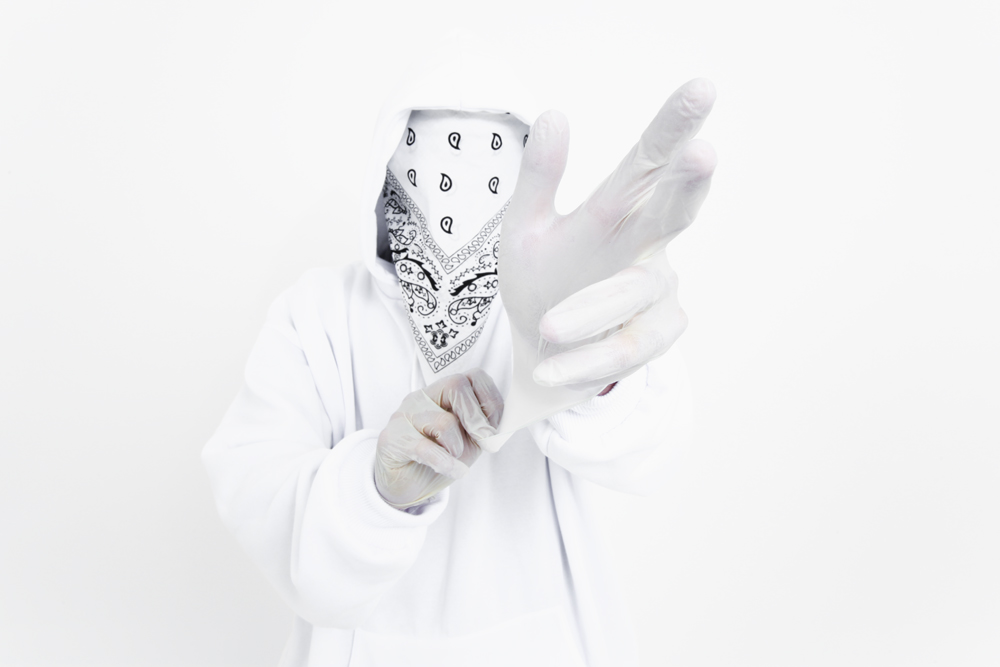 SuS BoY in the studio, doing what he does
KARRUECHE
Inspired by classic LA summers and intrigued by the magic of Ms. Karrueche, we decided to borrow Bobby's DeLorean for a bubbly afternoon shoot with photo maestro, Van Styles. Soon afterwards, Bobby got down to the nitty gritty with a refreshing conversation about the mystery behind Karrueche, how she came to be and what she has in store.
I don't know much about Karrueche. But that's not saying much. These days, I don't know my Basketball Wives from my British boy bands. So when we threw names in the pot for who'd make the next The Hundreds cover girl, I was a little surprised that Karrueche's name kept coming up. "Isn't she Chris Brown's girlfriend?" was the only thing I could think of. And the resounding answer was, "Well, yeah, but..." And it was in that ellipsis that lied the complicated story of an LA girl in a big, big world. The half-Black, half-Vietnamese designer and model is a confounding puzzle, because with a social media following that tallies in the hundreds of thousands, she is a virtual celebrity by notoriety's standards. Yet, there is just as much mystery and public intrigue and media conjecture as there is hard information as to who and what Karrueche is. Even she herself seems a little stunned and dazed as to what to do with all of this attention, as if she's as perplexed by the exposure as the rest of us.

On a recent afternoon in Los Angeles, I sat down with Karrueche here at The Hundreds Homebase, before she headed out for our cover shoot with Van Styles. It was in this conversation that I got a little closer to the truth. Maybe we both did.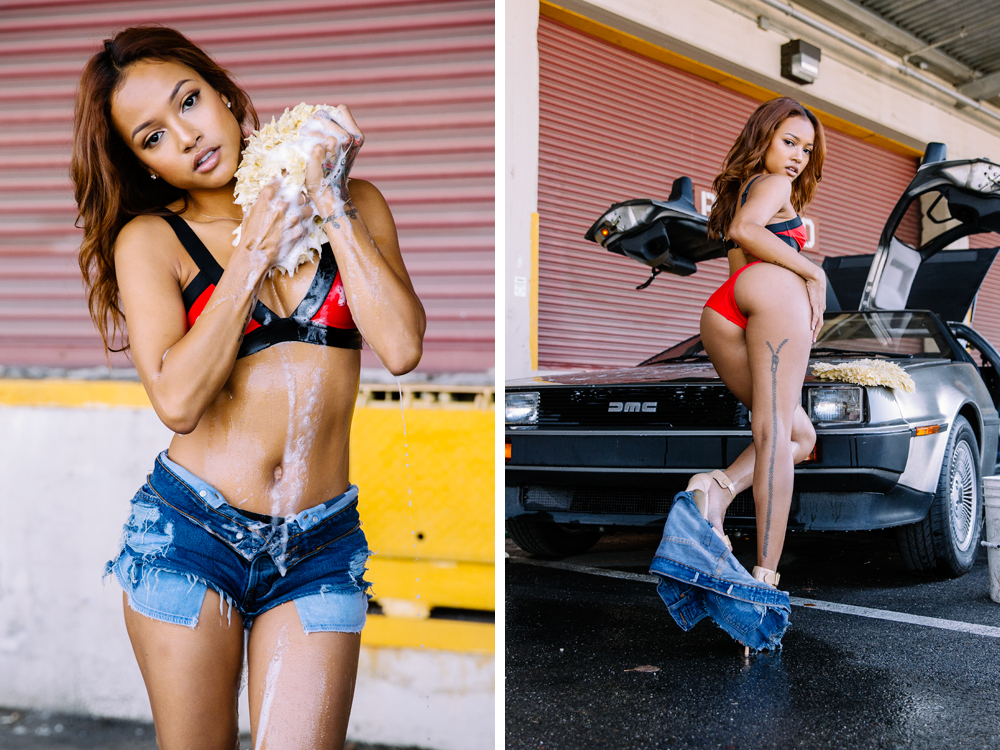 Karrueche lathering up the DeLorean
REEBOK
Here's a little teaser for Fall.