For about 200,000 years during the paleolithic and neolithic age, the most valuable object you can have around your loincloth was a sharp piece of obsidian. It could cut a motherfucker. But, aside from protection, it allowed you to hunt, live, and eventually, survive. Things are much different now, but this primal instinct still exists—today, the pocket knife market is now a billion dollar industry.
With how far steel manufacturing has come, a razor-sharp edge has become ubiquitous. Enter The James Brand, a new knife brand that epitomizes the passion project. With day jobs and resumes that include Nike and Burton, the people behind The James Brand have talent, knowledge, and success, yet took a chance and worked nights and weekends to create a knife company.
Made entirely in the US, The James Brand is built from the ground up, and storytelling is at the heart of everything they do. You don't have to fish or be a huntsman to appreciate the simple and minimalist approach that The James Brand takes, but you just might understand where these formally trained engineers are going. The knife is an essential everyday carry (EDC) and with broad backgrounds in industrial and structural design, the guys behind The James Brand are thoughtfully crafting slick products that are eye-catching, functional, and modern. Check out our interview with their founder and co-creator Ryan Coulter below for some wise words on branding and intention.
Huckberry x The James Brand – Behind the Brand from Huckberry on Vimeo.
PETER YEH: You guys may not have traditional backgrounds suited for knife designs. Can you tell us a little about your experiences and how it shaped your decision to approach knife making?
RYAN COULTER of THE JAMES BRAND: There are 3 people that work directly on The James Brand—Sam Amis [design director], Kevin Callahan [designer] and, myself [designer, founder, and co-creator]. And then [there's] a host of people that we partner with on specific projects, and all of us have two things in common: we are all designers, and we all love to play outside. I'm an industrial designer by training, and I've spent my career managing product design and development and doing creative direction for a bunch of awesome companies, including Burton Snowboards and Nike.
This intersection between playing outside and needing specific gear to do so puts us in a unique place as designers. I'm also a helicopter pilot and have worked as a professional backcountry snowboard guide, so I get how important that right gear is at the right time—it can literally be a matter of life and death. That said, I just didn't feel like there were a lot of knives out there that were "right" for me. They were either too tactical, or too hunt/fish, and that's just not really my aesthetic. There also wasn't really a brand out there that was positioned for people like me, and so I wanted to see if we could fill both spots: make the EDC knife that I really wanted to carry every day and have it come from a brand that I could totally identify with and love.

"The tolerances are so tight, and the details matter so much. You have to get it right."
What about the current state of pocket knives influenced your choices?
There are three things happening that really influenced our decision to do this. First off, there are a bunch of big companies, and they are pretty stoic in their ways. They are really good at what they do—at least some of them—but they aren't into changing very much, and the world is changing all the time. It was surely hard to find what we were looking for from the bigger knife companies.
On the other hand, there are a bunch of independent knife-makers and collectors and an entire community of folks that are doing some totally amazing stuff. Check out Paolo Balzano and his crew, or Richard Rogers, or Liong Mah. All of these guys were doing really good, beautiful knives, but weren't associated with the "big guys" so that gave us hope in two ways: first, small guys can do it, and secondarily, we aren't crazy in thinking that people are looking for more options that are just tactical or strictly for hunt/fish—that there is a place for beautifully-designed knives that really fit that everyday-carry space.
Thirdly, we never felt like anybody was really doing a great job with the entire product journey. Our packaging is great, and expensive—but we think it's worth it. And we think that our customers will think it's worth it. Our site is really nice. Our content looks great. Our imagery is always of the highest quality. We really wanted to treat the entire operation like a brand, and not like a knife company, and that's why we called it "The James Brand" versus "The James Knife Manufacturing Company." These are two different animals.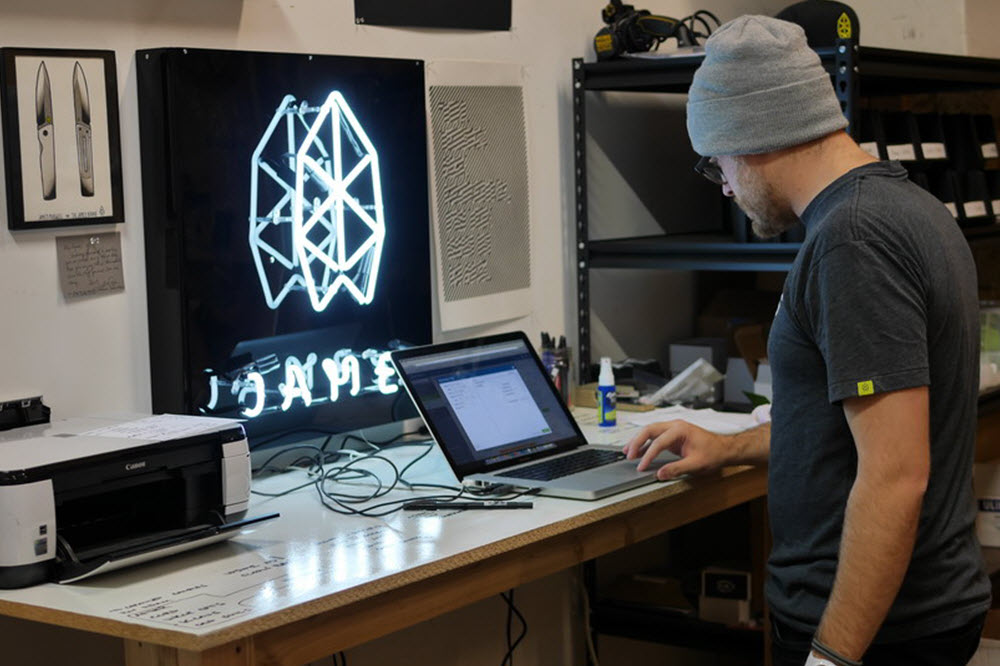 Hard at work, or hardly working. The guys at The James Brand have backgrounds in Industrial Engineering and have worked for Nike, and other big-time brands.
Can you elaborate a little more about EDC and how it influenced your approach to design and function?
Everyday carry has been around for a long time, but it's only really made its way into more popular culture in the past few years. I can remember early on looking at www.everydaycarry.com and saying, "Oh man, this is for us." The idea that what you carry with you daily as being a part of what defines you is a big idea, and it's one that I've personally subscribed to for a long time; it's been very cool to see it make its way onto the bigger cultural stage. I have carried a knife every day for decades. I got my first knives from my father and from my mother (and even my grandmother!) when I was young, like 7 or 8 probably. I've always had one with me. Even my mom never went anywhere without a Swiss Army knife in her purse. So I love the entire concept and culture of EDC. It's a design celebration and it's a new space.
That said, there weren't a lot of great EDC options out there for knives. So many of existing knife offerings are really large and overbuilt, and had camo scales and handles. I wanted something that would do serious work, but that was smaller, light, and minimal. That was basically the brief for our Chapter, which was our first knife. I love looking at what people have in their pockets and trying to decipher what that can say about them. I love to unload my pockets at the end of the night and arrange my stuff on my dresser and then do it again in reverse the next day. It feels like I'm preparing for battle, even if that battle is the battle of another day running a small company (or working for a big one).
Where does skate culture fit into The James Brand?
I come from the world of skateboarding, which is really the world of outdoor urban adventure. It's hard to see this now, but skateboarding, as I knew it in the 1980s, was all about moving through streets and alleys and getting into places and doing things that other people either couldn't do or wouldn't do. Skateboarders carry knives. They are people that use knives. Same goes with people that actually live more in the urban cultures. Street art people use knives all the time, and we have people from Stash to Elle Stelle using our knives when they do their artwork.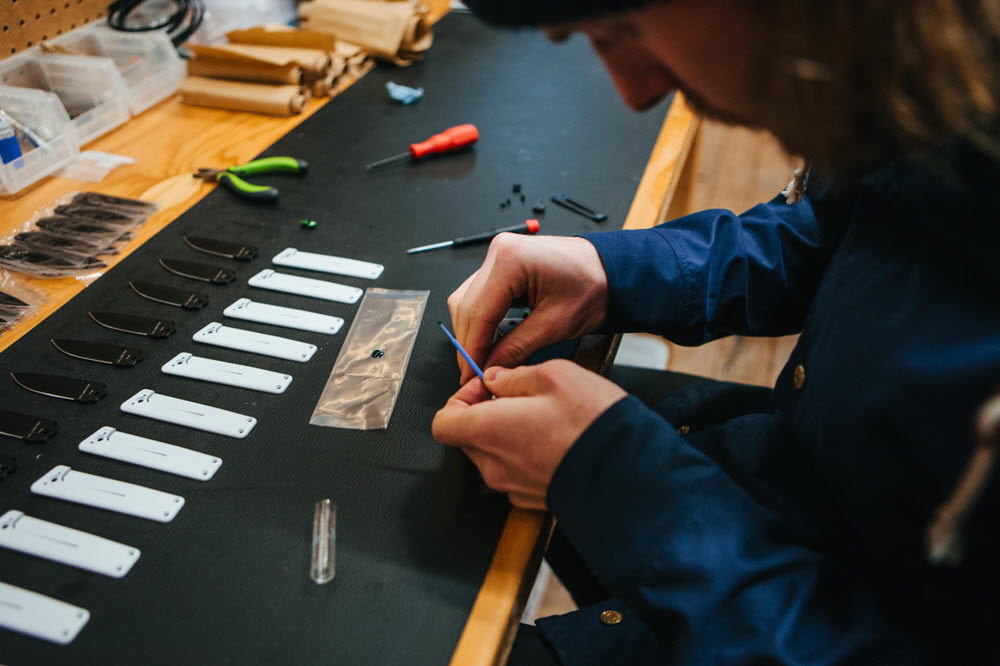 The James Brand is proudly made in the USA. They aren't a household name yet, and definitely not whipping around Portland in Bentleys or Ferraris. For most of the crew, this is just a weekend gig—their side piece. And that means doing nearly everything themselves. RESPECT.
Can you share the design and manufacturing process, along with some of the obstacles you have had to overcome?
We make our knives in many different places. We assemble some of them in our studio here in in Portland, but we also have some stuff done off shore.
Our initial plan was for us to do all of this under our own roof, and then work with local vendors to help us out. We ran into a very interesting challenge. Portland is Knifetown USA—we have a T-shirt celebrating this. Leatherman is here, Gerber is here, Kershaw is here, Zero Tolerance is here, CRKT is here, William Henry is here, and more. So there are a lot of people here that know how to make knives, and there are a lot of people here employed in supporting those companies. We worked with some people that were from deep within those organizations to help get us started, but a lot of the vendors are simply booked up. They are totally slammed supporting the big guys and had no time for the little folks like us.
"We don't kid ourselves or our customers; we aren't machinists, we are designers—and you'll see the difference."
We finally found some great manufacturing partners both domestic and offshore, but we still want to do more of it ourselves. We don't kid ourselves or our customers; we aren't machinists, we are designers—and you'll see the difference.
That said, we work with some of the very best knife makers in the world, but there's only so much you can do with partners, so look for us to continue to do more of this ourselves as we go forward. It took nearly two years to get our supply chain figured out and up to speed, so we definitely consider that to be part of our secret sauce.
One thing that is now clear that wasn't clear before: just because knives seem simple, that doesn't mean that they are easy. The tolerances are so tight, and the details matter so much. You have to get it right. Your standards have to be exceptionally high, which we believe ours are.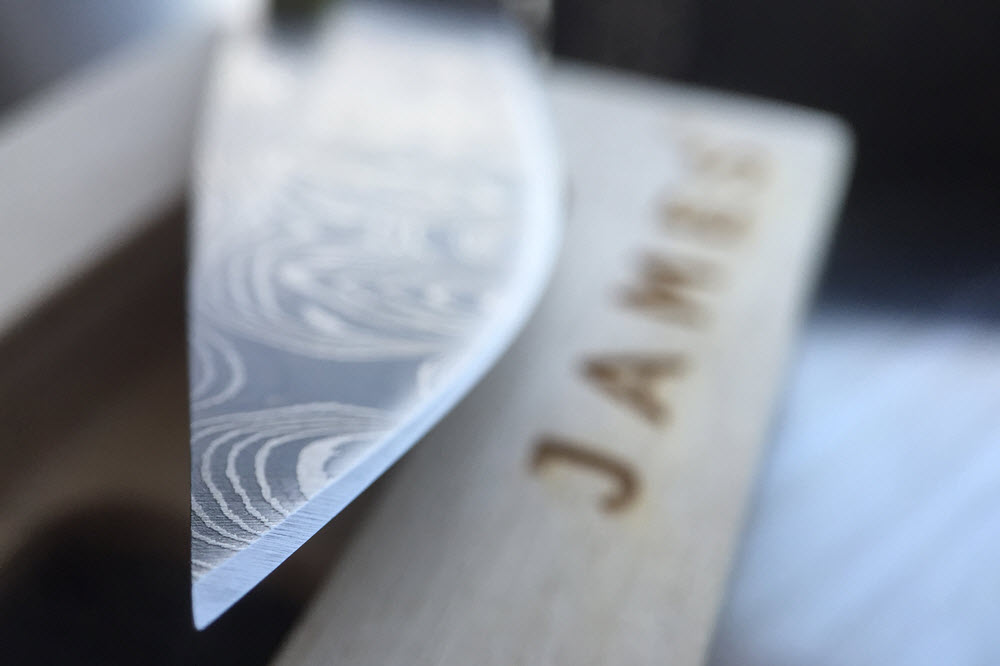 The James Brand packaging is on point. Clean and minimal is a theme they carry out down to the custom wood case, accompanying wool sharpener, and the black sleeve. 
What aspect of The James Brand are you most proud of?
I'm very proud of the entire product experience. I love our packaging a lot. I love the actual hand-feel of our product. I really like the website. I'm proud of how it all has come together. I love grabbing one of our own knives every morning, and putting it in my pocket, and first loving the knife for what it is—but then loving it because we made it.
I'm most proud of the people I work with. It's sort of a crazy idea to do something like this, and when you explain it in it's most simple terms it seems dumb: "I'm going to start a knife company."
What? Why? The people that I work with are people that immediately got it and still get it and have stuck it out to get to where we are today. It's not always easy to be sure. Daily challenges abound.
What projects do you have coming up?
There's a lot of new stuff coming up soon. We are working on a new knife right now that will be our first liner lock construction and are trying hard to get that done before this holiday. We are also working on a couple of small pocket tools and a pen. Our whiteboard is full of product concepts. We are product people. I only wish we had more time to finish projects faster, but I want us to continue to expand our EDC knife offering and then to hopefully do a few key other EDC products that make sense for the brand. Stay tuned!
***
thejamesbrand.com. This interview has been edited for brevity.