A timeless American brand, rife with legacy and cultural history, amassing a devout niche following by encouraging grassroots awareness and community. We could be talking about The Hundreds, but we could also be referencing the Grateful Dead.
In 1965, the Northern California rock band set off on a long, strange trip, infusing psychadelia, space rock, jazz, and blues into a hypnotic concoction of music that converted followers around the world. A large part of this cult fandom was by way of the Grateful Dead's mailing list, by which the band maintained direct communication with their base, disseminating tour information, band happenings, and release dates (not unlike how The Hundreds utilizes the web to speak to our customer); the Grateful Dead were social networkers before the technology or ideology was even imaginable.
Furthermore, the band not only embraced, but supported the live taping of their shows, prompting a subculture to foment around the procurement and trade of this underground music network. Just as, you may think, The Hundreds fans value the brand's exclusive offerings. The Hundreds partners up with the Grateful Dead in a perhaps unexpected and unpredictable collaboration range of apparel this Spring, but it's also not hard to see how similarly both creative projects are composed. As with the Grateful Dead, The Hundreds puts the people before the product, drawing our own lines, and pioneering our own subcultural marketplace beyond the traditional path.
-Bobby Hundreds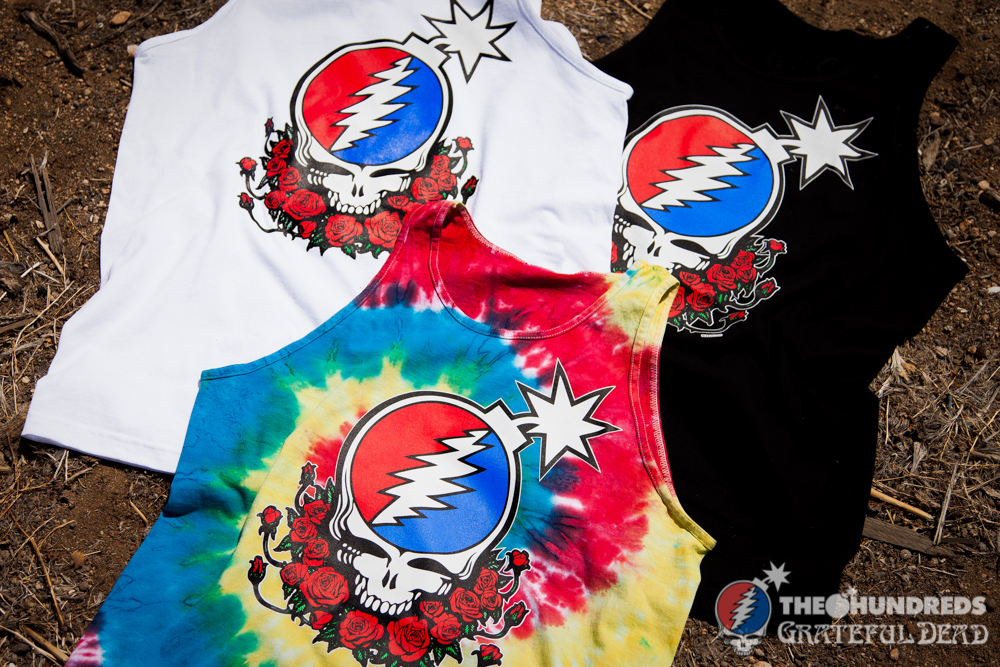 The Hundreds X Grateful Dead is perhaps one of our most exciting endeavors to date. Thecollection comprises a full range of graphic tees, tanks, specialty shirts (one raglan and one button-up), sweatshirts, a jacket, hats (one snapback and one beanie), a sneaker (limited to 100 pairs), a keychain and a sticker pack––featuring original The Hundreds graphics inspired by the band's illustriously eclectic aesthetic, as well as a recurring tie-dye motif. View a sampling of the collection below, available 4/20.