In this new 10-part series, we are sharing our favorite travel destinations for 2017. First up: Copenhagen. Stay tuned for more.
The Danish capital has long been known for its brightly colored townhouses, cobblestoned streets and canals. But Copenhagen has much more to offer than picturesque architecture—it's also the cultural and culinary hub of Scandinavia. "It's the place people from Sweden and Norway come to get drunk, shop or just enjoy the relaxed atmosphere," says local artist HuskMitNavn. It's also, increasingly, a destination for world travelers: Whether you're into street fashion and sneakers, delicious food, craft beer, cutting-edge art or riding around on two wheels (the city is one of the most bicycle-friendly in the world), Copenhagen is for you.
Denmark has been known for design for generations—its midcentury modern furniture is still coveted today—but in more recent years, a new crop of designers has reinvigorated Danish style. A good place to start is at the flagship store of Wood Wood, a contemporary streetwear brand that was inspired by the co-founders' backgrounds in graffiti, and balances Danish minimalism with sportswear and high fashion.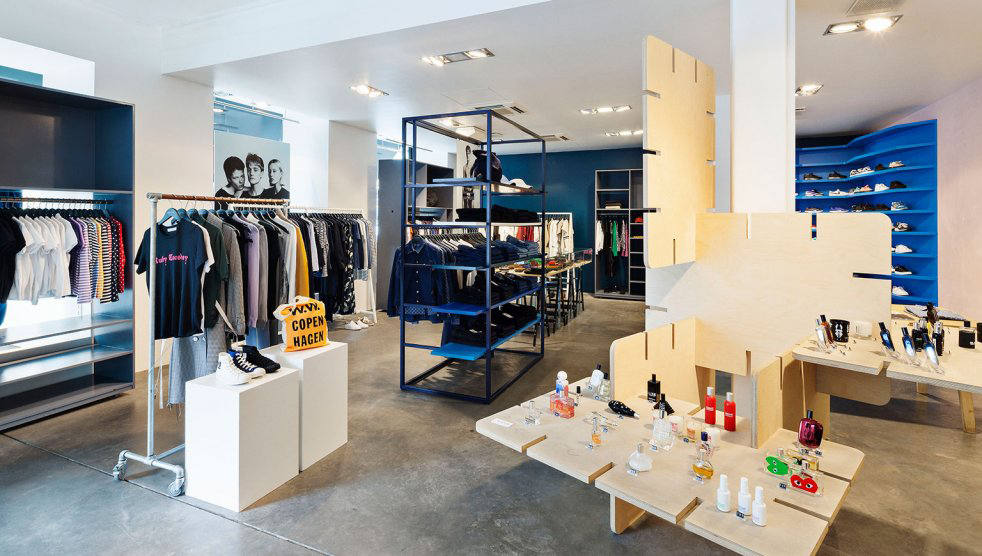 Wood Wood flagship in Copenhagen. Photo: woodwood.com
Next, head to the home of Norse Projects, where you can find their ultra-modern take on workwear as well as a great brand selection from Arc'teryx to Nanamica, or seek out Henrik Vibskov for something a little more high fashion. Skate shop Street Machine is also worth checking out (they had a killer Vans Syndicate collab in 2015), as is retail space Storm. Finally, head to Naked to get something for your girl—sneakers are a staple of Danish style, and this store has the best selection of women's kicks in Copenhagen.
Copenhagen's Norse Store, home of Norse Projects. Photo: copenhagers.com
Take a break from shopping and go to The Round Tower to see panoramic views of the "City of Spires." "It's the best place to see the city from above," HuskMitNavn adds. Then walk or ride to Christiania, a self-proclaimed "free town" that has existed in the middle of Copenhagen since 1971. "Just walk around, the area is big," HuskMitNavn says. "There is a hash market and a lot of gangsters, tourists, and old hippies." Christiansborg Palace is also a must-see, particularly for the queen's collection of large-scale tapestries, which are colorful, intricate and somehow reminiscent of a Richard Colman painting.
Inside the Round Tower. Photo: wikipedia.org
If you want to see Rich and HuskMitNavn's work in person, visit V1 Gallery, which also represents artists like Wes Lang, Stephen Powers, and Todd James. Contemporary art gallery Bo Bjerggaard is right next door. For art on the streets, HuskMitNavn recommends the area around Nørrebro Station. "There's lots of graffiti, street life and immigrant shops," he says, "it's a bit like Berlin 20 years ago."
Huskmitnavn's 2013 show "One of These Days" at V1 Gallery in Copenhagen. Photo: fecalface.com
Hungry yet? The most talked about restaurant is Rene Redzepi's Noma—voted "world's best" for three years in a row—which serves avant-garde dishes like "warm broth of cloudberry," "moss cooked in white chocolate," and even some dishes with live ants. But great food is everywhere: For a more laidback and affordable alternative, try Osteria 16, a 35-seat Italian-inspired restaurant that serves a fixed-course meal of eight antipasti dishes—prosciutto polenta, truffle burrata and langoustine marinated in lemon and chili—for just 250 kr (about $28).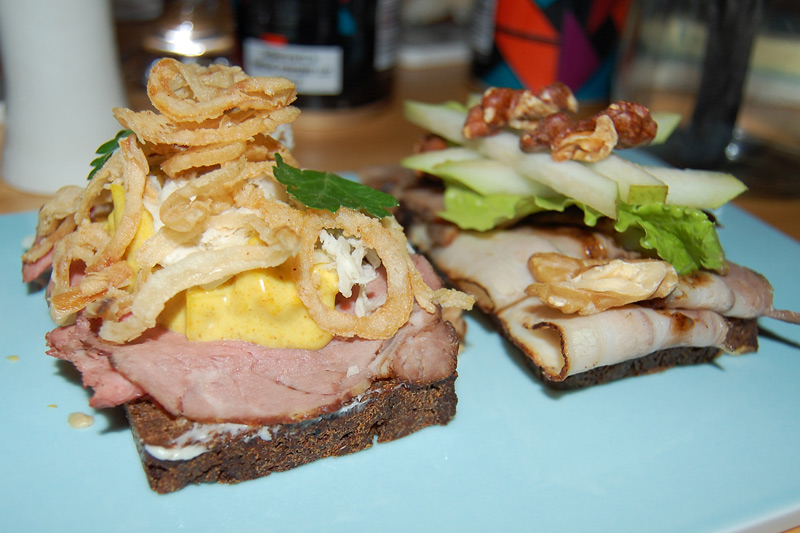 Open-faced sandwiches called smørrebrød at Aamanns. Photo: snackish.com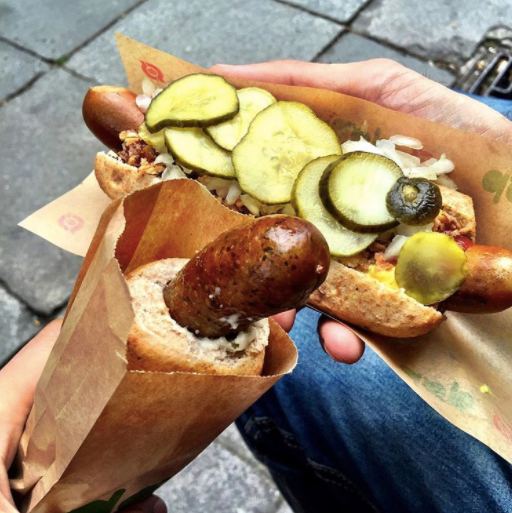 Street dogs from Døp. Photo: imgrum.net
For something more Danish, HuskMitNavn recommends Aamanns, which serves updated versions of traditional open-faced sandwiches, known as smørrebrød. The city is also known for its extra-long hot dogs served out of pølsevognens, or "sausage wagons." You can find a good dog on just about any corner, or you can search out Døp, which serves grilled pork and beef sausages on sourdough and linseed buns.
***