Within the last 3-4 years, the hip-hop world has witnessed the return of regionalism – that distinctive sound indicative of the culture-mixing that sonically occurs in poor neighborhoods around the nation. Whether it's the drill sound of Chicago represented by artists like Lil Durk, Chief Keef, and Lil Bibby, or the ever popular trap sound of Atlanta that we connect with artists such as Young Thug, Jeezy, or Gucci Mane. Here in the West Coast, the torch has been best held by the new movement in the Bay Area. Usually slept on and eclipsed by its southern brethren, Bay artists – and their classic drums that everyone has to have in their production – have in the last few years completely infiltrated a rap system that formerly excluded many of them. Young Iamsu! of the HBK gang represents this new crop of artists coming out of Bay with ambitious aspirations. His strong features on recents hits like "Function" with yay ambassador E-40 and the summer club hit "Gas Pedal" with friend Sage the Gemini have proven that this new sound is no fluke and is ready to play a major role in the ever-changing hip-hop landscape. We sat down with Iamsu! after a recording session in LA and chatted about this newfound attention the Bay has been receiving, the power in staying independent, and moves artists should make in order for them to not be just another flash in the pan.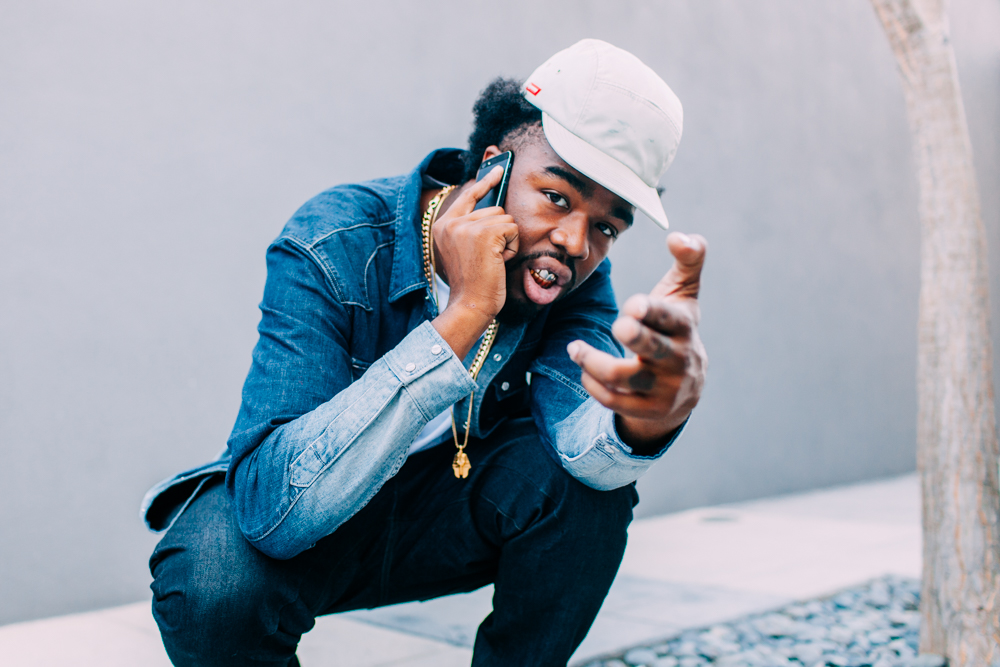 SENAY KENFE: All right, I'm sitting here with Iamsu –
IAMSU!: What's happening!
How you doing, man? How has LA been treating you?
It's been fun, I've had a lot of fun. I got really drunk on Sunday, I met Lebron James on Sunday.
How was that?
That shit was crazy, I met Chris Paul.
You just played at the Sunset Music Strip Festival, how was that?
It was a lot of fun. Shouts out to Murs he showed us a lot of love. He interrupted one of my interviews and gave me a shout out about my album. So shout out to him.
Sincerely Yours, how has it been since putting out that album? Because it came out in May?
It came out in May and it's an independent album. What I wanted to do was show that my music needs to be sold. I feel like I'm that new generation of artists and how I present my stuff is not the conventional method. It takes a longer time to explain ideas and get your point across. I'm willing to take that time because I feel like it will lay the foundation for people to come after me. I have to plan to this system. We're in the Atlantic office but I'm not signed to Atlantic, but I'm still getting to work and do shit there.
That's good that you have that mentality of being a businessman. Do you think you took that, not just from your upbringing, but from the fact that you actually went to college?
Yeah, college moreso was just for being able to socialize. I didn't graduate, but the things that I took back from being in school is having to speak up for yourself and socialize.
I sucked at school, I wasn't interested in none of that shit. So once I figured something out that I was interested in, it just stepped my whole game up. But I took the same mentality from school, be personable, be nice to people – you never know who could do what. That's what it was about.
When did you feel like, "Okay, I'm a rapper now"? Did you start producing first?
I started producing first. Honestly, I always knew I was going to be a rappper, I could always rap but I never took it like, "Let me go out and be that nigga." Probably four years ago I was like, "I'm a rapper." I was 20.
The first mix tape, what was that, was it the Su –
My first mix tape that I put out that got love, it was called Su! The Right Thing. But I put out three mix tapes before that on Myspace just on some Cudi shit. It was called Iamsu off my rap name but it was Iamsu pt 1 and 2 and 3. Then I came out with Su! The Right Thing and people back home took notice.
Then I just kept building from there to Young California, Kilt 1, Million Dollar Afro, $uzy 6 $peed, Kilt 2, then it came to the album.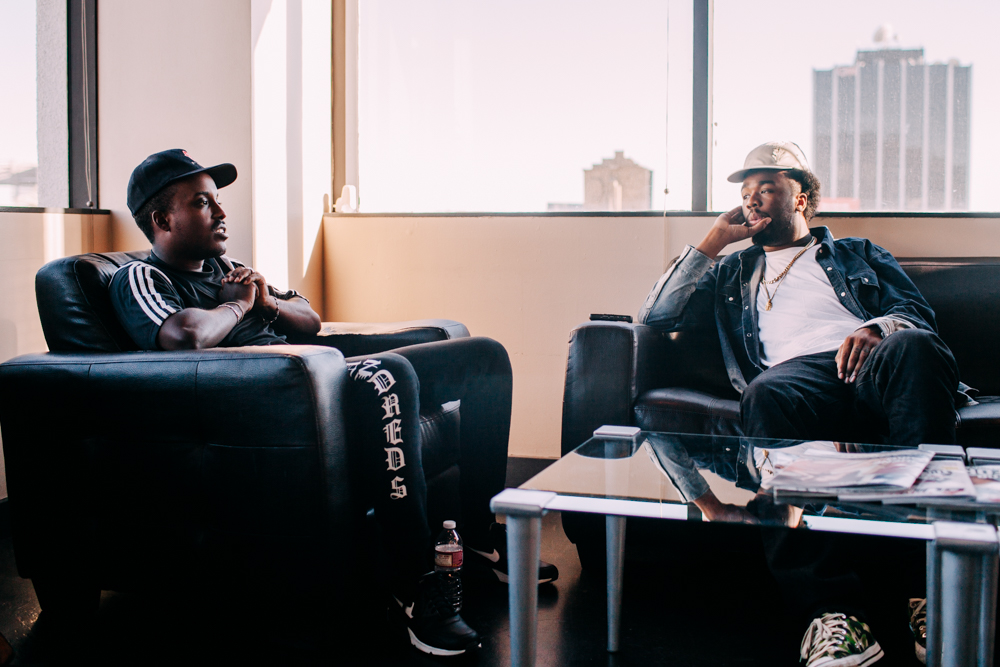 And for those who don't know, Iamsu, your stage name – it comes from your real name, which is Sudan?
Yeah, Sudan. My auntie and my mom named me, feel me? They on some back to Africa hippie – my Mom has been teaching where I'm from in Richmond, in the middle of Iron Triangle for 25 years. A lot of people in this city look up to her and she's just a respectable person and just wants to help. She's just got a good spirit and I just soaked up all of that because the environment that we come from is pretty crazy.
My family was always educated, so they always gave me the game and how things are supposed to be and led by example and speak a certain way, conduct yourself a certain way. So I was able to make it through that pretty smooth without getting caught up.
Can you describe your early life in Richmond? How things were?
Yeah, I went to elementary school there. My sister still lives there, my Dad lived there for a long time in a bunch of different crazy ass places. One of the things that stand out to me is when he lived on 10th street and my little brother was in there, my step mom, his sister, and my cousin was in there. Just a bunch of shit was going on, that was the first time I was getting them Christmas gifts, so that's why I connect the most. That's where I'm from.
How does it feel to be not just rapper from the Yay but part of this new movement of Bay Area artists getting a crazy amount of attention?
It's crazy. Myself, Sage, Cool John, Peelo – just all the homies, the whole Heartbreak Gang. There's a bunch of other talented people from the Bay Area, too many to name really. I think it's our just due. We're part of California too, we bring a lot to the table, all the brands that people wear and are in love with – a lot of them started in the Bay Area, and it's just time to make that connection. We got a lot of the same ideas and people think we're so different because we're so far but we just accepted being different and worked together.
"[My first album was] a metaphoric open letter… like, I'm cutting deep, you're going to feel everything. How I feel about my parents, how I feel about growing up – and after you get that and if you really sit in bed with it, then we're going to understand each other deeper. Because I know everybody has been through some shit like that."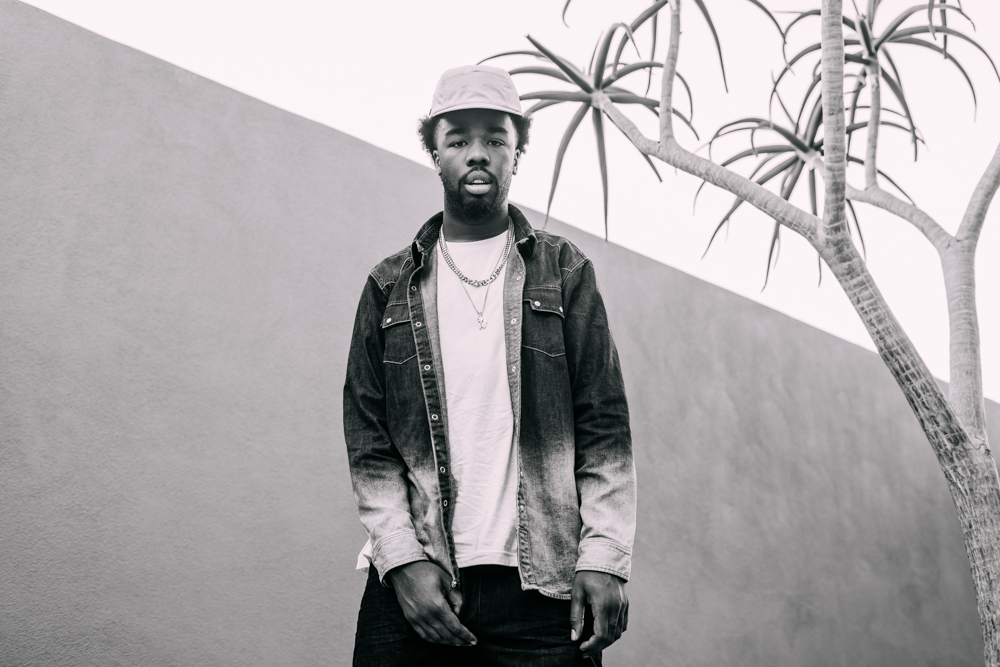 There's always been that connection, even from Spice 1, E-40 – you see Tupac in the videos or vice versa. You see Snoop doing songs with C-Bo and all these random people so there has always been a connection.
Yeah, there's always been a connection but it feel back for a little bit. People like myself, we're building that bridge and working with Problem and working with YG. I just did a song with Casey Veggies, you know what I mean? It's starting to bridge the gap, we have a lot of the same mentality.
I feel like in the last couple of years that was a great – a connection was made like "Function" –
E-40 was big and he was a visionary, I didn't understand. But YG was doing his shit so hard, I'm doing my shit in the Bay so hard, Problem… It put us all together on the same little cycle and just gave us a platform. So shouts out to E-40 for that.
How were you able to make that connection with E-40?
He just called my phone. I see it, "Oh, shit!" I didn't expect it, I'm sitting one day after school where we recorded every day and he called me. Then I heard the song and I was hella sick, I wrote it while I was out here. At my old chick's house I wrote it, came back up here, recorded, I was hella sick – that's why my voice sounds the way it does. I said, "I've gotta get this shit done or I'm not going to be on this album so fuck that."
And then that was an instant banger.
Instant banger. Instantly connected me out here and LA radio started playing it like, "Whoa!"
Power 106 was like –
I just came from Power 106 today.
How'd that go?
I premiered my new single, it's called, "I Love my Squad." I produced it, we shot the video, so it's finna drop on MTV next week if the mix gets back right. We supposedly just got the mix back today.
And how do you feel about that?
I'm hella excited, that's like my favorite song, I wrote that shit after a Yeezus concert last year. I saw that shit and then I went straight to the studio and recorded that.
You are yourself a budding star, and like how you were talking about Lebron and Chris Paul – do you ever fan out?
Fuck yeah! What?!
What's a moment like that for you?
Sunday, I seen Lebron and I fanned out. The first time I met Wiz I couldn't even really talk, I just said, "Oh, shit, what's up?" He walked in the studio, it was him and Amber after the VMAs. Mind you, I came out there to fuck with my manager, he lives around the corner, so he had to take Kreayshawn, so I'm like, "I want to go! Can I go?" He's like, "No, you can't go but you can take my car and stay in the apartment while I'm there."
So I was just running around LA and ended up going to the studio and that's how I met Wiz.
To be watching hip-hop and then to be a part of it –
To get in it, it's like getting into the NBA, it feels crazy. The tour was like my first season in the NBA – the Under the Influence Tour. I see all these rappers and it's like, "Time to prove myself." A lot of people didn't know who we was at first, but after the tour everybody knew and they had to respect it. They saw how the people reacted to our music.
Yeah, because you're coming at it from the level of an entrepreneur, especially on the sense that you're an independent artist. So for you, how does it feel to be an artist as well as a businessman?
To be honest, it gets stressful at times. But then I think about other peoples' situations and I'm thankful for my situation.
What do you mean? Your label situation?
Yeah, I'm glad to be in control, it takes a lot but it's worth it. It helps me go to sleep at night knowing that I made the right decision.
Can you go into detail about what it means to be in control of your own creative output?
Okay, for example, I pick my singles, I pick my album, I decide who shoots my videos, how it looks when it happens, my release dates for my album – it's strategic, but if I wanted to drop an album tomorrow I could and nobody could tell me no. So that's a crazy situation.
How does that feel for you as an artist? To know you have that control?
It's expensive, but it's worth it. You make the money back, but it's expensive, but it's worth it. I just know once I keep running the game and I've been paying attention to people like Tech 9 and other people that do the independent shit so hard and for so long. I've been soaking up tricks of the trade and getting better. So I know this next album's going to be done even better and at a higher level than the first one. Because that was our first time putting out an actual album.
I think it resonated with people, especially outside of California.
Yeah, exactly. And that's what it was, just an introduction, that's why I called it what I called it, it's like an open letter. A metaphoric open letter, not like I'm writing letters and reciting words on the album, but an open letter like, I'm cutting deep, you're going to feel everything. How I feel about my parents, how I feel about growing up – and after you get that and if you really sit in bed with it, then we're going to understand each other deeper. Because I know everybody has been through some shit like that.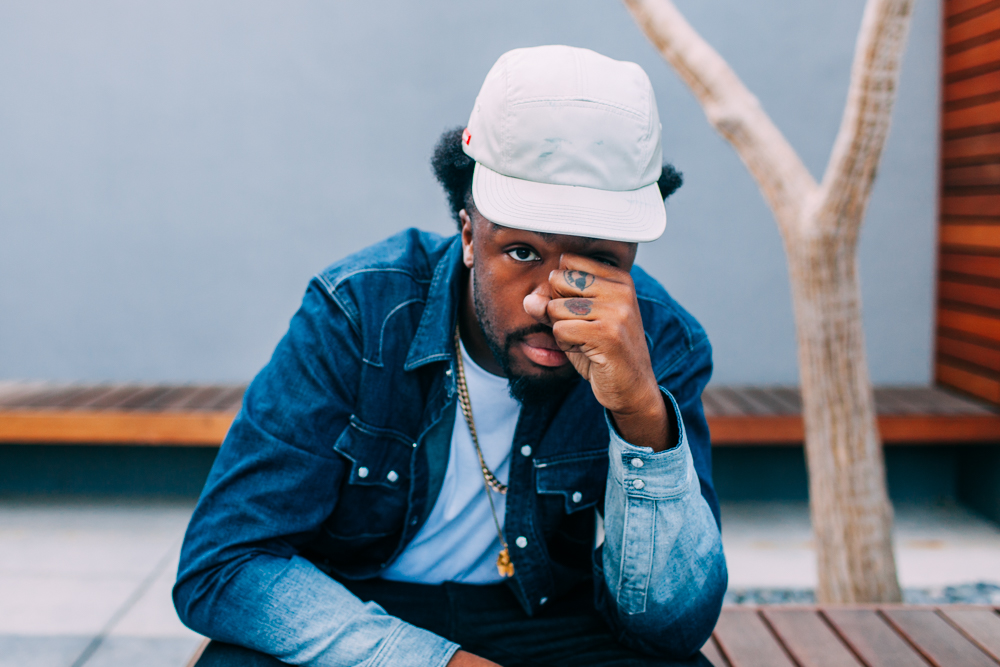 Do you ever get hit up to produce for other artists outside of your circle?
Yeah, just making relationships and seeing people in traffic. I just saw Riff-Raff in the hotel lobby today. I got his number, he said, "Send me some beats." So you know I'm going to do that, I'm going to Westlake after this, about to work on another session.
Who's someone you feel like you want to work with?
Pharrell no question, Snoop no question.
When you got your first major check with some zeroes behind it, what did you buy?
[Laughs] I put it straight in the bank. My first check – it was me and this dude right over here in Kitchen 24. I got my first check and put that shit straight in the bank. I didn't do shit with it. I said, "Hell nah,"and every check I got after that I put straight in the bank.
You're building?
I'm building. It's still sitting there.
What would you advise any artist that's coming up?
Save your money but don't be afraid to pay to make stuff happen. Because you have to spend money to make money, but when you spend money, do it strategically. Every dollar you spend has to be towards progression. So I would say just be smart with your money, that's the thing that's been keeping me straight.
I just met a business manager so I'm about to make sure my shit's straight, pay your taxes, make sure your samples are clear because they'll get on your ass, don't interpolate somebody else's lyrics because they're going to get on your ass; try to be as original as possible.
You did the Boiler Room. How did you feel about that? Did you know about Boiler Room before?
I didn't know shit about it until the time and then my DJ was like, "Yo, this is big as fuck!" He's a hip-hop head and he appreciates and understands that shit to another level. He was like, "You're doing the Boiler Room, that's hella crazy." I looked into it and I was juiced.
But we didn't get to take a shower or nothing, we rode up in a Sprinter van. I changed clothes in the bathroom, I washed my face, and just did that shit, like, "Fuck it." The whole squad [was there] because we were on tour, we were on the Gang Forever tour.
Yeah, because I saw that and was like, "Man…" Because I think they were really looking for what's hot and I feel like what you and HBK represent is kind of the future.
I feel that way too, and I feel like we're bringing something fun back to the game. But at the same time it's not compromising our talent or our creativity. We're not dumbing ourselves down to have fun but we're still having fun.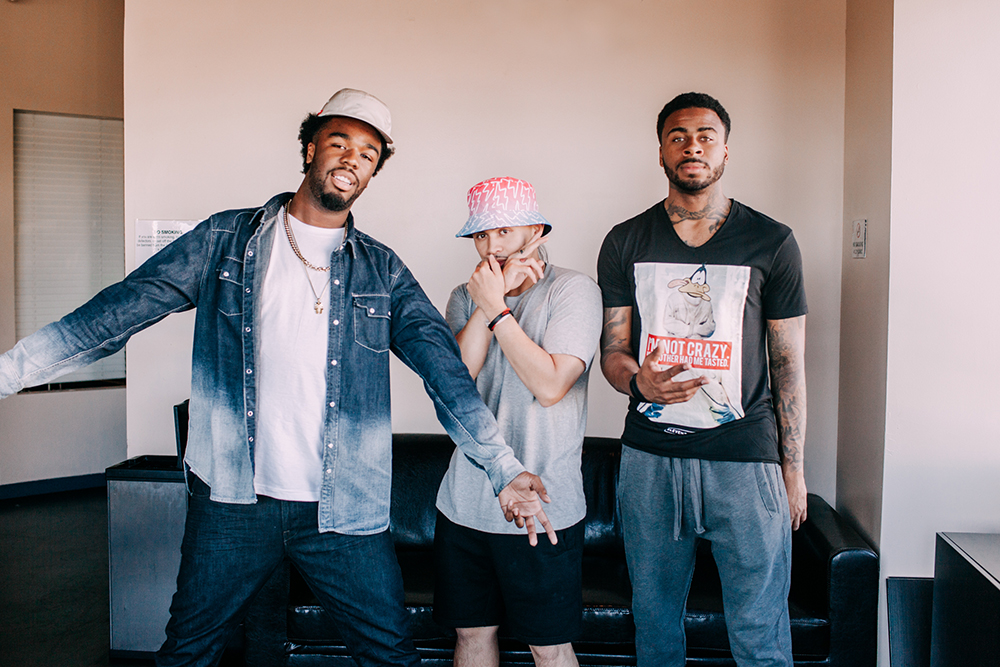 Iamsu!, P-Lo, and Sage the Gemini.
So when you're not working and not on tour what do you do?
I be liking to eat, I like Chinese food, I like to kick it with bitches. I want to stay out of trouble, I've been trying to fall back from it. I've been telling the homies I want a girlfriend but they tell me to chill out. Other than that, I like to go shopping, just do random shit like try to skate. I'm whack at skating but I try to skate because it's fun; I bought a skateboard.
Do you still stay in the Bay?
Yeah, live in the Bay. Supposed to move out here, I've been catting on moving out here, but like I was saying, I didn't want the whole Hollywood mentality to get in my head and fuck me up. I had to boss my life up a little before I came out here.
You been checking out spots out here? Where you thinking?
I got an email full of spots for downtown. Stretch says I shouldn't live out this way, but I don't want to walk outside and see hella tourists, I feel like that's going to be annoying as fuck. But it's closer to all the studios. People have been talking about moving by Burbank, I don't know if I want to move over there though – suburban lifestyle. I'm ready for the big city lifestyle.
[Referring to people in the room] I'm going to tell you something bro, all these girls got boyfriends. No way around it and no avoiding it. I don't like messing with girls that have boyfriends, but it's just a harsh reality.
Tell me a bit about the groupie life.
The groupie life? It's new, it's interesting. I didn't have stupid bitches in high school. But girls always had respect for me but I didn't have stupid bitches in high school. You go through that little awkward stage to try to find yourself, I found myself and my swag and the hoes just on me; it's been cool. But I try to stay out of trouble, I don't want to pop up with a baby in a random city so I don't be doing dumb shit. We be turning up though; I don't want to do no dumb shit at the same time. My mom would be telling that to me every day, she be keeping it real telling me, "Put a condom on."
How does your mom feel about your newfound success?
My mom's a realist, so she just tells me to take everything in stride and that shit don't last forever, but set yourself up for the future if it doesn't work out. Which I love. I wouldn't want her to be blinded by the shit but she supports me to the fullest. Then my first keyboard she bought me, my first drum set she bought me, she always believed in my music. She wanted me to finish school but I didn't. She respected it though because that shit was working. I still got time, I'm still young.
What's your production set up look like?
I use Logic and Reason just like a mini keyboard on my laptop, but I've been trying to expand it and fuck with a lot of live instrumentation. Some older keyboards and really get a raw real sound. Shit like that, just step my bars up, dig through some crates.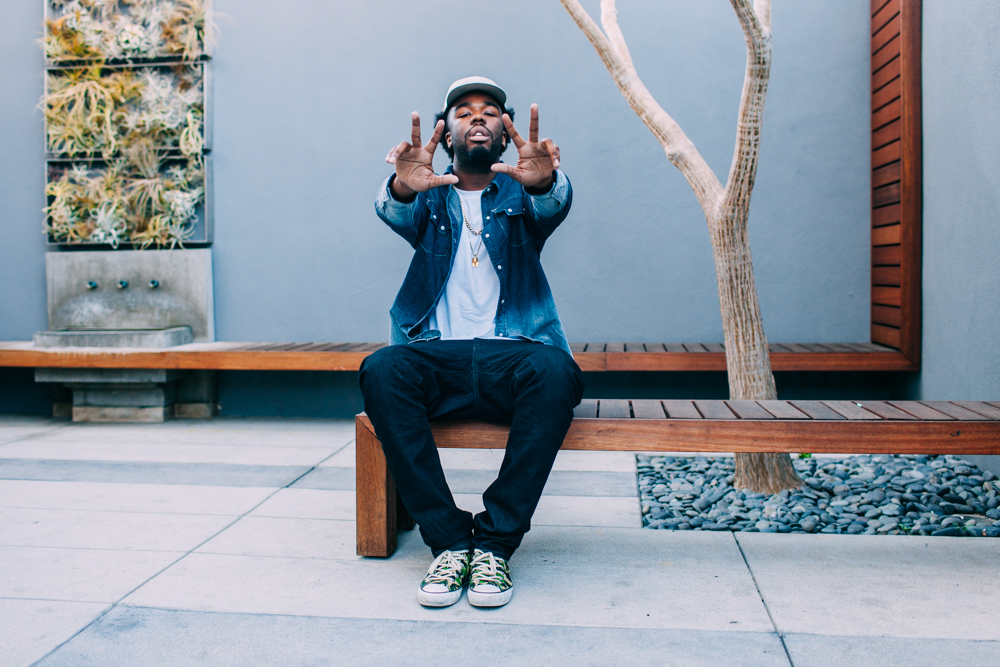 What's music that you listen to that you think people wouldn't associate you with because you are a rapper?
I listen to hella Chief Keef [laughs]. I listen to hella 'Lil Durk, Migos, YG, all the homies, all our own shit, Cool John and people; all the shit like that. Outside of ourselves I listen to Rich Homie, I listen to Young Thug, Travi$ Scott, a lot of peers in the game, Casey [Veggies] from time to time. Me and him made that backflip shit. Domo Genesis, we just did a song – hella clean.
But the cousin I was talking about with the records, he's on a song with me too and he narrated my album. His name is Mani Draper. Yeah, he narrated the whole album.
So tell me about the new track you just dropped on power 106.
Yeah, it's called "I Love my Squad." I produced it, and we shot the video in Vegas at Marley Marl's house, shouts out to him. And the owner of Pink Dolphin, we used his Ferrari, we took it to the desert in Barstow and we were just whipping it around, having a good time.
Me and my partners, there were probably about 15 or 20 of us. Took them all to Vegas and then we took them there so we turned up.
What do you feel people like about it?
I feel like it's one of those songs, if you have one friend you have a squad because you're all down for each other. So that's what I think, anybody with a group of friends that they really fuck with, you got a sports team you fuck with, you got any collective of people that are doing something good and trying to push forward that's your squad; you gotta love your squad. So I was just showing love to my friends, I feel like it's going to bring a lot of people together, and just have a good time. It was my first tattoo.
Exactly, you got the "HBK Gang" and that's what you named the label. Can you talk about how you came together?
We came together in high school, I've been knowing P-Lo for a long time and his older brother. We've been knowing each other for hella long and we've been making music together and once I graduated I'd come back and fuck with them. Pick them up, take them to lunch, whatever in-between my little breaks. So on one of them breaks, we came up with the name, we was like, "We should be HBK," and it stuck.
Where did that come from?
It was weird, I think it was from a movie out at the time.
P-Lo: It just came to me bro.
Iamsu!: In a vision.
P-Lo: A great moment, I think I had a dream about it or something like that.
Iamsu!: [laughs] We was in a KFC or Burger King drive-thru, one of the two. They felt the rodeo burgers hella hard. Took him there and he was like, "Bro, we should be HBK," then he took the bite of the rodeo burger. He cracks up for the rodeo burger.
That's free promo right there.
And we was at the BK, feel me? We should be HBK.
Is there anything you want to end it on?
Much love to the people, shouts out to ya'll, thank you for chopping it up. This was a cool ass interview, we talked about some cool shit, thank you.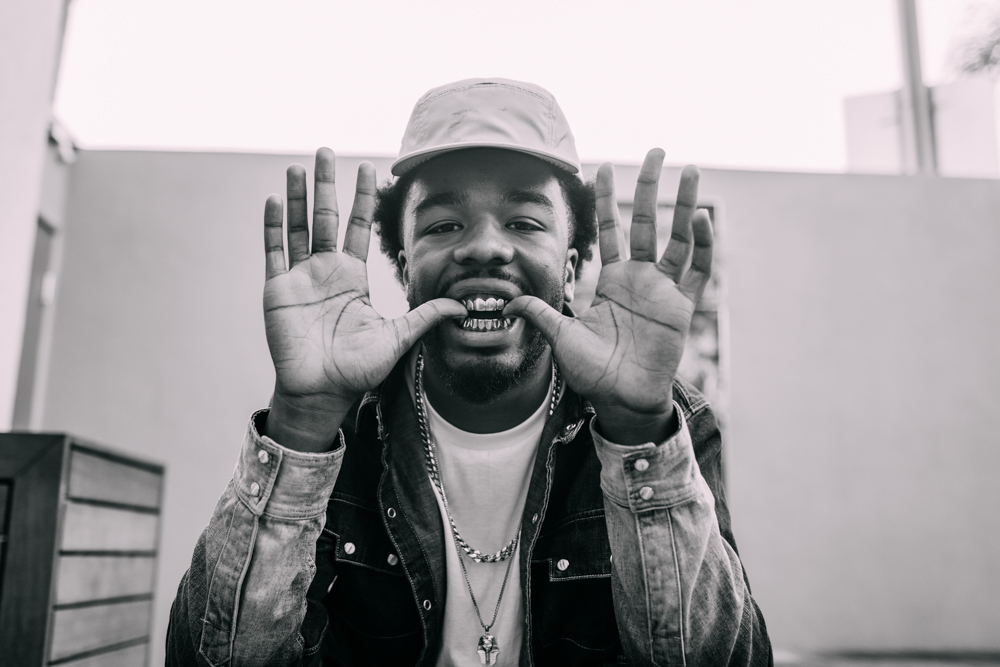 ::
Follow Iamsu! on Twitter @iamsu, Instagram @heartbreaksuzy, and Facebook. Make sure to keep up with the squad HBK Gang and be on the lookout next week for the music video drop for "I Love My Squad."