While up in S.F. for The Hundreds Street Meet I got a e-mail from a beauty from Santa Cruz by the name of Savannah. She had noticed I was in town and expressed a interest in shooting with me while up in the Bay Area. I honestly had not intention of shooting any models, thinking that my time up there was going to be too quick. But after checking out her photos I didn't want to pass up on this opportunity. Plus I knew it would make for a good test shot segment. After we got on a phone call and figured our schedules out, we were set to shoot the following morning at my hotel. Showing up at 8:00 a.m. we were ready to go. She had work later on in the day which is why we had such a early call time, but good for me I had a decent hotel room to serve as the backdrop. The set featured here was one of my favorite ones that we did, aside from the modeling subject I was working with, but moreso for the fact I shot this with my Leica Monochrom for a classic black and white feel. So scroll down to see my interview with Savannah as well as some more imagery.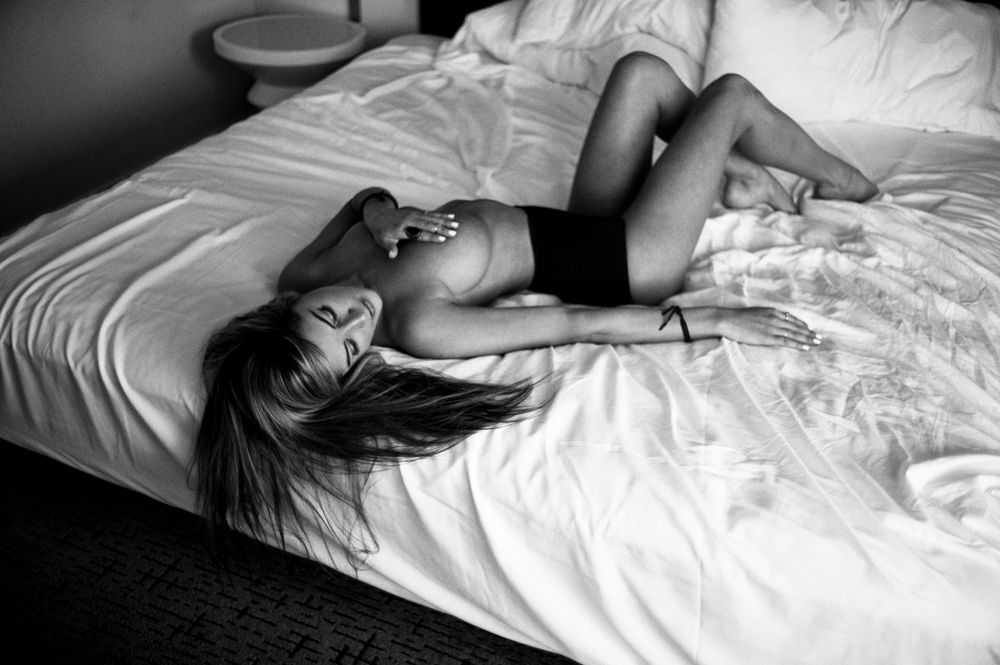 Alright Savannah, let's start this off with your age, how old are you?
21 going on 22, April 16th.
Right around the corner. And what about your ethnicity?
German & Native American decent.
Where were you born?
Mojave Desert.
And where do you currently reside?
Santa Cruz Mountains, CA.
Name some of your likes in life.
Beach days, traveling, my dogs, and red wine.
Any dislikes?
Negativity.
What do you want to be when you grow up?
A wife & mother of course!
I don't get that answer a lot. Now what about your influences?
My Grandfather, Victor Kreisman. He is the most positive influence in my life!
Do you have a favorite food?
Sushi, any day.
Name a favorite place you have traveled to.
Costa Rica, Christmas 2013.
Nice, now name a place you want to visit before you die.
Germany, to meet relatives I have not had the chance to meet yet.
What is your current form of employment?
Aside from modeling, I am a Bookkeeper, a hostess at a sushi restaurant on weekends, and an on call nanny. And I love everything I do!
Sounds like you wear many hats. Do you have a favorite type of music?
Rap/R&B – I mostly listen to The Weeknd.
What do you love about Nor Cal/Santa Cruz?
I love how we can live in the mountains and still be right by the ocean. Best of both worlds.
And what do you love about modeling?
I love the experience of going to photo shoots and working with different photographers & hair/make-up artists. I'm enjoying the social networking part of it as well, like Tumblr, Twitter, & Instagram.
Are there any models that you look up to?
Marissa Miller, I would love to follow in her footsteps.