While you were inside practicing your times tables in seventh grade, at the tender age of 12, Manhattan-based rapper T-Shyne was spitting a few bars in his first rap battle. "It was a lot of adrenaline, in front of a lot of people," he recalled over fish sandwiches at Fisher's Of Men on 125th Street in Harlem. "I was so hyped up! It was totally unplanned though, everyone was like, just do it. So I was cursing and shit at 12; it was cool though."
It's been quite a few years since then and it's understandable that things are a little different now. The adrenaline is still there, but with two official projects out (SOULution and 21 Years Later) and two more on the way, the Grenada-raised rapper and engineer, has more of a handle on his sound.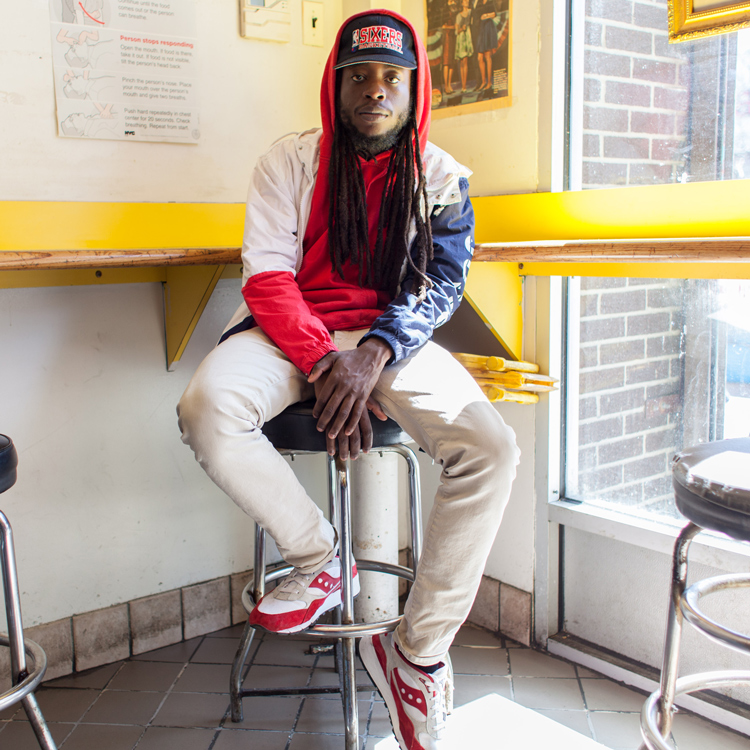 We didn't ask T-Shyne what his Twitter name TWEETZ IS WATCHIN' referred to but we felt we didn't have to. After he recounted the story of discovering a tweet from the official Burger King account giving him props – it read in verbatim, "Shout out @Tshyne check his music out!" – it was evident that indeed, tweets are watching. That boost, which put him in a league with Chief Keef, Lil Reese, and Meek Mill who all, also got mentioned by the then-hacked Burger King account, proved it. "When that Burger King thing happened, that's when I realized it was all about the Internet."
Thankfully, the 'net has been good to him. Back in the day, a few of his projects appeared on the cover of DatPiff when that platform was the go-to for mixtapes, and Soundcloud currently hosts his most recent project SOULution. "That project was very lyrical," Shyne says of it. "My new project is lyrical but it has a lot of hard hitting beats; it's a lot of elements rolled up into one."
In fact, there are two projects out this summer that the 21 Years Later artist will be sending out to blogs for posting. The first is a joint project with 88-Keys, a Harlem-born rapper and producer who's worked with A Tribe Called Quest's Q-Tip, Mos Def, Talib Kweli, and Kid Cudi, that's set to drop in June. "It's definitely different than my normal stuff," Shyne said of the five-song EP. "My friend gave me the opportunity to work with 88 and he did this track for me. We really just vibed off that. He does a lot of live instruments in the work he does and it's dope; I like it." The project will be Keys' fifth as an artist following works like The Death of Adam, his debut solo album executively produced by Kanye West.
The second project is a 13-song mixtape that comes off more hard hitting and on vibe with Shyne's other work. "The mixtape will come out not too long after the EP. They are just two different sounds. 88 is on the mixtape, but it's definitely much darker than our project together."
But of course, parsing the links out to blogs means the artist is going to open the door to criticism. That doesn't bother him though. "Regardless of what anyone says, I'm going to love it, but I don't want anybody 'Yes, man'-ing me. If you don't like it, say that. I honestly appreciate it."
::
Photo by Ricardo Aca.