Antonio Cuna, better known to the world as Sweater Beats, is on what many would call a victory lap. He's developed a credible niche for himself amongst an avalanche of Internet-based producers with his ability to effortlessly craft early remixes of R&B gems with a modern reworking, drawing inspiration from Jersey Club who's remixed artists like Ciara, Alicia Keys, and Mariah Carey. The beauty of Sweater Beats' music is in his ability to actively create sound collages arranged from a careful mixture of different genres, producing a cohesive fever pitched level that sets clubs and festivals around the world ablaze. He's even drawn an industry juggernaut, Diplo, to proudly proclaim the merits of his talent after guest-mixing a segment on his BBC Radio One show. Additionally, he's had the opportunity to open up for Chance the Rapper and Chet Faker on their recent North American tour. His Cloud City EP, released under Huh, What, & Where? Records—home of labelmates Kaytranada and Taku—was also well-received by critics.
Now, Sweater Beats has set the stage with a new project, introducing live instrumentation at recent performances. At Hard Fest a few weeks back, I had the chance to sit down with him after his lively set and talk to him about his "All Day" remix, his move to LA, the relationship between being a beat maker and a producer, and what's next on the horizons for him as an artist.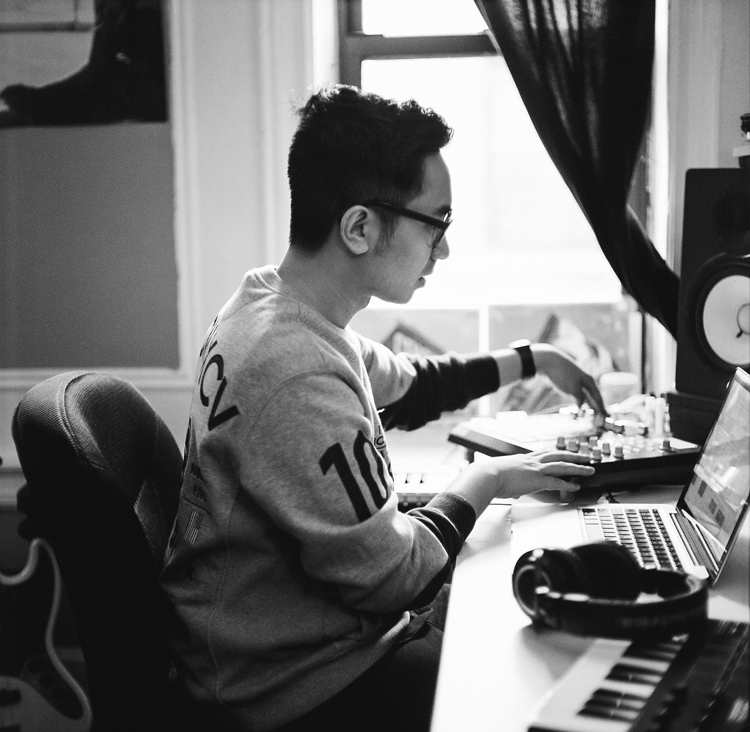 SENAY KENFE: So I'm standing in the back here at Hard Summer Fest with the talented Sweater Beats. How did you feel about the response to your performance earlier?
SWEATER BEATS: It was awesome. I was having a ton of fun and the crowd was... I can tell if they like a beat because they always go, "OOOOH!" So yeah. I think they had fun. I definitely had fun. And I was drenched in sweat.
I wouldn't say that this is a purely EDM festival, but what do you feel like has been your experience playing in these types of electronic festivals?
Man, I love it. They're pretty open minded about beats, just in general. It doesn't have to be an EDM song or anything like that. Like, Mr. Carmack's beats always go off. It's just… the dopest beats, but they're not all from EDM; it's hip-hop shit. I love playing them because I can play that kind of music, and at festivals especially you can just bang those bangers because that's what they want. But I had fun playing that stuff. It's really cool.
And today was one of the first times that you incorporated a live instrumentation. Do you want to talk about that? What made you explore that?
Yeah, I was really nervous. It's the first time; I grew up playing guitar. Like, I have the "All Day" remix and my Galantis remix—both have guitar on it—and I was like, Hey, I can play this live. I played it while I was recording it, so [why not] just play it live. It's just something different that I wanted to do because I've been doing the same Ableton stuff forever. I just really wanted to play play, instead of just mix.
For your "All Day" remix, you brought out the vocalist.
Yeah, Mark Johns.
Yeah, she was amazing. What's coming from that relationship, or how did that start?
So she has a string of covers and one of them was "All Day," and she was looking for someone to create that beat. And I'm glad that she picked mine. But, I had fun just making it because I could play guitar on it. I know her from Manila Killa who's friend, Moving Castle, did a song with her covering "Gatorade" by Yung Lean. The lido version? I don't know. So yeah, that's how I know her.
How do you feel about coming from this level of being a producer who's made a name for himself and remixing live, traditional R&B songs and incorporating the skills that you've brought from that and making it into a structured song with real vocalists?
Well, when I made those early R&B future flips, I had a cappella, and that really... I layered the song over it and those are already structured really well in a pop sense, and that really helped me learn how to arrange a proper tune.
How important is it to elevate one's self from being just a beat maker to becoming a producer? Like, how important is it to learn song structure, melody, canon... how has that helped you become a better producer?
Oh, it's definitely—just cause, I'm not a "beat dude"; like I love beats, but I didn't grow up with Dilla or anything. But I love them anyways. I grew up writing songs in the bands that I was in, so that's what I was used to making. And that definitely helped me a lot [with] finishing songs. 'Cause I know this part's here, this part's here, and then the rap goes here. But yeah, I'm only just recently learning how to make beats.
Are you working on any new remixes in particular?
Yeah, Hoodboi and I just finished this Galantis remix for "Runaway."
Right. It got leaked the other day.
Yeah, which was funny. It got leaked a little too quick.
"I THINK THE BEATS SCENE IS KIND OF EVOLVING AND CROSS-POLLINATING WITH EDM"
Are you announcing a new tour line yet?
I'm not sure if this is announced yet, but I'm on GTA's tour for the first ten days. And that's in November. And that's the most recent thing that's gonna happen.
You're moving.
Yeah, moving coast to coast! From New York to LA. I think everyone's just doing a pilgrimage out here.
I think so. It's the move. It's like the exodus from New York.
I think it's LA's time right now.
Why do you think that?
I'm from New York, but I think that... Well, first of all, all the homies that are just killing it and making the dopest shit.
You can shout out.
All Night, Hoodboi, Falcons, the whole Athletixx Crew. I just like being around the homies… I think the beats scene is kind of evolving and cross-pollinating with EDM and that's what's popular right now.
How do you feel about that relationship?
Oh, I think it's great. I think it's pushing the genre forward and it's going to keep going… until the next thing comes and that's what I love about electronic music. It keeps evolving and you can do anything you want.
Do you feel like you're still finding your place within this new evolving crossbreed?
I don't know where I am, but I think—as just a musician or something—we're never stuck in the same little box. We're always trying to push ourselves, make new shit. We listen to the same beats all the time when we're making it. You know, we make it, but we always want that next thing, the new thing, the fresh sound. You know? So I think we're always just evolving as musicians.
Is there anything you want to leave on?
Oh yeah, shout out to The Hundreds!
***
Follow Sweater Beats at sweaterbeats.com, Facebook, Soundcloud, and Twitter.