With NEIGHBORHOOD and Supreme both committing to Kung Fu jackets, I was asked if there was a way to tie in martial arts to streetwear. Since streetwear is an amalgamation of culture, movies, and music, I said, "Sure." I did some digging and through the projects and collaborations, I saw that streetwear embraced many aspects of martial arts. There were some brands that were fixated on the old Hong Kong bootlegs that featured poor dubbing and crazy acrobatics, and there were others acting as ambassadors of MMA. It's all over the place, and that's what makes streetwear so interesting: Things are a changin'.
For many, it's The 36th Chamber, but for Triple 5 Soul, it was the Shaw Brothers' Five Deadly Venoms. The movie begins with an old kung-fu master approaching death and asking his current students to check in on his former students, each of whom was bestowed a special kung-fu style. The movie had it all, and with there being five styles, it was perfect for Triple 5 Soul flip. Triple 5 Soul contacted Russell Karablin – you may know him better as SSUR – and the perfect 2000s graphic T-shirt was born. Wu-Tang may have introduced a lot of hip-hop fans to corny jump kicks and the mantis fighting style, but for me, it was Triple 5 Soul that reached back there and pulled out an obscure cult favorite.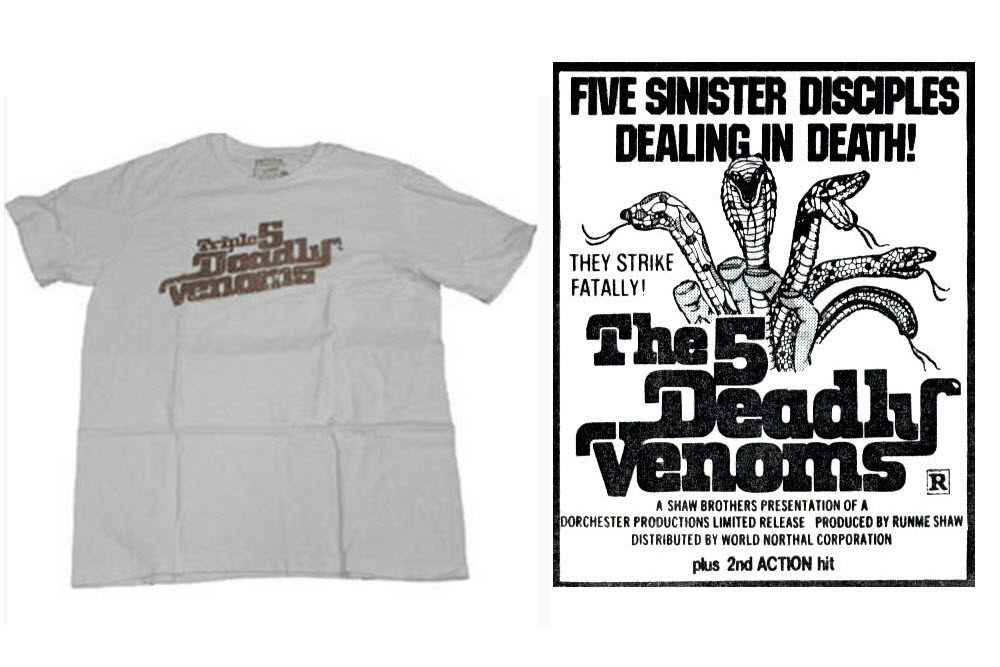 NEIGHBORHOOD Kung-Fu Jacket
The jacket is just beautiful. I usually associate kung-fu jackets with old men practicing Tai-Chi at the park, but NEIGHBORHOOD made it look like something you can wear out. And, not just to the market for beer, but with actual people. The knotted button closures adhere to the traditional style along with the contrasting roll-up sleeves, but NEIGHBORHOOD changed it up by throwing in a side zip chest pocket. All of it comes together very nicely, and I'm really hoping to see much more.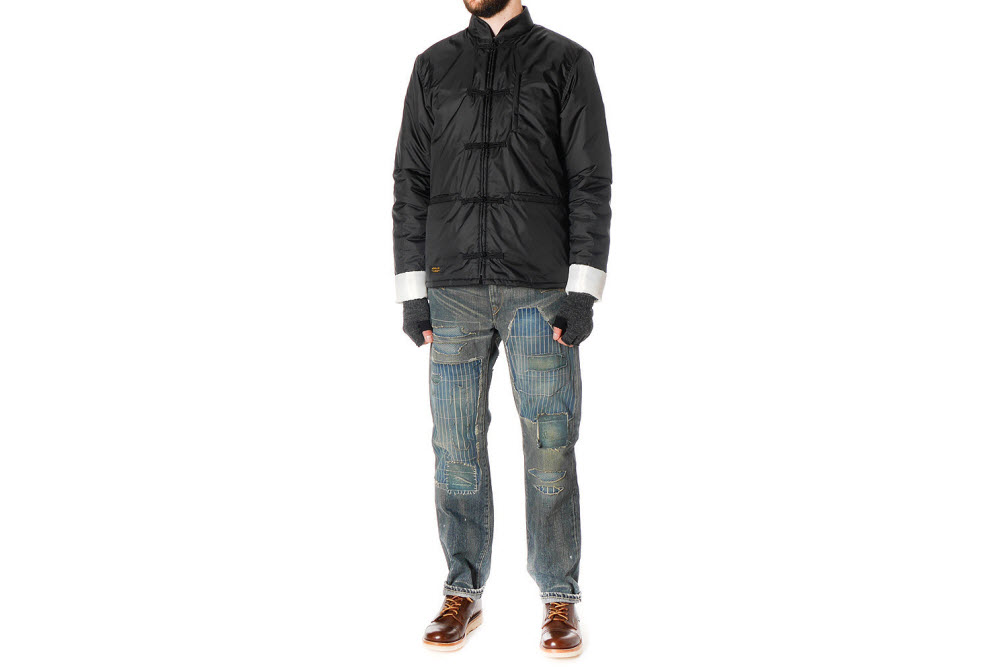 Supreme
With Supreme's fixation on '90s hip-hop culture, there is no denying that martial arts has played a big role. From the Black Dragon Kung-Fu snapback and matching T-shirt to the whole kung-fu get-up from Spring and Summer 2014; Supreme has a profound admiration of kung-fu, along with Bruce Lee. There really hasn't been any other brand that has devoted energy to Shaolin monks as much as Supreme, especially when you consider that resident swag lord Jason Dill rocked both the kung-fu jacket and bottom in Supreme's Spring 2014 lookbook. Even with the variety of martial art-inspired pieces to choose from, my favorite Supreme kung-fu piece isn't related to apparel. I loved it when they did Supreme nunchucks in 2010. The New York-based boutique and brand came out with a pair of padded nunchucks with their famous Barbara Kruger-inspired logo emblazoned across. They're identical to the ones you can find in your Chinatown for a few bucks, and once again Supreme captured that childish nostalgia for the mystique of kung-fu.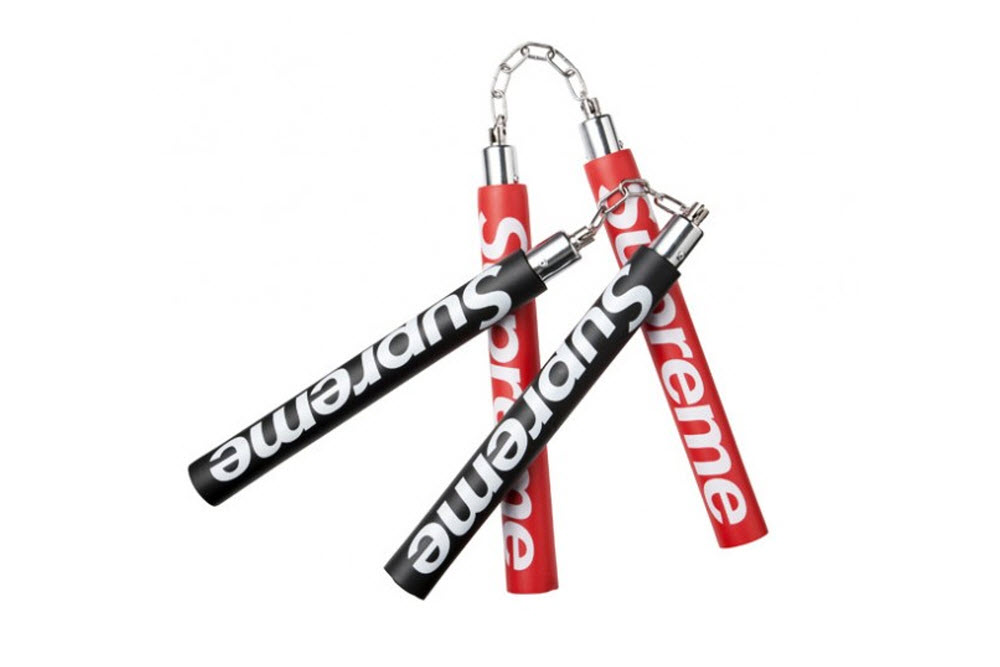 Nike SB x Bruce Lee
Who knew Paul Rodriguez was a Bruce Lee fan? Well, the talented skater spearheaded one of the better projects that came out of the Nike SB camp. Instead of plastering images of Bruce Lee across graphic T-shirts, P-Rod had an angle. The collection paid homage to P-Rod's Mexican heritage by re-printing old Spanish Bruce Lee movie posters. Included with the trio of tees were a pair of Vulc Rods in black nubuck and red soles that paid tribute to the Bruce Lee Foundation.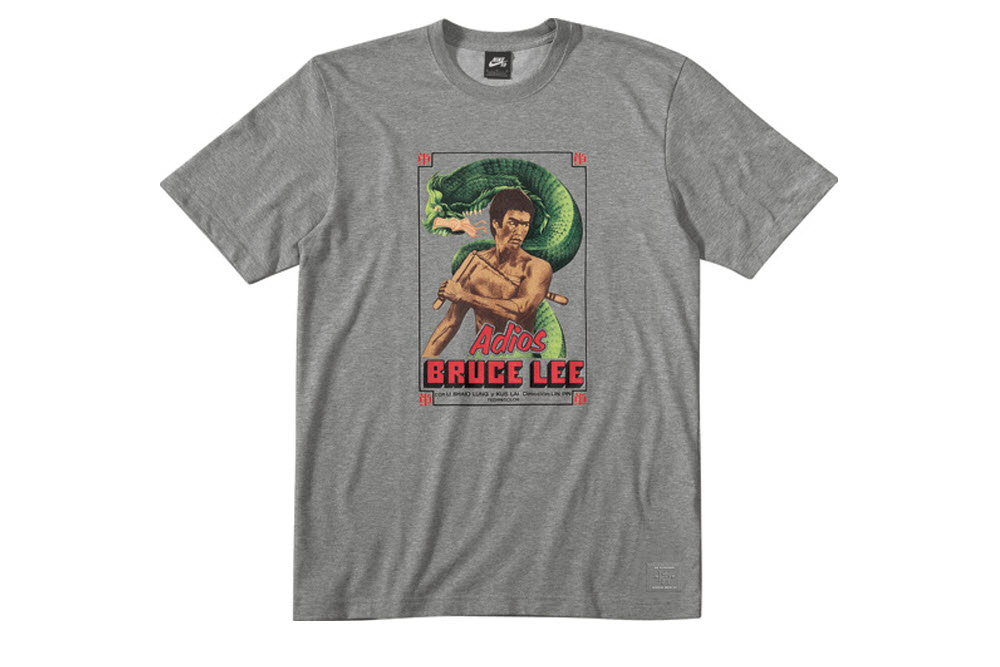 Undefeated x Shoyoroll
At first I thought the collaboration was just shits and giggles. A few co-branded graphic T-shirts and maybe a hoodie or two, but Undefeated and Shoyoroll went a step further. The two brands came together to create a competition gi in white, and in a military olive. If you don't know anything about Shoyoroll, they aren't in the business of making kimonos or gis. But when they do, they are highly desirable. They take everything you would want in a gi and incorporate it, oftentimes selling out before they're announced. Undefeated would have done just as well to release a few tees and hoodies, but the gi made it certain that this was an authentic  project.