As I write this, my heart races. Not because I'm nervous, but because I'm buzzing with artificial energy. I'm drinking Coke Zero mixed with cold brew coffee, my ode to Steph Russ' Mud Puddle. Per her recent book Energy: Cocktails to Get You UP, released in December via powerHouse books, the Mud Puddle calls for its maker to simply (1) mix tequila and Starbucks Doubleshot with ice in a pint glass and (2) top with Diet Coke. This is one of three drinks from the book that Steph makes for me and two friends during our exclusive tasting last week. And I must say I'm inspired by Ms. Russ's attitude towards beverage-concocting—just take my pulse.
When my friends and I arrive at Steph Russ's Elysian Park home on Friday night, she's tattooing the words "Everyday is a Winding Road" in Old English font on her roommate's belly while Shakira blasts in the background. She's so focused that in fact, it takes a few seconds for her to notice us. She greets us with warm hugs, then returns her gaze to her work. "I think it looks pretty good," she says. "I might get obsessive another day and make it perfect." For some reason, this moment sticks with me, as it seems to embody Steph Russ—spontaneous and whimsical, yet determined and meticulous. This same set of delightful contradictions animate her conceptual cocktail recipe book, which is filled with irreverent figments of culture for your hydration and heart rate.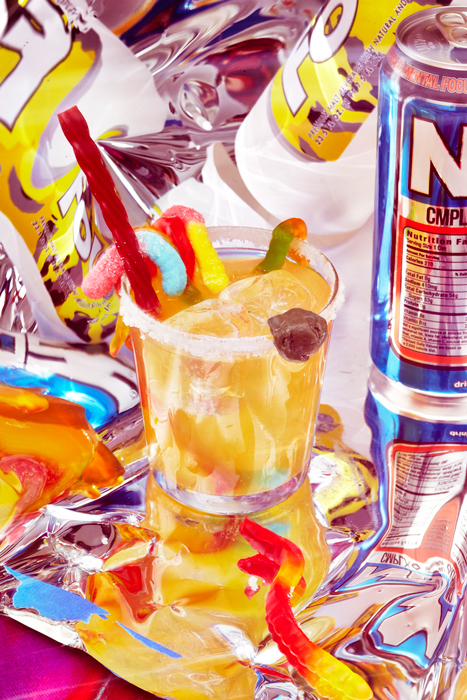 A concoction from Steph Russ's book called "Sugar High" (Four Loko Lemonade, NOS, Adderall, Antacid, Twizzler, gummy worms, bubblegum, sugar). Photo: Pete Deevakul.
From Four Loko's brief and sweeping popularity to Red Bull's Music Academy to Diplo-endorsed singer QT's Energy Elixir, recent years have seen a widespread enthusiasm for energy drink culture. But Steph Russ takes this tongue-in-cheek embrace of beverages originally designed to fuel extreme sports fanatics a step farther. A classic bourgeois symbol, "the cocktail" is reimagined using ingredients you can find at your local gas station. Further obscuring the ever-hazy line between high and low brow, Steph's playful, pop-culture inspired recipes are accompanied with striking photographs by New York-based photographer Pete Deevakul.
Throughout the evening, Steph often refers to the "Energy Drink Aesthetic." I ask her to elaborate, given that I've never heard these words in sequence. "It's amped up and extreme," she says, curling her fingers, "like Monster with the claw." With her flaming red hair, yellow mesh jersey with bananas on it, flowy bright orange pants, and buzzing energy, Steph Russ kind of looks like an energy drink personified. When she DJ'd my 27th birthday at Echo Park bar Little Joy, she wore lamé leggings adorned with flames the shade of her hair. And when late in the night, a bro-y douche came at me for not having sufficient sports knowledge to back up the Lakers crop top I was wearing, Steph came my defense with the fervor of the Monster claw. That was the first time we'd met.
"Some drinks are strictly satirical and not good," she tells us as preps the bar in her kitchen, elaborating that a select few have caused her to vomit. What she's satirizing: the pretension and self-importance that typically accompanies mixology. "No dis to them," Steph says, "but it's not relatable. We can make something nice that tastes good without having moustaches and living in Brooklyn."
At first I'm confused by Steph's example. Why not pick an attribute that defines a female hipster, or something androgynous, like a fedora? But looking back it makes perfect sense. Like every other industry, men run mixology. And Steph Russ is bored with their version of it. Rather than kvetch, she creates her own.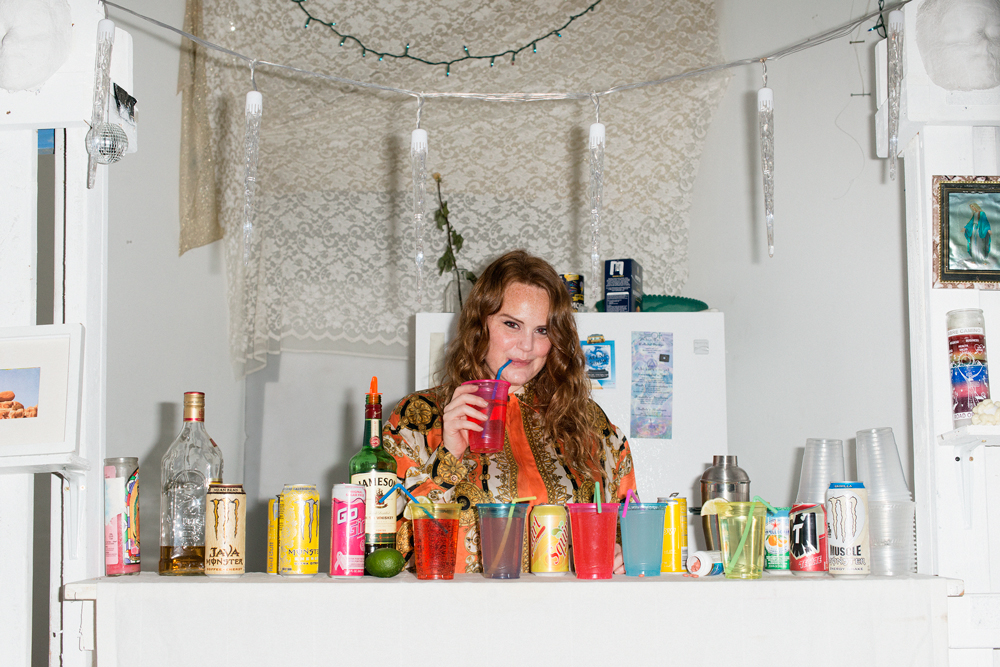 Steph Russ. Photo: Nathanael Turner.
Because I'm a devout student of Steph Russ's school of no frills drinking, my experience with mainstream mixology is limited to absently gazing at candlelit menus, pretending to consider cocktails I can't pronounce when I know I'm just going to order the cheapest and most alcoholic beer. Out of curiosity, I do some research. A quick Google Search of "top mixologists" leads me to recipes calling for "poached pear syrup," "brown rice orgeat," "smoked salt," "Texas white grapefruit," "oyster shell infused mezcal," "baked apple bitters," and, last but not least —"bee pollen."
"That's not how people wanna party," Steph says as she sips her Dark Crystal, a blend of Jäger, root beer, and Stōk's—a coffee shot "you can get for free at 7/11" (the packaging cautions limiting the shot to two per day). Steph used to make a non-caffeinated version of the drink at a Chapel Hill club called Nightlight, but added Stok's to give it a "nice, almost chocolaty flavor."
Each of the drinks in Cocktails to Get You UP is inspired a particular subculture's version of, well, getting "up." "There's something for everyone," Steph tells me. For example, the Calabasas Cooler (Tropical Red Bull, San Pellegrino, Vodka), which Steph is mixing for us at the moment in her kitchen, is an alcoholic version of the Cactus Cooler soda, but adapted for "bougier people in Calabasas." As we all went to college together at UNC, she tells us about the The NASCAR, inspired by the people of rural Shelby, North Carolina. It blends moonshine, Mountain Dew, and Ritalin. (Many recipes call for pharmaceuticals, although the lawyers prohibited firmly benzos. Steph also stresses that she's not a dealer: "people can provide their own drugs.")
While flipping through the book, my eyes are drawn to an austere image with cigarettes and black liquid. Looking down, I'm unsurprised that it's inspired by my icon—Mary Kate. Other images I'm drawn to include the Drake, named for favorite emo-rapper (whose recipe includes this instruction: "when you're really feeling it, call an ex-lover"), and the Eternal Tequila Sunrise, for when "tequila time becomes mimosa time." There's also a drink called the Daddie—which Steph has never tried personally—whose recipe calls for gas station Viagra.
When it came time to add images to the book, Steph and photographer Pete Deevakul brainstormed what each subculture's version of a party looked like. Steph and Pete met through Steph's editor, who used to live with Pete. And when Steph saw Pete's photos of distorted Fiji bottles, she knew he would be the right photographer to visualize her recipes. The photographs vary between abstract and representational, realistic and humorous. "Obviously I don't actually know how Mary-Kate and Drake party," Steph tells me, "but generally I take cues from my own experiences and from the world around me… When creating a conceptual cocktail I try to put myself in the partier's shoes and create the drink I would want or need."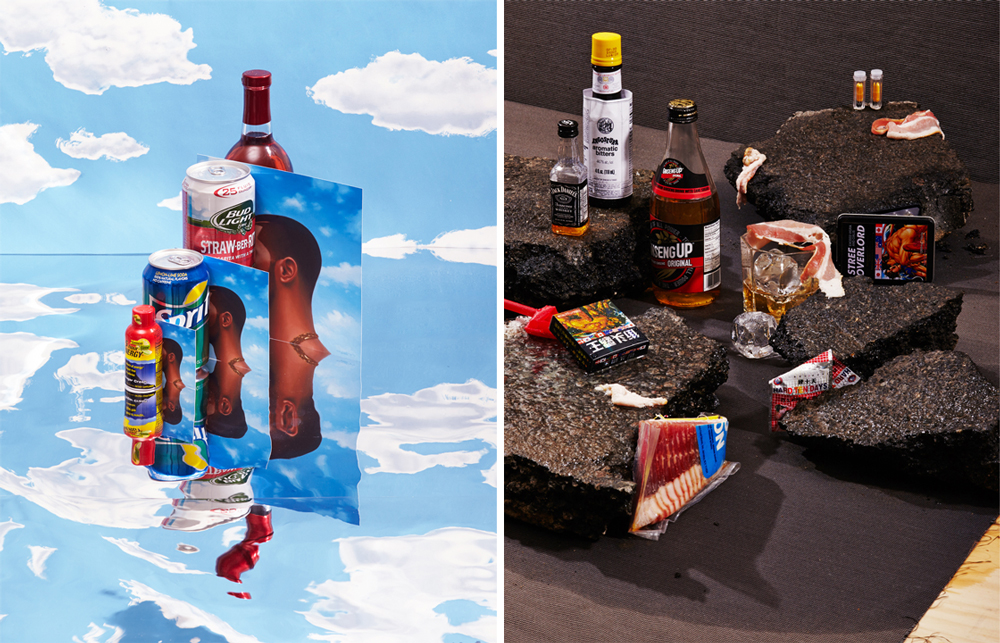 Left: The Drake (Moët Rosé Impérial, Sprite, Bud Light Lime Straw-Ber-Rita, 5-hour Energy); Right: Daddie. Photos: Pete Deevakul.
"What's been your craziest feedback?" My friend Eric asks.
"I don't know," says Steph, mixing another drink. "My grandma loves it."
"Have your parents ever been fucked up and told you how you were conceived?" she asks us as she mixes another batch into a San Pellegrino Aranciata can. "I love portable drinking," Steph explains.
"How were you conceived?" I ask.
"On a pool table in a bar in New Orleans," she says, laughing. "At least that's what my dad says when he's drunk." Steph is the oldest of 9 children, which perhaps explains why she appears to thrive in chaotic environments. Her current Elysian Park home houses 10 people, who wander in and out of rooms holding tall boys of Bud Light throughout the evening. In addition to being a mixologist/bartender, Steph is also a tattoo artist, a visual artist, a DJ, and an electronic musician. With her former collective Baby Angel DJ Crew, she used to DJ regularly, but as all its members now reside in different cities, she's recently been more focused on visual projects. Although a friend recently gifted her an Korg Electribe and some other analog gear, so she feels herself "shifting back to music now." In fact, she recently invited me to come watch her play music at Hyperion Tavern.
To explain her myriad creative pursuits, she says simply: "I like creative challenges."
I think back to this conversation later when I read an Elle profile on Sonic Youth rocker, writer, and visual artist Kim Gordon. The article quotes Gordon's friend in saying: "I loved so many kinds of art besides music, and it sometimes made me feel torn, but Kim seemed very comfortable doing whatever she felt like at the time." I think Steph also possesses the two traits attributed to Gordon: "intellectual curiosity and a near anti-authoritarian level of creative independence."
"You wanna know something I started doing recently?" Steph asks asks the group we're finishing up our final round. "I started making Monster Kombucha." She laughs, then looks at me. "It's brewing in the cabinet behind you." She reaches around me and pulls out a massive jar filled with the notoriously frightful concoction, slimy layers of various shade and consistency. "The main ingredients in Kombucha are water, sugar, caffeine, and the scoby [the fermenting culture]," she tells us, explaining that she uses the Monster for both the caffeine and the sugar. Monster is Steph Russ's energy drink of choice, partly for the branding, and partly because she says they "always seem to be coming up with new flavors."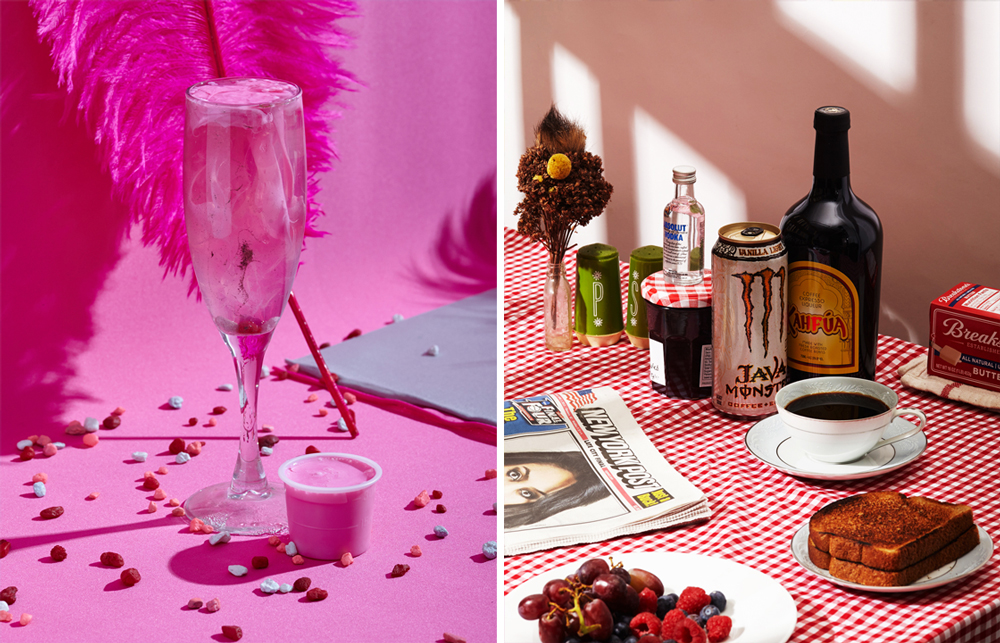 Left: Cam'ron's Coat; Right: Breakfast. Photos: Pete Deevakul.
At the end of our pregame, Steph takes us into the living room to show us a drawing she's been working on, which features various versions of Lindsay Lohan's face on tracing paper.
"I love how grotesque they are," I say.
"That's what it's called!" Steph laughs. "Grotesque Lindsay."
At this point our hearts are beating out of our chests and we decide it's time to hit the town. We go dancing at a few crowded Silverlake bars, but as is typically the case, the postgame, like the pregame, is more fun than the game itself. And given the amount of caffeine we've consumed, we're eager to keep going. We return to my place, where Steph quickly sets up a DJ station—narrowing in with her laser focus to provide us with a soundtrack that feels tailor-made to our tastes (Drake, Remy Ma, Mac Dre). And in the spirit of culinary experimentation, my friend Elizabeth cooks pasta while the rest of us dance. We're hyper and inspired and we talk about turning this Pasta Dance Party into a regular thing, maybe even a television show—and then we never discuss it again.
The following night, Steph Russ is bartending a warehouse party downtown, a monthly event called Club Illusion that she puts on with her roommate Adam Schwarz (whose stomach she was tattooing the previous night). But my roommate Eric and I are exhausted. But as we don't want to miss Steph in her element, we stop at the liquor store for some Monster and bottled coffee drinks. We invite some friends over and get our Steph Russ on, mixing Cocktails to Get Us UP.
We quickly design two delicious and exhilarating drinks. First there's the Frank Lloyd Wright—Bulleit Bourbon and bottled cold brew coffee—which, given its decidedly old white man vibes, we name for the only respectable older white man we can think of. Next, there's the "M Dollas," named after Rihanna's number-one confidant Melissa Forde, as the drink—comprised of Piña Colada Monster, Trader Joe's tequila, and Jalapeño-infused vodka—reminds us of "lolling seaside on Barbados." We also come up with the Scritillion, which is how Eric and I describe our personal aesthetic (imagine a ratchet cotillion). But as we lack the ingredients—Dom Perignon, Bud Light, a splash of Guava Goddess kombucha, and "upper of choice" sprinkled around the rim (like salt on a Margarita)—the drink only exists in our heads. Before long, we're buzzing off creative energy and caffeine, ready to take the warehouse by storm.
We Uber to a deserted section of downtown Los Angeles and climb the smoker-littered warehouse stairwell. Following the booming bass through a monochrome hallway, we locate the party and find Steph manning the bar with Brian Rowan, a designer and bartender who she previously worked with last year at a launch party for Joan Lee's Barf Queen clothing line. Steph is still wearing the banana jersey, standing behind a scattering of half-empty cans of energy drinks and liquor bottles. The bar is strung with green and white Christmas lights shaped like icicles. On one side, a framed photo of Our Lady of Guadalupe; on the other, a menu on lined notebook paper. Tonight, they are serving two drinks from our previous night together—Calabasas Cooler and Dark Crystal—as well as Bodybuilder (vodka, Kahlua, Vanilla Muscle Monster), Breakfast (similar to Bodybuilder but with Java Monster), and Truck Stop ("an even more extreme version of a Long Island Iced Tea, with Pepsi Max and Mountain Dew in place of Coke and sour mix"). For the naturally energetic, they also offer Tecate and shots.
Eric and I dance until the room turns to steam and we start to crash. As we head back into the cool Los Angeles night, leaving the party's energetic pulse behind, Steph's self-proclaimed love for the phrase "pedal to the metal" comes to mind. She said it with the half-joking tone in which she says almost everything.  "My whole life is like—just kidding," she said that night, pausing.
"But for real though."
***
Steph's next mixology project involves recipes inspired by presidential candidates for the online magazine, MEL. Purchase your own copy of Energy: Cocktails to Get You UP at powerhousebooks.com.
Portrait by Nathanael Turner.