Stefan Marx is an artist based in Hamburg, Germany. Stefan was educated by skate culture in his early teens, and is now the creator of a vast artistic universe, characterized by humorous line drawings of people, animals, and landscapes. The jack of all trades started his own T-shirt label, Lousy Livin', while still in school, and is currently illustrating for clothing label Cleptomanicx and designing covers and posters for Smallville Records. He is constantly drawing everything he sees around him, transforming every scene to hundreds of drawings with his quirky style. He seems completely unstoppable.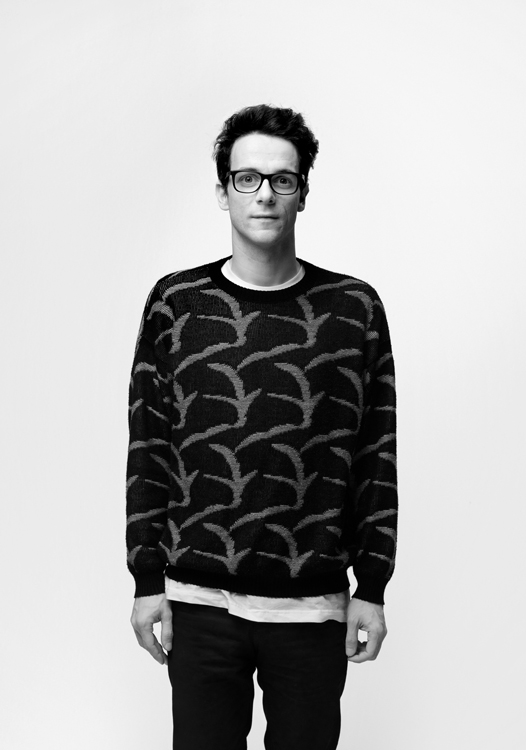 TASOS & MARINA: You are the founder of T-shirt label Lousy Livin' Company – can you tell us how it all started?
STEFAN MARX: I started the Lousy Livin' Company in 1995 by drawing on T-shirts. I had a crush on a girl and I could easily express it without words; only with a drawing on a T-shirt I wore in school. Beside this, I had some really favorite T-shirts from some skate brands. I recognized how powerful a well-made T-shirt design is. Additional to this [is] the fact that I grew up on a small, small village in the German countryside. The next skate shop was super far away and the Internet didn't exist for me. It was also the time where the graphic trend in skateboarding moved from real good motives to simple brand logos. I decided that it would be better if I did my own T-shirts than spend money for skate brand T-shirts, which are basically saying nothing but the super fresh new company [logo] which [none] of my friends knew of and maybe didn't exist anymore.
None of my friends understood the language of the skate T-shirts that I liked, so I thought it would be nice to express my own thoughts and feelings in drawings on T-shirts, speaking the language that my friends [could] understand. I started doing my T-shirts with textile colors and my airbrush; real fun. My friends liked them and so I started to print an edition of the design at a local silk-screener. Later, I thought that it was funny for a 17-year-old kid to have a lousy company, so I mixed up the name – The Lousy Livin' Company. A small goal is doing favorite T-shirts for somebody – doing my personal favorite T-shirts for every collection. Making people happier when they wear a Lousy T-shirt. Trying to show people that a T-shirt could be much more than only a basic piece of cloth. Doing a small graphical education for younger kids, bringing back the fun into things that are connected to skateboarding and T-shirts. It's still really small, I do it [on] my own, I have no other people who work on it, so I don't have to compromise.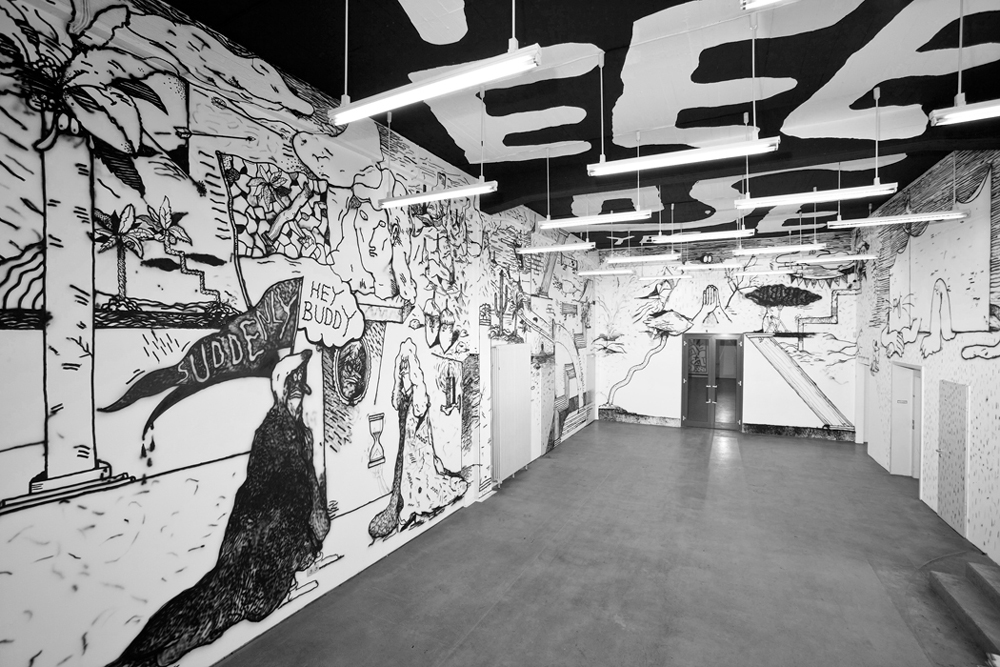 You have released the book, Economy Class, with Dashwood Books in 2013, which includes line drawings of commercial airplanes that you have drawn over the last few years. Can you tell us something about this fixation to airplanes?
Somehow I started drawing planes while having layovers at airports. I always loved the different characters of planes – characteristics, the type, manufactures, typography, airline, colors. I'm fascinated by the fact that planes travel that much and that the planes you see on a certain airport came from a different city and country and go back there again with all the people on the plane. I love traveling by plane and airports as places in between – the rush, the quietness, the atmosphere. People are mostly waiting, leaving back something, and looking forward to be somewhere else soon. I do enjoy this too, but I also really enjoy spending time at airports, watching planes coming in and flying.
What fascinates me is the way airports are totally functional systems; little cities almost. Frankfurt Airport for example – Terminal A is just amazing I think. I'd love to work there or have an artist in residency opportunity there. But back to the drawings – I like to take a drawing from every airport with me; all the airlines which are local at airports on different continents; you got all the small airlines that fly only in specific regions. And the different types of planes – I tried to get really into it and learned how to tell the difference in manufacture, types, numbers etc. David Strettel from Dashwood Books asked me for a book with drawings. We both loved the idea to publish my plane drawings, and the book came out in 2013 in a small edition.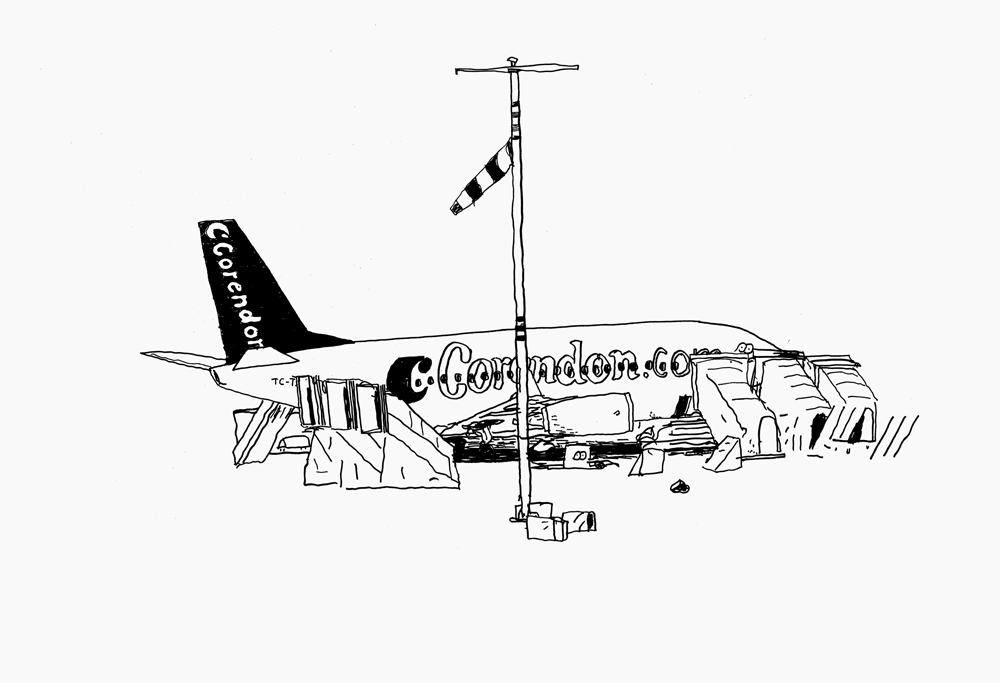 If someone observed yourself and your surroundings, could he have found any similarities with your drawings?
I guess so, yes.
In many pieces you use text, where do you draw your inspiration from ?
In my text-based pieces I often draw parts of song lyrics I really love. In my zines, there are often written notes of quotes I hear and laugh about, mostly by my friends.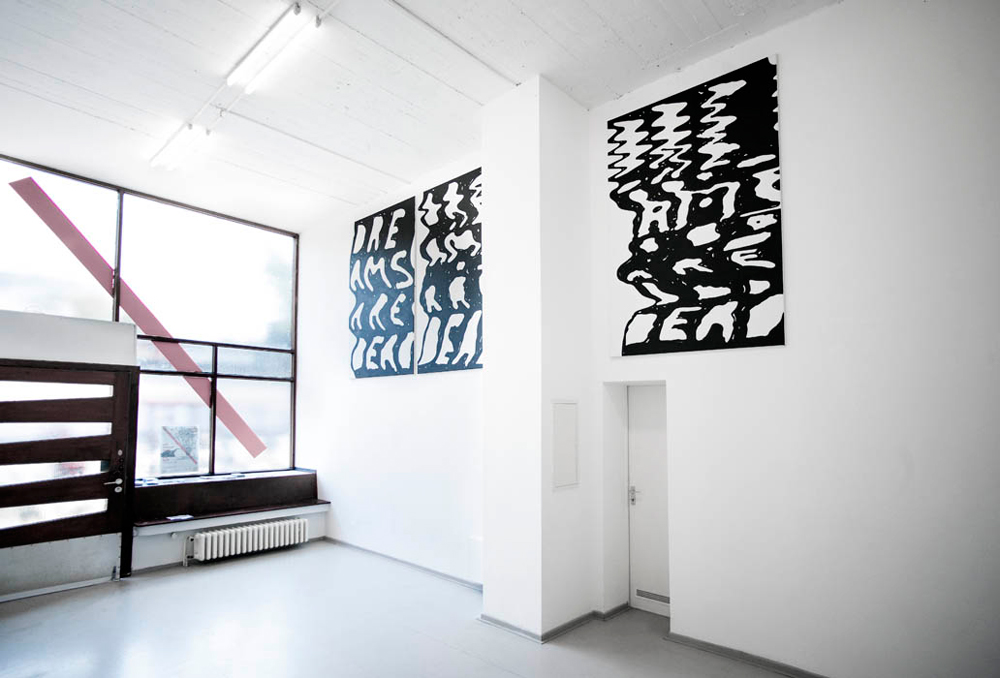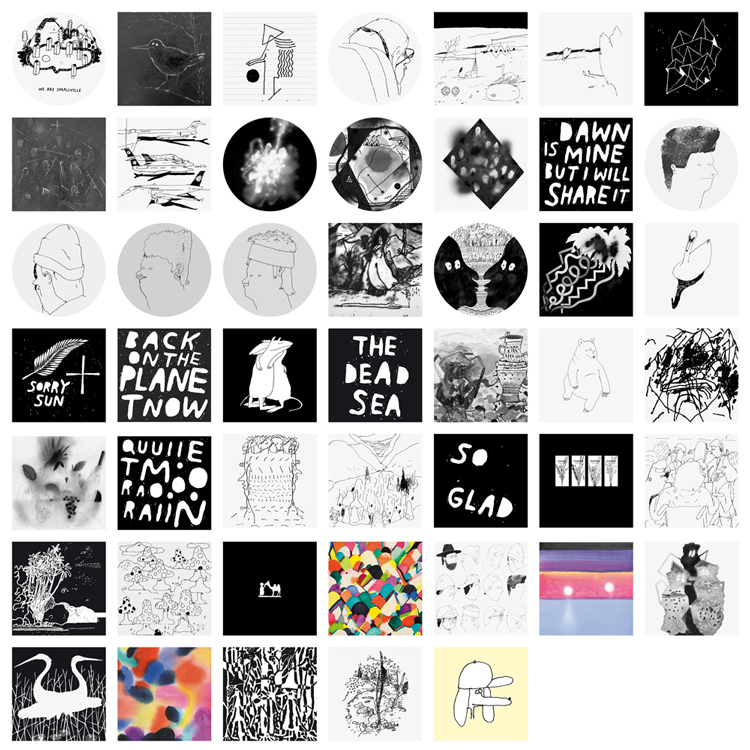 You have released your own series of publications – when did you start publishing those? Do you also collect other zines?
The Lousy Livin' Company Zines were the first publications I did back then, showing the newest T-shirts, some work of my friends, photos of my little skateboard team, and drawings. I compiled my very first zine only with drawings after a trip to London in 2003. There is a quote of Marcus Oakley on the cover. Since then, I publish my drawings regularly with Nieves and Rollo Press and very often by my own. I sell these zines in our record store Smallville Records in Hamburg, or via Printed Matter in NYC. I do collect zines too, yes, that's a great pleasure.
Music, drawing, T-shirts, painting, travel: can you make us a pyramid with those elements?
Thinking of a pyramid related to time, on the bottom is drawing and listening to music, then maybe traveling, painting, and T-shirts.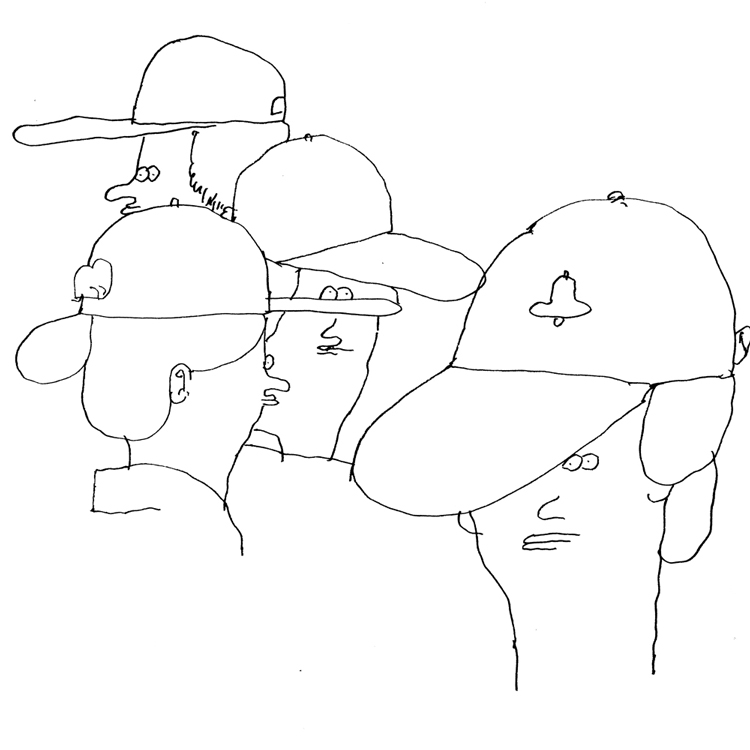 What have you [seen] recently that's blown you away?
A South Pacific trip had the most impact on me, where I saw all this fantastic and unreal nature. We discovered the Solomon Islands and its protected island, TETEPARE, in the western province. That was just mind blowing. Also the cargo cult music of the island, Tanna (Vanuatu), called John Frum, was just something I never heard before. Together, with the active volcano MOUNT YASUR on the same island, [it] was just stunning.
How do you approach your paintings in your relation to your drawings? How would you describe the process?
I can draw everywhere, but I paint only in my studio. Also the sizes are much bigger, so I plan my work in a much different way.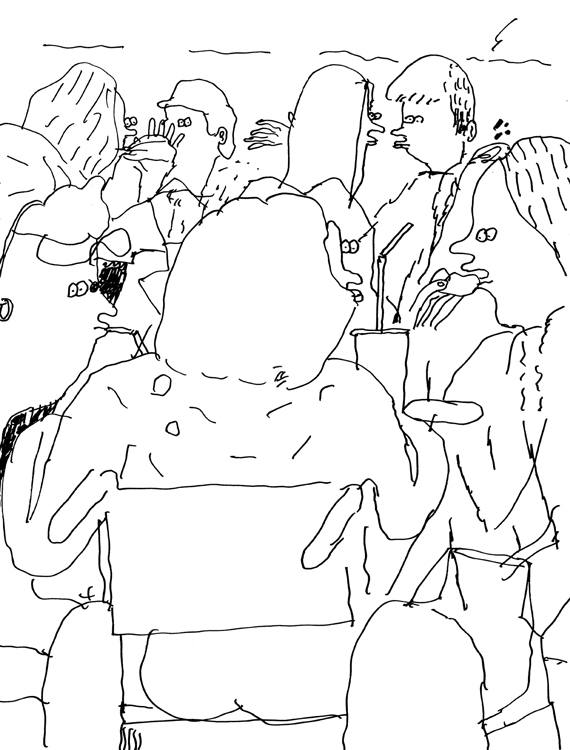 Do you remember your first influences when you started to draw? How has your drawing evolved over the years?
I remember just re-drawing record covers and stuff, the Erik Riggs work for Iron Maiden, for example, touched me. I covered these drawings, also redraw skate pictures with my pencil... [laughs]. Then I found my own themes to work on, I love to draw persons that I see just somewhere. Also I got more patient over the years, getting into nature and landscape drawings more lately.
What was the last piece of music you listened to? When and where was that?
I listened to my friend's music, his musician name is LAWRENCE and he just released a new ambient album on Mule Musiq in Tokyo. The title is A DAY IN THE LIFE and he asked me to do the cover.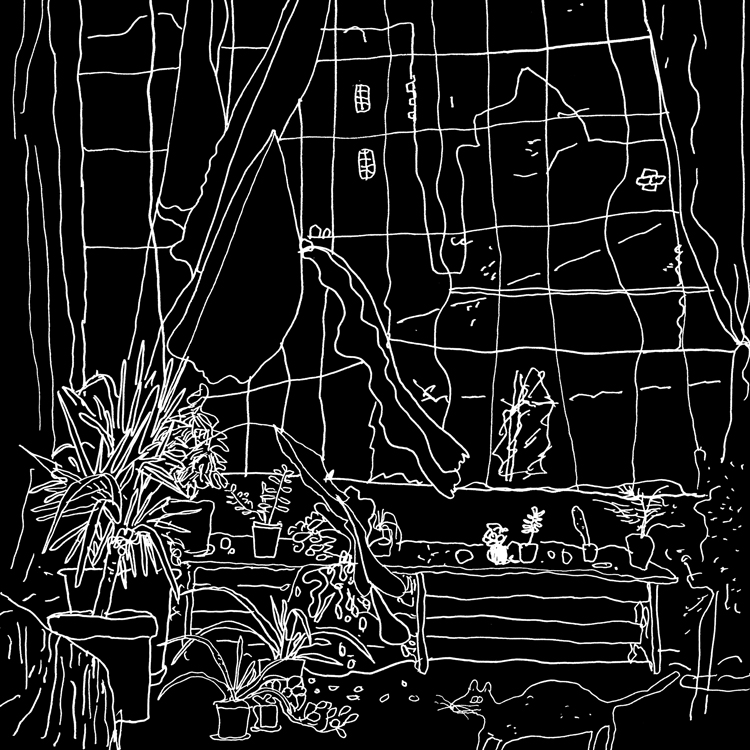 ::