In East Atlanta, French bulldogs propel themselves through a network of tentacles. They rest in magenta glory, slicked on the brick sides of buildings, often among a crew of other bizarre animals including a deranged unicorn and loud-mouthed narwhal.
Well, in East Atlanta, but also in artist Ray Geier's mind. The Kentucky-born-Atlantan-turned man dubbed himself Squish after his iconic character. After only a year and some change, Geier populated an entire universe of precocious monsters.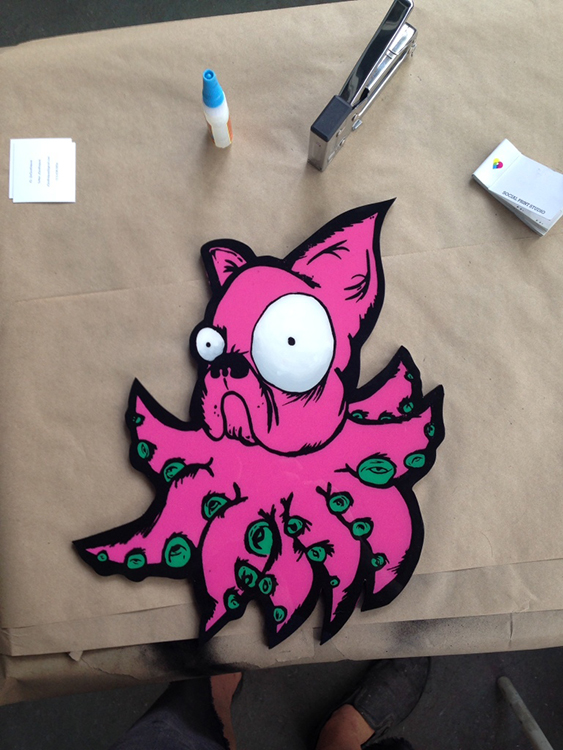 Squishiepuss, the OG Squish character.
After a 20-year break from drawing, Geier grew maddeningly bored in a job and started doodling. First he tried his Frenchie, Spanky, but when the concept of legs came up, he decided tentacles might be easier. The idea stuck and "Squishiepuss" swam into existence.
"I started putting [wheat pastes] up and started an Instagram account and…" the burly dude breaks off in chuckles. "Wheat paste is just fun. With little to no money, I can create something fun. I throw it on a wall and people can see for themselves – judge if they like it or not. I like that whole democracy."
Geier describes the street aspect of his art as an effective way to not only interact with the community, but to lucratively advertise.
His larger efforts involve screenprinting these whacked-out characters – mostly inspired from comic books, pre-existing cartoons, punk rock, audience requests and Geier's wild mind – on one-quarter-inch thick boards of Baltic birch. The type of wood is important, he explains, as it doesn't typically have knots or other imperfections. Since it's relatively flawless from the get-go, that means smoother sailing as a monster foundation. Although Baltic birch runs fairly pricey, the artist find resources in some gritty spots for mad cheap or free.
"This is my dirty secret: That Dumpster out there," he says, pointing through the studio window to a gravel parking lot, "…is like the magic Dumpster. You would not believe I found most of this stuff in the Dumpster."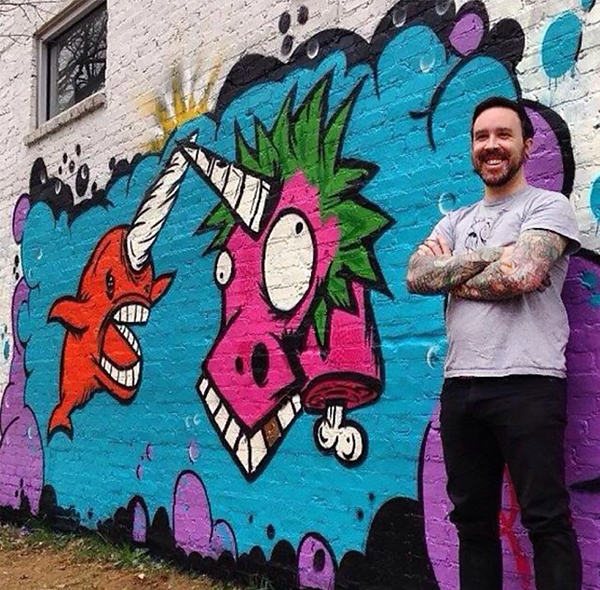 Ray Geier, outside East Atlanta cafe Hodgepodge.
He uses a converted 1-bedroom apartment in Atlanta's Poncey-Highland neighborhood as a studio, slinging his bed in the living room and working on art behind a door. Geier's studio holds all the basics – a scroll saw he got at a criminally-low price secondhand, a light table he rigged to accommodate larger wood cuts, a Magic Dumpster Z-rack to hang shirts, pyramids of Mod Podge.
Geier's studio could be entirely chaotic, but feels strangely zen in its tidiness. He takes the same approach in his art, giving off a charmingly neurotic vibe when showing off the perfect curved edges of the panels. If a creature gets a little shellac slopped in a slightly off spot, Geier won't even consider it as sellable. He will, however, often offer it up as a prize in the weekly art scavenger hunt via Instagram. It's a series called Free Art Friday and in Atlanta, the hashtag is #fafatl. When he has spare, hardly-flawed works, Geier photographs the wood print in a random Atlanta spot, posts to his IG account, tags it accordingly, then leaves it for a lucky fan to find and keep. He says most of his contributions grow legs within an hour and his participation has lassoed a whole new crew of admirers.
Although Geier identifies as a non-smoking, non-drinking vegan, he doesn't let his political or personal choices bleed into the Squish stratosphere. "I'm not in this to alienate people," he says about his beliefs' exclusion from his art. "If I were to die tomorrow, I'd just want to know I made people laugh and have fun. "I feel that if you want something in life, you should go for it. You shouldn't have any real guilt about wanting to have fun – as long as it's not affecting anyone else, you should be able to go and have that fun and enjoy your life."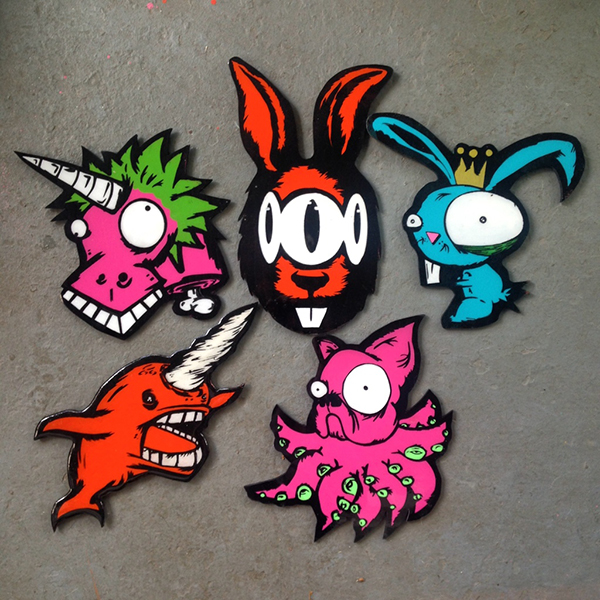 Squish's monster universe.