When you think of Adult Swim, you probably think of out-there late-night comedy you watch while you're baked, with shows that last about as long as it takes you to eat two Chalupas. Not high-brow, not low-brow. Kind of unibrow, right in the middle. Packed with high-level writing that keeps you thinking but isn't afraid to use potty humor or the occasional dick joke. It's perfect, really. And it's crazy that it never existed before. Saturday morning cartoons but make it for adults and make it every night after all the kids go to bed.
Adult Swim debuted as a post-primetime programming block on Cartoon Network in September of 2001 to rave reviews and confused viewers who couldn't look away. It was something consumers never knew they needed and now can't imagine a TV landscape without.
Sure, Cartoon Network's hilarious drunk uncle Adult Swim walked through a doorway that shows like The Simpsons and South Park and Beavis and Butthead had kicked down in the previous decade, that's fair. But it's not the whole story. The seeds for Adult Swim were planted long before 2001, way back in the grungy, flannelly, early-90s, when Cartoon Network grew tired of simply playing regurgitated cartoons from the Turner archives all day and decided to try their hand at original programming.
It was 1994, and late-night talk shows like Letterman and Leno ruled the television dial, and every other network was trying their hand at the format — even if it was in jest. At this time, Cartoon Network was the Pluto of the Turner Broadcasting universe, a vessel for Turner to churn out old reruns of the animated series it had acquired from MGM, Warner Bros., and Hanna-Barbera. It was a young team at the helm, led by the likes of Mike Lazzo, and they wanted to make their mark but had little (read: zero) budget to work with.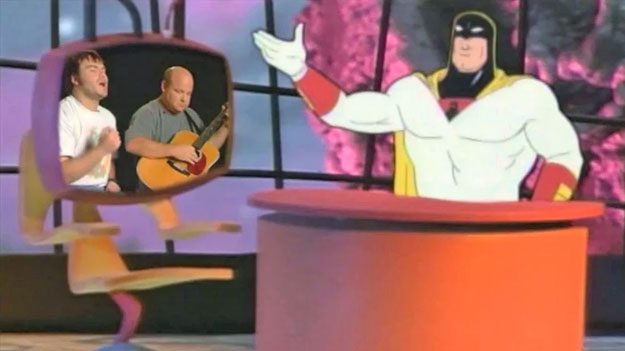 Lazzo, who started in the TBS mailroom before climbing his way to the head of programming at Cartoon Network, had a hairbrained idea to circumvent Ted Turner's budgetary restrictions by using old content Turner already owned to create something completely new. Be kind and rewind to 1993, when Cartoon Network had dug through the archives to find an obscure Hanna-Barbera cartoon from the late-60s called Space Ghost to air in a marathon on the all-animated channel. They wanted to come up with a catchy name for the marathon block that rhymed with Space Ghost, and thankfully they landed on Space Ghost Coast to Coast rather than Space Ghost Does the Most. Fresh in his memory from the marathon, Lazzo and his cohorts at Cartoon Network knew Space Ghost was the perfect host for their own late-night talk show.
The original Space Ghost series that aired on CBS only consisted of 20 episodes, so there wasn't a tremendous amount of source material to work with but that's why they could use Space Ghost in the first place.
In a 2014 interview, Lazzo said, "We went to Ted and said, 'Please can we have some money?' And he said, like any parent would, 'Use what you've got, and then maybe we can talk later about this.'" You see, Cartoon Network had bought the rights to the Hanna-Barbera library but they didn't have rights to use all of the characters in whatever way they chose. So, when Lazzo inquired with Turner about which classic cartoon characters he could manipulate into a new series, he was told to stick to "the forgettable ones." My, how things have changed for Space Ghost.
Without any dedicated office space for the new show concept, Cartoon Network's Andy Merrill and Khaki Jones went to work on a Space Ghost Coast to Coast pilot in a closet at Turner Broadcasting. The two pioneers brought a reel-to-reel tape machine into the closet with them and created a rag-tag episode using clips from a CNN interview with Denzel Washington from a Malcolm X press junket to create the illusion Space Ghost was questioning the celebrated actor himself.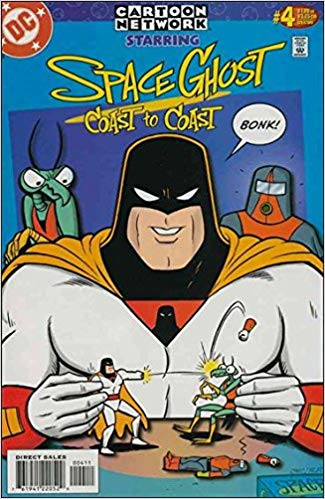 The network was sold and Lazzo's team began building out what would be the show's expanded core. All of the villains from the original cartoon became Space Ghost's staff on his new talk show, mainly because they were imprisoned by the superhero. Zorak, Brak, and Moltar, among others, played the parts of Space Ghost's bandleader, random sidekick, and director, respectively. While they all worked on the show, tensions always ran high and a running gag found Space Ghost routinely blasting Zorak into smithereens.
Because of the whole no-money thing, Lazzo and the show's producers couldn't afford to pay the original voice actors from Space Ghost to reprise their roles and instead just tested out their own staffers in the parts, which cost considerably less aka nothing. Animator Clay Martin Croker became Zorak, Merrill became Brak, and an affordable voice actor who had done ad spots for TBS in the past, George Lowe, became the successor to Gary Owens, the original (and more expensive) voice behind Space Ghost. If they didn't have someone new on staff to voice a character, one of the other voice actors would do it and just change the pitch. Again, no budget.
What brought the whole glorious show together was the brilliant editing of Michael Cahill, who created the painfully awkward interactions between Space Ghost and his celebrity guests. Many times, the guests would be asked one question and give their answer, just to have the show's writing staff later change the question to make the guests' answers seem odd and confusing.
They created the talk show's "set" out of plastic and plexiglass and used a tiny motor to drop the miniature TV monitor from the ceiling that would display the feed of Earthling guests. They used rotoscoping, an outdated classic animation style, to create new animations that were needed to fill the gaps in the old assets so as to match the original cartoon's aesthetic, adding grain and imperfect lines on top to make sure viewers couldn't spot the differences. Croker only had to create five fresh pieces of animation to complete the first episode and they went on like that until 1995, when 15 more animation sequences were introduced to add new life to the show.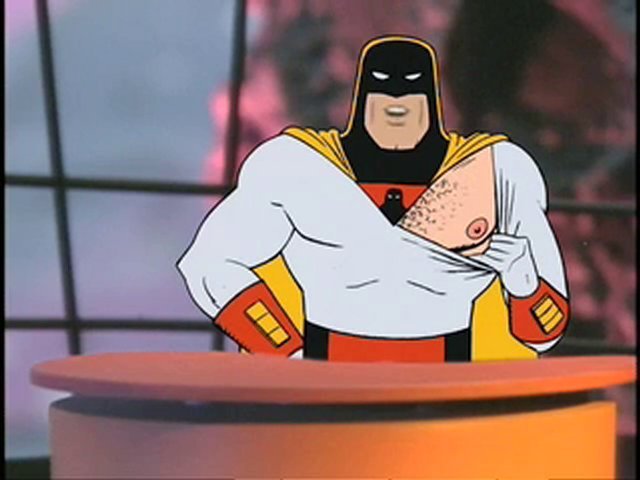 Space Ghost Coast to Coast hit the airwaves for the first time on April 15, 1994, and for the first couple of years, the talk show would be followed by episodes of the original Space Ghost cartoon, albeit with an added laugh track to give it that signature wtf vibe. The show was a relative hit, scoring Cartoon Network decidedly higher ratings in that late-night time slot than they'd achieved before airing reruns.
With bigger ratings (and finally a budget!), the show began to build out its roster, acquiring seasoned veterans for its writing team from some of the very shows it was emulating. Seinfeld writer Spike Feresten, Matt Harrigan from Letterman and Celebrity Deathmatch, and Mystery Science Theater creator Joel Hodgson, among others, all joined the Space Ghost Coast to Coast writing staff.
The show was connecting with audiences in a way that Cartoon Network programming never had. They even had fans at NASA, who named rocks found on Mars after Space Ghost, Zorak, Moltar, and Brak during 1997's Pathfinder mission.
Back on Earth in 2001, Space Ghost Coast to Coast led the way as Cartoon Network switched their entire late-night programming block to the mature-themed Adult Swim. Over the years, the rest of the Adult Swim lineup featured old or canceled cartoons geared toward adults from other networks like Family Guy and Home Videos, as well as countless new animated creations inspired by Space Ghost, many brought to life by the Coast to Coast team itself. The Brak Show, Aqua Teen Hunger Force, Sealab 2021, and Harvey Birdman, Attorney at Law were all brainchildren of the Space Ghost Coast to Coast team.
Unfortunately, Space Ghost Coast to Coast didn't receive the glorious send-off it deserved, rather fizzling out after the AOL/Time Warner merger in the early-2000s caused major upheaval at Cartoon Network and placed little priority on staples of the network like Space Ghost. There was a brief revival in 2008 on Turner's now-defunct gaming platform GameTap but things just weren't the same. Today, all that's left of Space Ghost Coast to Coast is the indelible mark it left on television history and the laundry list of shows it influenced.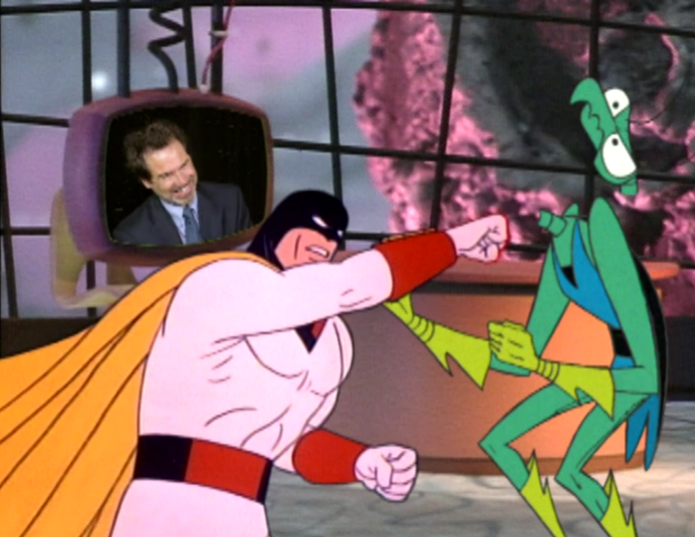 In May of 2012, Adult Swim premiered its second late-night talk show, The Eric Andre Show, which follows in the footsteps of Space Ghost's insanely bizarre premise and confused its guests (and viewers) in a similar way. The similarities between the shows were no accident, as Andre was a huge fan of Space Ghost.
"Before we started shooting, I rented as many seasons I could get my hands on and did a Space Ghost marathon by myself in my house, just so I could absorb as much Space Ghost as I could," Andre said in an interview in 2014.
While it's sad we don't have new 15-minute episodes of Space Ghost Coast to Coast to watch every night as we indulge in our munchies, there are redeeming qualities to the show never reaching its full commercial potential. As South Park gears up to sell its exclusive streaming rights to the highest bidder, sure to fetch north of a half-billion dollars, every single episode of Space Ghost Coast to Coast is available to watch FOR FREE on Adult Swim's website.
***
THE HUNDREDS X SPACE GHOST COAST TO COAST DROPS FRIDAY NOVEMBER 8TH