Words: Chelsea Green
Images: Bobby Hundreds, Hello Giggles
If you haven't heard of Hello Giggles yet, you've probably been living under a rock… or up in space, or you've been transported back to 1990 (pre-internet days, duh). This all-girl web collective is made up of three lovely and talented creatives, working to give everyday ladies a platform to rant, reminisce, share stories, and give advice.
Guys will love it too! Check it out – it might give you some perspective on that cute girl you visit (or borderline stalk…) every morning, who works at your local coffee shop.
We sat down with Sophia Rossi, one-third of Hello Giggles. An accomplished producer, writer, and comedian – Rossi talks to us about her site, her muse Maude Apatow, and Twitter, naturally.
Q: Tell me about how the website started.
I do production, Zooey is a singer and producer, and Molly's an internet blogger. After The Hills and The City, I did a lot of freelance stuff for Funny or Die and College Humor, and Jason Bateman's company DumbDumb. It was all brand and video content. I thought, there's no sites for girls to do Funny or Die sketches – Molly agreed with me. It all stemmed from seeing Funny or Die videos and every girl either played "the girlfriend" or "the friend", but it was always really sexual. We don't use sexuality as humor – which, a lot of girls do – and that's totally fine. But that's not the base of our humor, we're PG-13.
The intention was a video site to do sketches. We wanted to launch it because Molly said she knew a bunch of cute blogger girls who were dying to write pieces, and they didn't have a place for it. It really changed the direction that we were planning on going. We realized that girls need to read and take it in, rather than something visual. So Funny or Die and College Humor works for boys, but girls want thought pieces, they want to share and discuss.
Our Hello Giggles girl is really into nostalgia. It's sort of like how The Hills was for me. Everyone would always say, "that's a teen show," but that's not true. Girls in their 20's watched it with their boyfriends. Teens weren't even really allowed to watch The Hills! It's a different market – the twenty-something market is the most loyal of markets, because you're just coming into money and you want to remember your past, but also be a grown up.
So, we started the site two months ago. First we wanted to do a full partnership with AOL or something, and we got a little nervous about it because content-wise, we didn't really know what we were. So, we thought we'd just put it up. We did one brand video, and used the money from that brand video to support our site. All of our writers do it for free, but it's like a resume for them.
Now, it goes both ways. It's for people who have never written before, and they want to express themselves for the first time – so we'll help them format. You write how you speak, there's no journalism, nothing topical, nothing about gossip.
Then, it'll be people who are successful in their writing – like Sloane Crosley is a friend of mine, and she wrote "I Was Told There'd Be Cake" which is a New York Times Best Seller. She said she had a weird rant she wrote about juice cleanses, and of course I'd run that, it's so funny.
Zooey does open letters, I do 'BFF of the Week', Molly does 'Get Your Nails Did'. Basically, all of our voices are very different. I skew really teen, because I have the inner child of a thirteen year old. Zooey is very crafty and DIY, and Molly is like Nicki Minaj. She is on some next level stuff – in professional emails she'll be like, "Get it, girl!"
I'm really into BFF-ness, and girl friendships, so that's really what it's all about.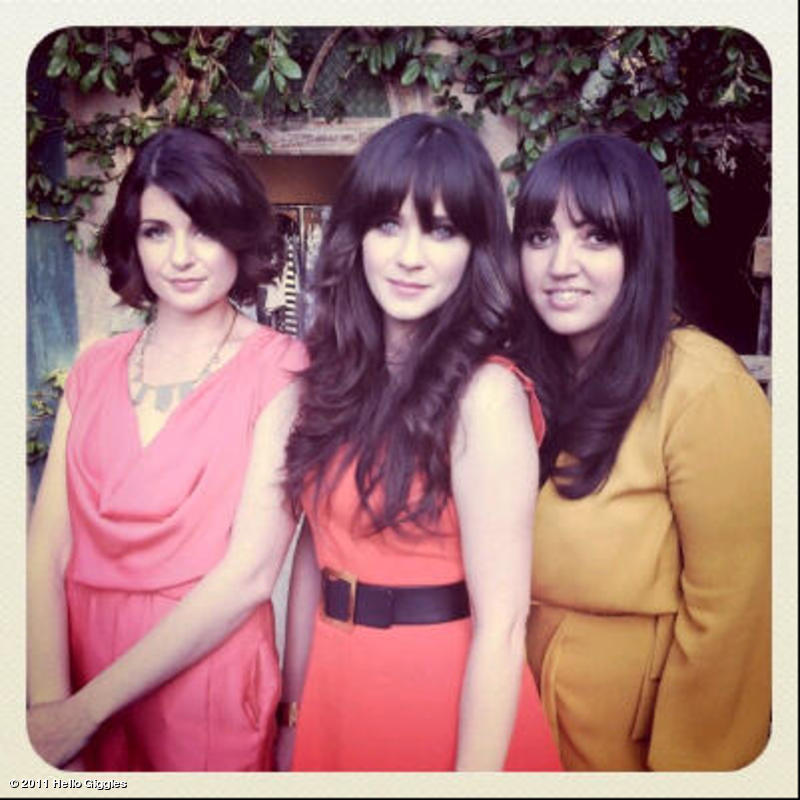 Q: How's the response been so far?
So far, we've had about a million unique visitors in two months, which is huge for us! I feel like we have a prominent girl presence. We have 30,000 followers on Twitter, and they're always talking to us. They feel like we're their friends, because they can write on the site.
Q: Is it user-generated content?
They have to submit. We get a few hundred submissions a day, and we have a few people go through them in LA and NY. It's kind of surprising how many awesome girls are out there who have a blog or tumblr, and have something to write about. Tavi from Style Rookie is a really great example.
I'm not new to the movement, I'm just a little more comedy-driven. There's The Hairpin, and other sites that are out there. I think the difference with us is that there's more of a community. You feel like you can write for us.
We have a really strong girl network. Soleil Moon-Frye and Demi Moore have been huge supporters – just, strong women. I, personally, feel like everywhere I've gotten in my life has been through really nice guys.
I know guys are supportive, that's not a problem, but they've always been fatherly or brotherly, and I don't feel like there's enough women who do that for each other.
Every woman I've known has been a maniac, so I would never want to be like that for anyone else. So now we have girls that we can help staff on a show, or help publish their book.

Q: So, what about the guys' presence on the website?
Well, Josh Madden is a great example!
He sent in this hysterical post about boyfriend jeans basically saying, "don't call them boyfriend jeans if they're skinnier than my jeans." It was really funny, but it was kind of mean towards women. He had a thing about feathers in your hair like, "that's fuckin' ugly." And I'm like, you can't talk at women that way.
So, I think it's funny, as a person. But I would not put it on the site.
Or, like, "I want to give dating advice, and basically tell girls how desperate they're being." Well, no that's not going to be on the site.
If you're a guy, you're going to have to write your post in a positive female tone – we're expanding to that. You know, I think a lot of guys get it, I have so many guy friends. I don't know, though… It's kind of hard to get guys to write their thoughts down.
Girls just write this shit in an email to their friends, you know?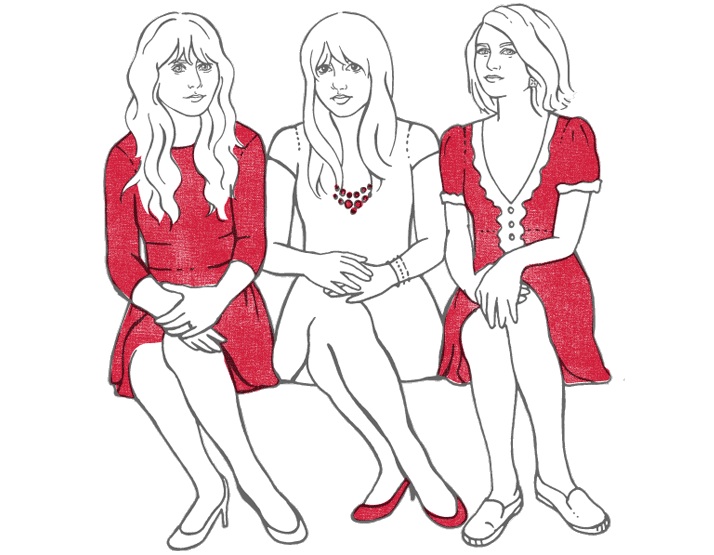 Q: Do you want to talk a little bit about Judy Blume?
We found Judy on Twitter. She followed Molly first, to be safe – we don't know how that happened. Then she followed me, and then Zooey last… so Zooey's a little upset about that.
She wrote me a direct message one day telling me my tweets were really funny. And I told her I thought she was the best, and that I was, like, dead. I told her, "I'm writing you from my grave." I said I'd love it if she was on the site.
We started exchanging emails – she writes like your grandmother is writing you an email, because it's really, really long and then you don't hear from her for two weeks. You're like, "Oh my God, is Judy mad at me?" Because I'll write back right away, I'm so instant, and I won't hear from her for a while. I think she goes back and really thinks about it. She sits down, and get's into it. Which I respect, but I'm more like, "k thanks bye!"
Q: So what are you having her contribute?
We're going to interview her. I asked her if she had any side pieces that she's been working on, but she doesn't do that. We're going to have a thirteen year old interview her, and then I'll interview her. We want to see if there's a difference in influence. She's a huge part of school itineraries, she is the reading material. She Skypes with classrooms and stuff, she gets it.
Q: Have you Skyped with her?
No, I Skype with Maude [Apatow] and her friends a lot to get work done. I have this other girl, Ruby Karp, who's ten and she's a feminist. I found her through Amy Poehler, because Amy did a series called Smart Girls at the Party. She interviewed her, and she'll say stuff like "the difference between men and women are…"
She wrote in a school assignment that she was a feminist and all of these parents were in an uproar and called her mom asking what Ruby was teaching their children. Her mom was like, "I hope my daughter teaches you guys something!"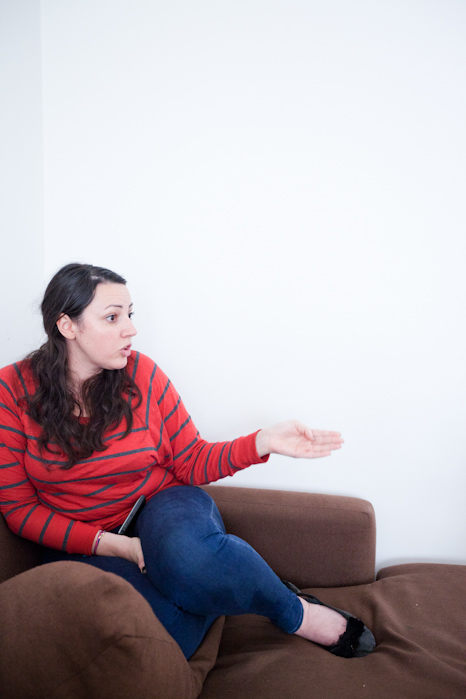 Q: Twitter plays a big part in the site, and networking, right?:
Oh, Twitter is the reason we're doing well.
Basically, we asked anybody with a lot of followers to tweet their stories that they contributed and it went from there.
Q: Who are some of your favorite people to follow on Twitter?:
Maude is my absolute favorite, but that's because I'm a narcissist and I think she sounds like me when I was 13.
I think Shelby Fero is hilarious. She's 17, she writes for us, and goes to USC. I think Megan Amram is really funny – she went to Harvard, and she writes for us, too.
I want to do a list of people we think are funny, because everyone complains about Twitter and I always tell them to go to my feed. I 'favorite' a lot because I love jokes. 'Fav star' is what writers and comedians do to remember a theme or a joke.
I love Rob Delaney. I've done stuff with Soleil lately too – I love that she owns that she was Punky Brewster. She's the happiest person!