"Let's open our own all vegan restaurant" is a phrase that I never really felt would be part of my world. I'm not from hospitality, I've never worked in a restaurant, I'm for sure not a gourmet by any standard. Left to my own devices long enough, I will eventually revert to just eating M&M's, meat free hot dogs, and drinking Dr. Pepper, and then forget to brush my teeth. I'm basically a child that can grow a thick beard. The one thing I do have, however, is an amazing fiancé in the form of Mo Wyse, and an equally brilliant business partner in Shannon Martinez. These two ladies have shown me what it takes to open and manage all the ups and downs that come with a brand new business that is growing faster than we ever imagined.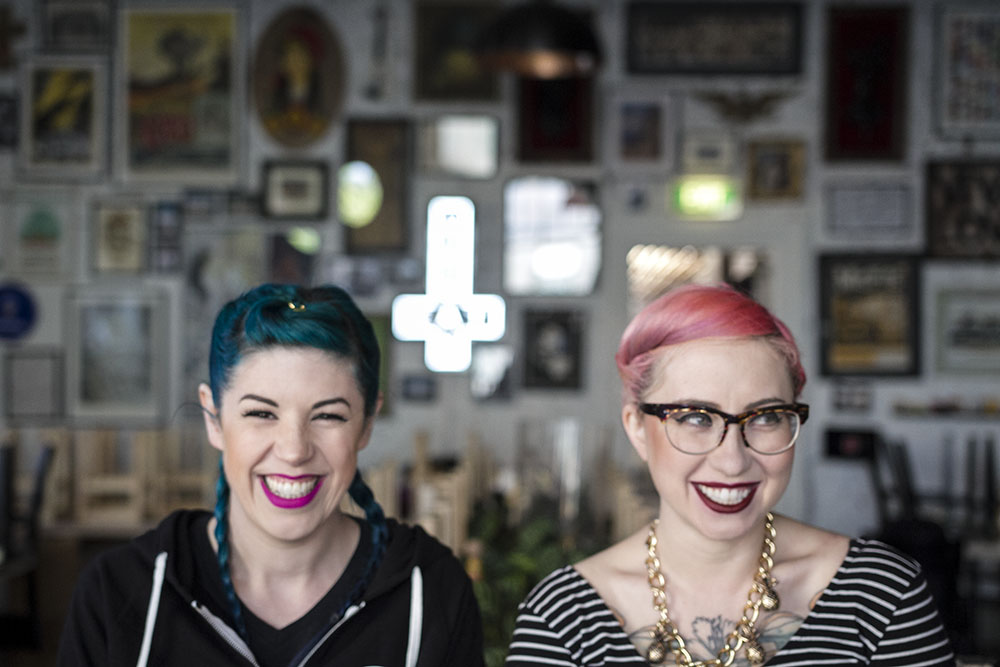 Basically history plays out like this: Mo (above right) and I were living in her native Seattle, WA, for two years, 2010-2012, and then decided to try our hand living out here in my hometown of Melbourne, Australia. After being here for a year, Mo had had a couple of jobs, but being that she only has one working speed – full throttle and with all her heart – it was clear then, and it's always been clear to me since I met her, that unless she was working for herself, whoever is paying her wage is getting too good of a deal. Luckily for us, very soon after we moved back, we met Shannon (above left) through a mutual friend. We all hit it off and they connected on their love of food and service right away. Shannon had been a chef all over Melbourne for years, introducing some vegan items to menus at a lot of the places she worked, and had built a following through that element of her cooking. So here we find ourselves with both Mo and Shannon feeling like they had never fully hit their potential as they were always building someone else's dream. After a dinner for Mo's birthday in February 2013, with Shannon sitting in our lounge room, the statement happened, "Lets open our own all vegan restaurant." We all had skills in different areas, Shannon in food, Mo in logistics and business, and I knew that I would do everything in my bag of tricks to help this dream come together as best I could. So I guess I do design, construction, problem solving, repairs, and whatever else is needed to help.
"[THEY FELT] LIKE THEY HAD NEVER FULLY HIT THEIR POTENTIAL AS THEY WERE ALWAYS BUILDING SOMEONE ELSE'S DREAM."
A year later, Mo's next birthday, we had a party in our almost completed fit out restaurant. So in the space of one year, the seed that was planted had been taken by these two, worked on in between other full time jobs (Mo and I got engaged somewhere in there too) all up until the point that they both quit their full time work, having signed a lease in December 2013, to roll the dice and smash through the months of construction, organization, financial, legal, and countless other tasks that lead to our grand opening in March 2014.
This was the birth of Smith & Daughters, we are just this week about to pass our first year anniversary of signing the lease, so I thought I would put together an article about this space that has been such a massive part of our last year. Which I think has set a new standard and opened peoples' eyes to what vegan food can actually be.
I wrote a bunch of questions for Shannon and Mo to answer about what S&D is all about, although I am constantly involved, they ARE the restaurant. They are such a massive part of what keeps people coming back, I just fix the broken door/leaky tap/dodgy lock when its needed. They are the ones that breathe life into the place and make it more than just another restaurant.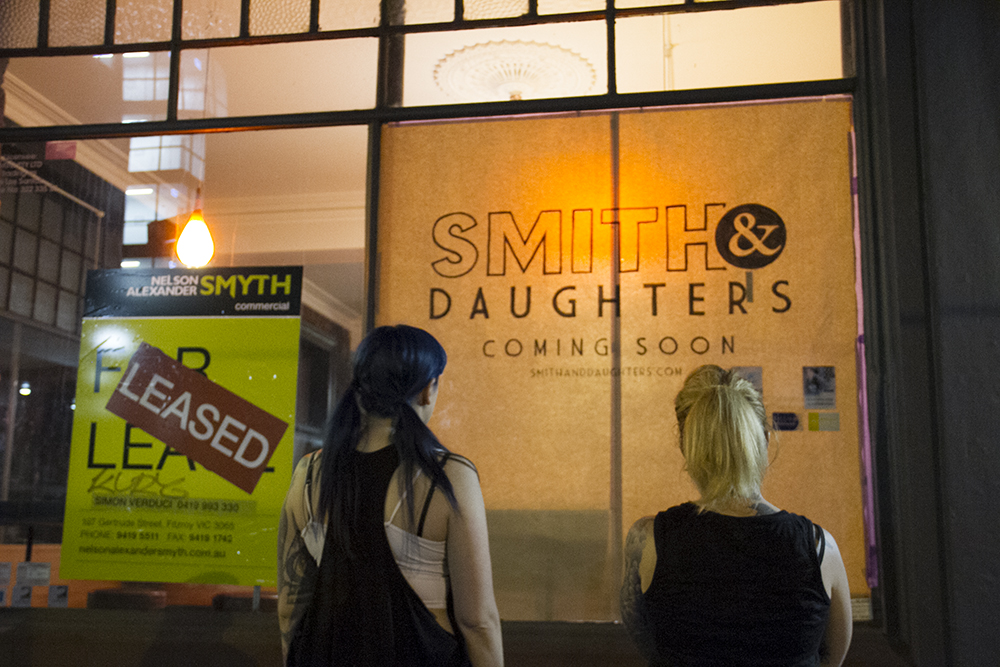 CALLUM: First of all, I've done my bit to describe what S&D is, in your own words, please describe the whole project.
MO WYSE: Smith & Daughters is determined to show the world that vegan food, when done correctly and by my business partner, Shannon Martinez, is just good food; that everyone can – and should – eat. Not just vegans. Beyond wanting to give a plant-based diet a good name, we also just have passion for being business owners and wanting to create an empire of good food places in many different forms.
SHANNON MARTINEZ: It's a place to provide the everyday person with a new perspective on vegan food. Combining the familiar aesthetics, service, and flavours of a great, exciting restaurant in order to create a comfortable environment that gives people the chance to take it all in with out any preconceived notion.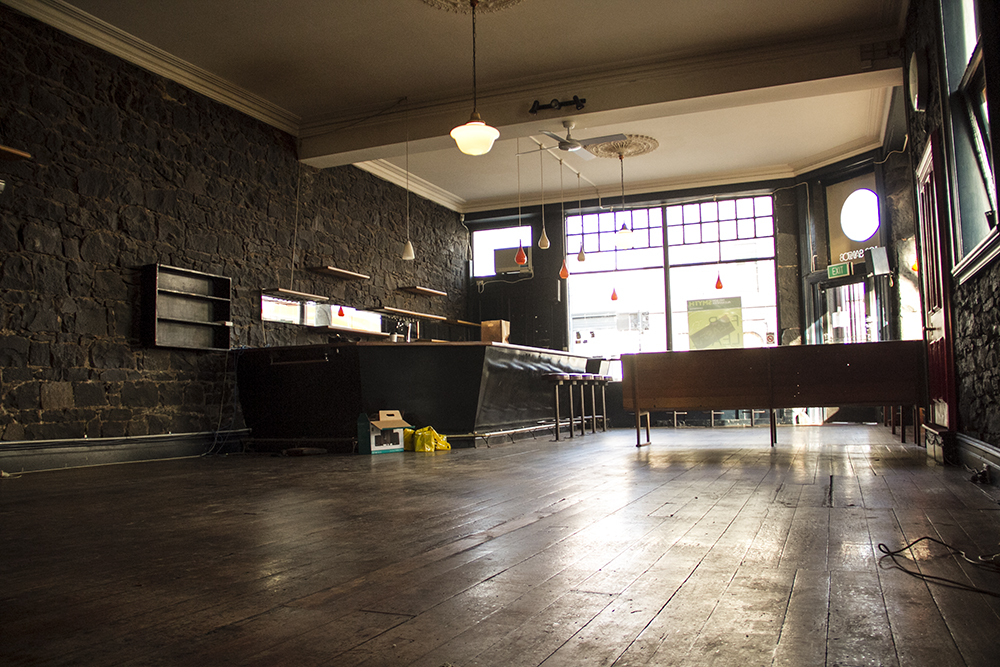 These photos are from our initial real estate inspection. A beautiful old building that for sure needed some serious work.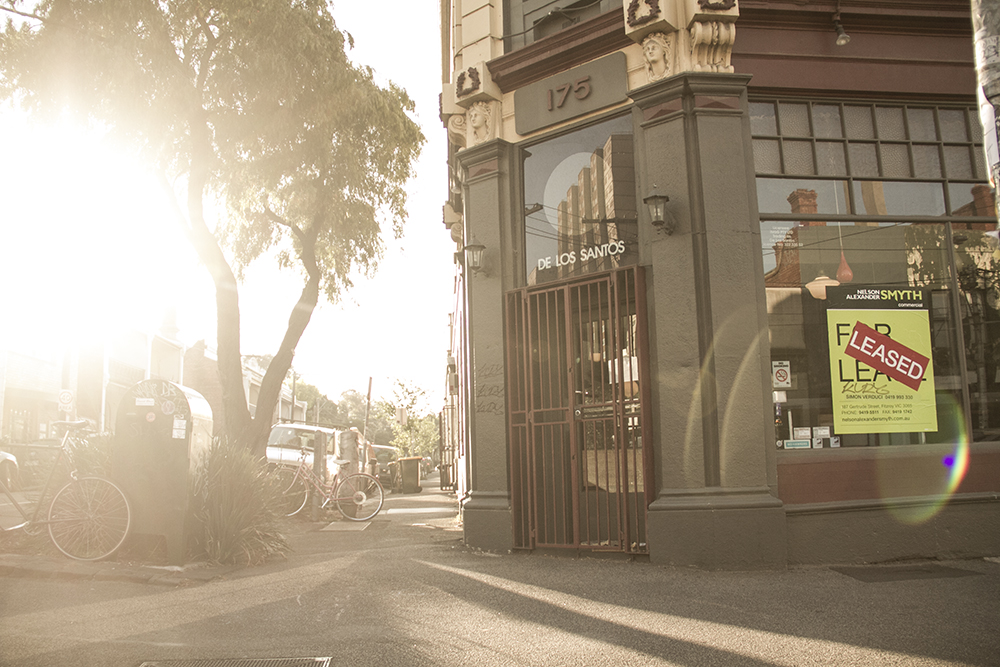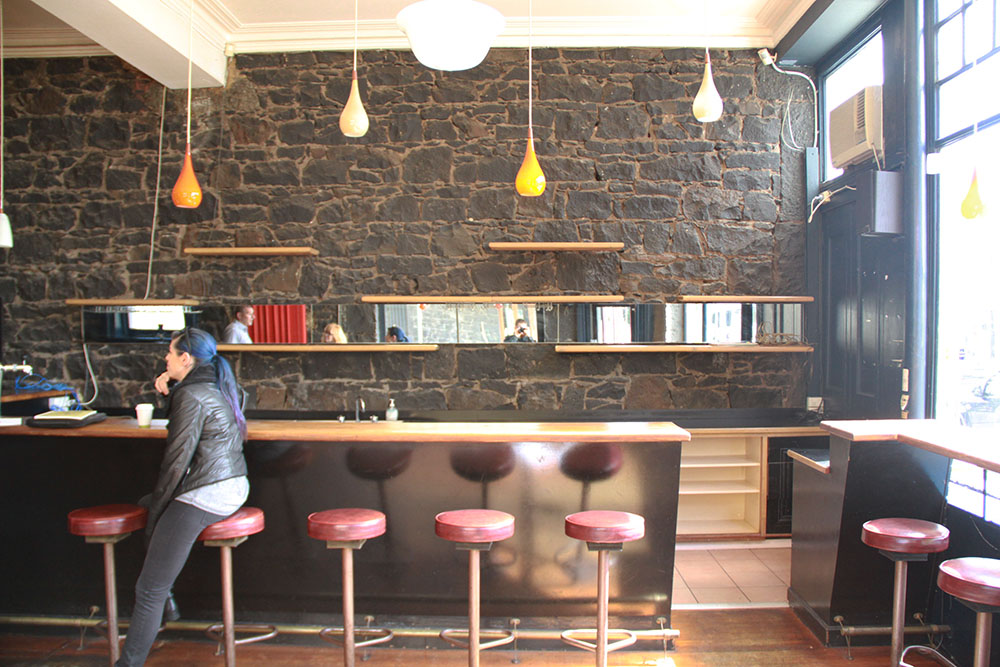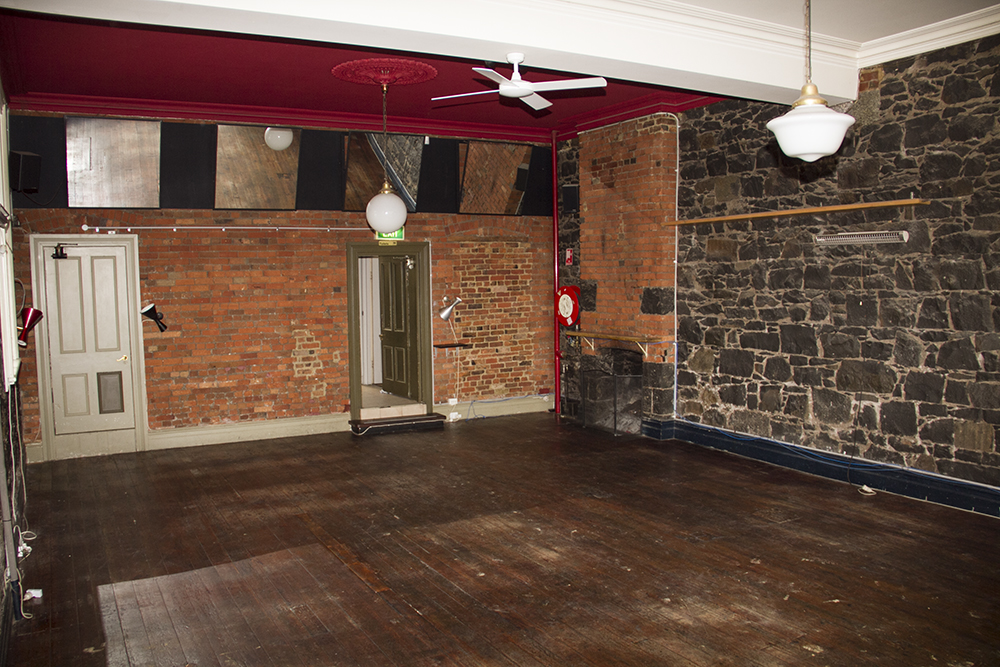 How is Smith & Daughters run as a business? You and Shannon come from different work backgrounds but also share the same values when it comes to business. How do you see the division of the work? Whose role is what?
MO: Shannon is the chef, master-mind, creative genius, and often known around these parts… magician. We both bring the same level of commitment and passion to the table, we're both here obscene hours, she just deals with food and drink and I deal with the back end and front of house. We both collaborate equally on our vision, outlook, and future ventures of the business.
SHANNON: Smith & Daughters simply would not run with one but not the other. Mo's talents in business and marketing were imperative to the immensely successful launch of  Smith & Daughters and the general day to day running of the business. These are the things that can make or break a restaurant. Plenty of good restaurants with great food have gone  under due to a lack of great business management. I sleep well at night knowing that mo is taking care of business. My role is basically to take care of everything that goes into peoples' mouths and create the things that will convince people that vegan food and drinks are not just to be had for a health kick or a diet, but to incorporate into everyday life for everybody.  Fortunately, Mo and I are both work addicts, so it makes for a great team. And creatively, we walk similar paths, so all design elements with smith and daughters have been very easy to agree on.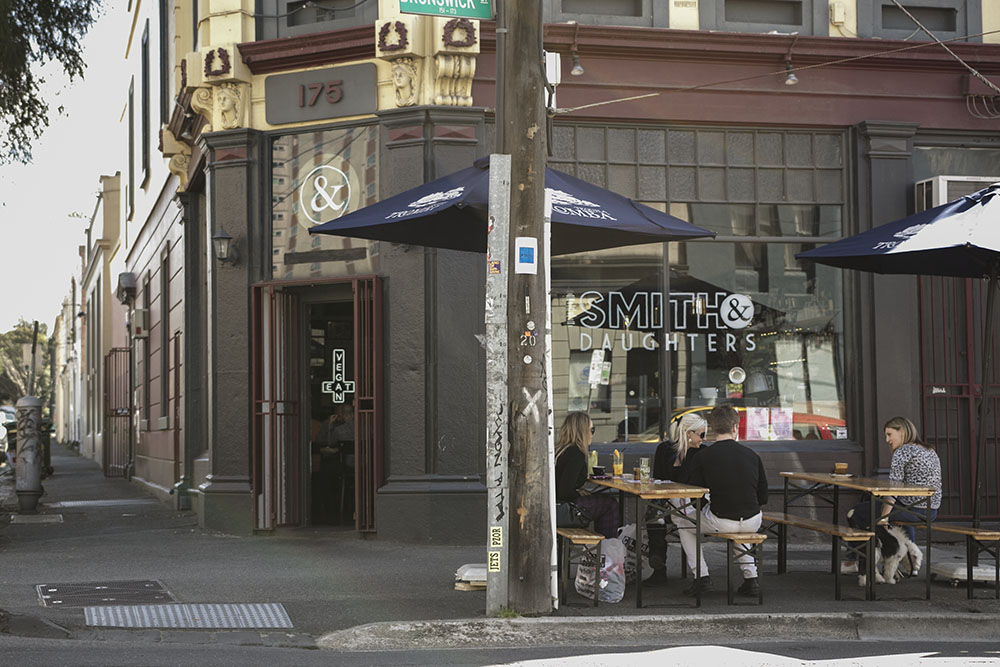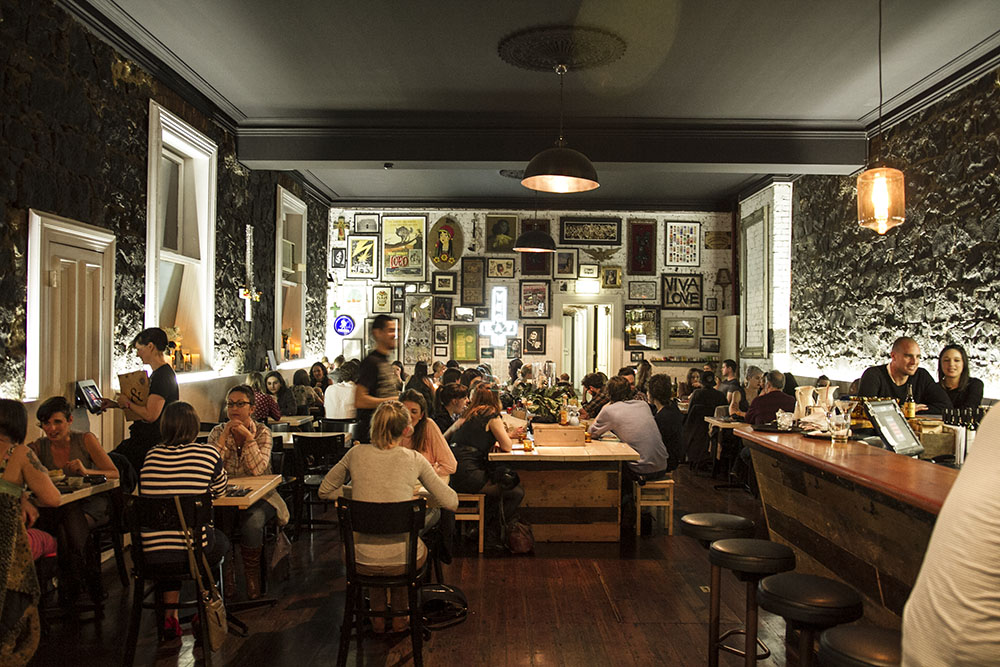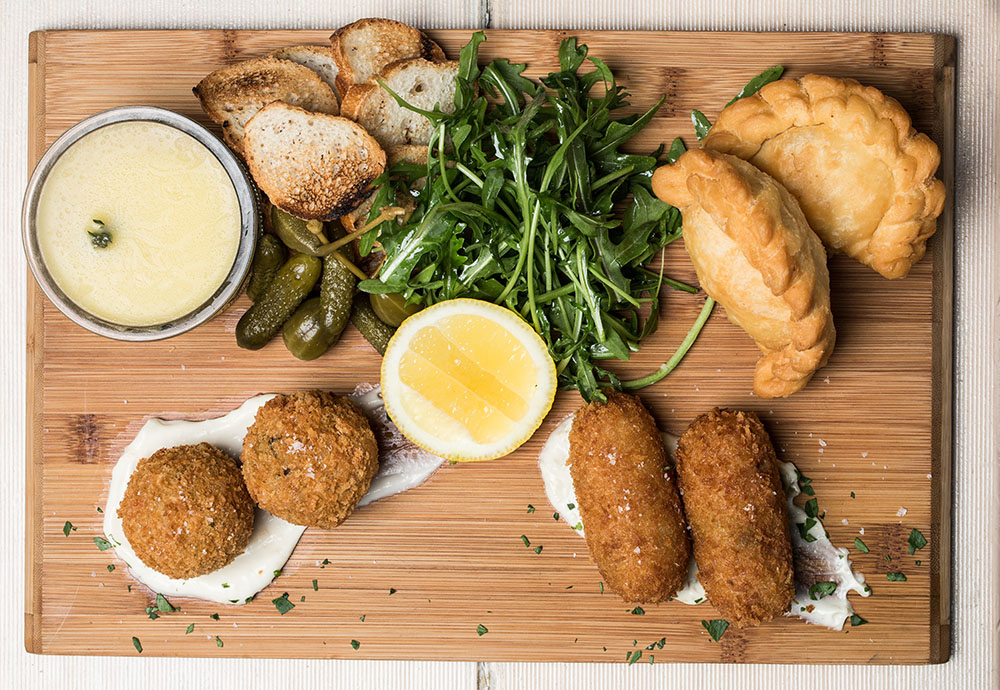 "MY METHOD IS TO MAKE FOOD FEEL FAMILIAR."
Where did you both come from before you met and S&D became an idea? How did you previous lives lead to this?
MO: It's funny, I think more than ever before, I believe in things that are meant to be are meant to be. I was a journalist in New York City who moved home to Seattle to help run the family beauty supply business in a production and events management capacity, who fell in love with an Australian and managed operations for an outdoor summer venue, produced shows for Fashion Week and The Ellen Show, and met a woman who changed my life… Shannon. We HAD to open a business together. From the get go. We just realized our passion and abilities and work ethics were too good to not get together and make something happen.
SHANNON: Since I was 10, this is what I wanted to do. It has never wavered. I started cooking in commercial kitchens at 15 and never looked back. The only other thing that ever looked like a possibility as a career was music. But even when playing on the Vans Warped Tour in America, I still volunteered my time cooking for all the bands. I'd play my set for the day,  then head over to the catering trucks and cook for a couple of hours. That kind of says something. I'm currently on holiday in Hawaii, sitting by the pool, surrounded by cook books, and post-it notes. Planning new menu stuff. I can't help myself. I have no choice in the matter.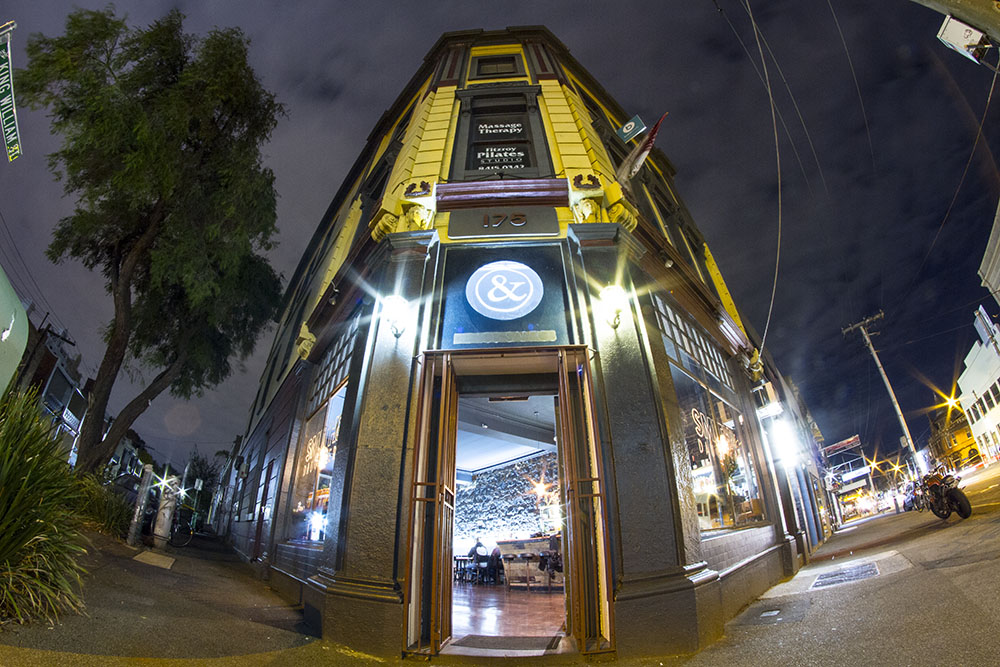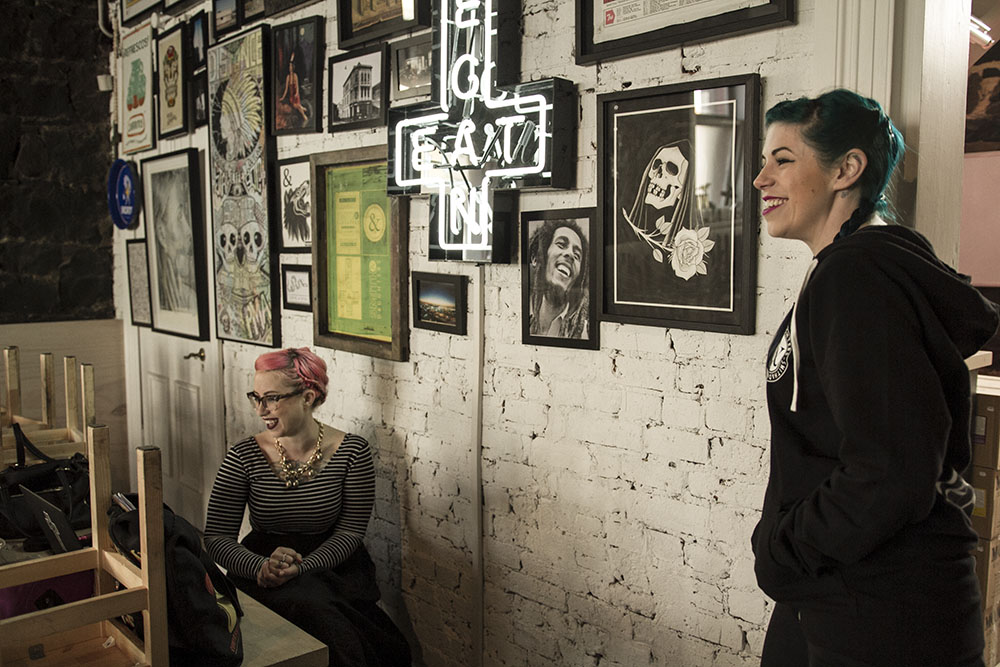 If you had to sum up the core values of Smith & Daughters, what would you say the three key points would be?
MO: Good Food. Passion + PMA. Unstoppable.
SHANNON: Good food. Good service. Good work environment.
Coming up to a year of business, how can you describe the experience?
MO: Better than anything I've ever done before. There's something different about doing it for yourself. Something so much more motivating knowing the long hours, hard work, true love that you put into your work is going towards something you believe in more than anything. And giving our mates jobs, and bringing positive image to vegan food. It's still, to this day, surreal to see a packed out Tuesday night, seeing people in chairs, eating our food – any night of the week. It's an absolutely indescribable feeling and I would do it again and again, despite the lack of sleep.
Tell me how you see the future for S&D?
MO: We want to achieve, over time, a massive level of expansion. But more so to share the talents of Shannon with the world. She's truly got a gift, and we really think we're playing this food game correctly. Getting anyone and everyone despite their diets, age, fame, anything in our dining rooms and venues. It's a special concept we think we have – this idea of mainstream pitch with a unique cuisine – plant-based food loaded with flavor that is so far beyond any of the "typical" vegan experiences people have had. All around Australia, US, packaged food, and more.
SHANNON: We have only just started. The restaurant seems almost like a diving board. I'm ready to launch into the big stuff now. My plans for Smith & Daughters run so much deeper than just a restaurant, and I know Mo feels the same. The restaurant has almost been like a testing ground for things to come.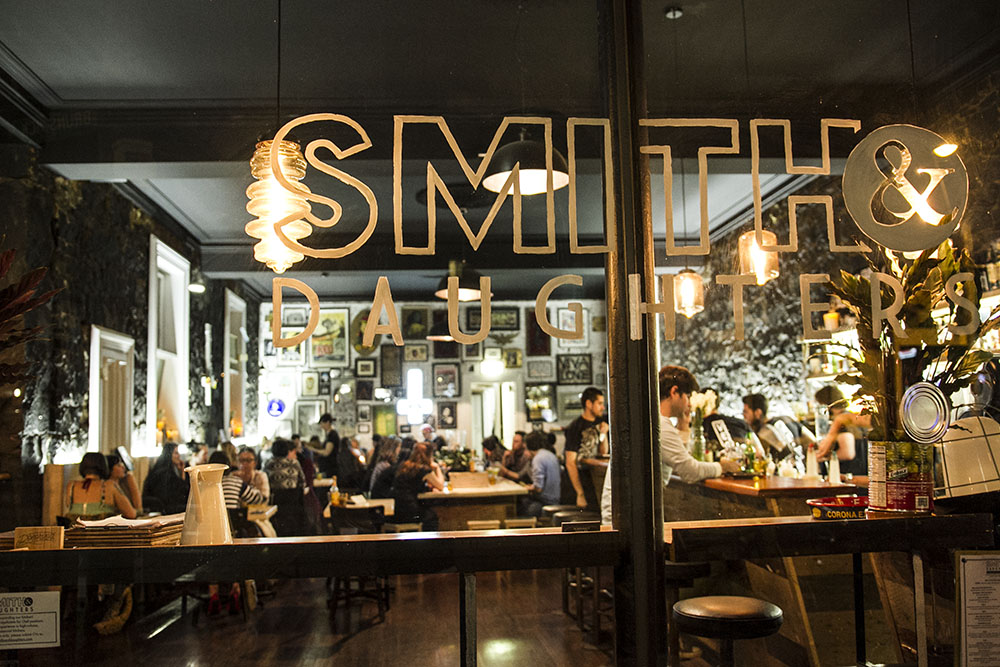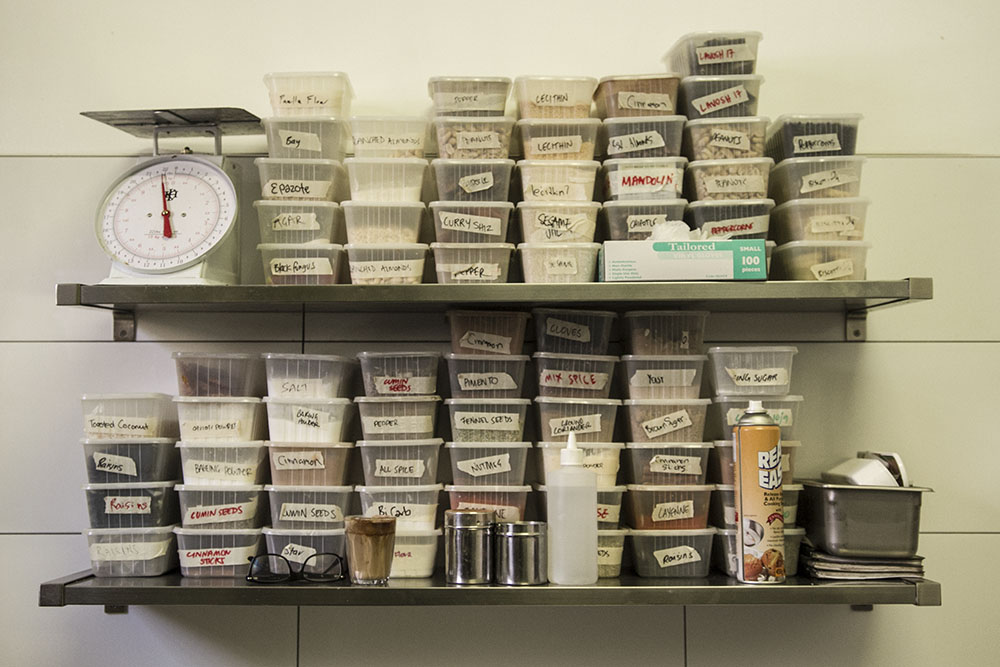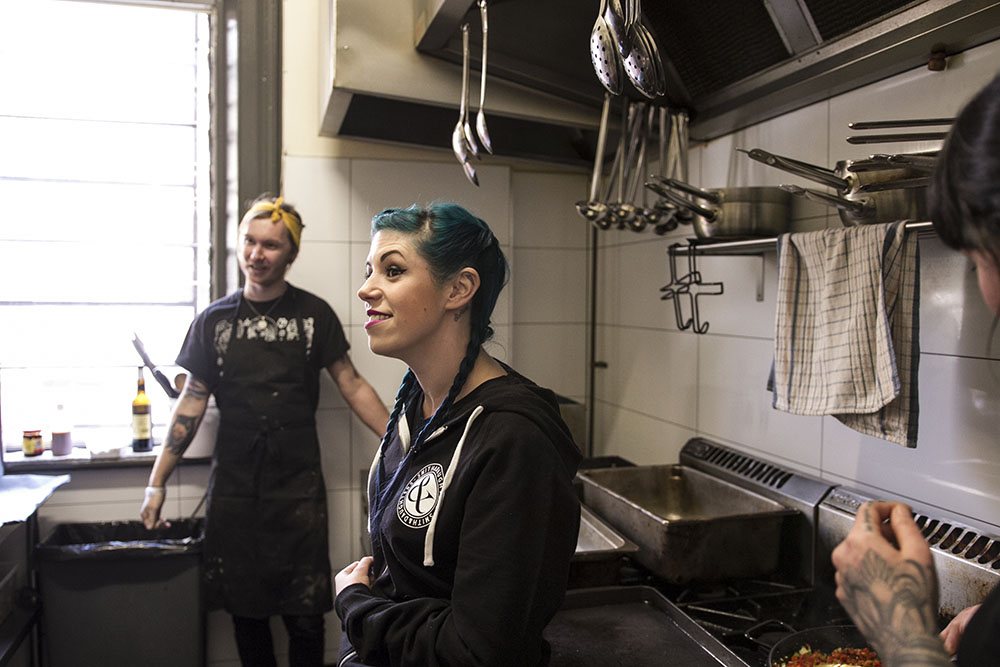 Vegan food can sometimes be considered a dirty word, how do you see S&D making changes in that idea?
SHANNON: My method is to make food feel familiar. Give people dishes, flavors, and textures that they grew up with and know, but recreate them to be vegan without people even noticing or missing anything. That's the trick! I love when people tell me that if they could eat vegan food like this all the time, they would be vegan. That's pretty awesome.
What do you feel is the biggest misconception about vegan food?
SHANNON: That it's just so same-same. And to be honest, in a lot of ways, people are right. The biggest thing that's missing in vegan food and what puts people off, in my opinion, is the texture. And although vegan food has improved in leaps and bounds, and some people are doing great things now, it's still very common to get some soft, curry-flavored vegetable dish. Soft soft soft!!! And I think this is what people think when they think vegan food.

You are a meat eater yourself, while Mo is vegan, how do you feel this has helped with S&D?
SHANNON: Me not being vegan is what sets my food apart. It is what has enabled me to recreate flavors and textures in a way that most places simply can't. It's the difference between my cheese sauce tasting like cheese and other vegan cheese sauces tasting like salty cashews. I have a point of reference and years of classical training to pull ideas from.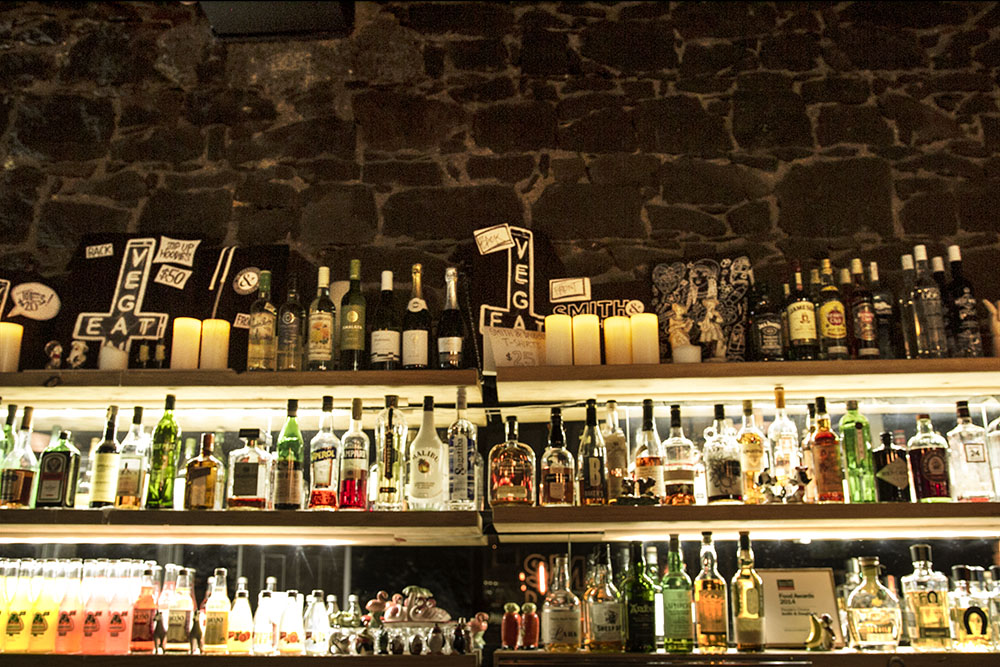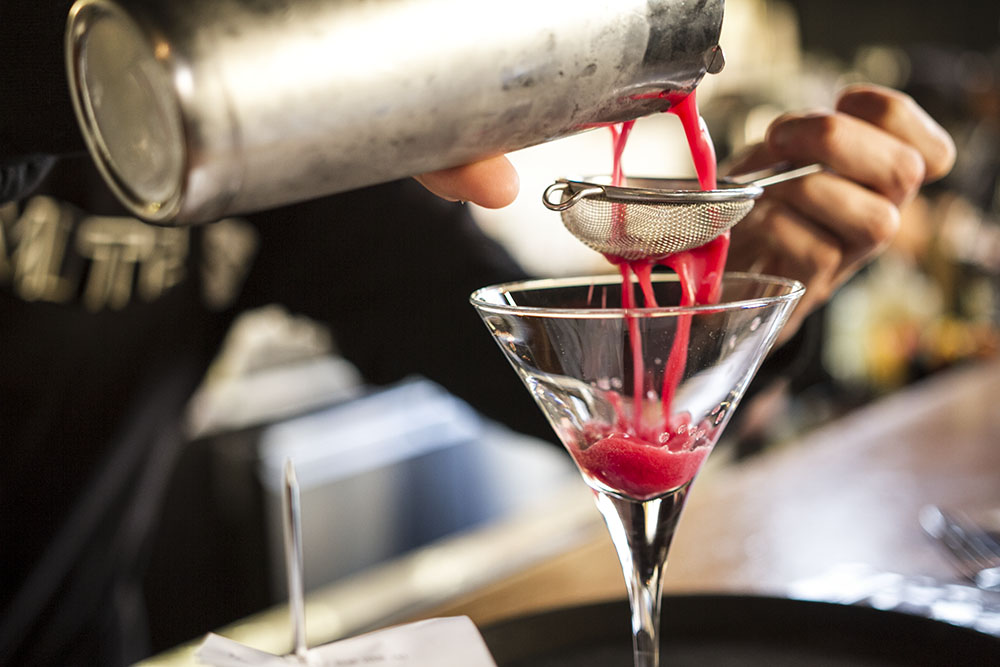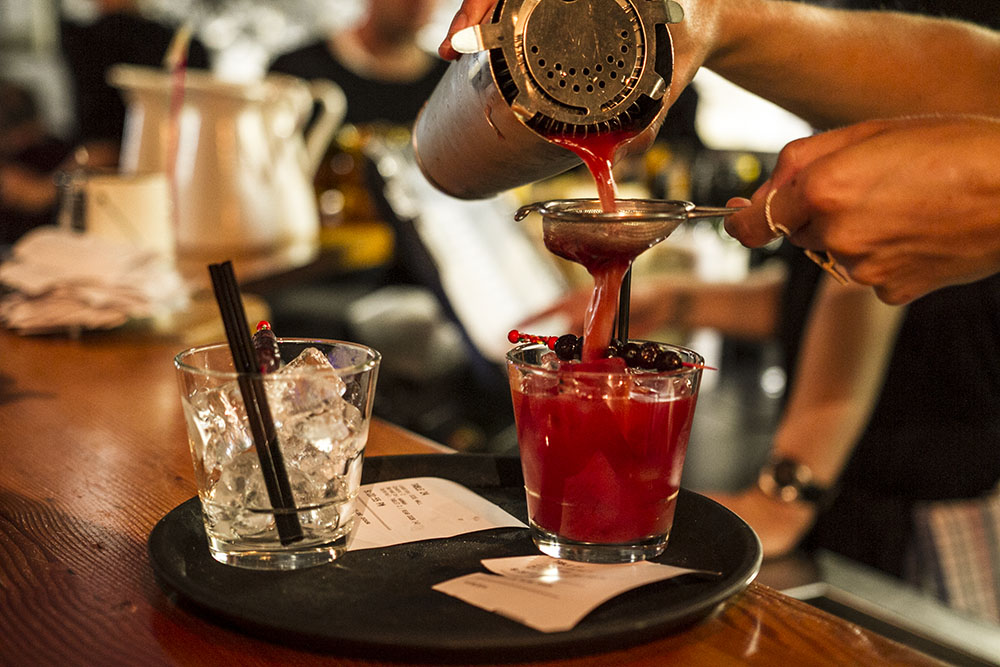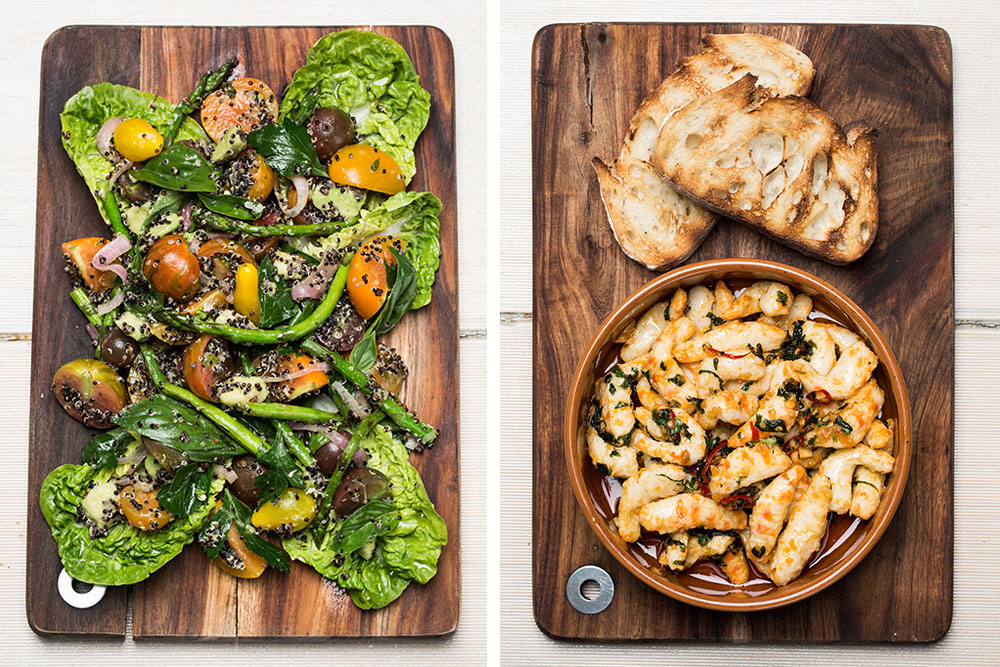 If people take away one thing from their time at S&D, what do you hope that is?
MO: From their dining experience in our restaurant: consistency in the high level of food, service, atmosphere. In the bigger picture, it's like I said earlier – vegan food can be consumed by anyone and it can be simply amazing. And that no one is missing anything from their meal just because it doesn't contain animal products. 
Tell me about the space, the location of S&D, and how it came to be.
MO: The physical location of the space was discovered by location genius, Shannon – she's a genius at everything, by the way. This 1886 three-story bluestone was one of the first pubs on the street. And it's gorgeous. She came across it and called me up at my TV production job, she said, "I have a doctor's appointment and I have to come to see it." It was absolutely beyond incredible but, truthfully, we thought we had no chance of getting this insane property. We wrote the best business proposal I could muster, from a place that was based purely on passion. We had no previous business ownership experience between the two of us. We really thought our chances were slim, but success! Later unveiled the building owner, a vegetarian for decades and silent animal rights activist, had always dreamed of the opportunity to house a vegan restaurant. And once opened, a seasoned traveler, our landlord rates us as one of his top restaurants in the world. We like to think he made the right choice.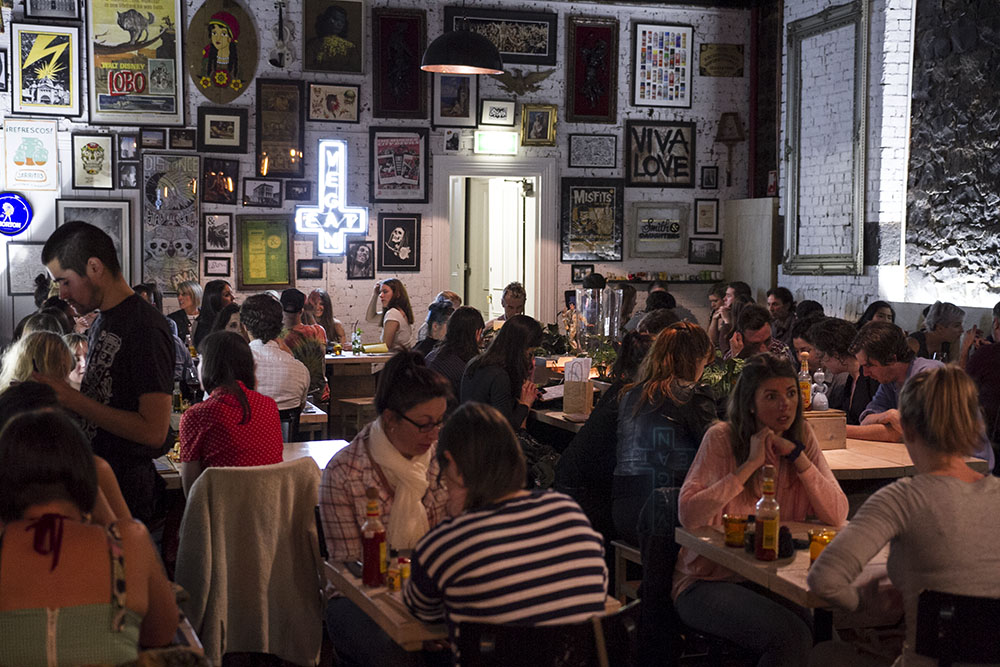 What is behind the name Smith & Daughters?
MO: As you can tell, being concise is not my forte. So I really should work on a shorter answer to this question. Shannon and I both come from family businesses and we wanted to emphasize the female component to this venture. You're always seeing XYZ & Sons, so this was a way to work in the female component. We originally were going to open on Smith Street, but when we found the location we're in, on Brunswick Street, we still loved the name Smith. Plus we really liked the anonymity of the name Smith. We like that it doesn't convey a "vegan message" so you could, and people often do, walk in and have no idea what or who we're all about. They're just here for a great meal and experience. And lastly – we can open up multiple locations and operations and not be tied to one type of cuisine. With this first location we offer Latin cuisine, but in the future, who knows? Pizza, deli, bakery, anything!
Who is the standard customer? Is there a specific demographic?
MO: This is the best part. There's no standard. Not at all. Any and everyone eats at S&D. We are really proud of this. And of the fact that we've become quite a special events venue – birthdays, holiday parties, engagements, hen's parties, anniversaries, everything!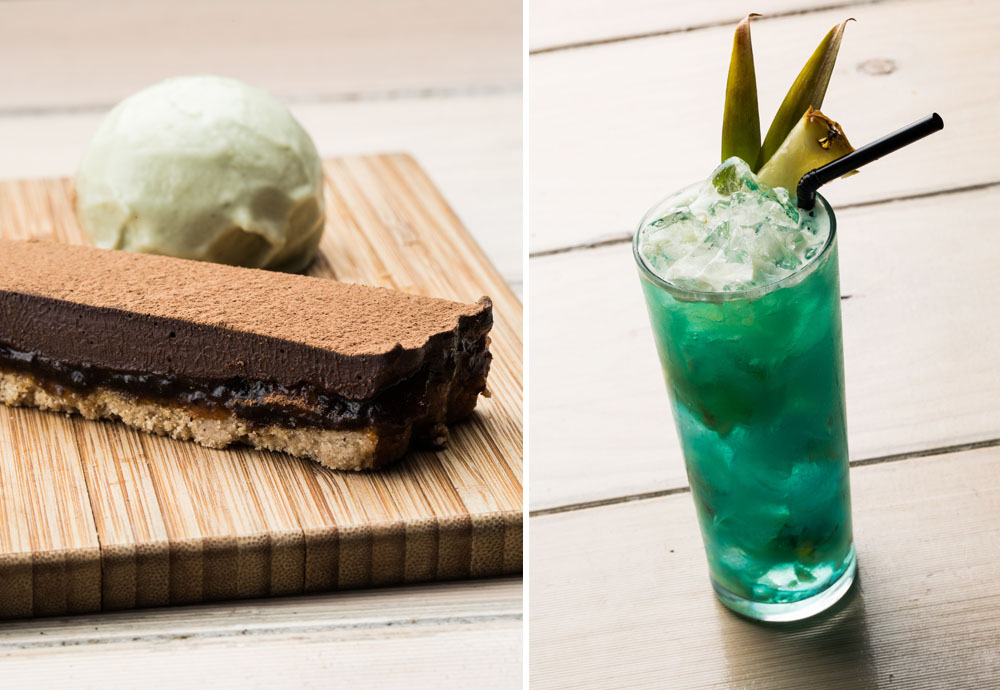 What are your top three food items at S&D?
MO: For customers: Champiñonnes Al Ajillo, Tuna & Green Pea Croquettas, Tacos Con Ensalads. Personal: Champiñonnes Al Ajillo, Pazole, Gambas Al Ajillo. Oh, and all the desserts, ever. Always. Aztec chocolate tart, warm Spanish doughnuts filled with quince paste, piña colada cream pie.
SHANNON: Paella fritters, Tortilla, Pozole. 
Top three drinks at S&D?
MO: Customers: Jalapeño coriander cucumber margarita, manzana a la parilla and the sloe berry sour. Personal, as I don't drink the booze, these are my top non-alcoholic treats at S&D: Virgin Manzana a la Parilla, tropical green juice – on the weekends, splash of lash with pineapple. 
SHANNON: Jalapeño and cucumber margarita, monster mash, mai tai.
Favorite food to eat when you are not at the restaurant?
MO: Thai, Vietnamese, or Dumplings.
SHANNON: Sichuan or Vietnamese.
Favorite restaurant in another country?
MO: Vedge in Philadelphia, PA.
SHANNON: Vegan: Gracias MadreNon: Pretty much any small tapas bar in Spain. But then again, the street food in Hong Kong was next level. Actually, I pass, I have too many favorites. Although I can say, that it is definitely not any fancy fine dining restaurant. I like to keep it casual.