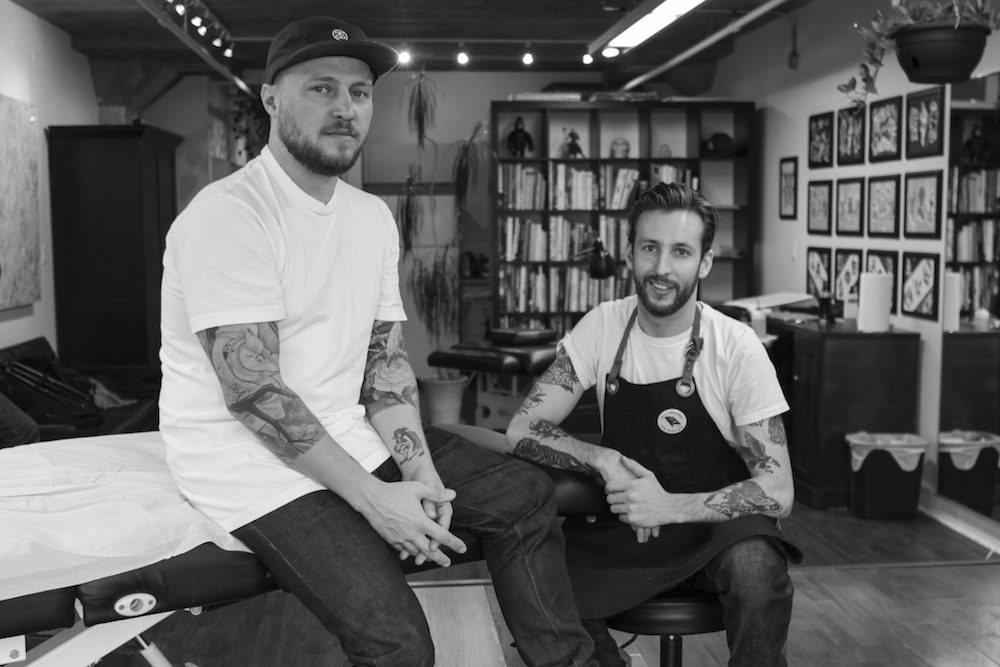 For anyone getting inked, the process of choosing a style that resonates can be tedious, on top of picking the right person to put needle to skin. James Acrow and Dan Climan operate "Slow Down Tattoo" studio in Railtown on the cusp of downtown Vancouver, a spot that for many is the tattoo studio of choice. From a client perspective, the private setting provides for a more relaxed atmosphere than a typical shop, tying into the idea of catering to a more select list of clients through repeat visitors and word-of-mouth referrals, while in spending some time there it became clear to me that a private studio provided a preferential atmosphere –  the fishtank and R Kelly vibes certainly didn't hurt either.
Born in Vancouver, James' spent some of his early days working as a graffiti artist and gaining recognition for his tremendous talent in this area, which in some ways trained his hand in preparation for the illustrative imagery that is perceivable through his pieces today. Undertones of Japanese imagery and Fantasy-inspired visuals were plainly of note as I flipped through one of many sketchbooks in the studio; testaments to his 10 years in the tattoo industry. The style of Montreal-born apprentice Dan Climan touches more on classic American, largely working in the realm of black-and-grey with shades of mid-century work. From the time James stamped Dan with the detailed semblance of a gypsy on his arm, a working relationship took root between the two whereby James provided an oversight of Dan's style for 2 years, a period during which Dan didn't even pick up a machine. This process parallels the notions that the name "Slow Down' represents; paying one's dues. The relationship was further fostered by stylistic commonalities and an open-minded approach between them that is brought out through traveling and of course the work of their contemporaries.
We stopped by the studio to check it out and pick Dan Climan's brain on his experiences so far.
Who are some of the more interesting people you've tattooed?

Dan: Most of our clients are characters in their own right. I had an interesting time tattooing the ATL Twins when they were in town for the RE-UP 1 year anniversary. Sydney and Thurman were some of the nicest and most respectful dudes we've had in the shop.

Outside of tattoo artistry, what visual artists are you drawn toward?

Dan: Stephen Powers, Charlie Roberts and Eric Elms are all favorites.

James: I'm a fan of Damien Hirst's imagery, as it is alike to the same imagery you would deal with in tattooing, just put into a more contemporary context. His use of skulls, diamonds and sharks appeals to me.

Talk about a favourite tattoo that you have personally.

Dan: I have a tattoo from a tattooer by the Name of Tony D'Anessa. He's in his 70's and works out of PSC in Montreal. He worked in New York City when tattooing was illegal and has all the knowledge about the kind of tattooing that I'm very interested in. It was a cool experience to talk to someone with so much knowledge whose seen tattooing change drastically throughout his career.

James: If I had to choose one, it would be my black-and-grey body suit that I got from Steve Moore, I was actually just out of town yesterday to complete the final session. After Steve tattooing me for 10 years, Dan will be doing a tattoo for me next month. In that way, everything is coming full-circle.

How has your style developed over time?

Dan: I'm still in such an early part of my career that I can't even say I have a style by any means. But I can say that tattooing everyday has given me a chance to get used to the way the machine feels and how it runs and the more I tattoo the more confident I become with that skill set.

James: My evolution as an artist started with skateboard art, moving to graffiti and then tattoo art. As far as tattoo art in the last 10 years I've tried a bit from each style; traditional American, Japanese, illustrative, script work and black-and-grey, but my stuff is never strictly one way, I always try to put a twist on it.

Is there a specific area offering an interesting tattoo scene that you have not visited?

Dan: I would love to head out to Texas and Visit Rock of Ages. I only hear amazing things about the southwest and it's a big one on my to do list.

James: One place I'd like to visit is Portland, I'd be interested to check out the scene there.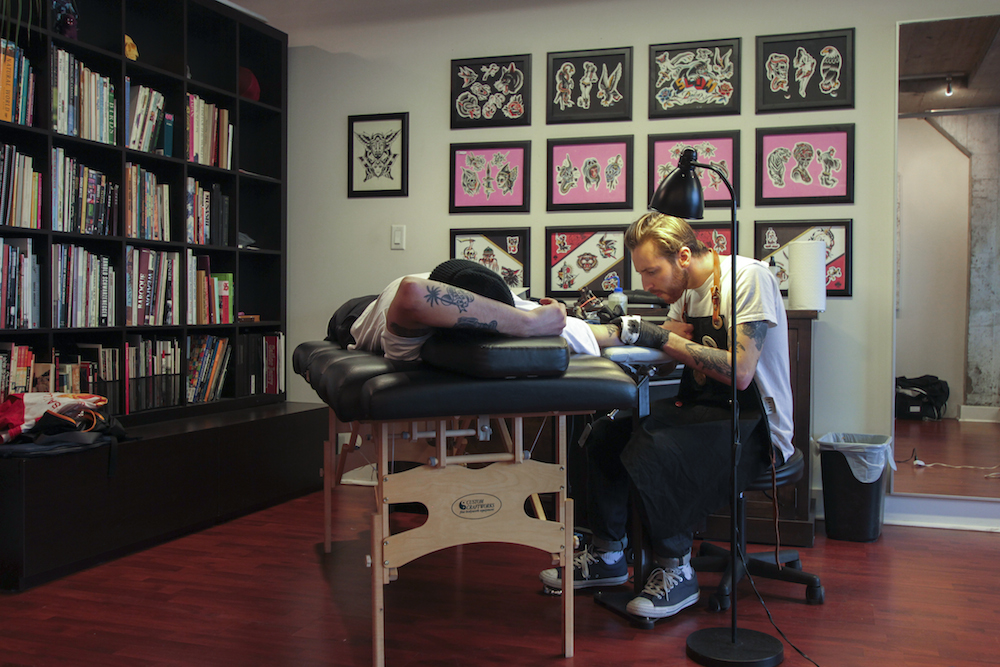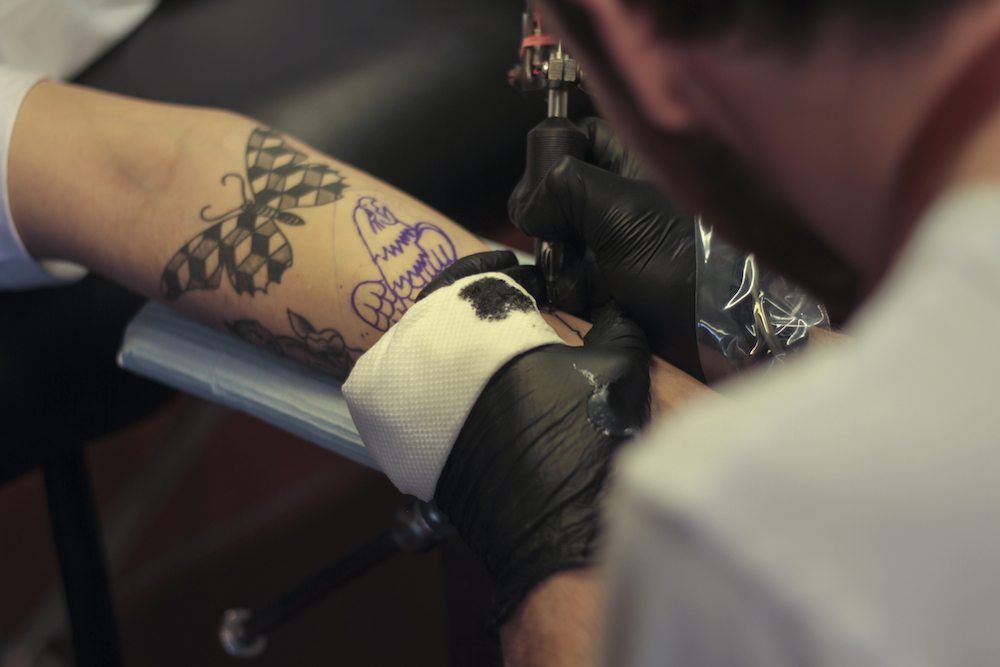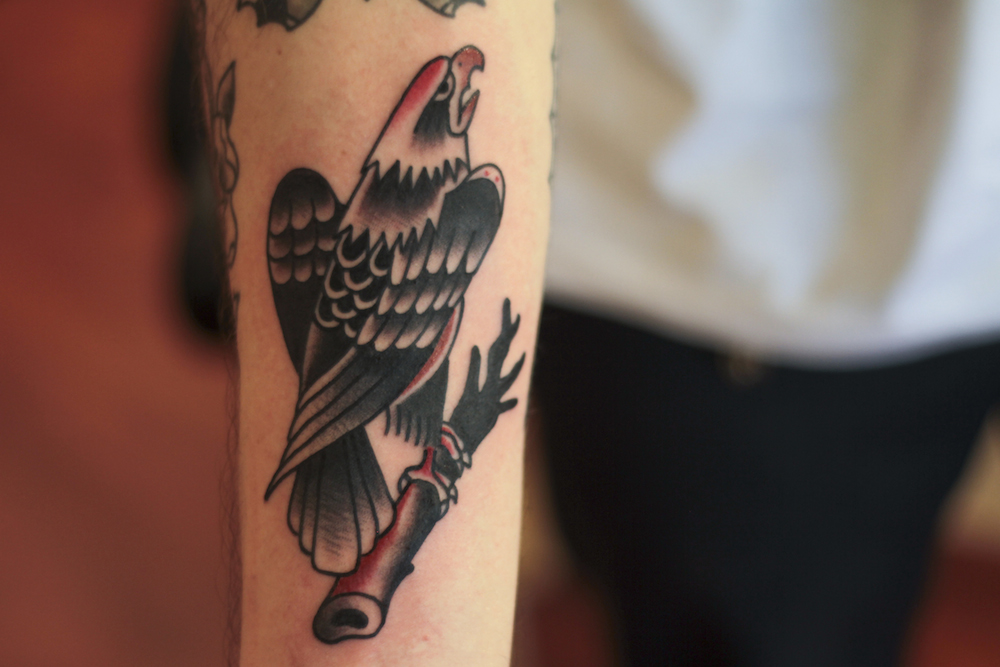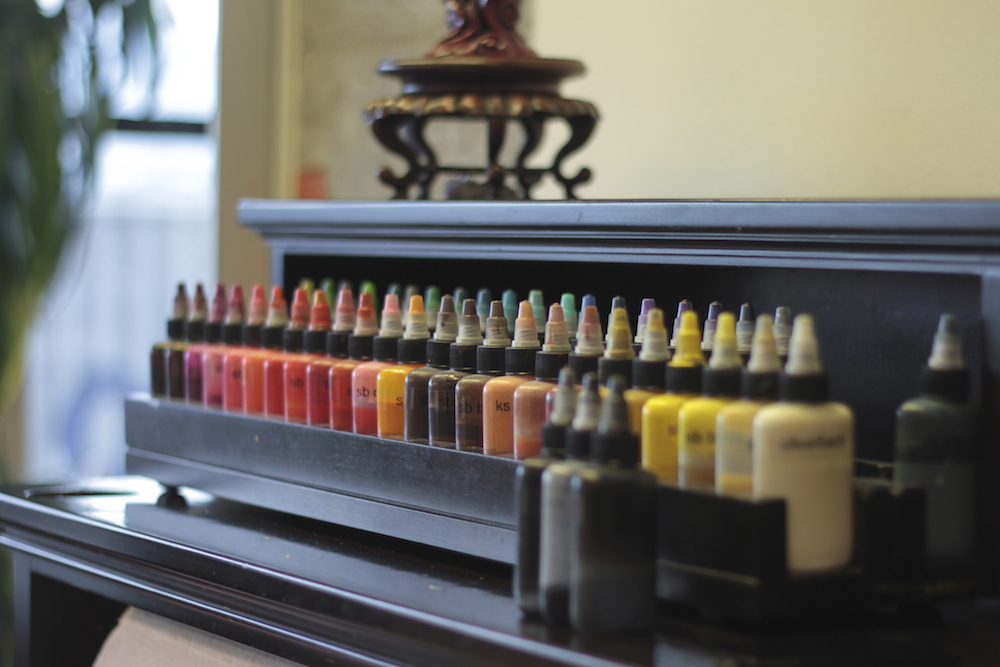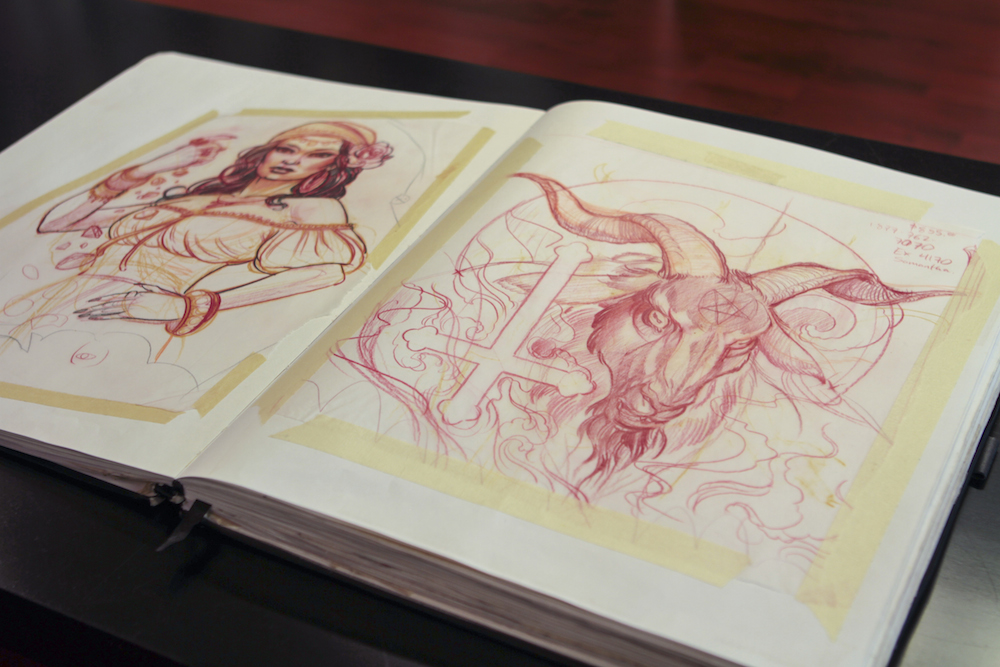 (Above: James Acrow Left, Dan Climan right. Tattoo by Dan Climan. Sketches by James Acrow.)