Atlanta's genre-bending and shape-shifting musical landscape has very few trailblazers that have made a mark like Young Thug. The rapper first captivated my ears in 2012, when you could barely hear a difference between him and his idol Lil Wayne; since then he's become a force of nature. The broad strokes he paints with his music is neither stream of consciousness nor a planned point A to point B sort of thing—Thug is the instrument, and his beats are just his backup choir. This year seems to mark a shift where the brilliance of his output is finally reaching the masses who were iffy on him because of his style or provocative Instagram comments. Now they are looking to get in on the fun that we've been having for the last four years.
The recent gravitation to Thugger in the past year has been interesting for me to watch—people called me "gay" and repeatedly thrown potshots at me for being a fan of an artist who is actually great, and has a lot of things to contribute to the way we listen to music, period. Are they coming around because of a change in his style? I wouldn't say so, because even if he is more understandable as far as his lyrics, his raps are just as coded as they were on 1017 Thug. "Best Friend" hit mainstream radio and became a hit, and the release of his two projects I'm Up and Slime Season 3 have received about the same, if not more, praise as his other releases, but these aren't new accolades for the 24-year old artist. He's charted for the past three years, and he's always been a critical darling. It's a microcosm of how people co-opt things now—a year ago he was considered a weird, "gay," Lil Wayne clone even though people were just calling Wayne these same things 6 years prior. No one ever feels safe to cosign anything they don't understand, without half of their Twitter timeline saying: "Man, I didn't like him before, but he's rapping now!"
"[Young Thug is] a microcosm of how people co-opt things now… No one ever feels safe to cosign anything they don't understand"
So I've made a challenge, mostly to myself, but for the readers at large as well. I picked 15 of my favorite Young Thug songs that range from the first time I heard him to this year. Keep in mind that this is only a small list of what makes him great (as big of a fan as I am, I don't think there can be a definitive list), but this should be a primer for anyone who is looking to get into his music. Will it convert the most jaded detractor? Probably not, but at least you can attempt to say you were first before he is crowned the biggest rapper in the game by your Twitter, or something.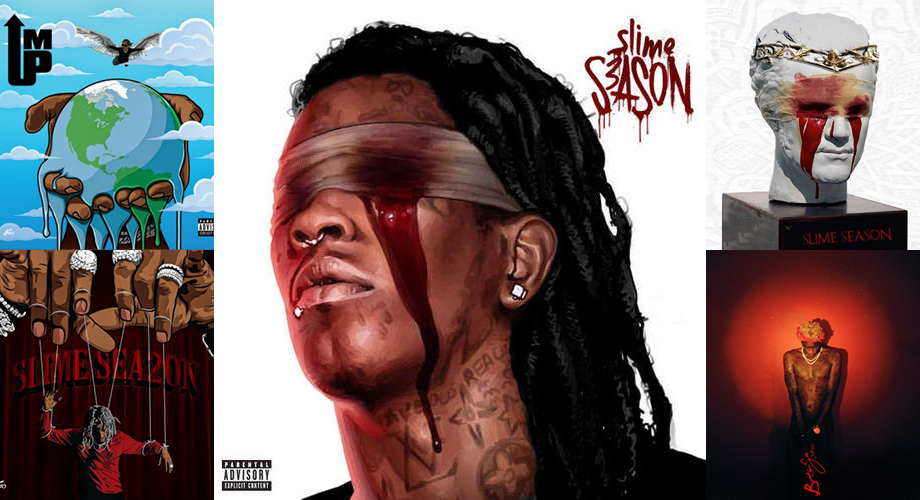 Released after weeks and weeks of endless snippets on his Instagram, "The Blanguage" is not only the best collaboration between Metro Boomin and Young Thug, but it's Thug's masterpiece. Flipping one of the most popular cuts from Drake's 2013 album Nothing Was The Same, Metro concocts a more haunting and musical version of the beat, while Thug absolutely smashes the flow that Drizzy co-opted in the original. Along with being lyrically sharp, "Blanguage" stands the test of time by having one of the most dizzying examples of Thug's wealth of flows––try saying "I fucked her and washed off my dick with curtains inside of the Phantom" five times fast. It's not just my favorite song from him, it's a shining example of how easy this music thing comes to him.
The intro track from the classic Rich Gang, Tha Tour, Vol 1, "Givenchy" is a musical tour de force that slowly builds from start to finish. Thug serenades his woman, questioning her loyalty to him in the opening moments, before breaking away into a relentless barrage of witty, and outlandish bars ("Pussy scared to say it, I got em hummin' shit/lil bitch you know I'm really 'thuggin' like Bones and Harmony") that will make your head spin.
The second half of Young Thug's Barter 6 is one of the most surprisingly somber sections of his whole discography, and "O.D." is one of his most personal stories ever. He waxes nostalgic about his rough upbringing, and on the emotional second verse, he gives a shout out to his whole family and his kids. It's enough to bring a tear to your eye until you realize he's talking about overdosing and getting kicked out of the club.
If we had to dig up the (tired) comparison of Thug being the new Lil Wayne, "Halftime" is probably his "A Milli" or "6 Foot 7 Foot." Gliding over the simplistic, yet busy production, Thugger addresses the gay rumors ("No I'm not gay, I fuck bitches on bitches!"), the way that he dresses, and just how he'll handle anyone who fucks with him. "Halftime" is one of his best lyrical performances and is a standout anthem in his library of songs.
Even before it hit radio and got 100 million views on Youtube, "Best Friend" was destined to be special. Taking cues from Tokyo Vanity's "That's My Best Friend," Thug reimagines the theme of the song to pretty much mean any one––his homies, the "big ol' booty" chick from Texas, and his sister Dora (who loves Lucky Charms). Every verse on "Best Friend" is repeatable and they sound just as anthemic as the chorus, making it one of Thug's most easily digestible singles ever.
Hoping to put a stop to the rampant leaks that plagued him last year, Young Thug released Slime Season 2 as a method to control the leaks. Of the songs in the compilations, the second entry had the most impressive rapping of all three. "Flaws" is one example of a leaked song that didn't get left on the cutting room floor, and it's a psychedelic, hazy ode to Thug's wild lifestyle. We also find out that he'll pay his girl's tuition... because why not?
It doesn't take a rap genius to see why "With That" tears the roof off of any setting it's played in. The haunting production from longtime friend and producer London On Da Track sounds like it would fit in the next Phantasm movie, and Thug's vocals are distorted and distressed to drive the horror home. Major shout outs go to YSL's second in command, Duke, who steals the show here.
One of the more recent entries from the (severely underrated) I'm Up EP from February, "King TROUP" is the 2016 "Miss My Dawgs." A dedication to his slain friend, Keith B. Troup, Thug denounces the senseless street violence that took his friend's life, and manages to slide in a few barbs at the justice system in regards to his currently incarcerated friend Jimmy "PeeWee Roskoe" Winfrey (who is currently in prison for allegedly shooting Lil Wayne's tour bus last year). If anyone doubts Thug's storytelling skills, play this song for them.
Another very late addition to this list, but well deserved. "Drippin" is featured on March's Slime Season 3 EP, and if there was any case for Thug having the best flow in the game, this would be it. The production for the song literally SOUNDS like water dripping, as Thug becomes formless (like water) in order to weave his way through with his signature boasts of wealth and completely reckless sexual habits. There's no way you can even attempt to recite the first verse, hell, I don't even know how he did it.
London and Thug connect again on "Draw Down," another standout from Slime Season 1. Besides just being a fucking hilarious song ("I like my bitch brown like a motherfuckin' boot!"), "Draw Down" has some of the best examples of how Thug can slide in and out of being a measured singer and a menacing lyricist.
In what seems to be a weird theme of their careers intersecting, "I Mean" is another example of Thug killing Drake (and Future) on their own shit, without actually being on the song. Though I'm sure Thug had the beat before it was sold to the duo for What a Time To Be Alive's "Live From The Gutter," Thug's "I Mean" takes a few cues that were repurposed for that song ("I came straight out the gut") and gives listeners an excitable ride through a day in his life.
There are some arguments going around about who is the best producer for Thug, and I think that it's pretty clear that it's London. Take "Digits" for example (which is poised to be his next single), where Thug is given enough musical muscle to match his Socratic pre-chorus ("Why not live life if it's gon' keep goin?") before he launches into the wild chorus. You may not like him as a rapper, but I'll bet money that you'll be screaming "we ran up them digits, we ran up that money!" at least 100 times after hearing this.
Excellent back and forth verses with Trouble, who is one of the most underrated rappers from Atlanta? Check. A line about beating up Kimbo Slice and performing cunnilingus on a lesbian? Check. "Thief In The Night" fulfills all that I've ever wanted from a song.
From the moment you hear "I can smell that bullshit from a mile away," you knew this song was going to be special. "Check" isn't so much a song as it's a list of quotables that kind of joined together to make something magical. I mean, what other rapper is giving you lines like "If cops pull up I put the crack in my crack... or I put the brack in my brack"?
Due to Gucci Mane's incarceration, we unfortunately haven't had a chance to hear much of the current, more focused iteration of Thug next to the Trap God himself, but "Again" is a nice little preview of what it would sound like. No, Gucci's verse isn't new (it's a reused verse from the intro to Trap House 4), but he and Thug have an undeniable chemistry that regardless of the walls that stand between them. Free Guwop.
***