Shoreline Mafia has come a long way from their hard-partying days of... well, not all that long ago. The LA collective still has their fun, but now they're more focused on fatherhood, a healthy lifestyle, and of course, creating the most authentic music possible. My first time encountering Ohgeesy, Fenix Flexin, Master Kato, and Rob Vicious was at their listening event at No Jumper on Melrose over a year ago, which seemingly brought out almost the entire city of Los Angeles.
While the turn-up was real at the event that evening, the guys were surprisingly chill, and they remain the same today: laidback, humble and unbothered by the industry. The LA collective has had much success, from signing a major label deal with Atlantic Records to their hit singles "Bands," "Musty," and "Nun Major" helping them rack up over one billion streams in the US alone, but they want more. They want more accolades, more money, and everything that comes with it, including peace of mind. Throughout their rapid rise to success, one thing that never goes unappreciated is the relationship they maintain with their fans. If you've been to a Shoreline Mafia show, you already know what a wild ride it is. 
I had the pleasure of attending the first of two sold-out shows at The Shrine on their Still OTX Tour — but they want to go even bigger. They hope to sell out even greater shows inside arenas and stadiums while staying grounded in their family values. One recurring theme among Shoreline is respect, something they exude and demand in everything they do.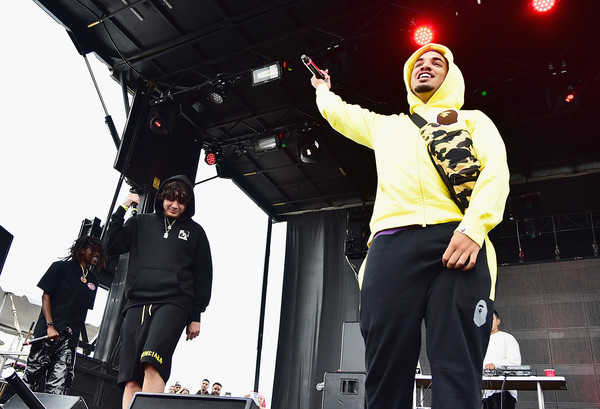 I caught up with Ohgeesy and Fenix at Coffee Commissary in Burbank on a Wednesday afternoon. To my surprise, Fenix was 20 minutes early and despite Ohgeesy showing up at my work instead of the coffee shop, he was on time also. I had just spoken to their manager TK and he was concerned: every second spent with me (or anyone else on their schedule) was time spent away from their kids and family. But I promised I wouldn't take too much time. 
Mid-convo, a fan walked up for a picture. Fenix was quick to say "we're doing an interview, we got you after" – which showed a lot of his character and what Shoreline stands for as a group. Regardless of how big the get, the guys will always give their fans and supporters the time of day. Without them, they would not be where they are today.
SHIRLEY JU: You guys just dropped Party Pack Vol. 2. What is your secret to creating a banger?
FENIX FLEXIN: My secret is if you don't feel like recording, don't record. If you feel like recording, then record and it's probably going to be a banger. 
OHGEESY: It's not really a secret formula or nothing, it's just like magic. We just make shit. We aren't purposely like "oh we about to make a banger," we just make music and it comes out that good if you're a good artist.
What is the studio dynamic when there are four people in the group?
O: You just do as you please, ya feel me? If Fenix wants to do a song, he's going to do a song. If I don't wanna do a song, I'm not going to do a song. That's just how it is.
F: You can't force anything in the studio. It all has to be natural so then it comes out good.
How do you decide who makes the final cut on a song?
O: Once the song is made, that's the final cut. I feel like we never go back on a song.
F: Yeah, it's not like we go revising over it. If somebody makes a song, it's not like we go "you know what, it doesn't make the final cut."
All your hits, "Musty," "Traphouse," they're all one take?
O: Yeah, one take. 1TakeJay!
F: I've never heard of somebody coming back and doing a part over.
What did it mean to get Spitta on "Chandelier"?
O: We grew up listening to Spitta. He's part of the reason why we dress the way we do and all that. Him, Pharrell, everyone. To have him on a song, that shit is crazy. That's who we were listening to in high school so that shit is amazing. We made that song what, like a year ago? Once we heard the beat, I'm like "yo I could hear Curren$y on this."
F: Bro really said that a year ago, he said, "yeah, we gonna put Curren$y on this." 
O: Then a year later, we weren't even planning on dropping that shit. They just said they were going to drop this in Party Pack, I'm like "alright let's see if we can get Curren$y on it." Hit him up, we had already been talking to him. Shout out to Curren$y. He's like "yeah I'll hop on it," like it was nothing.
How did you guys link initially?
O: He had just reached out after Rolling Loud LA. He was like "y'all the only two young n*ggas I'm listening to." Then he had posted himself listening to our music and tagged us in it, it was fire. 
What did you like about him growing up?
O: He's just cool. He's smooth. He's a real fashionable dude. That n*gga was rapping, but representing fucking Ice Cream which is fresh ass skaters. That's what we were into. I told him he's a big influence, I don't know if he knows how much.
As you get older, you have slowed down with the partying. You have kids now. How has your life evolved since you first started?
O: We were doing rapper shit before rapping, so life's been conflicted.
F: Now, I'm living normal life. Because before this, I wasn't living a normal life. Now, I be doing normal shit.
O: Yeah, normal shit for us is still not normal to ya'll. [Laughs]
F: Having a house and shit like that. 
O: We try to live a normal lifestyle but every other weekend, we getting paid to go party, to go to shows and shit. So it still ain't going to be normal, but we try to normalize our life as much as possible.
What is normal to you?
O: Spending time with our kids. Trying to eat good.
F: Being home, spending time with the family. Eating healthy.
What were you guys eating before?
F: Fucking crazy. Til a month ago, I barely started eating good.
O: Popeye's, every other day.
F: I just had avocado toast right here [Coffee Commissary], it was bomb. It was bussin', got that good arugula on it and all that.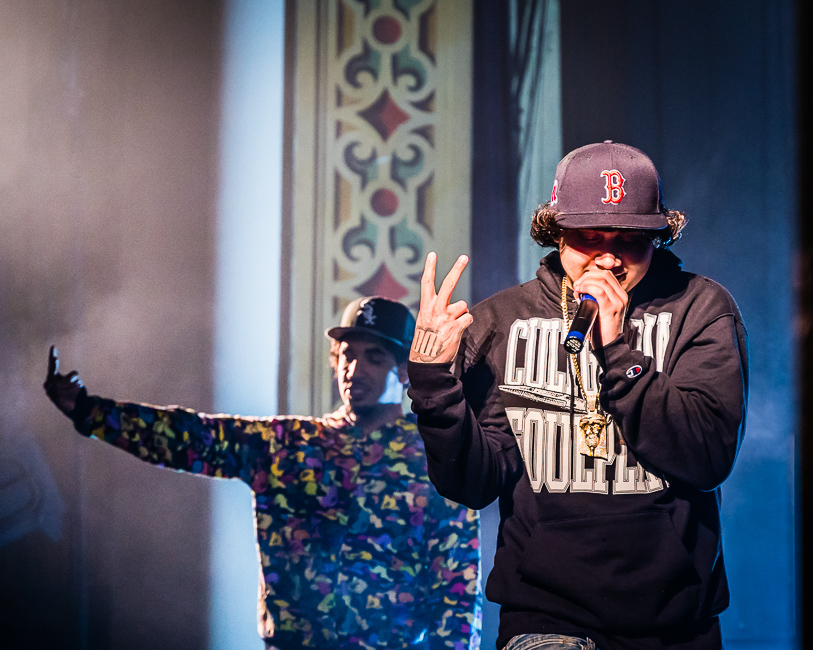 Do you guys feel pressure to live up to the party lifestyle?
O: No because I feel like no normal person should fucking party every single day of their lives.
F: I don't feel pressure to do anything... at all.
Did you guys party like that back in the day?
F: Yeah of course, or else we wouldn't rap like that. But as of right now...
O: We got that style rapping as kids, but what the fuck type of normal person does that shit everyday?
F: When you're a kid, you can wake up, drink all day, do drugs, the next morning wake up feeling normal.
O: Yeah, we're getting older. It's not like I'ma be at the crib drugged out with my kid on the couch.
F: It's not like that fasho.
O: When it's time to party, it's time to party.
Do you still dabble?
O: Oh no, I do most of my shit sober. I can't record high. If I get high, I'll be like, "bro I'm not recording."
F: I can first of all record high. I don't get high like that anymore really. I get high sometimes… 
O: There's definitely no type of dependence with anything we do.
F: I've had dependencies with drugs. I've had addictions and quit addictions, all that. But it ain't nothing you can't overcome. You just have to grow with time. You can't do anything forever. You have to be in tap with real life up to a certain extent.
What's the biggest lesson you learned in fatherhood?
O: There are still tons of lessons. You just have to be more responsible.
F: Get more money.
O: More money, hell yeah. That should be anybody's goal, get more money regardless. Kids or no kids, wake up thinking about some money.
How's balancing being a dad and being a rap star?
O: I was already a rapper when I became a dad. 
F: It is what it is. You do it because you got to. It's not like you're even really thinking about it, it just be happening. I have a four-year-old too, so I don't party as much anymore. He's good, chillin', going to school.
Do your kids know that daddy is a rapper?
F: Something like that. I watch my videos with my kids, make sure they understand what's going on.
O: My kid's too young. [chuckles] He just turned 6 months.
Is it hard going on tour, knowing you're going to be away from them?
F: It's not hard because it is what it is, you gotta do it. It's weird more than anything, coming back and missing a big chunk of time.
O: If we're gone for two weeks, it feels like we're gone for months. It's so crazy.
F: At first, it was fun. It's not fun no more. I mean, it depends on the city. If it's a really good turnout and the crowd is dumb hyped and happy to see us, then, of course, it's going to be lit. When you're in the middle of nowhere... shit is what it is. No matter what it is, it's still cool. It's fucking dope. But like anything, you get tired of certain things.
Is there anything you guys are excited about this time around with the tour?
O: I'm excited to go to Europe. Last time we were there, our sleep schedule was fucked up. We were only there for four days, so we didn't even get used to it. It was just stressful on our bodies, that shit was tiring. 
F: We couldn't find any good food out there either.
O: Then going through the airport was the worst experience ever. We literally had to go through the airport every single morning for five days straight, because we had to catch flights to every single city. That shit was annoying. It was more of a hassle than fun. I think this time around, we got a little tour bus or a sprinter. We get to chill some more.
F: They put mayo on all their sandwiches!
O: Oh yeah, I hate the food out there. I don't fuck with the food out there.
Can you request it without?
O: They don't understand you. It's the cities where they don't understand English. 
F: They put mayo on the fucking McMuffin.
Let's talk about you guys still going to McDonald's, though.
O: And they still make it nasty. I got a motherfucking McMuffin in the morning, that shit had mayo in it. I was mad. I literally said "don't give me mayo," but I guess they didn't understand it. 
F: Germany had good ass food. Burgermeister in Germany is fucking fire.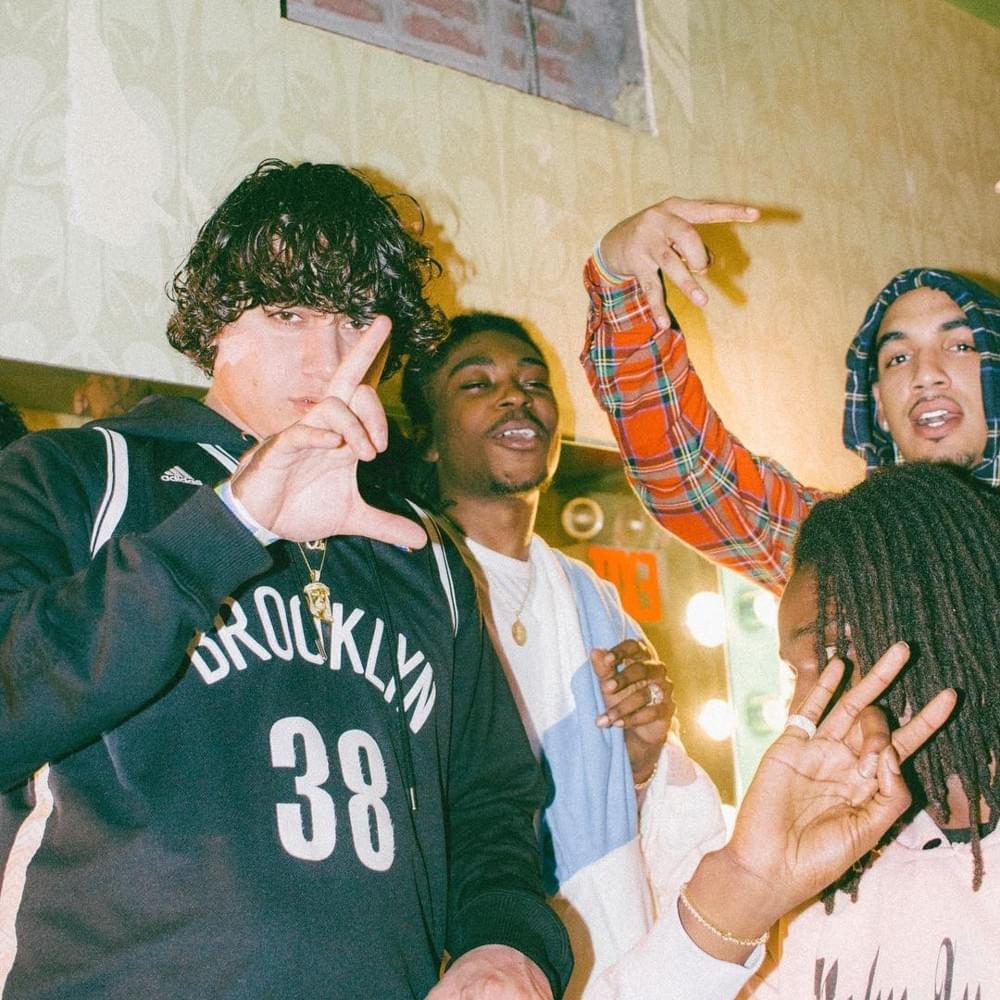 You guys shut down The Shrine in LA with two sold-out dates. What goes into your live performances?
F: We still learning. We don't have it on lock yet.
O: The shows just get bigger, you feel me? That was fucking 10,000 people in two days, we never experienced that.
F: We've mastered 200, 300 people in a room. Now it's a whole new scale. It's thousands and thousands of people, so it's a whole different performance. You gotta be at bigger stages, bigger performances, bigger everything. 
O: We getting better and better with our lives shows. They're going to become what they need to become. Fast. Soon. We got Rolling Loud in two weeks, we're gonna turn that bitch up.
Do you guys get nervous at all?
Both: Hell nah!
F: Never. Performing? Definitely no. The Shrine's not that many people. We trying to do arenas and all that shit.
O: We've performed in front of a lot more people, like at festivals and shit. Next year, watch!
F: It's not even a goal, it's going to happen next year.
What is the strategy with doing separate tapes and tours among the members?
O: Everyone's their own man. Everyone wants to work and do what they want to do, and everyone can. It is what it is.
Does splitting up allow you guys to cover more ground and reach more fans at once?
O: I don't know what difference it does. I don't know how we check, it's not like we're looking at analytics and shit. We just do what we wanna do: making music.
What made you dedicate a whole record to Drakeo & Greedo?
O: They're the homies. Free the homies. I've talked to them, but not in the past month or two. Last time I talked to them, they were good. They're in good spirits. Greedo might get out early, hopefully he does. If he does, we gonna go crazy.
Have they heard the song?
O: I think they have, they probably heard it over the phone. Drakeo fasho heard it, he heard it a long time ago. I did that song eight months ago probably, he was like "that shit hard."
They're the originators of this dark LA sound. How did they influence your own sound?
O: I was listening to a lot of Drakeo before. I was listening to Greedo. They're influential people. Just like we influence people, they influenced us too. 
F: I was listening to a lot of stuff, definitely into Ralfy. That shit's catchy, free Ralfy. I listen to Drakeo and Greedo too. I found out about Greedo right when we got signed, right before we became a group. But before that, that bounce was definitely intriguing. It was a new sound, I was definitely fucking with all that shit. All the Stinc Team homies, free the homies.
Is this where you envisioned you'd be at when you were younger?
F: Fuck no. Hell nah, I didn't know what I was gonna do. I always had the feeling or vibe that I was gonna be successful and do something out the ordinary, but I didn't know what I was gonna do. 
When you said "money," I thoughts of "Bands." What is your all-time favorite song you've done?
O: I like all of our songs a lot, they all mean something. I like all of our songs, I can't think of what's my favorite. 
F: "Bands" was a cool time period.
O: "Bands," we had just got back from our first tour and I felt kind of weird being in the studio. I felt my life was changing. Now you get back from tour and you go to the studio — and "Bands" was a throwaway. We weren't even going to use that shit.
Where do you see Shoreline Mafia in 10 years?
O: One of the biggest fucking groups ever.
F: Business owners. All types of businesses.
O: Anything to generate money.