Scott Aukerman is a writer, actor, comedian, TV host, director, producer, and podcaster. It's a long list of jobs that sort of makes him the alt-comedy Ryan Seacrest. He turned a weekly live comedy show in LA into an empire that includes a podcast network (that my own podcast resides within) and his own TV show on the IFC channel, which premiered its 4th season on January 9th. He's a busy guy who continues to annually redefine his job title, adding "Emmy-winner" in front of his name earlier this year for Outstanding Short-Format Live-Action Entertainment Program for his work on the Barack Obama episode of "Between Two Ferns." Yes, the one even your mom forwarded you . I got to ask Scott some questions and am still slightly concerned about his workload. Enjoy.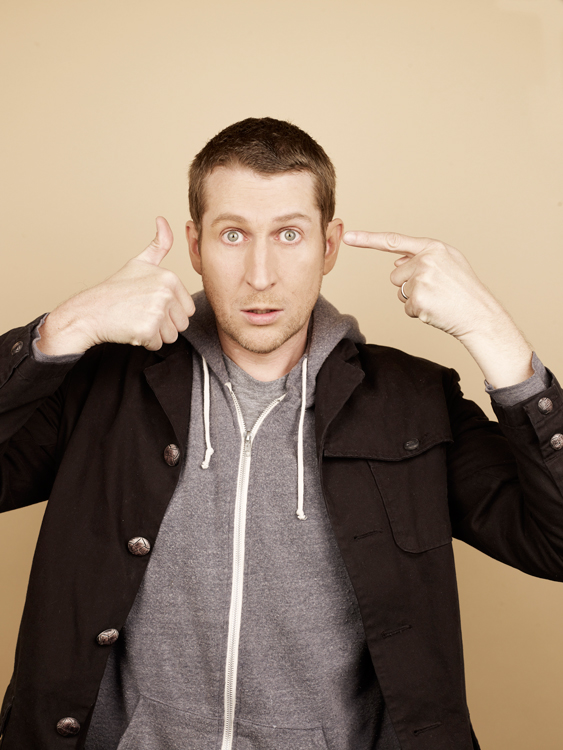 Source: pop-break.com
JENSEN: I'm a follower of yours on Instagram, and I'm now under the impression you've filmed new episodes of Comedy Bang! Bang! for the past 300 days straight. What kind of labor law dismissing schedule do they have you on?
SCOTT AUKERMAN: [Laughs] Yes, I filmed 40 episodes in 2014.  I'm currently about to start day 41 of 80 for the current season – #4.  I think, because the show is so light and fast-paced, people may not realize how much work goes into doing an episode. On average, it takes about 24-30 hours to film one. Sometimes I wish the child labor laws preventing kids from working longer than six hours were just "labor laws."
Much like the Transformers property, Comedy Bang! Bang! has seen its share of different formats over the years. It's currently a TV show on IFC, but tell people about the unique evolution of the show.
Well, what became Comedy Bang! Bang! started out as a live show I produced at the UCB Theatre in LA for over ten years. Every week I would have a rotating group of really funny people – Zach Galifianakis, Louis CK, Maria Bamford, Sarah Silverman, etc. – do standup, perform characters, and sketches. About six years into that, I started doing a radio show on Indie 103.1 that took the same people and used them in kind of a talk-show format. The difference is, some of the comedians would play characters, and you never knew who was real and who wasn't.
We started to podcast those radio shows, and the show eventually moved out of the radio studio, and I started my own podcast network: Earwolf. A couple years into the podcast, the emerging TV network, IFC, approached me about doing the show on TV. They were interested in a cross between what we do on the podcast – a fake interview show – and a sketch show. And four years later, we've done 90 episodes.
What were some of your favorite sets and comedians from the days of the live comedy show?
I always liked seeing people like Louis CK, Maria Bamford, Patton Oswalt, and Zach work out their new stuff for the first time on our stage; Bob Odenkirk, Todd Glass, and Matt Besser used to come and do conceptual stuff all the time. But I really liked giving newer comedians their first big stage on which they could perform. When we started in 2002, newer comedians like B.J. Novak, Jonah Ray, and Dan Mintz had just arrived in LA and we gave them their first big shots. We tried to make sure, up to the end, that it would always be a cross between the best comedians in the world, and new people who had never done it before. In fact, on our last show, Michael Che did it for the first time.
Way before Comedy! Bang! Bang!, one of the first comedy jobs you ever landed was as a writer on the legendary sketch show, Mr. Show. What did it feel like being green and working on stuff with legends Bob Odenkirk and David Cross?
It was intimidating, because those guys are literally why I started doing comedy. I saw their show called "The Cross/Odenkirk Problem" and it made me realize that there were weirdos out there who thought the same things were funny that I did. The second time I performed on stage at the Comedy Store, Bob was in the back of the room, and suggested that my partner and I come write on his show.  Now, it took three years to get there, but I finally did. And when I got there, I assumed I would be really quiet, keep my head down, and write furiously in my office when they weren't looking. The first day, I realized that's not what anyone wants you to do when you work on a TV show – you're getting paid for your opinions, and they want you to voice them – so I came out of my shell.  Luckily, I've always been a loudmouth who likes to talk a lot.
You're also the co-creator of "Between Two Ferns," a FunnyOrDie online sketch with Zach Galafiakankis that I assume all of our parents know about now after Zach interviewed President Obama last year. How did that idea come about?
We had been talking to the White House for several years, thinking it would be cool if Obama would do the show to promote whatever it was he had going at the time. For a while, it seemed close during the 2012 elections. But, finally, he had a cause – Obamacare – that really needed an unconventional push. So his people thought some outside-of-the-box thinking was necessary. The cool thing was, Zach and I were ready to walk away from it if it got to be too controlled by his people – if they would try to make it more of an ad and less of a regular episode of the show. But we just treated it like any episode – every guest comes on with something to plug, and Obamacare was just what he was plugging. We wanted to make sure it was 90% jokes and 10% plug, just like any episode, and the White House respected that.
What was the experience of working with Obama like?
It was very intimidating for us, especially Zach, because he had to be the one saying these rude things to the President. But I just got into a zone as a director where the most important thing was to GET THE SHOTS. This was the most important one we were ever going to do, so I needed to make sure we got the material necessary to make it great. So I just got into a headspace where it was okay to direct the President, and kind of (politely) ask him to do things that I needed. I kind of still can't believe I was able to overcome nervousness to get it done.
What is your favorite "Between Two Ferns" episode?
When we first started, we were just doing them with friends – Michael Cera, Jimmy Kimmel, Jon Hamm. Those were a lot of fun, because it was just us messing around with pals, trying to come up with fun stuff. Not a lot of pressure. Then, Natalie Portman, whom none of us had ever met, wanted to do one, and we started getting requests from big stars to do them. The added pressure of trying to navigate someone's personality you don't know always adds a lot of pressure, so those aren't normally the most fun ones. I will say Brad Pitt was a guy I had never met that came in and just got it – he was fun and relaxed, and easy.
As far as finished product, maybe the Steve Carrell one or the Brad Pitt one? Those two are really solid, I think.
I realize my favorite part about people discovering Comedy Bang! Bang (which people seem to be doing more now from Netflix than ever), is that they're being exposed to incredible character work from the likes of James Adomian, Andrew Daly, Seth Morris, and Paul F. Tompkins. No matter what celebrity that swings by for a cameo, I still gravitate towards the recurring characters. How easy is it to get celebrities like Topher Grace, Jon Hamm, Tony Hawk, and Jessica Alba to play along with the madness that is the CBB universe and mainstays?
People are surprisingly into playing along. I think certain serious actors can get tired of how boring and predictable interviews and talk shows can be. They get to come onto Comedy Bang! Bang! and do things they'll never get to do on any TV show. They usually start being kind of confused about what they're in for, but they leave having loved the experience.
I usually just try to encourage the couch guest to ask just as many questions as I do to the comedians playing characters. That way, we get a totally unique segment, where someone like Zoe Saldana is asking Paul F. Tompkins, as Garry Marshall, why he doesn't have more people of color in his movies, and Paul has to answer in character. You'll never see anything else like it on television.
Reggie Watts is your musical sidekick on the show, and now he's on his way to lead the band (or maybe just be a band completely made up of himself) for James Corden's Late Late Show. How has working with Reggie, who I know goes way back to making the theme song on the Podcast, been? And do you see him doing well in the new role?
Reggie has been great – there's no one funnier and we were both surprised by how we were both on the same page creatively after we started the show. But it's time for him to move on. I was originally bummed about it – I kind of wanted the show to never change, including the set and people on it, so that if you were watching an episode from season four, you wouldn't be able to tell the difference between it and an episode from season one.
But it became apparent to me that the show is going to go on for a while, and Reggie got this great opportunity. So it was time to say goodbye to him, which I think we have something great planned for his exit. And I know he'll do really well in the new show. I think CBS is lucky to get him, and he'll give that show – which might have had the danger of being just another regular talk show – into something more bizarre and surreal, like CBB.
What have been some of your favorite moments on the Comedy Bang! Bang! TV show?
I've had such a great opportunity to have some of my comedy idols on the show – just the fact that I got to have Pee-Wee Herman on, and I got to perform all-new comedy bits with him, is so staggeringly unbelievable to me. That's really the fun part for me – I get to be in scenes with people like Amy Poehler, Seth Rogen, Ty Burrell, SCTV's Dave Thomas, the members of the Kids in the Hall – so many fantastic people have passed through our studio.
What do people have to look forward to on this new season?
First of all, I think the fact that we didn't take a break in between season three and four really helped it – we're operating on a level right now that is unmatched. The material is great, and people are really responding to it.
We have fantastic comedians on the show, but also we expanded the scope of celebrities who are interviewed to include musicians like Schoolboy Q and Kid Cudi, and sports stars like the Tennessee Titans' Eddie George. We're doing super-conceptual episodes, like a sitcom episode and a dream episode. Plus, we're counting down to Reggie's goodbye in the middle of the season. I think people are really going to dig it.
Will they ever stop working you for new episodes? Blink twice if you need help being free'd, blink once for more water.
BLINK BLINK – and also BLINK!!
::
Watch episodes of Comedy Bang! Bang! on IFC and listen to the podcast here on Earwolf.