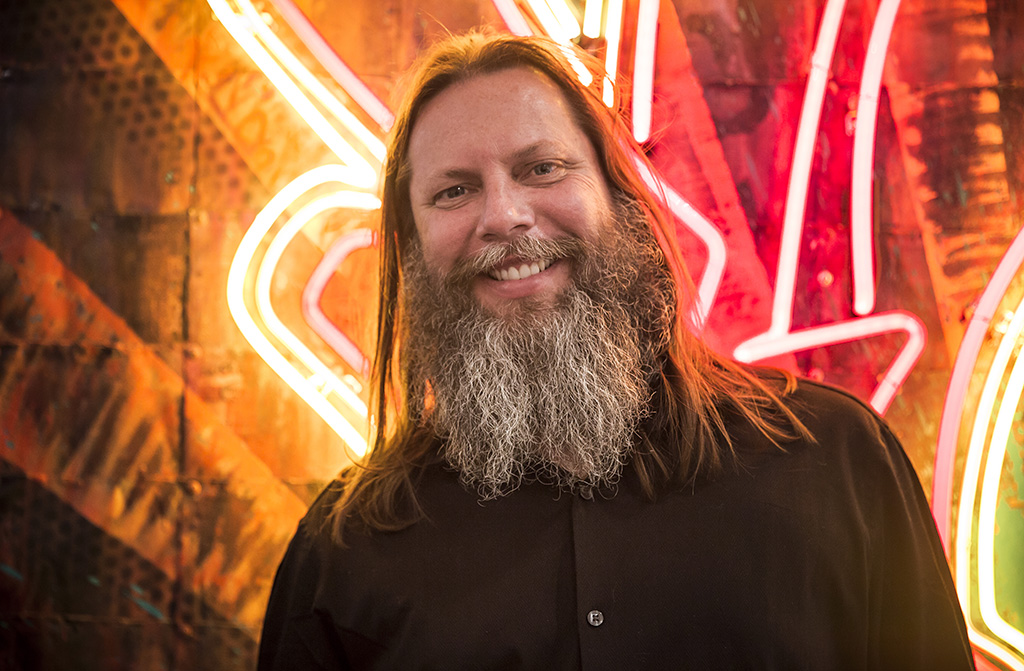 In a career spanning more than 30 years, RISK has accomplished a fair amount of firsts: He was one of the first writers in Southern California to paint freight trains, and pioneered writing on "heavens" (freeway overpasses, billboards and the like); he was one of the first artists to turn graffiti into a viable career, working on films sets such as Bill and Ted's Excellent Adventure and videos such as Michael Jackson's "The Way You Make Me Feel"; and he created the first graffiti-inspired clothing line, Third Rail, which would go on to become an international brand with investors like Kelsey Grammer and a mention in a question on Jeopardy.
Through it all, RISK remained active on the streets and in galleries. In 2011, he was featured in Art in the Streets at MOCA—the first comprehensive museum survey of graffiti and street art—and he has continued to exhibit his work around the world (Barcelona, New York and Tokyo, among other places). He also created the ongoing mural series, Beautifully Destroyed, for which he strips down his graffiti to its most abstract form, and paints splashes of color on the sides of buildings across the country.
I've spent a good amount of time with RISK—from editing his upcoming book to exploring the catacombs beneath Paris—and I reached out to talk to him about his current exhibition, Metallic Tissue, at Fabien Castanier Gallery in Studio City, CA.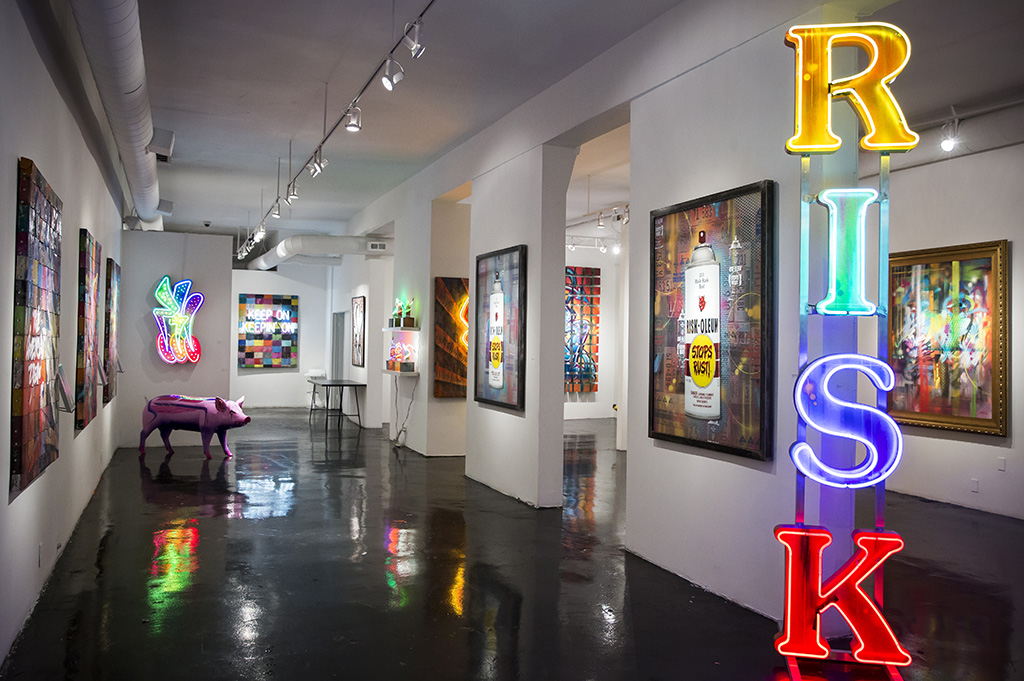 How did you go from painting heavens to working on the set of Michael Jackson's "The Way You Make Me Feel?"
I actually got introduced to Hollywood and set stuff at the Pan Pacific Auditorium. I would break in and paint the building at night and play cat-and-mouse with the security guards. Eventually, one of the security guards approached me and said, "Hey, we'll let you paint here if you don't make us look bad and stay away from certain walls." The security guard became a good friend of mine, and he is the one who actually referred me for the Michael Jackson video. I designed three city blocks with very different styles of graffiti. One was straight gang stuff, the other was bombed, and the last one was pieces. They used them all, but the pieces were too bright and they aged them so they almost disappeared. It was a great experience. I was all about bombing at the time, so all I wanted was access to as much paint as I could get. I had shipments from Crown Paints coming daily—Crown Paints was the store that had the best supply of Krylon at the time. I went through their whole supply. Everyone on set was star struck, while I was just flying under the radar ordering truckloads of paint every day. When Michael eventually got to the set everyone was freaking out. They were like, "Don't make eye contact, don't talk, don't blah blah blah," I was like, Cool, that's perfect! Then Michael came right up to me and said, "So you're responsible for all this beautiful art?" I was so caught up in my graffiti bubble, I wasn't aware of all his plastic surgery and stuff. So I was completely caught off guard and I was like, "Who was that?" The other people were like, "He chose you, you're the chosen one, he's going to make your career," and all the same people who said not to talk to him were telling me to go talk to him now… But I never did, I just kept stealing paint.
What made you want to take your art from the streets (or sets) and put it on canvases?
I had seen FUTURA and LEE come down and do some gallery shows. One in particular at the Tamara Bayne gallery. I knew I wanted that! The thought of getting paid to do graffiti was a crazy concept. I also saw an ad for a CRASH show in a Playboy or Penthouse magazine, which was incredibly "pimp" to me at that time. I wanted to be a graffiti legend too. I eventually met with Tamara Bayne and learned a little about the gallery scene. I knew I had a long way to go, so I just explored every aspect of art I could and applied graffiti to all of them. I was drawn to mixed media, out-of-the-box type stuff—like painting car parts or doors. This stuff was very avant-garde back then. I dabbled in a lot of furniture. Most of my pieces were cement, steel and glass. Funny thing is the fabric portions were all painted like my Beautifully Destroyed series. I never thought of painting that on a wall though.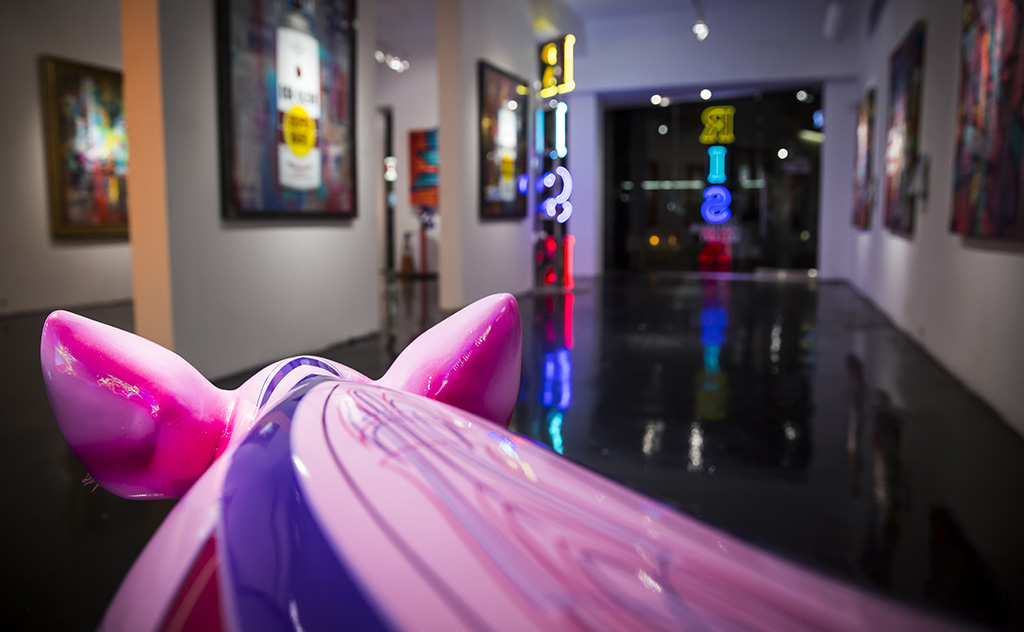 Was it a difficult transition to take your art into galleries?
I think that's always a struggle. The key is to just not care about sales. My goal is always to put on a good show. For the show and body of work to be strong. I believe that's the key to long-term gallery success. Time will tell.
It seems like you're always doing something different at your exhibitions—whether it's a window display filled with thousands of caps or a Bob's Big Boy holding a can of Risk-oleum. What did you do for Metallic Tissue?
I did a few different things. The main pieces were panels made from cans that I used for memorable pieces in my career over the last few years. I had cans from MOCA, a few trips, some trains, and all of the Beautifully Destroyed walls. I cut the cans open and pressed them flat and then I made my panels out of them. There were 10 of these panel pieces.
I also made a book with all the pieces that these cans were used on. The book is a limited edition of only ten. It comes in a metal box with the cover of the book and box hand painted to match each other. They are signed and numbered. If you buy the book you get the piece for free. It's a rather expensive book though [laughs].
The big installation was a piece that consisted of 260 boxes with different dimensions. I painted all of the 1,300 sides and hung them an inch-and-a-half apart. I was very happy with this piece, although it almost killed me.
I also printed a few pieces on glass and metal, and I expanded on my neon pieces, making a freestanding piece as well as small sculpture-style pieces.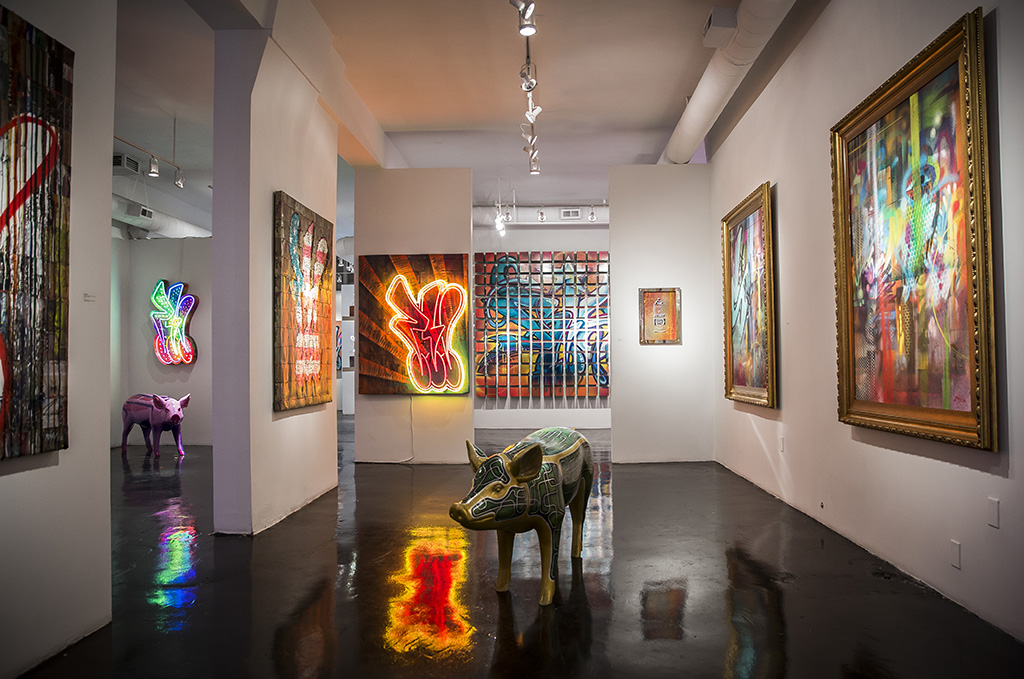 What were the works in this exhibition inspired by?
Metallic Tissue is about the can being in my blood. The show broke boundaries for me because I was able to conceptualize my pieces as a whole show rather than as bodies of work. Everything tied back into each other. The three main pieces were actually parts of my studio wall that I cut out and embellished. The frames on some of the smaller pieces were rulers from my studio that I welded together and had chromed. The prints and/or printed elements were all forms of my Rustoleum knock-off spraycan. I also had a few pieces like the boxes and the tri-level glass pieces, as well as some of the larger neon pieces, which represented always expanding and experimenting in the studio. The show was well curated, it had a nice flow and looked great as a whole as well as individual pieces, and that was the idea: all these pieces are parts of me that make a whole.
Besides cans, what are the five things you can't live without?
Sunny, Stormey, Charley, Bailey and Marisa.
What's next?
I just got a TV deal. It's literally too new to talk about. We haven't even signed the papers yet. But I can tell you it's not a reality show.