Chaos. That's what the vibe of the Pyer Moss Fall 2016 show was. From no one quite knowing who was whom and who was supposed to be where, the whole production was chaotic. And for good reason.
Kerby Jean-Raymond turned out what was arguably one of the brand's best line-ups yet. With styling by music legend, and fashion icon in her own right, Erykah Badu—her handiwork was almost palpable in the silver and gold rings adorning the models' fingers, and signature shades as well as the button-bedecked hats that topped each look, styled after those used by working-class professionals, Badu told Huffington Post. Anticipation was high for a range that was expected to address the black experience in America. A collection centered around depression titled "Double Bind" with a finale look that featured a model wielding a protest sign that read "My demons won today. I'm sorry," the looks found strength mostly in outerwear. The sign itself was an allusion to the last Facebook post of Black Lives Matter activist MarShawn McCharrel, a 23-year-old who committed suicide likely due to the depression brought in as a result of his activism.
Sweatshirts came with allusions to self-medication, warning labels printed on their fronts. "Call A Doctor if You Have Any Of These Symptoms" read one top before listing off anxiety, panic attacks, and other general side effects. With a group of opera singers remixing versions of Future's "Trap N*ggas" and other rap tracks live, there was an immediate nod to an infamous Badu tweet about the duality of her spirituality and secular nature.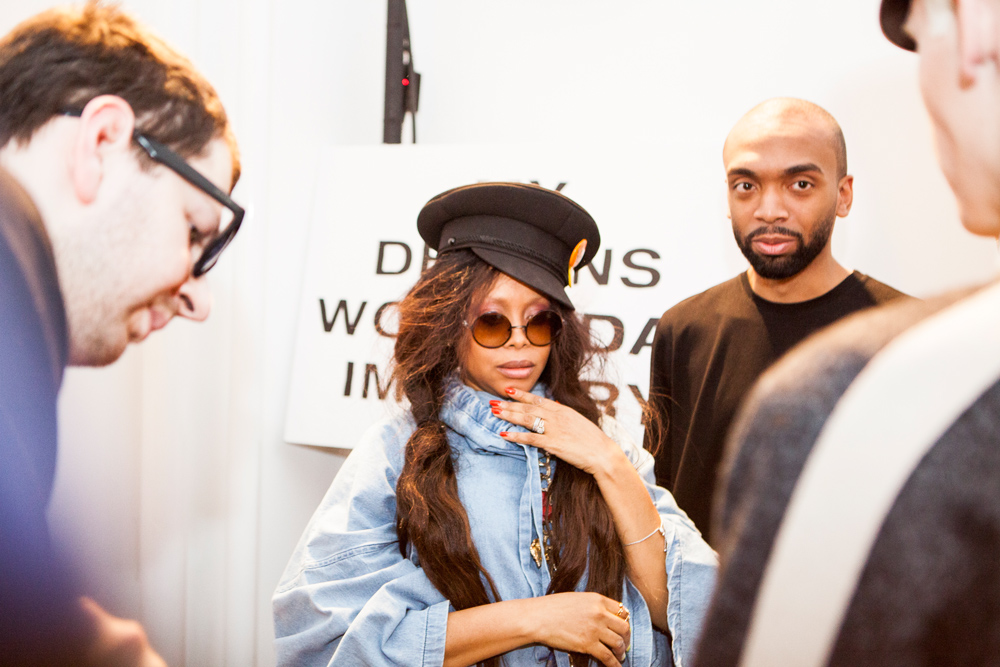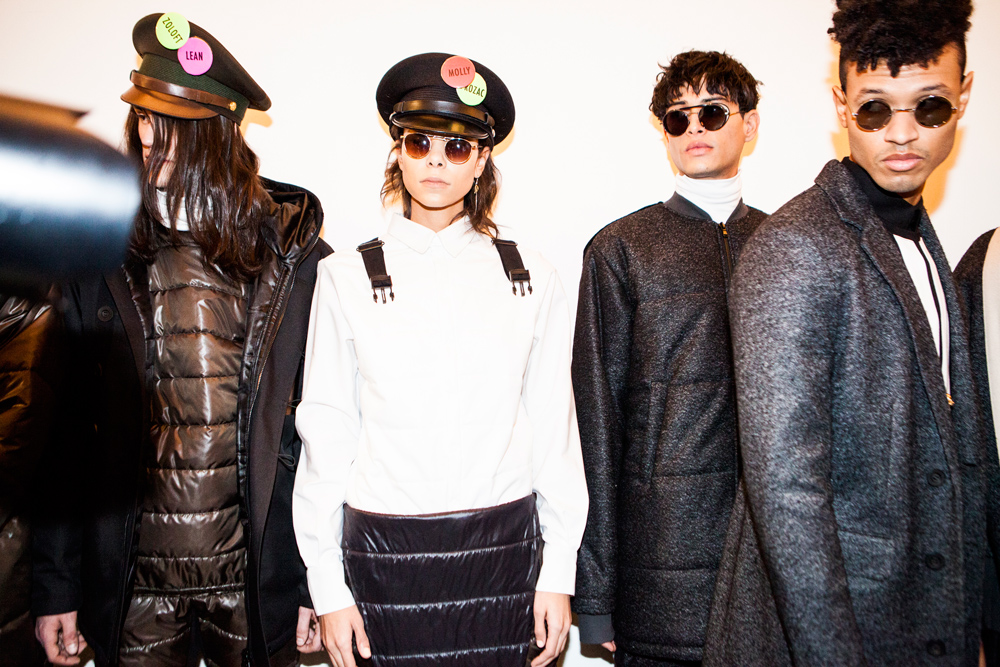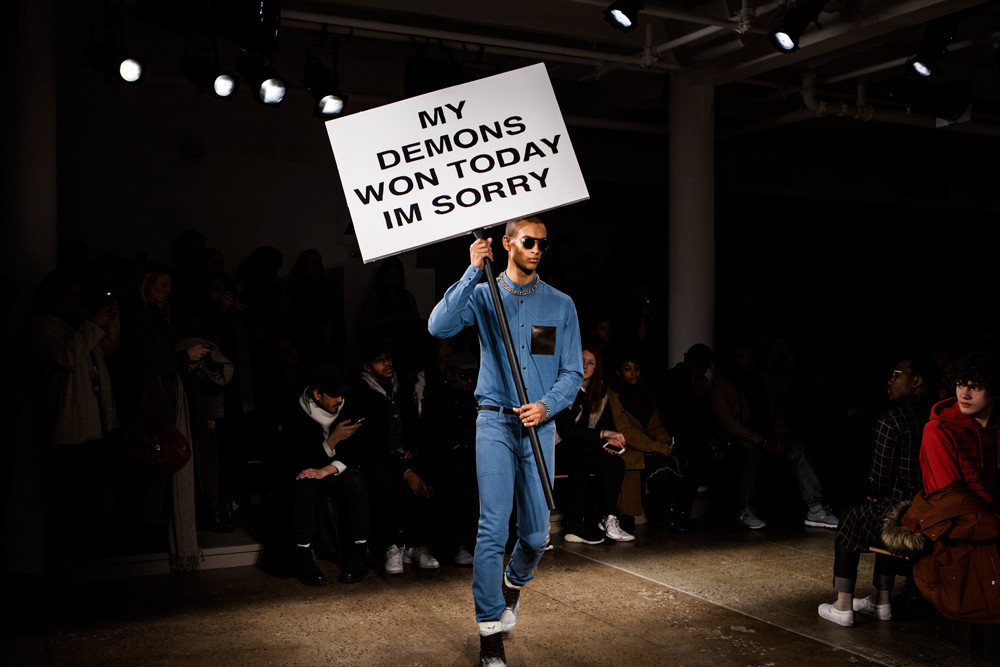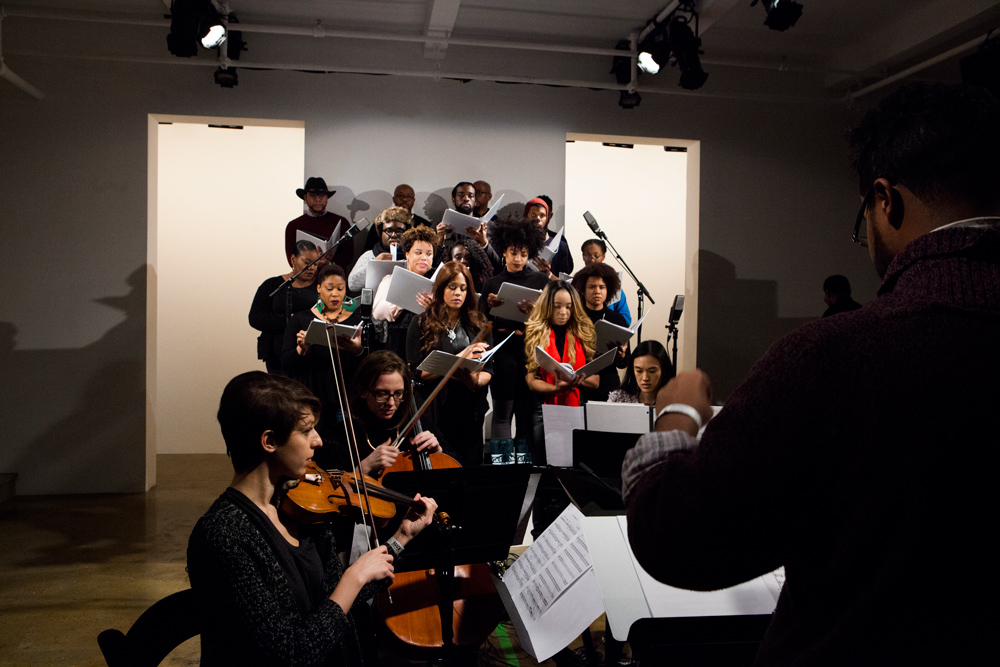 But the showing was marred. With editors as well as the likes of Drag Race's Violet Chachki scrambling to find seats as theirs had been stolen by the time the show had started, to an overwhelming dysfunction backstage following the show that had an NBC affiliate yelling racial bias, it was a diamond in the rough. "I actually almost ripped what I was wearing," a model said backstage, having been squeezed into a look last minute by the dressers. Those facts were tough pills to swallow.
In the past, Mr. Raymond has talked about feeling compelled to use the platform he has built for himself to talk about things that pertain to him as a black man living in America. That conversation is needed, desperately. And his platform is there. Rapper Wale, Diversity Coalition head Bethann Hardison, Washington Post's Robin Givhan, and Huffington Post Senior Fashion Editor Julee Wilson were all at the show.
"I think it was his strongest collection by far," Ms. Wilson said after the show as attendees milled towards the exit. "I think this is his most extensive collection and maybe his most wearable collection. It's also a validation that there are strong, amazing black designers out there that should be looked at and deserve to be praised and he is absolutely one of them." But maybe the platform has gotten too large too fast.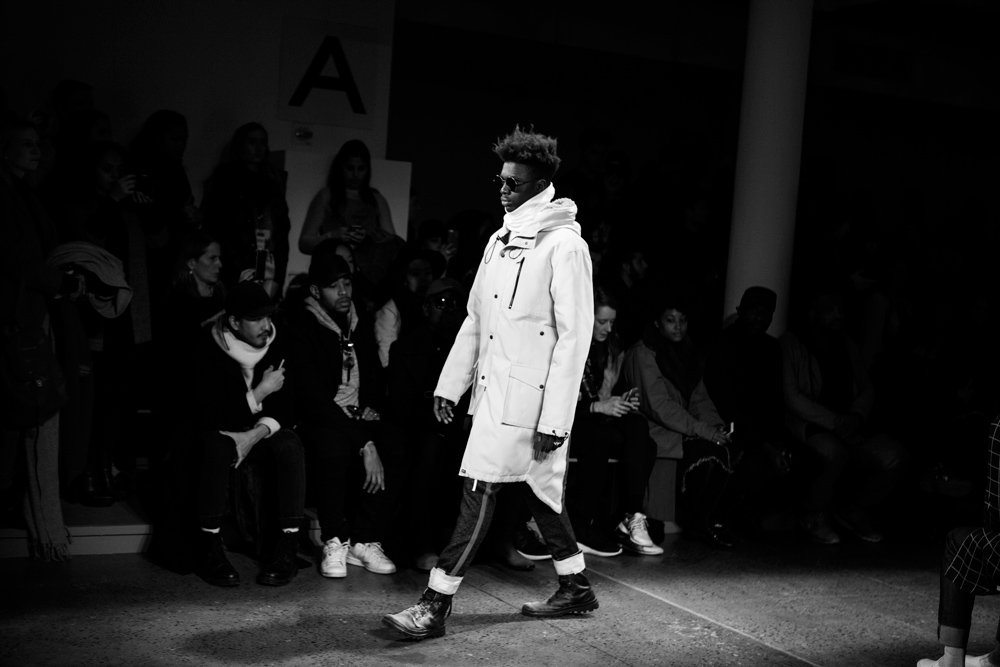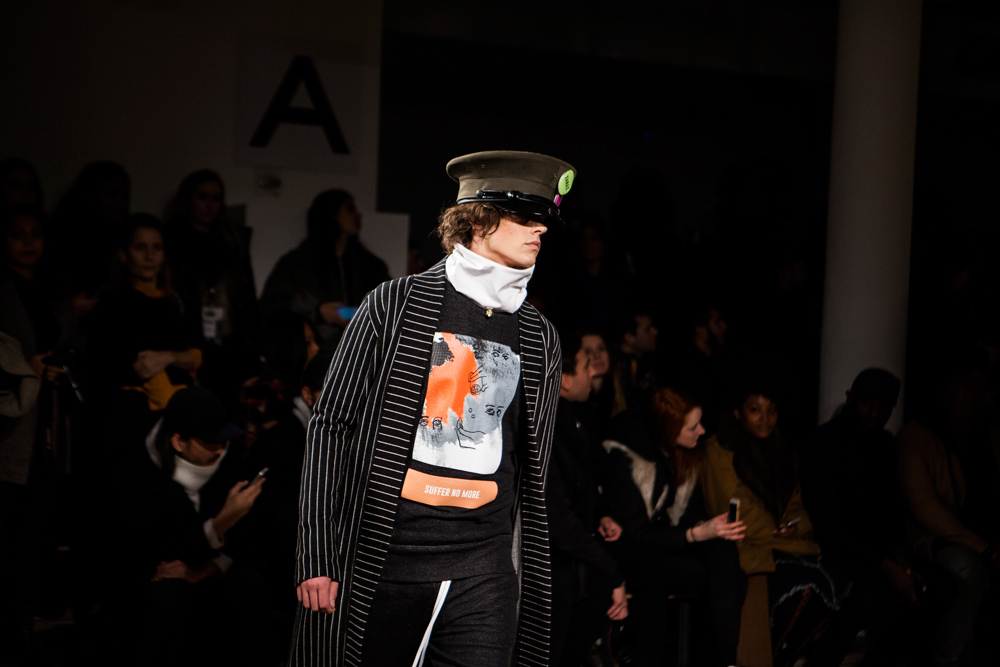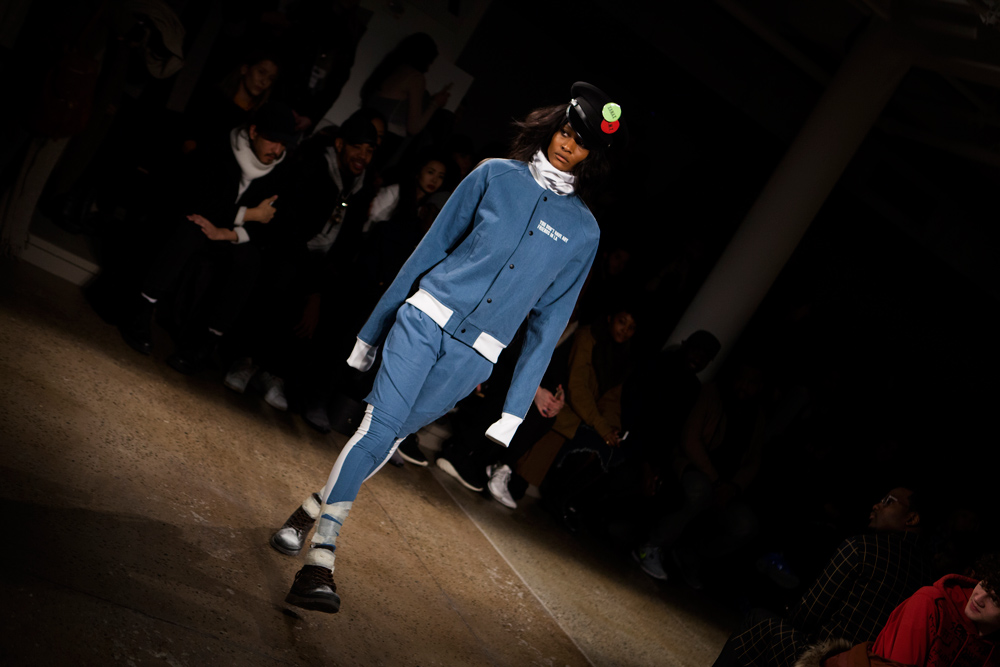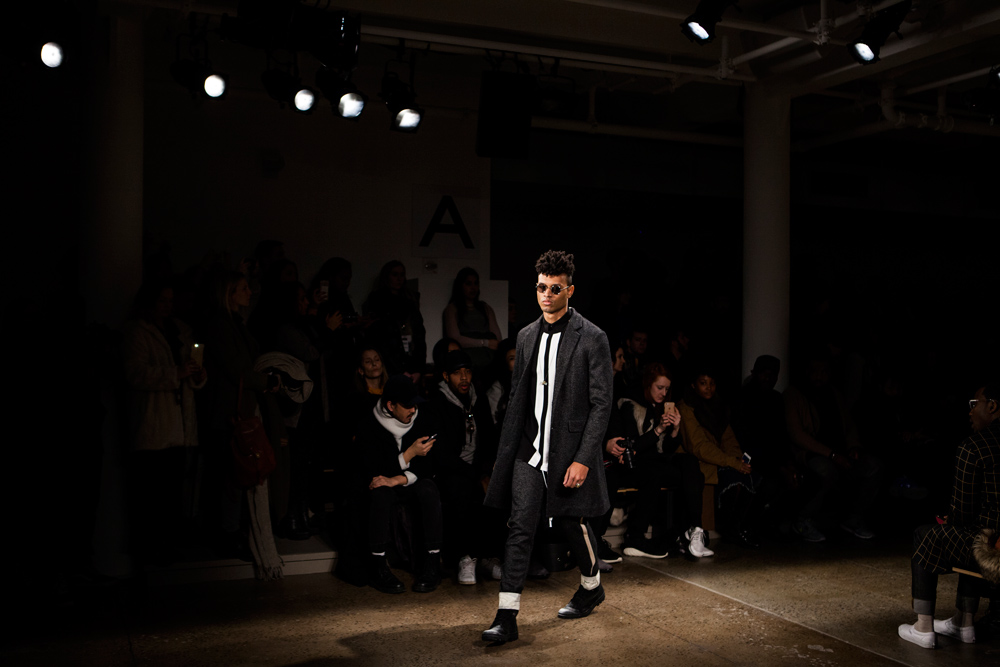 The designer started going political with his main line a season ago. Then, in a much-anticipated show he showed a stomach-turning video of black bodies being brutalized by the police before he showed a collection splattered with phrases like "I can't breathe." That production was slightly chaotic with a show caller standing in the middle of the set screaming cues for the model because of last minute changes, but the chaos seemed to fit with the theme. This season, that connection seemingly wasn't there.
Mr. Raymond has clearly abandoned any misgivings he had about being labeled a "black designer" and is leading the pack in terms of provoking conversation, but it's just as clear there are a few growing pains the brand has to work out. Stand out sweatshirts with tags like "Why so blue" and "Suffer no more" on them could get trampled amongst the herd if the designer doesn't become as focused on efficiency as he is on his messaging. His spotlight could be dimmed because of how many obstacles one has to get through to see it.
Which would be a tragedy, because in today's climate, we sorely need his voice amongst the din that currently populate the industry.
***