Kerby Jean-Raymond of his brand, Pyer Moss, is best known for dressing everyone from Usher to Rihanna. In only two years, the brand has created a strong following from fashion aspirants and style aficionados, to the financial industry. Recently, Jean-Raymond was listed as Forbes' prestigious "30 Under 30."
"That's literally something I wanted to get to this year, it was the very top of my list," he said. "When I got the call I was so happy I was jumping up and down I think I broke a chair."
He's one of New York's top young designers, but it hasn't been smooth sailing to the top. From having four simultaneous jobs to sustain himself throughout college at Hofstra University – "I was working at Geek Squad, then on campus security, in between classes faculty computer services and Diesel on weekends!" – to dropping out of law school and then eventually quitting his corporate job, Jean-Raymond has always had fashion on his mind.
"Whenever I was trying to go another route, fashion kept pulling me back like I was meant to do this and this only," he said.
Though Jean-Raymond is a newcomer in the fashion space, he's been grinding for a while. At only 14-years old, he became a designer at the New York women's line, Kay Unger New York – who then went on to help start the start-up, red carpet staple, Marchesa. He eventually launched his own streetwear brand in college, Montega's Fury, which even got into a collaboration with Urban Outfitters. It's evident that the Brooklyn-born designer has an innate sense of drive, hustle, and sheer will to not only survive, but thrive.
Below, Jean-Raymond talks to us about buying a BMW 5 Series to keep up with his classmates, becoming a taxi dispatcher to pay it off, and why Drake is the only one who can say, "No new friends."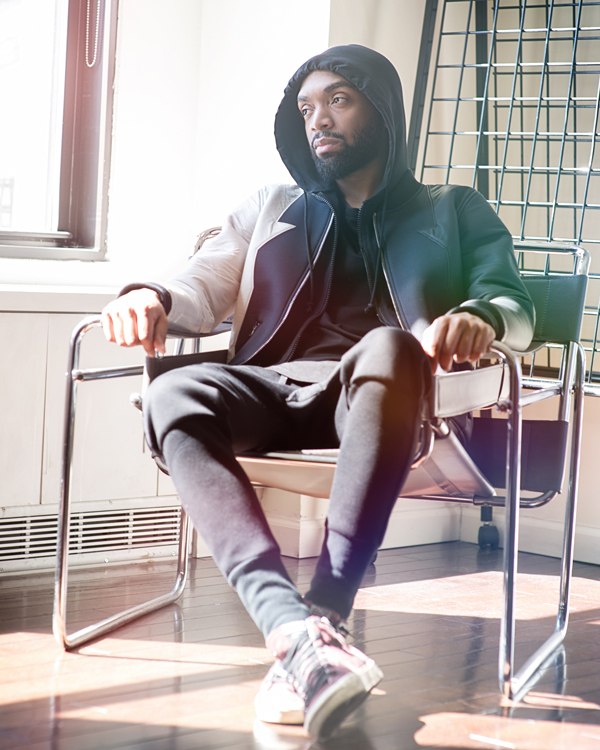 DAVID YI: Congratulations on coming off of your first runway show.
JEAN-RAYMOND: Thanks, man. But I don't want to do a runway again, I'd rather do a presentation. I want to interact with the crowd and I want to see the stuff cleaner and more structured. I want as many people to come in and out as possible. With the runway, you have to be on time. I think, to be honest, a presentation is the more considerate approach.
Tell me about your upbringing.
I'm from East Flatbush Brooklyn, my parents are Haitian. I grew up in a very West Indian neighborhood. I grew up with Jamaicans, Grenadians – a lot of colorful cultures. I just kind of got a taste of that world. I was raised by everyone in my neighborhood.
Did you always want to design?
I decided to be a sneaker designer at 12-years-old. In New York, we get a public school directory, and I was flipping through it one day. My third flip into the page, I landed at the High School of Fashion Industries. I saw the ratio was 1800 students in the school, and out of them, 1600 were girls. Prior to that I was like, "I have trouble getting girls to like me. Maybe here I have a chance. Plus, it's fashion, maybe they'll be able to teach me."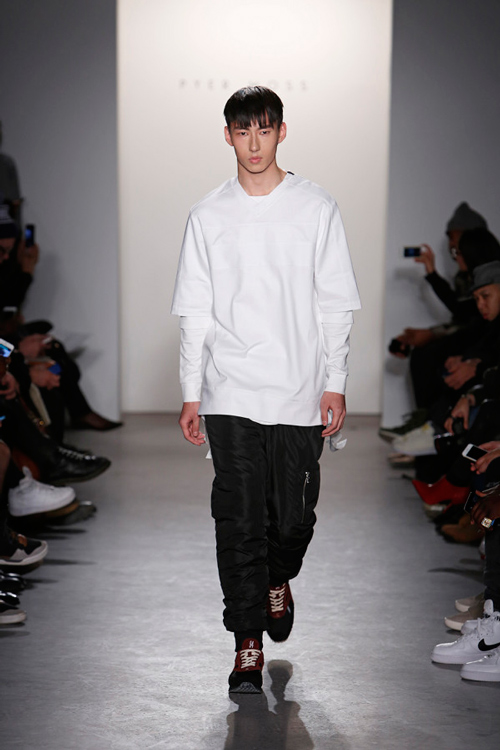 A look from Pyer Moss AW15 "Foul Play." See the rest of the collection here.
So you then put a portfolio together and was accepted. What was a fashion high school like?
When I got into high school, I was pretty disruptive. My freshman year, I was really disruptive in my homeroom class. Homeroom was a stupid study hour and I'd throw stuff at people and things like that. My teacher said, "Look, you can get an in-house suspension or an internship." It was tough love.
She had a roommate working at Kay Unger New York. I was 14. Right then, I started working with her and I met Kay Unger. I was really short at the time. She took me under her wing and a year later, she put me on her design team; I was designing pajamas. She had a line called Sophia that was young women's daytime. About a year later, she helped start Marchesa, and then put me on their design team. I was doing everything there. It was four of us. If they needed me to sew, I'd sew; draw, I'd draw. That was my sophomore year of high school. It was really early on in their career, I really got to watch. Going into Pyer Moss, I knew what was going to happen and how I was going to fuck up. I knew the trials and tribulations.
"I'M A SURVIVOR AT THE END OF THE DAY."
Then you went to college?
I got a full scholarship at Hofstra University, which I could not turn down. During college, I was majoring in business law and entrepreneurship. I was interning and freelancing for streetwear brands like Theory and Marc Jacobs. Streetwear was big at the time, this was when Hypebeast was blowing up. I was trying to get into that game. I started a T-shirt company and working with other brands. I was doing whatever I could to stay in. I was going to school in Long Island and all of my friends, like Shayne Oliver (from HBA), were cool shit while I was with yuppie kids. Montega's Fury was my brand and we did one season with Urban Outfitters and we dropped it.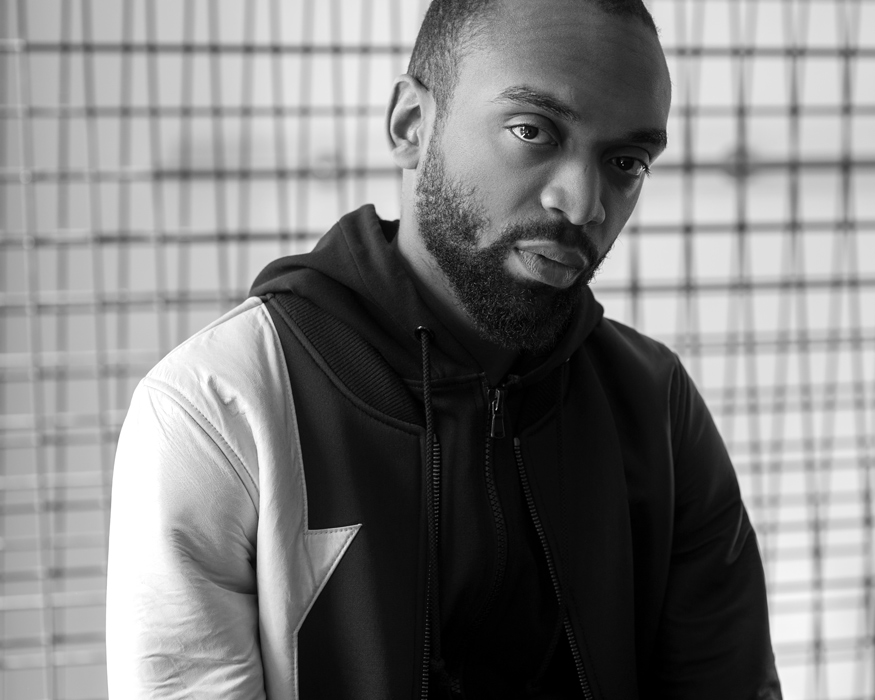 Why was that?
School got really intense. At the time, I had no money. I had three or four jobs simultaneously. I was working at Geek Squad at Best Buy, working night resident safety, then, between classes, was working faculty computer services, and then working at Diesel on the weekends. I was freelancing designs too. I was super tired. Even if I had a full scholarship, it didn't cover my car, my expenses. Even with the four jobs — at one point I was loading cargo at the airport. I'd do overnight calls at a taxi dispatch center.
I ended up graduating on the Dean's List and was on it every time but two. I was never one of those kids who had to study. I found that that style of learning was regurgitating; you just spit it back on a test. It was never challenging for me. Even on the SAT I got the second highest score in my school. It was never that the school part was hard. The hard part for me was trying to keep up with other kids with a lot of money. My roommate had a Bentley GT. His father was a hedge fund manager. I felt like I needed to keep up, so I bought a BMW 5 Series.
What was life like post-college?
After college, I worked a few jobs and went to Brooklyn Law. I dropped out and went to work at AT&T, working a corporate job. I was managing stores and stuff. It was a high paying job. My job was essentially firing people. It was union and all that shit. I hated every morning waking up. I ended up getting myself fired and I would do certain things to get me laid off to get unemployment. I had this massive idea for a business. I knew if I quit I wasn't going to get unemployment, so I got myself fired. I was able to cash out my 401k and used that money to support myself and start creating what would now become Pyer Moss.
I used to trade stocks. I would do foreign exchange trading with my 401k. With my match contributions, I'd flip them. I'm a survivor at the end of the day. I always come back to fashion like I need it. Every time I did something else, fashion and drawing and creating shit would always come back.
Pyer Moss SS15. From their Instagram @PyerMoss.
When did you begin your fashion line?
I started conceptualizing Pyer Moss in late 2012. I came up with the idea of the camo leather jack of December 2012. I had three made and my publicist sent one to Mel Ottenberg, who gave it to Rihanna. That pushed us to the top. I didn't have a collection yet. Between a short period, I was creating a collection. I went on a chance and did it. She wore it on January 28th, my publicist said that we should ride the momentum. I didn't plan on showing anything until January 2014. This was all a year premature, so we ended up putting together ten looks. We threw a party and some good people came out; and press. It was a pre-collection. I came up with the name 36 hours before. It's my mother's two last names. It was all fast and looking back at it a year and a half later, I was like, "This shit was supposed to happen. All my people helping me."
So "no new friends"?
No, I'll never say "no new friends." Drake can say that shit because he has a lot of money. Anyone under $100 million cannot say that. That's the root of broke-ness. That's the worst thing you can possibly say. I believe in new friends, and if it wasn't for new friends and old, I wouldn't be where I am.
How did you link up with Usher?
That first show, SS14 Rita Ora walked in and then Usher's stylist walked in. I'm a very suspicious guy, so I was like, "Get the fuck out of here, you don't know Usher." She emailed me later and was like, "Can you do a couple of those long T-shirts for Usher in navy blue?" I was like, "We don't have money or fabric." We ended up making them and he's been with me since day one. We don't publicize it, but if you see him on The Voice and anything 2014 – BET, Grammys, everything – I had something to do with it. Naturally, when his tour came around, it came between me and a big company, and they were like, pushing buttons, offering to pay $250,000 — we were asking for him to pay.
What's in the future for you?
In the next three years we want a store. We're not even in our second year, but I think brick and mortar is important. It's not in the U.S. That's where I see the brand going today. You have to be a chameleon. When I first started the brand, when we did our first couple of shows, the approach was very tailored, high-end streetwear. Now, it's moving from streetwear and [into] more luxury sportswear. And at worst, luxury athletic wear. Everything is supposed to last at least 10 years, and it will. I should put a warranty on it.
::
Keep up with Pyer Moss's latest at pyermoss.com and on Instagram at @pyermoss. 
Photography by Stephen Wilson.