"I value innovation the same way that video directors or novel writers [do] and how their form adapts to the changes over time. I'm attracted to how things can sound new. So I'm always looking for innovation in hip-hop. And that's a value that I'll never really not feel." I sat on the phone with Open Mike Eagle discussing our interpretations on the ending of Belly and the future of this culture that has inexplicably been a shaping force for us as creatives in LA. Eagle, over the last 15 years, has established himself triumphantly as a fixture in the underground hip-hop community, moving from the echelon of young LA rappers who first found a platform for themselves at the legendary Project Blowed, to having major music publications from LA Weekly to Pitchfork singing his praises.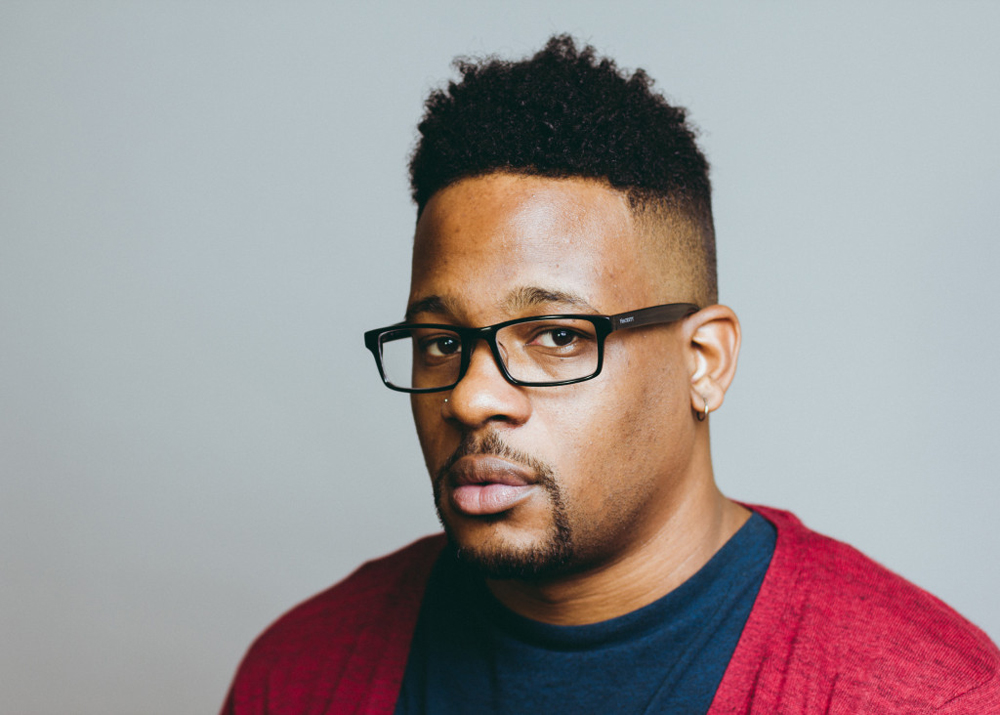 His epic release last year, Dark Comedy, was widely received as one of the best hip-hop albums of the decade, and provided a spotlight on an artist known for his idiosyncratic lyrics and ability to showcase his humor through the lenses of the rap world. Very rarely do you see a rapper take forth such a vested interest in the power of their words—almost paying a direct homage to the Homeric traditions of the past. As he told me, "I spend a lot of time on words. I spend a lot of time writing them. I spend a lot of time making sure I'm saying them in what is the best way to say them. And a lot of times, it really trips me out when I talk to people about what I do and there's people who don't value rap in the same way that I value it. There's a lot of people whose enjoyment of rap music—even rap music like mine—that has nothing to do with words. And that's crazy to me. But that's the case, I guess."
Open Mike Eagle claims the role of "the everyday man" with pride—a role often overshadowed in current times with suburban machismo and cartoonish representations of masculinity: "I'm a 34-year-old dude, I live in Culver City. It's hella quiet around here. I've lived in crazy hoods in my life. I got a kid, I got a wife. My life is very particular, and I've used everything in my life to inform my music… it's important to me that the real experience of my life is reflected in it."
It was interesting to recognize, even within our conversation, the generational shift of priorities in hip-hop: like what it meant to be a member of the hip-hop community and how the standards of rappers from 20 years ago have changed. Eagle, ultimately, was accepting of the changes. "Hip-hop always changes. It's always growing and developing. Hip-hop was a different thing, and the good thing is that, in my age and what I'm doing and… the fact that I am a working, active rap musician, I provide a little bit of the definition of hip-hop, too. Like, my presence changing, and my presence makes a space for people with my values. I can take advantage of the fact that it's changing, too; it's not just a negative thing. It allows the music to be open for all sorts of interpretations."
This weekend he'll be one of the chosen artists performing at MOCA's Step and Repeat—a three day festival celebrating the arts in Los Angeles. Make sure to stop by on Sunday and see why comedians such as Hannibal Burress and Paul F. Tompkins address him as one of the preeminent storytellers of our time.
::
Follow Open Mike Eagle on his website, Bandcamp, Youtube, and Twitter @mike_eagle. 
Step and Repeat is MOCA's annual celebration of performance art, comedy, poetry, live music, and more, and is organized by MOCAtv Creative Director Emma Reeves and MOCA Assistant Curator Lanka Tattersall. Find out more about how to buy tickets and attend this weekend on their website. And be sure to read our interview with artist/comedian Casey Jane Ellison, who will be performing on Saturday.