There would be no C.L. Smooth without Pete Rock, no Guru without Premo, and definitely no Future without DJ Esco. When it comes to a song, the producer or rapper debate is very much like the chicken or the egg — who came first? While both are important in the creation of a bomb omelette, the producer is the main ingredient that you don't necessarily see, but taste loud and clear. "On The Beat" is a monthly column where we get to know the enigmatic figures behind the beats to your favorite songs.
Every once in a while, there's a producer whose sound slowly creeps from the depths of Soundcloud and Youtube with a hint of familiarity—and changes the way we listen to a genre. 20-year-old MexikoDro (who chose not to share his government name because, "I got a couple cases pending on me") is that producer. And he is redefining trap and hip-hop beats altogether. He gets anywhere between 12,000 to 15,000 plays on Soundcloud a day, with 2.8 million plays in total.
With a sound that I like to describe as a perfect soundtrack to your favorite stoner art film, or the music you hear when you're in a particularly enjoyable acid trip, MexikoDro is fully aware that he is paving his own lane in an overly saturated Atlantan producer market. "I got my own little shwag going on with the beats I make. I got my own little lane I'm going into", he says with a chuckle while Facetiming me from Lenox Square, a mall in Atlanta. You can instantly point out his beats from a heap of unoriginal trap compositions, from his distinct drum and 808 patterns to his ethereal melodies that make you feel like you're tippin' on 44s through a purple cloud. The visceral melodies make sense when MexikoDro explains, "I used to play Paper Mario. I got the soft-type melodies from those games," identifying himself as part of a subset of young producers who find inspiration from old school video games.
Born and raised in Atlanta, by way of Ellenwood in Zone 6,  MexikoDro got his start on FruityLoops 7 at the age of ten, but started to take his music seriously when he was seventeen after a brief stint in jail. "It was just something telling me, you know, like come out with a different mentality and just get this money," he says, the first of many times he mentions that this is his main goal—to make enough money to live comfortably and provide for his friends and family. This laser sharp focus and relentless hustle seems to be in the collective consciousness of Atlanta's trap producers. TM88 referred to the ATL work ethic too, back when I interviewed him in November: "That's real trap music. That's how it's made. It's made from the trappers. Being around that environment, it's real fast-paced and no one got time to play. That's how everybody treat the music."
"Ain't no competition. Everybody just working," Dro states, affirming that Atlanta is a city of go-getters, with each individual focused on their personal goals, staying away from drama, and having faith that if you keep grinding, everything will work out.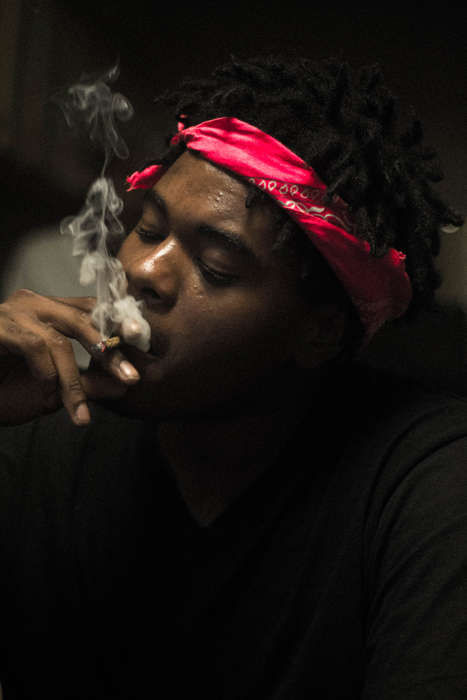 photo by Nolan Abloh
His determination is clear in his tone, which is both humbling and inspiring coming from somebody who isn't even old enough to buy himself a drink. It's hard not to believe in his vision when not only is he polite—he referred to me as "ma'am" the entire interview, a trait of his Southern hospitality—but his music and work ethic backs it all up.
Citing Project Pat and Juicy J as his main influences, Dro has worked with both established and up-and-coming artists inside and out of Atlanta. He recently teamed up with up-and-coming ATL rapper/producer Nebu Kiniza on "Days," and the massive Internet hit, "Gassed Up," a beat that was also coincidentally flipped and used by Rich The Kid for his single "Plug" (he hesitantly discusses the controversy with that beat later). He's also worked with ATL weirdo Playboi Carti, Young Scooter, Fredo Santana, and even Gunplay. "Me and my patnas would be at the Petrol and we'd see the Texaco car drive past and see the Chevy drive past sittin' on 44s and we'd hear all the Gucci Mane songs and OJ Da Juiceman songs, and it was just like the type of music I grew up off of—and the music I wanted to make," he says.
Dro is also part of a collective of producers called Beat Pluggz, all young kids from Atlanta who he says, "get money together." Their infamous "PLUG!" tag is probably one of the most recognizable tags in the traposphere right now. Currently charging an upwards of $1500 for an exclusive beat, Dro is a busy kid, spending countless nights in the studio perfecting his craft. With a ton of projects on the horizon, we're excited to see the enigmatic producer make the shift from Soundcloud gem to a household name. He's already transforming trap music at 20—who knows which frontier he'll conquer next.
Trapistan Volume 5, a mix/primer featuring our favorite productions by MexikoDro.
How old were you when you started to make music?
I was like 10 years old when I started to make music really, but I ain't really be taking it serious like that, I just made music when I felt like it and shit. After I got out of jail and everything, it was like, I don't know, it was just God was just pointing me to the direction to make music and to do my art and meet other ones [who do the same thing so] that could be positive towards their life.
How did you learn how to make beats? Did someone show you?
Really what my cousin did was, my cousin used to be on the Internet and stuff like that and finding the latest software to download. I'd be chillin' outside, you know, doing my thing playing on the trampoline, doing what I gotta to and stuff, and one day I just came in and started playing with him and it just stuck with me, because I just like the new sounds and putting stuff together. And I just felt like I could just get better 'cause back then, D4L, Gucci Mane, and everybody else used to have their own producers and stuff, and Shawty Redd. Back then, it was like, why not start producing stuff like that? 'Cause I used to like the beats, and that was something I grew up on and I just wanted to make beats.
How did it turn from a passion into a hustle?
It was like after I got out of school with my patnas and we just be chilling and I'd be bored and I used to be playing video games and I don't even play video games no more, but after that I'd just make some beats, try to experiment with different sounds I could come up with and try to do my thing with it. And you know, a couple years later it's been sticking with me. And for some reason, I already knew I was gonna fall back on doing this because I used to get feedback from my cousin and he used to tell me like, "Your music fire, you need to be puttin' your music out there." Especially my brother. My brother used to tell me like, "You need to put your music out there," and I wasn't really [paying] attention because I was tryna get some money and stuff like that.
Your real brother?
That's my blood brother, he my brother from another mother. We did a whole bunch of stuff growing up that I ain't even be able to talk about [laughs]. But anyway, we just knew what was up and we already knew about the talent that we had and we already knew that you know, one day, this talent could take us up.
You said you were in jail for a little while. How did that affect your music career?
Yeah, [I was locked up for] probably like 40 to 50 days. [At] age seventeen, when they let me out of Clayton [County Jail], you know, I just started my music and shit because all my patnas [were] telling me, like, "You got a talent you gotta do something with it, accept it." I just perfected my craft and when I put out my first couple instrumentals, two or three of them did millions and YouTube took them down because I didn't know what the hell was going on as far as copyright. Other people were taking songs and there was copyright infringement on the beats that I made, but I still have every one of those beats in my computer.
I had to wait until my time with certainty. My first offender's probation, you know ever since then, when I went to jail... it was just something telling me come out with a different mentality and just get this money. Get a different variety of money. You know street money is always gonna be there, but you ain't gonna make a million dollars off of no street money. So I'm tryna get some of this corporate money, I'm tryna get this big money. That's all I'm doing, tryna get there.
I had to wait until my time with certainty.
So did you play any instruments growing up? From your productions it sounds like you have a great sense of melody.
Yeah, keys and shit like that. I be playing the keys. I don't know how to Ray Charles and do all that other key stuff, but I know how to put a little something together and make something good. You know everything I make I play. I play with the keyboard.
So it was trial and error. No one taught you?
Yeah, no one taught me. Anything I learned like FL studios, I been doing my YouTube thing. YouTube taught me how to put certain things together and I just learned what I had to learn and do what I gotta do.
A lot of people compare you to Zay[toven], how do you feel about that comparison?
You know, I don't agree with that comparison because I got my own little shwag going on with the beats I make. I got my own little lane I'm going into. You know some of the instruments and drums I've been equipped with because I really just been doing my kit searching, at first I really had no instruments. You know with Beat Pluggz—A$att Beats, StupidXool, Corey Lingo, Polo Boy Shawty—they been my dawgs. We really just be doing our own thang and got different things going on. But [now] I got my own little melodies and stuff like that. It sounds like a melodic melody, it sounds like something different. You don't got that boring trap.
How did you make your "PLUG!" tag? It sounds like Quavo or Takeoff saying it.
It was sent by either StupidXool or the guy we kicked out of Beat Pluggz and it just stuck.
At first it used to be "PLUGS" and then it changed. If I don't think something sound a good way, it gotta be changed. There's just something to it, it's just simple. Has the DJ feel. It ain't no rapper or nothing like that, it's all in the Beat Pluggz team and in the Beat Pluggz circle.
Tell me more about Beat Pluggz.
It's a collective and team. It ain't no INC. We just get money. We do collabs and we get money together. We just promote everything we got going on. We finna get some cars and stuff like that. As long as everybody getting money, I'm straight.
What's your studio setup like?
I got a keyboard, laptop, and some Apple headphones. That's it. And still use FL [FruityLoops] and [an] old damn laptop.
Your melodies are like spacey beats, stuff that could be used in movies. You have a distinct drum pattern. When you start with making a beat, do you start with a melody first and then drums, or vice versa?
It just depends on how I feel. I make four different types of beats. I can't reveal the sauce. Gotta keep the sauce [laughs]. I just perfected my talents and everything's about to pan out the way I want it. I used to play a lot of Nintendo games like that. I used to play Paper Mario. I got the soft-type melodies from those games.
Describe an average day in the studio.
On a good day I hit about 10 beats, on the next day I make about 5. I like to work alone. I just hear my music better.
Are there any artists you're working with right now that you're excited about?
As a matter of fact, I just dropped a project with [Young] Gleesh, just dropped two projects with Fredo Santana. I got a lot of shit coming with a whole lotta big names. We ain't tryna spoil anything. Look out for that Nebu Kiniza though. We finna go up.
You did "Gassed Up" with him and then recently dropped "Days." You publicly said Nebu's "Gassed Up" version was better than Rich The Kid's "Plug" version. Can you tell us what went down with that beat?
I ain't even gonna talk about that shit. We got lawyers on that and stuff.  If he got anything to say towards me, he can personally hit me up. I ain't tryna slander anybody's character or anything like that, you know what I'm sayin? They got my credits, me and him had a conversation one day, it was a heated conversation. I told him to put my credits on LiveMixtapes and DatPiff and all, which he did. You know, Rich The Kid, he didn't have any authorization towards that beat so I felt like, how is you gonna get a beat that was not sent to you and make a hit out of it and then not even like, try to let me know, "Oh, I appreciate that. I did your best song," and shit like that. But other than that, yeah that's it.
How did you link up with Nebu [Kiniza]?
Actually over email one day he got that "Gassed Up" track and I actually met up with him in the A. I pulled up on him and everything. We got to talking business and everything. He's a hard worker, he doing his thing and I fuck with his music. That's my dawg. Matter [of] fact, I just talked to him yesterday. You can expect [our project] very soon. Just check my Twitter for more information.
With most of the artists that you work with, do you link up in person or send beats over email?
Sometimes we link up in person, sometimes we send beats over gmail. Other times I don't try to link up with some of these artists. Other than that I'm just about my money, I'm tryna get a hit.
You don't think you got a hit yet?
I got some hits, but it's a whole lot of things going on where people just, I don't know, selfish. I ain't never been no selfish type of person. I always put any of patnas on to anything I do. I don't want to be part of the music industry like that like that. I just want to get my money in it, live comfortably, get my mom a nice house and pay her medical bills.
What is your dream collaboration?
I need more heat. I wanna work [more] with Project Pat. Me and Project just dropped a song. Off top, Gucci [Mane], before Bank[roll Fresh] passed, I wanted to work with Bank. I want to work with Young Scooter more. I want work with anybody who fuck with me, I wanna fuck with them. Try to get some money with them. If I can't get no money with y'all then I can't fuck with you.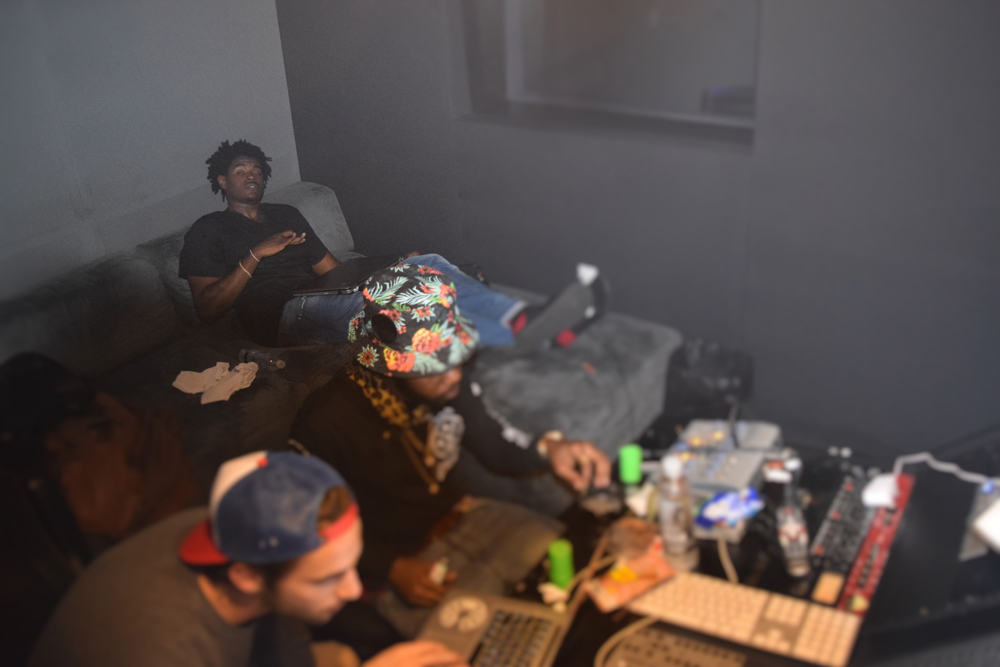 Ain't no competition. Everybody just working.
Which artist did you have the best vibe with?
T Mac. T Mac my dog. I've been in the studio with ManManSavage, Uno The Activist, Young Ralph. I can't forget my nigga Wylout too.
I noticed on your website, you charge upwards of $600 for a beat. How's that business going?
As of today, I'm charging $400 for a lease and $1500 for an exclusive. [I get that number] you know from my work ethic. I get a lot of orders, a lot of people actually buy beats. People from all over the place. Like California, a lot of love from Chicago, Florida, New York, Atlanta. I get a lot of love everywhere. Barbados too.
How long does it take for you to make a beat?
Between 10 minutes to 15. It takes me like 10 minutes to make the beat itself and then 5 minutes to master it. I master everything. I just be listening to my own shit and I be like, "Damn, I like my music, my music is fire," and after that make a better beat than that. Mixing is the most important part.
Atlanta has a lot of young producers. Do you see them as competition?
Ain't nobody my competition. I believe that if anybody, if they work harder than other niggas, then they deserve it. Ain't no competition. Everybody just working.
How do you make your music stand out from other producers?
I can't even share that. I just be loosin' my mind sometimes and I just put something together and that's it.
What we can expect from you?
Yeah, hell yeah, I just did a project with Diego Money. Ya'll should be very excited about that. We both put in our hard work and hard talent and we gonna be taking a couple trips and couple of shows to elevate and boost our careers as far as what we're trying to do.
What's your advice for anyone who wants to produce and be as good as you?
I got plenty of advice for everybody who wanna produce and for everybody who wants to become something in the music industry. I advise everyone to stay focused. Try to perfect your craft. Stay prayed up. Read a lot of books on how to succeed in this music industry. Do your research. That's it. Do what you got to do to bring yourself to the top.
Do you have a favorite book that helped you?
I read the whole Bible. That's my favorite book. I put everything in God, 'cause God gonna see me through out everything.
***
Keep up with MexikoDro on Soundcloud, Twitter @MexikoDro, and MexikoDro.com.