There's an athlete in all of us. Some make it as far as the professional leagues, but most find themselves casually playing the occasional pick-up game or simply on the sidelines observing as a fan of a sport they grew up enjoying. This goes for all sports and action sports, but there is one thing that holds true: The love of the game.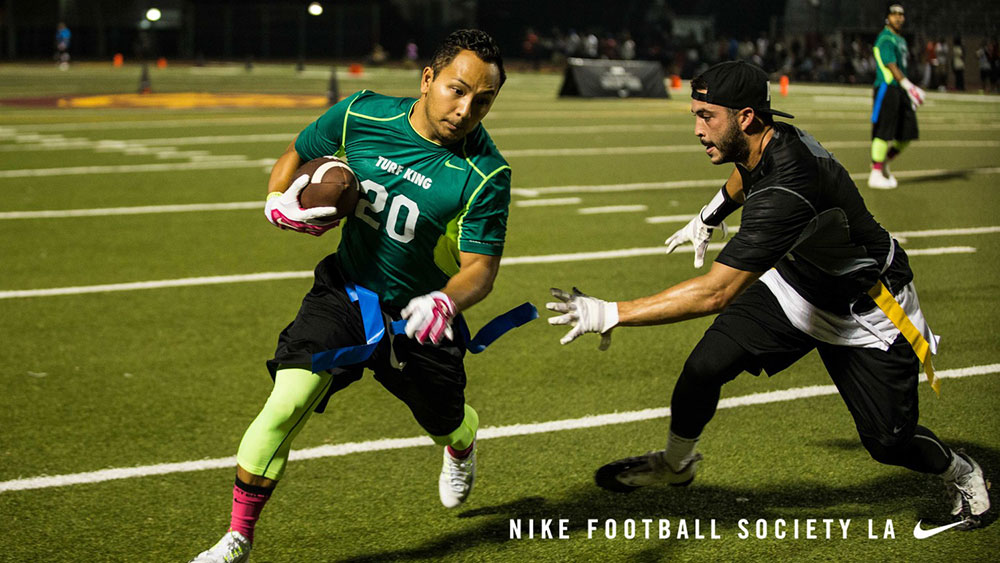 The Nike Football Society (NFS) is an invite only league that brought together influencers from various subcultures to compete in flag football. Players consisted of artists, musicians, former and current athletes, media / bloggers, skateboarders, brand owners, chefs, and more. No where else would you find such an eclectic group gather on the gridiron. I was invited to participate and had an amazing experience.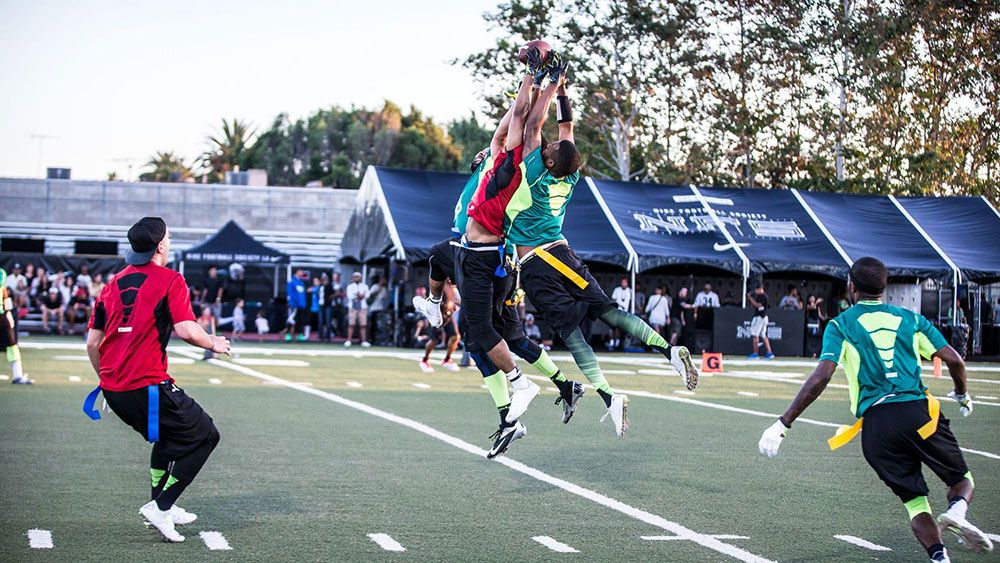 Much like any sport, this league took real commitment. Not only to dedicate a Sunday evening each week to participate, but also to keep yourself in check physically. I found that due to my semi-competitive nature, I hit the gym more frequently, ate healthier, and avoided the overindulgence that comes with actual NFL Sunday football entertainment. No beer, no chips and salsa, or pizza and burgers for me on game day.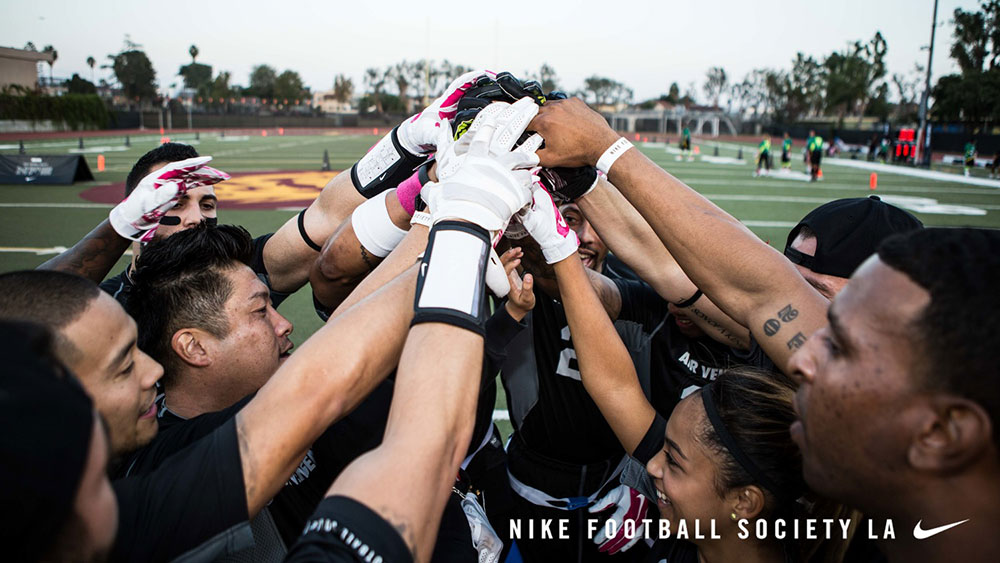 Nike was able to create an atmosphere from the very beginning that made you realize this is the real deal. The competitive spirit was set during the combine, which consisted of many of the same trials that the NFL uses to scout players including the 40-yard dash, agility shuttle run, power ball toss, and vertical jump. I fared well, but soon found out how out of shape I really was when compared to the much larger, faster, and younger competitors.
Madsteez, Artist / Team Boss Shark: Upon walking up to the Nike Football Society Combine, my stomach dropped to the back of my throat and just as I was about to ninja out of there, someone from Nike yelled out my name. "Fuck!!!" I thought to myself. Not only was I one of few white doods, but the other players were athlete specimens taken straight from the thoroughbred gene pool. I had played quarterback most of my childhood – since I was 7 years old all the way to my high school football team – but that was over 15 years ago and I thought I was in way out of my league.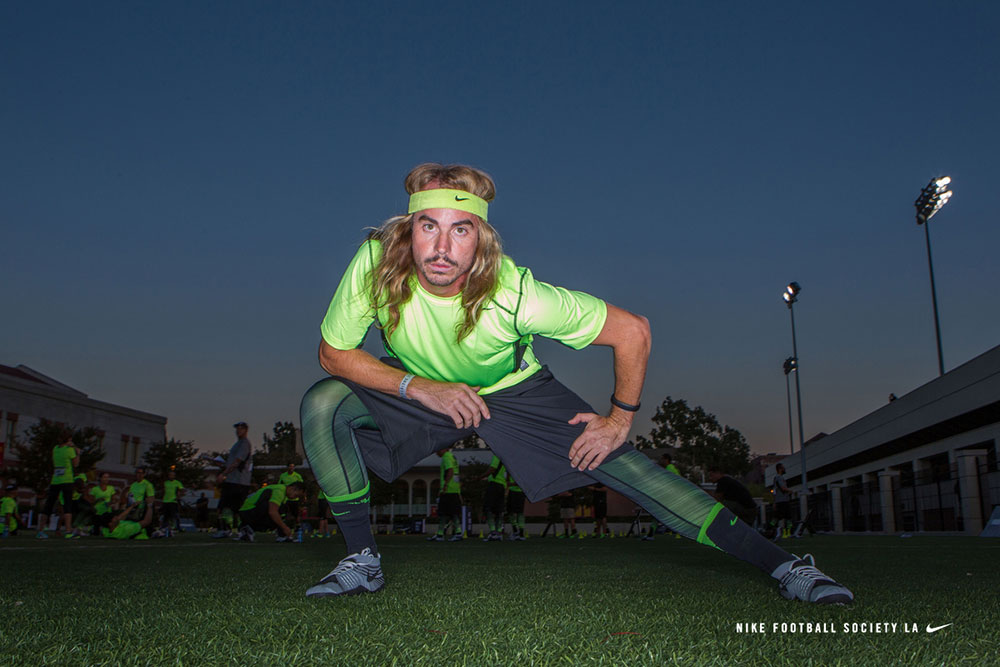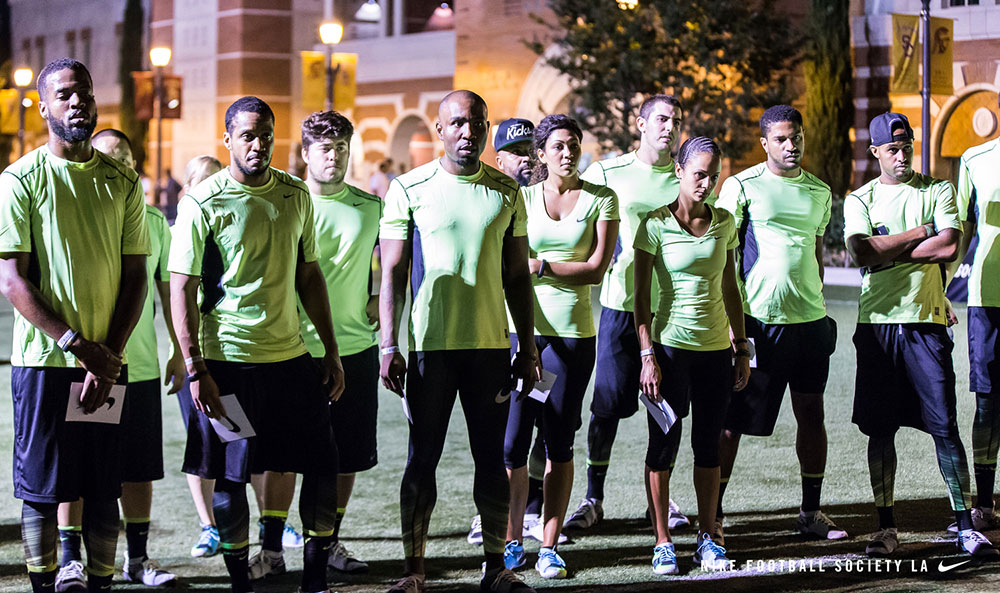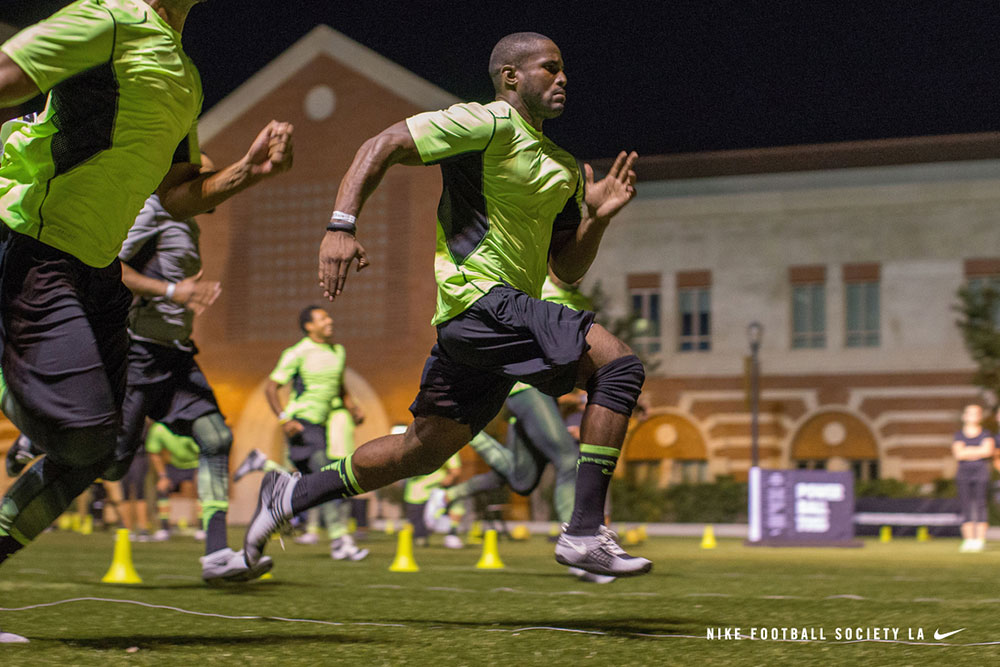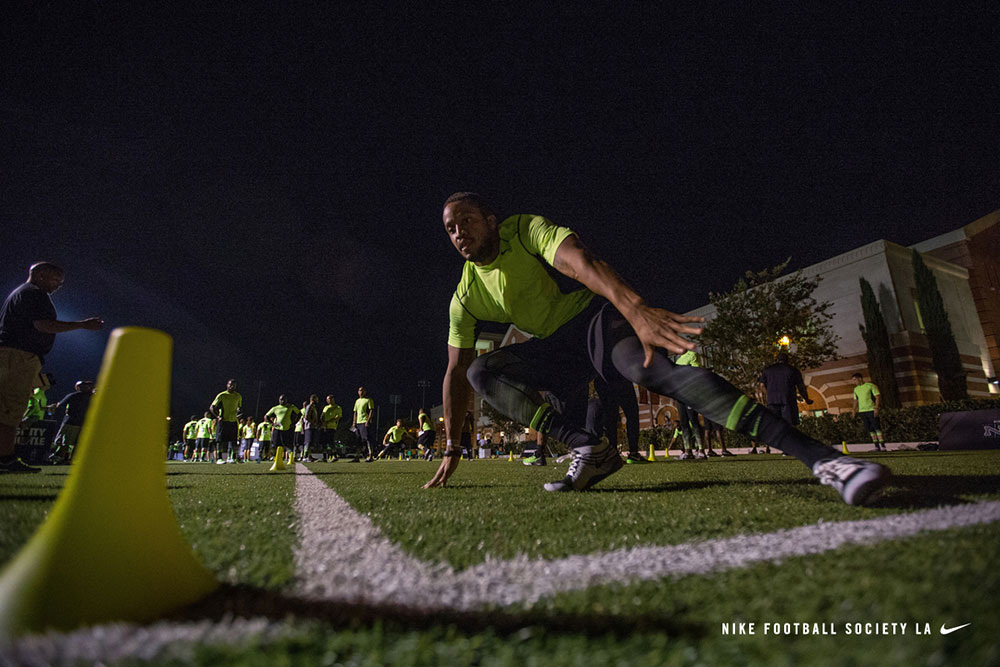 The combine scores would then be used by elected captains for the draft. Oh yes, there was a draft. Draft Day was held in true Nike style, hosted by the NFL's own Marcellus Wiley. Captains were able to recruit a couple players onto their team, but had to fill the rest of the roster positions via the free agents from the draft. I was drafted by team "Turf King," which consisted of captains Kustoo and Karen Civil. The night was topped off with each player receiving a box complete with cleats, apparel, and a team jersey with selected player number and name.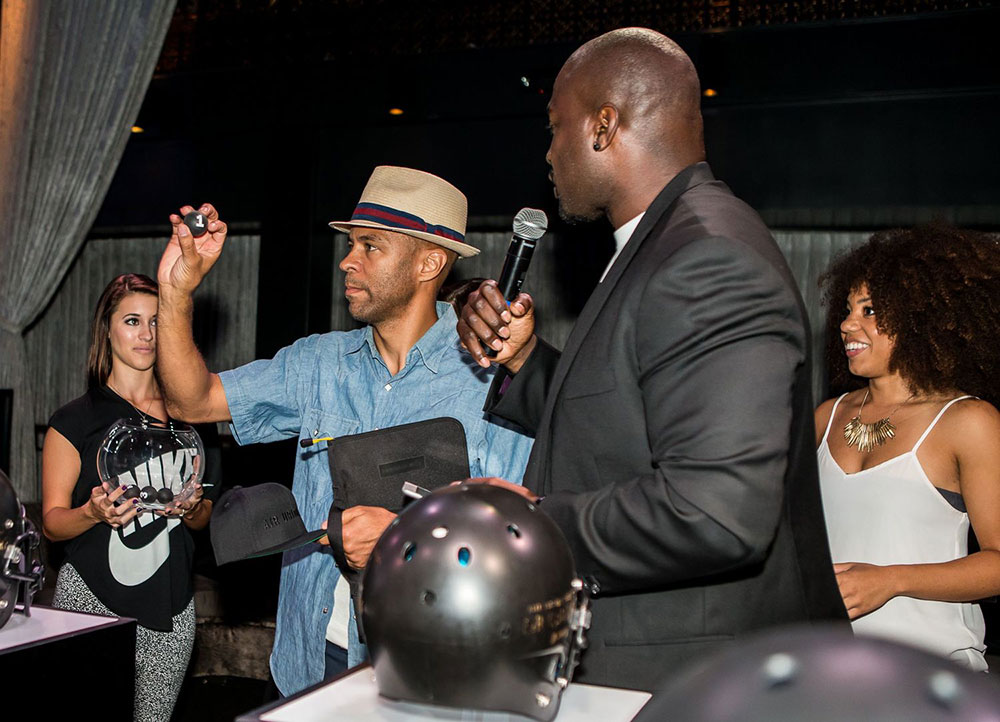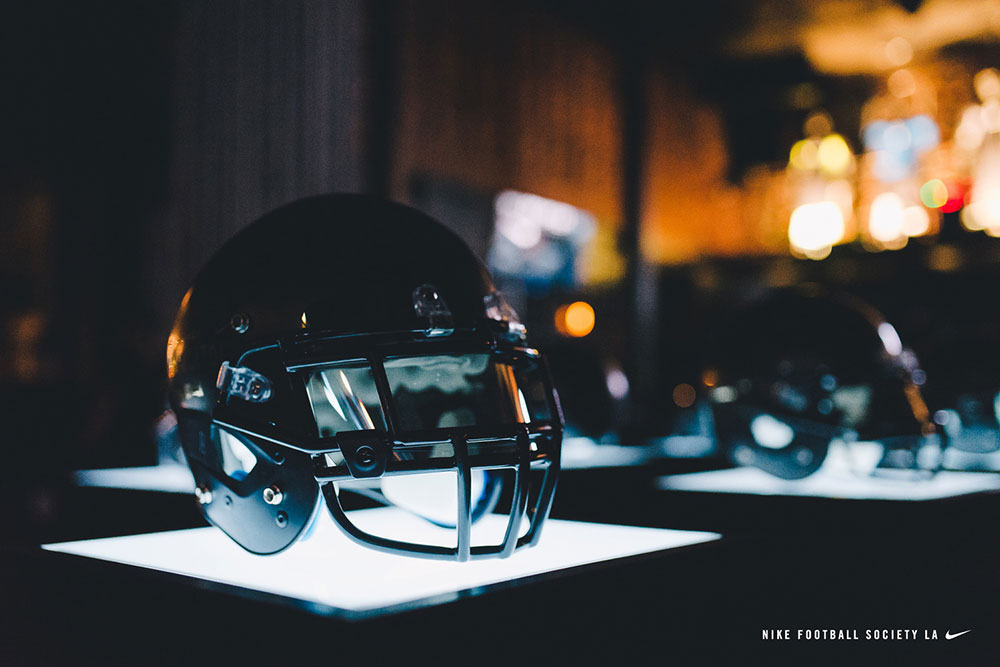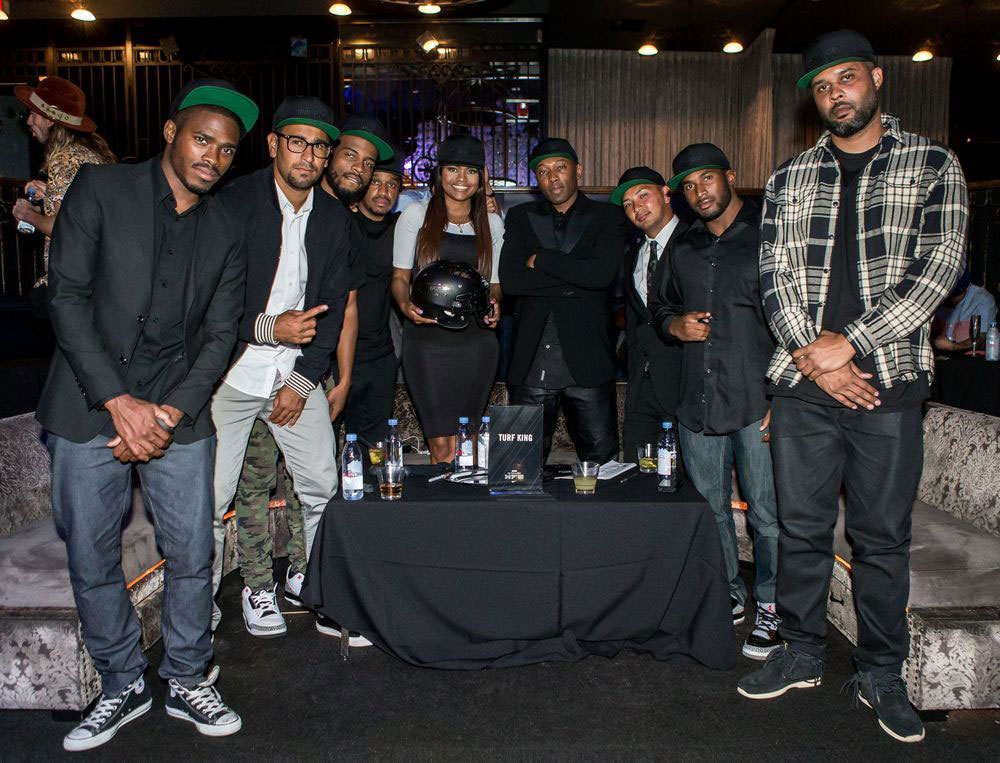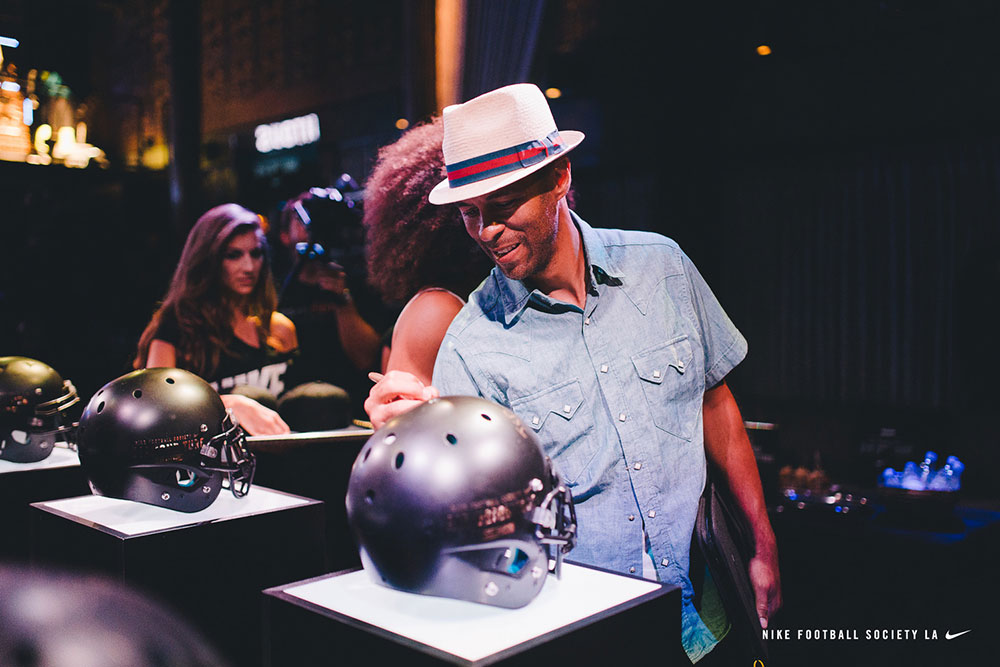 Game day. Each game would be held on the football field at Fairfax High School. Players warmed up and got to know each other a bit more prior to the first game. Some teams took the first game very lightly not knowing what to expect, but after the first whistle blew, it was game time and everyone quickly saw that this would be a true competition.
Sal Barbier, Skateboard Veteran / Team Air Ubiquitous: I had a blast, it was great to see old friends and make new ones as well. I really liked how competitive everyone was, at times you felt like a "real deal lame ass jock"! Some players thought there was a CFL contract waiting for them at the end of the season. We were 1-5 and I felt like The Tampa Bay Bucs and I'm not accustomed to losing. The [Allen] Iverson started coming out in me and I was like, "Just get me the ball and move the F out the way"! Oftentimes I would find myself saying, "This is exactly why I skateboard instead of playing organized sports!" But that's what made it awesome! Sports is all about the Jock Mentality, talkin' trash, lifting weights, performance-enhancing drugs, and blaming your teammates for losing. I like the fact that everyone is puttin' in 100% effort, sports are supposed to be competitive in that way and at the end of the day everyone was cool.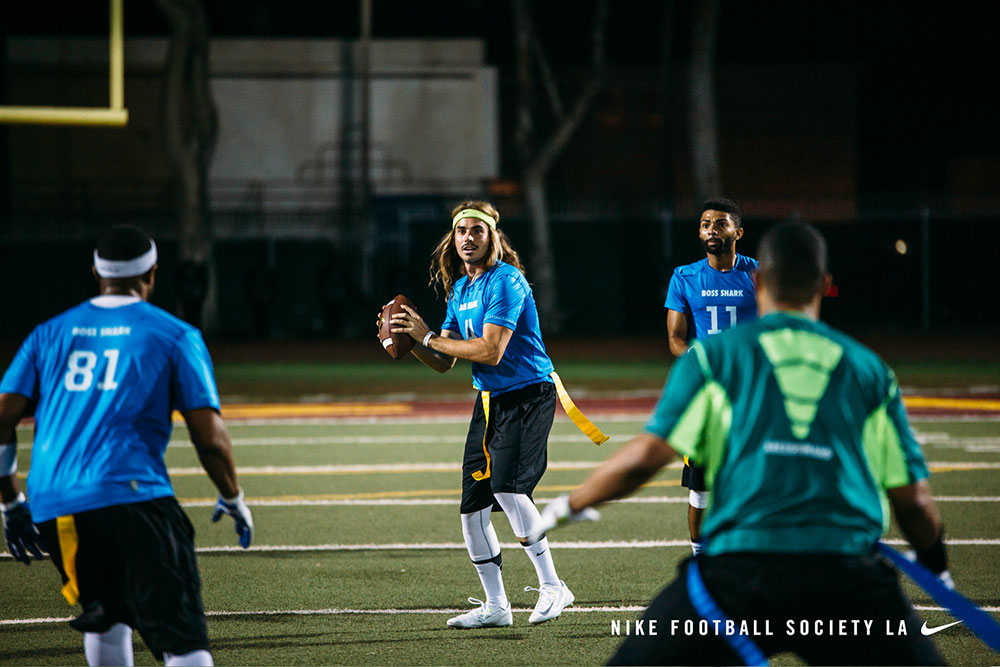 Madsteez, Artist / Team Boss Shark: It went from being a true horror to being one of the raddest experiences in my so-called adult life. In true Uncle Rico fashion, on the first play of the first game, I threw a touchdown pass into the back of the end zone. The announcer even called me a cross between Troy Aikman and Andrew Agassi, which I took as the greatest compliment ever! I'll never forget the look on Wale's face as I threw a winning touchdown pass over his head and out of his reach.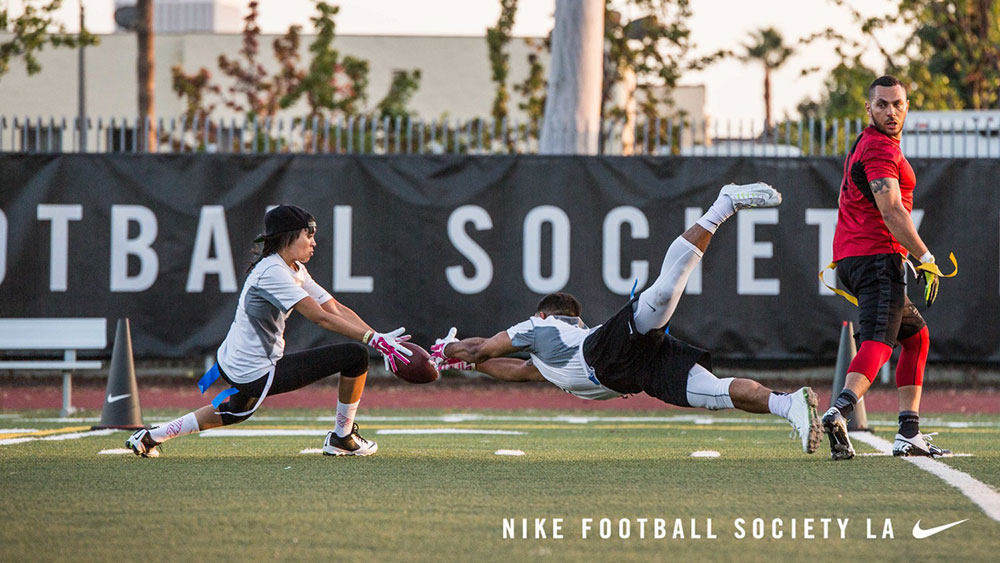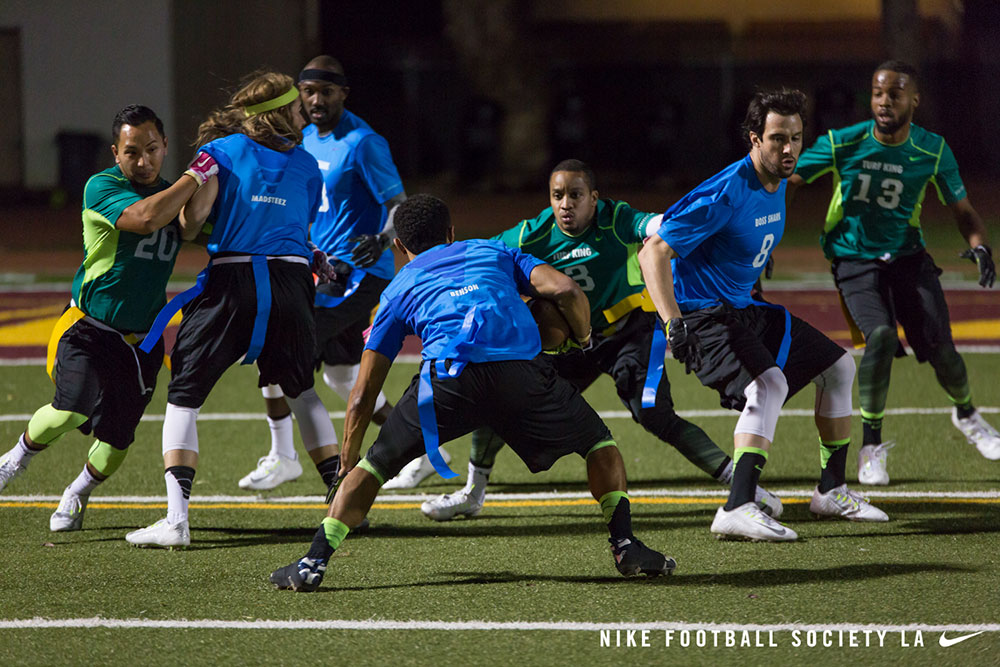 Weeks progressed and the teams that were dedicated and meshed well together rose to the top of the standings. A true sense of camaraderie was shown when mid-way through the season a player, David "Bam" Ball, suffered a fractured tibula / fibula and had to undergo surgery. The league and players gave their support and sent him well wishes. It was a reality check that even though this is only flag football, it is still active and taxing on the body. Bam, a personal trainer, is thankfully on his way to a full recovery with high spirits and has since come to support his team in the remaining games.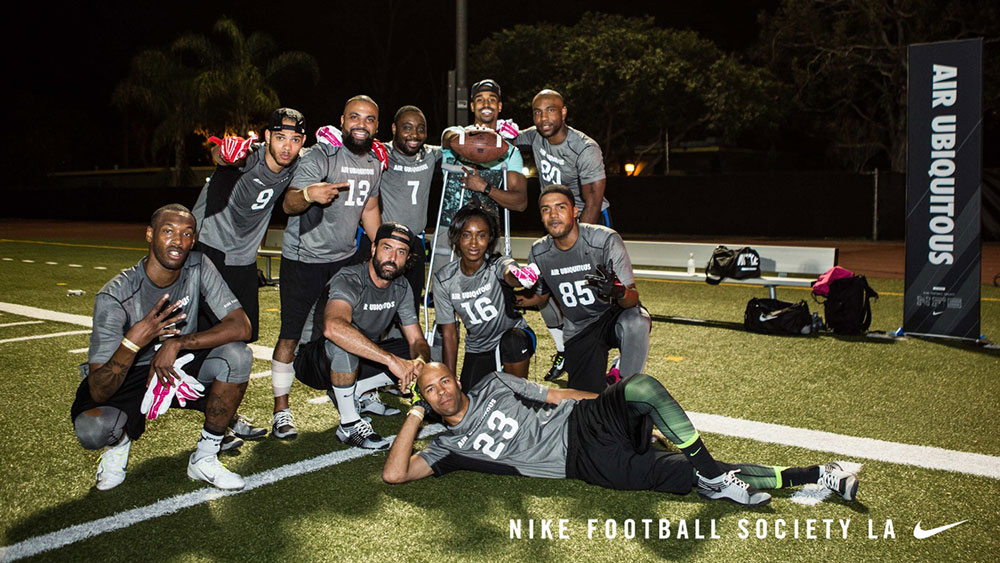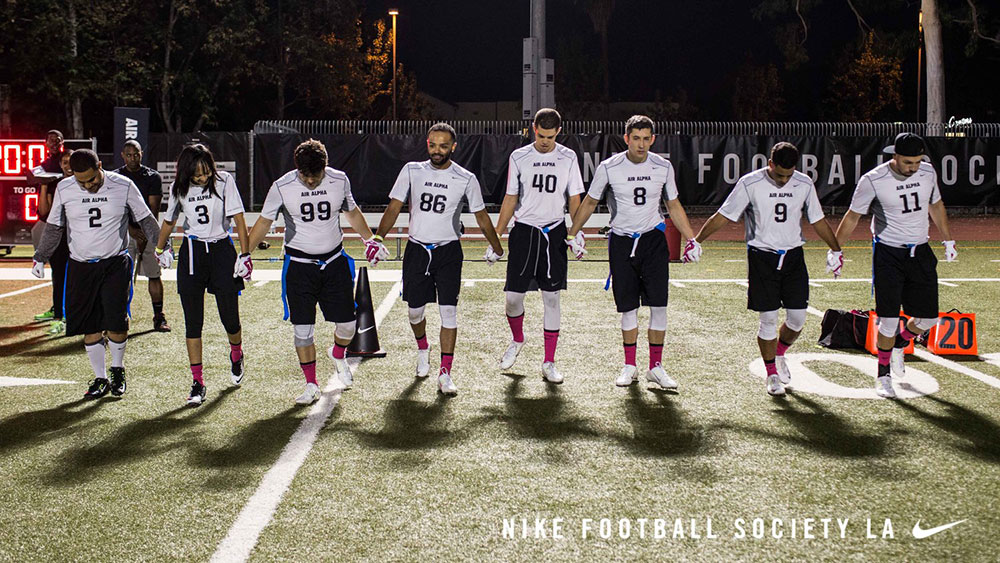 Nike Football Society is more than just a league, but a shared experience amongst individuals from all walks of life. It was a chance to relive glory days, create lasting friendships, and an escape from busy professional careers.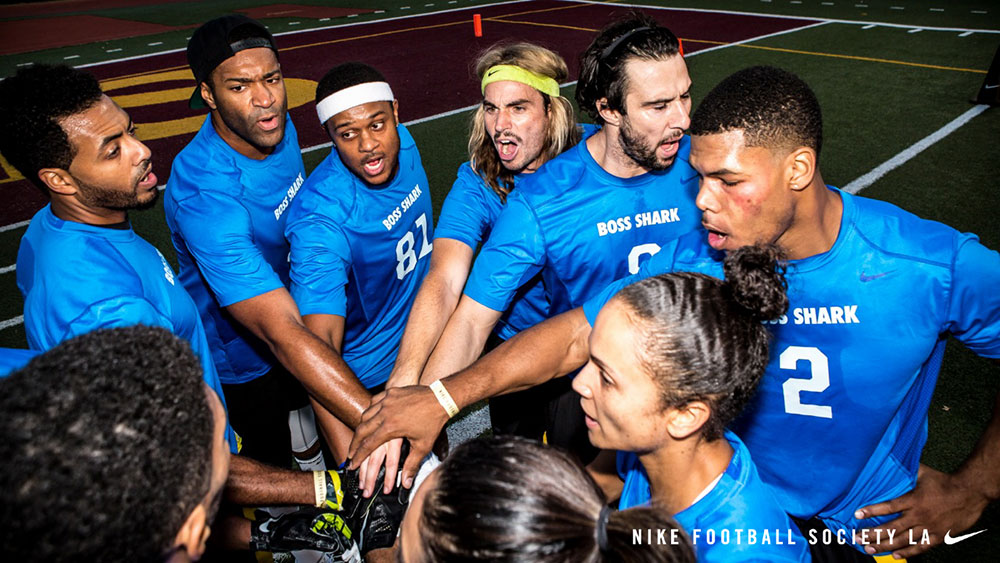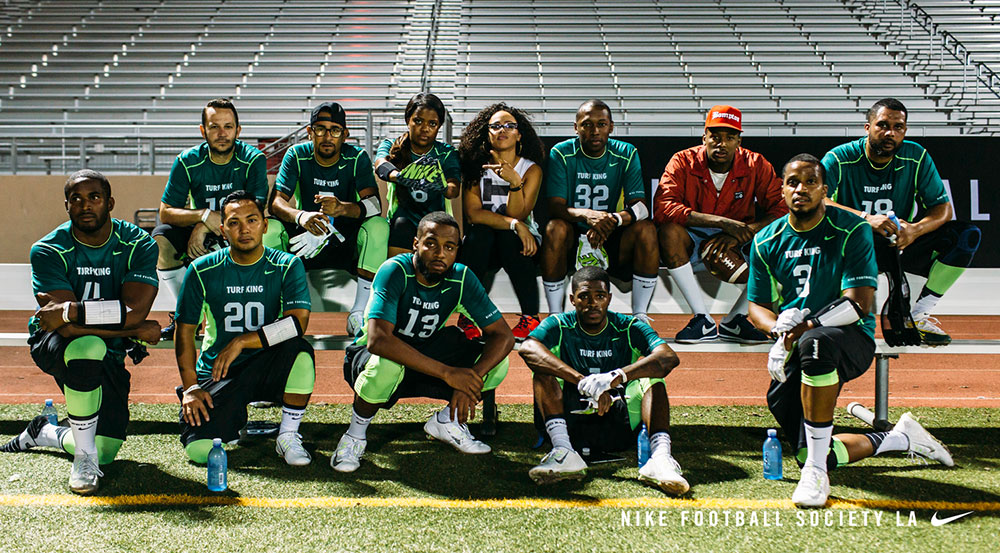 On the last play of our team's semi-final playoff run, I was thrown the ball and made my way as quickly as possible to the corner pylon. I'm not really sure what happened next, but I remember going heads up [tackling isn't allowed, but it was the last game] with one of the largest guys on the opposite team and picking myself off the ground to see the ref throw a penalty flag, for the tackle that was made on me, but simultaneously seeing the ref throw his hands up signaling touchdown. We lost the game despite our efforts, but walked away with many memories and I now have my Al Bundy story to tell.
Congratulations to Team Air Vengeance for winning the inaugural Nike Football Society LA Turkey Bowl this past weekend.
Photos courtesy of Nike and Axis Photography.
::
Follow Madsteez on http://instagram.com/madsteez
Follow Sal Barbier on http://instagram.com/sal_barbier