Benjamin Chi isn't your typical children's book author. By day, the 27-year-old marketing extraordinaire works for Crooks & Castles, where he's responsible for managing the brand's social media accounts, coordinating photo shoots, and planning events. By night, you can find him roaming the streets of Koreatown—and lately, working on his latest project, Mongster.
After jotting down the story a few years ago (a task that took only 20 minutes), Chi finally approached illustrator Audrey Lee to make his vision come to life—and the teal-colored creature was born. Like Chi, Lee isn't an expert in children's stories—she works at design-cultivated studio Buck, helping to create advertisements for clients like Google, Apple, and Mastercard. But together, the unlikely duo has produced a twist on the classic children's story—one that doesn't come neatly packaged with a happy ending.
We interviewed the two creative minds behind Mongster to find out what inspired them and what they hope readers, both young and old, will take away from the book.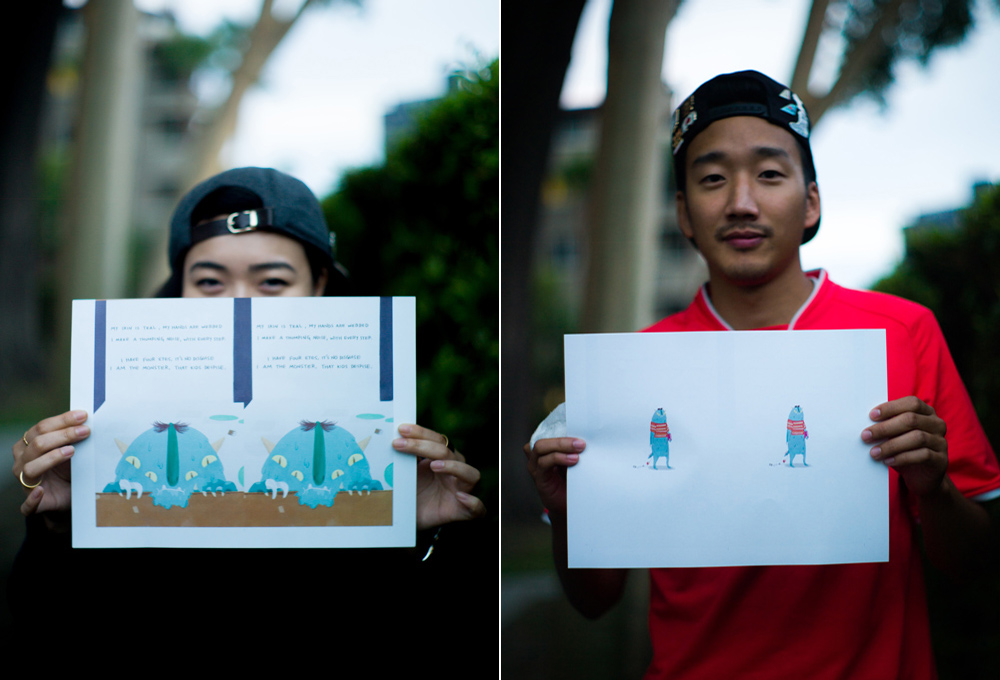 How did you go from marketing at Crooks & Castles to writing your first children's book?
Chi: I've always enjoyed writing my fair share of Xanga entries and Facebook status rants. I wrote this book three and a half years ago, and it's just been sitting as a private entry on my blog. The experience from Crooks & Castles really gave me insight on how to put this thing together, not just as a book, but as a package with a reading event, exhibit, pins, and a website.
What—or who—inspired you to write Mongster?
Chi: Like a lot of things artistic, I wrote the book during a dark time in my life. I had gotten out of a pretty unhealthy relationship, quit my job, and was going through a very tough time while exploring who I really was as a person. I was in regret, basking in feelings caused by the consequences of my actions, which made me feel like a Mongster.
Who is Mongster?
Chi: Mongster is a teal, slimy-skinned creature who lives inside of a recycling bin. His only wish is to be normal like the kids he sees so often, but because of his looks it makes it nearly impossible for him to be accepted. His biggest struggle is his inability to be content with who he is because of the label the other kids have placed for him. It was important for me to depict this in Mongster because we live in a time where people are so concerned about and submerged into other people's lives. It's hard to step outside of the box you've placed for yourself, but oftentimes harder to rid yourself from the box and label others have placed on you.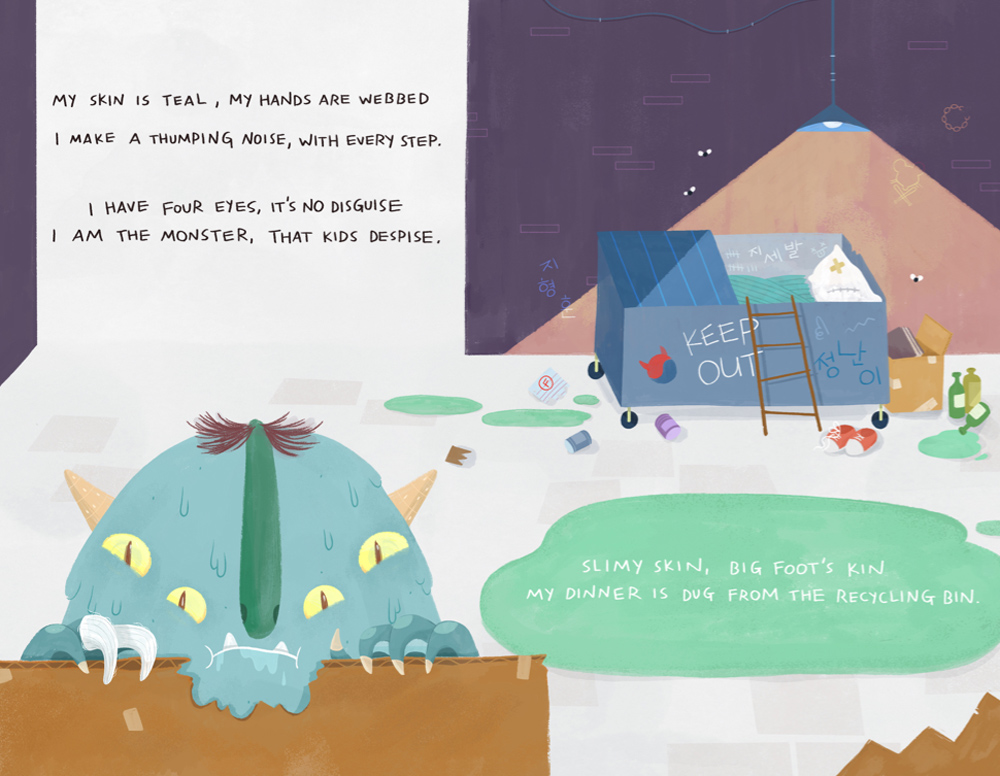 The first page of Mongster.
Was a children's book always a goal you had in mind?
Chi: No. It's funny because after I told people about Mongster, they started to confess to me how writing a children's book was always something that they wanted to do. I've started a few adult books but never got around to finishing them. I'm guessing it has something to do with the length.
Is the book intended for children and adults?
Chi: I would like to think that Mongster is an all-ages book. The format, words, and illustrations are simple enough for a kid to understand, but the depth of what you can take away varies from you experiences in life so the younger you are, the more simple your interpretation of the book will be while someone older may have a more complex interpretation.
What were some of your favorite children's books growing up and why?
Chi: I went to elementary school in Korea and came back to the States when I was in the third grade, so I missed out on a lot of the childhood essentials. But from the little I have read, I liked Sesame Street books, Corduroy, and the Frog and Toad books. As I got a little older I really liked all of Judy Blume's Fudge books, There's a Boy in a Girl's Bathroom by Louis Sachar, and nothing in this world will ever be better than Harry Potter to me. Ever.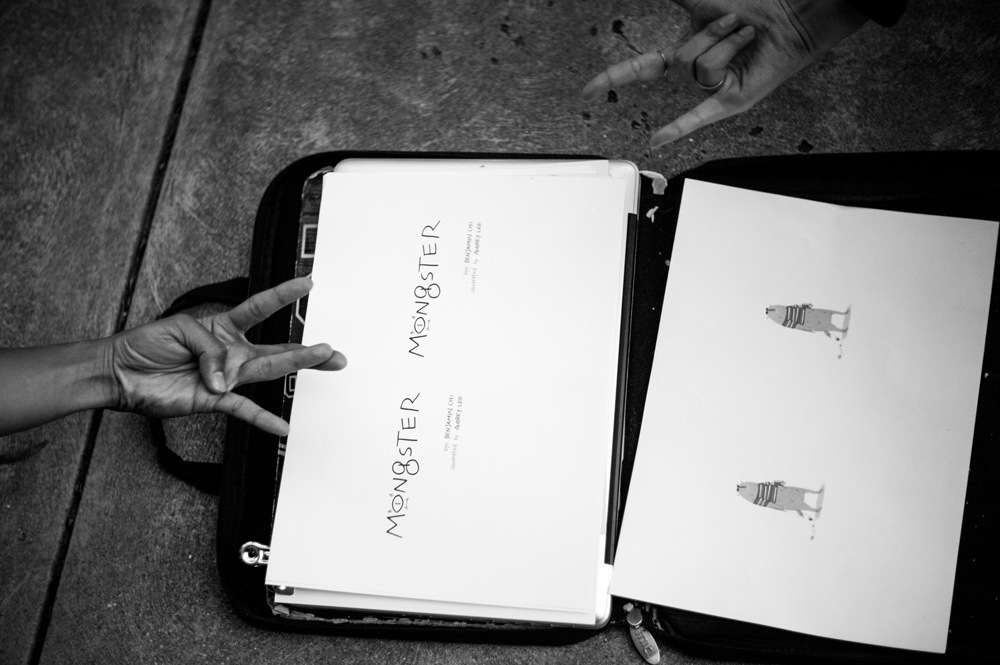 How did the collaboration with Audrey come about?
Chi: I met Audrey through her boyfriend during an event where she was displaying her work. I immediately fell in love with her talent and didn't want anyone else for Mongster, although it didn't happen until some years later. Her style and detail to color is what really brought interest to her work, and Mongster is proof that I made the right decision.
How is Mongster different from other children's books? Or similar?
Chi: Mongster is different from other children's books because it doesn't have a happy ending (spoiler alert) and to me, that's okay. You learn some of life's most important lessons in difficult times and this book is to help you avoid situations where you can feel that way or make someone else feel that way.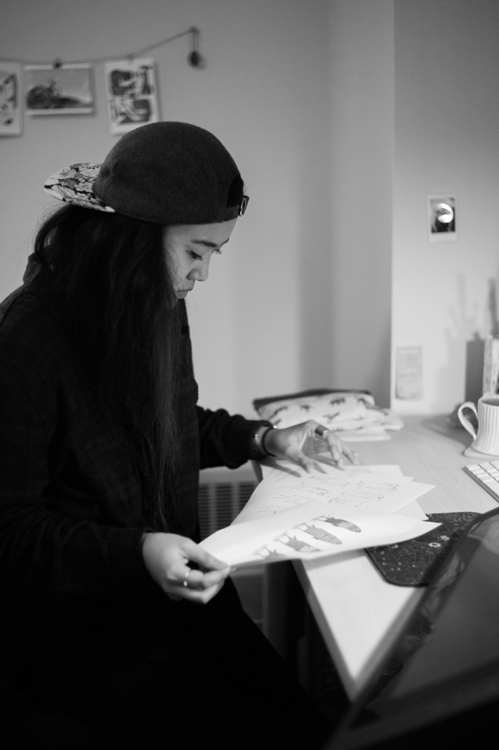 What's your day job?
Lee: I work as a designer and illustrator for a motion graphics studio called Buck in downtown LA. I usually work on character designs and look developments for spots mainly used for commercials or broadcast.
How did this collaboration with Benjamin come about? What interested you in illustrating for a children's book?
Lee: Ben and I knew each other for about a year through mutual friends, and he really took an interest in my work and even bought a framed print I was selling at the time. Earlier this year, we got back in touch when he sent me short stories and poems he wrote as a hobby that might interest me enough to illustrate for him. But when he sent over this short poem called "Mongster," I felt very drawn to the character and the story because of what he was going through. I empathized with this character, because let's be honest—who didn't feel isolated or distant from their peers as a kid? I'm sure we all felt this in some way from time to time growing up. Illustrating a children's book was always something I've wanted to do at one point in my life. And the fact that this was more of a melancholy tale seemed interesting enough for me to take on.
Is this your first time illustrating a children's book and were there any unexpected challenges?
Lee: Yes, it is! I'm very new when it comes to knowing what it takes to make an illustrated book feel like its working or how it should be laid out. It took me a while in the early process of the book to plan page by page and make sure the flow of everything was working. I had to force myself to single out each particular moment of the story, and not get too carried away with cluttered detail or showing too much at once. It was also important for me to understand the mood of the story. Because Mongster was feeling alone and isolated, I kept it very simple and left room for some emptiness.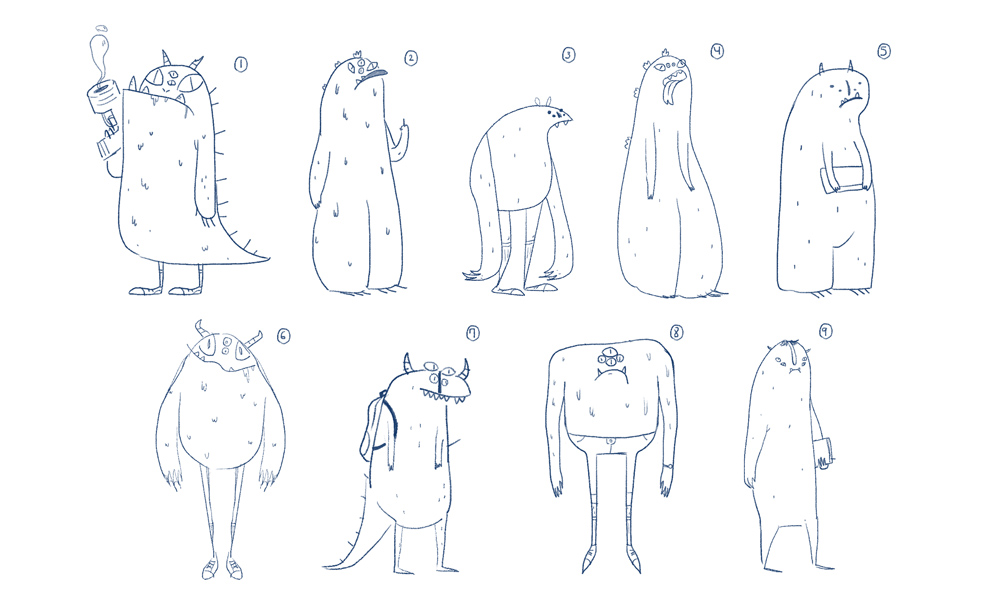 Audrey's early sketches for the Mongster character.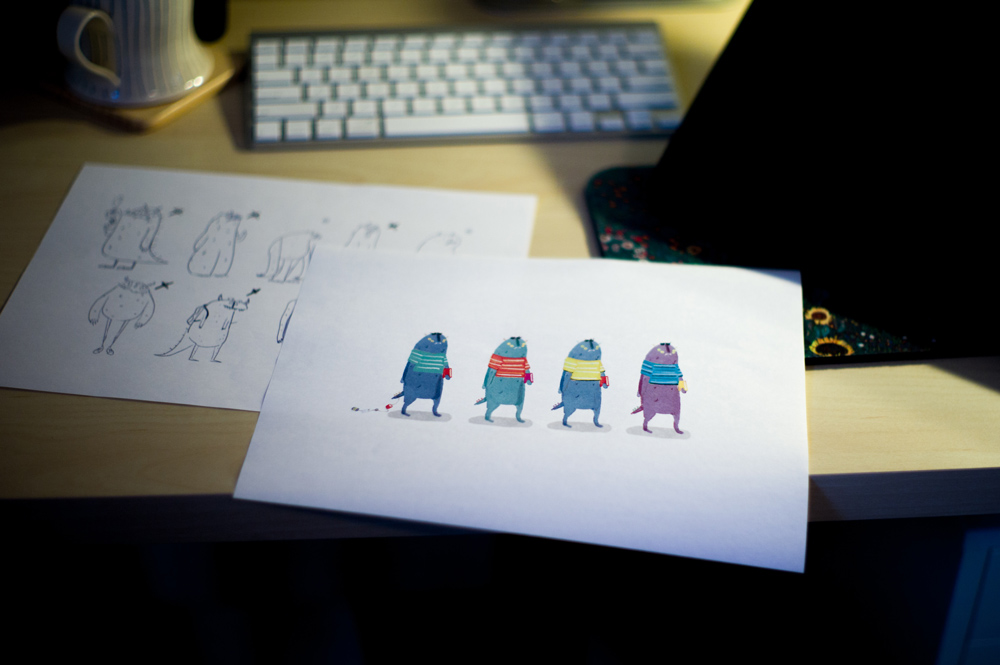 Sketches of the character for color selection.
What were some of your favorite children's books growing up and why?
Lee: Honestly, it was whatever I could get my hands on. But if I would point out my favorites and most influential, it would be the world of Dr. Seuss, Roald Dahl books illustrated by Quentin Blake, Lane Smith, Tomie dePaola's Strega Nona, Grimm Brothers, and the amazing Provensens. I remember skimming through these books multiple times because these stories really interested me and got me really pumped to take a peek into a whole different world.
How are the illustrations in Mongster different from other children's books? Or similar?
Lee: I think the Mongster illustrations are pretty similar to other children's books when it comes to performing as a supportive asset in the storytelling. I had to make sure that the illustrations helped portray and guide the story to the reader and support the emotions of the character; and help create fun and appealing visuals at the same time.
Can you tell us about the process of conceiving the illustrations for the characters that appear in the book?
Lee: Before anything started, Ben and I met up to overview the poem and discuss his vision for the book. We talked about the mood and the very tone of the story by brainstorming together with some rough sketch ideas and the overall color palette. Then, Ben would tell me a bit more about the character: what his personality was like, his character traits, and more (which explains little details like the cans tied to his tail; he's somehow constantly feeling taunted and it gets dragged along with him wherever he goes). After our meeting, I grabbed a notepad and a pencil and worked up some rough sketches before transferring over to the computer to polish up the designs digitally using Photoshop. I had about nine different character sketches of the Mongster, and had Ben choose one that he thought fit the character best. Then we moved on to different color variations and some personal touch-ups, and Mongster was born! "It's aliiiiiiiiive!"
::
Flyer for the Mongster reading this Saturday below at 224 E 11th St #700A Los Angeles. RSVP at the website for the book at byebenjaminchi.com.