Frankly, one question I missed asking the founders of Mohxa clothing from Paleo Faliro, Greece (a cool seaside suburb in the south of Athens, more like Santa Monica, less Venice Beach) is what the name of their brand stands for. Is it a made up name? And how do you really pronounce it? I can tell you it's not a Greek word, and all people I know pronounce it differently. Maybe that's the fun part of a game.
Mohxa is the classic tale of two high school friends, George Papachatzopoulos and Iason Pachos, meeting after some years and deciding to start their own fashion brand. But their approach to clothing turned out to be totally different from the norm—it began with digging for the best deadstock fabrics in old dusty shops and basements, and cutting and sewing some of the coolest handmade shirts out there with these retro patterns. The brand soon evolved from there into using what the founders call "the leftovers of a textile industry."
We were curious, so we talked with the two guys behind Mohxa about their odd beginnings, as well as their process of bringing new life to old textiles.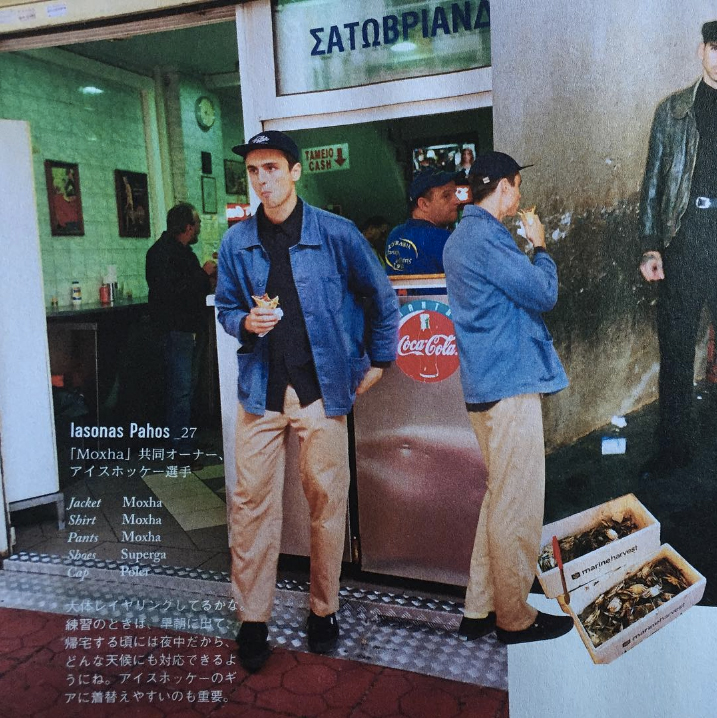 Mohxa featured in Japan's respected POPEYE Magazine, with their name spelled incorrectly! Source: instagram.com/mohxaclothing
Manos Nomikos: So you've known each other since high school, what pushed you to create your own label?
George & Iason: Well yeah, we played fútbol (soccer, this is Greece we're talking about) in our neighborhood's main square as 8 year old kids. Next thing you know, 20 years go by and we started making clothes and launched our own brand. None of us studied fashion, but in our own way we practiced it daily—going out, skating. Whatever we did, style mattered a lot, we always felt the urge to express, and the manner or the fashion of the expression has always been of utmost importance.
And one of the biggest difficulties around balancing aesthetics and respect has been bridging the teen to adult life without losing your character and staying true without "freezing" in the past or not maturing.
Why shirts and only shirts to begin with?
Our first drop of clothing was seven Hawaiian shirts, four tote bags, and a T-shirt.
Since the beginning, we dreamed of a beautiful, complete collection with everything from keychains and wallets to jackets, pants, hats, and socks, but we had to start from somewhere, and we had a lot to learn.
T-shirts and sweaters—besides being obviously important items in anyone's wardrobe—as a first statement, we felt lacked the commitment and the seriousness of our initiative, we then just had to balance that seriousness, so we went Hawaiian.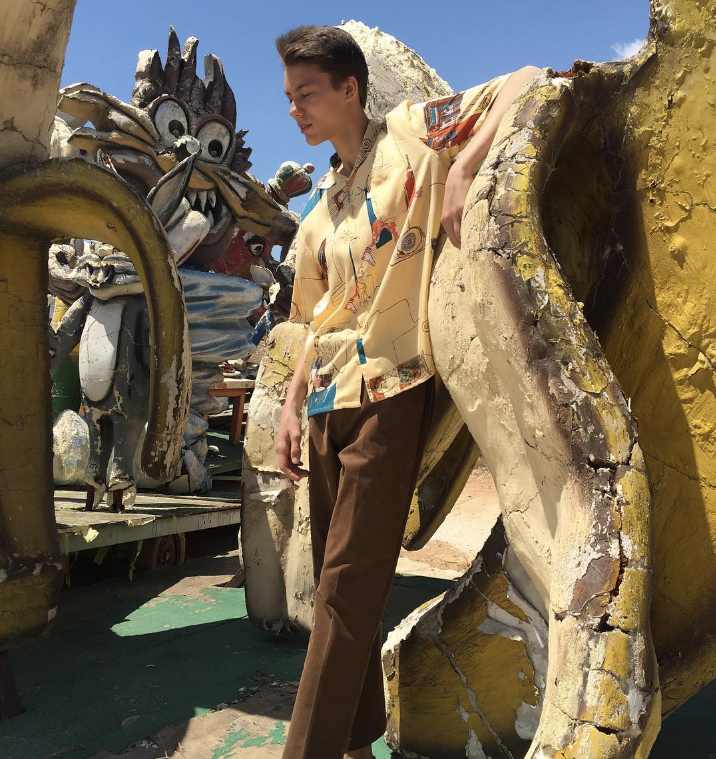 In your early beginnings, you had mentioned that all shirts were cut and sewed by you guys and George's mother, is that true?
Ms. Elli has been a key point, she is to this day our tailor, our template maker—we bring her a bunch of clothes some sketches and scribbles and our own templates get developed. For every new template, we cut the pilots to get sewn.
As our drops started increasing in number, we didn't need to cut stuff like T-shirts anymore, however, we still cut all of our limited lines. As they really are limited, no producer wants to waste their time for a handful of shirts. And no matter how big the collection we produce is getting, we're always going to keep our exclusive, limited line as it carries our initial concept. So I guess we'll be cutting some fabric for a while. 
Did you have a background in clothing, or did everything happen with trial and error?
George studied programming and went to work in sales, retail, then wholesale, managed Obey clothing in Greece, and comes from a family that has been working in the clothing industry. Jason studied photography, so besides looking for a gallery, he went off shooting runways, backstage, catalogues, lookbooks, and campaigns, and got a bit closer to the clothing industry that way.
None of us had ever done something similar, it took some courage, a lot of searching, and a ton of mistakes. So here goes the overly-saturated "if there's a will there's a way"—which also sometimes feels like if there's a way there's a will. I really don't know what comes first anymore, it must be something like the egg and the chicken.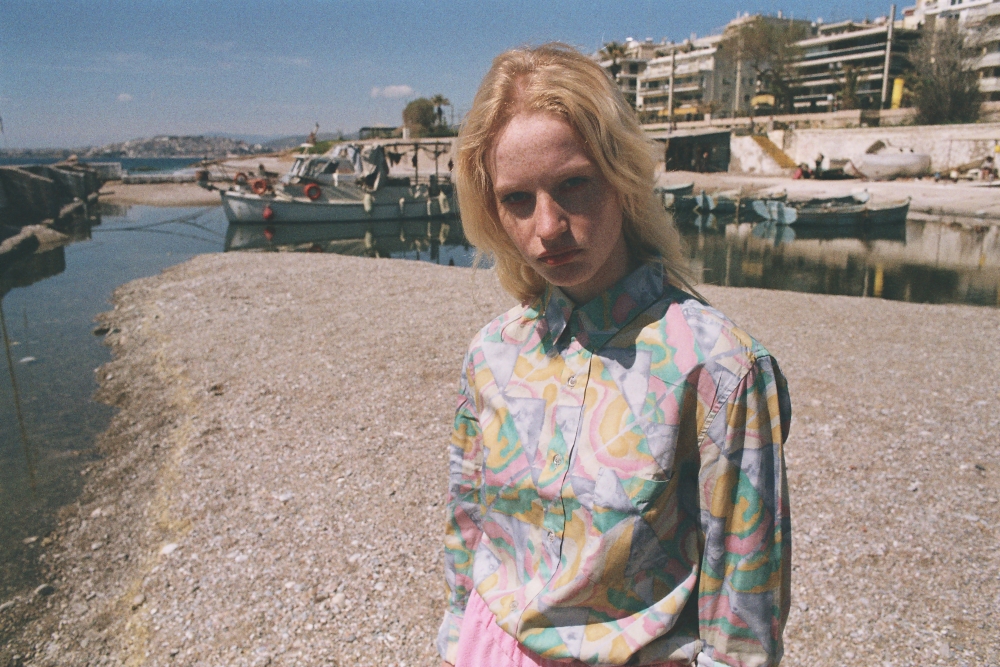 Is there a philosophy behind Mohxa?
Definitely philo-philosophers, we like to believe we practice moves that resonate with our beliefs. We are marginal, we are mainstream, we are a product of everything so far, so we get influenced by everything so far. We have laughed proudly and cried equally proudly. We are aware of our time, space, and love to mess with that continuum with the use of the web. We love love, and sometimes feel the world is cruel, but no matter what, we're thankful for it.
It seems you are digging deep not in the crates, but in old fabric shops of Athens.
So our limited pieces are, to date, being made with leftover fabric from the textile industry of yesteryear, whether it was woven locally or imported, it's found on the dusty shelves of old "grandma-held" fabric shops.
We've also transitioned into collaborating with what seems like just the leftovers of a textile industry. We can get some fabric made here, there are still some importers. However, when once upon a time—when our fashion industry would lure—various European brands were coming to sew in Greece. Today, we can hardly find someone to do the job.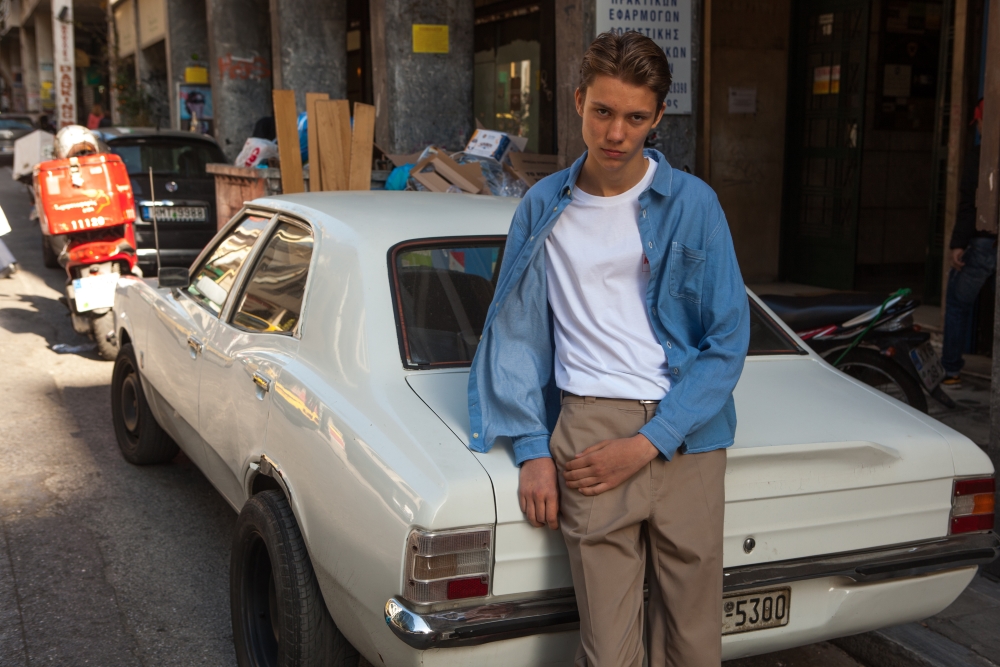 Most of your pieces are limited. Does this come under a choice or necessity?
In the beginning, we didn't really have a choice, we just searched all the fabric stores we could find and dug out whatever clicked. Childhood dreams, spacey/exotic patterns, or simply the colors—and always the quality of the fabric—had to be there. We loved it and it was loved in return by the people. It feels nice to have one of a series of ten of a limited garment, especially when you decide to rock an Aloha shirt. The limited line is exclusive to the Mohxa store, except to a couple of select stockists. We have been developing a not so limited line of garments as well, part of our vision for Mohxa, as well as expanding our worldwide stockists, you know, just enough.
We are deep in 2016, how do you see the recent trends or movements in fashion?
We don't see the trends of fashion as one particular thing necessarily. For instance, Saint Laurent using Burger Records bands for their campaigns and fashion shows—was this really a surprise? Consciousness is all over the place, everything is so hot right now, and sometimes it just comes down in which order some people will exhibit the trends.
Any sneak peek from the upcoming MOHXA line?
Now that's a sneaky one, want to ruin our surprises? [laughs] But we have a good one for you, we're making a surfboard line, made locally from local resources and fit to shred the European bad vibes no matter what the conditions are!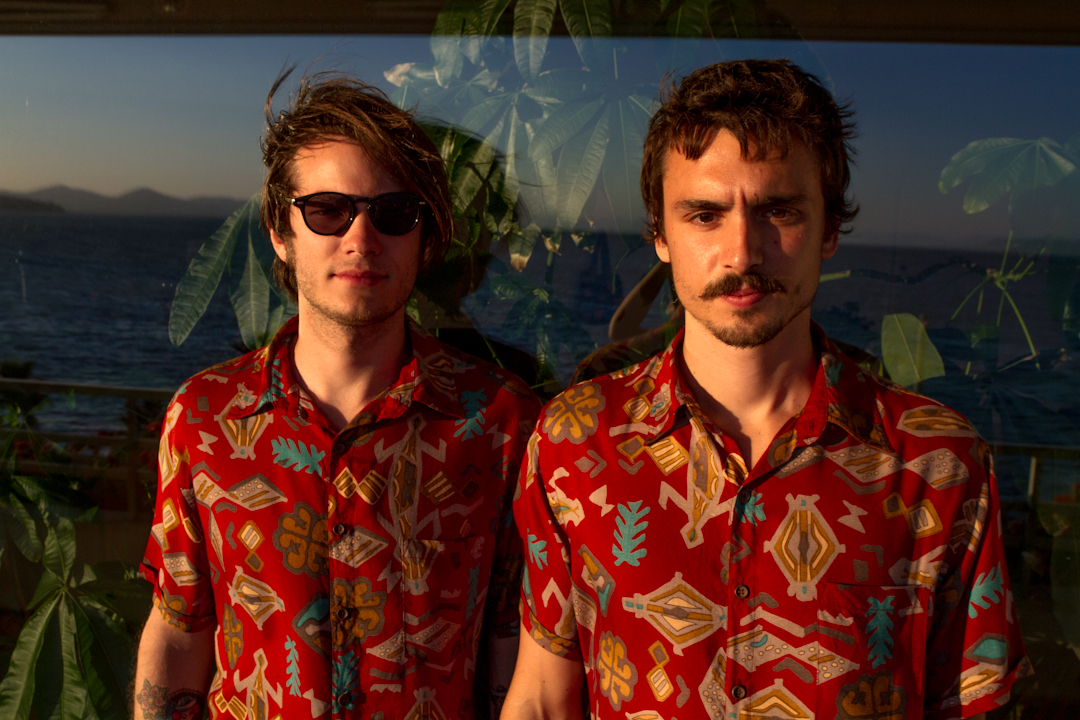 George & Iason, founders of Mohxa.
***
Shop Mohxa at store.mohxa.com. Follow Mohxa on Facebook, Instagram @moxhaclothing, and Tumblr.