World renowned artist Mister Cartoon is a true representative of LA culture, from his lowrider murals and swap meet airbrush art style, to his Chicano style art's thematic nods to Pachuco culture, and fine line black and grey style's California prison tattoo and gang culture roots.
In celebration of our much anticipated The Hundreds by Mister Cartoon release, dropping this Monday, November 19th, we asked Cartoon to curate a very special lowrider oldies playlist for us. Him and his wife Julie Machado do a little special weekly music feature called @soulsundaes.
"Soul Sundaes was created 10 years ago as a Sunday post on my website blog," recalls Cartoon. "I wanted to show more than just tattoos and murals. Sharing with my followers some of my favorite music that I grew up to. Old School, Funk, Oldies, Soul, Disco, New Wave and Rock. This gave them a deeper insight to what inspires my creativity. My wife and I have very similar taste in music. She's been collecting vinyl for years and I thought it would be a cool idea to add a woman's touch to Soul Sundaes. Since than it has been embraced by many. It's our passion something we love and enjoy doing. It's only just begun."
So sit back, relax, and bump these classics curated by Mister Cartoon himself.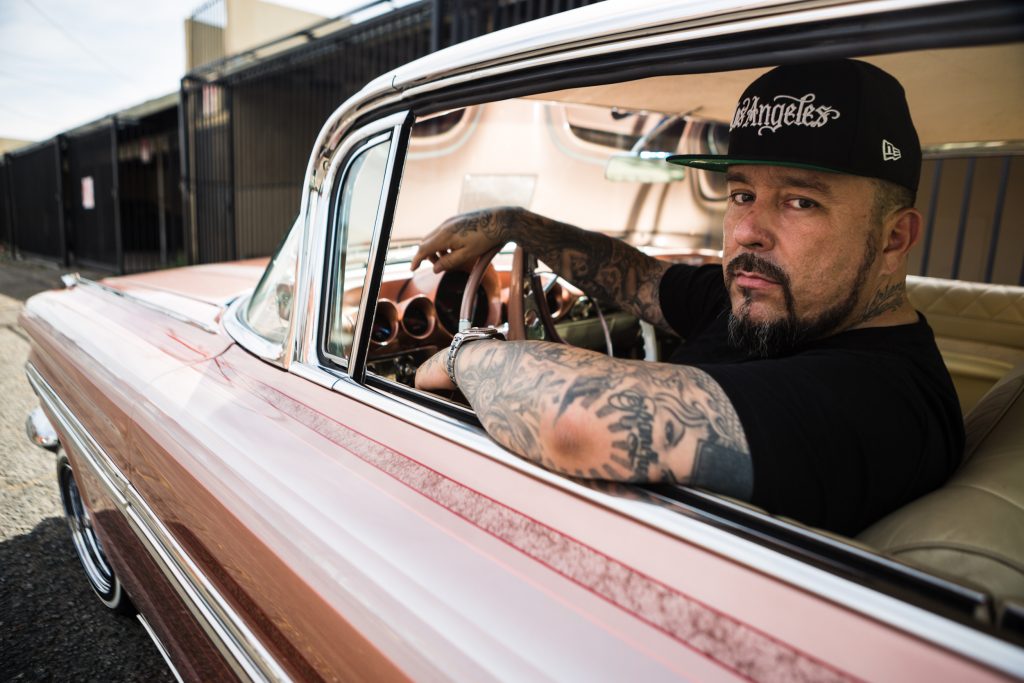 Marvin Gaye – "Please Stay (Once You Go Away)" (1973)
Mister Cartoon says, "This was one of my favorite songs in High School. It was my go-to song during a Teenage Love ups and downs."
Brenton Wood – "Take a Chance on Me" (1966)
This is a legit throwback. "This is another song that reminds me of my high school days," says Mister Cartoon. "When all the homies would cruise Cabrillo Beach."
"That music is the soundtrack to my art. Soul music is essential. It's what I listen to when I paint. When I'm in my lowrider, I play that music.
Newcleus – "Jam On It" (1985)
This old school hip-hop/electro classic reminds Mister Cartoon of "break dance battles at the Radio Tron in LA," "airbrushed T-Shirts at The Roadium," and "when Tony A. would make make mixtapes and IROC Convertibles on Dayton's."
Lisa Lisa & Cult Jam with Full Force – "I Wonder If I Take You Home" (1985)
Mister Cartoon waxes nostalgic on this mid-'80s freestyle dance jam: "This song reminds me of my high school dances. When the girls had long curly hair smelling like Aqua Net and they use to wear short mini skirts. The guys had Duck Tails and pompadour hairstyles."
Teena Marie – "Irons in the Fire" (1980)
"This came out during my LA Trade Tech days, when I could finally afford an Impala and I never looked back since." -Mister Cartoon
Royal Cash – "Radio Activity" (1983)
"This song was playing out of Mini Trucks, El Camino's & 5.0 Mustangs," reminisces Mister Cartoon. "It reminds me of the early days of KDAY. Gang Banging was at an all time high. West Coast Poplocking and Breakdancing filled the streets."
***
We are so proud to come together with one of LA's most gifted sons for The Hundreds by Mister Cartoon, designed by the West Coast legend himself and dropping November 16-18 at DesignerCon, and November 19 at The Hundreds Los Angeles, our Online Shop, and select retailers worldwide.