Words by Chelsea Green
Photos courtesy of meinmyplace.com

What made you start your website Me In My Place? How long ago?
Well, I've been a photographer here in New York for a long time now. Mostly editorial portraiture for a wide range of magazines from The New York Times to Esquire, O Magazine, Newsweek and many others. A few years ago, blogging seemed to really be catching on as a way for photographers to market their work. I started a blog called tellmewherethisis.com, showcasing my editorial and commercial work in addition to street and travel work that I was doing on my own. That was great, but what I found really fascinating about blogs was their focus and "niche" sensibility. So, I decide to start a blog that was about real women, in their own homes… in their underwear. So I bought the domain name, meinmyplace.com and set out to do it.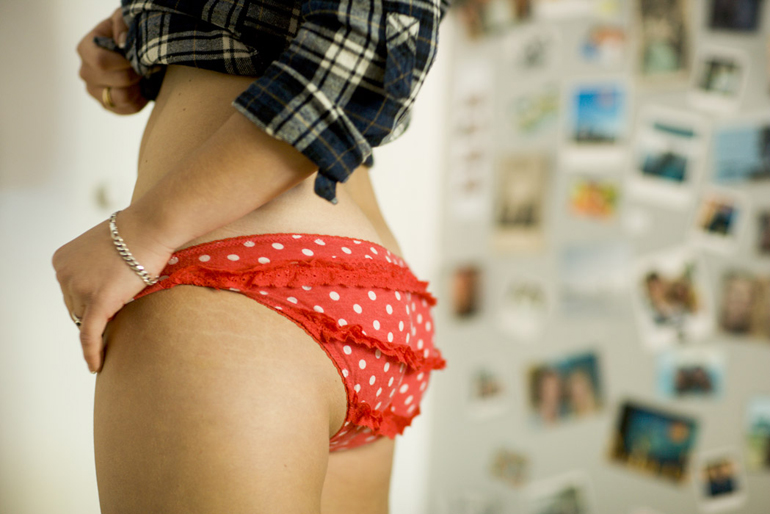 My first subject, Kim, was someone that I actually just met on the street. She was taking photographs and I came up to her and told her a bit about myself and gave her my card. A week or two later, she emailed me and said she would be up for a shoot. We set it up, and the rest was history. One of the first posts that I put up on the site was a picture of her bum in red polka dotted undies. It got almost 1000 notes right away and I was blown away by the response. I figured, best to just put my head down and keep working on this thing to see where it could go…
What was the original purpose of the website, has it held true or changed as you went along?
Well, one of the funny things that happened when I first posted those pictures of Kim and the one image got all those notes was that I followed back the links from the people that were leaving comments and found that a lot of them were from woman. Some were talking about how great it was to see someone who was not a model or celebrity featured in images this way, and that was great to see and hear. But then there were a lot of women who had pro-anorexia/weight loss blogs who were posting that they wished they had a body like Kim. What they didn't realize was that Kim was not underweight or super thin, she was just a normal healthy woman, with normal healthy curves just like many women. I then knew the power of the image was far greater then its intention… which was very exciting to see.
As for staying true to the message of celebrating the beauty of all women, all shapes and sizes… I've certainly tried to stay true to that. The Esquire shoots are done with celebrities and models, so that is a bit off message, but it has really helped raise the profile of the site overall, so I still feel it is a good thing for everyone on the site. That 'girl next door' is knocking around on the same website as Peggy from Mad Men and Lake Bell… not so bad…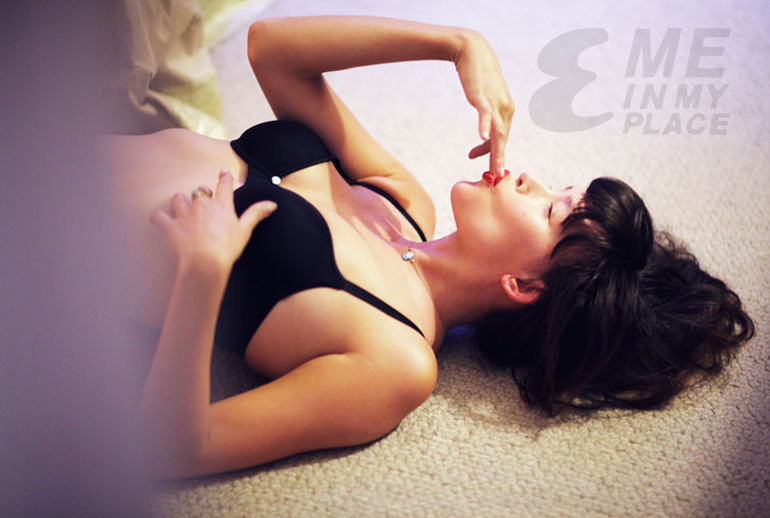 How long have you been behind a camera? Has it always been a career aspiration?
I've been a professional photographer for about 15 years now… Too many late nights of drinking to remember if it was a career aspiration or not…
What type of camera do you shoot with?
Well, photography has changed so much from when I first got involved. Years and years ago, I was a Hasselblad guy, but now I'm on the 5D just like everyone else. I've never really been that into the technical aspects of photography. Simple and real is better than an image that is super stylized or has some crazy effect going on. I suppose that stuff has it's place, but it's not really my thing…
Who are the girls you feature on your site?
Outside of the first few girls I've shot, almost all of the woman on the site have submitted to the site requesting a shoot. Basically, if I can make it happen, I will. The shoots are free and I figure, if you've got the courage to put yourself out there in your underwear, I want to take your pictures. I think that is part of what has made this project so special… the women are not being paid and they want to be on the site.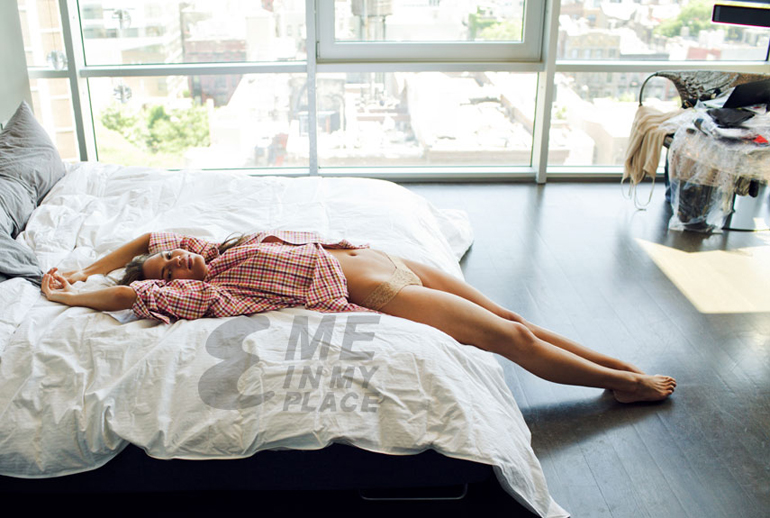 How did you get involved with Esquire Magazine?
I took the idea to Esquire. I have shot for them for years doing portraits of politicians and celebrities. I needed to find another way to get the word out about the site and figured they would be a good fit. It took a bit for my editors over there to get it approved and in the publishing cycle, but they were big supporters and pushed for it. I'm glad they did. Not only has it been a big success for my site, it has been a huge hit over at Esquire as well.
Who has been your favorite celebrity to shoot?
Don't know about a favorite, and of course the publicists would kill me if I said one person and not another. They have all been pretty cool. Funny thing is, at the end of the day, once you're in your underwear, you are kinda back to basics again, and all the 'celebrity stuff flies out the window. I will say that Lake Bell put a smile on my face and Paz De La Huerta is pretty wild… Paz had me call her Maria all day and I was happy to oblige.
What are you up to when you're not taking photos of beautiful women?
Working on this god damn blog… crazy busy trying to balance my other assignments and get all the MIMP pictures up… To be fair, you might catch me out on my bike now that the Spring weather has arrived.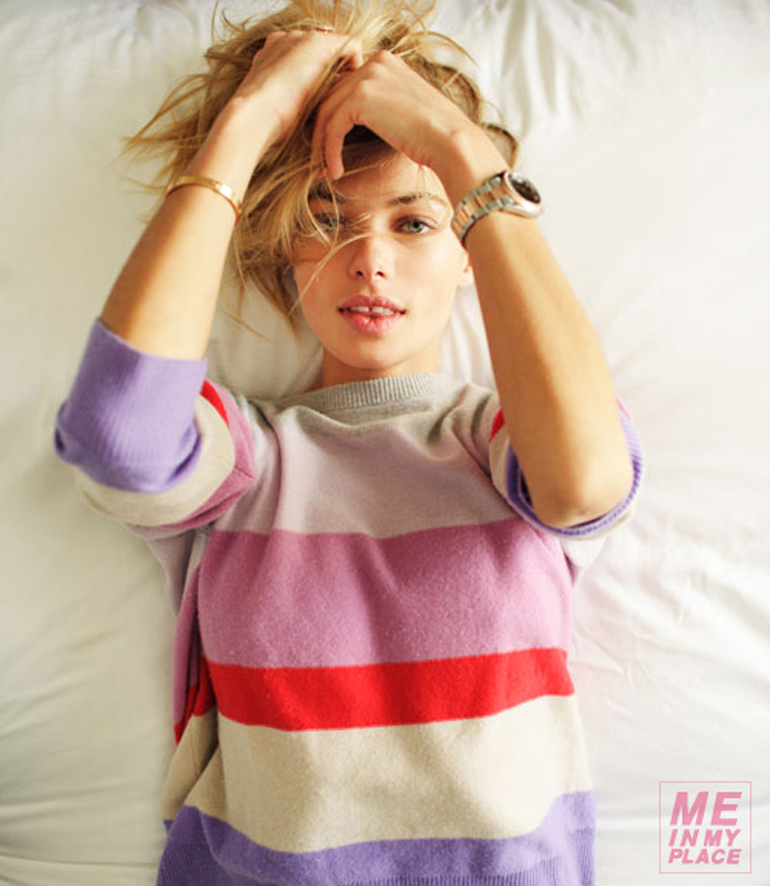 You just came out with a mobile app for MIMP. Tell us about it.
Ahh, yes, the MIMP MOBILE WEB APP! Well, basically I was at a dinner at Odeon here in NYC and was seated next to my now business partner in our little web app venture. Funny thing was, he's a big user of tumblr and he already knew all about meinmyplace.com. So we got to talking and he said he would be thrilled to build an app for my site… What made this conversation different than the many "you know what you should do is ____" conversations I'd been having, was that he was the creative director at one of the most prestigious magazine style app building firms here in the city. We are talking the People and Time magazine apps, not to mention the work they had done with the SI swimsuit issue. He brought on one other person, also an absolute genius, and we went to work.
The app as it is now is basically a gallery viewer of all the real girls from the site with additional image that were never published that will only be on the app. I've also re-shot several of the women from the site again, pushing the comfort level a bit and those are rolling out soon. The price is pretty modest, only $10 a year right now, so it's easy for the fans out there to show some support and get a little something extra in exchange. Just like the site, the plan is to have new images on the app every day… work work work… We are planning on developing new features and rolling them out as we have time to hear what people want and get it done. So let me know what you would like to see… this is as much the fans project as it is mine…
Do you have a type when it comes to women? Who is your ideal lady?
Well, I am married, so I'll have to say I do have a type and I'm sure my wife will appreciate that. But I think I speak for all men out there when I say, there is nothing sexier than a confident woman with a warm smile…