It all started with a bomber jacket. On the front chest of the satin-lined cut and sew piece: an Uzi logo, because it was the first gun Chris Williams had ever "seen, touched, and shot as a kid." Below the logo on the left pocket, the words: "The path is to lead amongst the many, throughout the darkest times in life, we are here to inspire others to lead but never follow." On the back: "LXRDS NEVER WORRY," a nod to the A$AP crew.
As the self-described "one-man army" behind Portland streetwear brand LXRD KNOWS, Chris had since made a T-shirt and a hat, but he knew from day one that he wanted to do cut and sew. Reminiscing to the early 2000s when brands like FUBU, Southpole, and Phat Farm, Chris says, were truly true to size—not too big and not too small, "a natural fit"—he knew he wanted to make something that fit the same way. "I try to be a perfectionist when it comes to clothes," he says. His cousin helped him shop for scraps from the local fabric store, and soon, he finally cut a measurement that felt right.
The Uzi bomber spread like wildfire on social media, and 2 years later, LXRD KNOWS is a respected up-and-coming brand, bubbling just under the surface the way streetwear brands of its kind have existed for decades. Chris says, "[The bomber is] one of the most valuable pieces I've released so far, and I take a lot of pride in that piece. It's played a big role in getting me to where I am today."
Similarly, every part of Chris's life has led LXRD KNOWS to where it is today. Each LXRD KNOWS release can be traced to memories of Chris's youth as "a different kid," interwoven with his personal experiences of displacement growing up. As an only child of divorced parents, Chris moved to Portland from Tampa at the age of 10 after a family member was murdered in Florida. A self-described "loner kid that relied on his mom," the culture shock of the Pacific Northwest move to live with his father affected him. "You put a kid at 10 years old on a plane for 6 hours. I didn't even know where Portland was," Chris recalls. "There was sunshine in Tampa. When I got here, it was cold as shit and rainy."
From the Uzi logo, to the headbands ("I'm a '90s baby, so I grew up as a teen in the early 2000s with the whole baggy clothes, tall tee, du rag era—that's why I made the headbands"), to the brand's most recent seasonal release ("Unlawful Acts is about my upbringing. I got in trouble a few times as a kid with the law doing reckless shit"), Chris's history as a defiant youth in Portland informs the brand philosophy of LXRD KNOWS. Chris says, "It made me into a young man, the city made me who I am as a person."
Perhaps that's why Chris explains, "My brand is deeper than just a brand to me. I want it to be a cult one day, I want people in the streets to relate." Many of the friends from his younger days, and the only ones he's ever related to, have since been incarcerated. So for LXRD KNOWS, Chris says, "I look back at everything and I just feel like I'm lucky. My purpose is for me to express for them, too. They understand where I'm coming from."
We recently interviewed the young brand head below on his journey thus far, his motivations, recent collection "Unlawful Acts, Pt. 1," and what's next.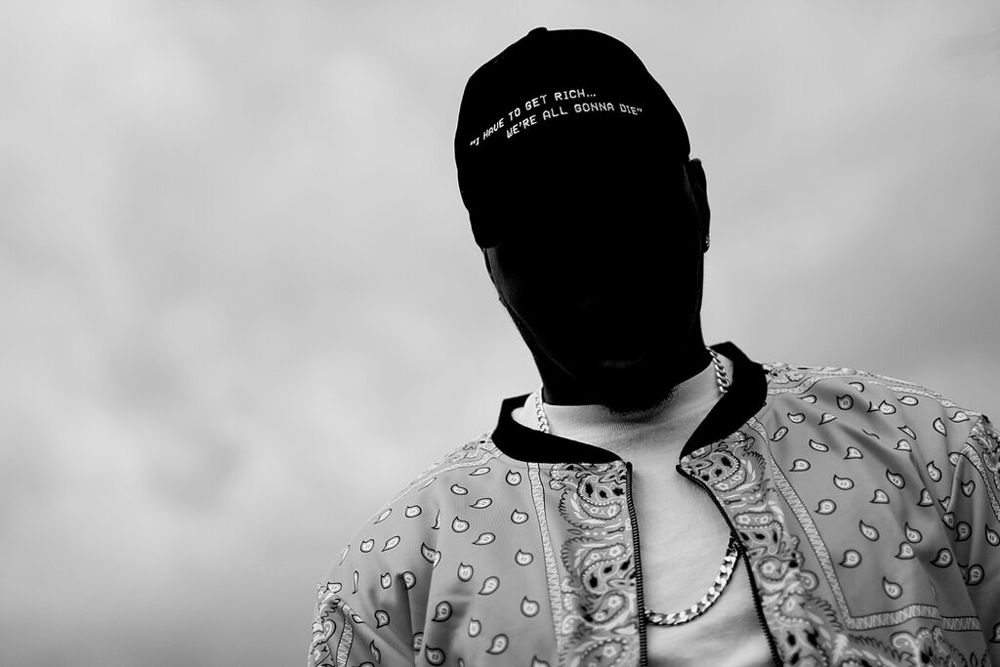 Chris Williams, founder/creator of LXRD KNOWS.
THE HUNDREDS: You've been doing LXRD KNOWS for 2 years now. What has the journey been like?
LXRD KNOWS: It's crazy. It's fun and it's just a lot of work for me. I'm a one-man army. I have no partner, design team, no intern, nothing. I do everything myself. It gets hectic at times, but I love it.
You said that you want LXRD KNOWS to be a movement, rather than just a brand. What is that sentiment motivated by?
I want kids to feel like they are a part of something when they wear LXRD KNOWS. Growing up in the early 2000s, I just remember brands like Freshjive, FUCT, X-LARGE were cool to me. Especially Freshjive, because it was so rare for young Vancouver/Portland kids to be wearing brands like that during the time. People used to call me "weird" the way I used to dress, so when people saw me wearing Freshjive and would stop me and talk about the brand and how sick it was, or exchange Myspace[s] to share rare pieces we came up on online and from local thrift stores—I really felt like I was a part of something special back in those days.
This was back when clothes were taking a huge direction change. It was still the baggy tall tees, du-rag / fitted cap era, but it was switching over to the more fitted style with BAPE, Evisu Jeans, BBC hoodies, LRG skeleton hoodies, etc. which starting gaining attention and cultivated into something. It motivates me when I see people I don't even know are wearing the brand when I go out to places, you know? Sometimes I'll go up to people and they don't know I'm the brand owner; I'll ask them about the brand and they fuck with it heavy. That keeps me going.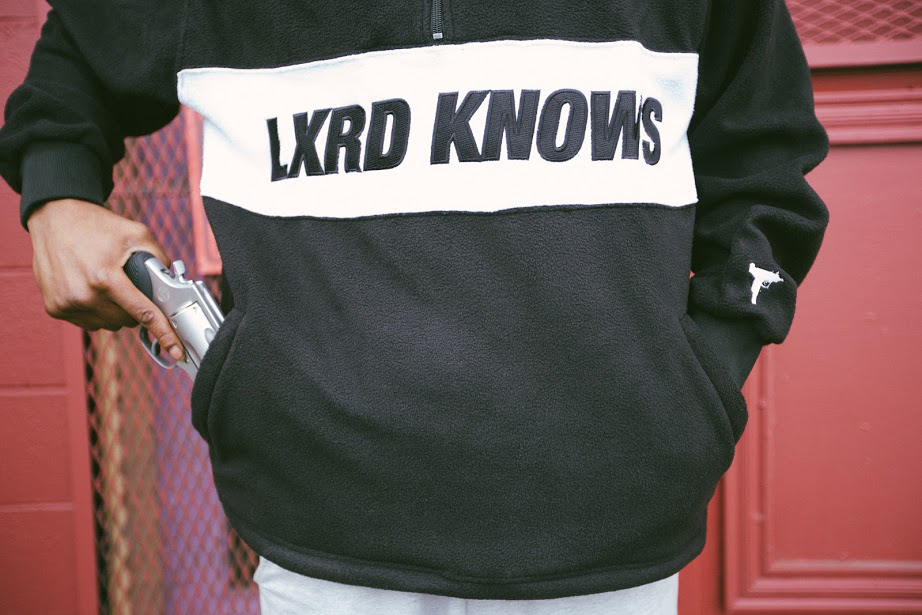 It's my life—I'm telling you through clothes.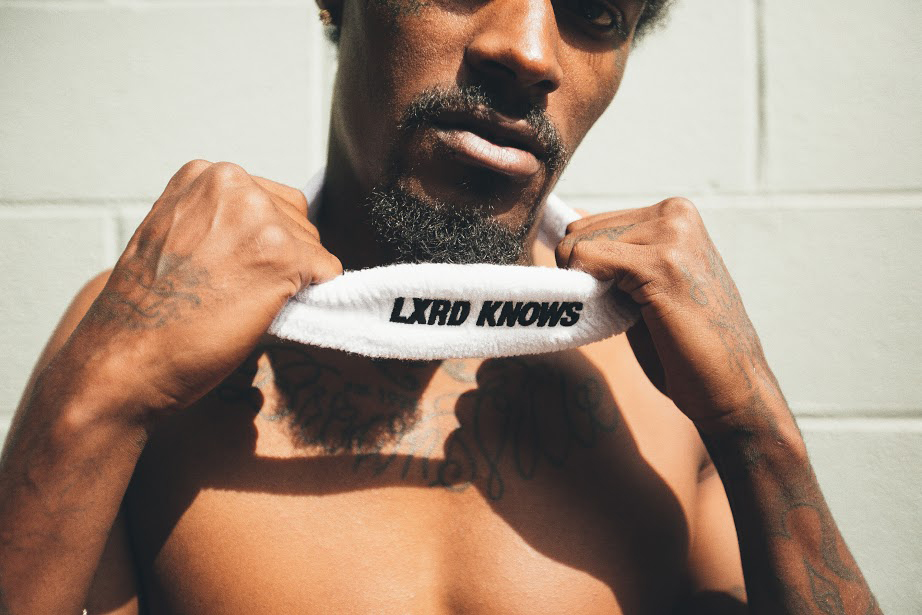 Can you explain to us what LXRD KNOWS's brand bio means to you?
LXRD strictly means a higher power in whatever you believe in could be the LORD, BUDDHA, THE DEVIL, A SPIRIT, etc. I believe everyone has been at a point in their life where they don't know what their purpose is with living, and at some point, asked whatever they believed in to help them find themselves. I'm filling in that empty void for the people that say "fuck it" and rely on the streets because they are very misunderstood in their personal life.
What did you mean when you said, "I'm not just putting cool designs on a shirt to make some money, it all has meaning to it"?
For example, people ask me all the time, "Why you have the Uzi as your logo?" An Uzi was the first real gun I ever seen, touched, and shot as a kid growing up doing reckless shit. So when it came to making a logo, I wanted the Uzi because it simply signifies my brand straight raw.
It's my life—I'm telling you through clothes. I take big pride in that.
Does Portland inform your brand?
I grew up in the Pacific Northwest over half of my life, so it definitely informs the brand. It made me into a young man, the city made me who I am as a person. Good things bad things—it just made me who I am.
You said you had to sell Jordans to get startup money. Can you tell us more about this?
When I first started out 2 years ago, I was living at my ex's house with just a vision. I sold most of my Jordans and took clothes to thrift stores to get startup money to begin LXRD KNOWS. Everyone around me thought I was crazy too but it's all working out.
Can you tell us why it's important to you to put your personal history into the brand, during a time when a lot of brands are driven by trends and market demands?
I put [my] history into LXRD KNOWS because it makes it more personal. I make things that the streets can relate to, no matter what your color, race, if you trap, skate, a hipster, etc. My message isn't something you just follow because some may think it's a "trend"—it's a lifestyle.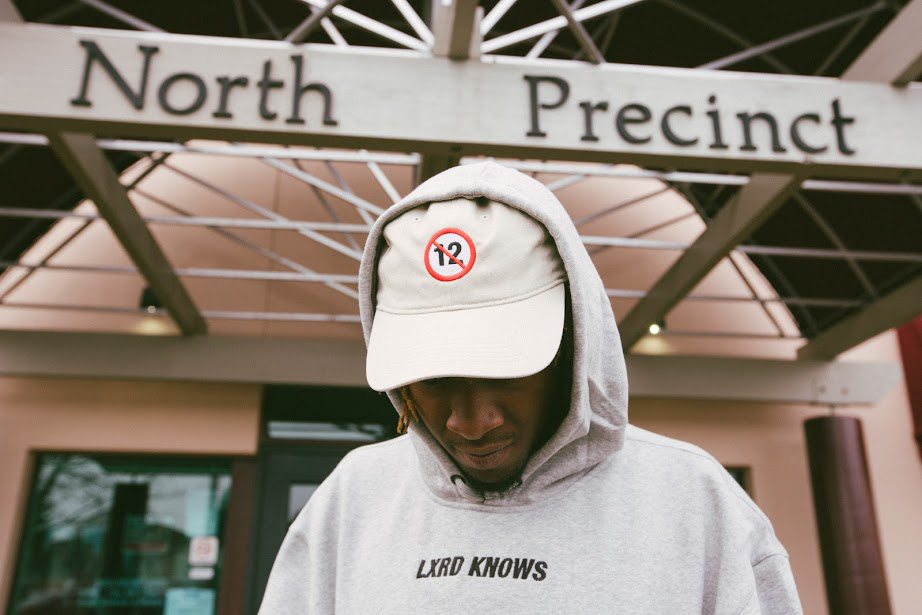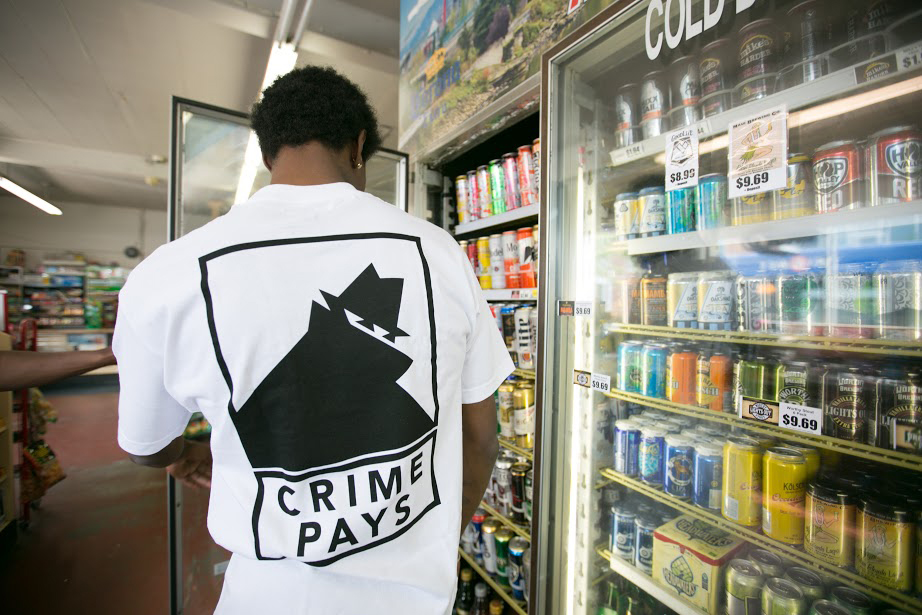 Are you doing LXRD KNOWS full-time? Or do you have a side gig/day job?
Honestly, I just quit my day job literally a week ago to make this full-time. The past two years I've had on and off jobs, but to see the growth of the brand more, I need more time during the days.
You mentioned that the A$AP reference on the first bomber you made [they were re-released in 2015] was a mistake, but that it made you who you are today. Can you explain?
The only reason I say that is because a lot of people looked at me as an A$AP MOB brand/affiliate because when I released the bombers. It says "LXRDS NEVER WORRY" on them and everyone obviously knows that that's been a saying that they use. But people just have to understand that I wasn't trying to bite them in any way at all.
At the end of the day, the message on the bomber is completely different than they're saying. It did make me who I am, and that jacket alone is what got a lot of people to take notice in my brand in the first place. That's one of the most valuable pieces I've released so far, and I take a lot of pride in that piece. It's played a big role in getting me to where I am today.
Can you talk about the collaborations you've done? What was the process like?
I did a collab with good friends of mine with a music collective group called GOTH MONEY RECORDS. I never thought we were going to collab—as soon as we did, I brought them to Portland for the first time and threw a show for them. One rapper from their group, Marcy Mane, always wore Gucci goggles, which kind of inspired me, so I told him we should make Goth Money goggles and everyone was with it. After him and I laid down some designs, we saw one we liked and the group was with it, so it was a go from there. Goth money is family, they are very good people, and I'll always thank them for that opportunity.
I have a collab coming this month with another artist who I'm very cool with named Ramirez from a music collective called G59 Records. I don't want to give out too much just yet, just know it will be a dope collab as well.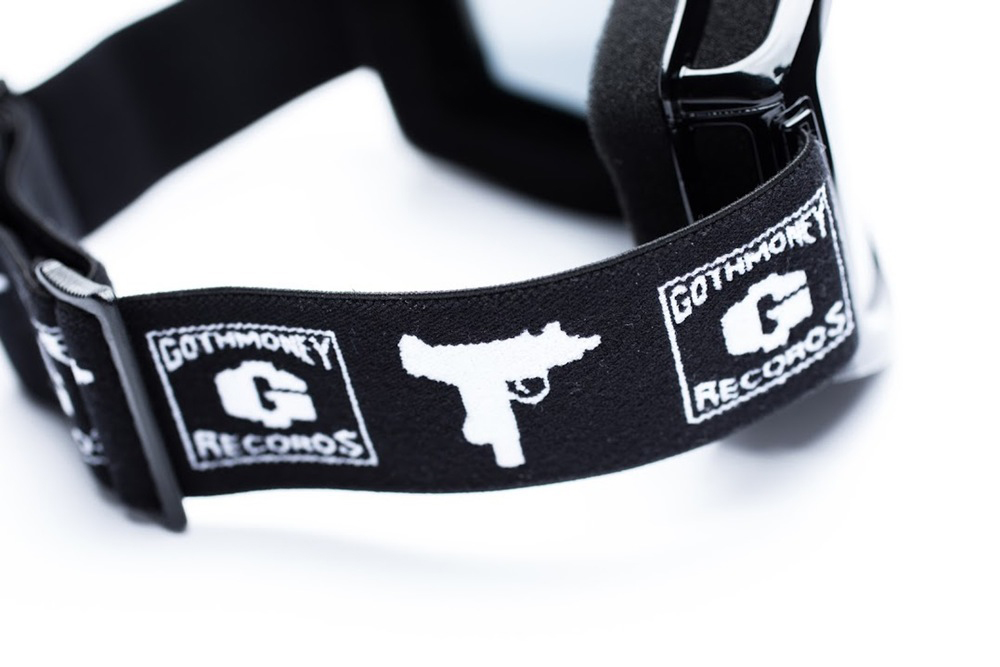 LXRD KNOWS x GOTH MONEY RECORDS.
Do you have any dream collaborations you'd want to do in the future?
Yeah, I just want to collab with my friends brands one day such as GROWTH, ICC, MENACE LA, SOSLO, CXRRECT LA etc. There's big brands I would love to work with too, but it's going to take a lot more hard work to work to hopefully one day work with them
You said you try to avoid the internet to not get swayed by outside influence. Can you talk more about that?
To be honest with you, I hear about brands and I'll peep 'em, but I try not to look at them that much. I'm an up-and-coming brand myself—I don't really have time to pay attention to anyone else like that. I think any brand owner could agree. I'm trying to stay true to myself. Nothing influences me but the streets and my personal life. For example, in my recent collection UNLAWFUL ACTS, the "FUCK 12" cap signifies directly on my upbringing and altercations I have had with the police as a youth. I never showed love to cops—reason why I had to drop that piece in my 1st collection.
What does 'Streetwear' mean to you?
Real streetwear is people who are really in the "STREET" who "WEAR" brands that they live, eat, breathe, sleep by. But sadly, that's very hard to come by these days. I feel like streetwear has lost a lot of organic roots due to the fact a lot of brands have oversaturated the industry. People get confused when it comes to big brands and think that's streetwear, when it's more so Mall/Corporate wear. REAL streetwear brands are its own little world and people that wear those brands could all tell you they feel like they are a part of something.
Can you tell us a bit more about how you've seen LXRD KNOWS grow organically since that first bomber, how it spread, etc.?
Since the bomber, my brand has been growing. It spread honestly from word of mouth locally and on social media from a worldwide standpoint. I wasn't ready for that. I never thought the bomber would have made attention like that. I wanted to make something timeless that the streets could relate to, but I don't want to be known as the "Uzi bomber brand." I have so much more to give to the people.
***
LXRDKNOWS.com. Follow the brand on Instagram @lxrdknows and Twitter @lxrdknowsclo. All photography by @versace_van_londen and @EXPLXRD.