Lupe Fiasco has fans. He has enough fans to sell out a multi-city tour entitled Tour for the Fans. On Friday, February 5, a diverse group of them filled the inside of B.B. Kings Blues Club and Grill in midtown Manhattan. There were short fans, tall fans, big fans, small fans, black fans, white fans, Hispanic fans, Asian fans, and multi-ethnic fans. Rich fans and poor fans, too. There were a lot of fans. Some, knew all the words to every song, while others hummed to his hits, emphasizing the hooks. There were day-one fans that stood in the front, by the stage, mouthing every single lyric in unison with Lupe. They cheered continuously and chanted his name often, "Lupe!" One fan—who chose to make his song requests known—yelled "Dumb it Down" (a nod to a track off of Lupe's The Cool album) after every song that wasn't.
"Stop fucking screaming 'Dumb it Down,'" Lupe replied, after several unsuccessful attempts by the devoted attendee.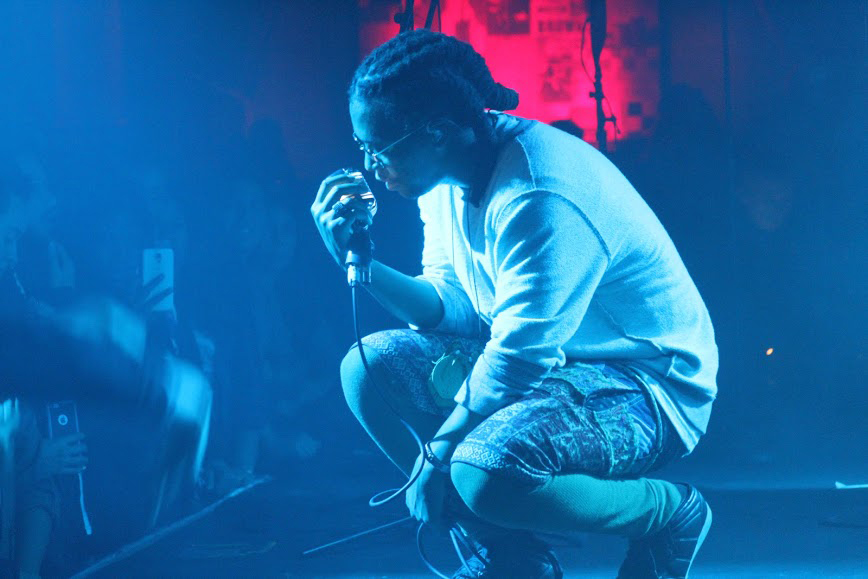 Lupe is loved. In New York City, he performed in front of a black-and-white mural of African child soldiers. Songs like "Mural," "Dot the Line," "Scarlet Letter," "Delivery," and "Adoration of the Magi," among others from his Tetsuo & Youth album incited the standing-room-only crowd.
In between tracks, Lupe talked to the fans.
He urged everyone to put away their cell phones. "This is a one-time only event," he said. "Enjoy it as is."
Then he said it: a statement that shook me to my core.
"Any music journalists in here?" he asked. I didn't reply, although I knew I wasn't alone.
"I don't really fuck with y'all and if you're taking notes, kill ya self!"
I finished writing down his comments in the notes section of my iPhone then closed it and put it in my pocket. For a moment, surrounded by fans, and photographers, I reevaluated my life. I wasn't going to kill myself—not there, or anywhere for that matter. But his statement was jarring. Prior to the show, Lupe had advised artists—on Twitter—not to do any interviews. I was interested in an interview... He declined.
Artist Advice: Never do interviews. Ever.

— Lupe Fiasco (@LupeFiasco) February 5, 2016
Why is his distaste for the media so strong? Lupe, born Wasalu Muhammad Jaco, has done several telling interviews throughout his career. Many have been controversial due to the fact that the Chicago-bred rapper isn't afraid to share his truth.
"Do it to 'em Lu," a fan donning a NY Yankees cap yelled. "Do it to 'em!"
During the next segment, the DJ played voice recordings from fans, requesting their favorite Lupe tracks. Lupe would perform the songs, beginning with "The Coolest" after the fan voice-over. He rapped to "Hip Hop Saved My Life," "Go Go Gadget Flow," "Out Of My Head," "Paris, Tokyo," and later "Dumb it Down."
He told the crowd that he will be releasing three albums this year and his plan is to retire after the third. The albums have already been titled: Drugas, Skulls, and Roy will be his last. He smirked during his retirement announcement, although his fans whimpered.
The mood changed from gloomy to ecstatic once Lupe began to perform the hit songs that catapulted his career into stardom. His earliest anthems, "Touch the Sky" and "Kick Push" still seemed to be the fan favorites. Before he left, and walked behind the velvet curtains at BB King's, he reminded fans that 2016 marks the ten-year anniversary of Food & Liquor—his ceremonious debut.
In 2007, after unleashing The Cool, Lupe announced that he would be retiring from rap and possibly changing his name.
Could this be the last time fans would witness Lupe live in New York City or is he just teasing, toying with the idea, or emulating Jay Z and Michael Jordan?
***