Unless you've been in a hole the past 5 or so years, it's likely no surprise when I tell you there's been a movement afoot. Sometimes mis-labeled or maligned, it's coming at us in myriad titles; Vintage, Americana, The Makers Movement, Heritage… to mention the popular ones. But for some, the industry they find themselves in – and more specifically the products they make and the people they make them for – aren't about what's popular, recent, or in fashion. There are folks out there that are muscling through the hard times, working side jobs and leveraging 2nd mortgages to fulfill an inner calling and sense of duty to hand-craft the future with methods and materials of the past. Kent and Lee Begnaud of Leather Works Minnesota are those people to a T. After being shuffled around due to outsourcing and over a decade of lean times, the couple – including their son Nathan and a few others – have reached a place and time of recognition as their business continues to grow and change. I sat down with Kent to discuss their history, industry insights, and just how un-businesslike their approach has been. I should note, this was one of the easiest conversations I've ever had and threw out my written questions right from the beginning; Kent was as inviting and easy-going as they come.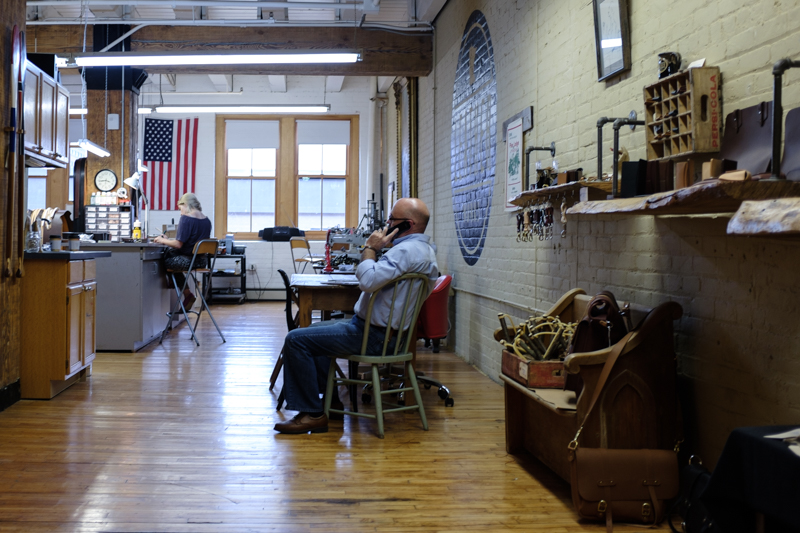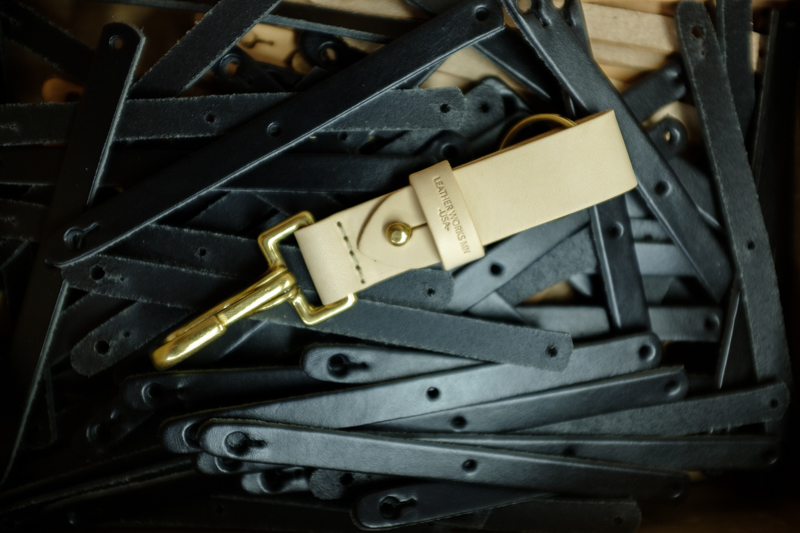 KENT BEGNAUD: What are you gonna do with this? Where's it gonna go?
TUCKER: It's for The Hundreds. They're a California-based clothing company that puts a great deal of importance in the publishing of content. Especially in regards to the sub-cultures that influence them and their customer's/audience. I think The Hundreds see the importance of a brand like yours, even how it influences aspects of their own company. That's why we're here today.
Cool, nice.
I suppose there's a lot of interest actually from brands and media and so forth regarding companies like yours, huh? I mean, for better or worse, whatever their interest/motives are.
There's some coming to the show a little late. I mean we were fortunate 'cause we were just doing it all along and suddenly it became a thing. There are some big corporations now that are going to these little boutiques and figuring out how to display their products. Doing lots of research.
When I was at Familia, a lot of people from Zumiez, Journeys, Foot Locker would send in their reps and marketing or merchandising people. You could always tell even if they were wearing cool clothes or something, they'd always focus on one category. They'd go straight to the wovens, or accessories or something. "Oh you guys must not make a lot of money on these hard goods?" They'd be so specific with their questions. I'd say, "Who you work for?"
Yeah, it's a new experience for us. But we're there too now. Some big stores have come in and talked to us. They want to start an online presence you know. And with the whole American Made thing, they're not changing their whole company but they want to get on board with it. We told one of them, "You think it might hurt us to throw our hat in the ring with your company? 'Cause you're kinda what we're anti-." I mean, we're not against them per se, but what we make and what we stand for is really different than all the imported stuff. And they were honest, they said, "We don't know if it would or not."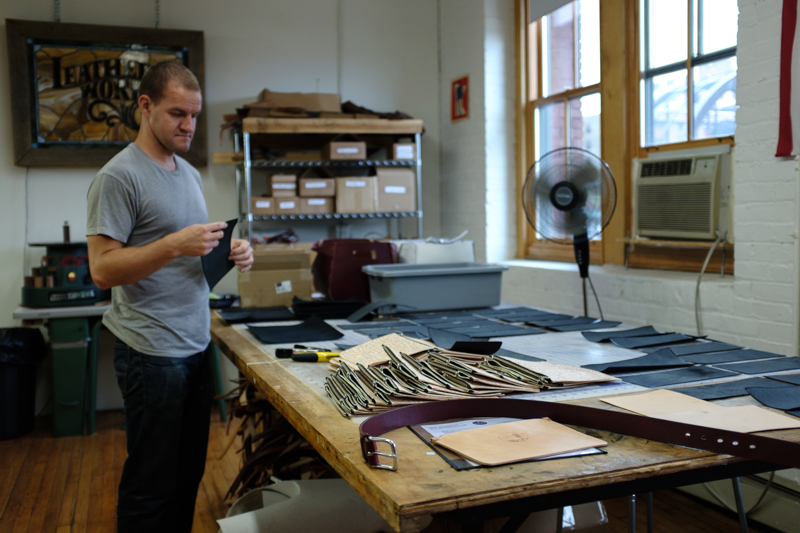 So you guys take an active stand with what you're doing?
We're pretty big on the American Made thing because I lost my job in '99 because it was outsourced. A buddy of mine Ron started a leather shop right up the street from here back in the '70s. It was me and him. That's where I learned everything. He was a good businessman – he grew the business into multi-million dollar corporation. We had 50 employees, we built a 5 million dollar building in Woodbury. State-of-the-art everything for the employees, it was so wonderful. We'd buy the hides from the tannery, just like we do here. Perfectly healthy company, we were doubling every three years. Making millions. And he went to a tradeshow in Houston and a big-big company came with their bag of money. [Ron] said, "I couldn't pass it up." The new owner from Texas says, "Don't worry, boys. Everything will stay the same." Six months later, we're all unemployed. That was 1999. He took the good name, the catalog, the 25-year-old business to China. I think you can still buy that brand of product, but it's all made overseas now.
God damn.
Yeah, he was a piece of work that guy. Then what he did was build up a promotional company. Biggest in the world.  He had 21 companies in the US, reduced them down to 3 locations, wacked all the general managers. Sells the buildings. Drives all the money down to the bottom line and sells the company off and goes to work for Leeds of London, who's their number one competitor. We jokingly said, "We're going after Frankie. He's hearing footsteps now, we're coming after him!" He's probably long retired by now. [laughs]
So that was the catalyst for starting this?
Yeah. I didn't really have Plan B. 2 years after they sold and moved it down to Iowa, they hired me to go down and do some consulting. They limped along for a while, all the while they were setting up in China. Within 2 years, everything was over there. Which, in a way was a good thing for us cause we were able to acquire a little bit of equipment. At a reasonable price.
So you guys started the whole operation at home?
Yep. We had the little shop out there. $300 sewing machine. It was just me for a while. We still had the 2 boys in high school. Then my wife wanted to come home. She was working at the university hospital clinic. So she started doing all this stuff that I don't like to do [points to all the office equipment around him at the moment]. Office stuff, sales. First 12 years was probably pretty rough actually [laughs].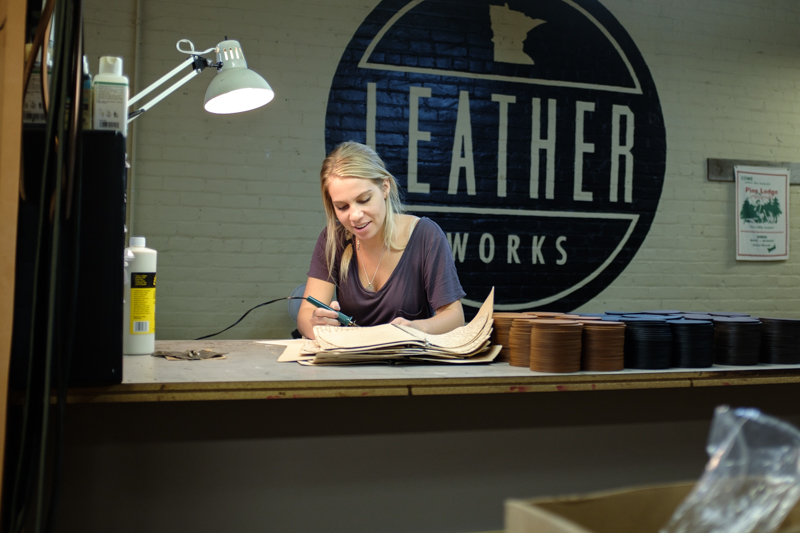 You started in 1999?
Yep. We're going on 15 years. Then it was, what, 3 and half years ago Martha Stewart found us working in our garage. One of her people [said], "Hey, we wanna feature one of your products in our catalog or magazine for the christmas gift guide." I said sure. We did it. I tell ya, 1.2 million people looking at your website doesn't hurt. And Northern Grade was golden for us. We were friends with Jen Guarino, from J.W. Hulme at the time, and she said, "Why don't you guys come here?" We were like, "Why don't you invite us?" She says,"Ohhhh!" We were there the 2nd year. It worked out perfect. There was a blogger there, too, and I didn't even know what a blogger was 3 years ago, and this guy came with his nice camera and wanted to take a picture of a wallet. That week, we started to get orders from Chicago, New York, and LA. I was like, "What happened here?" So I went online thinking, "There has to be others," and I found 2 that looked reputable and sent them samples to review. They said yes. They did reviews. And sales picked up. The boys [his sons] bought me an iPad and showed me how to do it. And then Instagram. Something clicked with that and I was like, "Oh, I get this now." There's a young, growing population that actually shop online [and] like to read blogs. We started clicking pictures and people liked it. It was home-spun. Then we had a couple hundred followers, then a couple thousand. Then Instagram contacted us out of the blue and asked if they could use us as an example of how to do it right. We said yes. We went from 2,000 to 25,000 followers in 2 weeks.
Good luck trying to like and reply to all those people's comments! You gotta though. It's super important to engage people.
Everyday I look to see what's happening. I try to follow and reply. If I see someone's leather stuff in Iran or China or something, if I see something I like I always comment. "Keep up the good work." I think a lot of those countries look up to the U.S. on this. They like what we're doing and they wanna get in on it.
There's an aesthetic and it's historically made well in theory. That's your playbook.
There's a guy in Japan I follow Dulles Club, oh my gosh. I wanna go work for that guy. He makes everything one stitch at a time. I have never seen work like his. He'll even make his own hardware. He'll have a chunk of brass and fashion it himself. When he's done, you're can't help but think, "You're the coolest guy in the world." The way he takes his photos too! They're perfect. His briefcases and his color choices are incredible. I don't know what he gets for them cause they're all in Yen, this many zeros [holds his arms out wide]; But I'd buy his bags.
He's a one man show?
Yeah. He's incredible. When I think of Hermes or buying a $15,000 bag, I'm sure his aren't that expensive but they're probably as good as.
So you guys do all your own everything here right?
Yes. But I still have my little shop back at the house. We have a die-cutter back there 'cause it's noisy. They won't allow it here. So we do production die-cutting there. We do all the assembly here. We warehouse most of the leather there too. It's like 15 minutes away.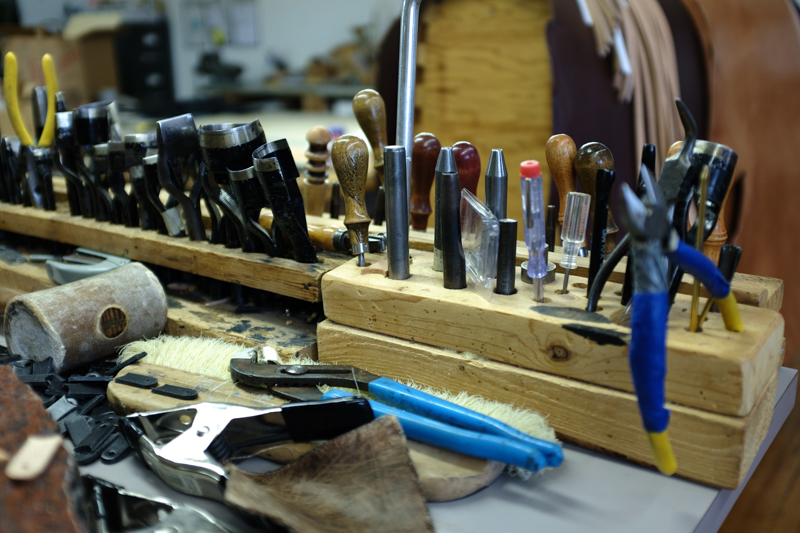 "And if I was business-y, we'd move out of here, get a bigger space, double everything, and just keep trucking. But I have no desire. I don't want to do that. I am so happy, these guys are happy, we pay em' as good as we can." – Kent Begnaud
What was the catalyst or reason you picked St. Paul as opposed to anywhere else? Or did you?
We were looking around for space all over. We had the little shop and then was using the garage. Shipping was in the dining room. One of the bedrooms were taken over. As the orders started coming in, we were just stepping on each other working around a table in our garage. I knew we'd have to move. We were looking in warehouse districts. Cinderblock buildings, no windows, nothing interesting about them. I was thinking, "Hey, we can punch out a window or something. I can see the vision." But my wife Lee was like, "I can't come into this – this rat hole!" In my mind, I'm thinking: Production. Cheap production space. One night I was on Craigslist, this space was there. We came and took a peek and I thought this is exactly where I'd like to work. They gave us the price and it was like $100 more than the terrible spot over there, the cinderblock spot. We were nervous. We'd never had to pay for space. I asked them to come down the $100 and give us some time to set up. They said yes. I said, "Done, where do I sign?"
It'll be 2 years now in December that we've been here. And we've got one more year to go [on the lease], but we're already completely maxed out for space here.
You guys have some space here dedicated to retail, which is interesting. Do people actually come through?
Here's how non-business minded I am. We've always pretty much done wholesale to shops. I had this old wood lying around.  Thought I'd make some shelves and display some goods. So when businesses come we can show them product. And Lee [my wife] looks at me, she says, "You know we can sell directly out the door right? This is a commercial space." Nowadays, I always say we have a 100% sales record when it comes to people coming in here.
They already know what they want?
We're up on the 2nd floor, they know they're coming here to buy something. On a busy day, we might get a few customers, but it's great. The retail is covering itself nicely. I can't complain. The online store too – that was weird. I knew what I wanted to do. I saw some minimalist sites and that is what I wanted. So one night, I'm sitting at home and I don't know anything about computers. Intuit, you can pay $9.99 off their template. I buy the thing, I'm going through it all, do this, click that... I've got the basic thing down. Nathan [my son], stops by a couple days later and pushes me out of the way and puts it all together. Now our sales are on! [gestures upward] Everyday. For us that's been golden. Then we get retail [margins].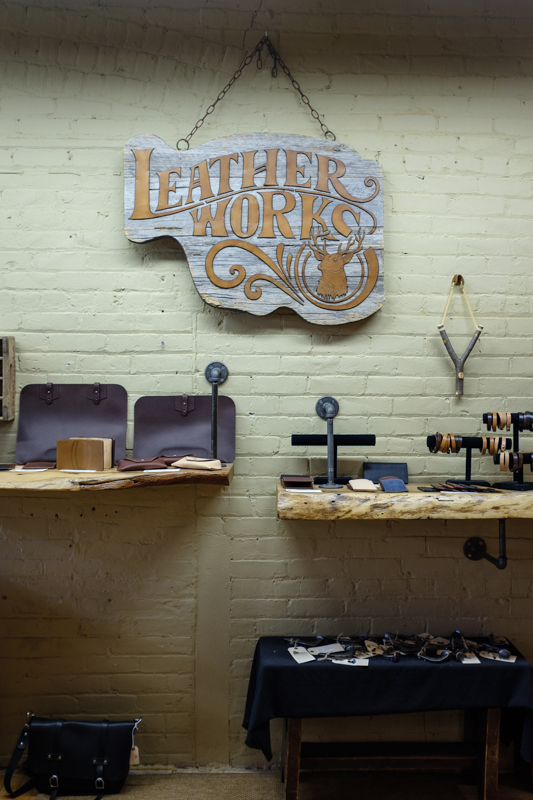 So how big is your staff now?
Well, after Nathan, we brought Joe on. He's been here a year and a half now I suppose. He does all our hand-sewing. We taught him that. Lauren has been here a little while. And we've had and have other part-timers. I have one at the house. Four full timers and four part time.
[Did] you ever imagine you'd ever be at this place?
No, not at all. And if I was business-y, we'd move out of here, get a bigger space, double everything, and just keep trucking. But I have no desire. I don't want to do that. I am so happy, these guys are happy, we pay em' as good as we can.
How do you pick which products to make? They're obviously all accessories-based, but do you approach the upcoming seasons with a plan?
No. we don't project. We used to do a lot of women's products for many years. We have some beautiful designs we don't make anymore because we're busy with other stuff. We made [these] soft hobo bags, we make this round braided strap that no one makes because they're not easy to make. But we know how to and they're really nice. Those were popular. The problem with that was – that if you go into fashion – it's always changing. Especially with women's fashion and colors. We keep it pretty classic: Brown and black. For a small shop, inventory is a nightmare even with the 4 or 5 colors we use. Trying to get that consistently from the supplier all the time. If you try branching out and you order granny-apple green leather, the next lot you get will not be the same.
But do you say, "We need to make more belts"? Or enter into other/new categories?
Pretty much. Or we'll see something that inspires us or if we get a lot of requests for something. We came out with these back packs, a roll top sack. I said, "Let's just make one." We had Joe carry it around for a month or so. It was kinda beat up and we posted a photo online. Some guy in Tennessee won't stop emailing me, "I gotta have it, I gotta have it." I told him, "It's used!" He didn't care. We've been so busy, we don't even time to develop new products. So I told the team, "Let's take a day and make a few of these things." We made 3. Let's give one away. Put it online, asked people to tell us what they'd do with a bag if they had it. It generated a lot of interest in people. They're asking us when they're coming out.  But we're still not making 'em. So, we're in a different position than ever before. Before, we were always looking for work. Now we're kinda cherry-picking what we want to do. On the flip side of all that, we do labeling for other places because the American Made thing caught on. I'd say now that 40-50% of our business is making other people's product. Some of it I like, 'cause it's co-branded and I like that. Some of it we just make it for them, their brand. Sometimes that gets overwhelming. One guy wanted us to make this wallet – we developed the dies and the tools and the design. So we get it locked in and I ask him, "How many you gonna want?" [He said], "I'm gonna need a 100 a month." I said, "We can handle that." The second month, he didn't tell me he put it on Kickstarter, and all of a sudden he needs 1400 in a month. I told him, "Dude, we can't." Took six weeks. It was a chore, but we got it done.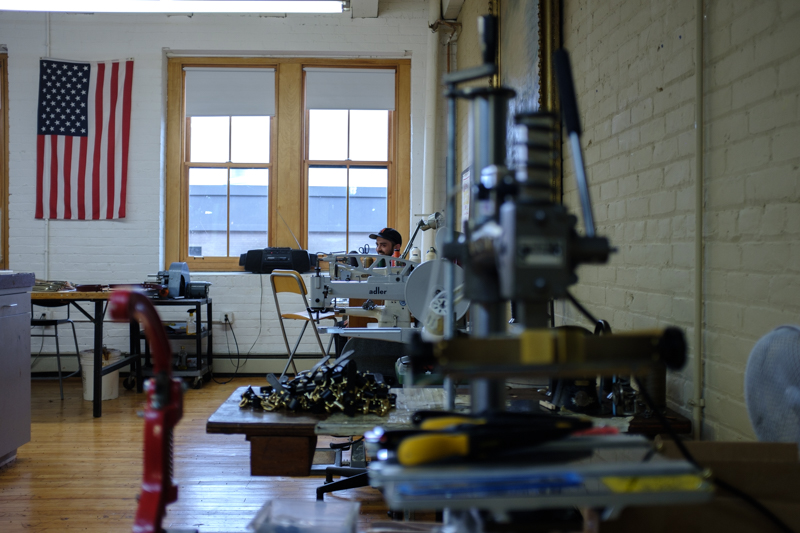 I had an older guy give me great advice once. He was asking me, "Oh, you're in business. Do you do anything else?" I told him I really didn't have a Plan B. He said, "That's the only way to go into business. If you have a Plan B in the back of your mind, you'll always default to that as soon as the going gets rough."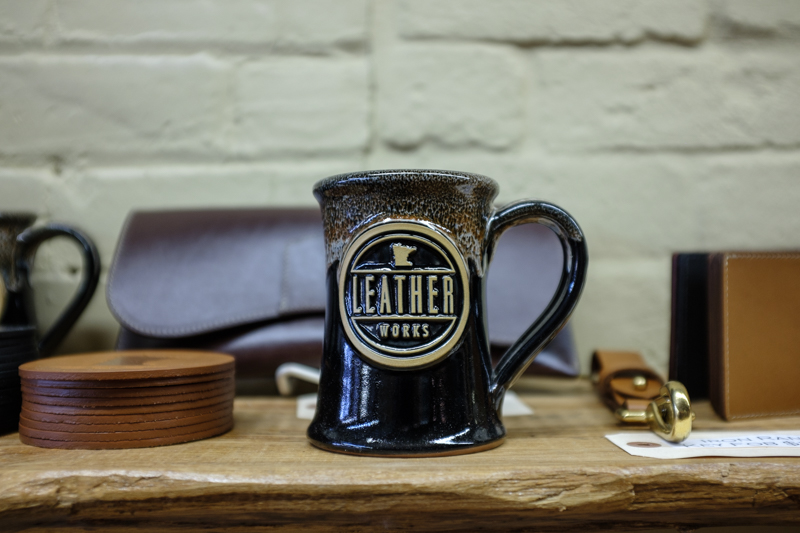 Do you find yourselves shifting from one project to another to another in the middle of them?
Ha, yes. All of the time. And you never know what's coming with these other people's stuff. Some of the stores, like we've got a really great store in Portland, OR. They've been on national news, they've got such great gifts. The owner was out here the other day. He called me a couple years ago and told me how he bought something from us already. He asked where we were set up and at the time we were still in our old spot. I told him St.Paul Park – he said his mother lives in St.Paul Park. "Really, so does mine. What street?" I said.  He says, "Selby Avenue." So does mine. They were just down the block from each other the whole time. It was meant to be. So anyways, they were ordering every few months, nice orders. And we didn't hear anything for a like six months. He called and said he was in town [last week] and asked if he could stop by. Giant order. Wanted to stock up now and for after the holidays. I said, "I was beginning to wonder!" Those kinds of things are the best. The smaller shops. We're working with Wilson and Willie right now, opening up across the street from Shinola in the middle of November. [pauses] I think I can say that here. Ha! We're doing all new products for them, collaborative product.
So most of the people that are hitting you up, are they from MN mostly? Or all over?
It's all over now. 3 years ago we probably had 5 stores, mostly in the Twin Cities. Now it's like 40+. We've got some in Canada, UK, Oslo, Singapore. We get inquiries every week from new places. We're just deciding what we can do. I feel like we have kinda have 2 businesses here; we love making our products. That's our favorite thing to do, we're set up for  it. Our leathers work best on our products because we've worked through that over the years. When we do this other stuff, I mean there's money in it. I gotta pay people and do things and I have to keep these guys working, but there are days where I just want to send out the email, "Sorry, we have to just do our thing now." It's so funny now, people come to us and they talk to us about our brand, our brand. Cause branding is a big deal now evidently. And I just have to be honest, I never thought of that at all. What's happened is is that the customers have made us a brand.
Oh yeah, for sure. your product was consistent and they filled in the blanks.
Like, we didn't try to present something and they did it for us. And that's been really rewarding. I've never really thought like that. I was just a guy working in my garage.
You were just making something that you know you have to make and some people want.
I like things that are functional and last long.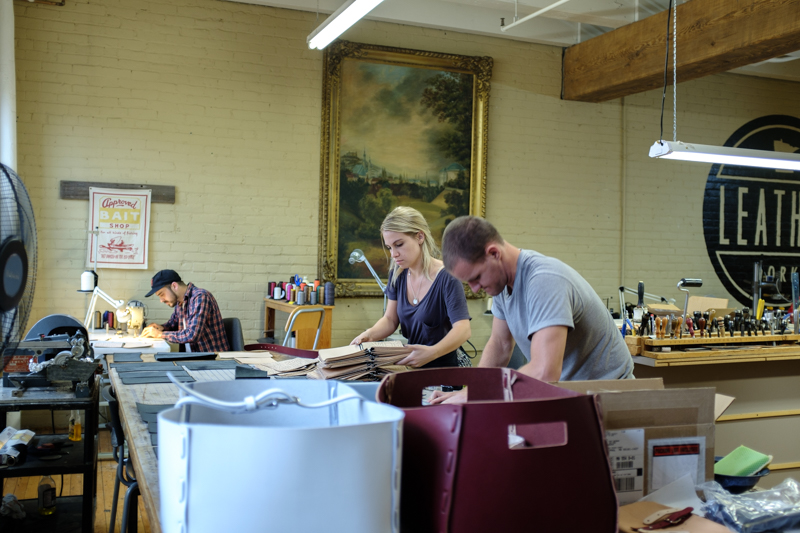 Is that the driving force behind what you make?
I think so. Yeah. For example, I had this guy come in here with this Louis Vuitton, $600, completely had fallen apart. One year old. I said, "Part of the problem is that Louis Vuitton isn't leather. It's actually vinyl." And the linings. We do have one product that we actually line, I like them. They're beautiful to look at, but it's the always the first thing to go. So our interiors aren't as pretty as that liner, but 5 years from now, it's gonna be beautiful and your lining is gonna be shredded and annoying.
Leather gets better with age. There aren't a lot of materials out there that do that.
We did a video with these guys from Goods of Record out in Philadelphia, they just opened an online thing. They go around the country to whatever product they sell (where it's from) and they do a video of it. They came out here for the day, on their nickel, 3 or 4 guys. Did a real nice job on it. One of the things on the video, they were talking to Lee. She goes straight into talking about patina. I don't know where she got this, or if she was talking off the top of her head or what, but she goes, "Patina is all you. It's how you carry it, it's the oil in your hands..." She goes into this whole thing, like she's inspired. She says, "Our products: the worst they look is the day you buy them." I'm thinking, "That's golden! How'd she come up with that?"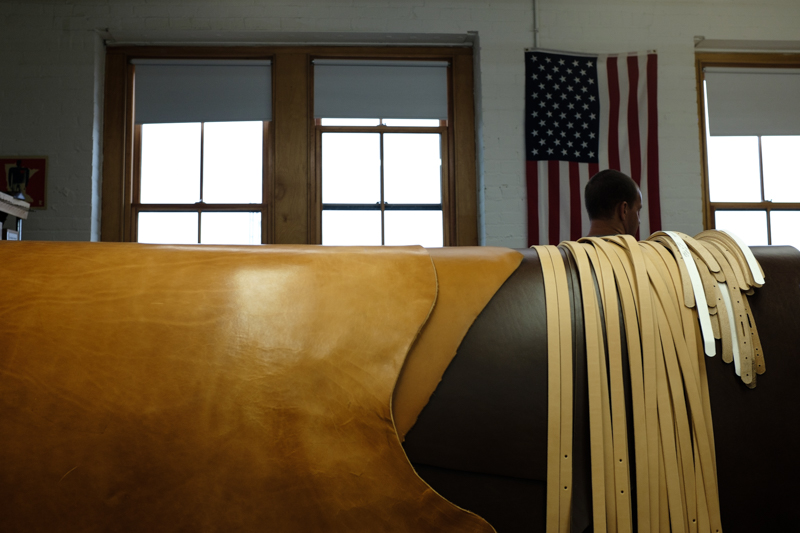 You gotta get that trademarked!
People show us how they're wearing and using their goods they buy from us. After 6 months or 2 years. Sharing it online, it helps create a buzz.
It's kinda like the denim craze I imagine. You buy the really stiff, selvedge denim from some bonkers mill or something, never wash them and show em' off a few years later. "Here you go!"
We're buddies with all the guys at BlkBlu. I bought my first pair 2 years ago. I've been breaking em in. I told them I can't do the "not-wash" thing. I'm sorry.
You gotta put them in the freezer! That's what it's for.
I said there was a Grizzly Adams show back in the '70s – there was a mountain man would never take his clothes off, ever. In the spring when the ice would come off the creek he'd go lay down in the creek for like a second. He'd just dip and get out. That was his bath for the year! In his fringed deer skin clothing!
That was the guy who actually hung with the grizzly bear right?
Yeah. [laughs]
So you guys think about, or is it a conscious thought about where you're taking this company? Do you have a direction planned?
I wish I was that guy. I think Nathan might be that guy.
He works for you, so I think you're good to go.
I'm getting old. I might be working for him pretty soon. I do enjoy making the products. I have a creative gene, and see something and say, "Yeah, that would be a good product for us," or, "That would be a good leather." Or sling shots! You wouldn't believe – we sell, oh my gosh. People buy these things like crazy.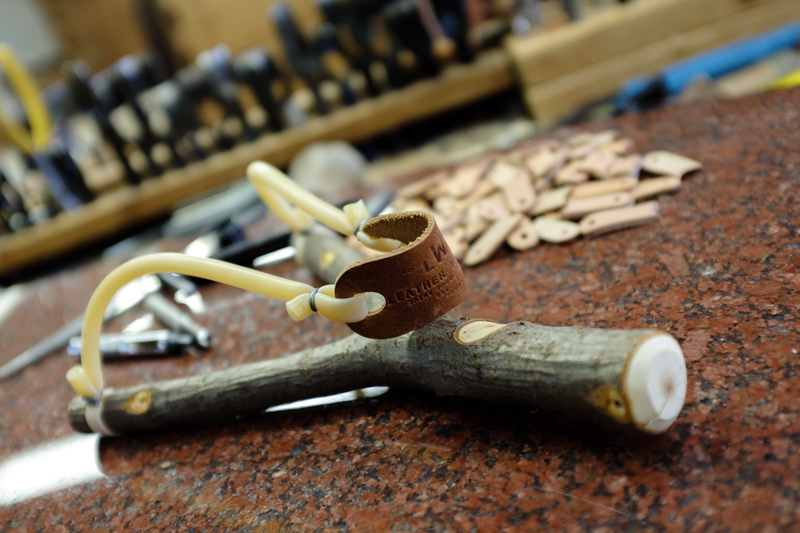 That's rad. That's a really old fashioned item that should never go out of fashion.
And it's kinda dangerous.
It's fully dangerous. That's why it's awesome!
We've talked about putting a card in [there], "Don't put a rock in here. Don't pull it back. don't..." We tell people it's for display purposes only. Hang it in your cabin. You know they're shooting beer cans off the end of their dock.
That might just give people ideas. You tell a 12 year old what not to do and that's exactly what they go do first! Oh man, as kids we had tons of weapons, we had nunchucks and blowdart guns. My dad was in the army and he came back from the Philippines with a sword and a blowdart gun. Here I am, 9 years old and I have my own blow dart gun. I'd wait to mow the lawn so the grass gets really long. I'd lay a piece of cardboard down and just sink down in the grass in the yard. I'd just sit out there waiting for birds and squirrels and stuff [makes shooting noises].
Those were the days.
Something I didn't think about till I got here, but the neighborhood is changing a lot with the LRT and the new stadium. Do you have any feelings about that?
See, there again, we had no idea what was going on down here. Now we have Light Rail, Union Depot is done. They say the Saints Stadium is going to bring an extra 400,000 people down here during the season.
I live right next to the Twins Stadium, it's ruthless. Times, they are a-changing.
I bet. And the beautiful farmers market here, what's happening is that the parking is getting pushed back. It's getting more expensive. Our rent will likely go up.
Do you have any interesting tales of dealing with big business or just people or groups these days that you never had to before?
What's funny is that we get people saying "Hey, who's your PR people?" I'm like, "I can't help you. I don't know anything about that." Like, we get requests to speak – I'm speaking at the American Craft Council next month. They said I have to have a Powerpoint. [laughs] I was like, "I don't know."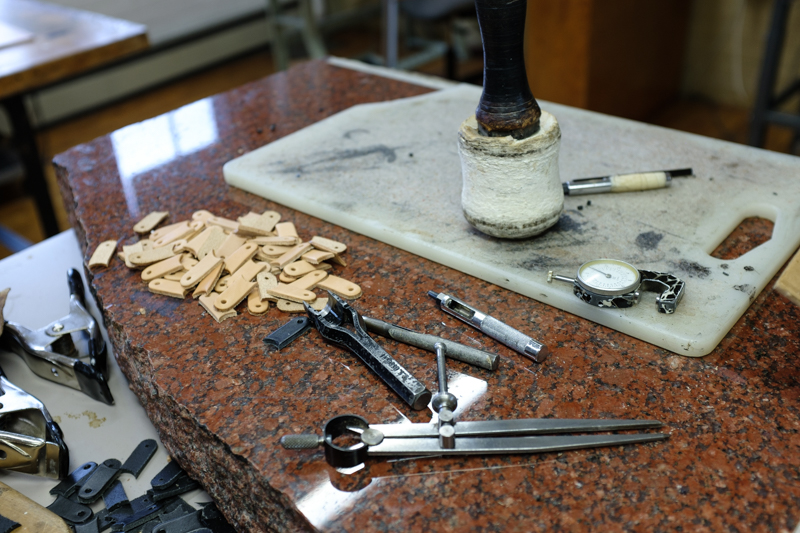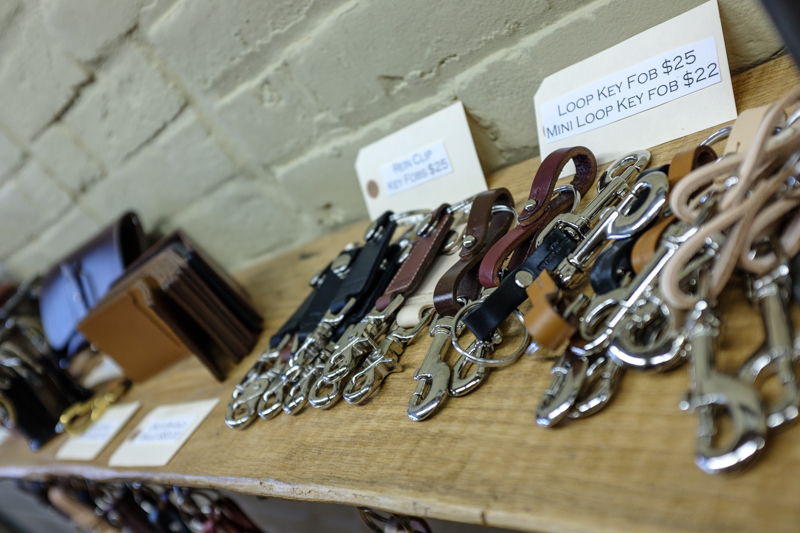 You tell em'! "I don't do Powerpoint!"
Nathan is gonna make one for me. But they just want to know how to bring your craft to market. I'm just gonna tell em, "Do what you love and stick with it." We did other things over the years to survive. When the 35W bridge fell down in Minneapolis,  I used to work in a steel place down here in Newport and they needed help. They got the contract to cut all the rebar for the rebuild and they had to get it done in a year. I was down there working nights cutting steel. Had to pay the bills. And I didn't quit doing leather. But you gotta do what you gotta do to stick with it.
I think that's a good way. Figure out what you love and just keep doing it. It has to happen. I think in your brain you just pick a path and you're in it to win it. There's no other option.
I had an older guy give me great advice once. He was asking me, "Oh, you're in business. Do you do anything else?" I told him I really didn't have a Plan B. He said, "That's the only way to go into business. If you have a Plan B in the back of your mind, you'll always default to that as soon as the going gets rough."  I think that was helpful. I guess the proof is in the pudding. They say it takes 3-5 years to establish a business. I thought I'll work hard and do it in 2. It took about 12.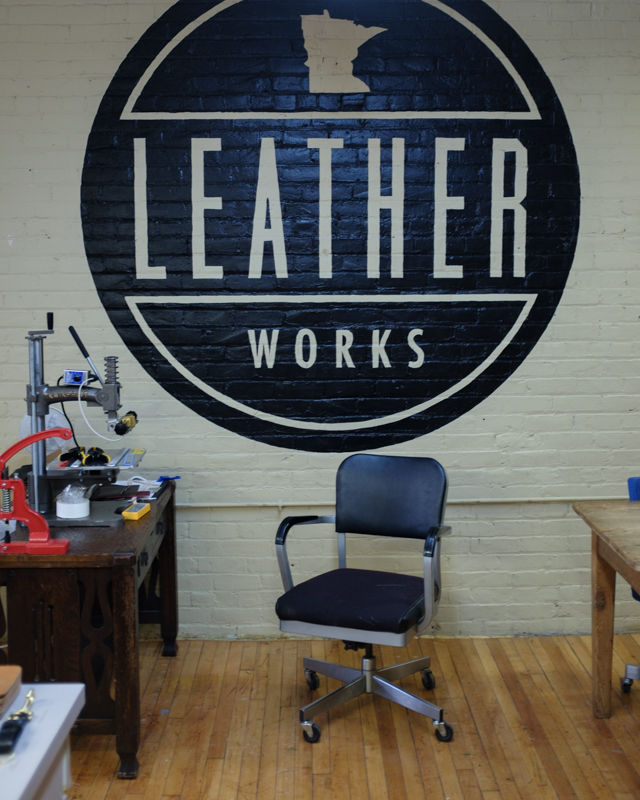 ::