"We just want people to feel a part of our community. That's kind of what streetwear is about—what it's based on," says Joe Villareal, the oldest of the trio behind streetwear brand Kingship. Kingship was born out of the passion of the three brothers—Joe, Nate, and Matt (22, 19, and 17, respectively)—who set out to create a brand that felt representative of their collective experiences growing up, but accessible to outsiders. The brand—which is self-described as a "cultural project" inspired primarily by sports, music, and art—has become a way for the three to connect with others and foster a feeling of kinship among fans of the project, which comes as no surprise because the formation of their brand began with, quite literally, a brotherhood.
Humbled by the experiences that led them this far in a competitive and highly saturated streetwear market, the brothers looked inward for inspiration, relying on their own personal narratives and interests. Which is why when they sent us their latest lookbook—an ode to the '50s diner era, car clubs, and their own Mexican heritage—we were intrigued and wanted to chop it up with them and learn their story. Here's what 2/3rds of the brothers, Joe and Nate, had to say about their brand, what Kingship represents to them, and how they've hustled while being full-time students.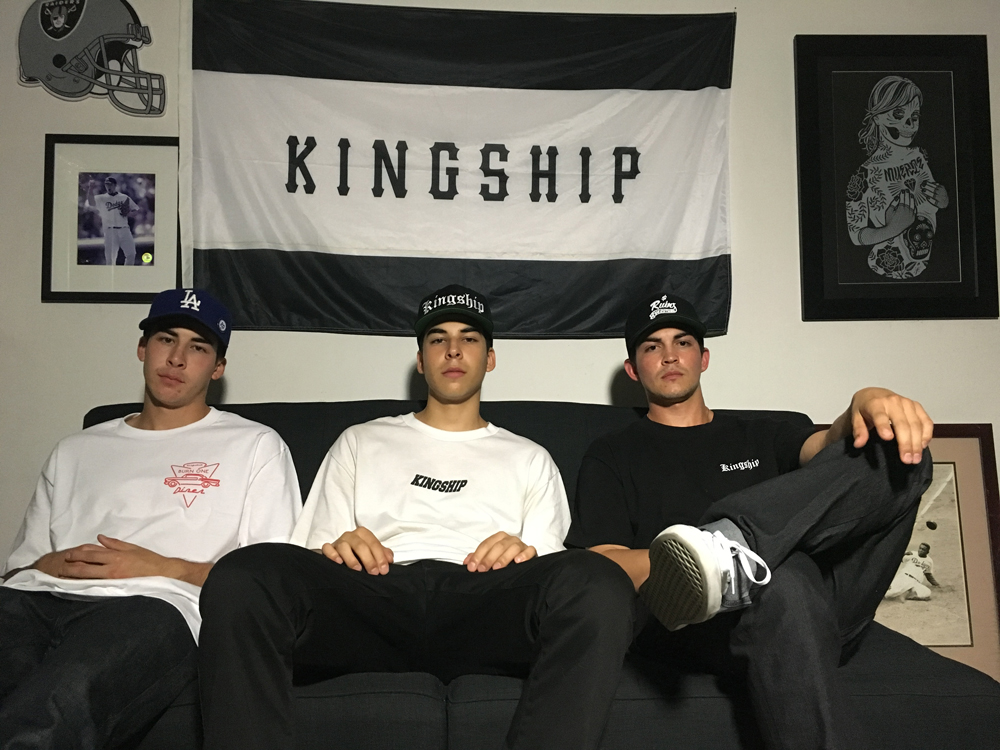 Nate, Matt, and Joe of Kingship.
How did you guys decide to start Kingship?
Nate: We first got into selling shirts when me and a couple of my friends came up on some shirts and sold them around school. Just doing that, once we were finished with all those shirts, we came up with the idea to [make shirts]. This was when I was a freshman and [Joe] was a senior in high school. So we started the brand after that.
Joe: Yeah, we just decided to. I was like, "Hey, let's flip these shirts at school"—sell them out of the trunk and all that. I was working at In-N-Out and then I was like, "I'm tired of working here. I want to do something else." So we just decided to come up with our name and sell.
Does being a trio of brothers make it feel like you are welcoming others to your family through your brand?
Joe: Yeah, of course. Mi casa su casa. We always try to make new friends and are open about that fact because you can always learn something new from someone with a different story and background. At the end of the day, it's all about family though, and with Kingship we hope that people will understand that.
And how did you guys come up with your name?
Nate: We came up with Kingship because the definition of that is like the position of a king and our last name is Villareal, which is Spanish, meaning "royal village." So we put two and two together.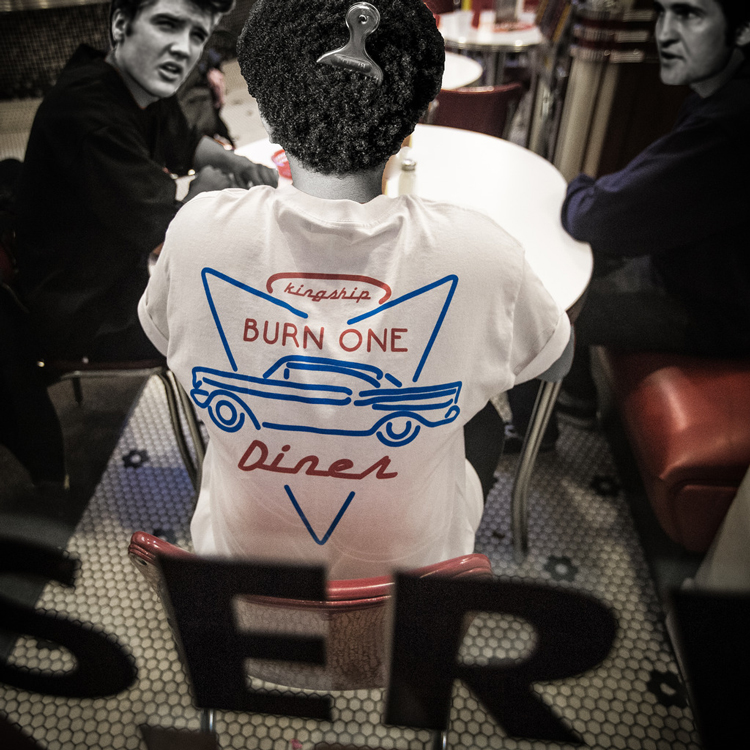 From Kingship's Summer 2016 lookbook, shot by Jordan Wozniak.
How has growing up in the Inland Empire influenced the way you guys design?
Joe: The Inland Empire is a variety of people. You get your surfers who are always at the beach, your skaters, your athletes. You kind of get a mix of all these different cultures in one pile. So you learn from everyone—you pick and choose what you like. Growing up [in the Inland Empire] but being from LA, we've always gone back and forth. We kind of pick things we like from out here and took it out there. We stuck with that; more of the street style—jeans, khakis, plain colored shirts. Our group of friends and all that, we take that out there. That would be our little niche.
Nate: But it was always kind of hard because a lot of the kids weren't really into streetwear and stuff. There's not really much to do, not really much of a solid culture. So we kind of really pick our own stuff.
"[The Inland Empire] also gives people the incentive to get out of there so they really have to get up, get out, and go get it."
How do you reconcile that in your brand—what does one do when there's no local culture?
Nate: The IE is crazy. No other part of the world is like the IE. Going to school and meeting other people has made me realize that there is no place like the IE... But yeah, there's not much culture down there. [It's] not a bad thing; it's just everyone grew up with each other and always did the same thing together. It's kind of a good thing because it keeps friends tight but it also gives people the incentive to get out of there so they really have to get up, get out, and go get it.
Why were the '50s such a huge influence for your most recent lookbook?
Nate: The cars. The cars had a bit more of an influence; we've always been into classic cars, low riders and that kind of thing. We dug more into the car aspect and saw that diner themes always have a lot of cars. So we got creative in that sense.
Joe: It all tied together—the pin up models, the diners back in the '50s, the car clubs, all that. It kind of tied together and was just a big thing back then.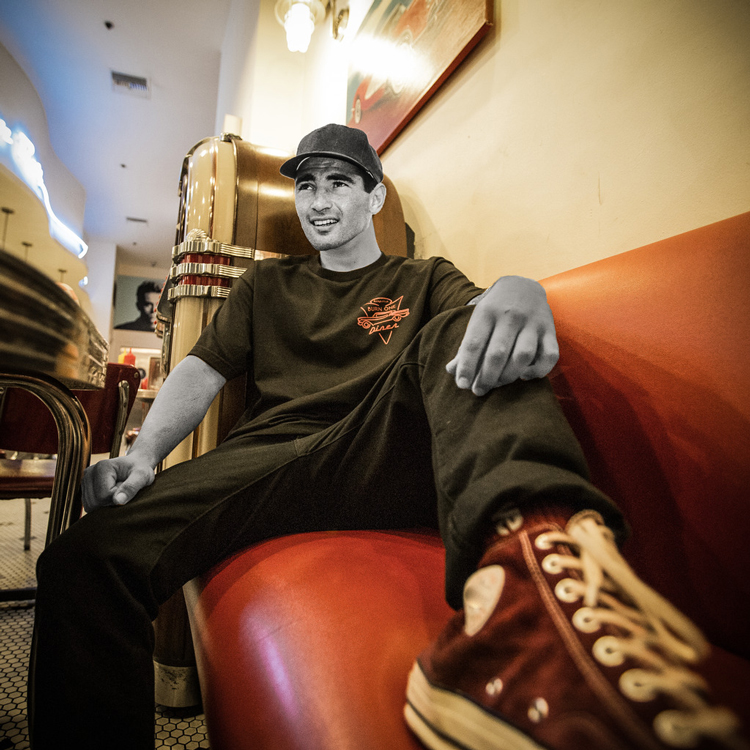 In your description of the lookbook you sent us, you wrote, "Roll out in our club jacket, bumping those oldies in your chevy, and burn one"—what does that moment in time mean to you? Why do you relate to the spirit of that era?
Joe: "Roll out in our club jacket" comes from our previous collection [as well as] this one. We made a shirt that related to the song "Born to Roll" by Masta Ace because that song and music video are hard—shout out to Joe Blaske on that one.
Our Tia from my mom's side used to play oldies around us and she would show us different songs from this era. [She also] told us stories about when she would go down the boulevard with her boyfriend and how she only dated him for his car. We'll bump oldies from time to time; that music is good for the soul, you know. And in the diner era, "burn one" used to mean put a burger on the grill—but if you haven't figured it out yet, we used it as a double meaning.
You said that Kingship is "very much tied" with your Mexican roots. Can you talk a little bit more about that?
Nate: Kingship is just a reflection of our lifestyle and having Mexican blood is something that is a part of our lives… We work hard in whatever we do, whether it was in the sports we played, going to school, or anything else for that matter.
Was including the low-riders and that culture a way of folding in your Mexican heritage as well?
Joe: Yes, definitely. My mom used to talk about my uncle and how he used to have Bel-Airs and Impalas and all that. She showed us pictures and we kind of liked that. My dad used to take us to car shows and that's the one thing we'd always go to—the classic cars.
Nate: It's something we want in the future, but going to college and having other expenses... it's something we're working towards [laughs].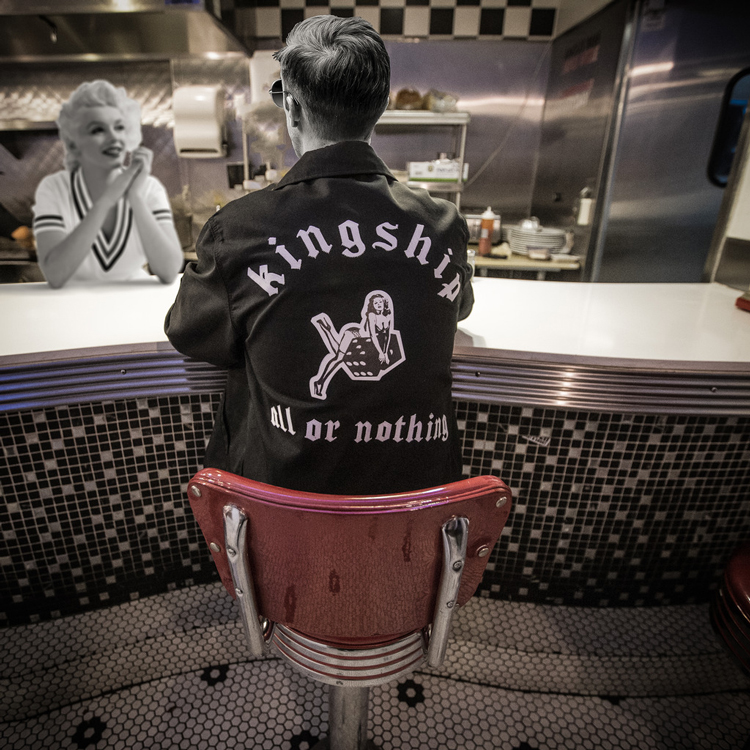 "We dug deeper into the crates to figure this collection out. All or Nothing, that's what life's about. We used the 1950s diner era to cook up this collection. Shoutout to Jordan Wozniak for having our vision come to life with this look book. Chevys, dank ass, bomb ass diner food and women. Roll out in our club jacket, bumping those oldies in your Chevy, and burn one. Enjoy."
I was reading that you guys were trying to distribute your brand through college and through your apartments at school. How does that work being a full-time student but also hustling with a brand?
Nate: [Laughs] That was hard. It's cool because through college you meet a lot of kids from all over the nation and different countries. Just telling them about our brand and the history behind it—a lot of people were into it. That was really cool to see; it kind of made it easier to sell. But it's still hard managing schoolwork and our own work.
Joe: We'd have boxes piled up in the room and have four or five other roommates. My roommate would be like, "Yo, can you move these out?" So that kind of was telling me, "Hey, are you going to sell these or are you going to leave them here?" I just had to push it—tell the kids our whole story... but I had to stop that to start working at the showroom.
So you're working with Money Ruins Everything. How has being affiliated with them helped you evolve your brand?
Joe: It helped me big time. We didn't really know that much about the industry, how it really worked or a lot of the faces. But being with them, it's helped me meet a lot of people. I've been to the trade shows, I've learned how to hit up retailers and how to sell it, and kind of how to market it. Being with them has helped us get into knowing all the basics of the industry.
Nate: It's cool because since [Joe's] got the job, his boss would invite me out to Agenda so I was able to learn all that side of the game too.
Joe: He's not just a boss, he's a really cool mentor to me and [Nate]. He helps us out with a lot of stuff and anything I have questions with he'll answer.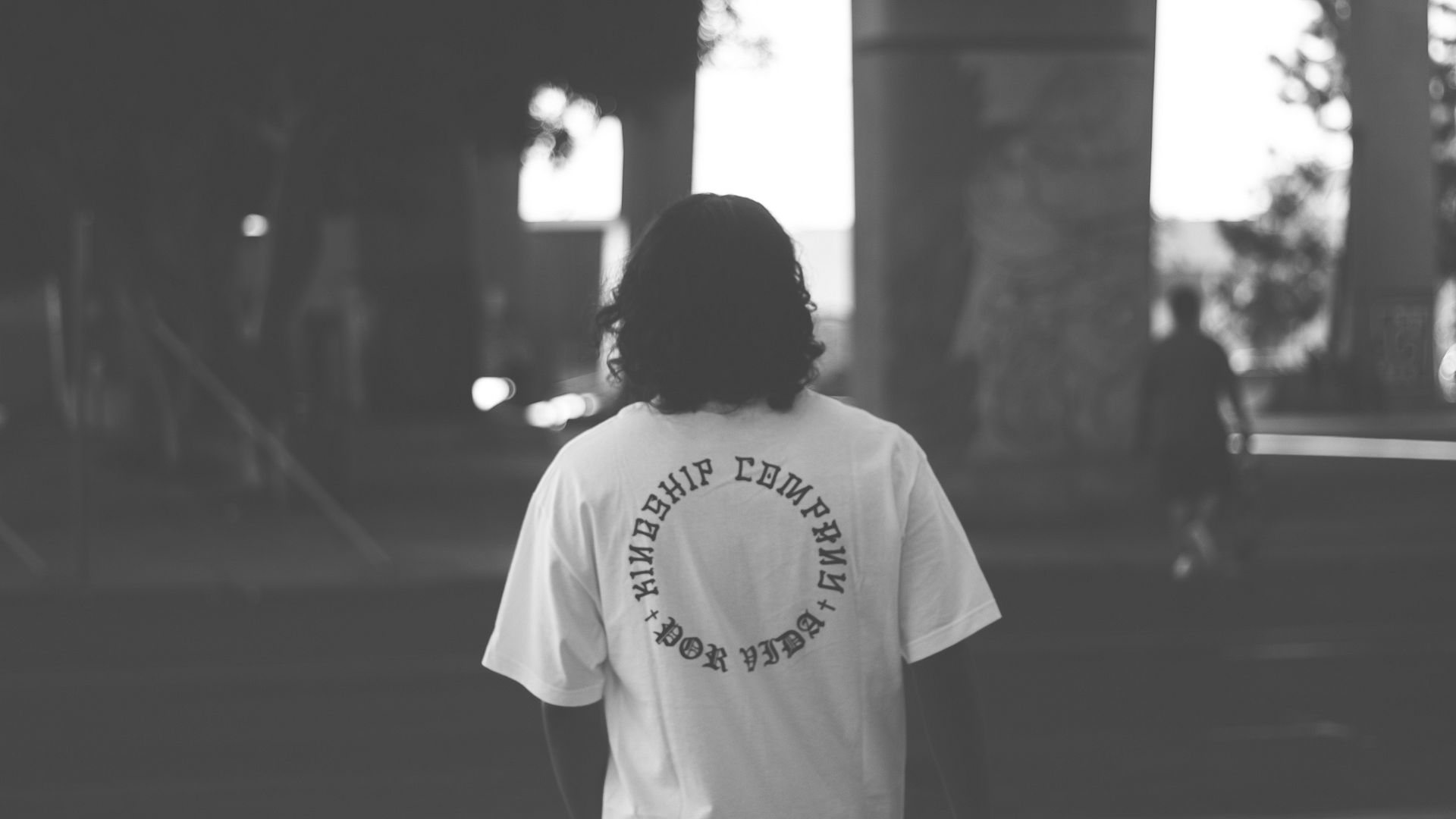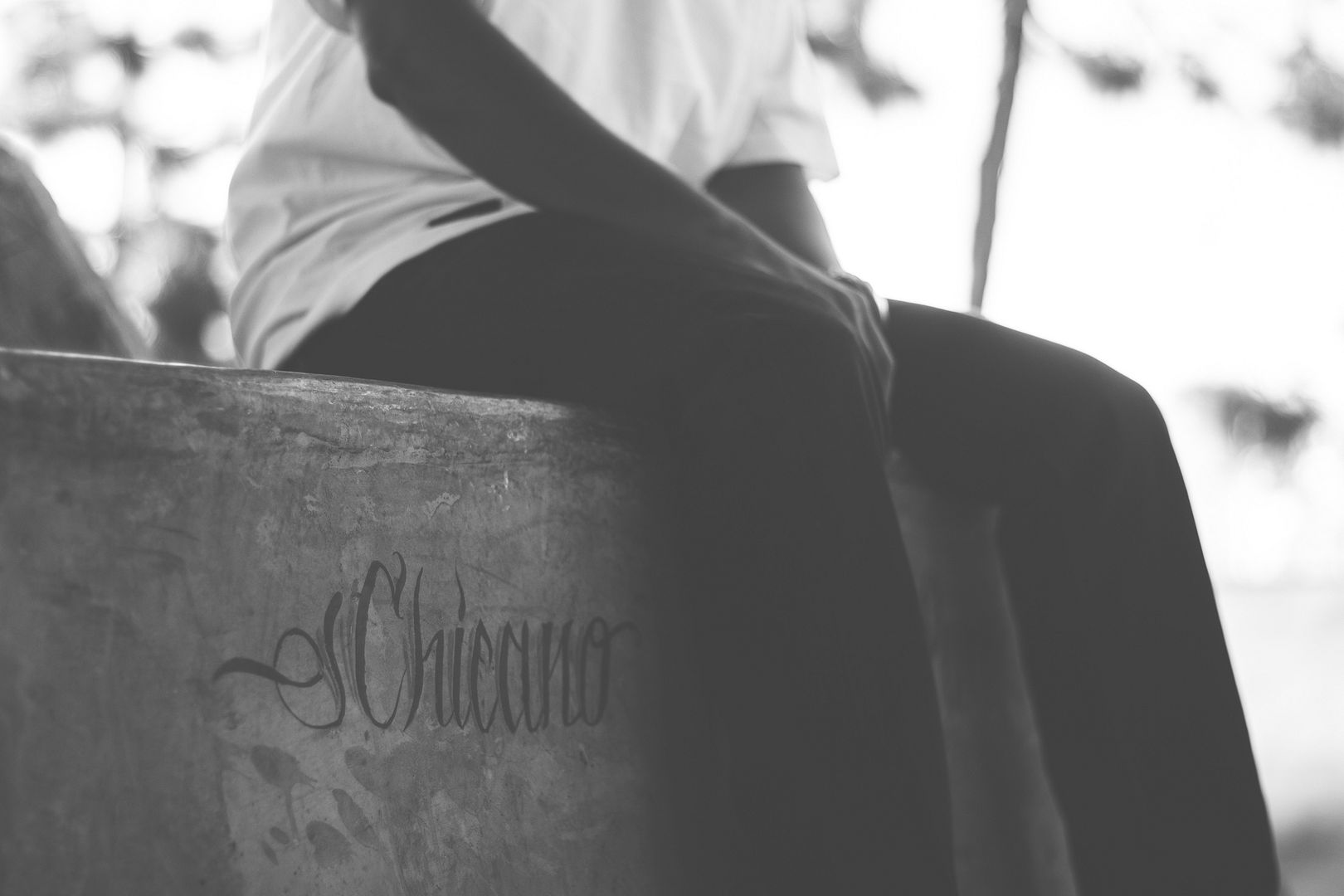 From the Kingship FW '15 lookbook, shot by Viz.
What do you want people to take away—looking at your products or your lookbook?
Nate: I'd say the name. Just be a king—be your own person. The kings and queens are kind of portrayed as a cultural symbol. I'm really into different cultures because I've traveled and all that. A lot of cultures have affected our lifestyle—so just showing people our creative mindset and different cultures, music, art, sports, different narratives. There's always room for us to grow.
Joe: There's a lot more behind just the T-shirts. It's a lot of thought, art, experiences. Like he said, we were fortunate enough to meet people to take us places and to travel to different countries and all that.
Nate: We want people to really get out there and do there own thing. Be the best at what they want to do.
It seems like you guys have created the embodiment of who you are, but also want your product to be accessible to people from the outside.
Joe: We want people to know who we are, but still be able to take from what we do and apply it to what they want to do. We just want people to feel a part of our community. That's kind of what streetwear is about—what it's based on.
***
Keep up to date with Kingship on Twitter @KingshipCo, Instagram @kingship_co, and via their website.
All photos except portrait by Jordan Wozniak. Follow him on Instagram at @j_wozy.
Words by Kat Thompson