When we interviewed Aaron Kai for the first time in 2014, we came across a young, San Francisco-based, Hilo Hawaii-raised self-taught artist with big dreams, ready to carve out his own path in the world. He told us he wanted to "build a legacy." The Hundreds and Aaron soon developed a close creative relationship. After he painted two murals at our Homebase (one of them over 56×16 feet freehand), Aaron traveled the world expanding his global renown, painting too many installations to count, and returned to a new home in LA. It was the perfect time for us to release a collaborative headwear capsule in 2016.
Time for part two. In anticipation of this Friday's release of The Hundreds by Aaron Kai collection, we chopped it up with Aaron again to see what he's been up to and where his journey has taken him. He's always dropping words of wisdom (like "Don't work for people, work with people"), so listen up.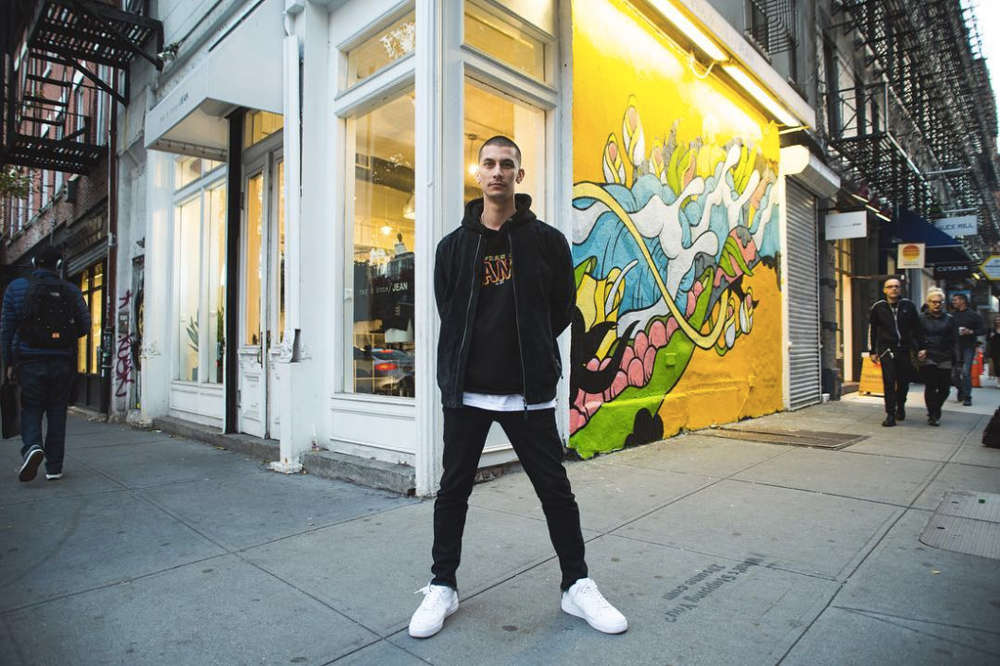 Aaron Kai in front of his SoHo mural at the Rag & Bone shop. Photo: Israel Ramos
THE HUNDREDS: Aaron, we interviewed you back in 2014 and you painted our Homebase wall soon after. Your art career has come quite a long way since then. What has happened since?
AARON KAI: I've had so much fun in the past couple of years, traveling with my friends was a major highlight. Working with Nike, making my own sunglasses with Hawkers, I also got some crazy big collabs that I can't talk about quite yet (but you'll see them in your local grocery stores, and your favorite fast food spots).
What are some things you're most proud of accomplishing in the last couple years?
I'm proud of this collaboration with The Hundreds, traveling around the world with friends. I'm proud of the infrastructure we've built, and the freedom I have via my art career.
You started drawing as a way to tune out the noise of the world around you (also because you used to get grounded a lot). Has your process/intention remained the same?
I don't get grounded anymore, so my process changed a little [laughs]. I still tune out the noise of the world with drawing and painting. My intentions changed as well—my art isn't just for myself anymore, I do it for everyone.
"My intentions changed as well—my art isn't just for myself anymore, I do it for everyone."
In our first interview with you, the reason why you drew waves initially was a way to reminisce that morning's surf session at school (which you hated). Now that you're known around the world for your pop art waves, what is your relationship with the ocean/waves?
I'm actually in Miami right now, and just got back from the beach. I took my manager Aaron Lau out for a swim. I always have fun in the waves, it brings me back to when I was a kid in Hawaii.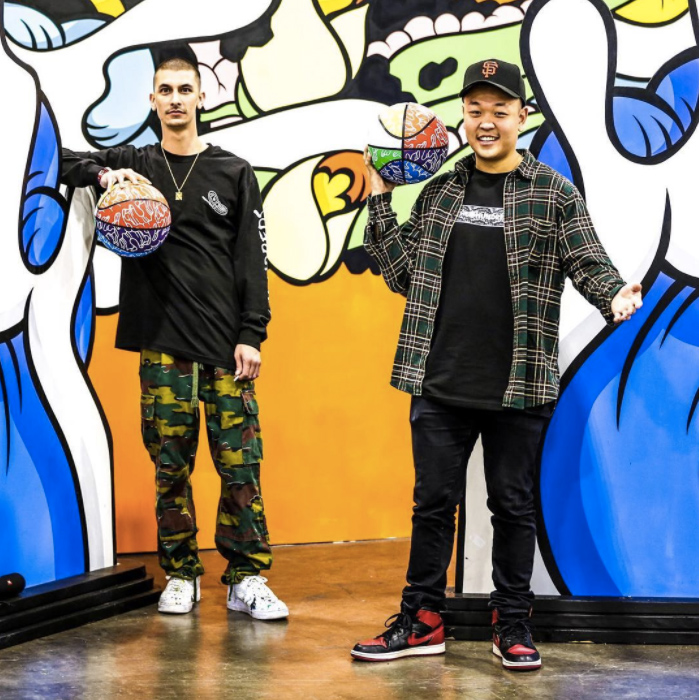 Aaron Kai and Aaron Lau wearing The Hundreds by Aaron Kai at Agenda. Photo: Tasha Bleu
A few pieces from this collection are reminiscent of a different era in streetwear when all-over print was king. Can you tell us about your personal experience of streetwear and its culture during that time?
Yes, I love the all-over prints, I love kind of "tacky," "over-the-top" streetwear. I have a bittersweet relationship with brands like BAPE because I grew up on them back when you were fucking cool if you wore them. Nowadays you got any and every jerk-off in LA, NY, ATL wearing BAPE like a safety blanket hoping it'll save their style.
Also, BAPE from 2006 has a better quality than BAPE from 2016. So we had to make some 2006-influenced pieces for this collab to bring me back to those early streetwear days.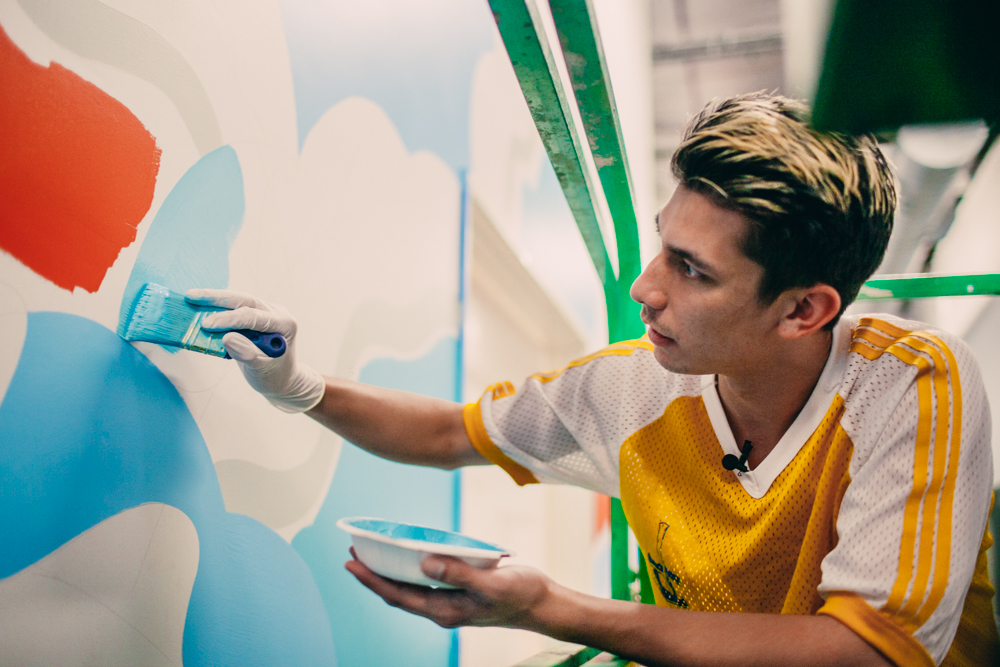 Aaron painting at The Hundreds Homebase in 2014.
This is the second The Hundreds by Aaron Kai collaboration and a lot of the pieces reflect your personal style. Can you talk a little about your approach to clothing and what you like to wear/your aesthetic?
I think the collection is very inspired by clothes that I've customized myself. I don't think of myself as a very stylish person, I'm an artist first and foremost. Naturally, I'm attracted to pieces that are fun and bright like my art. If I could, I would wear an all-over print "Waves" sweatsuit all day (maybe 10 color ways).
Can you tell us about your design process and inspiration behind some of the pieces from the collection?
Man… it was a very long process due to the quality of each piece. We kinda went back and forth and sent actual canvas artwork to The Hundreds and sent over inspiration and clothes that I actually had made myself. It was all such an organic process because these are my friends I'm collaborating with.
BTS: AARON KAI X THE HUNDREDS LOOK BOOK! COLLECTION DROPPING 3/17/2017 ? #styledbykaemi pic.twitter.com/es84hGx0ja

— KAEMI (@kaemi__) March 12, 2017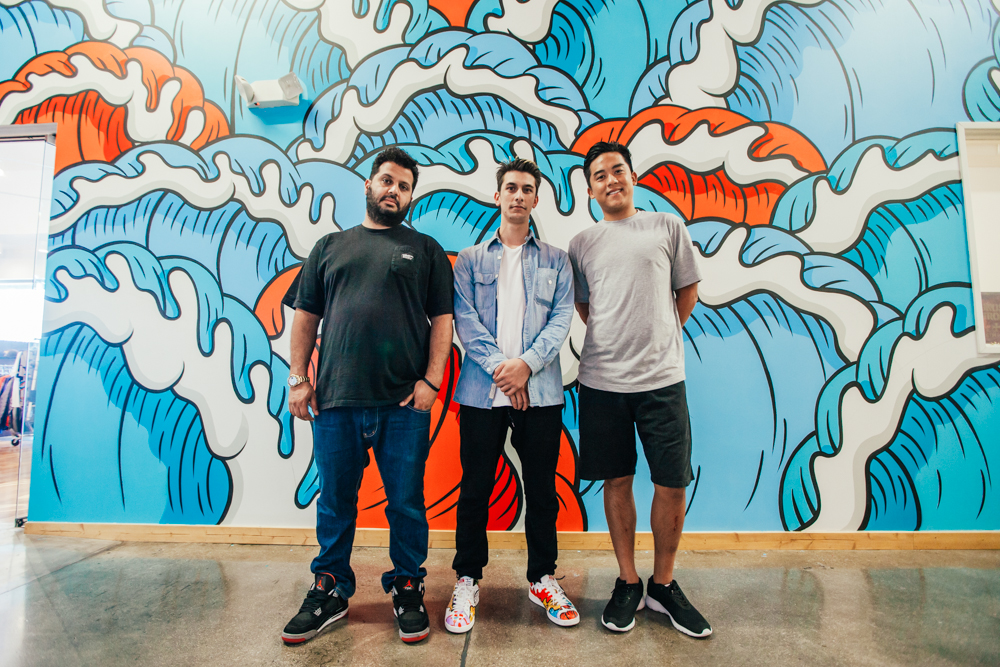 Aaron Kai with Ben and Bobby Hundreds in 2014.
We've come full circle with you—from founders and family of The Hundreds being big fans of yours to now having this second collaboration. Can you tell us about your relationship with The Hundreds? You said before that Bobby Hundreds is your streetwear dad [laughs].
Ben and Bobby are like my dads, my uncles, my big bros, so working together is always fun and easy. I feel like I don't need to explain much to them for them to get my vision.
"It was all such an organic process because these are my friends I'm collaborating with."
You like sticking to a limited color palette. In our 2014 interview with you, you said: "To me, it's like getting an eight pack of crayons and you gotta work with what you have. I also like heavily-contrasted colors like red and blue, because it clashes so bad that you're forced into looking at it." Can you talk about your approach to color/philosophy again?
I honestly don't know how I choose colors, I have an idea, but it's a feeling. I can hear, taste, and feel colors, so I can look at the black outlines and fill it in. I still stick to those limited colors, I still don't like bland colors, browns and tans are boring to me. Like the new Kanye West palette irritates me. Kanye in 2017 irritates me.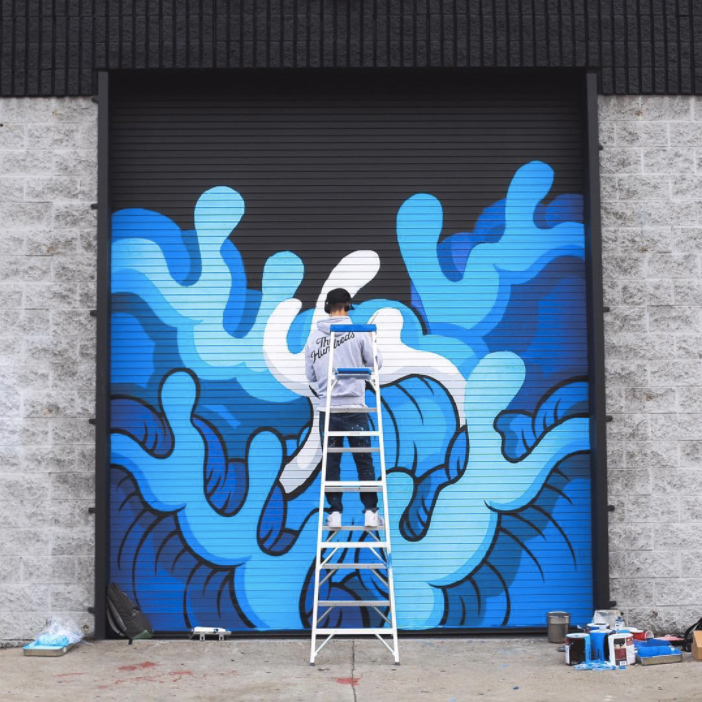 Aaron painting a mural in Downtown Los Angeles.
Now that you're at a new stage in your art career what are your goals for the future? 
My goals are to travel more, I want to paint some big walls that everyone can see. I want to go back to Dominican Republic and paint as many walls as possible because I love that place. I want to spread art to the corners of the world who don't get to see great art. I want to paint waves in Cuba, Haiti, Puerto Rico, Jamaica, etc.
"Don't work for people, work with people. Find quality people who truly believe in your vision. Trust your vision."
What advice would you give to young self-taught artists like yourself?
Have fun! Create a brand for yourself. Don't work for people, work with people. Find quality people who truly believe in your vision. Trust your vision. Meet people and build relationships. Show your art to people who want to see it, and find people who will help you get your art out. Treat people well, and admit when you're wrong, but stand up for yourself when you know you're right. Don't let anybody take your art from you—because that should be your soul.
***
Follow Aaron on Instagram @aaronkkai and Twitter @aaronkkai. Photos via Aaron Kai's Instagram or property of The Hundreds.