When we interviewed Aaron Kai for the first time in 2014, we came across a young, San Francisco-based, Hilo Hawaii-raised self-taught artist with big dreams, ready to carve out his own path in the world. He told us he wanted to "build a legacy." The Hundreds and Aaron soon developed a close creative relationship. After he painted two murals at our Homebase (one of them over 56×16 feet freehand), Aaron traveled the world expanding his global renown, painting too many installations to count, and returned to a new home in LA. It was the perfect time for us to release a collaborative headwear capsule in 2016.
Time for part two. In anticipation of this Friday's release of The Hundreds by Aaron Kai collection, we chopped it up with Aaron again to see what he's been up to and where his journey has taken him. He's always dropping words of wisdom (like "Don't work for people, work with people"), so listen up.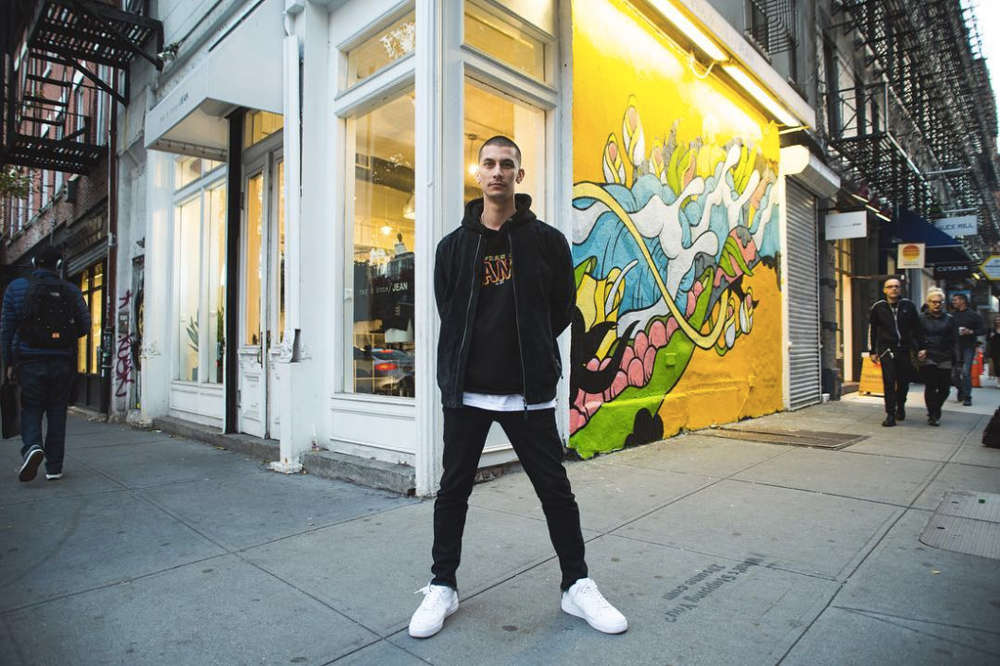 Aaron Kai in front of his SoHo mural at the Rag & Bone shop. Photo: Israel Ramos
THE HUNDREDS: Aaron, we interviewed you back in 2014 and you painted our Homebase wall soon after. Your art career has come quite a long way since then. What has happened since?
AARON KAI: I've had so much fun in the past couple of years, traveling with my friends was a major highlight. Working with Nike, making my own sunglasses with Hawkers, I also got some crazy big collabs that I can't talk about quite yet (but you'll see them in your local grocery stores, and your favorite fast food spots).
What are some things you're most proud of accomplishing in the last couple years?
I'm proud of this collaboration with The Hundreds, traveling around the world with friends. I'm proud of the infrastructure we've built, and the freedom I have via my art career.