We're teaming up with New York's finest, Katz's Delicatessen, for a special pop-up shop over a century in the making.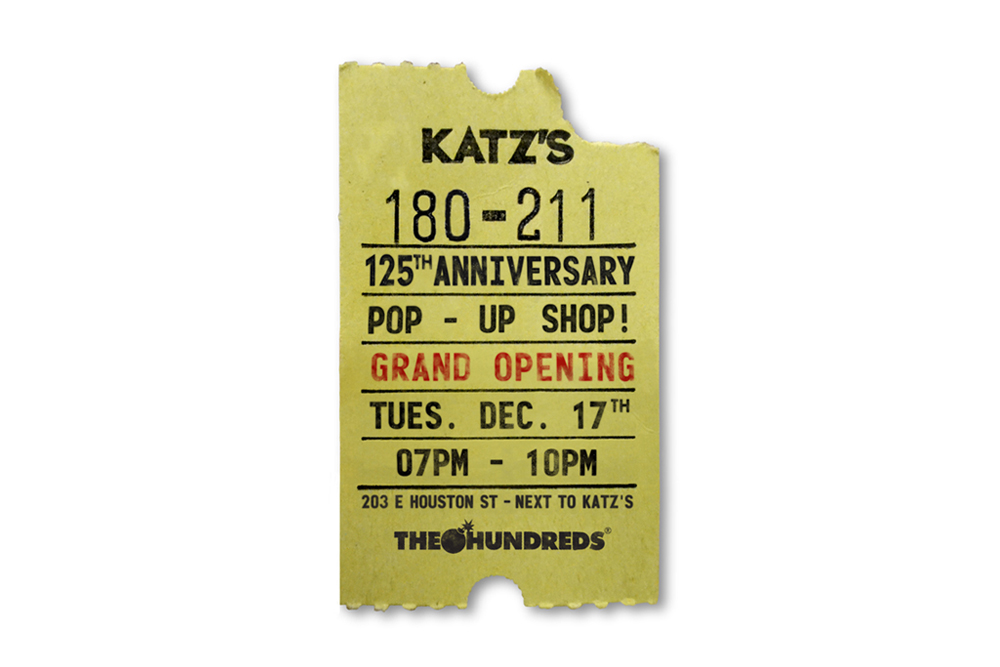 The Hundreds is pleased to announce the release of the "The Hundreds X Katz's Deli" limited edition collection, available exclusively at The Space (located at 203 East Houston Street, NYC 10002, next door to Katz's Deli) beginning Tuesday, December 17th, 2013.
Katz's Delicatessen is a New York City landmark specializing in serving up kosher style deli fare. Since launching in 1888, Katz's has consistently ranked among the best eateries in New York City, and continues to attract flocks of new diners from around the world each week.
In honor of its 125th anniversary, Katz's Delicatessen has opened up a seasonal pop-up at the adjoined The Space, which has previously played host to such collaborators as Vashtie and A-Life. Along with the full range of "The Hundreds X Katz's Deli" product, the pop-up will also carry assorted Katz' Deli inspired merchandise designed by streetwear's elite, as well as showcase photography by New York-based artists Levi Mandel (levimandel.com) and Ricky Powell (rickypowell.com). The shop will be up and running from Tuesday, December 17th, 2013 to Sunday, January 5th, 2014, with a special opening reception taking place the evening of Tuesday, December 17th, 2013 featuring live dj performances, food, and drinks.
The collection encompasses two graphic tees, a crewneck, a beanie, an apron, a carving fork, and mustard bottle – introducing new original graphics and assorted "The Hundreds X Katz's Deli" branding throughout