Years ago, when photographer Jeremy Deputat was still learning his craft, he used to make fake press passes in order to shoot musicians at their live shows. It wasn't always easy—Marilyn Manson spit on him on stage, and Ice-T doused him in champagne. "I used that shit as boot camp," he explains, "trying to figure out how the camera works and, and at the same time, navigating the industry and making connects so when I was able to shoot a decent photo, I already had a relationship with a lot of these dudes. It was great, I was able to get access to some huge celebrities and started shooting non-stop and building my book."
Today, Jeremy's book includes intimate portraits of music icons such as Eminem, Mayer Hawthorne, and 50 Cent, and his work has been featured on multi-platinum album covers and in magazines such as Billboard, Rolling Stone and Spin. Most recently, Jeremy collaborated with Kid Rock on the 176-page coffee table book, I'm Kid Rock, What's Your Excuse, which sold out immediately.
On July 18, he will present his first solo exhibition, Nothing is Forever, at Inner State Gallery in Detroit. In addition to the iconic portraits he is known for, the exhibition will also include photographs from his travels. "I have always gravitated towards shooting landscapes, cities and people," Jeremy says. "I just think it's natural to want to explore and document other cities and cultures if you're a photographer. I'm always making pictures in my head, and whenever I have the opportunity to capture what I see, I try to do it."
In this interview with The Hundreds, Jeremy discusses his upcoming exhibition, his favorite portraits, how Detroit has influenced his photography, his most memorable trip, and more.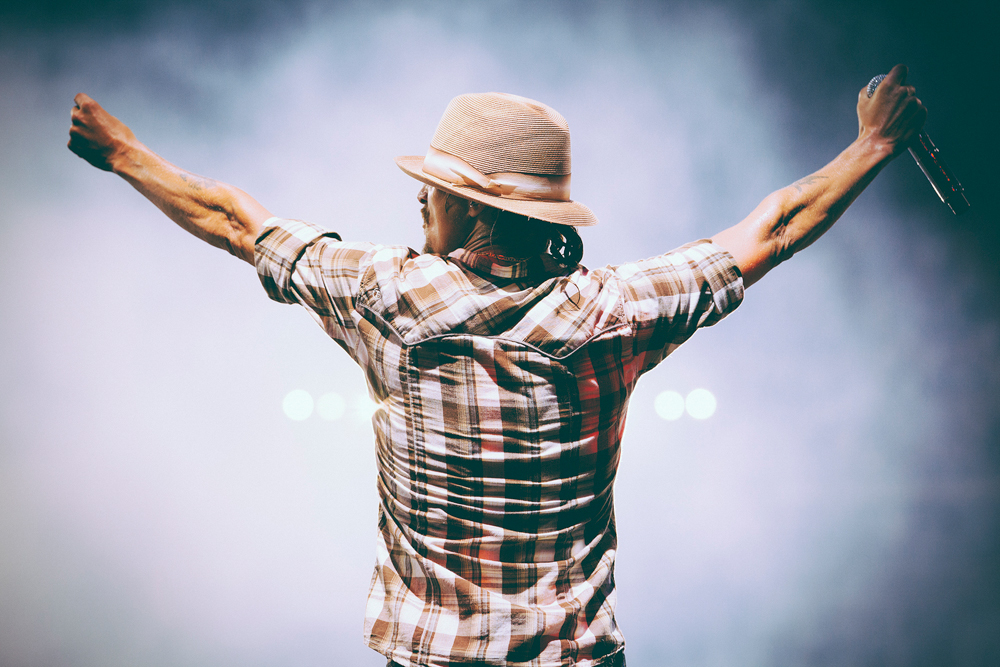 Being from Detroit, was it important that your debut exhibition be held there?
Yes, very important! I've shown in a few group exhibitions before in Los Angeles, but this is my first solo show. I've never really been too excited about showing my work. If you know me, you know I'm a pretty low-key dude. I like to fly under the radar when at all possible. I just want to create and put it out there and move to the next project. Over the years, I've had countless people ask to host an exhibit of my work and I've always turned them down. I just would rather be creating. Finally, I was like, "Okay, let's do it, let's pop it off." It just made sense for me to do it with Inner State, rather than another gallery in N.Y. or L.A. At least for this initial exhibition, I wanted to kick it off in Detroit. This is my home and the city that made me.
How did you get into music photography?
Back in the day, I used to make fake press passes to get my camera into shows, and definitely had many nights of dodging security trying to shoot. Marilyn Manson saw me on the stage shooting him and dude kept spitting on me, and that sucked. Ice-T sprayed me with a bottle of champagne. I was just hustling and using that shit as boot camp, trying to figure out how the camera works, and at the same time, navigating the industry and making connects so when I was able to shoot a decent photo, I already had a relationship with a lot of these dudes. It was great, I was able to get access to some huge celebrities and started shooting non-stop and building my book.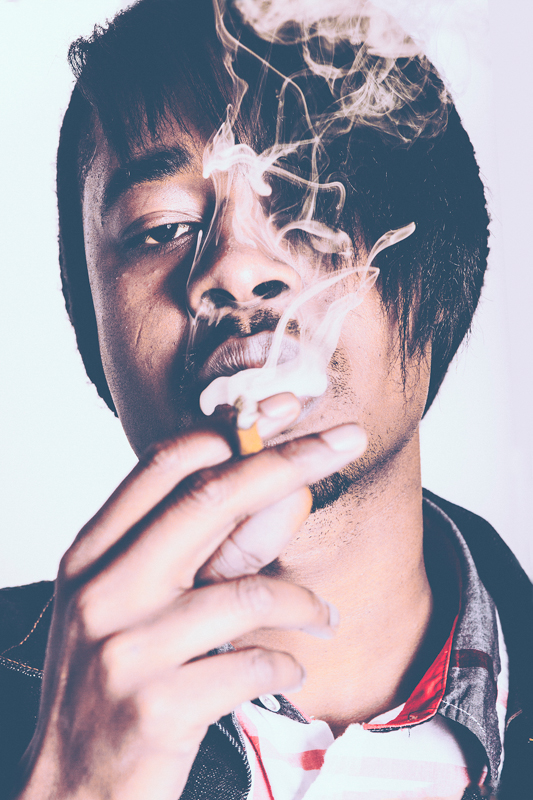 What is your favorite portrait in the exhibition and why?
Well, I have a few, and all for different reasons.
Eminem: I captured this photo of Eminem in the booth while we were shooting the video for "No Love" in Los Angeles. I think it's so special because you don't typically see Em in the studio. We were in the Record Plant in Hollywood, Just Blaze produced the track and can be seen from behind at the mixing console. Just Blaze and I were geeking out about cameras. I think we had both just bought the new Canon 5D. I've always been a fan of Chris Robinson, who directed the video. It was amazing to be able to create visuals along-side two legends—one in the visual world and the other in the music industry.
Mayer Hawthorne: Yo, this shot is so crazy to me. I had worked with Drew a few times during his hop-hop career as DJ Haircut and when he played me a few demo cuts from this album in the beginning stages, I was blown away. He hit me up to create the visuals for the packaging and I knew right away we had to shoot at Café D'Mongos. I hit up my homegirl and frequent collaborator Angela Wisniewski to style him and she basically created the whole Mayer Hawthorne character, which was born that day is 2009 in Detroit. I have worked on every album he has released since then, and really enjoy working with him. He has a strong graphic design background and is a really visual person. When we get together to create anything, it's always fire.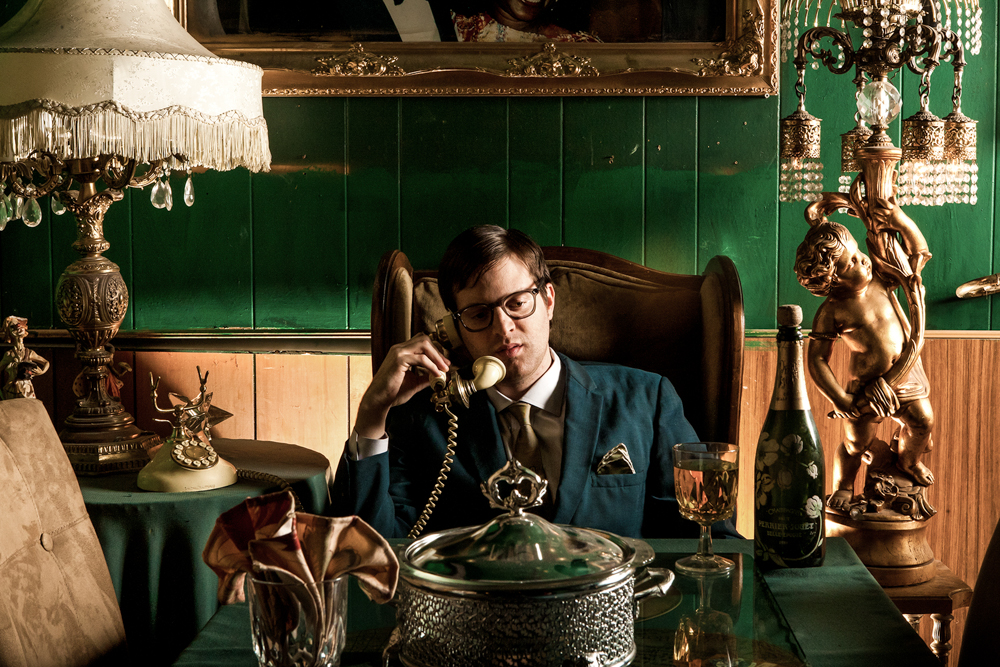 50 Cent: This is one of my favorite portraits I've shot recently, possibly ever. I still remember getting the call to shoot him. He was in France, I think, and was flying straight from some party on his jet to Detroit, to go straight to our shoot. His manager called me while I was on my way to the location and said 50 was already there and ready to go. That was the first time ever in my entire career that a rapper was actually early to the shoot. 50 isn't your normal hip-hop artist, though. Even through all his success and everything he's accomplished, he's still hungry, excited to work, and very professional. We chopped it up for about 20 minutes, ate a sandwich, and started shooting. He was cracking jokes the entire time and had the biggest smile ever. I could tell he was a solid dude. Hopefully, we will get the chance to work together again.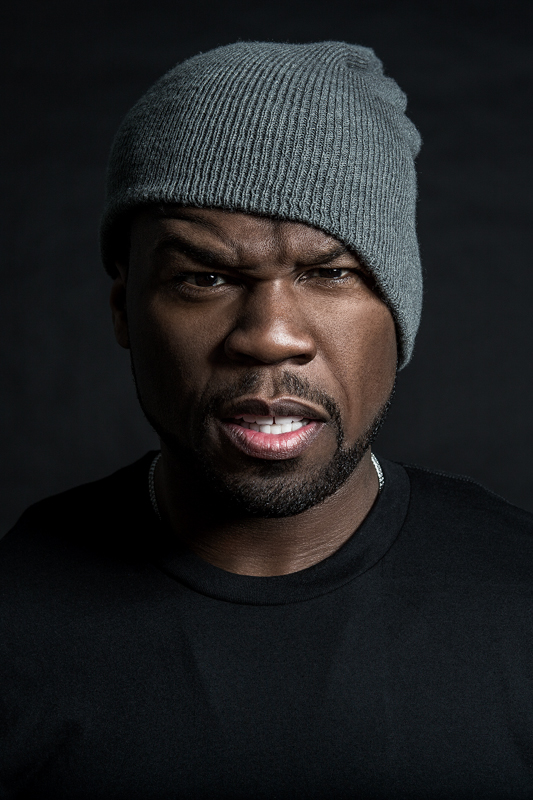 In addition to the portraits, the exhibition includes travel photography. What attracts you to shooting landscapes and cities too?
I would say it's more on the street photography tip. Travel photography seems like I'm shooting hotel interiors for Travel + Leisure [laughs]. I usually have a camera with me everywhere I go, and have always gravitated toward shooting culture, cities, and people. I enjoy exploring and documenting other cities and cultures while I'm in different parts of the world. I spent the past week in London shooting Eminem's shows at Wembley Stadium and just flew into Amsterdam this afternoon. I haven't slept in two days, and immediately grabbed the camera and hit the streets. Sleep wasn't even an option. Traveling inspires me so much, I'm blessed I can travel the world and shoot people and create shit. If I'm in Japan or Africa for two weeks, why would I not try to learn about those cultures and shoot portraits of interesting people and street scenes? I'm always making pictures in my head, and whenever I have the opportunity to capture what I see, I do it.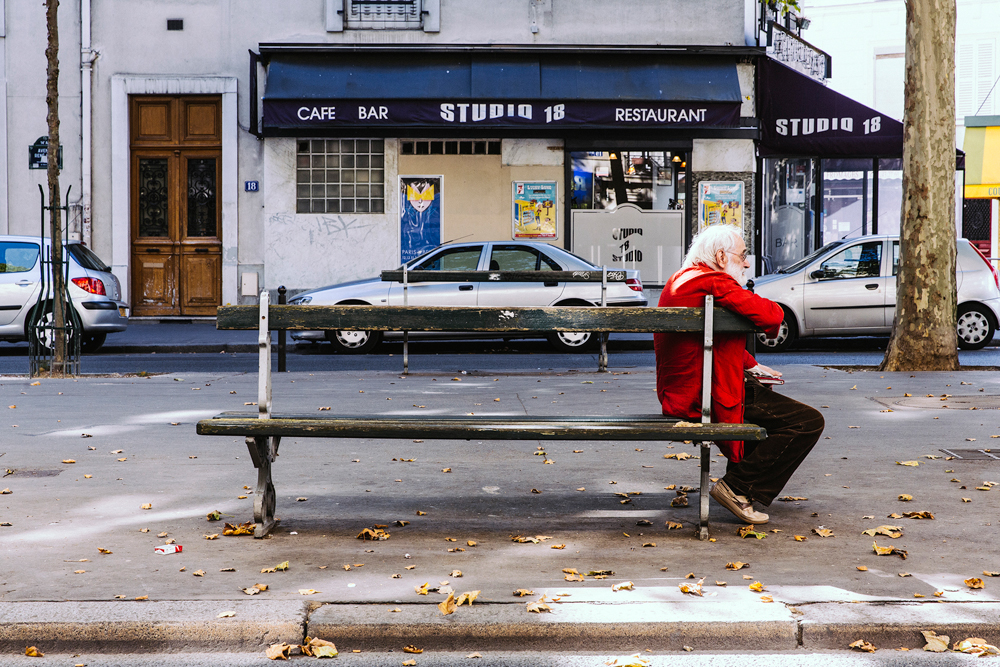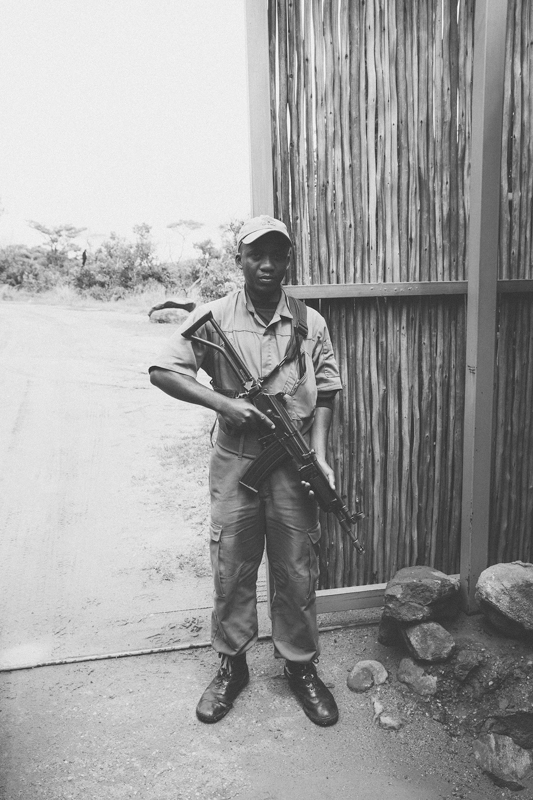 What is the most memorable road trip you have been on?
That's a hard question. All of my travel has been amazing just for the fact I get to meet and interact with people that I wouldn't normally have contact with. I think the more you travel and experience other cultures, you really grow as a person and understand life more. Probably the trip I enjoyed the most was when I traveled to Australia and Africa this past February With Eminem. I've been working with him almost six years now and have become great friends with his whole crew who are like family to me. We spent a month in Australia and South Africa and it was an amazing journey with great people. Africa is so different than the USA in so many ways, and it was so dope to be able to kick it with the locals, play with tiger cubs, watch elephants in their natural habitats, etc. After all the shows were done, a few of us went on a safari for a few days and that was an amazing experience. I posted about it a few months back on The Hundreds—check it out! But yo, I love Paris as well. The architecture of that city is so crazy. When they rebuilt it, you could tell they spent so much time on details, everything was designed so meticulously. There is a law there that no building can be higher than six stories, so the entire city has unobstructed views from one side to the other.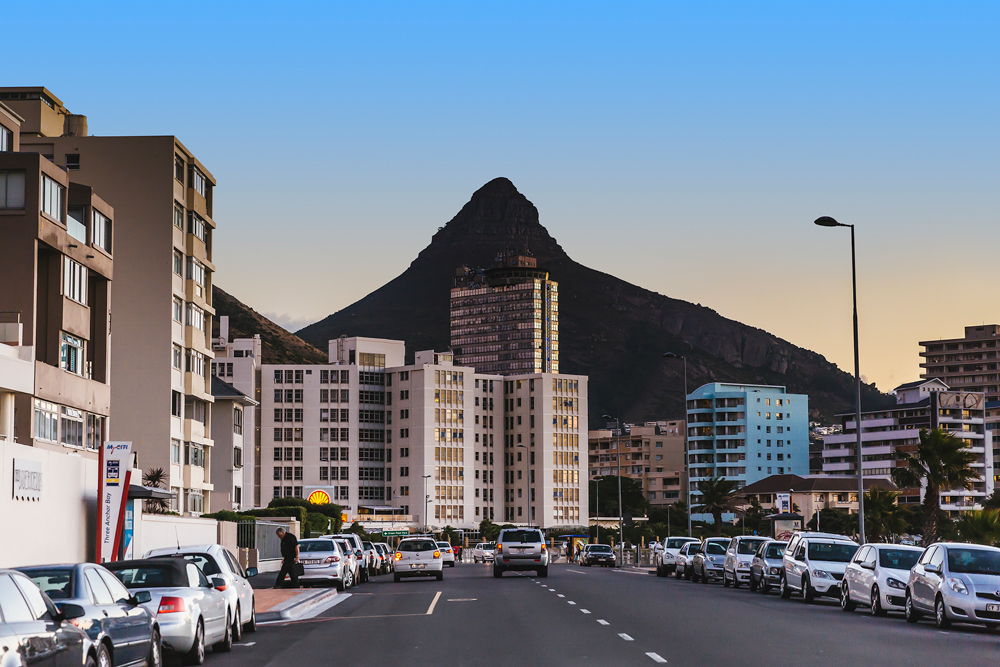 Why did you choose the title Nothing Is Forever? Does it have to do with being able to preserve a fleeting moment on film?
Absolutely! One of the things that initially intrigued me about photography is the fact that I can capture a slice of time, something that will never happen again, and file it away. Everything comes to an end eventually; enjoy it while it lasts. It's so dope to me that I can freeze that moment and go back to it, or learn from it, and put myself right back in that situation when I captured it. It's like some Total Recall shit to me. That moment will never happen again, but you can still feel the energy.
I've never offered my prints for sale either, so this is huge for me to be able to offer some selected work to collectors. Every photograph from the show is available in a limited-edition of 21 prints, signed and numbered by me. Aside from being to purchase at the opening, they will be available Friday at 12 p.m. EST online at Medium and 1xRUN.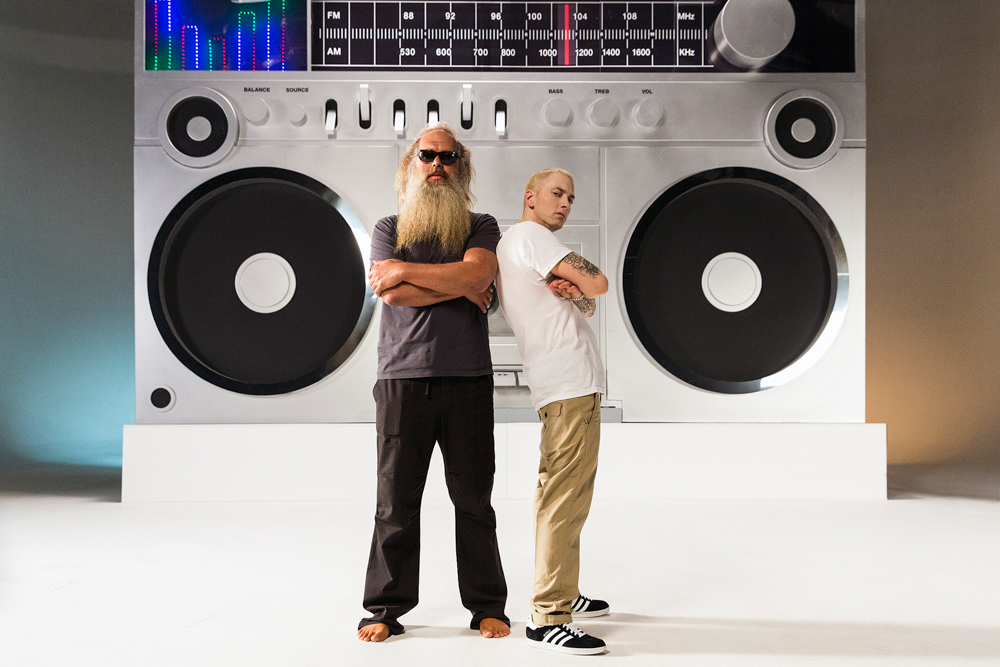 What other photographers are you inspired by?
I don't think there are any specific photographers that inspire me more than others, but I'm constantly saving photos from Tumblr and shit when I see images I like. My Tumblr archive is crazy [laughs]! I've been really feeling Tony Kelly's work lately. There is something about his photography that is so real, vibrant and full of energy. One of the things that really inspires me the most is traveling. Whenever I come back from a trip, I'm always super hyped to start creating!
Best piece of advice?
Work hard, be nice to people, and be respectful. Those things will take you far in life. Always do the right thing, unless the wrong thing is absolutely necessary.
::
::
Read more of Jeremy Deputat's contributions to The Hundreds here and keep up with his latest snaps and travels on his Instagram @JeremyDeputat.