"I think I'm going to write a narrative profile as opposed to a Q&A," I tell 29-year-old rapper Ta'East as we finish off our drinks at new Echo Park spot The Semi-Tropic early this summer, preparing to part ways.
"Oh, that's great," he says with an easy smile. "Because I hate reading Q&As."
"Really?" I ask. I actually like reading them. I'm less into transcribing them.
"Yeah," he says. "They're so boring. It's like, 'Oh you're from San Diego?' And the person is like, 'Yeah,' or 'Nah'… Fascinating."
I laugh. The man has a point.
"Narrative profiles remind me of reading XXL and The Source back in the day," he continues. "Like, you know where they were like—," he adopts a faux-journalistic tone, "I met the rapper at his mansion on a hazy summer afternoon. He was sitting on a plush leather couch with his two dogs. He said, 'What's up,' and then poured me a fresh glass of chilled Cristal." Ta'East laughs.
"Well that's exactly the type of thing I plan to write," I tell him.
"Great," he says. "You can be like, 'Ta'East ordered a Pinot Grigio, which was kinda weird for a rapper.'" (I smile later when I hear Ta spit "we sippin' on Pinot Grig" on "Bonnie.")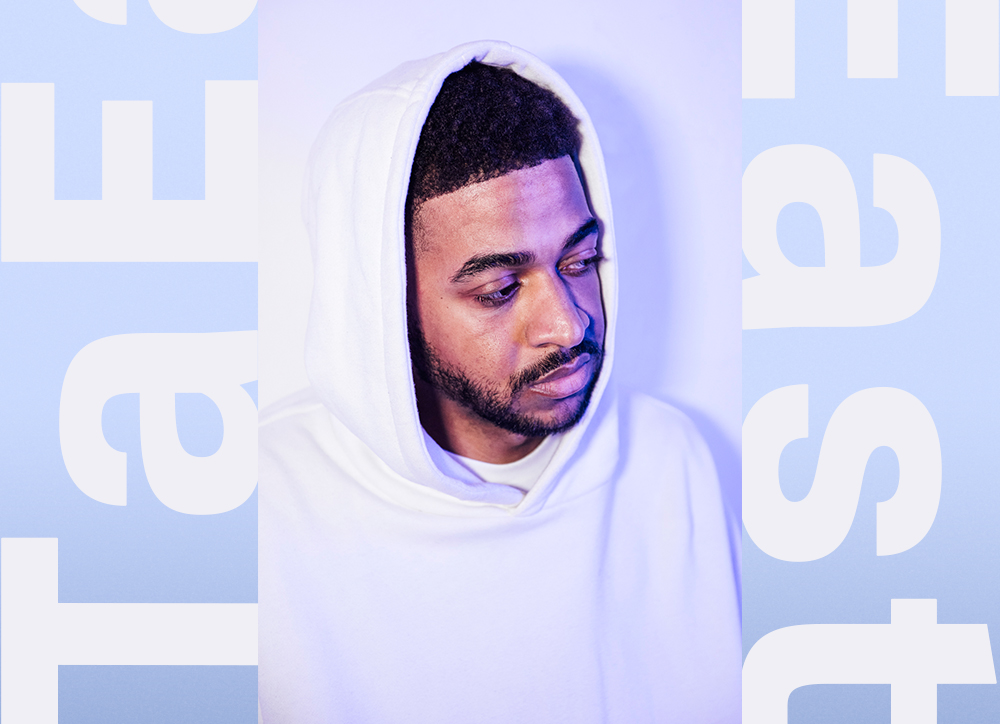 About halfway through our drinks, Ta'East tells me that this is his "first official interview." This perhaps explains his unadulterated enthusiasm throughout our conversation, particularly when I ask him to repeat his lyrics back to me, which puts him on cloud nine. I also think this might just be his personality. His easy-going nature kind of surprises me given the passionate fire he spits on his tracks, what Pigeons & Planes called his "militant delivery"—what Complex deemed his "forceful barrage of raps backed up by a gothic death march of a beat." But as a shy girl who writes fiction about homicidal women, I get that sometimes our art is at odds with how we initially appear.
Aaron Ta'East Evans is still riding the high that began when tastemaker and Kanye creative director Virgil Abloh leaked his single "WithTheShit" on KNOW-WAVE radio last fall. And almost six months later, Ta still has that "Really? Me?" attitude common to those on the brink of fame (and basically all successful women).
…Sometimes our art is at odds with how we initially appear.
In September 2014, Ta'East was out in LA with his long-time producer and fellow San Diegan Cairo Mayeson when his phone buzzed in his pocket with a Twitter notification. Ta immediately showed Cairo his recent follow request from none other than Mr. Abloh himself. "Should I hit him?" He recalls asking Cairo excitedly. "Nah, I'll wait."
The next morning, Ta'East tweeted at Virgil that he appreciated the follow. Virgil tweeted back: "I'm one thousand percent a fan." He also asked Ta to send him some music.
"Really? Me?" Ta'East recalled thinking. Ta decided to send Virgil "WithTheShit," a track he recorded when he had basically hit rock bottom, with zero fucks left to give. "My last fuck was given away a month ago," he says, smiling, "and I'm with the shits now."
The last eighteen months, Ta tells me, have been among the most difficult of his life. It started the summer of 2013, when he moved Oceanside near San Diego (where he had lived since he was 3 but "doesn't really have a hip-hop scene") to Los Angeles. He worked at an auto auction in Anaheim, making for what he calls "an hour and a half commute to work at a job I didn't like." He also got in a car accident, was briefly unemployed, and got his heart broken for the first time. He decided to channel his angst into "WithTheShit."
"It came from such a place of frustration and anxiety," he tells me. "It was me singing the blues in a hip-hop form—the only way I knew how to express myself." And it paid off. "It's probably my favorite song," he tells me about his most positively received song to date, garnering 100k plays on Soundcloud (though it was recently taken down due to sample issues), and endorsements by Virgil and Benji B at BBC Radio 1. He again jokes about Virgil's promotion of the track: "I was like—me?" He laughs. "I'm just stressing out rapping."
"[WithTheShit] came from such a place of frustration and anxiety. It was me singing the blues in a hip-hop form—the only way I knew how to express myself."
But Ta is in a very different place now. He sees the past year as a humbling growth period, one that woke him up, infused him with "inner peace," and put him "in tune with the universe." He found solace in the books of Dr. Wayne Dyer and Tony Robbins. He laughs, telling me he used to be dismissive of this stuff, but now he gets it. And as he nears his 30th birthday, it has been a long road to get to this point.
As a kid, Ta would return every summer to Kentucky—his birthplace—to make beats with his producer uncle. He became heavily influenced by Southern rap, listening to the likes of UGK, Gucci Mane, and Jeezy before they hit the West Coast. His uncle first noticed that Ta had a "unique voice" and suggested that he take a stab at rapping as opposed to just making beats.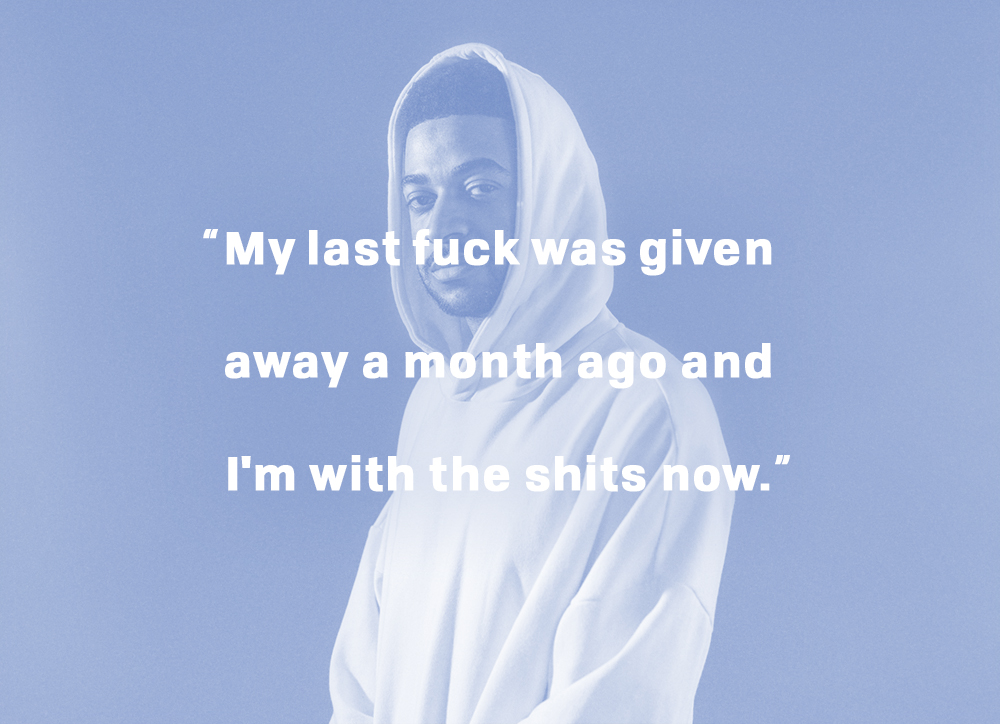 "I knew I could rap," Ta tells me, "But I had only rapped other people's lyrics, like Biggie—I didn't know I could write my own." Ta gave it a shot, applying what he learned from composing Haikus in grade school. While he's since moved onto more daunting subjects, such as mapping out his inner psyche with lyrical fervor, at the time Ta would just rap about what he was into: Jordan's, Jay Z's headbands, "lifestyle."
Growing up in Oceanside, Ta recalls a lot of time spent alone watching music videos. As his mom worked two jobs to support the family, Ta was "basically raised by Jay Z" and the "easter eggs he would leave in his rhymes." He also listened to gospel, which helped him learn to stack vocals.
After finishing high school, Ta'East got a job at Shiekh Shoes and continued making music in his spare time. But after 7 years, he became fed up. "I'm too talented for this," he recalls thinking. His mom wanted him to join the military, but Ta'East didn't give it any serious thought. As he explains on "WithTheShit"—
"Military's no option / neither is offices or boxing shit / I'd rob some shit / stand off with officers / off the rip / before I stop and quit."
Ta's mom also initially wanted him to be a child actor. And when he wasn't sitting alone with his music, his mom was taking him to LA for auditions. She was his manager.
"Is she still your manager?" I ask him.
"She wants to be," he says, laughing. "She's still taking credit for my career."
"Is she into rap?" I ask.
"Not even," he says, still laughing. "She just wants to go to the Grammys."
But Ta inherited his mother's hustle. He and Cairo have a number of ideas for products, merchandise, and even movies. Ta wants to write a horror film inspired by the Halloween series, "something that focuses on your worst fears." Fittingly, Pigeons & Planes wrote that "WithTheShit," which samples the score from the 2013 sci-fi-horror film Under the Skin, "starts off sounding like a horror movie." Currently, Ta has a "dope idea" for a short film he wants Cairo to score, something touching on his "trials and tribulations" over the past year.
I ask Ta whether he would work with a producer other than Cairo. He said he's considering it, but he wants Cairo to touch everything he does. He explains that all the greats have one special producer. Biggie had Puffy. Eminem had Dr. Dre. Jay Z had Timbaland. Drake has 40. Kendrick has Sounwave. The list goes on. (This interview comes with a hip-hop lesson.) He says the formula works because it gives these artists a "signature sound," instead of just trying to create "what's hot" at the moment.
Ta is frustrated with rappers who seem to just make what's trendy, where the "beat and hooks are fire, but the lyrics aren't good." Ta prides himself as a lyricist; his "number one rule is write everything down." On his upcoming EP, Okay, I'm Ready, he delivers a "collection of mantras" and "positive affirmations." He wants to inspire people to keep going when they have doubts. And while he hasn't yet toured, he sees live performance as the ultimate goal. "It's like being a cook," he tells me. "You make the album, and with the performance, you feed the people."
"I'm here to serve."
***
Okay, I'm Ready is slated to drop September 23.
Follow Ta'East on Soundcloud, Instagram @taeast and on Twitter @taeast. 
Photos by Graham Walzer. Creative by Tom Winslade.