In March of 2015, artists Haroshi and Usugrow, along with Junko Hanzawa of Gestalten Japan, opened HHH gallery in Tokyo. Their first exhibition, "No More Negative Space," presented drawings by James Jarvis, while their second exhibition showcased Hiroshi's own works—including a large-scale sculpture of a middle finger. Usugrow curated their third and current exhibition, "Monochrome," which features the work of eight artists, such as Aaron Horkey and Mike Giant. "The tools these artists use are simple—pencils, black markers, ink pens, ink brushes, and everyday ballpoint pens," HHH describes. "However, by carefully utilizing white space not as 'blank,' but rather as information to describe space and color, the artists transform pure, untouched white canvases and paper into detailed and complex monochrome landscapes." In the following interview with The Hundreds, Usugrow talks more about "Monochrome," as well as Tokyo and his vision for the gallery.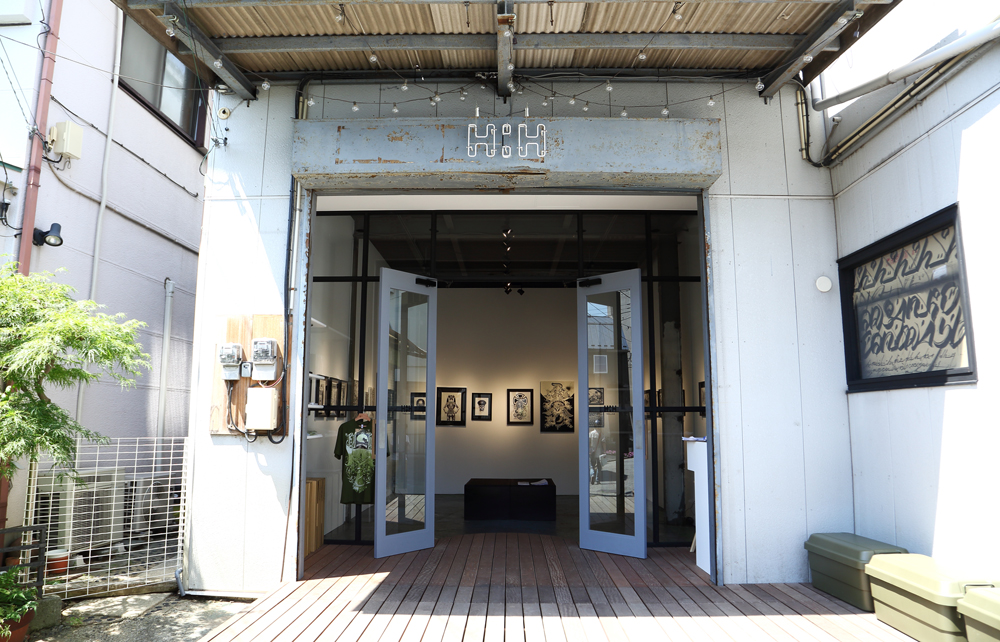 When did you open HHH? Why?
We opened the gallery at the end of March 2015. My partners Haroshi and Junko recommended the place as something to do together, so we quickly decided to do a gallery. I've been wanting to own a place where I can introduce some of my favorite artists around me, so I immediately said OK.
オープンは3月の終わり。
パートナーであるHaroshi、Junkoから良い場所があるんだけど、ギャラリーをやろうよ、って話になって。僕もまわりのアーティストを紹介できる場所が欲しかったからすぐにOKしたよ。
What do you hope to add to the art scene in in Tokyo?
I've never really cared about the art scene in Japan or Tokyo. I just wanted to introduce good artists around us, from street art to contemporary art. I also wanted the gallery to understand what the artist feels and thinks because both of us are in the same position, so I hope our gallery can [grow alongside] the artists we work with.
日本や東京のアートシーンについて気にした事がないけど、
ストリートアートからコンテンポラリーまで、自分達の周りの良いアーティストを正直に紹介したいと思って。正直に、っていうところが皆難しいんじゃないかな。ビジネスを考えるとそうもいかないのはわかるけど。あとはアーティストの気持ちをよく理解して運営したい。アーティストと共に育って行くようなギャラリー。僕らも同じ立場だからね。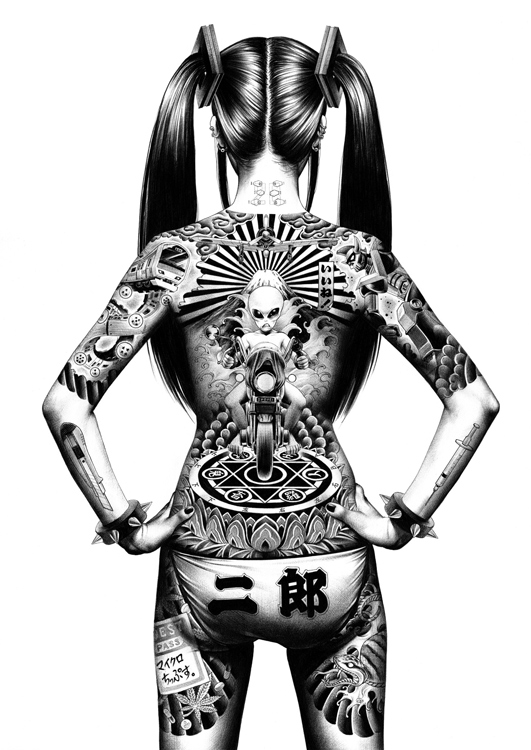 "Subculture Girl" by Shohei Otomo
Why did you partner with Haroshi? What makes him a good partner?
I used to often meet with Haroshi at this other place. I know he takes his artworks very seriously and I respect that. Together with Junko, we share the tasks and do what we can.
Haroshiとはある場所でよく会ってたんだ。彼は作品にまじめに取り組んでるし尊敬してるよ。じゅんこも含めて僕ら3人の出来る事をシェアしながらやってる。
Where in Tokyo is your gallery located? Why did you choose this neighborhood over others?
The gallery is located on the eastside of Tokyo, a downtown area that used to be a factory zone. It's not a hip area with galleries, cafes, and shops around. I wouldn't [avoid] trendy places, but we wanted to be away from that.
東京の東側で、昔は工場が集まってた下町エリア、庶民の街だよ。ギャラリーやショップが集まっているようなハイプな場所ではないよ。流行が集まる場所は否定しないけど、そこから離れたかったんだよね。
You are the curator for the exhibition Monochrome, which is currently on view at the gallery. How and why did you select the artists for this exhibition?
Today, the world is brimming with information and a wide variety of techniques, painting tools, and art styles are introduced, but I wanted to think about this in a simple way and let people know that [they] can still show wonderful expression using only simple tools like normal paper, pencil, and ink. Most of the artists participating in Monochrome are originally my friends, except Kyotaro and Ozabu, who I've been a fan of for a while. Each artist thoroughly mastered one writing instrument such as a marker, pencil, ballpoint pen, or ink pen. What's interesting is that all of them use [tools] that are usually categorized as ordinary stationary, not a special writing tool. That means you don't have to buy lots of paints or brushes to start your art.
今は情報があふれてて、沢山のテクニック、画材、アートスタイルが紹介されてるけど、シンプルに戻って紙や鉛筆、インクでも素晴らしい表現ができるよってのを紹介したかった。参加してもらったのはほとんどが友人だけど、KYOTARO、OZABUは僕がファンだったから声をかけたんだ。それぞれ、マーカー、鉛筆、ボールペン、インクペン、一つの道具を極めてるアーティスト。面白いことに皆使ってるのは画材というより文房具に分類されるものだよね。アートを始めるにあたって、沢山の絵の具や筆を買いに行く必要はないんだよね。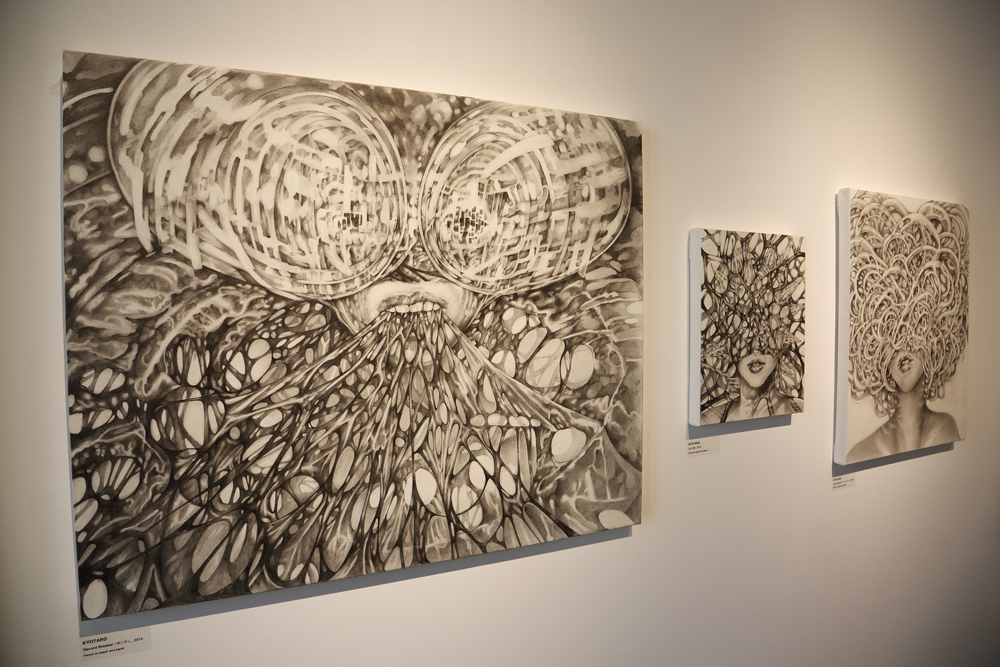 Kyotaro
What exhibitions do you have planned next at the gallery?
The Monochrome exhibition was my idea, but Haroshi will be introducing another good artist next. We always exchange ideas like this with everyone involved with the gallery.
MONOCHROMEは自分のアイディアで始めたけど、次回はHAROSHIが良いアーティストを紹介してくれたよ。こんな感じでギャラリーに関わる皆それぞれがアイディアを持ち寄って企画してるんだ。
Do you plan to do an exhibition with punk or hardcore flyers?
Of course I do. But I want to introduce an artist who has a punk rock mentality instead of an artist who draws punk rock flyers.
もちろんやりたいよ。でもパンクロックのフライヤーを描いてる人より、
パンクのメンタリティを持ってアートに取り組んでる人をまず紹介したいな。
What is your vision or hope for the gallery?
Since all of us have a full-time job, we are not thinking about making money off the gallery. We are just hoping that this gallery will help [promote] lots of artist activities and make young people take an interest in art.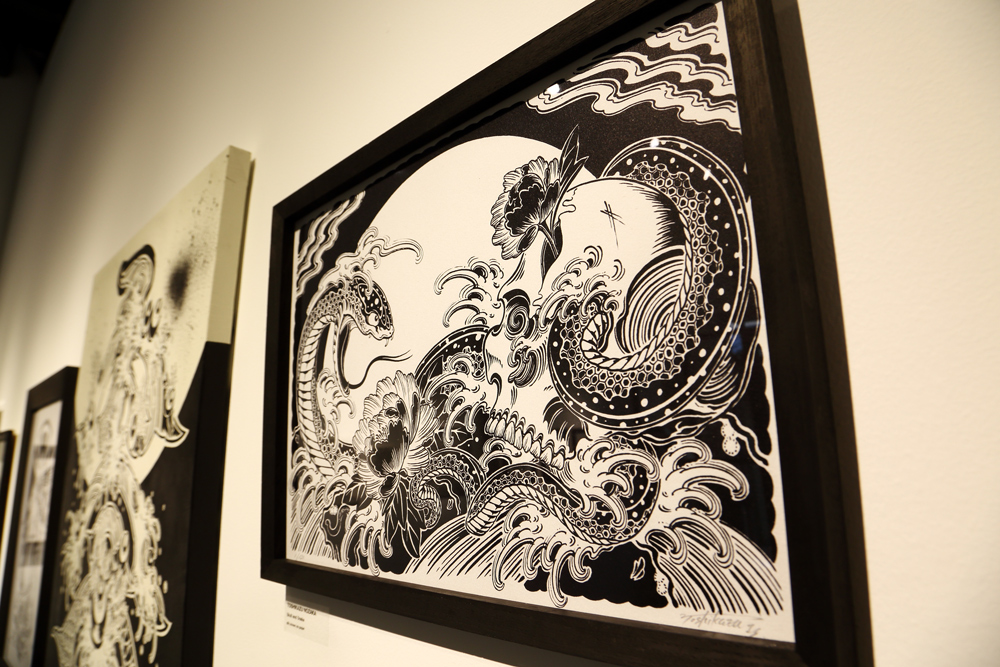 Toshikazu Nozaka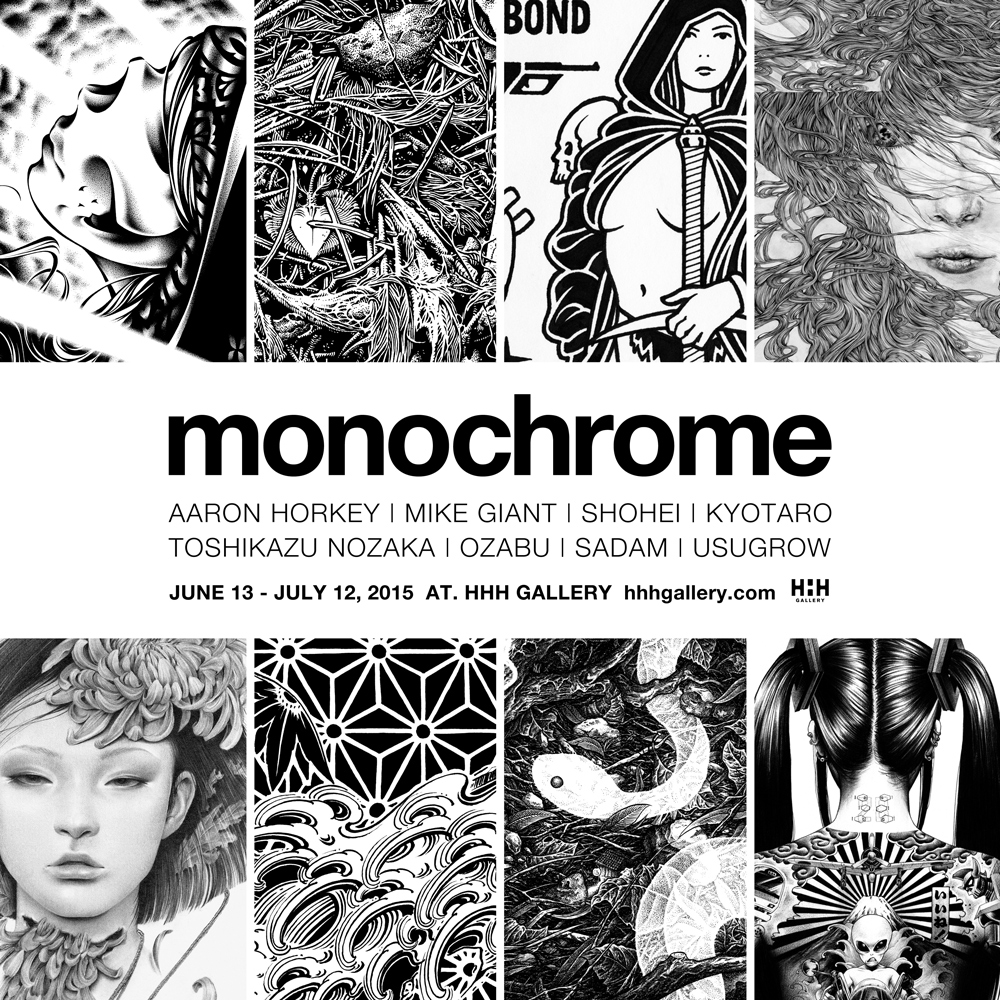 ::
Translation by Junko Hanzawa. Photos by Miki Matsushita.