In recent years, Atlanta has made a name for itself as a hotbed of street art, a hip-hop epicenter, and even a home to experimental cuisine. But one creative sector that hasn't quite flourished with the same vigor as, say, Southern rap and kickass graffiti? Groundbreaking, forward-thinking fashion. Among a groundswell of designers, doers, and hustlers working to change that: Camryn Park and Jim Chambers, the ambitious and sharply dressed co-proprietors of a first-of-its-kind shop in Atlanta's historic Virginia-Highland neighborhood.
Henry & June, a craft coffee bar and boutique, is one of the only spots in the neighborhood serving small-batch, hand-roasted coffee. It's probably the only shop in the city with badass Rachel Comey kicks and awesomely bizarre Danish shirts on display. And it's most certainly the only place in all of Atlanta where you can sip a freshly pulled shot of Ethiopian Yirgacheffe while perusing racks of Surface to Air T-shirts. In a city still arguably sorting out its own fashion identity, these two are hustling to fill a void somewhere between streetwear and high fashion. And they're serving it up with a side of killer coffee.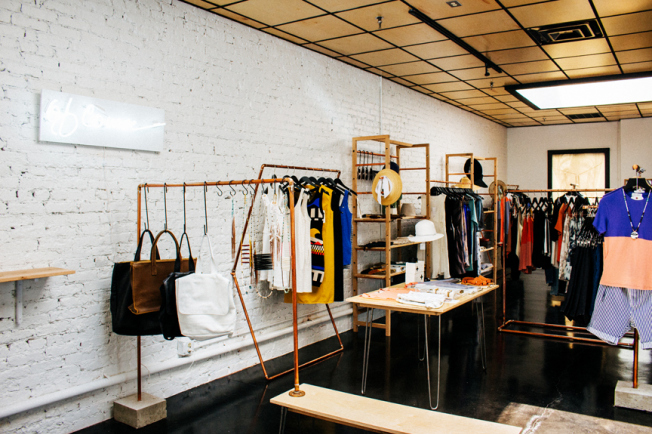 Source: Tideandbloom.com
But back before Jim and Cam were pulling shots and filling fashionable Atlantans' wardrobes in their shop on Highland Avenue, they were just two creative kids looking for that next step. Jim, who was spending a lot of time working on his novel at Octane (a.k.a. the cradle of Atlanta's craft coffee civilization), had begun forging a serious, nerd-level interest in all things coffee. Cam, meanwhile, stayed busy selling vintage cameras and had been mulling over the idea of opening a shop, but wasn't sure what form her ideal storefront would take. A cross-country road trip turned out to hold the answer they were both looking for.
That 5,000-mile jaunt, from Atlanta to Big Sur and back, led them to "pretty much every dope coffee shop along the way," says Jim, not to mention a slew of West coast boutiques. What had begun as just a fun Valentine's Day vacation to the Henry Miller Library soon evolved into something of an R&D excursion, taking them from craft coffee shops in Phoenix to niche clothing stores in Silver Lake to places like Denver's Steadbrook, a combination espresso bar and menswear shop. By the time their headlights were pointing back east, they were already making calls and setting up meetings to put their plans in motion.
Thus, Henry & June was born: a coffee shop-boutique crossover, where Jim and Cam are truly merging their shared passions into one very cool and very much one-of-a-kind business endeavour. The shop, with its stark whitewashed walls and minimalist decor, feels more like a hip gallery than a boutique, with an interior equally pristine as the garments hanging on its racks: architectural dresses, trippy men's shirting, geometric gold jewelry, crisp button-downs, structured leather totes. With Henry & June setting up shop in ATL, the duo are sailing in uncharted waters in every way, from the multi-roaster setup of the coffee bar (which offers more bean variety than your standard shop) to the edgy aesthetic of the clothing hanging from the shop's racks.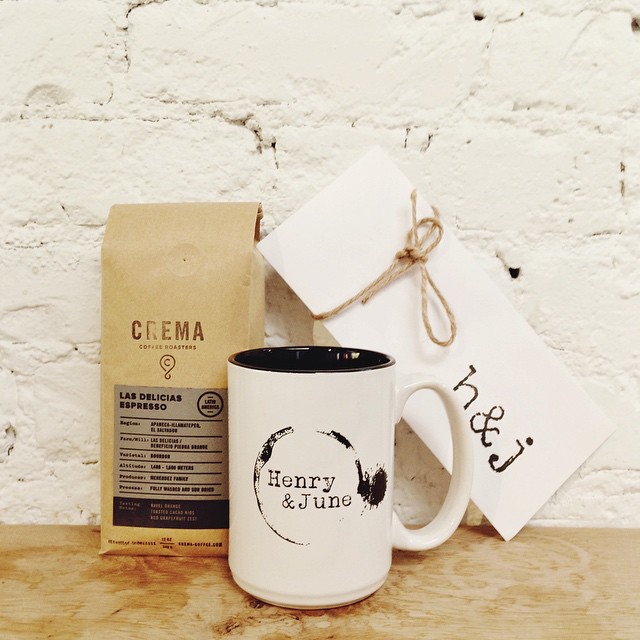 "We see ourselves as filling a niche that needed to be filled," Jim says, "and persuading people to check something out that they may not have checked out before." That goes for both the clothing and the coffee: Henry & June is the only shop in Atlanta serving Nashville-based Crema Coffee, and they supplement their lineup of beans with a rotating second roaster that's so far included the likes of Four Barrel (San Francisco), Panther (Miami), Carrboro (North Carolina), and Huckleberry (Denver).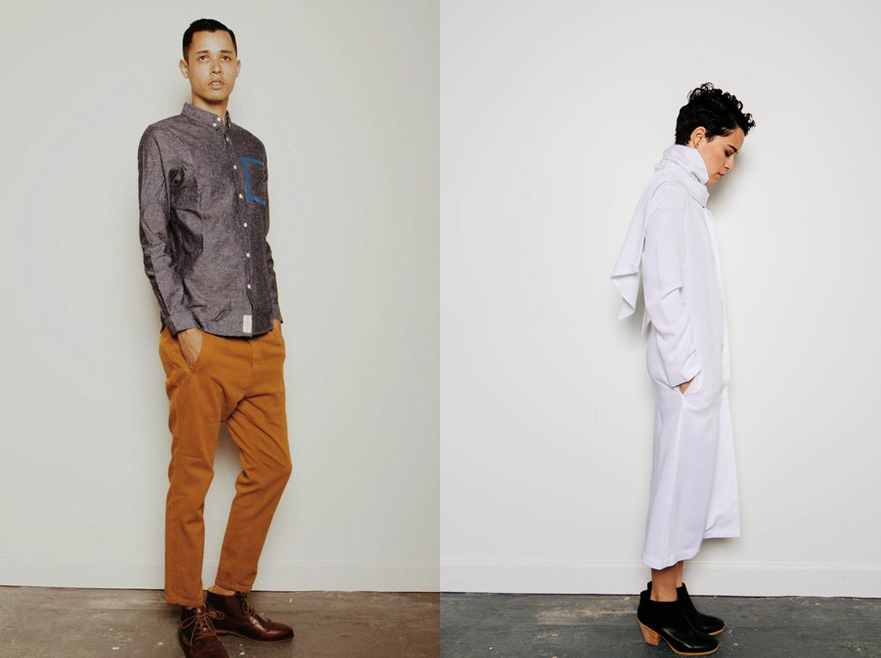 From Henry & June's online shop. Brands pictured: Native Youth, Journal, and Shaina Mote.
The fashion, meanwhile, represents a super-diverse and stunningly curated hodgepodge of local talent (such as ATL's own Megan Huntz and Abbey Glass), Brooklyn exports, and niche brands from abroad. From structured, tailored womenswear by Creatures of Comfort to the experimental and often absurd designs from Henrik Vibskov, to New Zealand's I Love Ugly and Denmark-based Journal, the shop's aesthetic range is a pretty good reflection of Jim and Cam's own individual, often opposing styles (and the balance that they've struck).
"We definitely have disparate styles, in that I tend to be very colorful and eccentric with the shit I wear," Jim says. "There's not a huge market of people in Atlanta who are trying to wear my wardrobe." (Camryn, arranging a stack of denim a few feet over, laughs in agreement.) "But Cam's very minimalistic in her style, very monochromatic with simple cuts. So I think our men's and women's collections communicate that, and we give each other checks and balances."
As I'm talking to Jim, I take note of the loud printed shirt he's sporting with a bazillion gold chains and a Patriots trucker hat. He cites an example: "She'll be like, 'Jim, maybe we don't need so many of those crazy party shirts,'" he says, pointing to a rack of ludicrously loud (and totally rad) printed men's shirts. "And then I might be like, 'I really love all these black and white jumpers we got, but can we also get that really dope print?'"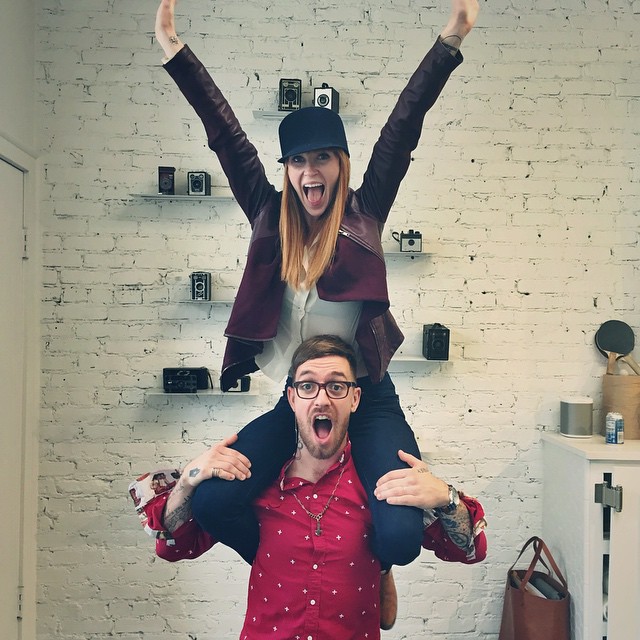 Cam and Jim.
There's no question that these two have dug out a niche that Atlanta hasn't yet seen. Case in point: Atlanta magazine's recent assertation that "if you want to wear something no one else has, head to Henry & June." But my biggest question to Jim and Cam? Whether or not what they're doing is actually working.
Atlanta is, after all, still a sprawling city hemmed in by strip malls and interstate; a town where, despite a recent surge of indie makers and designers, gigantic shopping malls and chains are still a force to be reckoned with. Are Atlantans receptive to the kind of cutting-edge style that Henry & June is pushing? Is the city, as a whole, headed in a more fashion-forward direction? Jim is confident that it is. "Based on the kinds of stores that are opening in Atlanta, and on the reception we've gotten here, yes," he says. "There's definitely an interest here." In spite of the chains and mega-malls, Atlanta just might be in the midst of a sea change, with a small but insanely talented group of designers at its core.
And for aspiring designers in Atlanta, there may be no better time than now to start hustling. "If you look at the progression of fashion, the fact that there's been so much success with streetwear — especially Atlanta-based streetwear brands — it sets a tone that you can do it here. There's no question." He adds that they'll welcome with open arms any local designer who can deliver stuff that fits and jives with their style. "Hopefully, in a few years, we're not the only shop in Atlanta selling the kind of stuff we sell."