Well, that whole election thing didn't necessarily turn out how most people thought it would. Instead of putting the first female President in the White House, the less-than-majority used the Electoral College like a mickey to slip Donald Trump into 1600 Pennsylvania Ave in Washington, D.C.
Despite the grim outlook for basic human rights, us Californians used the November elections to make sweeping reforms as it related not only to the right for male and female porn performers to shtup without contraception, but also granted full legality to marijuana which hadn't been labeled taboo since Boyz II Men was pumping out hits.
If it seems like things haven't really changed yet, that's because democracy can move at a snail's pace even after voters approved Proposition 64—making California the most populous state in the nation to legalize the recreational use of marijuana.
There are still many unanswered questions. But have no fear, we've got you covered.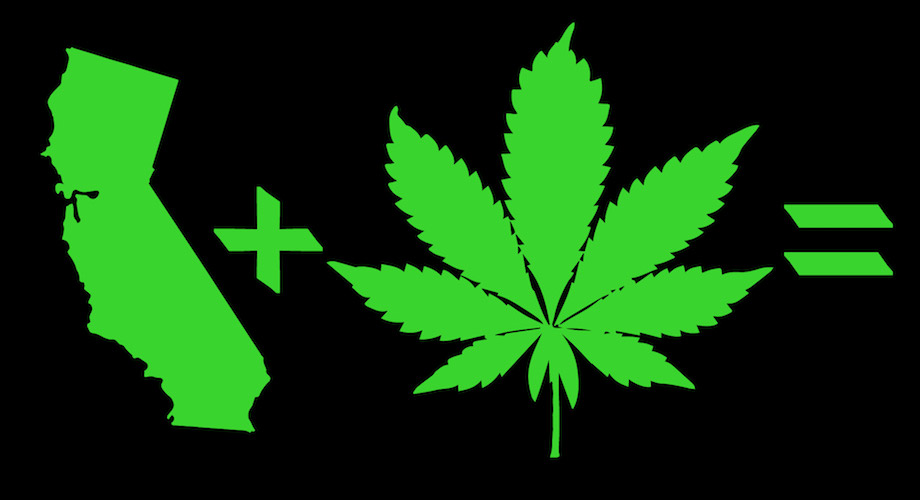 How?
You currently still need to have a medical marijuana card to make purchases at dispensaries. The state is figuring out the rules and regulations to sell recreational use marijuana, which will likely take most of 2017. Thus, nothing has really changed all that much.
If Los Angeles's policy ends up mirroring that of other recreational cities like Denver, a person basically enters a store and makes a purchase by merely proving one's age by showing a valid I.D—not unlike buying alcohol.
…But unlike liquor stores, Denver dispensaries can only be opened until 7 P.M.
How Much?
As the measure was written, Proposition 64 would allow Californians who are 21 and older to possess, transport, buy, and use up to an ounce of cannabis for recreational purposes and allow individuals to grow as many as six plants. The measure would also allow retail sales of marijuana and impose a 15% tax.
Photo: motherjones.com
Price?
The legality of weed could and probably will lead to a price increase due to a number of factors that retailers will have to consider—including standardized labeling and mandatory testing to ensure safety—which will all be spread out amongst different organizations like the Department of Consumer Affairs, Food and Agriculture and Public Health. Add to that the fact that even more people will be smoking, and now you've got the perfect recipe for supply vs. demand.
According to L.A. Weekly, "Fifteen percent taxes on recreational marijuana under the measure will boost the price of weed compared with that guy who sells it out of his apartment. Sales tax in some parts of L.A. County is already 10 cents on the dollar. So you're looking at a steep price increase for your organic produce if you were to buy it legally for recreational use."
Oregon, in particular, saw rising weed prices in response to legalization—including a $200-per-pound spike, to a price of $1,941 USD, late last year, and a 12 percent spike again this year," according to the newspaper.
Where's the taxable money going?
Estimates from New Frontier Data and ArcView Market Research suggests that Prop 64 could be worth $6.6 billion USD in the Golden State by 2020.
You better believe that all of that income will be taxed and reinvested into the state infrastructure. But what specifically would be upgraded as a result of that influx of capital?
According to the O.C. Register, "An estimated $1 billion in new tax revenue would be directed toward specific new or expanded programs such as drug use prevention and treatment, helping at-risk youth, law enforcement, environmental clean-up and research."
Keith Humphreys, a Stanford University professor who served on a state commission that studied approaches for legalizing marijuana, summed up the financial impact of Prop. 64 this way: "It's not going to make us if we do, and it's not going to break us if we don't."
What's still illegal?
It will continue to be illegal to smoke marijuana in public and at locations where tobacco use is outlawed.
Additionally—whether it's marijuana, prescription drug, unknown substance or alcohol—if it impairs your driving, you're subject to DUI laws in California.
What's happening to the current dispensaries?
The 130 or so dispensaries in Los Angeles—which currently operate under a laissez faire regime and don't hold a physical permit after voters approved Proposition D in 2013—will once see their fates voted on in March to determine if they should be grandfathered in or lose their ability to keep selling.
Will less people go to jail?
In 2011—the year after California changed simple marijuana possession to an infraction—misdemeanor arrests involving cannabis plummeted by 85% in the state. The law signed by then-Governor Arnold Schwarzenegger meant 47,000 fewer Californians were arrested the first year for a misdemeanor.
The first full year of the change saw 7,764 misdemeanor arrests. In 2014, the most recent year for which the attorney general has numbers, 6,411 people were arrested for misdemeanor marijuana offenses.
A study by Drug Policy Action found that in 2010, some 16% of people arrested for marijuana possession in California were black, 41.5% were Latino, and 35.7% were white, even though California's population is only 6.6% black, 38.4% Latino, and 39% white.
Opposition groups to Prop 64 pointed to dwindling pot-related offenses as reasons why a passage of the measure was solely driven by profit and taxation—noting that in 2016 they estimated that only 2,100 people were arrested for marijuana-only offenses—including possession of more than an ounce and holding it with intent to sell.
photo: cnbc.com
What about the kids?
The legalization of weed definitely has an impact on minors. In the case of legalization of marijuana in Washington in 2012, Magdalena Cerda, an epidemiologist—an expert in the spread of disease—at the UC Davis Violence Prevention Research Program, noted in a study that more teenagers began getting high because they didn't deem the drug to be dangerous. According to The Los Angeles Times, among eighth-graders, their "perception of harmfulness" dropped 14% while with 10th-graders, it fell 16%.
In contrast, in states where marijuana remained illegal, perceptions of harm dipped only 5% to 7%.
In states with recreational policies, weed use increased by 2% among eighth-graders and 4% among 10th-graders. But in non-legal states, it actually decreased by about 1%.
As previously mentioned, a large portion of the taxable revenue will go towards drug prevention education for children.
According to the O.C. Register, "60 percent [of taxable revenue will] prevent young people from abusing substances by offering grants to schools and county health programs, funding treatment programs, helping at-risk youth and more.
photo: leafly.com
What about President Trump?
Much like other issues that he gave differing opinions on during the election, President Trump's plan for marijuana remains a mystery. However, people are not hopeful that we will move to full legality in all 50 states during his presidency.
"[We are] not optimistic about marijuana policy reform in this administration," said Paul Armentano, deputy director of the National Organization for the Reform of Marijuana Laws (NORML). "At no point was Trump clear with regards to how he felt the administration should address the number of states that allow the regulated use of marijuana by adults."
What we do know is that Trump has nominated Senator Jeff Sessions for the position of Attorney General. During his confirmation hearings, Sessions was tight-lipped on a plan moving forward but was a notable outspoken opponent against legality in the past.
When responding to a question from Democratic Sen. Patrick Leahy of Vermont, Sessions said he, "won't commit to never enforcing federal law" – meaning the law of the land would trump the measures voted on at the state level and fall in stark contrast to his predecessors Eric Holder and Loretta Lynch who had generally declined to challenge states' marijuana laws.
***