I've got to level with you guys before I get into this, but I spent the majority of 2014 wearing blank t-shirts. With the toughest question I'd ask myself being "Should I wear black or white today?", around 75% of my year was spent entirely graphic-less. Which was weird for me, in all honesty. I've always been hugely into graphic t-shirts, in fact, it was my obsession with screen-printed goodness that sucked me into the whole streetwear bubble to begin with. Maybe it's just a case of getting older, or maybe it's because I'm overexposed to graphics in my day job, but something snapped in me during the last year that had me favouring a blank t-shirt over anything else. No colour, either. Simply the purest white, or the blackest black.
That being said, graphic t-shirts were of course on my radar throughout the year, and during the 25% of my time that wasn't spent being a boring asshole, there were several printed t-shirts that I favoured over others. Here's the run-down of my "Top 10 Graphic T-Shirts of 2014," or at least the first 10 that came to mind.
FUCT – "Jaws" T-Shirt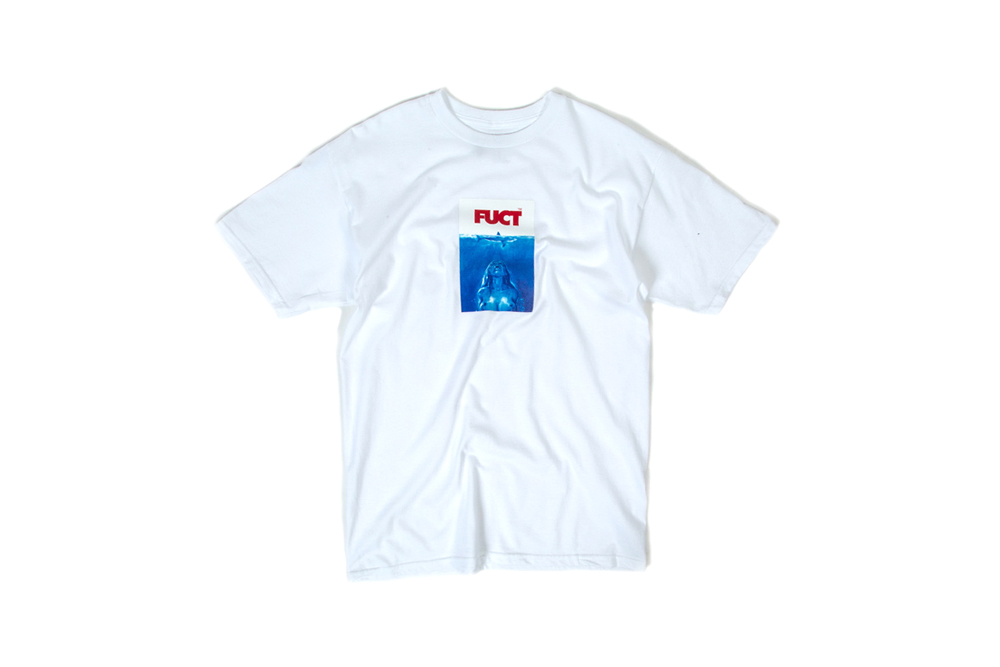 It's kinda funny that one of my top releases of the year is a reissue from the '90s, but that says a lot about the timelessness of a well-executed graphic T-shirt. Or perhaps the lack of them in 2014? This OG FUCT graphic has been a point of reference for me when discussing the difference between thoughtful appropriation vs. thoughtless rips within streetwear, since forever. This particular graphic has been reissued before with a larger print, which I wasn't vibing, so I was stoked to see this come back to life with the original, small chest placement – straight outta tha 90's.
The Hundreds – "Creativity" Pocket T-Shirt
Real talk, this was one of those T-shirts I decided I was buying within 10 seconds of setting eyes upon it. It honestly couldn't be more appropriate to myself and my work as a designer, with my obsession for drawing skulls and generally trying to prove a point with each piece I create. So, shouts to Benji for knocking this one out of the park. See the man himself talk about this graphic in more detail here.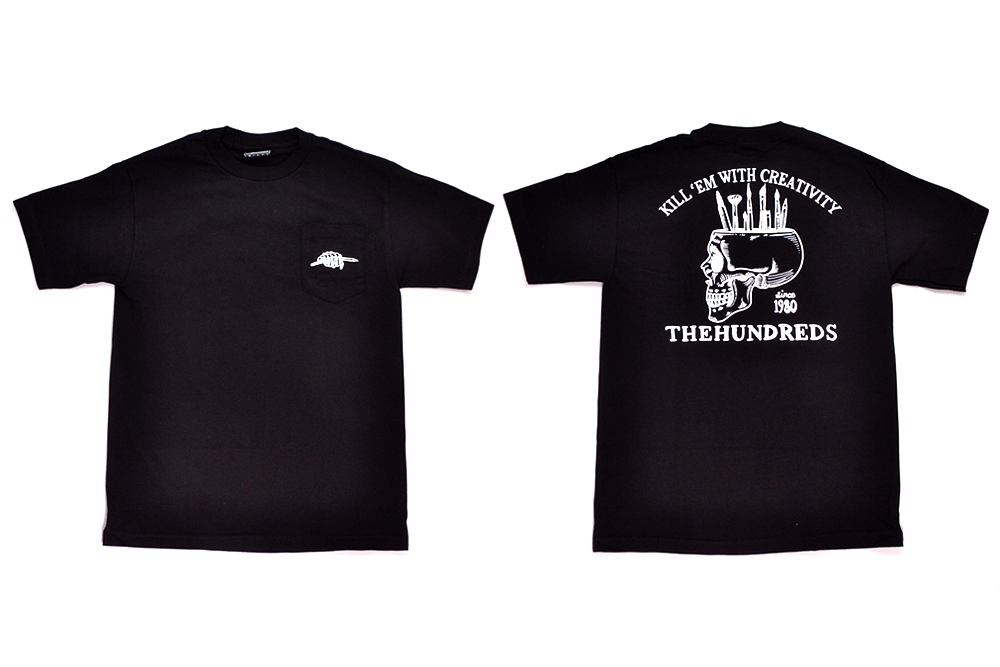 Supreme – "Boris Slave" Raglan Top
Supreme had another hit and miss year for me, although there were thankfully far more hits than misses. I was a huge fan of their H.R. Giger capsule, for example, but their recent North Face collaboration was kinda weak in comparison to previous efforts. You can't win them all though, I guess. The majority of their mainline releases were back to what you would expect, however, with this particular raglan top featuring the work of Boris Vallejo being a stand-out piece for me. Of course, it sold out before I could purchase it anyway.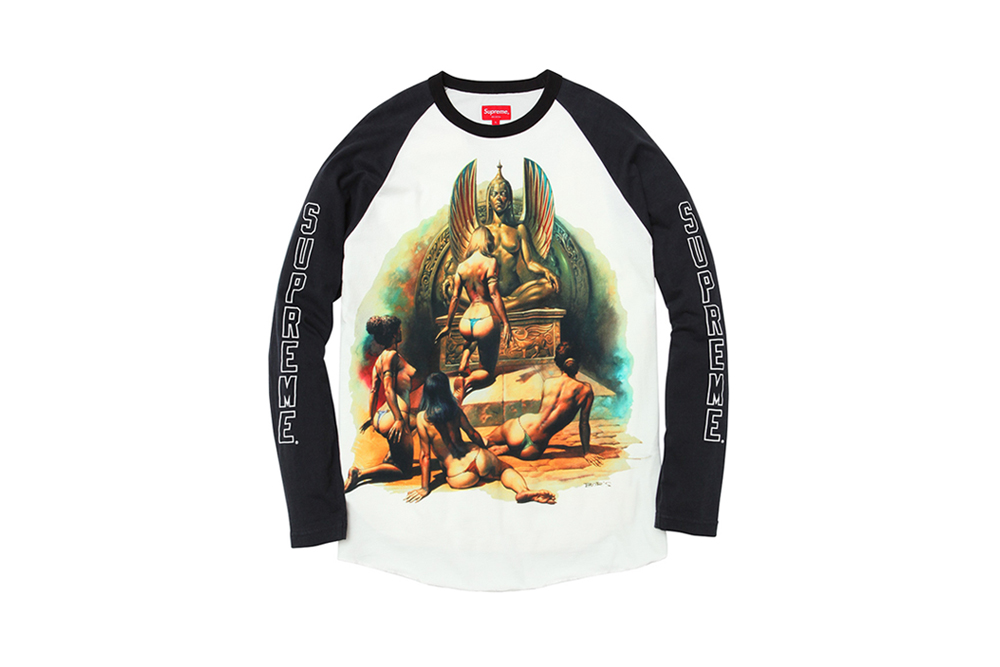 Yeezus Tour – "2014 Run" T- Shirt
I adore the work of Wes Lang, so when I heard he'd be collaborating with God™ for the "Yeezus Tour
merchandise back in 2013, I instantly knew I was going to be a fan of the results. The goodness continued to roll out this year, with a whole new line of merchandise in support of Ye's 2014 tour dates. I almost picked up a T-shirt similar to this one at the Dublin show back in the summer, but at the time, I was torn between spending money at the merch booth or at the bar. As always, beer won.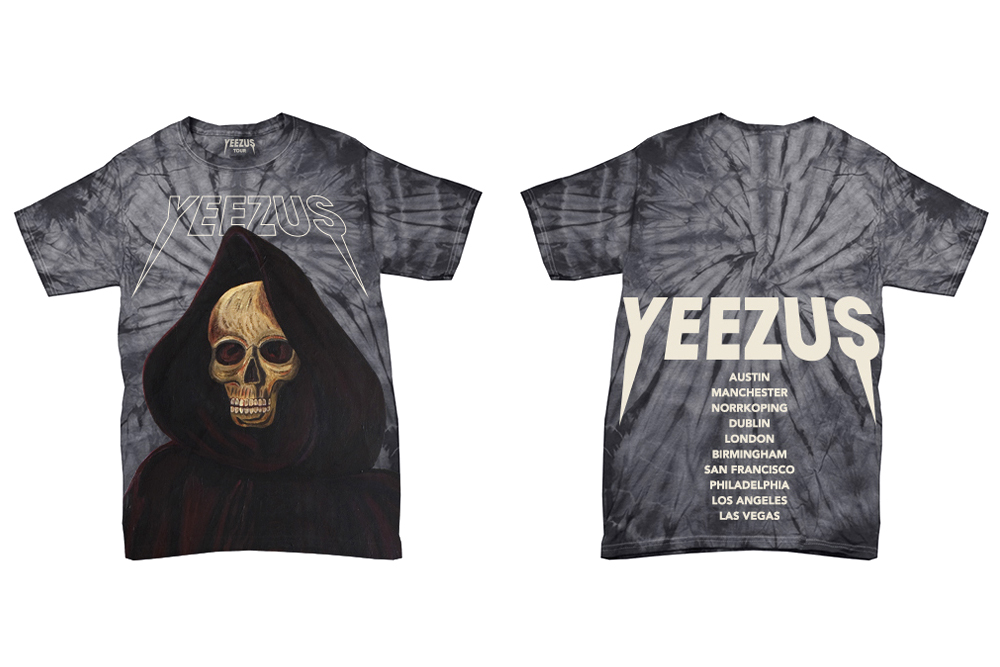 ICNY – "RUN" 3M Reflective L/S T-Shirt
ICNY are one of my favourite brands at the moment. I love everything about it, from the story behind its inception through to its consistent presentation, and mostly importantly; the product itself. It's fulfilled a very real need for a brand that produces effective activewear, whilst maintaining a contemporary sense of style and design awareness. Everyone seems to be clocking onto the benefits of using 3M reflective application right now, but don't forget that ICNY got there first. I'm digging this long sleeve t-shirt from the current range, but I'm even more intrigued to see how they develop the brand towards more advanced tech, like their "Rain" windbreaker.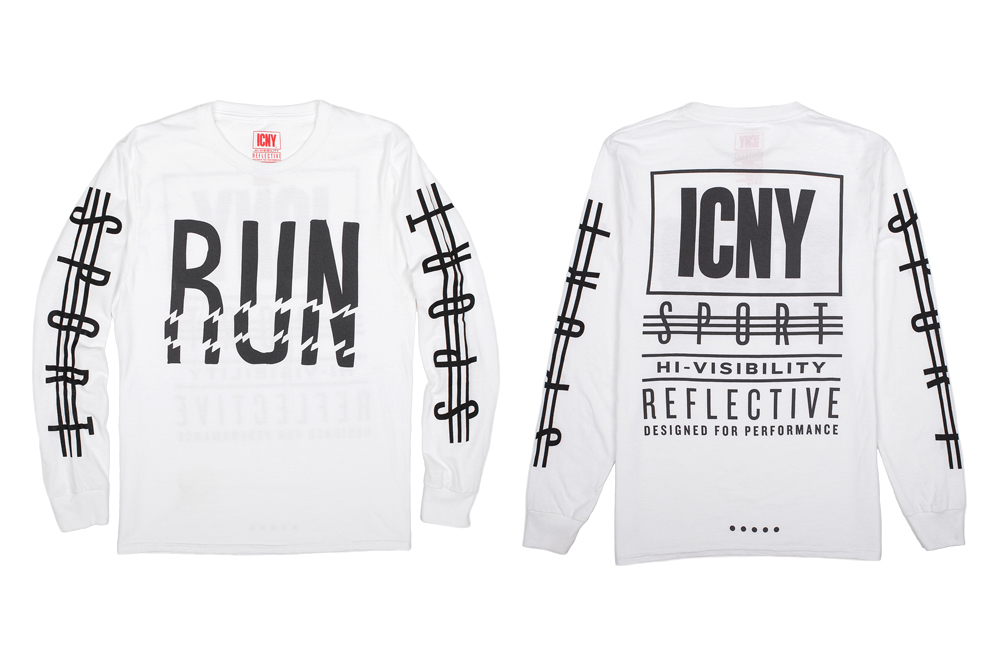 Midnight Studios – "Black Phenom" Pocket T-Shirt
Break-out brand of the year, IMO. Spring/Summer was cool, but it was Midnight's Autumn/Winter collection that finally hit the nail on the head. Of course I dig the graphics, but it's the obscure points of reference behind them that I vibe with the most. I picked up a simple, white French Terry pullover hoody from this current range, but I regret not grabbing this pocket T-shirt while I had the chance. A lot of people played the monochromatic graphic game this year, but few executed it as well as Midnight Studios. Seeing the amount of brands starting to bite directly from this collection says a lot about its impact and relevance, too. Eyes on this for 2015.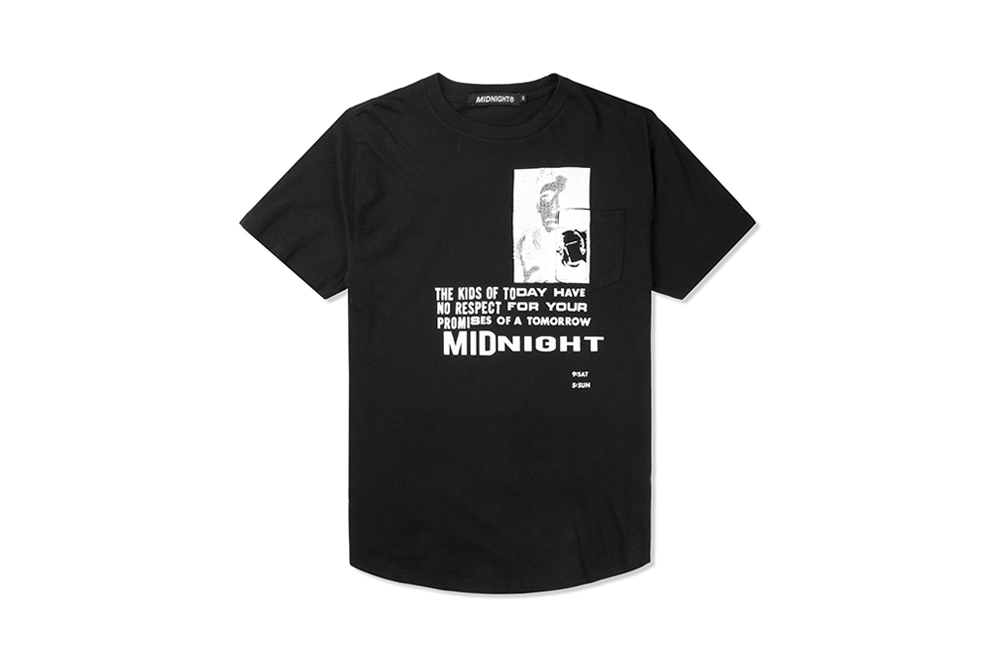 Fools Gold – "Federal Reserve – Killa" T-Shirt
This t-shirt is absolutely, god damn outrageous. I spotted it in Fools Gold's Williamsburg store last month and I made sure my homie purchased it before we left. I'm a huge Cam'ron / Diplomats fan anyway, but combine that with Cam's airbrushed portrait featuring that iconic pink fur and the Fools Gold tag on the back... can it really get any better?! Shouts to Lamour Supreme for bringing this outstanding creation to life. Absolute fire.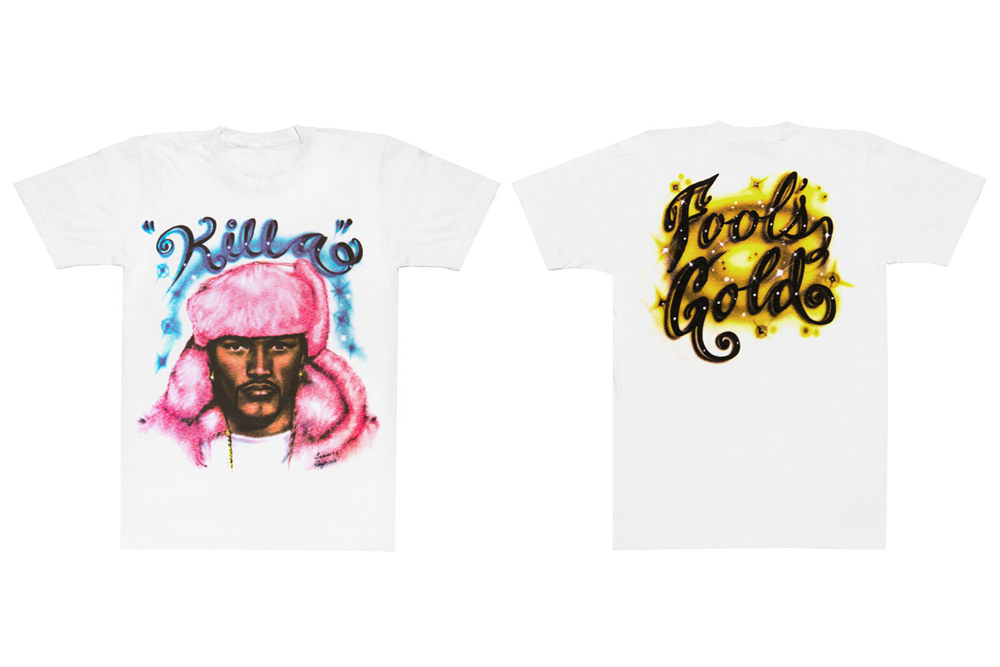 DEATHTRAP – "Sucka" T-Shirt
This is kinda cheating considering I designed this one myself, but fuck it, this is my list. I'm an advocate for people living a '"Sucka Free" lifestyle, so why not put it on a T-shirt? To live life sucka free essentially means to swerve associating yourself with negative people who may hold you back, shift your focus or make you doubt your hella awesome ideas. In turn, it's also a reminder not to act like a sucka yourself. Life's too short to let others slow you down or allow yourself to become a dick. Surround yourself with like-minded individuals who inspire you and in turn make you a better person. Oh, and buy this T-shirt.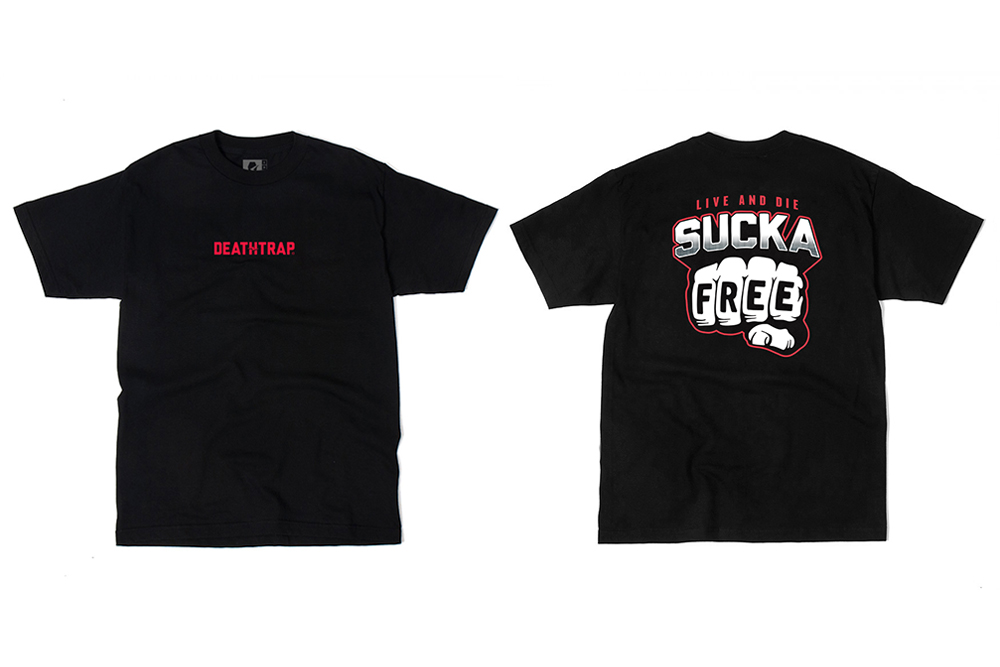 Goods by Goodhood – "LFT" T-Shirt
Yes, this is a graphic T-shirt. If you squint really hard (or look at the magnified version on Goodhood's website) you'll find the ever-eloquent "London Fucking Town" slogan sitting dead centre on the chest. I'm proud to be British, most of the time, so I like idea of repping our capital in such a subtle fashion. Goodhood is one of my favourite stores too, with their new residence creating quite the stir over here this year. You can read more about that here.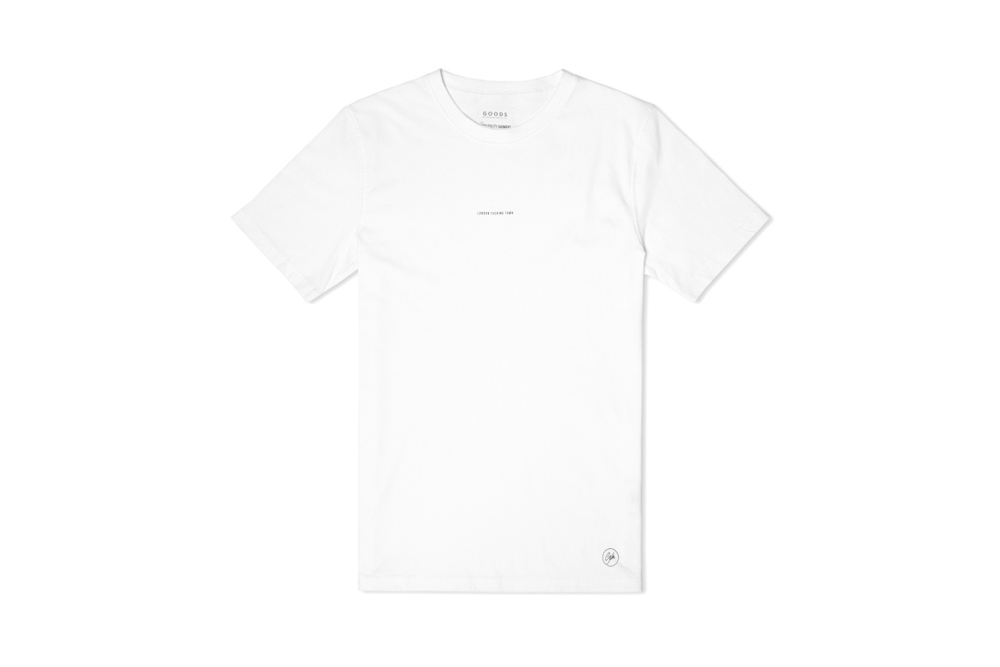 Palace Skateboards x DSM – '10th Anniversary' T-Shirt
The Palace "Tri-Ferg" logo has become one of streetwear's most iconic logos in recent years. Which is dope, because I can chalk that up as another win for the United Kingdom. We've seen it come to life in many forms since the brand first launched, but one of my favourites to date was this subtle twist in collaboration with Dover Street Market's 10th Anniversary. The front saw the use of a mirrored logo, with the back print being turned upside-down. As simple as that. Banger.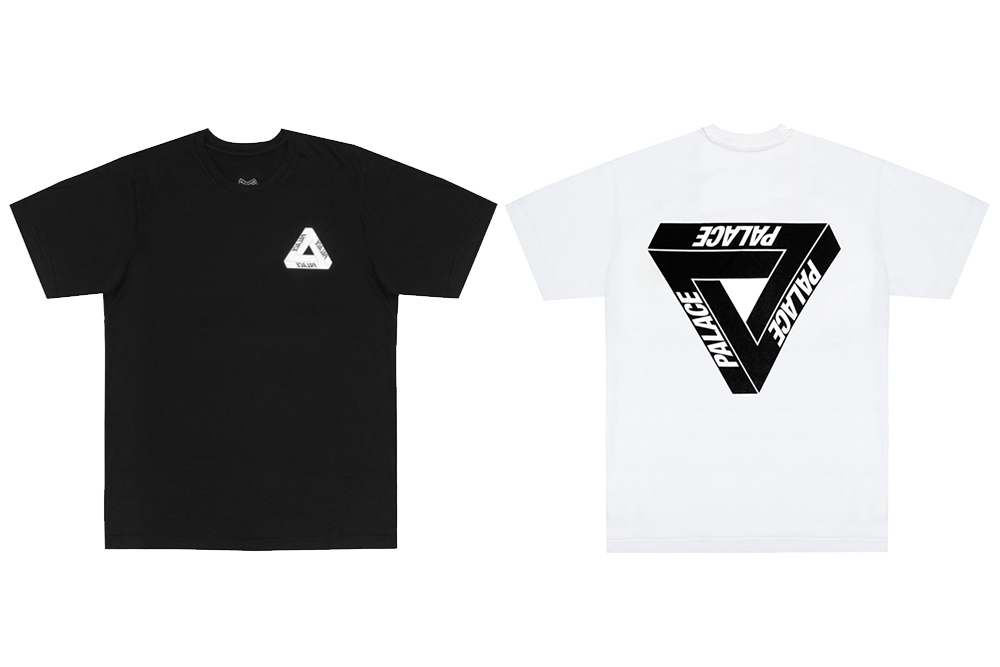 ::
Oh, and if you were wondering, the blank T-shirts I've been so besotted with this year are made by the UK's Represent. You're welcome.