With Penthouse shuttering its doors earlier this year, it becomes increasingly evident that the golden age of publishing continues to die its slow death. 2015 already saw the loss of venerable periodicals from Details and Esquire to lad magazines such as Stuff and Maxim, but in the midst of the publishing loss, there was another media source that may not have been on the radar. Four Pins was Complex's editorial-centric answer to Hypebeast and Highsnobiety and closed their doors earlier this year amidst re-structuring rumors. What makes the demise of Four Pins newsworthy is that the pervasive industry perspective that a web platform needs to be agile, affordable, and quick, may not be enough to be self-sustaining. Traditional web stories were once the key to the future of journalism, but it is being cannibalized by news aggregators that are better at sensationalizing, while also being marginalized by comment sections and forums.
Unlike Hypebeast's ability to regurgitate press releases quickly and efficiently, Four Pins was centered around the writer. Complex gave the authors free reign on their work, and allowed them to critique, criticize, and form an opinion on the limited release. Instead of Hypebeast's quick blurb on release dates and prices, the writing carried weight and garnered a loyal following that trusted the writers' voices. This was a vehicle for streetwear editorial on the course of the fast information highway (see Four Pins writer Jon Moy's Shinola exposé and Ernest Baker's Drake profile published on the site last April). It was beyond disseminating news, and because it was accessible online, it was supposed to be agile and carried a low overhead. It was surprising to see this business model fail, but it did—and the underlying reason makes online news disheartening. Just look at the online eulogy for Four Pins from some of the most respected members in menswear and menswear media.
goodbye 2 @Four_Pins, the site i launched, ran & edited for 4 wonderfully ridiculous years- https://t.co/XETcoIF7eW pic.twitter.com/XuU9QoLvXR

— L.A.S (@SartoriallyInc) January 15, 2016
Sites like Buzzfeed are contributing to the slow decline of marketable men's fashion news. By using a couple of talking points, Buzzfeed generalizes release information. A staff writer usurps the buzz for a limited release and markets it to the public. The November release between Supreme and Toshi Maeda was made into a tongue-in-cheek list that focused more on the prurient and perverted aspect of the collaboration instead of the significance of anime in streetwear. Instead of offering useful information, Buzzfeed swoops in and dumbs it down. There is nothing wrong with the post, but it cheapens the legitimacy of Supreme's work. Similarly, Buzzfeed has the habit of hijacking good content and saturating it with bullet points. Remember "Sold Out," the thoughtfully-done Supreme reseller documentary by Complex? Well, Buzzfeed took all that hard work and diluted it with some gifs, threw in some commentary, and created an attention-whoring title: [Editor's note at 2:43pm PST: WHOOPS, just found out Complex tapped Buzzfeed for the part 3 exclusive. Thx Twitter. Leaving screencap below because it's still 'basically' terrible].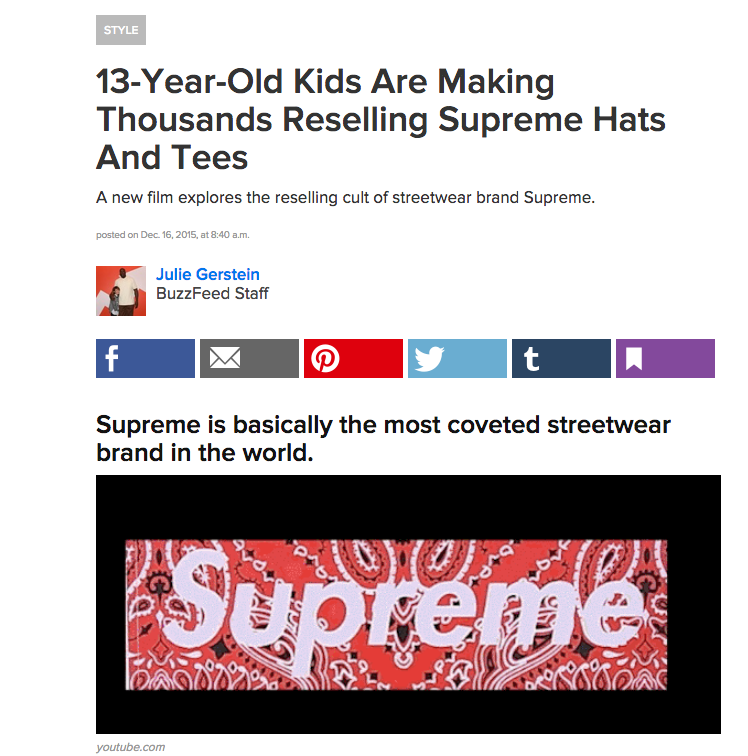 If any of this comes off as if I'm mad, it is because I am.
Writing content, whether it is good or bad, takes time, and to have it re-appropriated just sucks. Buzzfeed may be one contributing factor to the decline of media, but another aspect is relevancy and how it is more commonly found in the comment section than the actual articles.
I'm totally shooting myself in the foot here, but the Hypebeast comment section and the various upvoted comments from Reddit's r/streetwear are more relevant than the information found in some articles. Most articles gloss through creative details of a project and quickly jump to release information and pricing. There really isn't any meat about the collaborative release until you head towards the comment section, because research and care takes time. Scattered among the hateful comments are some insightful perspectives and good information. Plus, there is the added benefit of being dynamic and having a community rapport. Certain users of Reddit really know their shit, and given the opportunity they provide more detail and better information than a press release-based article off Highsnobiety or Hypebeast.
All of this leads to the bigger question of where men's fashion journalism is going, and the truth is that there are still a lot of good sources out there. GQ is leading the charge because they have a strong print and web presence. Their website is interactive, and is updated frequently. The problem is that competition, good or bad, makes content more robust, and having one good source allows things to go stale. Forums and communities are where the dedicated fashion editorial seekers go; amid the quirky banter and the occasional racist, misogynist, and homophobic comments, there is good user-generated information from passionate, knowledgeable members.
Four Pins was a force to be reckoned with, and it's sad to see it go. Not so much for what it was, but what it stood for: a respectable men's fashion news outlet that didn't dumb things down and took the time and effort to create good writing, rather than content. The future is unforeseeable, but if Buzzfeed continues their trend of shaving content from others and generalizing with half-witted bullet points, then… it's bad for everyone.
***