French microbiologist Louis Pasteur once said that "chance favors only the prepared mind," eschewing the usual tried and true tropes of the field of observation—and setting the onus on us to make the best of our opportunities. 23-year-old Atlanta transplant Garfield Larmond knows this better than anyone, coming up in the crowded Atlanta photography scene—where photographers become larger than life personalities next to the out-of-this-world egos of the rappers they take snapshots of.
From his humble beginnings as a freelancer, he has found himself in the whirlwind of the artist formerly known as Young Thug, Jeffery. From a chance meeting to shooting one of the most talked about covers of 2016, Larmond, or GLP as he's known, is one of the driving factors behind the critically acclaimed Jeffery project, and quickly becoming a cornerstone on the visual side of the rapper's rapidly evolving aesthetic.
We spoke with GLP about his start in photography, his relationship with Young Thug, and why Jeffery's cover is important in shattering the stereotypical image of masculinity.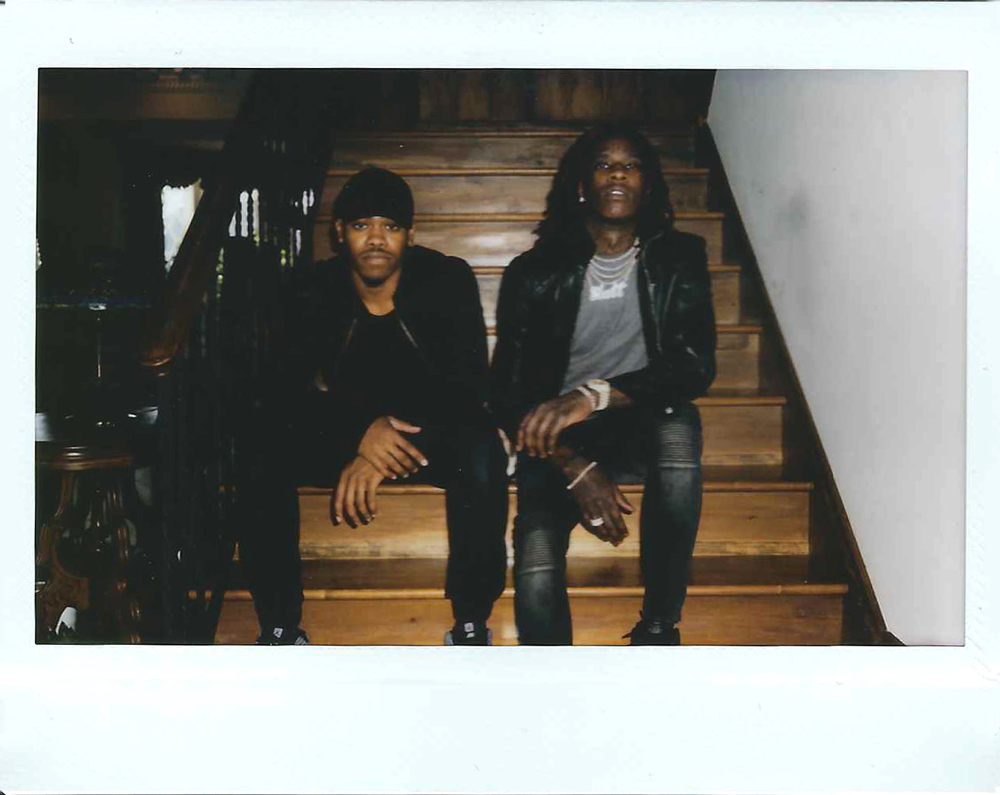 GLP and Young Thug
JUSTIN DAVIS: A lot of people might be just getting to know who you are because Thug has been working with [former videographer] Be El Bee for so long. But when did you start doing photography?
GLP: I got [started] in high school. It was kind of just something that happened. I was always into art.
Are you from Atlanta?
No, I'm actually from New York. So I'm from New York, grew up in New York, and actually moved to Atlanta in 2007 when I started high school. I was always into art, always into drawing, painting—all that stuff. One day, I picked up a camera and I used it just for random stuff—I used to film pranks in high school with my friends, make random videos, I used to never put them on the internet. I'm not like a super social person, but I would always shoot. For my high school graduation, I got my first camera from my older sister and then from there, it was an on-going thing. I got my first camera, shot a little bit, and then [after] five months: "Okay, I need a better camera." Cause [the camera I had] wasn't like anything [major]—like something with a detachable lens or a DSLR—it was like a Nikon Coolpix, which is great, but I knew I needed a better camera. I saved up, bought a better camera, eventually moved down to Atlanta. And the way I got into music and photography—I was on Twitter one day and an artist put up a post—it was actually a Trinidad James video [with] Forte Bowie called "$outh$ide."
He put up the address and for whatever reason I saw it that night and borrowed my dad's car and said, "Hey, I'm going to this music video to shoot." No invitation, no nothing. I went to the [videoshoot], shot a behind-the-scenes video for it, and ended up chopping it up that same night. The label saw it, or somebody saw it, and they ended up using the footage. And after that, I was just like, "I could do this for any artist."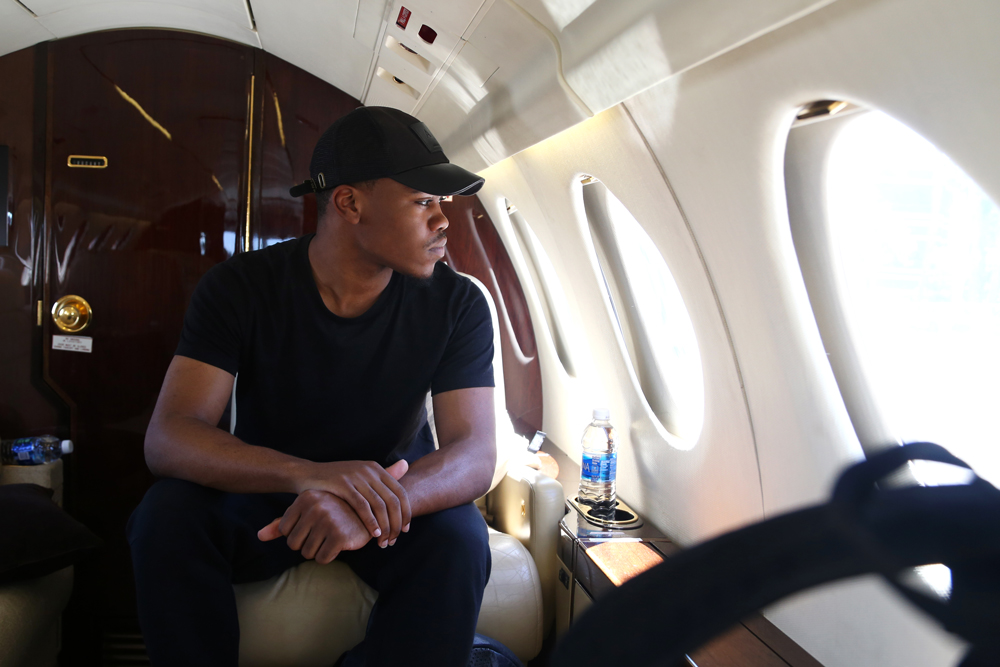 GLP
Can you describe what it's like just being a photographer in Atlanta? There are so many artists that you can do pictures and video for.
Atlanta really is a hot spot. It really became the hot spot years ago. And for the music industry, you have a lot of artists coming in and out whether they're from there or not. Along with the artists that do music, you have a lot of artists that do photography or they paint or draw. It's a big pot for artists. You can get access to a lot of people, but you kind of have to separate yourself from other artists. There are a lot of people that will sell themselves short just to shoot for somebody, just to be around. But if you value yourself and you value your work, I feel like the work will naturally come to you.
I didn't do a lot of chasing. I kind of just had to work on my craft, meet good people, [and] make good connections. A lot of what I've done is come through word of mouth. Even the way I met [Young Thug] was strictly through word of mouth—there was no reaching out. Like you said, he had a videographer, he had a photographer and I respect that. I never tried to go behind him and find out if I can get in or anything; it was completely organic.
From what I understand, you linked with [Thug's fiancée] Jerrika Karlae first before you linked with Thug.
Exactly. A part of what I'm doing in Atlanta is freelance work. So I had a client that had a clothing line and I began shooting her product shots, doing little Instagram videos for her. Her name is Brittini Mealy from [online fashion store] Pop of Junk. and she [is friends with] Jerrika. One day she called me about a video. She said, "Hey"—and this is actually my first video for Pop of Junk as well. I shot it at Thug's house. [He] actually didn't speak to me at the house. I walked in, I saw him, he didn't speak to me. So the first initial meeting wasn't anything cool—he wasn't rude or anything, he didn't give a fuck about what I was doing at his house. He kind of just wanted me to shoot and get out. The video came out great and she liked it a lot. So from that point on, we would keep in touch every now and then, see if she needed anything on her end. A year later, [I got] a phone call [from] Jerrika and she said, "Hey, I have my swimwear line. Lets shoot a video really soon." And really soon meant Sunday, which was the day after. Of course I accepted it. I set it up, and we actually turned it into a Karlae Swimwear and Young Thug collaboration for a song he had called "Turn Up."
"Turn Up" actually came out a couple of months ago. How hectic was it just putting all of that together? I know it can be really hectic especially working with somebody as unorthodox as Thug.
Like you said, he is very unorthodox. He does a lot of different things. But the thing that made this easier for me was that the commercial really started off as truly Karlae Swimwear. So it was a lot of her direction and I had to take a lot of creative control being that it was so last minute. Yes I had to cater to certain things that [Thug] liked in terms of how he wanted to look, but ultimately he gave everything to me as a director. We just had another video in LA and when we [were] speaking, he said, "That was probably the first video [I] never directed myself." He gave me a lot of creative control. As far as shooting it, it was hectic locking down the location. Like I said, I'm a freelancer and I'm not that social so I have a very small circle. So it was really just me, my friend Halo, and my friend Steve. We lit the entire house, we shot the entire thing ourselves. We were the light crew, the grip crew, the camera crew, the behind-the-scenes crew, everything.
What's it like just being on the road with Young Thug? I've seen pictures on your Instagram; there was a video where he was performing and he spilled his drink on you.
So being the videographer or photographer, sometimes you don't want to be seen. You want to get those candid moments. For that photo specifically, we were doing a show—I forgot where it was, it was definitely overseas though. So we were doing a show and when he performs "King TROUP" he likes to have his mic stand. And I'm pretty sure he had no idea I was standing right there. I got a crazy good shot, I got a good photo of it and good video. But as he's singing, he's pouring lean out the cup and I'm standing right there. And it's getting on my shirt, getting on my camera, but I couldn't move 'cause you got to get the shot.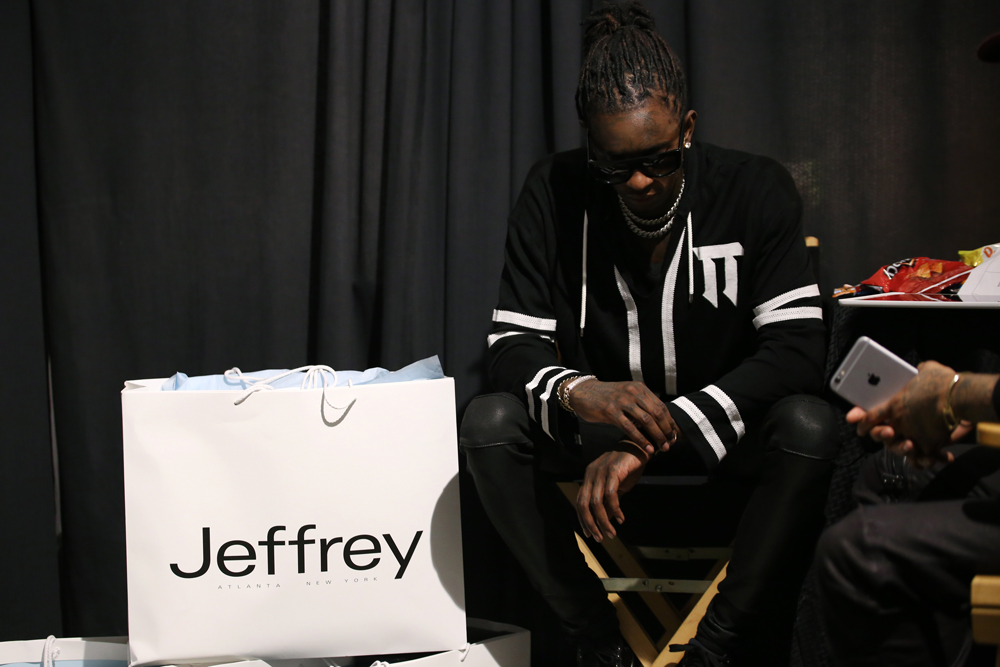 I imagine that you get a lot of shots when he's recording and stuff like that. Is it just strictly work, work, work all the time? 
Well, he does a lot of work definitely. But it's not work, work, work all the time. As far as the studio goes, he spends a lot of time in the studio. So if we do a show, at 1 a.m. he may have a studio session right after that and we'll be there from 1-6, or however long he wants to be there. He'll record, he'll sit down, and he'll chill. Him, [producer/tour DJ] TM88 and [in-house producer] Wheezy [will] come up with some beats. They're in the booth back and forth. As far as I know, I've been shooting a lot of that stuff. I have so much footage catalogued of the records he put out. But I'm trying to be strategic; like I have so many clips from the studio whether they be in New York, overseas. I just have a lot of stuff. It's work, work, work but there's play too.
And one thing about Thug is that a lot of people don't really see candid moments with him. When you eventually bring this stuff out—what do you want them to see of him that you've seen through your lens?
To me, before I started working with him, like you said, I hadn't seen candid stuff. I haven't seen a lot of him other than what'd you expect to see, like a music video or him rapping or something like that. But for me, being around him I realized that the perception that the public may have is actually a little different than him personally. Like people may look at him and be like, "He's probably mean as hell, he probably don't want to be around me,"—no, he's cool. We'll all be sitting in the studio talking about anything in the world, videogames or something.
He'll just be in the kitchen eating cereal, cause he's always eating cereal. And for me, as a photographer, I'm always shooting around him because this is stuff that people don't get to see and I want people to see it. I feel like he's going through this whole change from Young Thug to Jeffery. I feel like everything needs to be presented properly, so when we're at a show I may take photos back stage and put those photos out of just him sitting down or him on his iPad or if we're just out somewhere and it's a good candid shot of him just chilling, relaxing. I'll do that. It's a lot of cool stuff.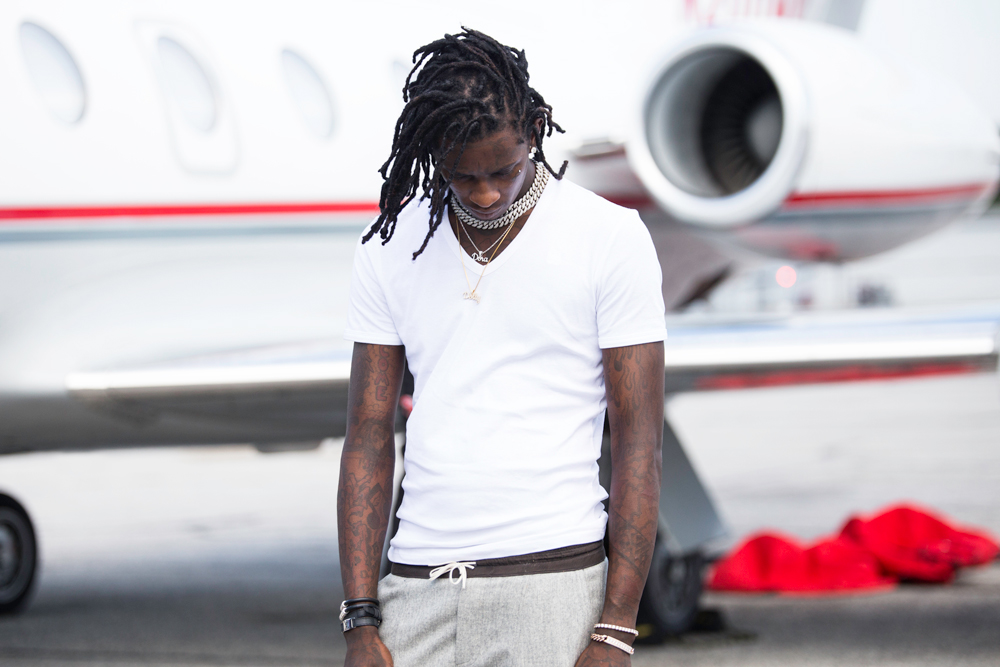 And just recently you were tasked out of nowhere to shoot the cover for his Jeffery album that was released last week. So, you go from a hectic video shoot to a hectic photo shoot; how did that feel for you just being thrown to the wolves?  
I actually got a phone call the morning of from someone saying, "Hey, so what's the location? What do you need?" And I was like, "Huh? What are you talking about?" And he was like, "Oh, management didn't call you first?" And I was like, "No." So I got off the phone and immediately called management and got the information. I'm still in bed; my eyes probably weren't even open I was just on the phone. It was definitely like a last minute thing. But the [reason] it happened was [after his first cover shoot] in Atlanta.
Yeah, and he didn't like it, right?
Yeah, he had a cover shoot and didn't like the [pictures]. He made a video on Instagram and let people know, "The cover isn't what I'd like it to be." He didn't say he was going to shoot another one but obviously that's what's implied. So he had a cover shoot, he didn't like it, and I was actually there in the studio and I was there when he realized, "Okay, I don't like it."
"What I thought was cool was that when he saw the piece, he knew that it would challenge those borders of masculinity"
Can you say what it was?
The photo shoot wasn't anything super styled. From a fashion perspective, it wasn't anything crazy. I believe he had a black T-shirt on. I [liked] the style of the photo shoot but it didn't express him how he felt like it needed to express him. I don't think it would've touched his crowd, his fans, or him personally the way this next photo shoot did.
We had some stuff scheduled in New York. We met up with VFiles, Julie Anne-Quay and Rox, in New York. [Thug was scheduled] to be a mentor for the VFiles runway [for New York Fashion Week], so they were going over the designers. We were flipping through these photos on the computer after the shoot and when Alessandro Trincone's stuff came up he stopped it and was like, "Who is this? What is this? I need—this is the cover." And he just pulled his mother-in-law over to show it to her and it was crazy because after he said it, [VFiles said] "we can reach out, and get it for you." So they literally got that piece shipped from Trincone's house all the way to Atlanta and when it arrived, he was in the studio and they had a tailor come to him and get his measurements taken and had the piece fitted to him. And then we got to the shoot, which was a few days later. It definitely took a long time to get him in the piece and situated and have it look right.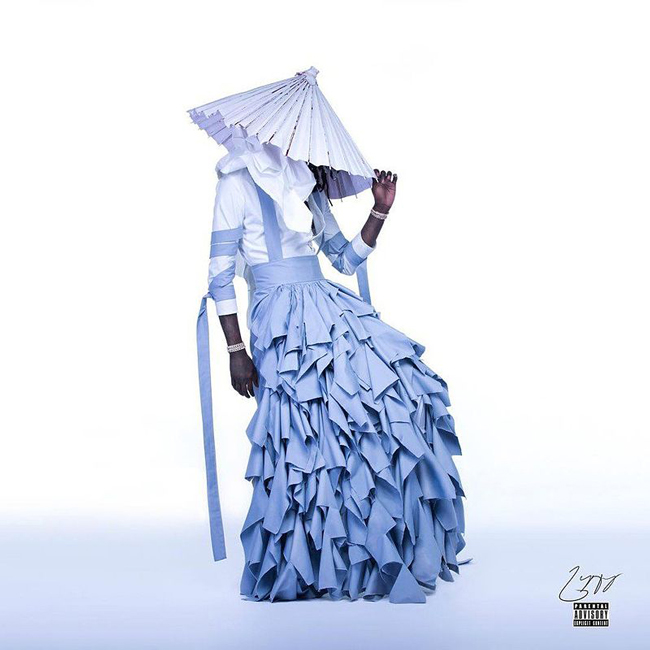 The cover for JEFFERY, shot by GLP
Yeah, it was like an hour right? 
It definitely took an hour plus because after we got the outfit on him, we had to get the hat on him. The hat in the photo I don't believe is actually the original hat; it may have been a different hat, which is why it was a little more difficult. It took so long just to get the piece on him, and then we sat, and then we had to get the hat on—that took another hour. But it came out right. Once we got it on him, I was pretty much set and shot like crazy.
And today this is probably the most high profile thing that you've done. I mean, it's a meme! How did you feel looking at the memes based on it?
Oh yeah, the memes came out immediately. From the jump, I already knew there was gonna be a Mortal Kombat meme. We said that the day he saw the piece. We were like, who does he look like? Like a Raiden, Sub-Zero-esque piece. I've seen that car wash meme; I don't take it to heart. I actually think it's funny. People like making memes—that's another part of creativity.
#YoungThug #Raiden #MortalKombat #carwash #JEFFERY pic.twitter.com/8bo1JgnCZN

— Rodney (@DJTriumph) August 27, 2016
I remember when I saw it I was like, the best thing you guys can do is make a meme out of it. If you don't, that means it's whack.
Right. The fact that people are making memes out of it means that this is a piece to talk about. I've seen the memes, I've even seen like art pieces. I just saw the other day, I have to find who it was, but someone made a seven-foot painting of the piece. I saw another girl on Instagram, she had her make up done inspired by the color. I've seen graffiti of it, I've seen sketches of it, all types of crazy stuff.
It's pushed the boundaries of what masculinity could be. You've made a lot of people feel confident to dress how they want to dress and be how they want to be.
Right. And that's actually an interesting thing you're saying because what I thought was cool was that when he saw the piece, he knew that it would challenge those borders of masculinity and all that stuff. But it's actually interesting because the designer actually had those same thoughts when he made the piece—something that was unknown to Thug when he saw it. I found that out after the fact. To know that they kind of had the same viewpoint and wanted to challenge the same views, society's views, is cool. It's dope.
Young Thug, now known as Jeffery, is going on tour again. Do you have any plans to be down with the creative process for the tour set? Or are you going to be doing more videos with him? What's next for you and Thug? 
Well, right now, so we just shot a music video in L.A. for "Digits" with Meek Mill, which is a little bit older. We plan on shooting a lot of Jeffery. That's what people are used to seeing from him, him just knocking out videos. Like I said, I shot "Turn Up" with three people. The videos for Jeffery, I don't want to shoot with three people. I want to have an entire crew with directors and assistant directors, a grip and lighting crew, like super clean and super professional so it actually makes an [impact] in the film industry.
As far as the tour goes, I'm in the process of figuring out the creative process on that. On a more personal tip, I want to shoot a lot of behind-the-scenes of the tour. I already have tour episodes from overseas cut up. They've just been kind of like, not delayed, but in the vault of footage for the album coming out and the mixtape coming out. Now I think I may want to just use that to put up before the next tour so people can see that this is what his tour is about. So I have like crazy footage, behind-the-scenes that I don't think that people have ever seen from him. I plan on doing that on the next tour too.
***