One of the reasons traveling with Todd Lyons (of SE Bikes) is fun is because he insists on being "more local than the locals." Hanging with Todd in China, Hong Kong, and Kuala Lumpur was actually the inspiration for the "Get Local" title of the series. Apparently to Todd, being "more local than the locals" in Asia means eating at sketchy places and ordering whatever looks good – no translation needed. Being local will also lead to random exploration trips on his bike with no real map or route in mind, checking out the intense local markets at dawn, and usually staying in some pretty sketchy places. All that said, you definitely get a different perspective than most travelers and it's always an adventure.
In the past, some of the lodging Todd has shown me were so bad I was honestly concerned for his safety. Luckily Kuala Lumpur is known its 5 Star Hotels at pretty reasonable prices. Armed with this knowledge, I was able to talk Todd out of staying at whatever sketchy hostel he had in mind and get a regular room. Two of the best hotels in KL are the Traders, the most modern, and the Shangri-La, the classic. We initially wanted to stay at the Traders Hotel for the rooftop pool/bar and the view but we ended up going with the classic.
View from the rooftop bar at the Traders.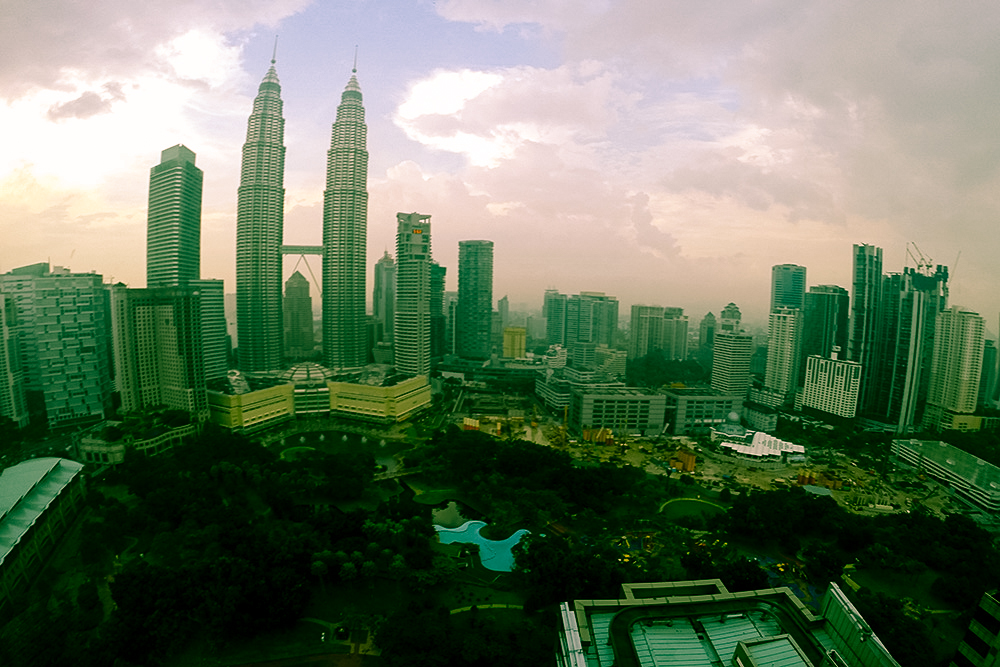 It was instantly clear we didn't fit in at the Shangri-LA. Whether we were walking through the lobby in tanks and shorts or waiting in the valet next to Ferraris with box bikes, we were out of place, yet everyone seemed to enjoy the new guys.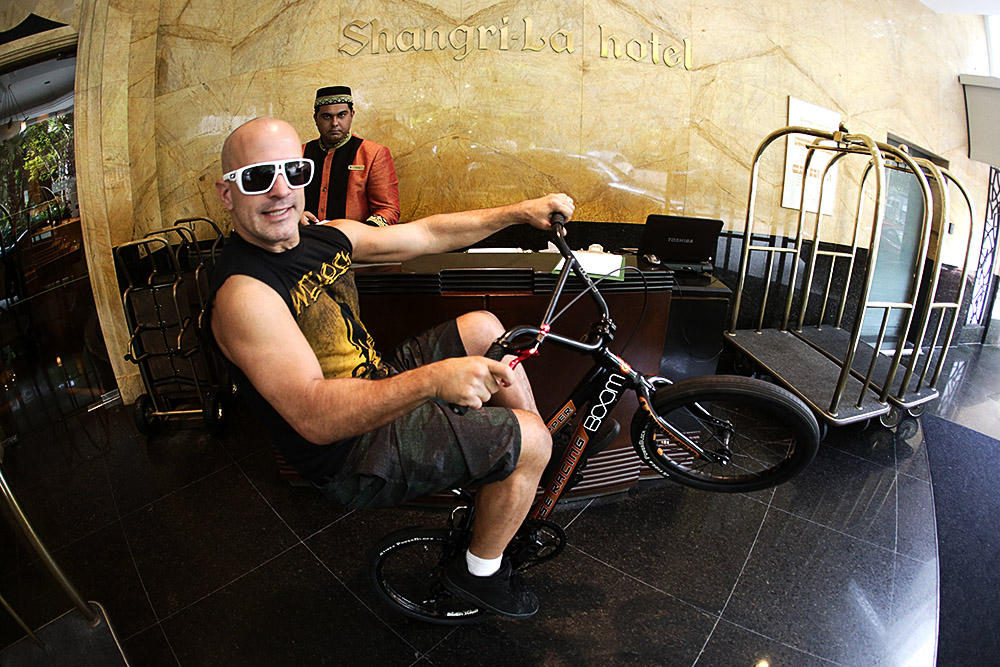 As a bonus, the Shangri-La is fairly close to most of the nicer shopping and eating areas of KL. Lot 10 and its Gourmet Heritage Village, a food court comprised of the best hand-picked street stalls, are a good example of both.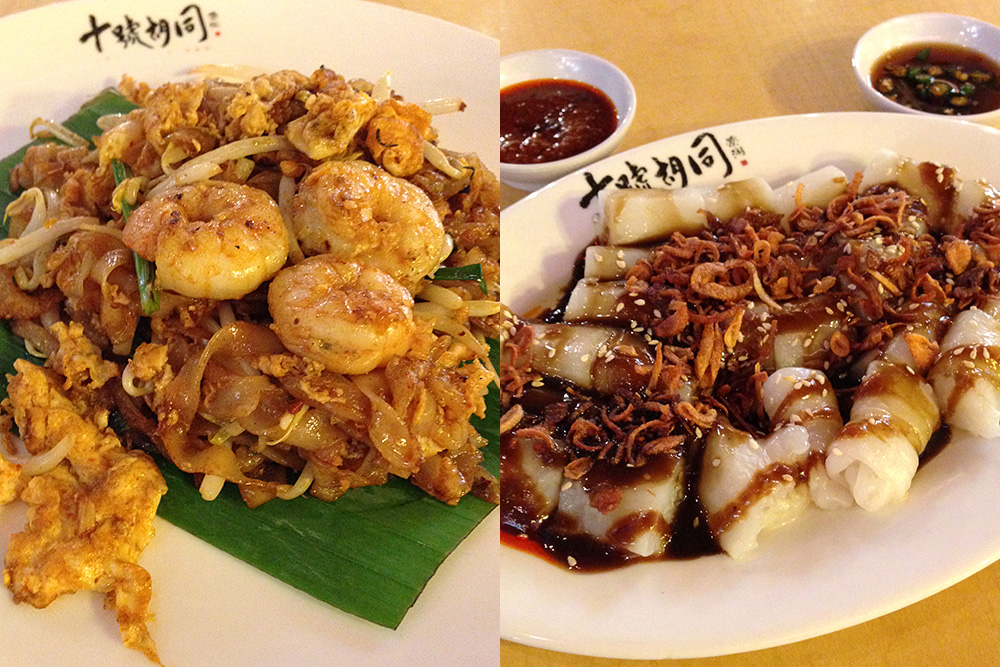 Knowing it gets too hot to ride in the middle of the day, we headed to Shah Alam Extreme Park pretty early. The construction style of this park is a little dated, but with a few different sized bowls weaved connected with a huge street course, it's actually a lot of fun to ride.
This has to be the first capsule I've ridden in which both sides are equally as fun.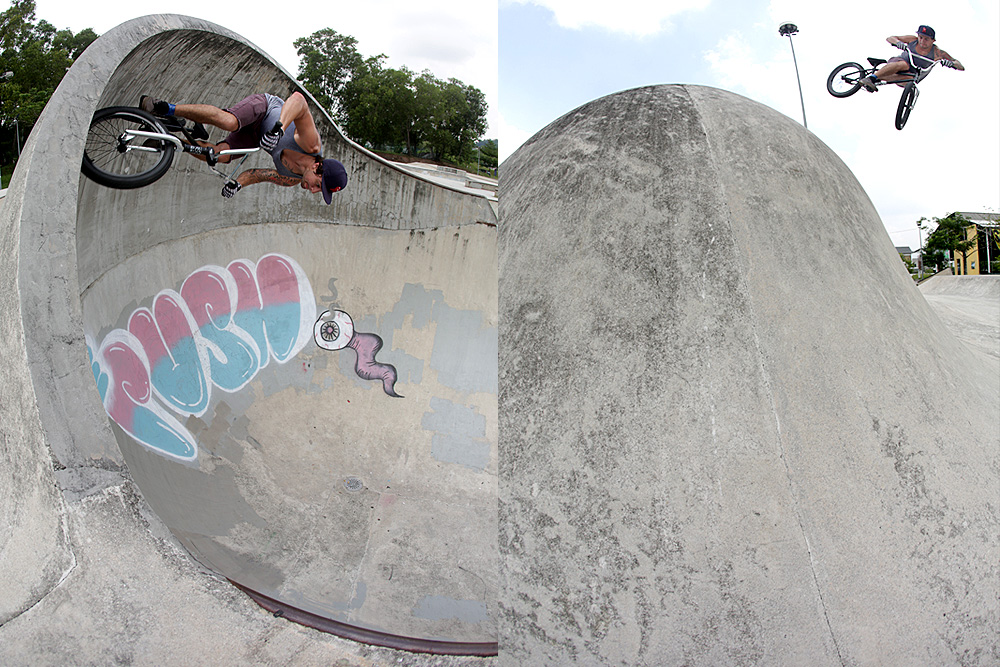 Probably the coolest thing we saw all week – these two girls combining their traditional and modern cultures.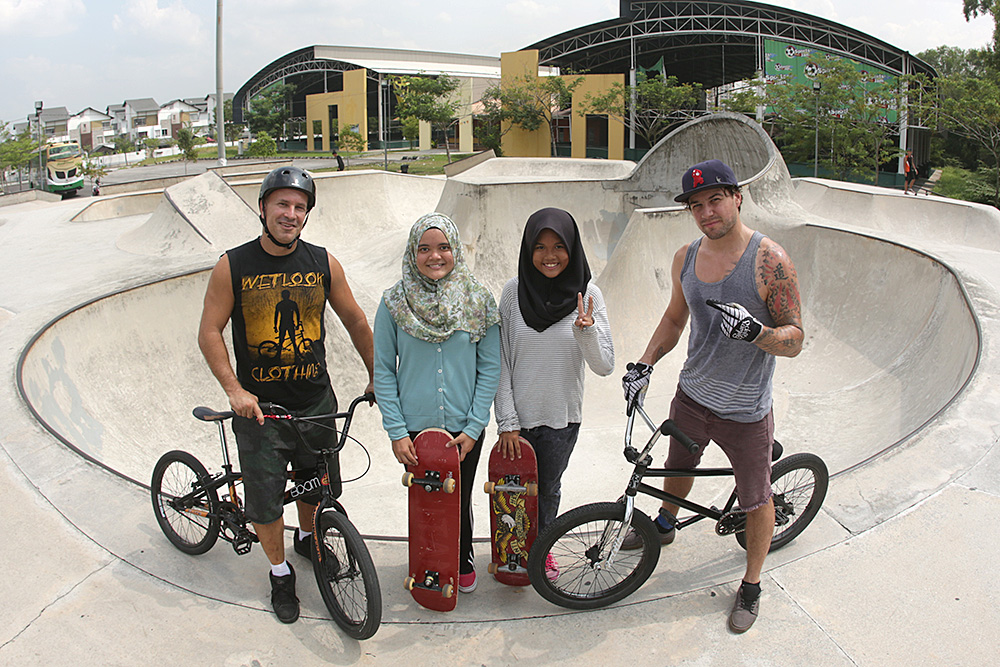 Located in Chinatown, Petaling Street is the Malaysian equivalent to Canal Street in New York or Santee Alley in Los Angeles. Known for pirated clothing, accessories, DVDs, and CDs, Petaling Street is basically a covered marketplace selling cheap shit.
Todd was definitely the only "local" riding through the crowded market.
I have an affinity for knockoffs, but not the well-done ones people try to wear and pass of off as the real thing. I'm more drawn to products that carry a brand's logo or name, but are instantly recognizable as fakes. Actually come to think of it, both versions don't make any sense; why do I want to make someone think I can afford a Louis Vuitton bag if I can't afford it? Instead of tricking people into thinking I have money but not class, wouldn't I benefit more by figuring out how to make enough money so a LV bag is a reasonable purchase?
Todd ponders how good he will look in a fresh Supreme hat.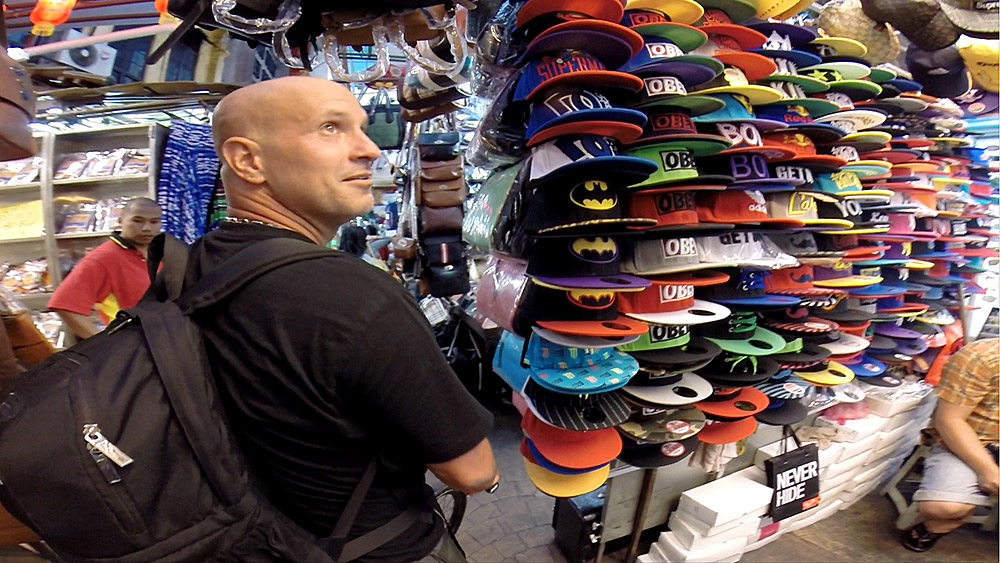 Across from Petaling Street we found "Famous Clay Pot Chicken Rice" which turned out to be the best meal of the trip.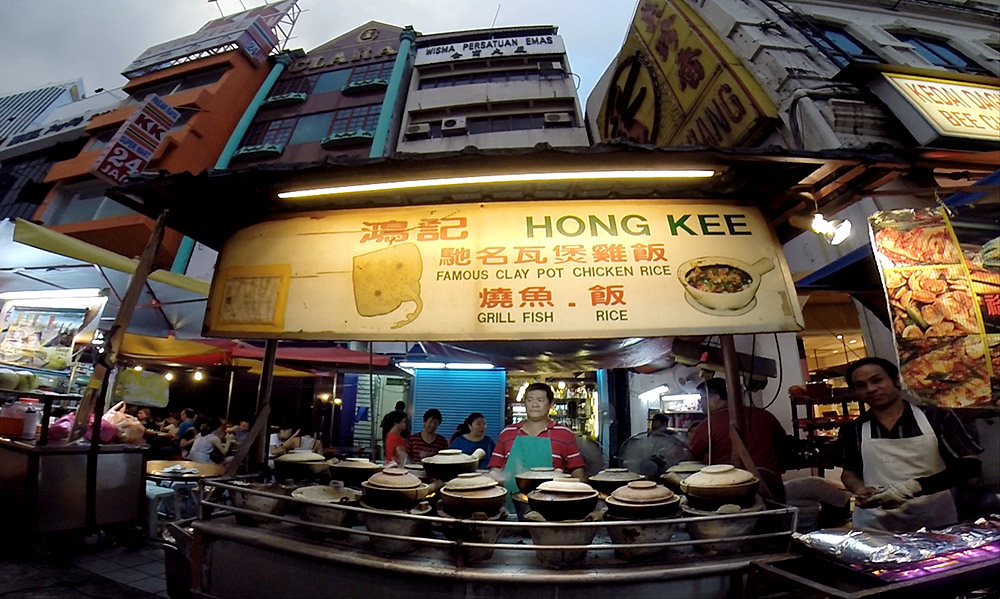 It was a pretty cool experience eating street food under a makeshift waiting out the monsoon rains with the locals.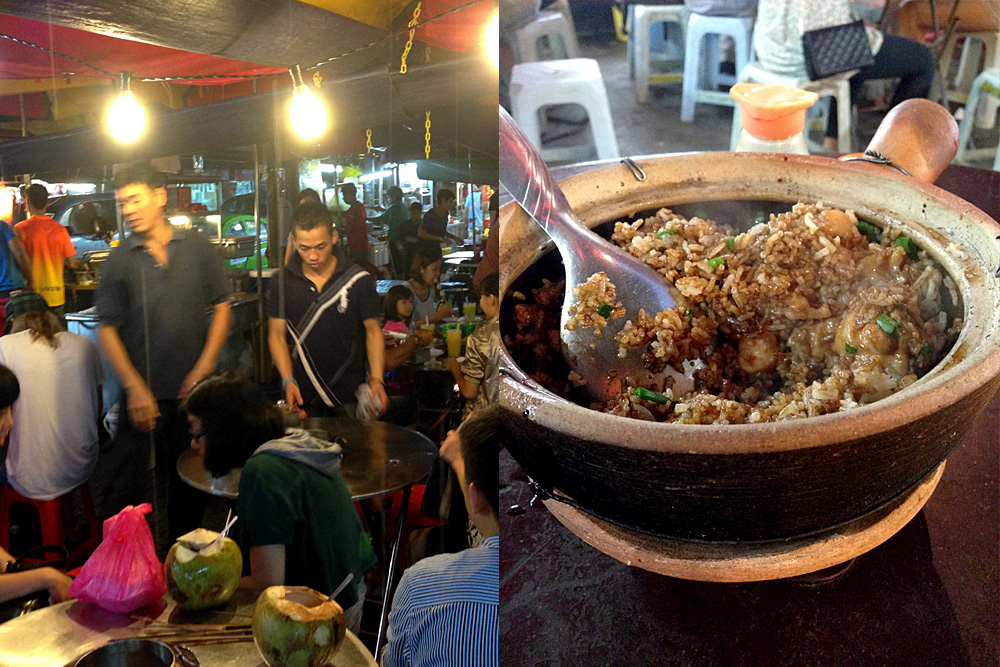 The last skate park we went to, Putrajaya Challenge Park, was by far our favorite. The place has something for everyone – a huge cement street course, bowls, downhill mountain bike trails, and a weird MTB/BMX/trials dirt section. There was so much to ride that after a few hours we still hadn't figured it all out. The park is also home to Primary Bike Shop if anything should break on your board or bike during your session.
A perfect example of how quickly the weather can change in KL. I shot TL doing this one-footed Xup in the blazing sun and about 10 minutes later I squeak in a tbog before a storm rolls in.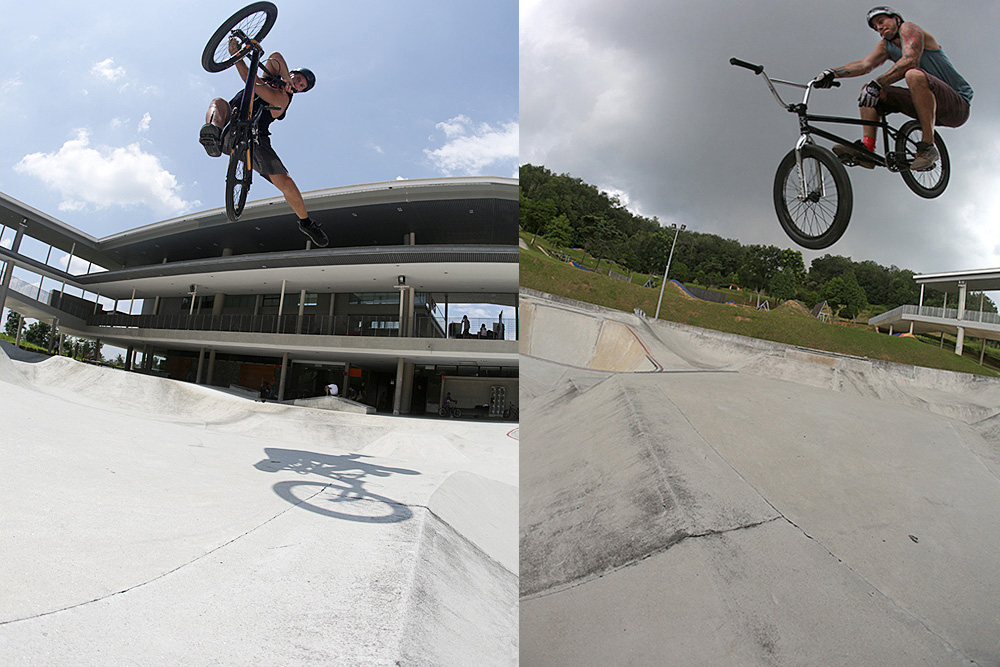 TL blasting wall-rides is pretty normal but a praying room at the skatepark was a first.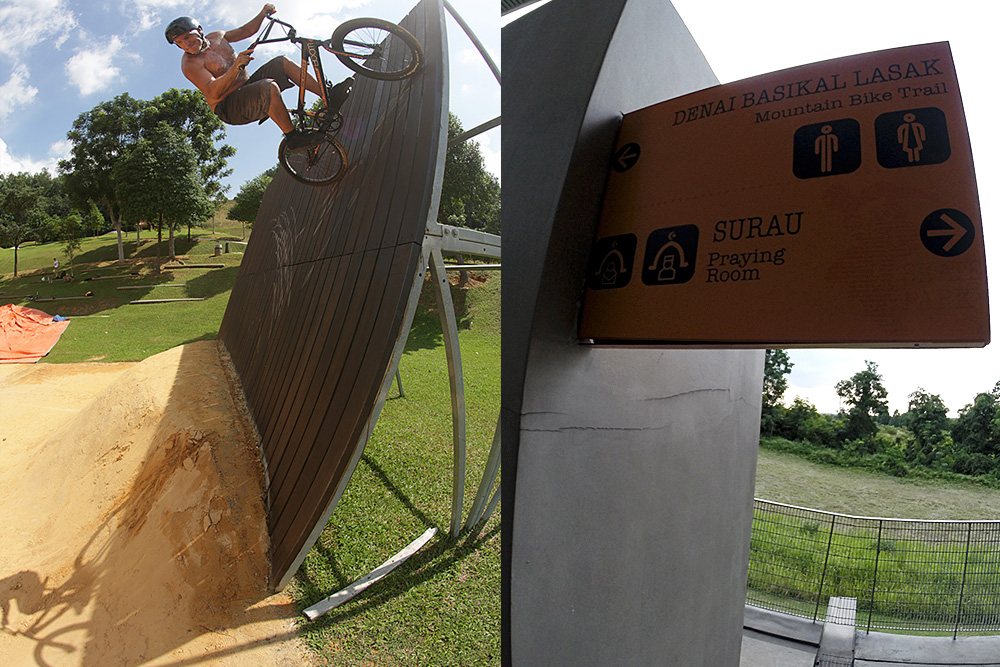 After a hard slam, I was pretty stoked to finally get this bowl to bowl transfer. Then, 30 mins later, Todd is blasting tables over it.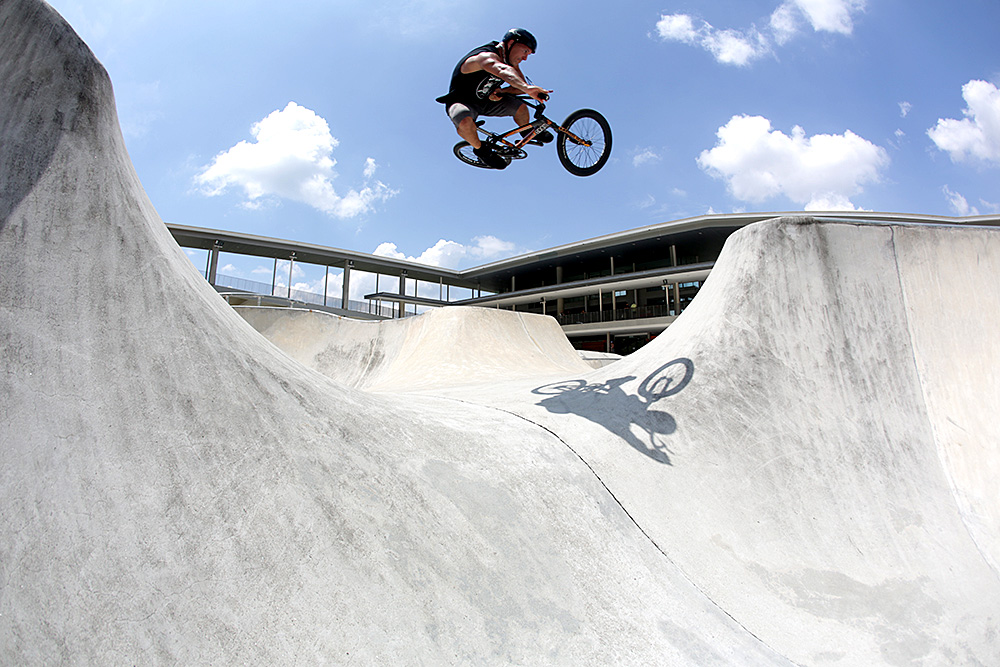 Seeing crews of riders in other countries makes me feel like a kid again. These days, the bmx scene in the States can be a little jaded. But back before the Internet, if someone else rode bmx, you were basically already friends.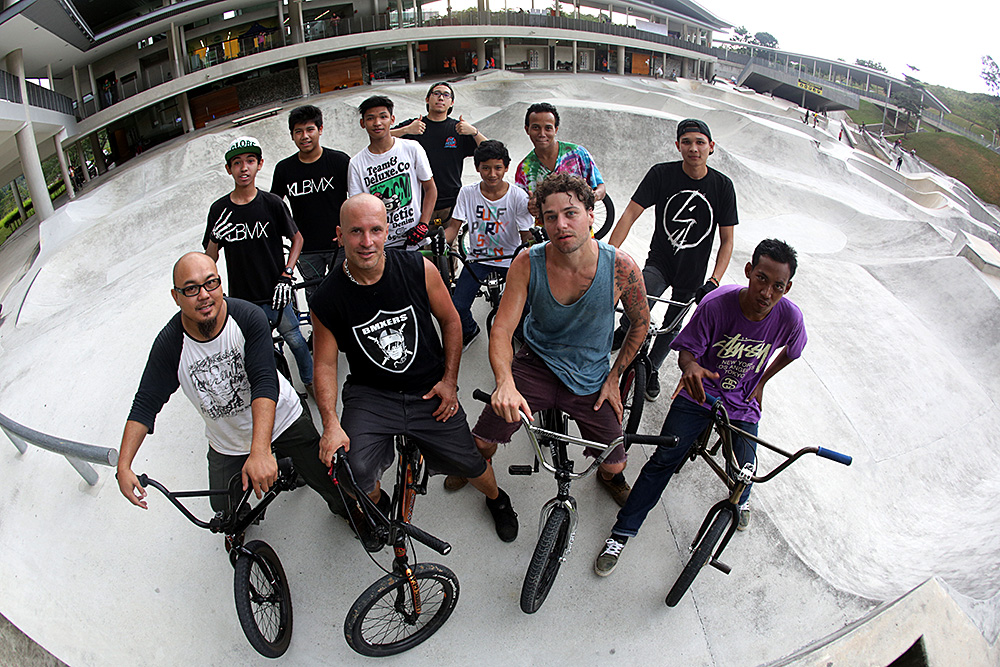 The nightlife in KL is a bit different than a lot of Asia. It's much more common in KL to see open floor plans and different groups of people mingling, talking, and dancing together. There are a few bars in downtown KL, but clubs seem to be a little more popular. As a westerner, some clubs in KL can get a little confusing with a mix of regular people and bar girls. Bar girls are a lot like college girls – they try to woe you into buying them drinks, then make out with you, and then ask you to take them to your hotel. Money is not mentioned right away, but I'm pretty sure it will be expected after.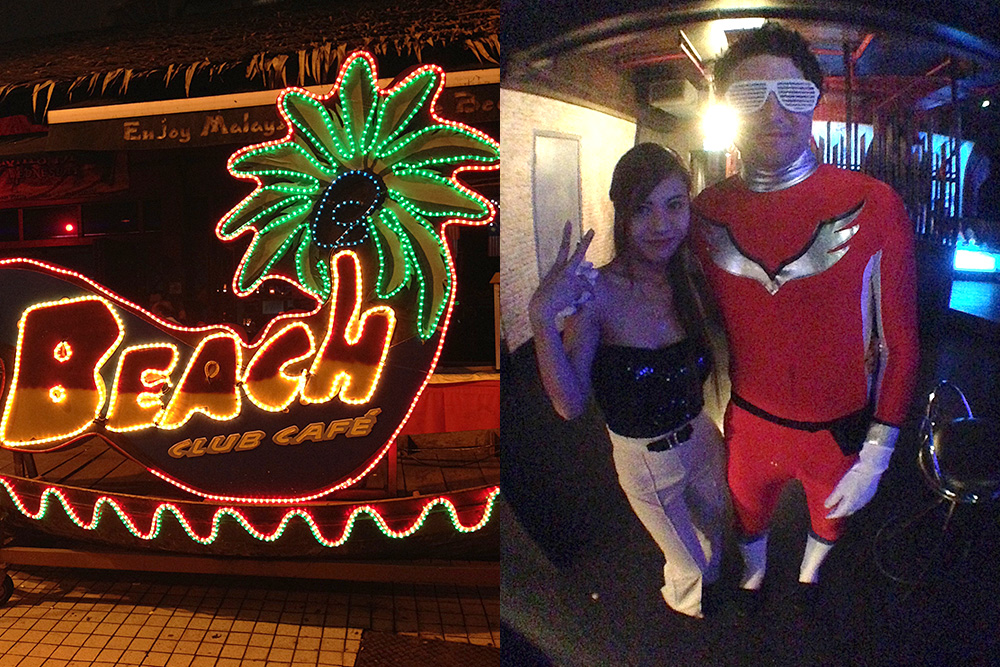 At this point, maybe I should mention it was Halloween – and although Malaysia doesn't really celebrate Halloween, Todd Lyons does. Todd knew we'd be gone for the holiday, so he packed a few spandex suits for us. So not only were we out of place at the Shangri-La, we were extremely out of place EVERYWHERE. Side note, while wearing a spandex suit in KL, there really is no defense from bar girls continually grabbing your junk.
Unfortunately, the Malaysian wedding party we shot photos with moments early in the valet used their own camera. Spandex, sunglasses at night, fanny pack, and a hand full of ringgit – BALLIN KL STYLE.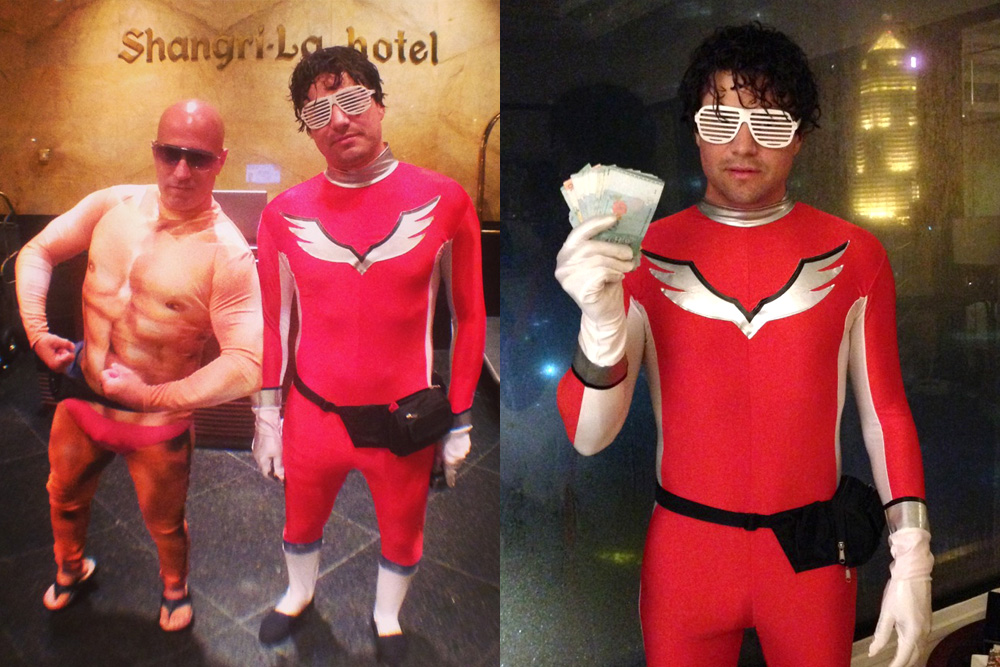 It's fairly easy to walk from the clubs downtown to the more Western-style bars off Jalan Alor. It's also legal to walk around with street beers, making the journey as fun as the destination. Street beers are one of my favorite things ever – why the US so weird about this? I'll never understand. Anyways, on that strip you'll find more typical bars and small clubs filled with more tourists, foreigners, locals, and not nearly as many bar girls.
Even the local merchants couldn't keep their hands of the muscle man.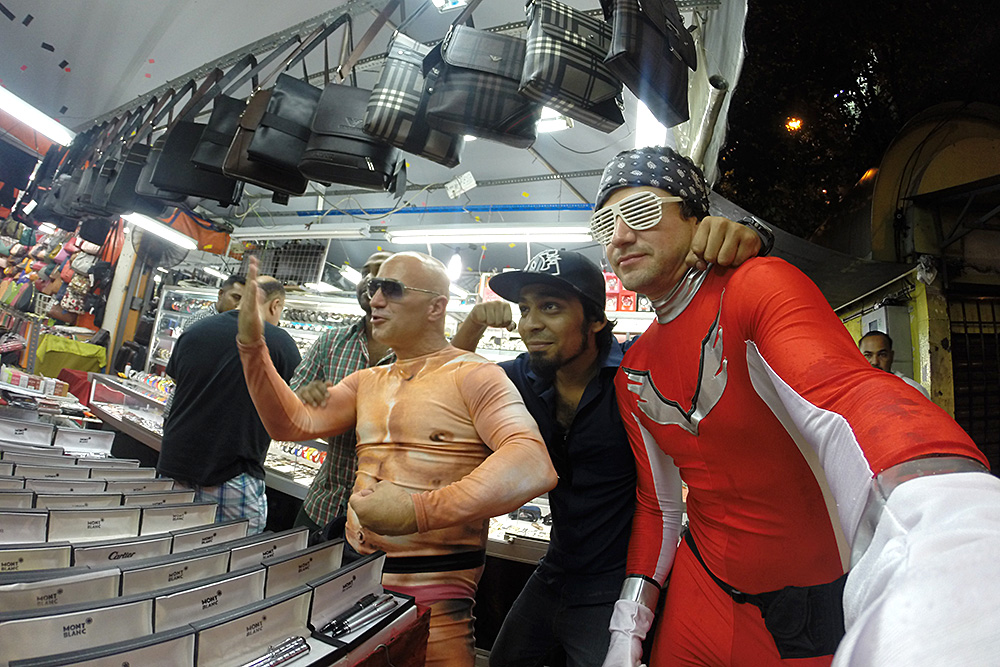 If there is one thing every bootleg Power Ranger needs, it's obviously a Rolex that ticks.