James Rhoades has traveled down an unusual path to get to where he currently sits. A child of the military, or as he affectionately puts it, an "army brat", James has moved left and right across the United States for most of his life, until finally landing in San Francisco, which he's called home for the past 15 years. Stationed in Germany after enrolling in the service at the age of 19, James knew his calling wasn't in the Army and had to find a way to fulfill his yearning for something more. Growing up around his father, who was an Air Frame & Power Plant Section Leader in the Navy for 22 years, he always found inspiration in the art of finding solutions to just about any problem thrown his way.
Following a series of odd jobs after his Army stint (including a window cleaning business in Colorado), James landed a temp position at Levi's in San Francisco, working his way up the ladder in the finance department and eventually becoming a Senior Financial Analyst. After 8 1/2 years, including 5 years as a fit model for the company's design sector, James was laid off when his, and various other jobs in the department, were outsourced overseas. Filled with motivational ammunition, especially after repeatedly having his ideas dismissed, James knew all these concepts that were giggled at during those fit meetings would somehow amount to something.
It's taken 4 years of countless tooling, re-tooling, spending, hustling and grinding for his brand – Endless Ammo – to finally gain the traction it's needed to land at key accounts, both stateside and internationally. I caught up with Mr. Rhoades this past week for a chat about his compelling start in the industry, life outside of the military, and how he's managed to triumph through adversity time and time again.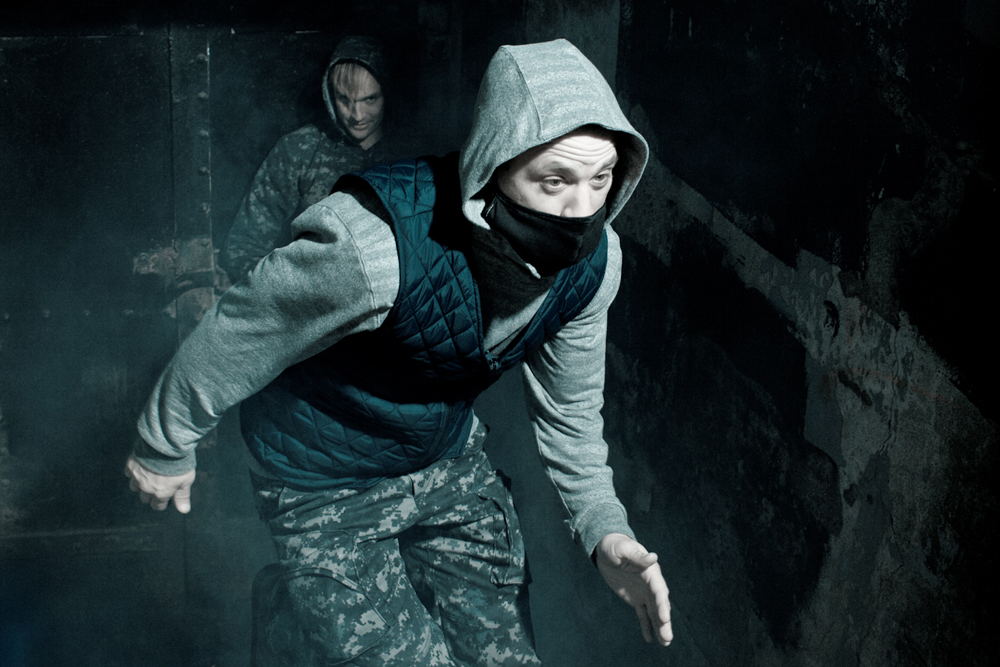 James Rhoades in the Endless Ammo F/W 2011 Lookbook
We've talked before about you being in the service for a few years and eventually changing course. I know you were raised in a military family and had this career trajectory all mapped out from an early age, but something along the way changed for you. You've mentioned having these odd jobs after leaving the Army. Do you feel like all of those work experiences humbled you in the real world at an early age?
The Army was the job that humbled me first, but also taught me the most in the shortest time. Being a Cavalry Scout meant you were to perform duties in several aspects of warfare and logistics, using the latest in equipment and attire. Being the eyes and ears of a brigade meant always being in the field and rarely sleeping. You needed the most functional utilitarian clothing and it needed to take care of you for a couple weeks at a time, often wearing the same BDU (Battle Dress Uniform) for the duration. In my days in Germany at 1st Armored Division, I was deployed with the Spearhead Tank Battalion. We were fortunate to be some of the first units to receive the ECWCS (Extreme Cold Weather Clothing System) which included the first Gore-Tex outerwear along with the new Polypropylene undergarments.
After the Army I worked extremely difficult jobs at a shipyard in New Orleans driving a forklift and then as a mechanic's helper at an off-shore commercial diving company owned by Halliburton. These jobs were pure hell, even compared to the Army. Eventually I got tired of the heat and depression of New Orleans so I joined my brother in Boulder, Colorado where he attended CU (Colorado University). I worked for a group of college guys who started an innovative window cleaning business. Most of the work we did was new construction housing and commercial properties in the Denver Metro area. We generally worked 10 hour days in crazy heat and sometimes snow and ice. It was a hard day's work but kept us fit, constantly lifting and climbing heavy ladders. A friend and I purchased the business and ran it for 2 years, which was my first business. I was bought out by my partner later on.
It was around then that I met my current business partner, Kiri Humphrey, whom I found to be very much on top of things and very disciplined, yet street smart. We had lots of ideas and he was already an innovative thriving young businessman working hard at his truck bed-lining company, while attending CU. We were always throwing around ideas and I began to create a lot of inventions. I started a business, with a mutual friend of Kiri and I, to patent, manufacture and distribute a multi-purpose eyewear design (US patent 6247811). Although we were successful at the patent and prototyping process, the business ultimately failed. It was at that point I got hired by Levi Strauss and Co. as a temp, working in cost accounting at the company's San Francisco HQ.
How long were you at Levi's?
I spent 8 ½ years working at Levi's with gradually more responsible roles in finance, spending the last 3 years basically managing the advertising and promotion budget for the Dockers brand, that Levi's owns.
I oversaw for the VP of Marketing a $44 million dollar budget, which I worked with the individual directors of each department when they would spend their allocated amount, be it media or store planning. I worked with all these people and also as an in-house fit model who they could call on anytime of the day. I was always on call to go do that, so I was learning everything I could about design while being in all these fit meetings for pretty much all of the Dockers men's brand. Between the finance, everyday work, and modeling for 5 years and knowing everything that was going on within the marketing world in all of Levi's Strauss, not just Dockers, I felt like I knew enough to have my own brand.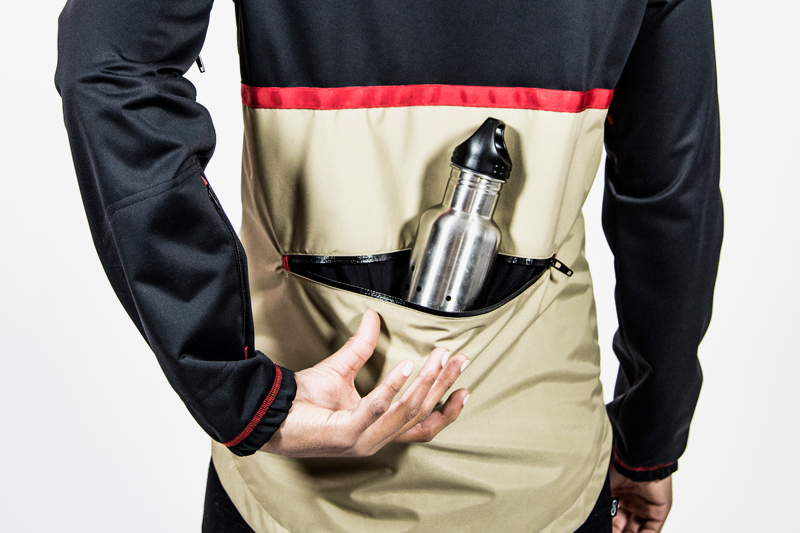 Upcoming anorak design for Fall/Winter 2014
At what point did you know you had to chase this opportunity to start something of your own?
I knew my whole department was up for layoffs – they were moving most of ours jobs overseas. So instead of trying to find a job within Levi's, I opted for the layoff, which was a really good package. With my saved up money and 401k, I just pulled that all together and dumped everything I could into starting up Endless Ammo.
I decided to start my own clothing line since I felt like the ideas I would always try to pass on to Dockers were kind of giggled at, because you know, who was the finance guy to tell us how to design something?
Was the F-Stop pocket one of those ideas?
I struggled with trying not to break my cell phone all the time. Mobile was fairly new and pockets were the same as they always were. The pocket on the front of your shirt was a perfect slide for a phone to go into a toilet... or a river [laughs].. or just smash on the ground... I struggled with ways to retain it in my shirt. Pant pockets are usually too tight and on top of that they have keys and other things that scratch the phone up.
I would run around doing what would eventually be called Parkour. I would run over by Levi's plaza and The Embarcadero, jumping over stuff, so occasionally my phone would just fly out of the pocket and I'd be so pissed off, so I was always trying to find a solution to fix that.
I would try things like pinning a lanyard onto the shirt and having that be hooked to the phone, but then you had to have a lanyard all the time. We're talking about 2003, I mean, it still wasn't as ubiquitous to have a phone. They definitely weren't as complicated and expensive yet, but they were easy to break, so that's were the F-Stop pocket came from. You see that sort of overlapped pocket on old board shorts and stuff. The overall pocket technology always existed and can be found in a variety of methods, but using the opposing arch allowed me to patent it because it hadn't been done before. Some patents you'll see several versions of and this was just another one.
I know several brands who started in this industry blindly, with a wish and a prayer and a little bit of cash. Some succeeded, but many failed. How much importance do you place on your financial background being the foundation of your business, or any business?
If I didn't have a financial background, I probably wouldn't have wanted to start this business, just because there's a lot of pitfalls in just starting any business. So I had the confidence to basically step off the cliff and know that there are ways that you can manage money. There are ways that you can defer payments for some things. There are ways of not having to have cash – you can get away with lots of things. Just the corporate finance background provided the visibility for me.
Economy of scale becomes a factor when you have a large corporate business because you have accounts that can order 50,000 units at a time and that's really what I was looking at as possibilities by starting a brand, rather than saying we'll take it step-by-step and sell T-shirts and sweatshirts and eventually we'll make enough money to start a bigger brand. Well you can't really approach it that way because it'll take you 20 years, so by having the ability to put financial documents together with the type of commentary that proves there is a business plan… Making that happen is really where the financial background was essential, because I would have never had the balls to even step off the cliff if I didn't know how to actually create a business first and then figure out what we wanted to make with that business second – [that] really was the process: have a product, build a business, then get that product everywhere you can.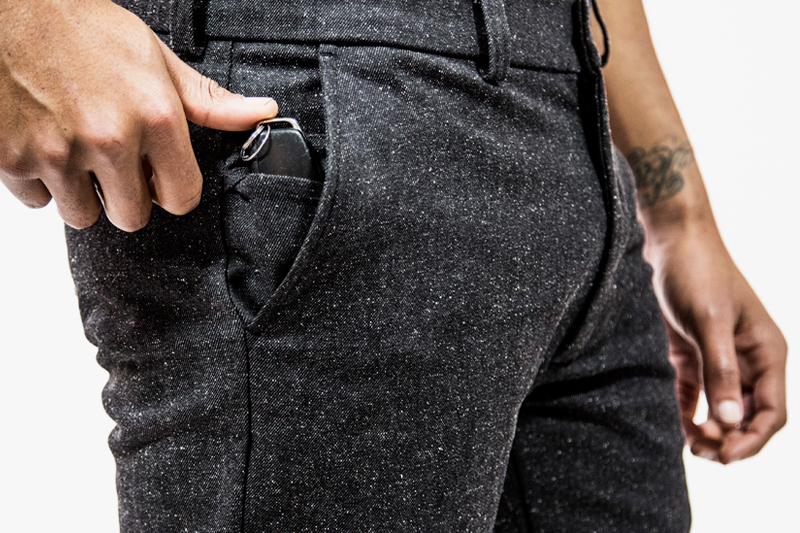 Civil Ops Pant for Fall/Winter 2014
Your aesthetic isn't necessarily fixed solely on a military concept, per se. To me, its more revolved around functionality with bits and pieces of your past experiences sprinkled throughout. Would you say that's an accurate assessment?
As a brand, we don't really try to make garments that look like you're in a unit. I mean, if it's surplus, I don't mind if people go around wearing a shirt, or pants, or this or that, but once people start getting dressed up like a military contractor then it gets a little annoying.
Our approach is more based on how a special forces unit would be outfitted. They don't get what the regular Army gets. The word military doesn't identify directly with what we're doing. What I like to call the Military Evolutionary Doctrine, is the underlying fabric of what the company stands for – it's because the military is always going to have the top level stuff. You don't get it until they've already had it long ago. Like GPS or the internet. My father was using the internet from aircraft carrier to aircraft carrier figuring out where an engine for an F14 is on a different ship, you know? That's where the internet started, in places like that. It's the same with all these functional fabrics, like Kevlar… all these types of things are spawned by the military, so our outlook is just to follow that approach.
I know you've used fabrics like NanoSphere in the past. Was your plan to always go a more premium route with Endless Ammo?
Kiri was the one who made the brand a bit more premium. I was going for the mass market at first. I was thinking we should just sell our T-shirts as a 3-pack at Target. That sort of thing was what I envisioned doing. We were still cut-and-sewing everything, but I was thinking more along the lines of less premium and rather a more widely distributed product. Kiri came in and brought the attention to detail for quality. He also brought the philosophy that fools rush in where wise men fear to tread. He basically fostered the approach of doing it right, and by the time it's matured it'll be ready to go – which is kind of where we are now.
Your interests in fields far removed from fashion bring a unique dimension to your approach to functional garments. Without giving too much away, I know you're in talks with some exciting potential partners that aren't exactly apparel-driven but would lend groundbreaking technology to fashion. If you had a chance to work with anyone, who would it be?
Elon Musk. I feel like I got into apparel because it was the logical entry point, but most of my ideas are civil engineering type things and I'd love to start working on re-designing a few ideas. I'd say Elon Musk because he's working with SpaceX. He's making electric cars with Tesla. He created Paypal. That's the type of inspirational person for me. I think Kiri would agree with that as well because we just had this conversation last week. We might actually have a chance to work with this person very soon, so that's a pretty easy answer for me. [smiles]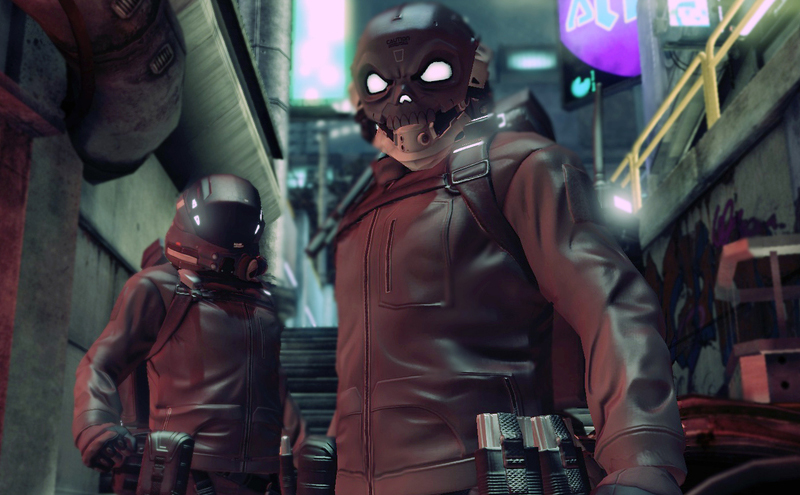 Screenshot from Blacklight Retribution featuring Endless Ammo garments
Endless Ammo can be found at select retailers, including Fred Segal, Azalea San Francisco, and Urban Outfitters, we well as online through their official website. The brand's Fall/Winter 2012 collection was featured in the online game Blacklight Retribution, by Perfect World Entertainment.