Apologies about the hiatus... I just returned from a 72 hour #fotomish through the Northern Nevada desert for Acura, then hit the ground running with editing duties upon return. I'm slowly recharging now. In addition to being commissioned for a lifestyle photo shoot for the release of Acura's new TLX, I was invited to participate in a ThrillKit campaign, where they gave a couple different folks the keys to the new TLX to hit the road for a few days, documenting our experiences along the way. As an added boost, Acura outfitted us with all the necessary gear and equipment needed to facilitate our adventures. I chose to go to Nevada's High Desert, northeast of Reno, nearing the Idaho and Utah borders. Towns like Lovelock, Winnemucca, and Battle Mountain are some of my favorite haunts in those parts. Acura laced me with camping gear as well a Canon 16-35mm f/2.8 wide angle lens for my Canon 5D MKII (my main work horse), ideal for shooting landscapes and inside the vehicle. It's rare when the 35mm comes off my rig, but I ended up really diggin' the perspective and left the lens on the entire trip. In fact, all images here – minus one – were shot with it.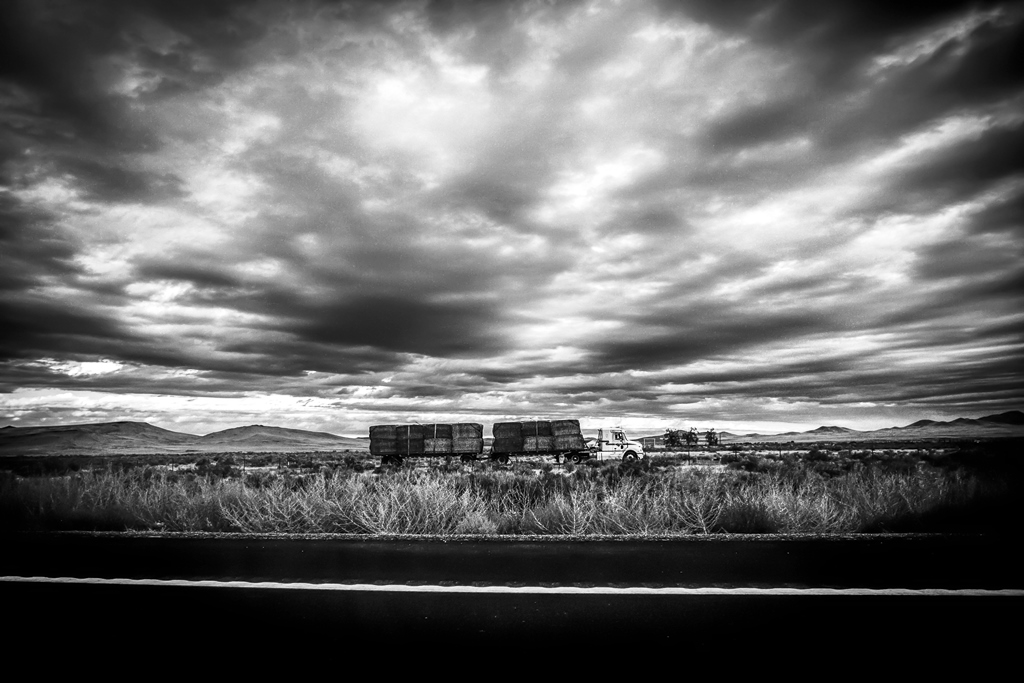 Nevada's high desert has always been an appealing place for me from a photography standpoint. I love the loneliness, decay, wide open roads, and big skies... There's also few people in those parts, but the presence of folks having been there at one time or another is definitely felt. Whether it be shotgun holes through road signs – making them virtually illegible to idiots like me out there sans a map, or decayed animal scraps left behind from hunters that have since been scavenged by every wild animal/critter within a 20 mile radius... this is all very beautiful and humbling to me. And although I feel vulnerable being out in the middle of nowhere, far from my usual urban surroundings, I feel a strong sense of peace. You see, I was born in Caldwell, Idaho, a small farm town about five hours north of Northern Nevada, so that area is really in my blood.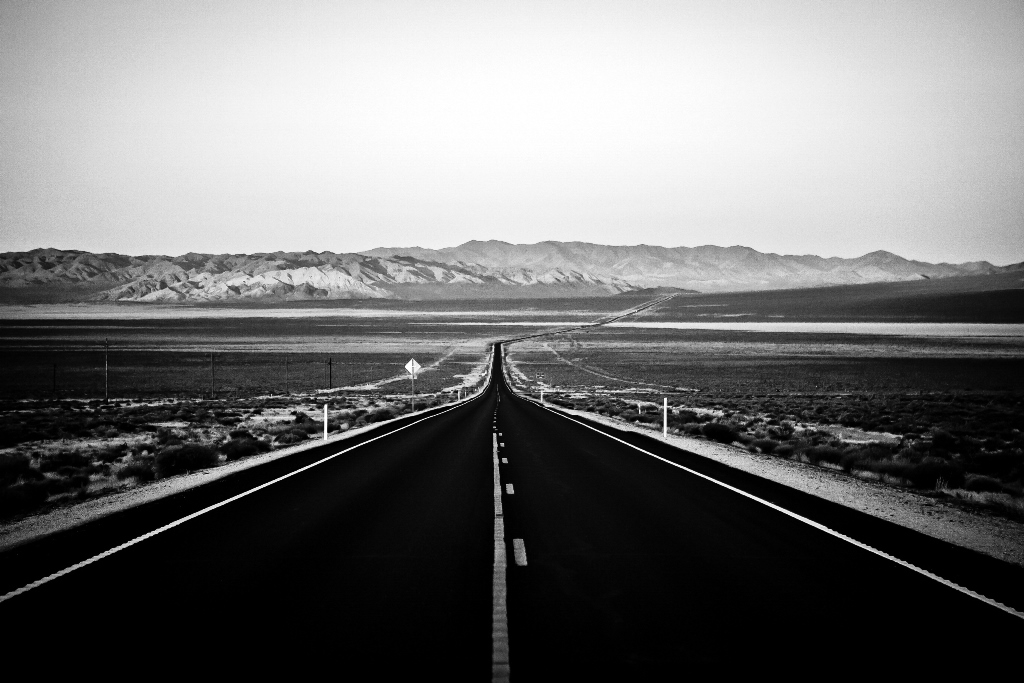 My companions on this particular adventure were friends Rasta Dave and Rawrrgina. Rasta was an obvious choice as he's served as my assistant/second shooter on many occasions over the last few years. I also know he has my back 1000% should anything ever happen (and me the same for him, of course). As for Rawrrgina, I wanted to work with a naturally beautiful and healthy looking female that actively skates and could tolerate being around two adventurous photographers. I knew for certain that most traditional models would flip their wig, having to rough it deep in the desert with no phone service, map or running water, all while these two photographers ran around snapping pics on some Lord of the Flies hype.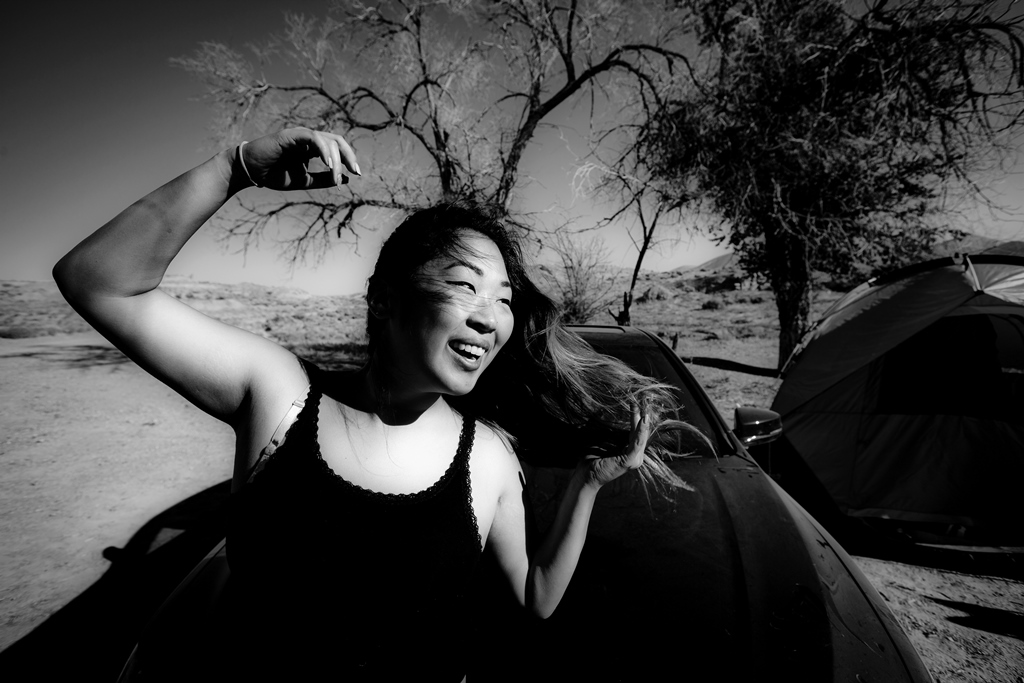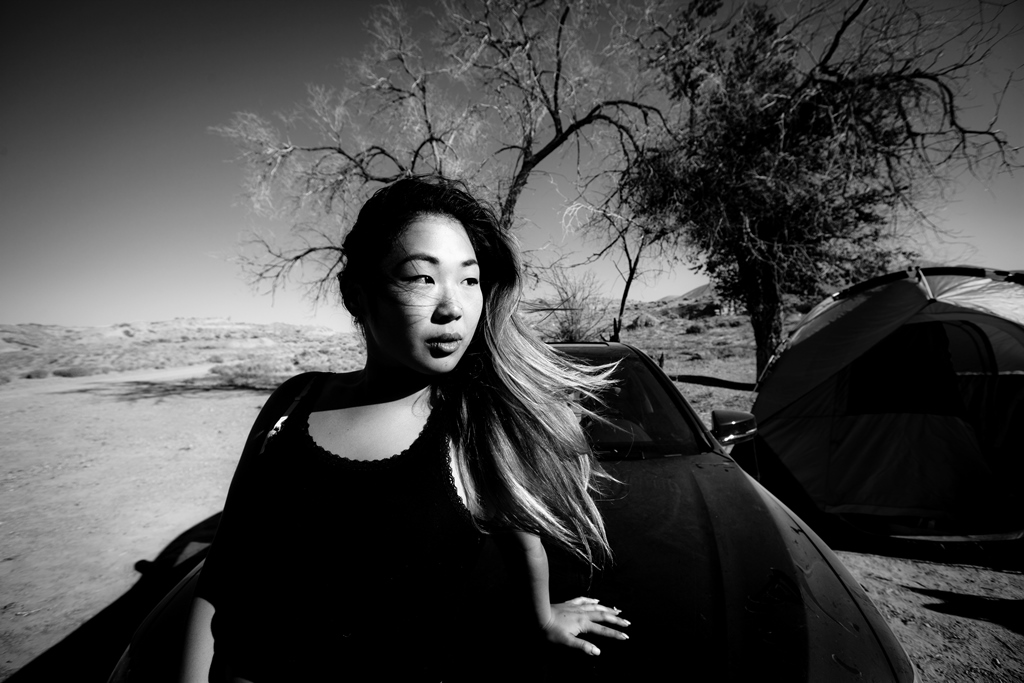 Now I'm not going to bore you with a play-by-play recap of this adventure. I know you probably don't want to hear it. And frankly, I don't want to write it all out like that. Some things are better left as memories. But I'll fill you in on one of the more amusing highlights. And this goes back to what I was referencing to earlier about feeling vulnerable. Our second day on the road, we found ourselves in a bit of predicament. After getting sketchy, handwritten directions from a local in Lovelock, NV, I took the car 75-100 miles northwest on dirt roads — mostly unmarked, through the Black Rock Desert and Wildlife Refuge in search of places I could never find. (FYI, I didn't know the name of this desert until I looked it up after returning home.) So anyway, there we were in the middle of nowhere, sun beginning to set, and we needed to find a place to camp on the quick fast. Let me tell you, this area is barren as hell. There's just mountains and rolling hills surrounded by dirt, shrubs and rocks for miles on end. I asked Rasta to try and use the vehicle's navigation, but the results read "Unmarked Roads" or something like that… I had about a half tank of gas and the thought of navigating unmarked, dirt roads back to civilization in darkness made me a tad nervous. Thankfully, just as the sun was sinking behind the mountains in the west, we stumbled across an old, dilapidated ghost town and mine turned makeshift campsite, complete with several dying trees. This is one of the few places suitable for camping that we came across the entire time in the Black Rock Desert. The three of us quickly scrambled to set up our tent and collect wood to build a fire. Finding these trees was truly a miracle. I like to thank Rasta for the ritual he conducted next to the lone, dying tree the day before in Spark, NV, for guiding us to this spot.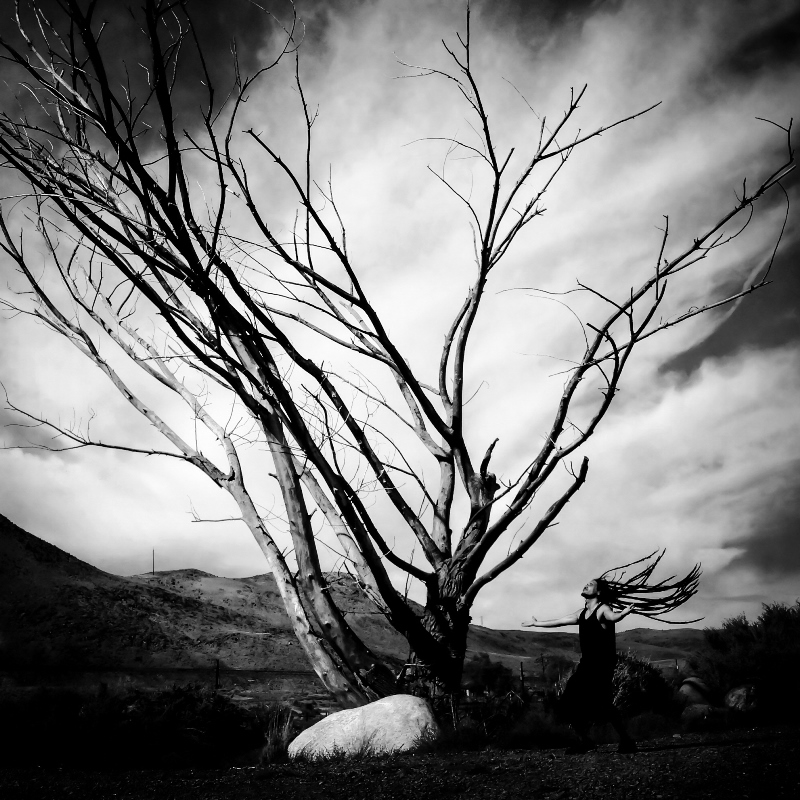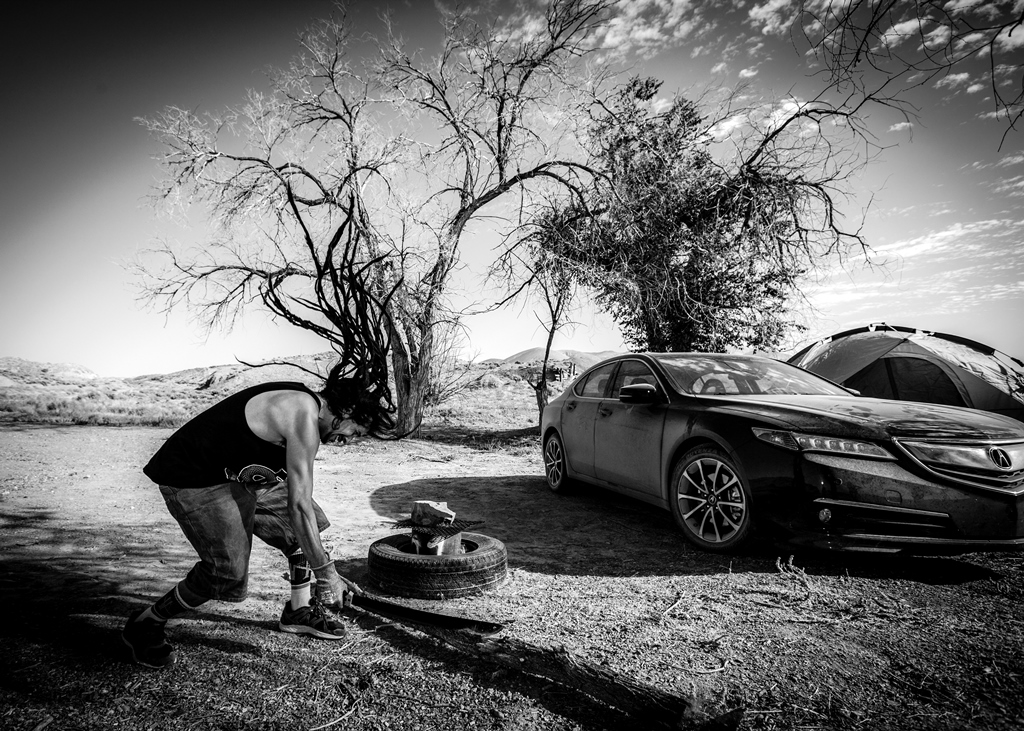 Everything was all good and actually quite comfortable at our camp until around midnight. That's when we heard the sound of something rumbling in the distance. We hadn't seen another vehicle in a good six hours, so when we first saw the high beams from a vehicle rising from the hills yonder, we thought it was a damn UFO. But as it approached, we could hear The Youngbloods "Get Together" (1967) blasting out of the car's windows. No doubt, we felt a little uneasy as the car gradually approached and pulled right up to the turnoff leading to our campsite, a good 50-75ft away. The car, which looked like an old Jeep Wagoner or something just stopped, engine rumbling, "Come on people now, smile on your brother, everybody get together try to love one another right now..." on full blast... like something right out of Zodiac. After sitting there for several minutes, the car then U-turned and went back in the direction it came, maybe about a quarter mile, then turned around again back in our direction, stopping near our turnoff, engine running, music blasting. However, this time, I could hear a man singing along to the lyrics at the top of his lungs, especially as the chorus hit. We were all thoroughly spooked by this point, not sure what to make of the whole scene. But eventually, the car drove off, disappearing deeper into the desert. Thankfully, we didn't see him again, but needless to say, we were on high alert the rest of the night.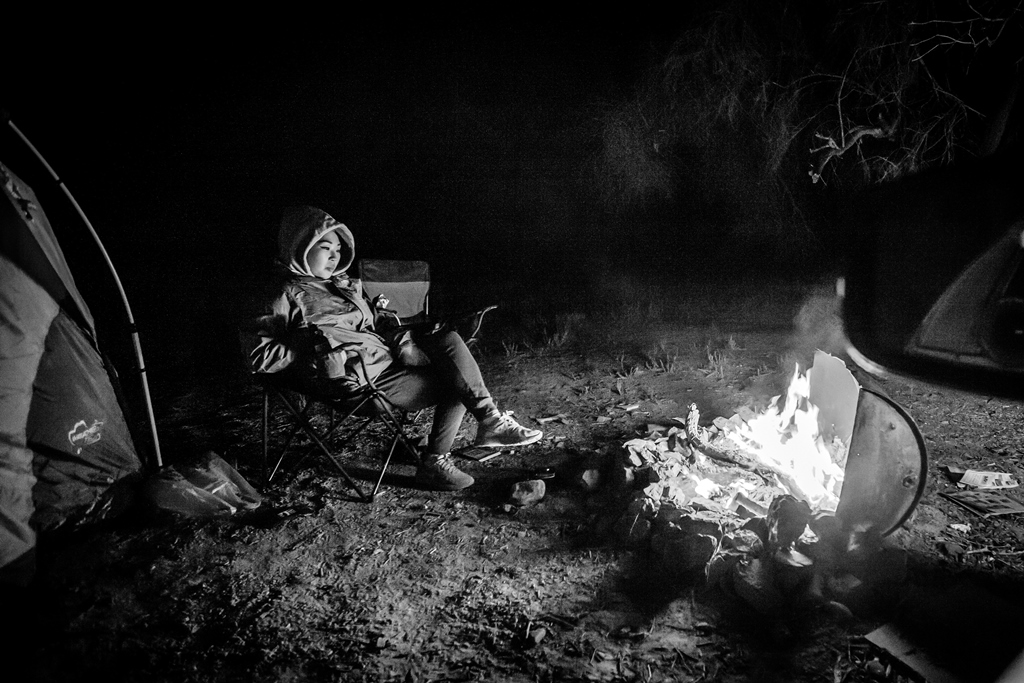 Things got interesting again once we let the fire simmer down and decided to call it a night. This was maybe around 2am. With the exception of a few lone coyotes howling in the distance, all was relatively quiet for the first 20-30 minutes we were inside the tent. But then, what we think was a coyote decided to sneak into our campsite for a closer inspection. I was lying there in my sleeping bag, when something started pushing its nose or stout into my side of the tent. I freaked first, yelling and slapping the side of the tent with my arm, but the animal kept coming back, then mosied around over to Rasta's side of the tent, where he, she, it, whatever was sniffing on his dreads... I quickly tried to push the emergency button on the car keys, but of course it wasn't registering, probably because I was at a weird angle inside the tent, I don't know. But when I finally got it to work, it went off with a helluva kick... Me and Rasta swore we heard a pack of wild horses galloping off in the distance, spooked from the noise. It was kind of a sleepless night after that. We maybe slept three hours, off and on, returning to civilization in a somewhat zombie state the next afternoon.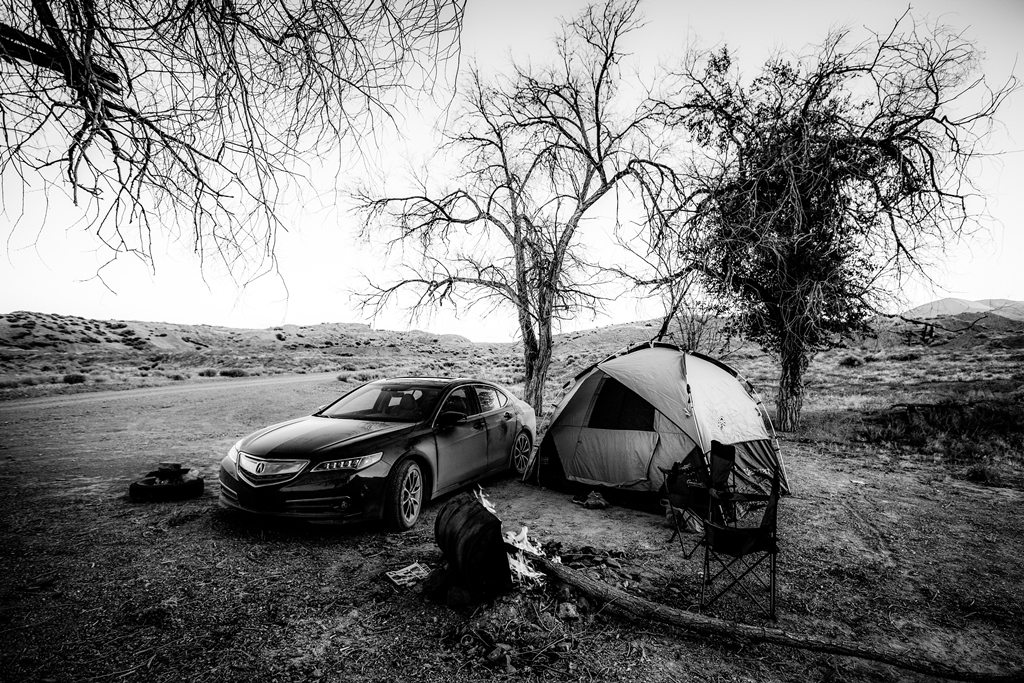 Although ridiculously unprepared, it felt damn good being out there in the middle of nowhere like that, vulnerable. I needed to be broken down. I needed to get the hell out of The City and off the streets for a few days. I'm sure Rasta and Rawrrgina questioned my sanity at times on this trip, but they both later admitted that they too appreciated the experience... though I don't think Rasta Dave was ever really tripping to begin with. He never turns down adventure. Never. Ever.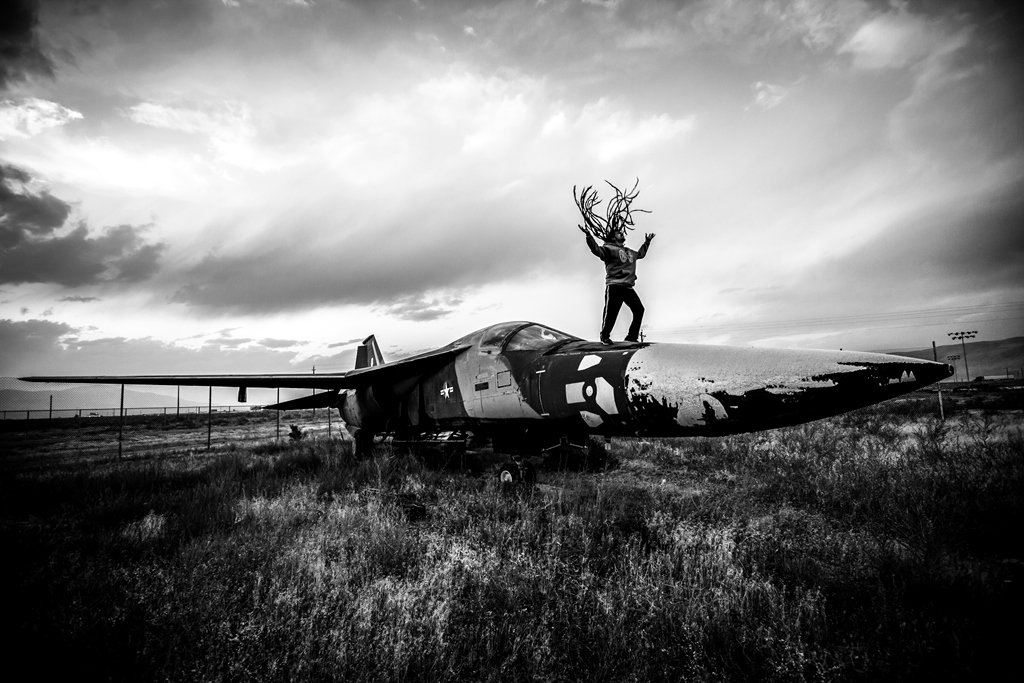 To commemorate the Thrillkit experience, Acura will be holding a sweepstakes, where people can win the items they provided me with to facilitate my adventure, along with items other participants needed for theirs. Learn more about my kit HERE, which includes a handheld night mission camera, a multi-functional watch, GPS device, a compact Nikon camera, camping gear and more… Other Thrillkit participants include CNN "Parts Unkown," ESPN, Business Insider, Amazon, and Food Beast.
That's all for now. Be Easy. Be Safe. Do You. Always.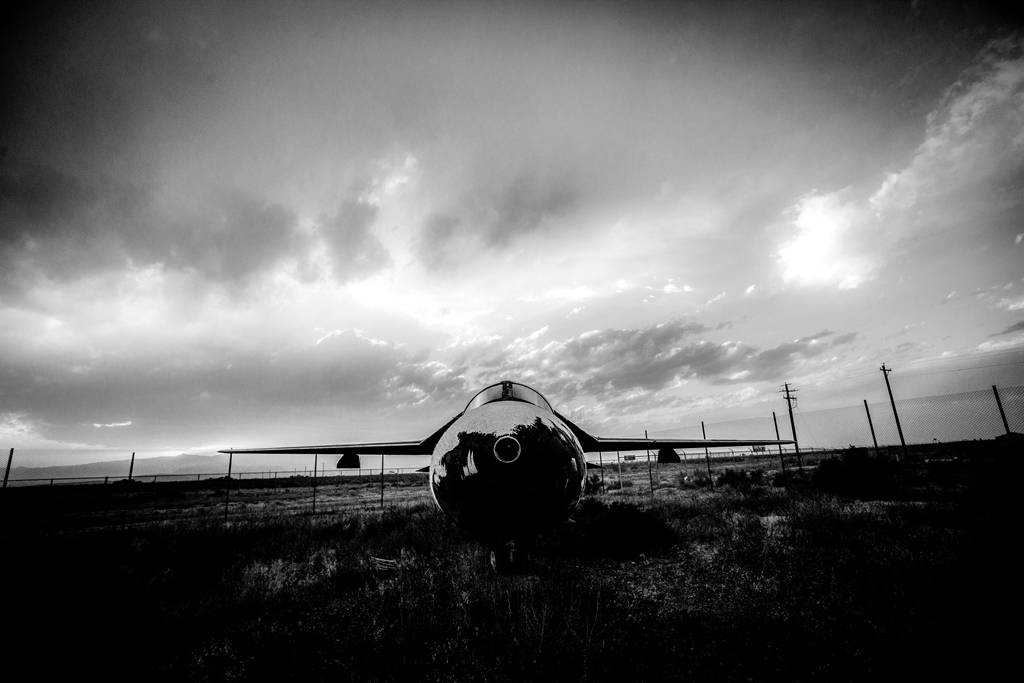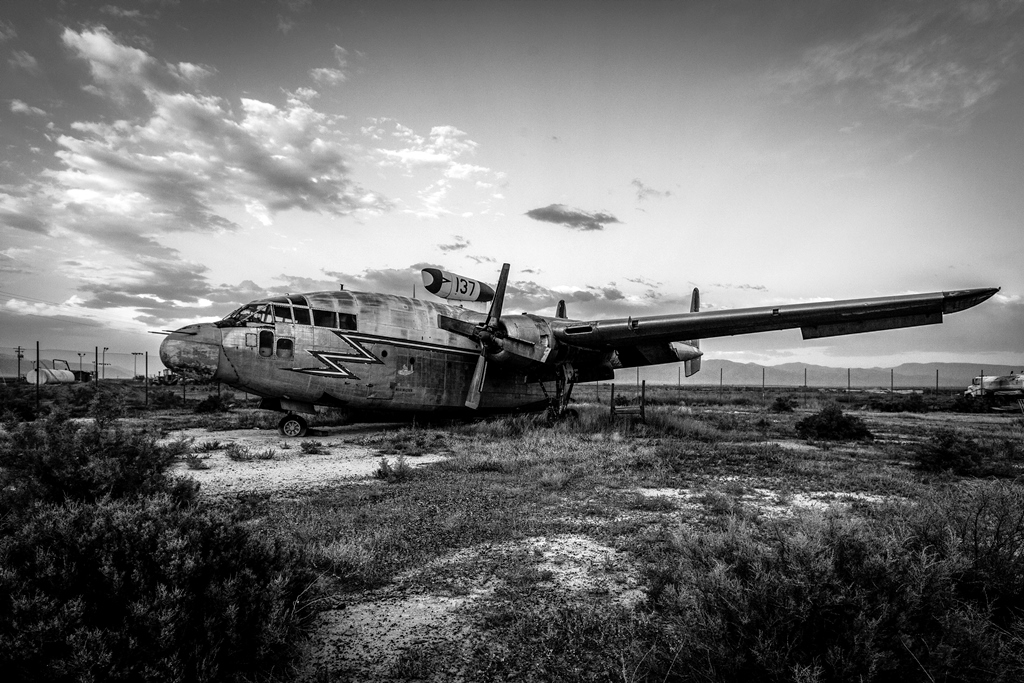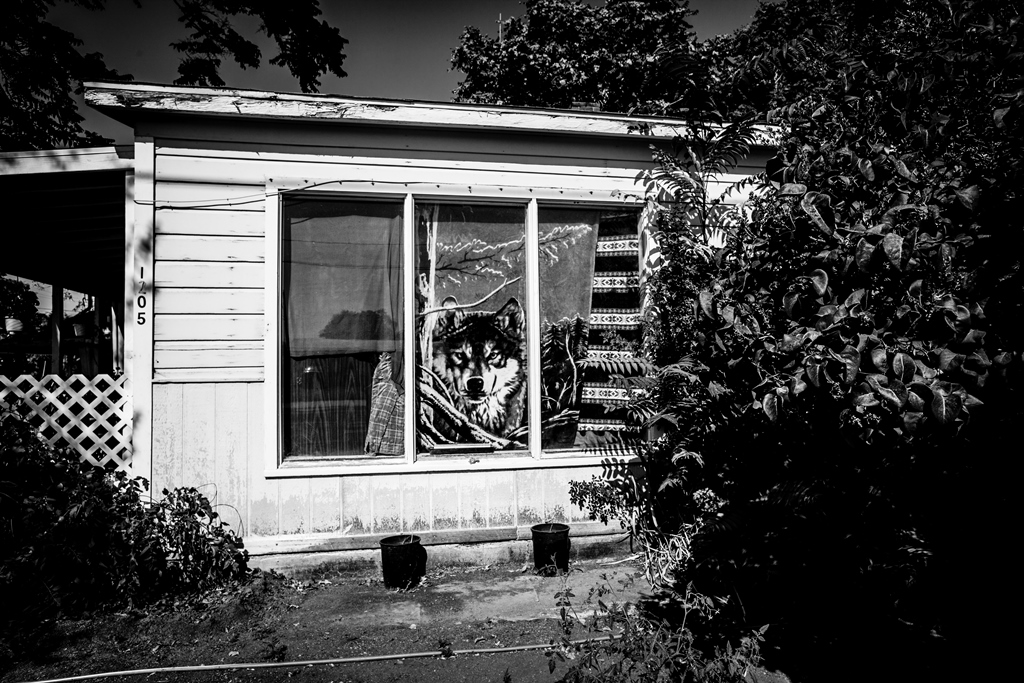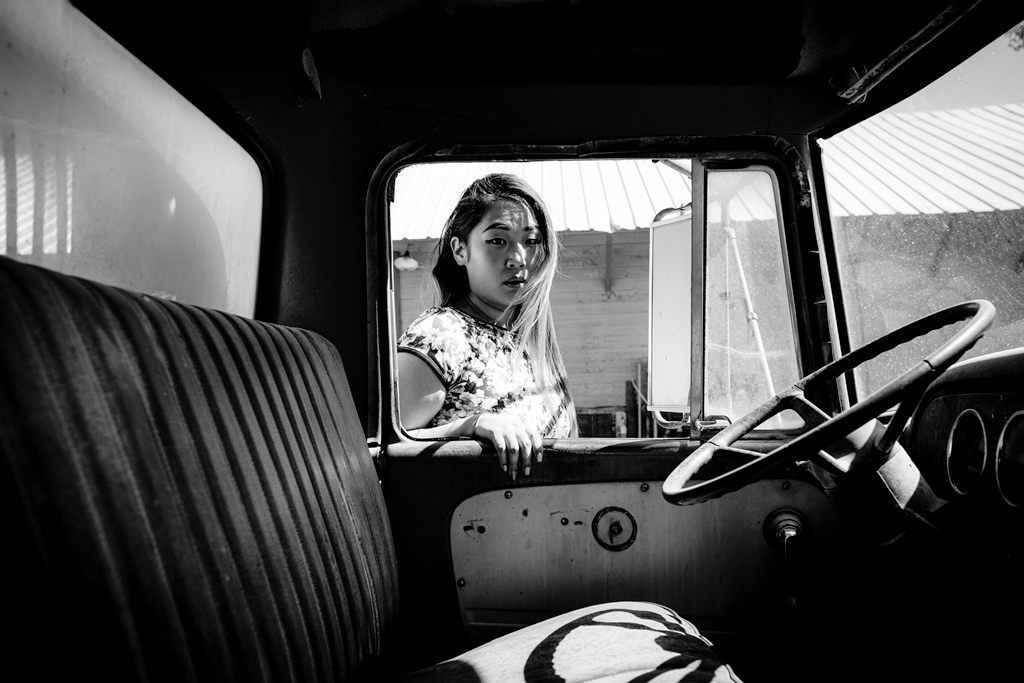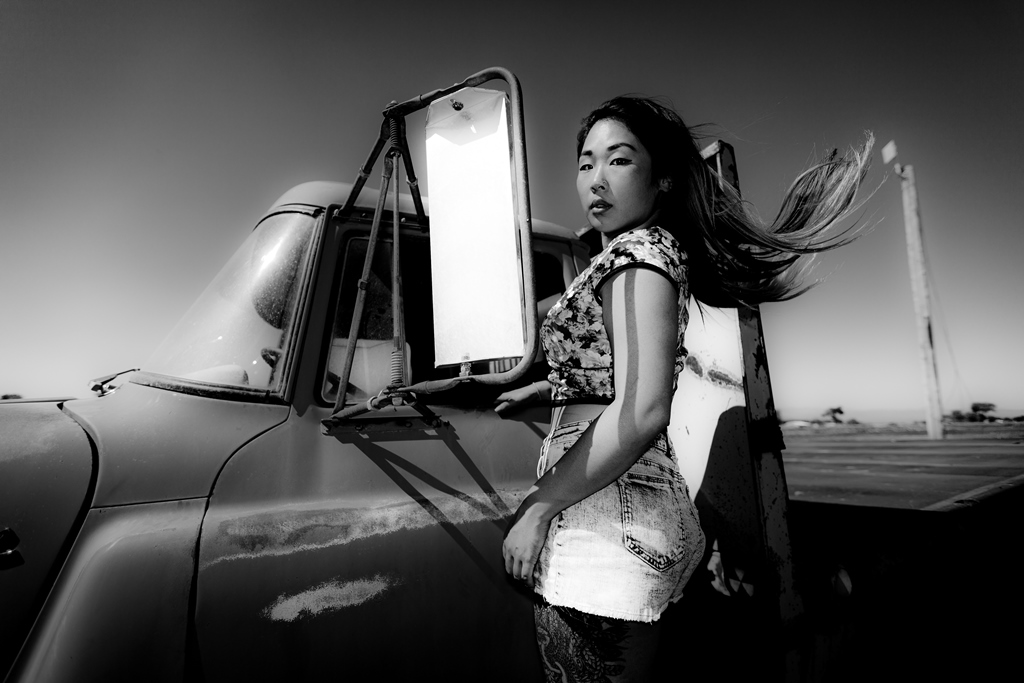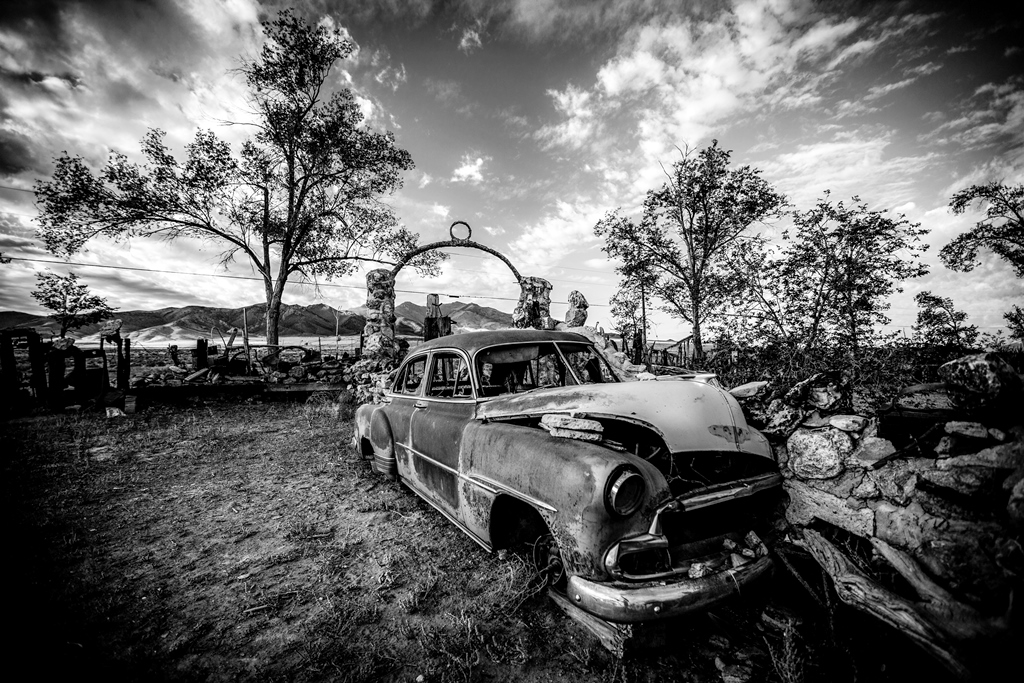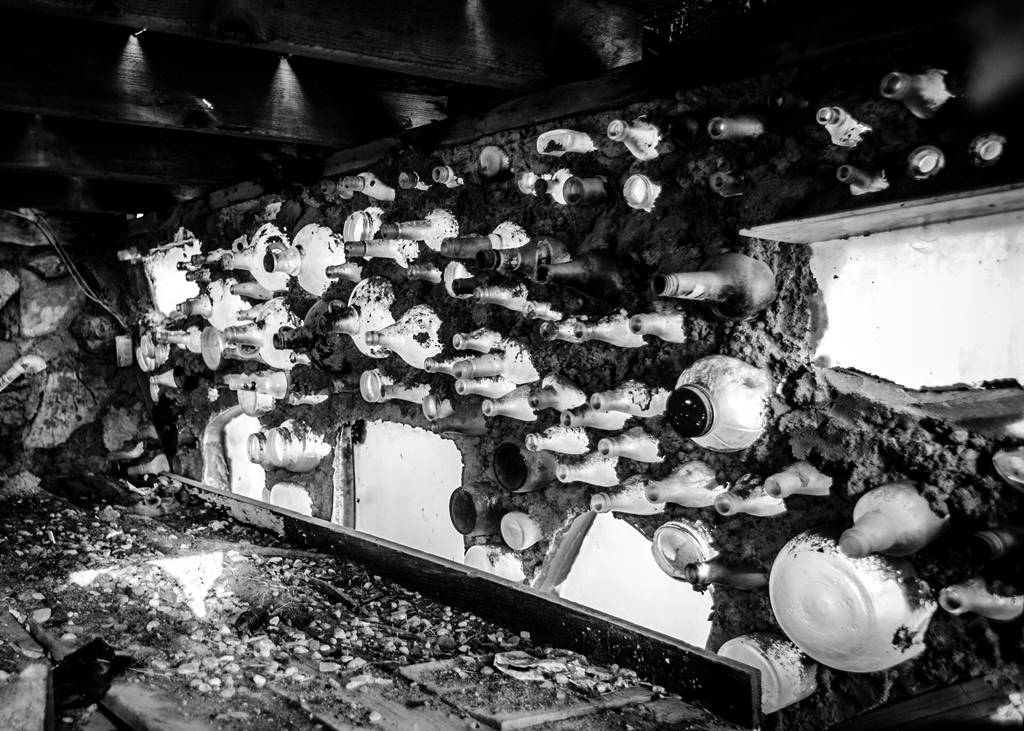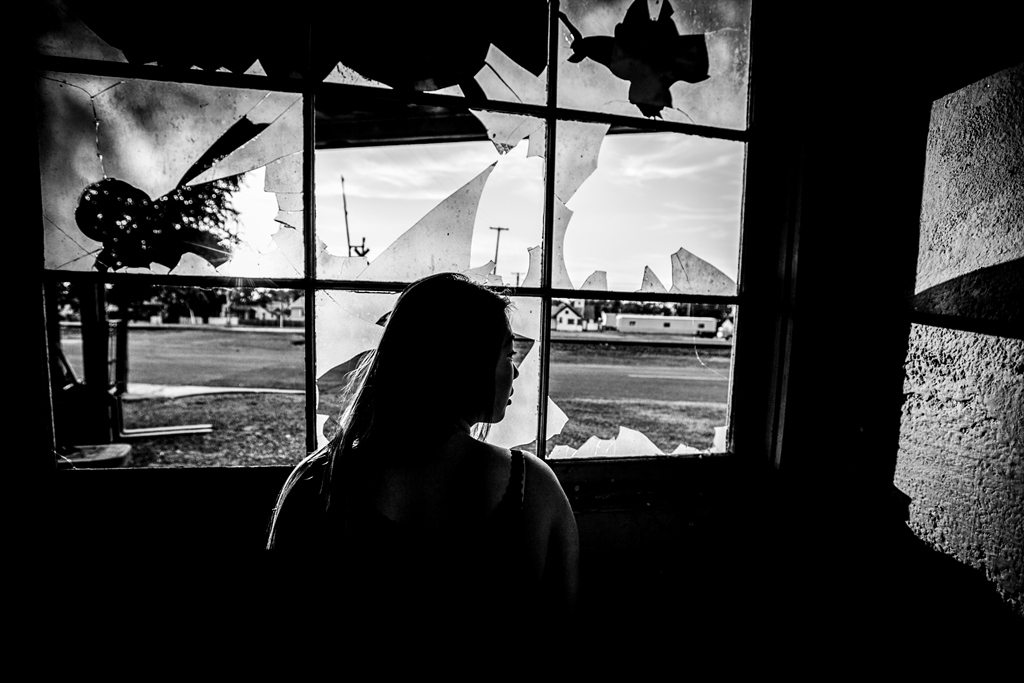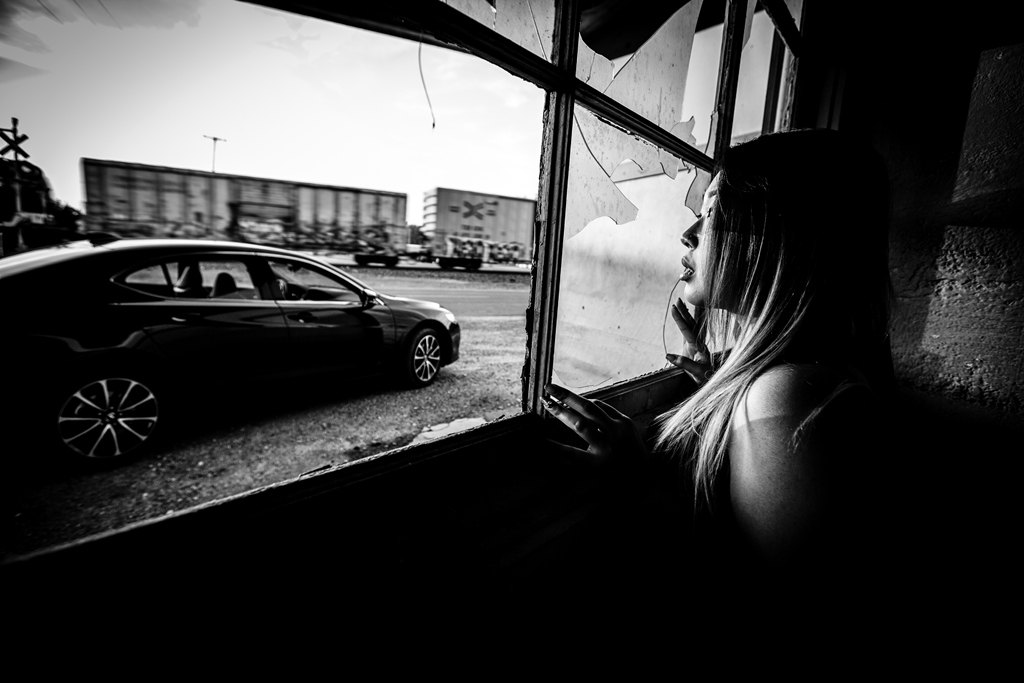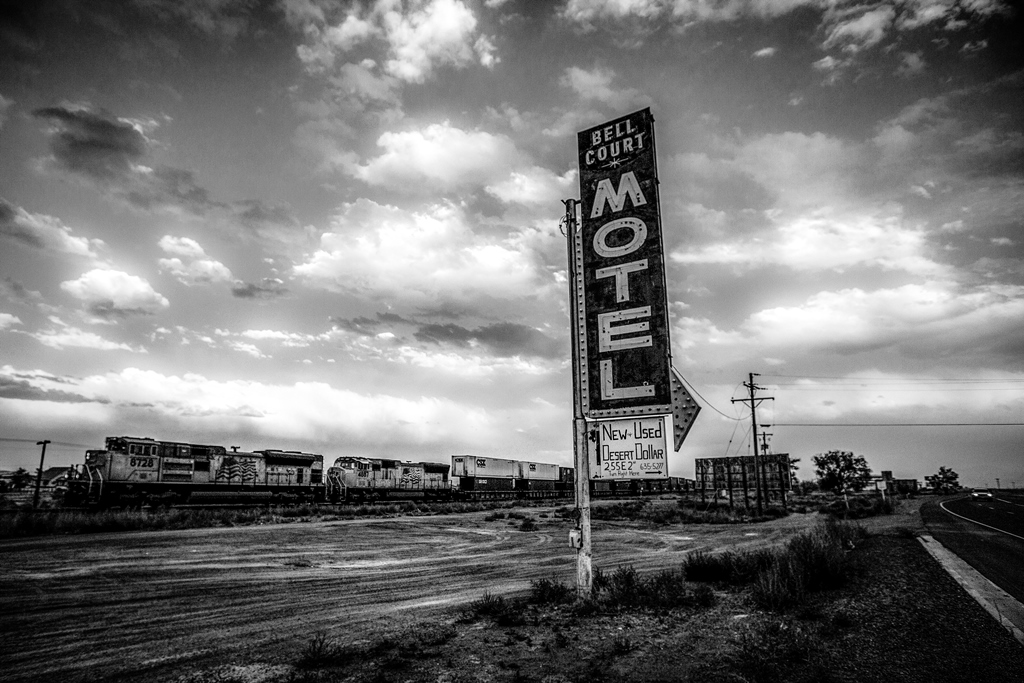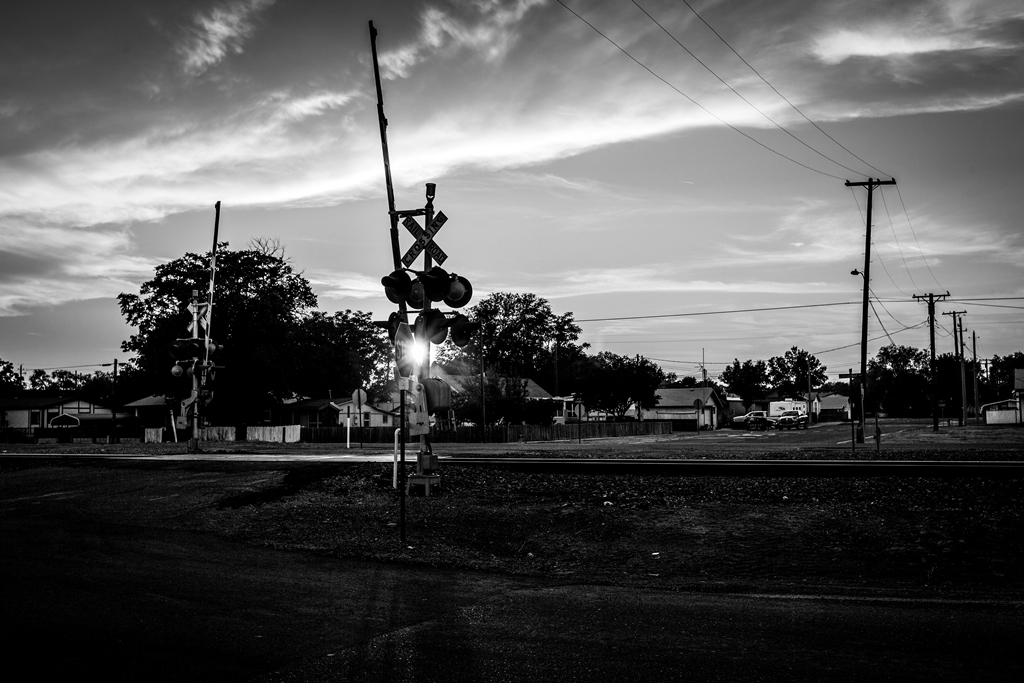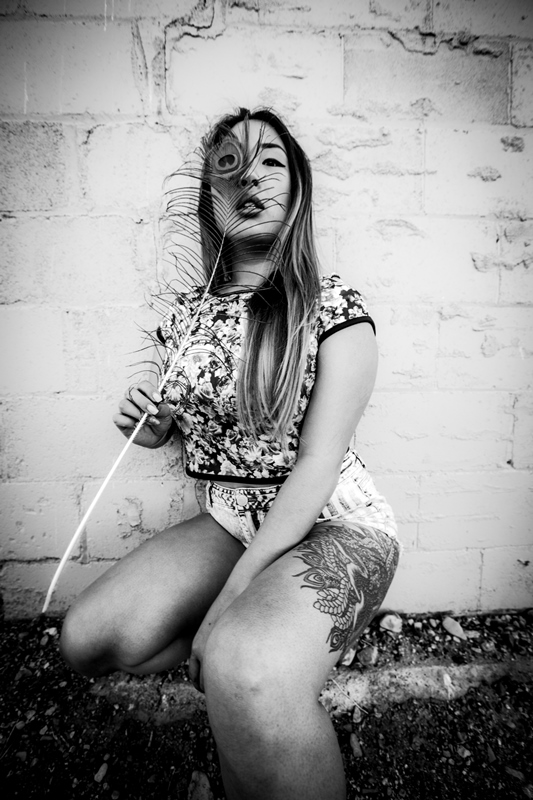 ::