Yesterday, on Cinco de Mayo, our much-anticipated The Hundreds X Tapatio collaboration dropped at midnight in our Online Shop, and at our 4 flagships (THLA, THSM, THNY, THSF) at opening time. Our website actually crashed when the collaborative T-shirt and hot sauce bottle went live – and sold out completely within 15 minutes... In addition, the limited collaboration sold out at every store. ¡OLÉ!
We threw a fiesta at RSWD with all the necessary Cinco de Mayo bases covered, of course: Mariachi band, CHECK. Complimentary al pastor and pollo street tacos, check. Tapatio man piñata, check. Refreshing Jarritos and Tecates, double check. The Tapatio family was there celebrating with us (Luis, Dolores, and Roche are fam!) along with Ben and Bobby. The block was blowing up with both fresh and familiar faces. Then the po-po showed up an hour into the function and tried to shut us down. Definite LA late-spring backyard house party vibes right there – got the police showing up… check! That didn't stop us, though. Like every house party where the badges show up, you gotta quiet-down, then turn back up. And what better than to do that surrounded by friends, fans, and family.
Watch our video recap below and scroll down to see photos of the #TheHundredsXTapatio collaboration rollout from each of our California flagship locations and our RSWD fiesta.
The Hundreds Los Angeles :: RSWD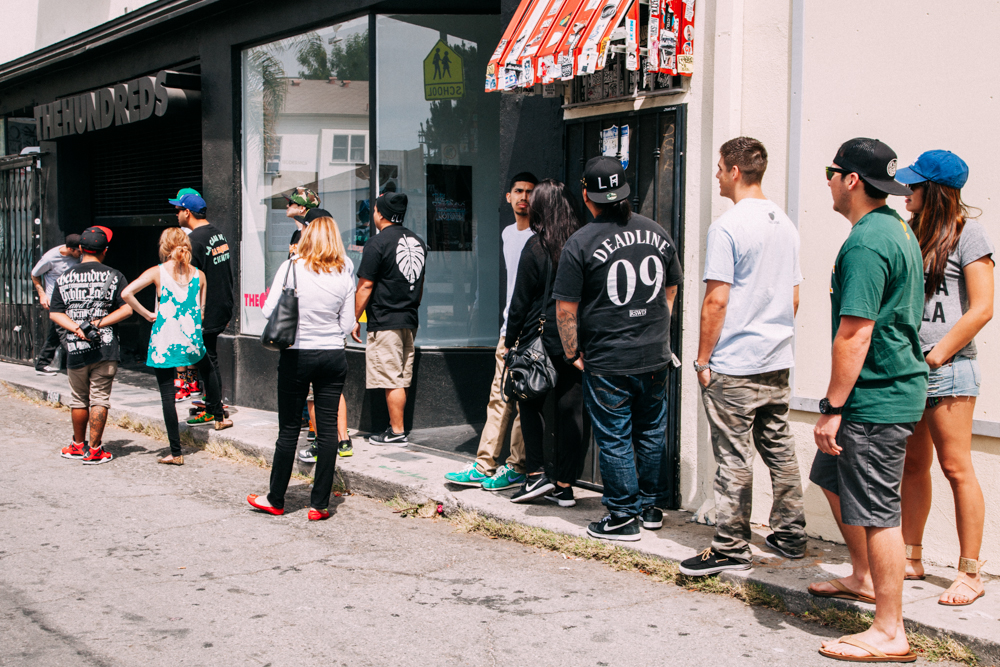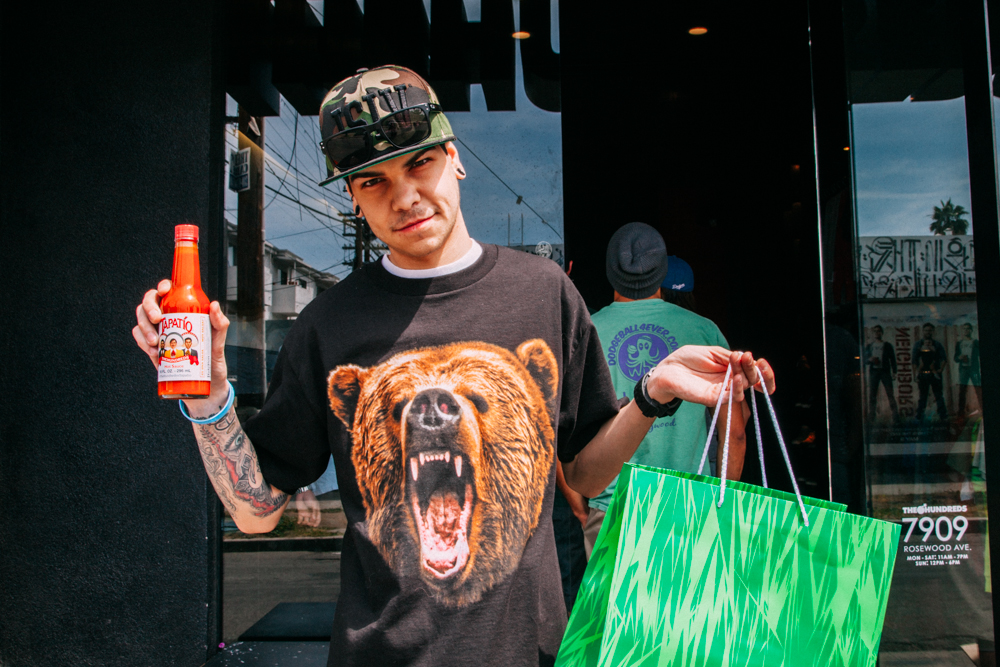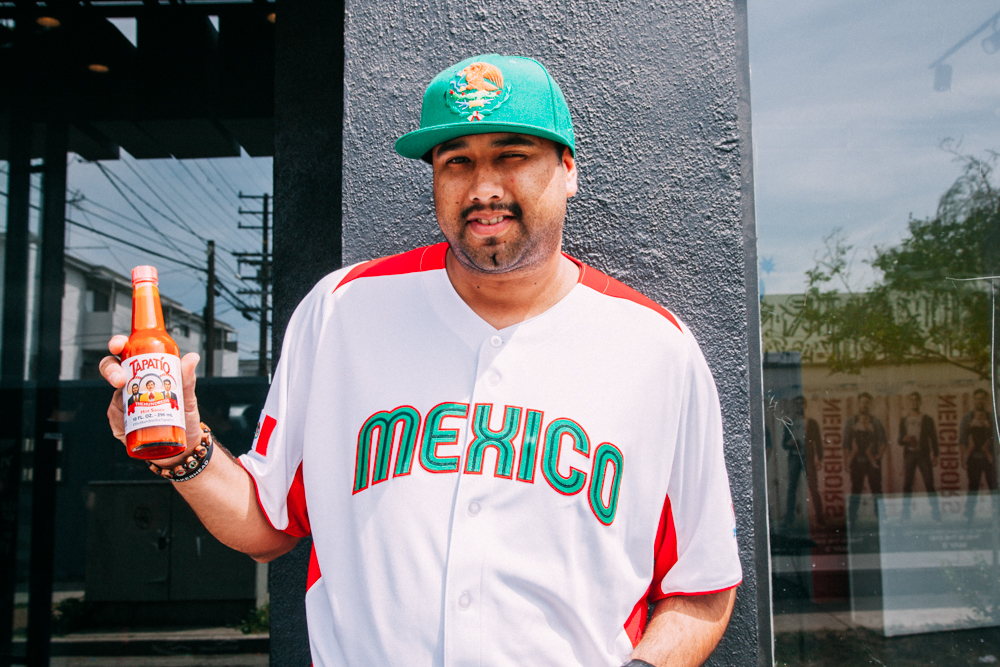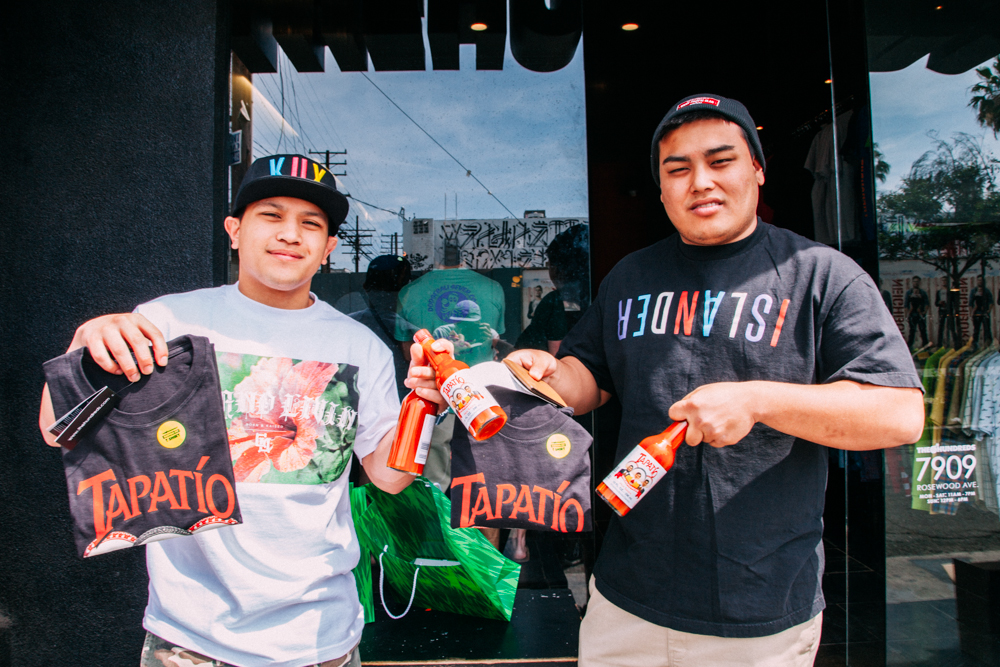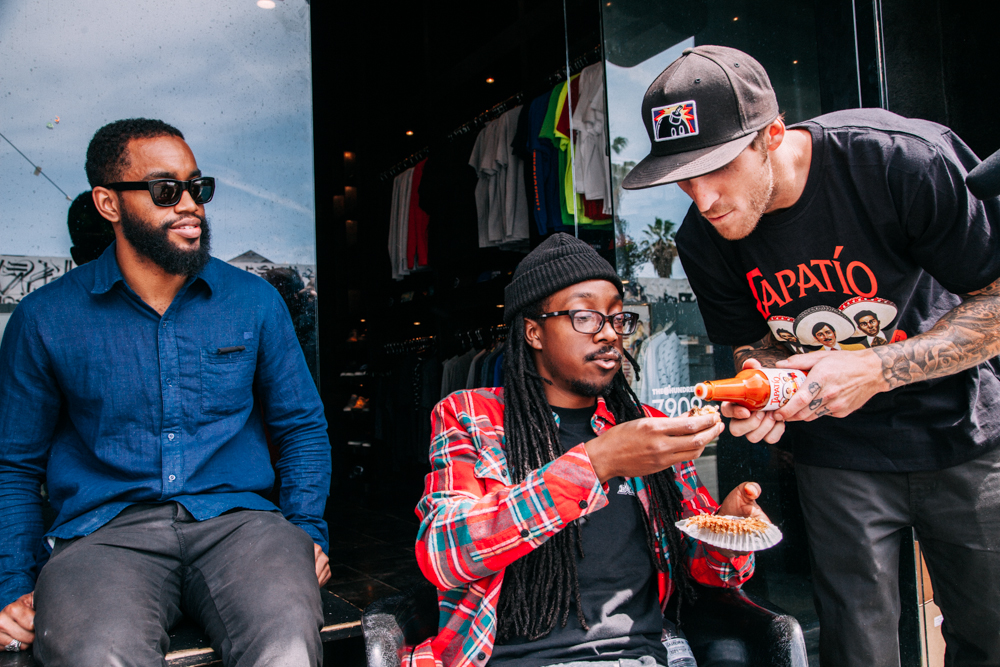 The Hundreds San Francisco :: POST :: Shot by our friend @evanthompsonphoto.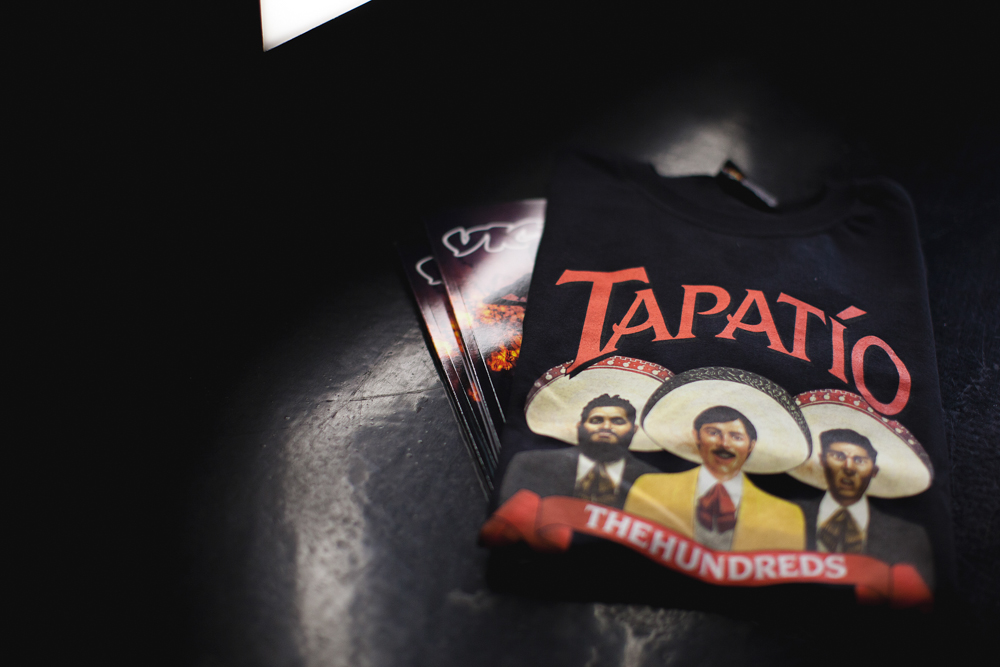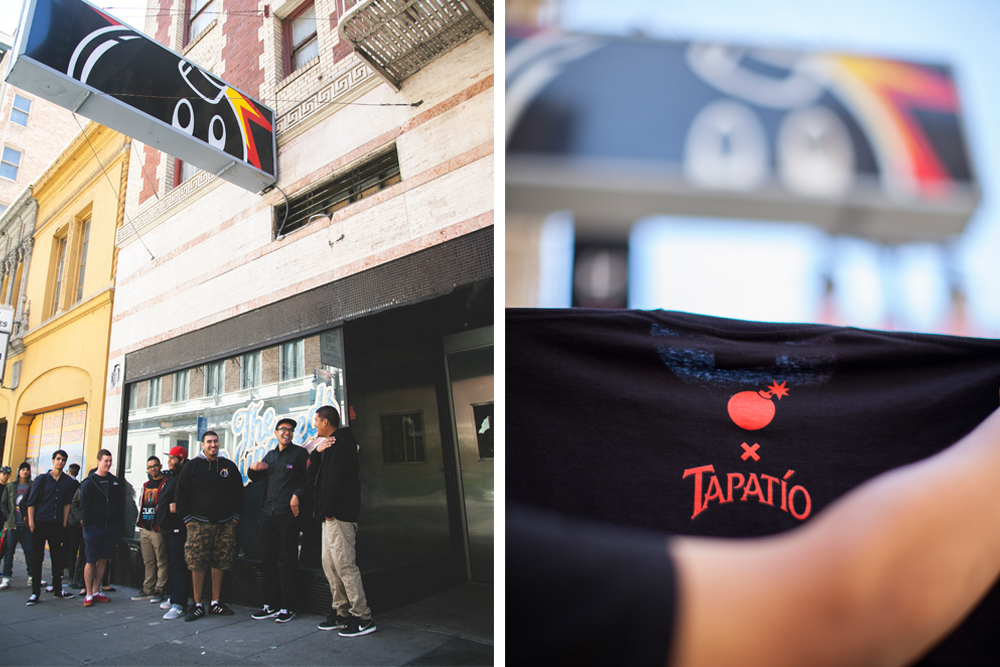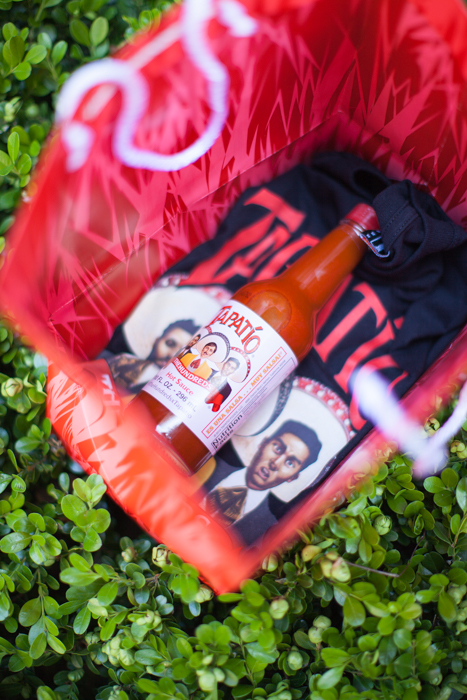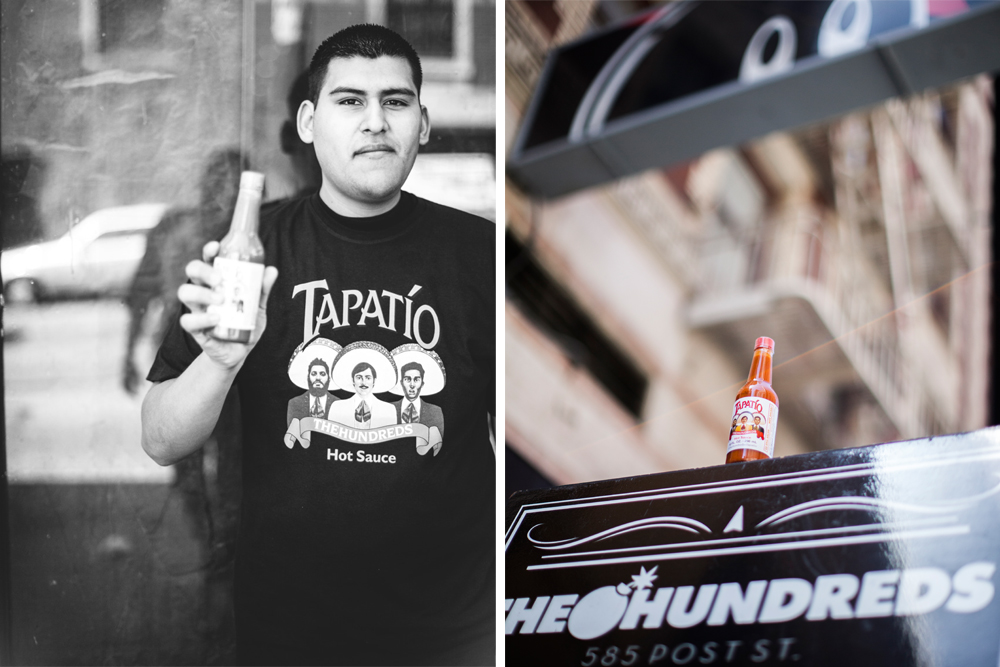 The Hundreds Santa Monica :: BDWY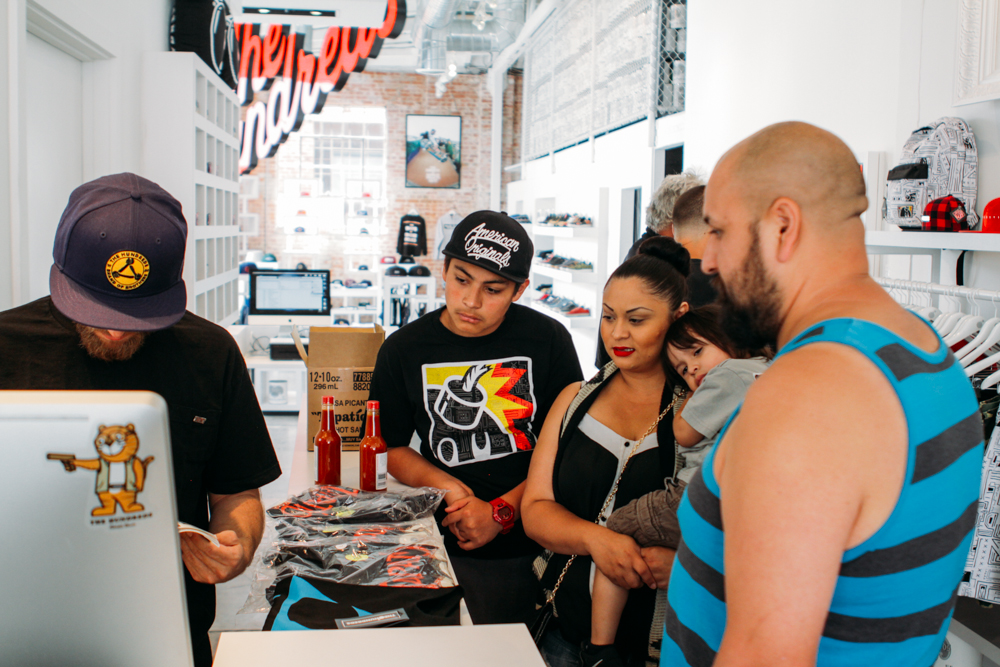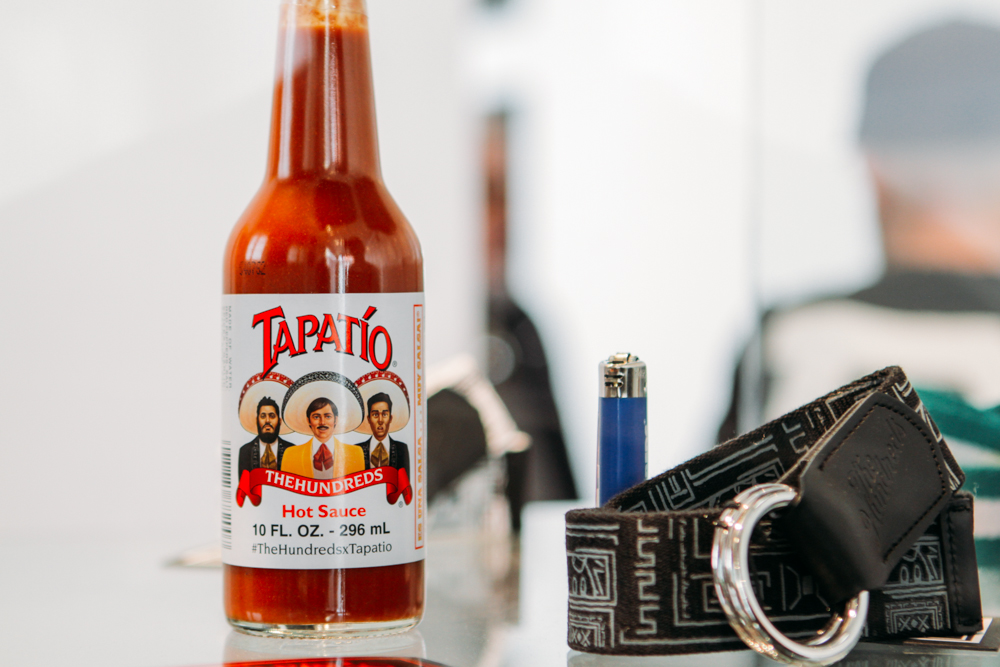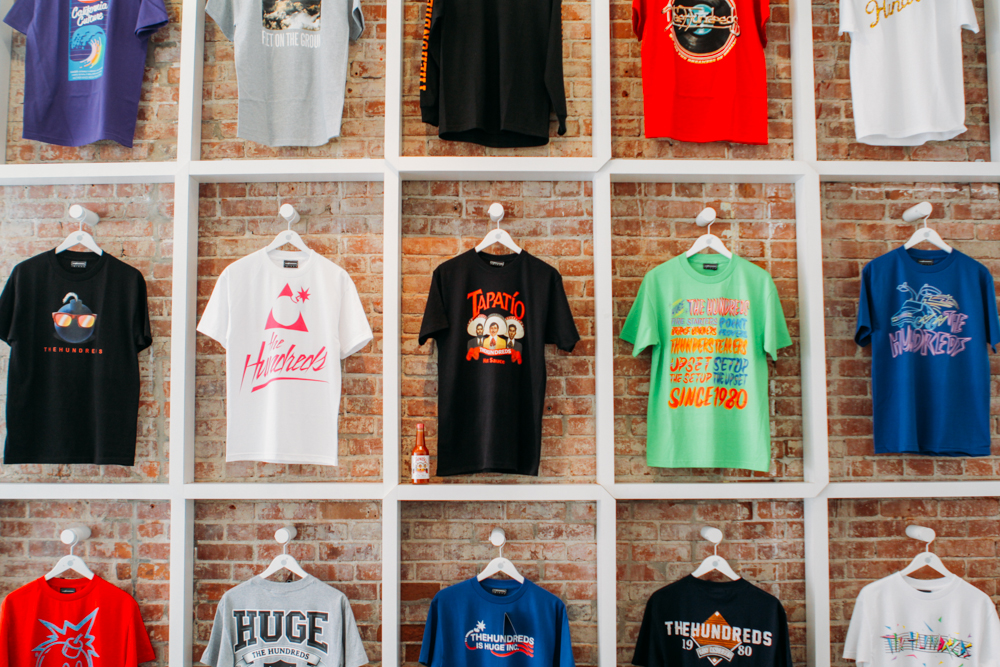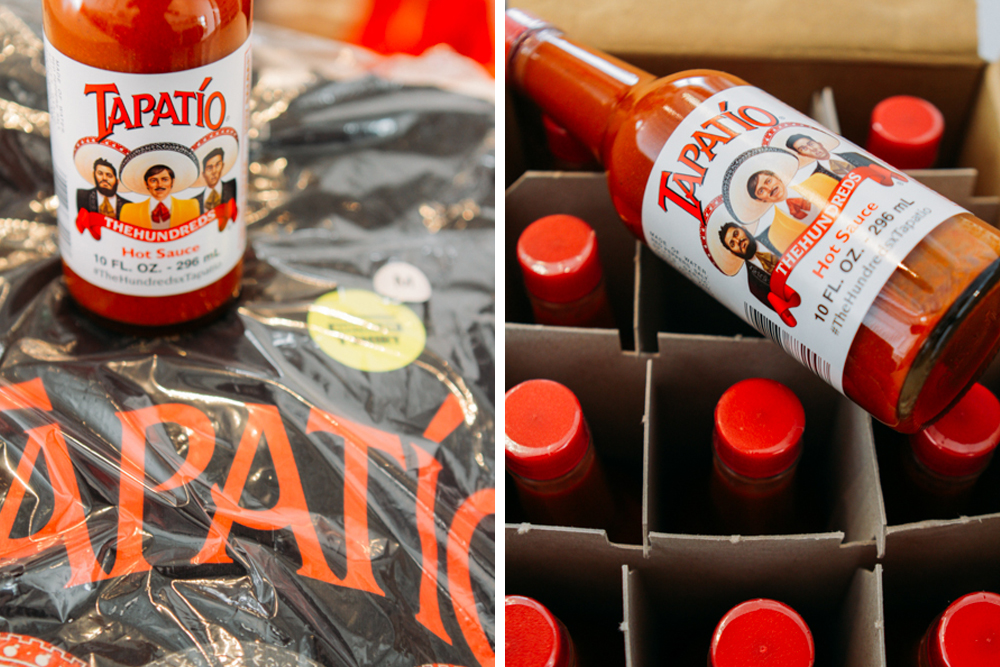 The Hundreds New York :: GRND :: Shot by our man there @LeviDopeness. Here's what Levi had to say about the drop:
"Like we weren't a trap house already on Grand Street, we had to make Cinco De Mayo our own yesterday. We ventured out to find some Jarritos and mixed it up with some Lime-a-Rita's and the result was a nice fruity cocktail blend that satisfied most of our taste for daytime alcohol. The Hundreds released a collaboration with long-time hot sauce makers Tapatio, I decided to shoot the homies doing what we do best, just soaking up some sun on the stoop."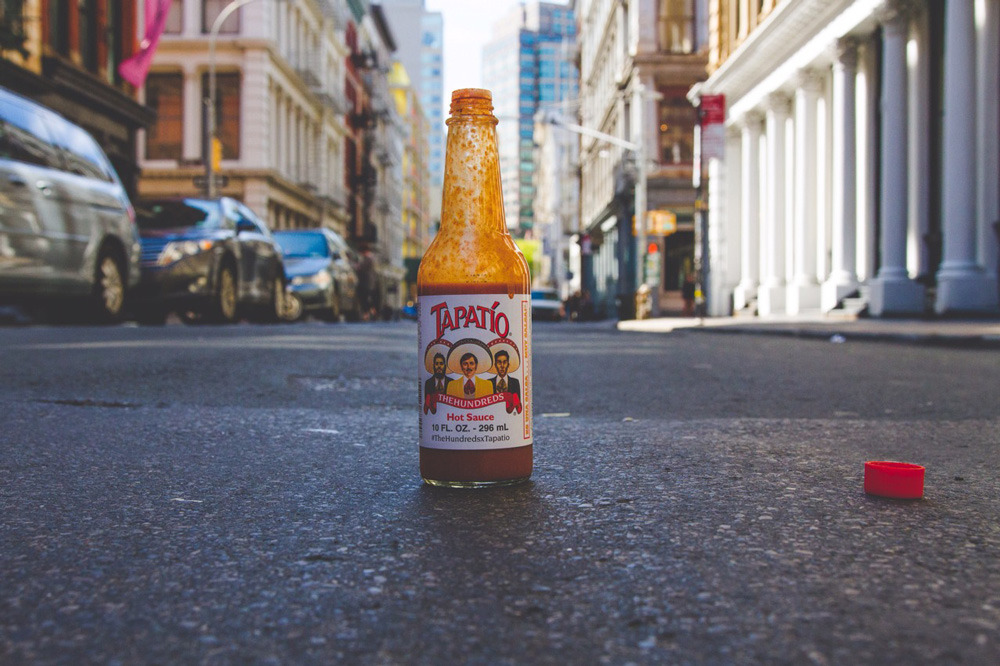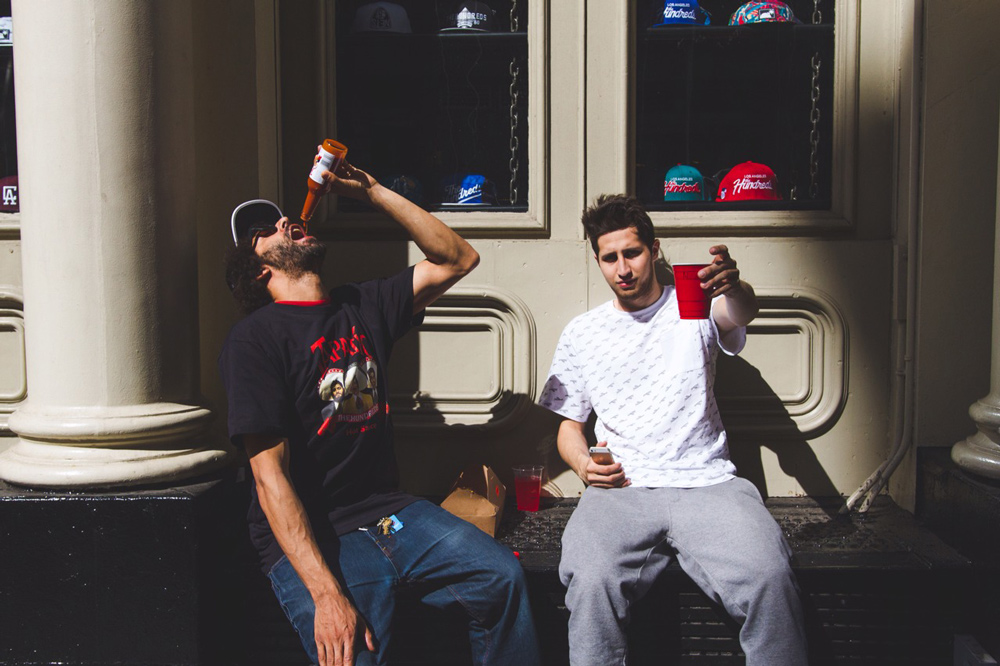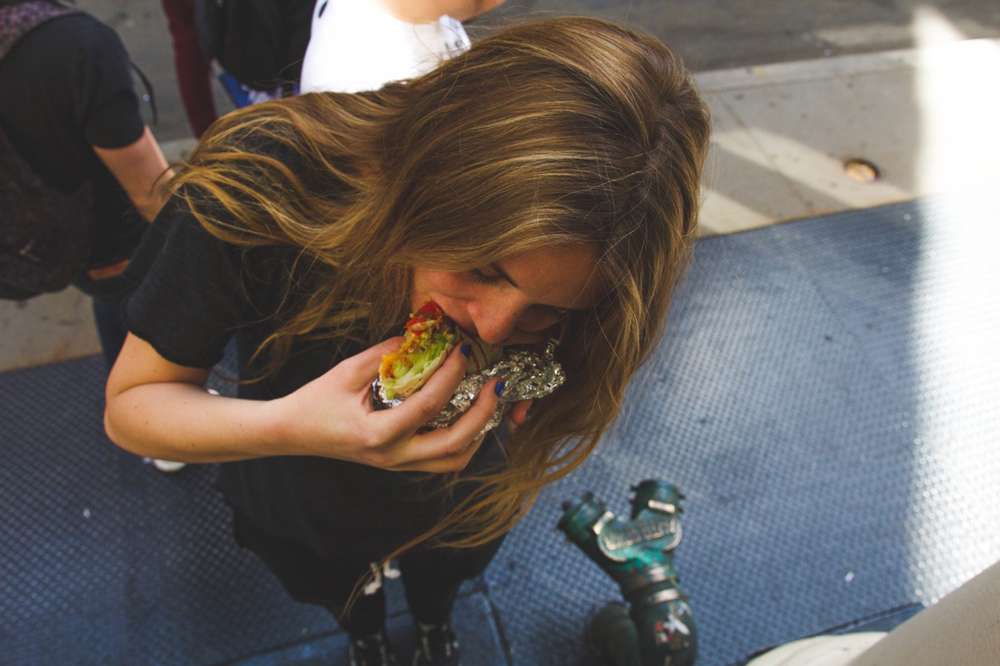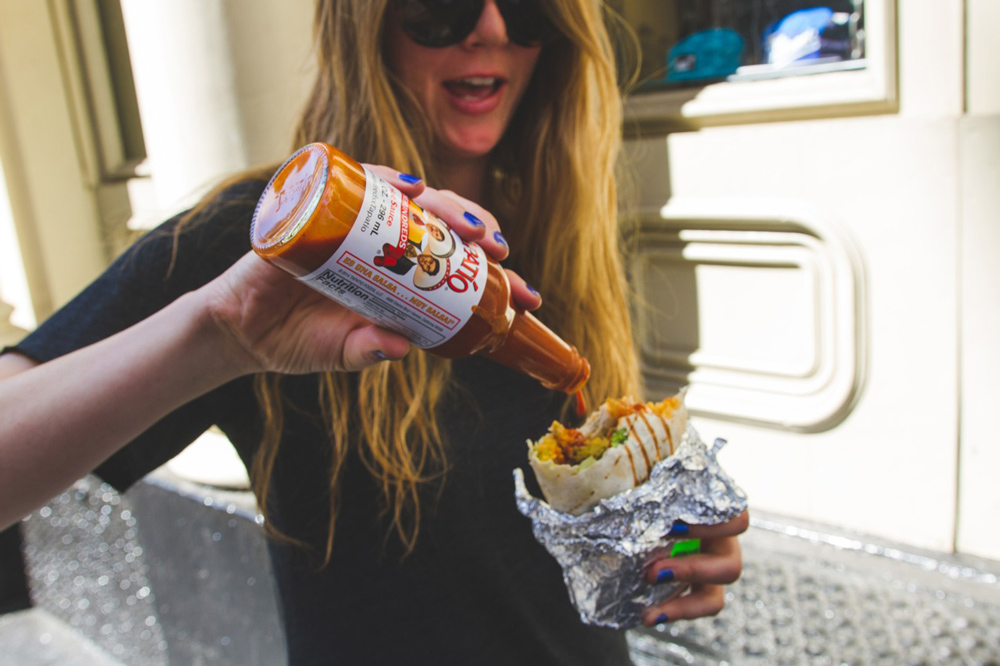 The Hundreds X Tapatio :: Cinco De Mayo Fiesta :: At 7909 Rosewood.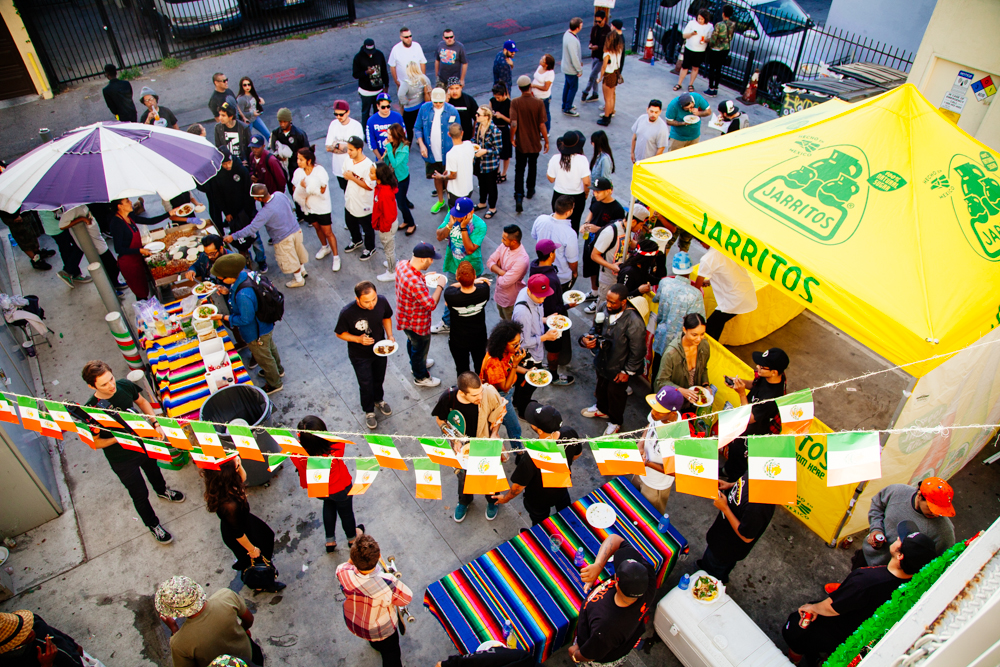 Ruby Rose and Phoebe Dahl.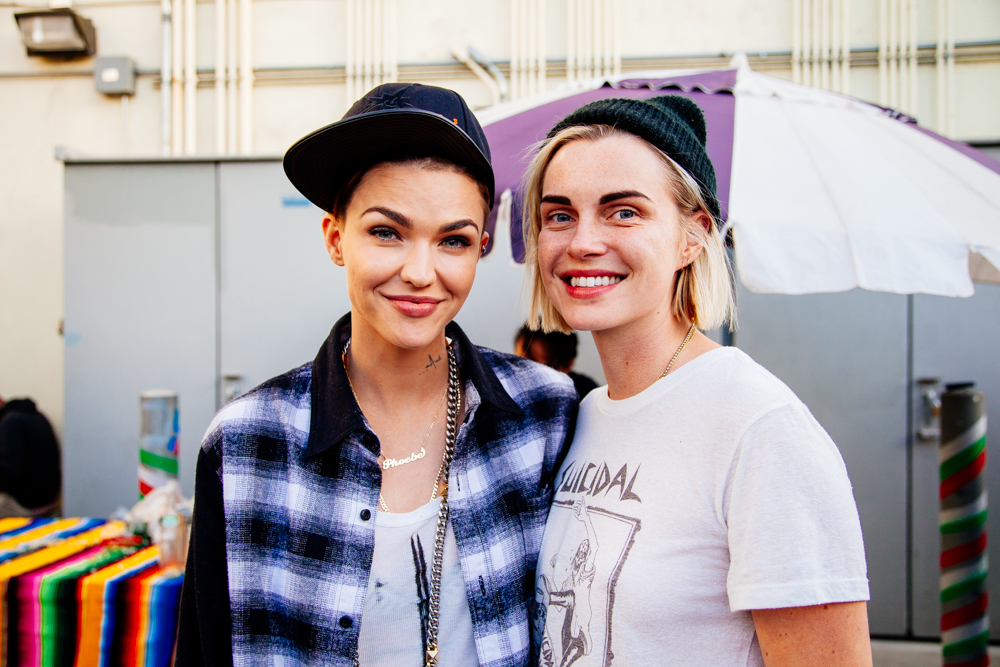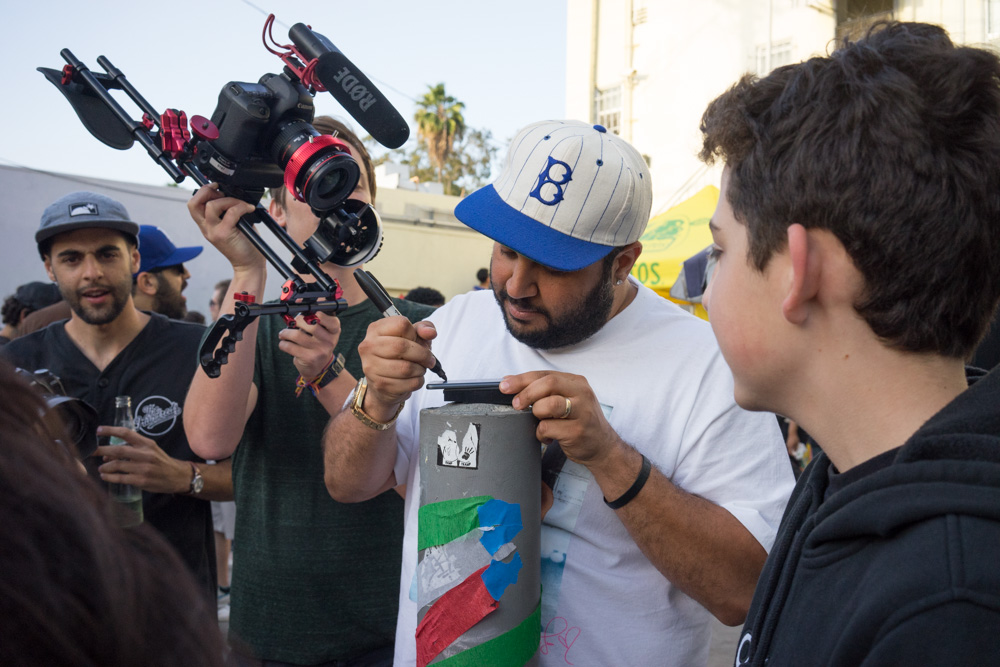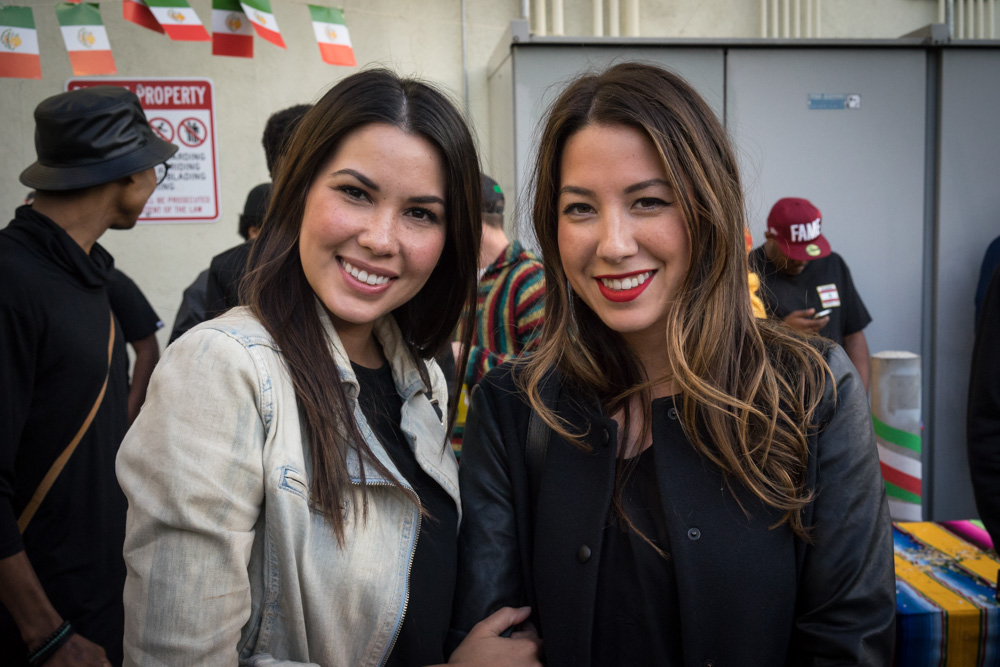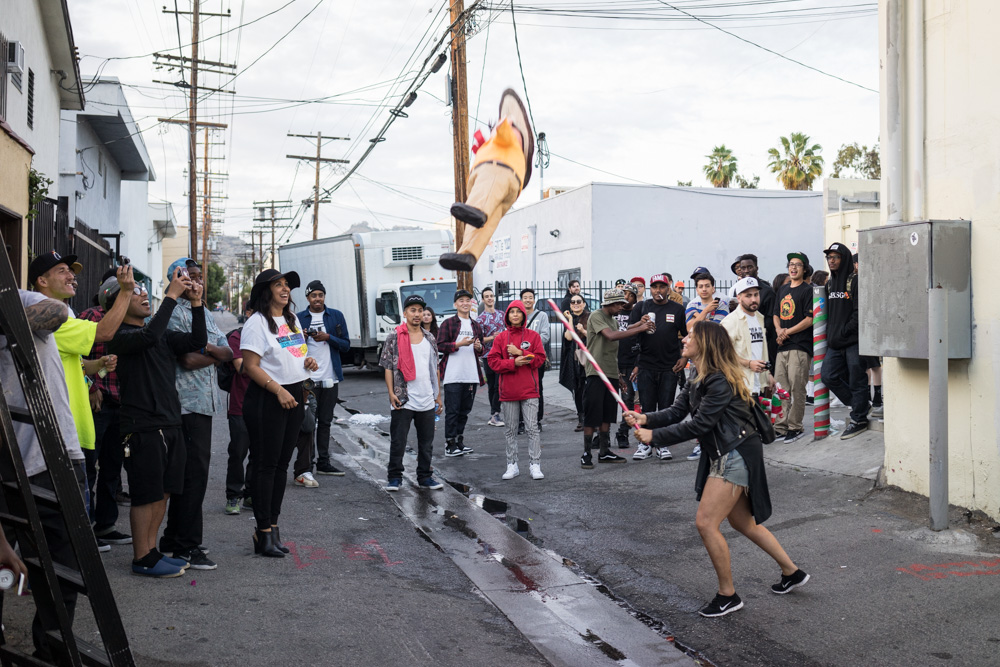 Over the past couple weeks, we've collaborated on an expansive culinary project with our restauranteur friends who share the same love for Tapatio. They came together to create limited edition menu items for Cinco de Mayo with our collaborative sauce (you can see all the menu items together here). Those who participated: East Borough, Yardbird in Hong Kong, The Oinkster, and Free Range X Golden State, along with cocktails at Linje Tio in Stockholm, Sweden, and ink. and a spicy dessert sorbet by Coolhaus.
Our Sloppy Tio dish will still be available (!) throughout the month at both Hollywood and Eagle Rock locations of The Oinkster, as well as Tapatio-spiked Pineapple Cilantro Chili Sorbet at Coolhaus's Culver location through the end of the week 'til May 9.
::
#TheHundredsXTapatio
We'd been counting down the days until Cinco de Mayo. This all began months ago with a kind of loco idea from The Hundreds' Art Director Patrick in our lunch room: to one day collaborate with the legendary hot sauce masters Tapatio. It's much more than a condiment here in Southern California. The familiar bottle with the blue-eyed man wearing a sombrero on it is a staple to our cuisine and culture with its unmistakable flavor and heat. Since our initial spur-of-the-moment visit to the Tapatio factory, where we were humbled and surprised to be greeted with open arms, we've interviewed the Saavedra family – all of whom have all been running the business as a unit since the company's inception. You can read our full story on Tapatio in The Hundreds Magazine Summer 2014 online HERE.