Being a rap historian has its ups and downs. On the bright side, it allows me to stay current and involved in the art form that I've loved since I was in the 3rd grade. On the dark side though, it forces me to follow the careers of ALL my favorite rappers, even the ones who've lost relevance years back, either no longer in the business or endlessly trying to make it happen no matter what. So today, I want to focus on a YouTube video that has recently been brought to my attention, and only has 40,000 views at the time of writing this. It helps really convey the sadness sometimes involved with being a die-hard rap fanatic and knowing everything that's going on. It's called Fat Joe's "Invisible Train."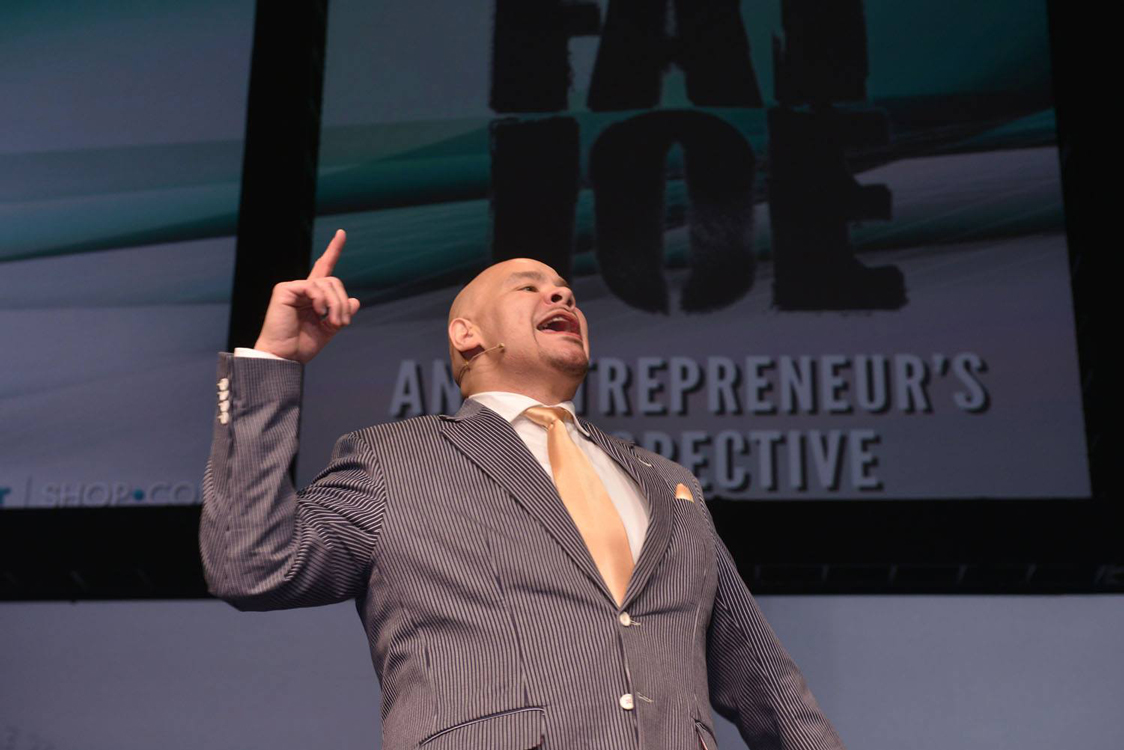 You guys know those people you went to high school with, who now endlessly promote a business on Facebook that makes little to no sense, but promises you the ability to generate a $100,000 salary per year from home? They seem to sell make-up or like a packet of marketing tools, or maybe just nothing at all, but they keep enthusiastically pushing you to join in on their business, leading you to believe, or realize, that they are just part of a weird 21st century Pyramid Scheme? Yeah, those people. Anyway, rapper Fat Joe, of "Lean Back" fame, seems to be one of them now.
This unbelievable YouTube video shows Joseph "Fat Joe" Cartagena speaking at an international convention for MarketAmerica, the parent company for Shop.com, a seemingly innocent website that sells thousands of everyday products like vitamins, groceries, safari hats, laser printers, and Hunger Games Halloween costumes. The goal of Joe's video, however, is not to sell you these individual products, but to sell you on becoming a "shop consultant," someone who, beyond the product sales, promotes the website and relies mostly on signing up others to join in as "consultants," thus creating a very familiar pyramid, where the earned money trickles down based on recruitment. Also, you have to pay a set-up fee, a yearly fee, and a monthly fee to sell the items, so... that seems weird. Truthfully, I'm not even knocking the hustle, I'm just #1) weirded out by Fat Joe's participation, only months after he was released from jail for tax evasion, and #2) creeped out by their promises and skeevy cult-like mentality. Fat Joe is the most famous person to ever be publically linked to this type of business and it seems like he's bringing the hip-hop world with him.
At two points in the video, he points out NY radio legend Angie Martinez in the audience and announces her as a new consultant at MarketAmerica. And during last month's Revolt conference, Diddy applauded and promoted Fat Joe's new venture, and shouted out MarketAmerica's owners, JR and Loren Ridinger. A quick search on the Internet can bring up some opinions that differ from Angie's hope and Sean Comb's praise (like this and this and this and one actually just called marketamericasucks.com), but I'm not here to pass judgment. I'm here to watch this insane Fat Joe lecture and pass along the highlights for you to watch. I suggest viewing it from start to finish, but below are the moments you just can't miss!
0:00 – I'm not going to lie to you; It's amazing right off the bat. Seeing Fat Joe in a suit that would usually be reserved for when Pitbull wants to look like a coke dealer is an amazing way to kick it off. Hearing the man who once was ride or die for Terror Squad now wax poetic about his "MarketAmerica family" is odd. Beyond the idea that he asks a Taiwanese woman to a tap a stranger and ask him if he "speaks money," he acknowledges that he's been visiting homes to sell the system. HOMES. Fat Joe, the rapper, will walk into your home and sell you on a career in marketing/selling products/whatever it is. That's how fucking awful the music business is in 2014.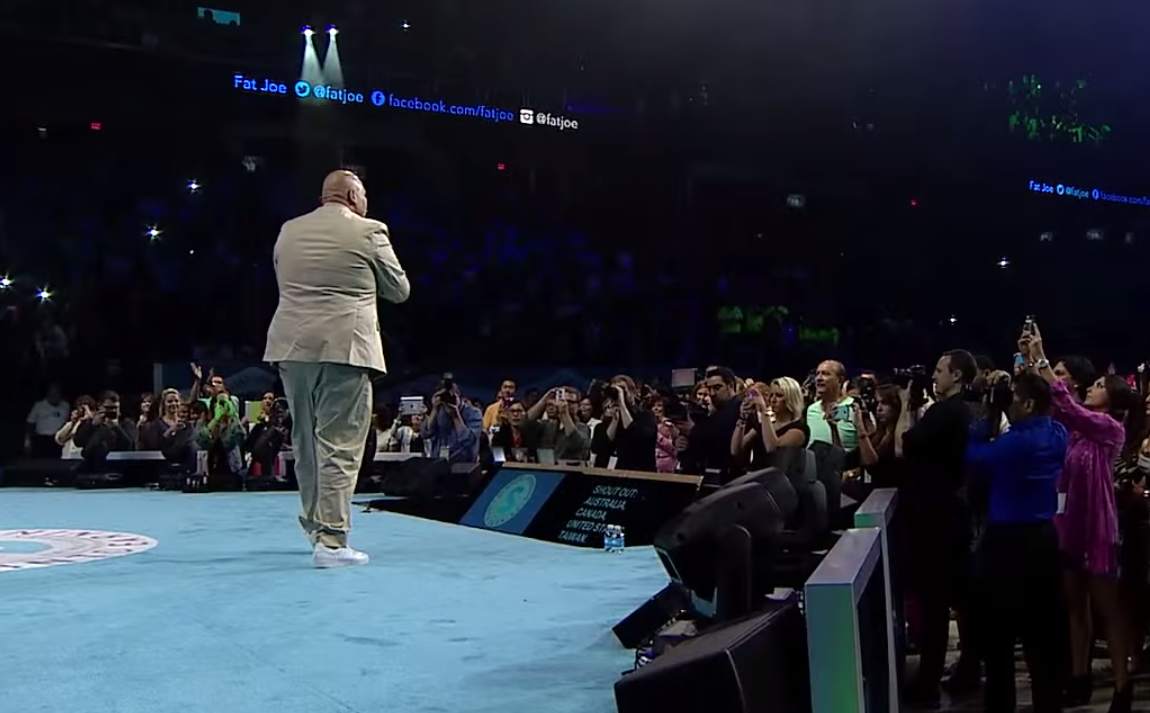 2:55 – After Joe makes the promise that MarketAmerica is "the only business that you hustle one time in your life very, very hard [for]" and that "you will live for the rest of your life off residual income," he asks, "How many of you love residual income?" in the SAME exact tone he would yell "Is Brooklyn in the house?" at Hot 97's Summer Jam.
4:10 – The best segment of the video has begun: Invisible Train. It's like the foot-cobbling scene in Misery. It's both the best part AND the hardest scene to watch. The host brings up the concept and Fat Joe maniacally laughs, almost like a quick warning that we're about to hear some ridiculous shit. He also admits it started as "a joke," but that people seemed to have taken it to heart, which is not always the best way to introduce something that is the ENTIRE PREMISE of your speech. He talks about his envy that Bone Thugs-n-Harmony had a million dollar video and he was stuck with $5,000 budgets at his label back in the day. It was then he knew he had to board the Invisible Train and start his own company. They didn't believe in him, so he had to get his own locomotive (emphasis on loco here) moving. He said soon after, he started his own record label, signed Big Pun, and the rest is history. He tells this all with a literal invisible train playing on the screen behind him. He gets a standing ovation. For the record, Big Pun did not die for this shit.
9:15 – Joe says that if he found out that $1 million was hidden somewhere at the convention, instead of keeping the information secret, he would share the money with everyone, not keep it secret, because this business is based in "karma."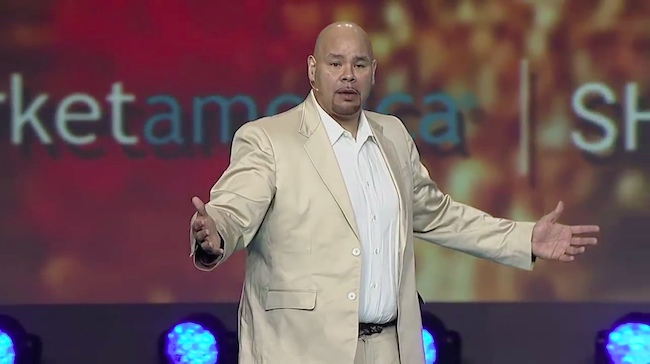 Related: here are some of Fat Joe's past lyrics:
"Yeah, Crack is a chemist, I pack a 11, I mack in a 7, I'll clap at your reverend" ("Make It Rain")

 

"Jingle jewels in the face of past enemies, eat your heart out son, you never was a friend to me" ("Envy")

 

"I'm on E feelin ready and hot, I give 'em twenty a pop, leave the panties atop" ("We Thuggin"*)

 

*this technically could be shared with an entire room, but that's also weird to think about.
12:12 – An important moment of self-awareness occurs as Joe admits some people will think you're "crazy" when you join the business. He instructs the audience to make some noise if people thought you were crazy when you signed up, and the feverish roar is like he just asked, "How many of you liked me more when Pun was alive?" One woman stands up and pumps her fist. He warns the audience that some of your friends may run away from you, and say you're insane, but because he met a woman who bought her husband a private 8-seater plane because of MarketAmerica, WHO NEEDS FRIENDS?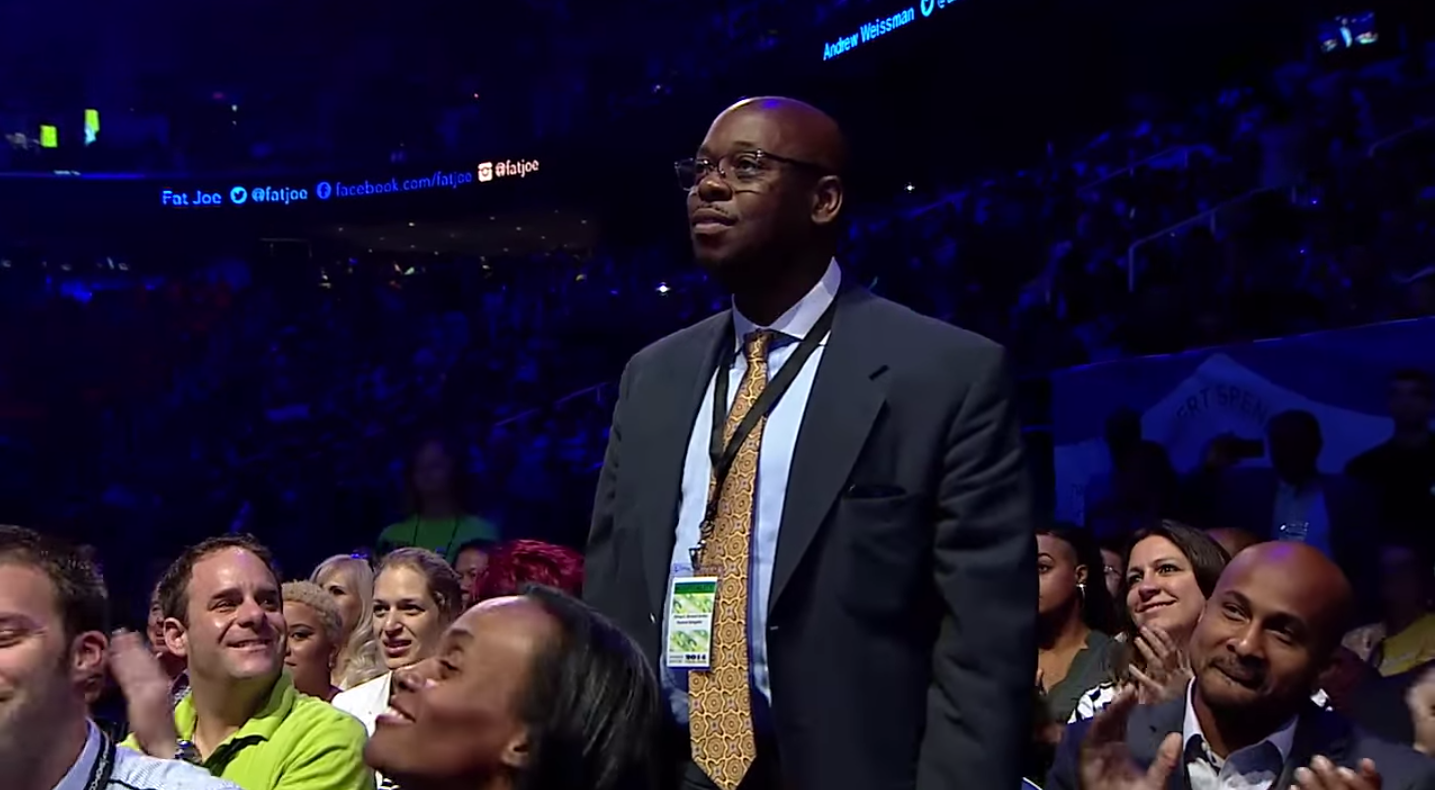 Here's a Pastor that Fat Joe has recruited. God have mercy on his soul.
15:10 – This is the FIRST time that the actual business is addressed, unveiling that you're selling items like vitamins. Joe tells a tale about an elderly woman at his child's school who is now pain free because of his sales. He claims the products also cured his sciatica, while shouting out his personal MarketAmerica site, www.shop.com/fatjoe. Depressed yet?
20:35 – Joe talks about a school teacher on Team Fat Joe, and how she was able to take her low yearly salary in education and multiply it through consulting. He went as far as making a "viral video" with her called "Fire Your Boss," where they surprised the school's principle and told him that he was fired because she's now rolling in dough. He says he did the same video for another woman, who was a financially struggling nurse working at a hospital. So they both stormed into the doctor's office, once again with a camera, and told him he was fired, then tried to get him to sign up for MarketAmerica. So just to review: He's literally removing teachers and nurses out of society for viral videos and make-up sales.
25:40 – Here begins the most surreal part of the video: the finale. It's exposed that Fat Joe is now hiding MarketAmerica lingo into his lyrics (for real), starting with his new hit with Jennifer Lopez, "Stressin" (again, for real).
27:49 – In easily one of the most awkward moments in rap history, Fat Joe admits that Jennifer Lopez was supposed to be at the convention but couldn't make it because her child is sick, but then says he can't out her business (didn't he just do that?). So instead of Jenny from the Block, he has Random from the Crowd perform her parts. The crowd goes ape shit, despite the fact that everyone looks like your parent, and he does indeed drop "MarketAmerica," "make-up" and "motives," all terms we've heard for the past 30 minutes, into his raps.
Listen, I don't want to be the bearer of this type of bad news. I truly don't. I just think this video has a real car crash vibe, and I needed to share it with someone. I also think this isn't the last we'll see of MarketAmerica and hip-hop together. Like Joe said, he ain't stopping until it's up there with Pepsi and McDonald's, you just have to wonder how much weirder it can get on the Invisible Train.