Desert Island isn't your typical comic book store. Sure, you can find Tin-Tin and Persepolis there, but you can also find Benjamin Marra's Night Business and Kellie Strom's Worse Things Happen at Sea, among other unique and carefully selected titles. "Most people think of comics as this familiar—and generally horrifying—genre for subnormal 10 year olds," storeowner Gabe Fowler says. "I want mind-blowing graphic books that break free of overused aesthetics, storylines, character types, and color schemes, and deliver printed art to be experienced intimately by one person looking at a well-designed object."
In addition, Fowler organizes his store in the same way a curator shows work in gallery. "The coolest thing about having a physical store is treating it like a constantly evolving art exhibition," says Fowler, who used to install art shows at David Zwirner gallery. "The books, zines, prints, etc., are the artworks, and they're purposefully displayed to make browsing an experience in art viewing."
In this interview with The Hundreds, Fowler discusses when he first became interested in comics; how Desert Island has become a community; the importance of self-publishing; and his favorite books in the store right now.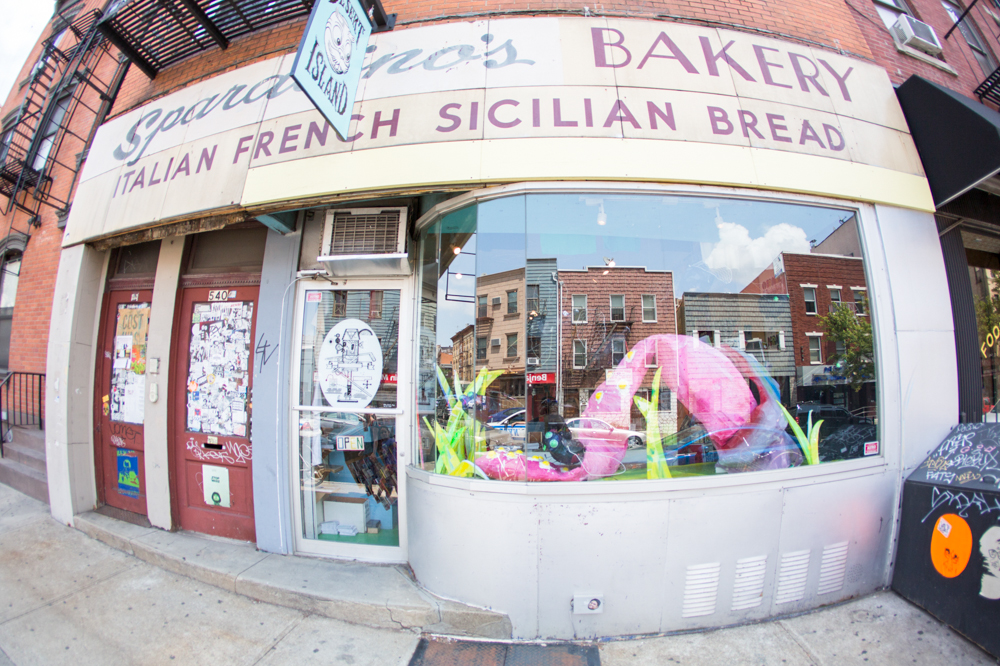 ZIO: You said in another interview that when asked what you do, you say that you "have a weird bookstore." What made you want to open a "weird bookstore"?
GABE: Can I change my answer? I think Desert Island is essentially a comic book store, but I don't like the label because it comes with too much baggage. Most people think of comics as this familiar—and generally horrifying—genre for subnormal 10-year-olds. I want mind-blowing graphic books that break free of overused aesthetics, storylines, character types, and color schemes, and deliver printed art to be experienced intimately by one person looking at a well-designed object.
Print is really the best way to have an intimate connection with artwork, and printed art is really under-represented. With Desert Island, I really wanted to feature the idea that a visual book should be an artwork that you read. Comics are a big part of it, but not the only part. The coolest thing about having a physical store is treating it like a constantly evolving art exhibition. The books, zines, prints, etc., are the artworks, and they're purposefully displayed to make browsing an experience in art viewing.
Why did you choose Williamsburg?
That was my neighborhood at the time the store opened, and most of my friends lived around there. The brutal rents are chasing the artists away, but at least the store is on top of the L and G train intersection for easy access for most people.
Why did you choose the name Desert Island?
The name implies a carefully chosen selection. If you're traveling to a desert island, you can only bring a handful of items, so they really have to count!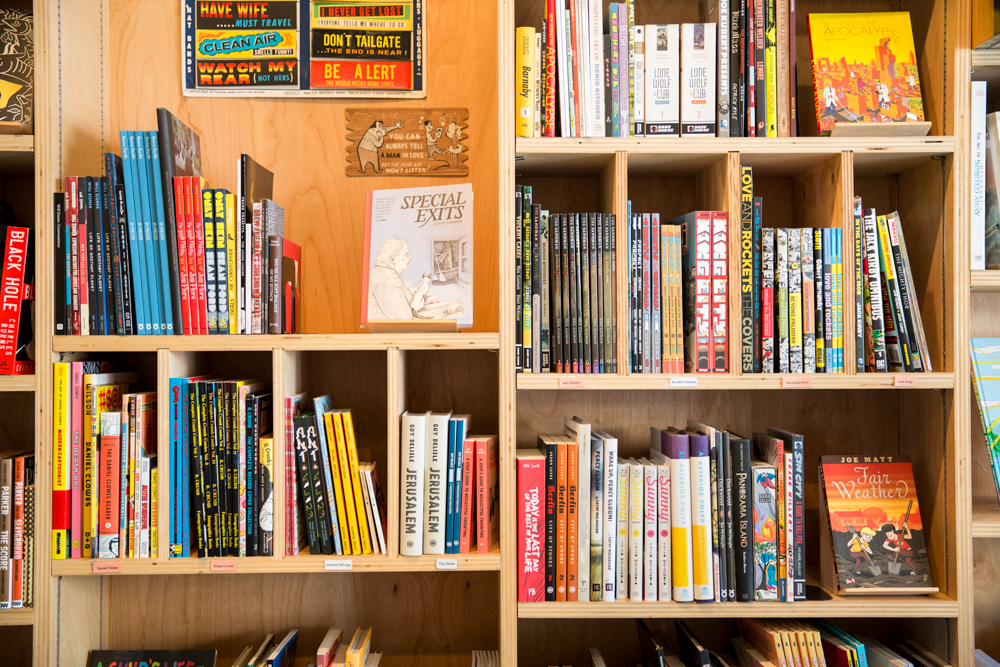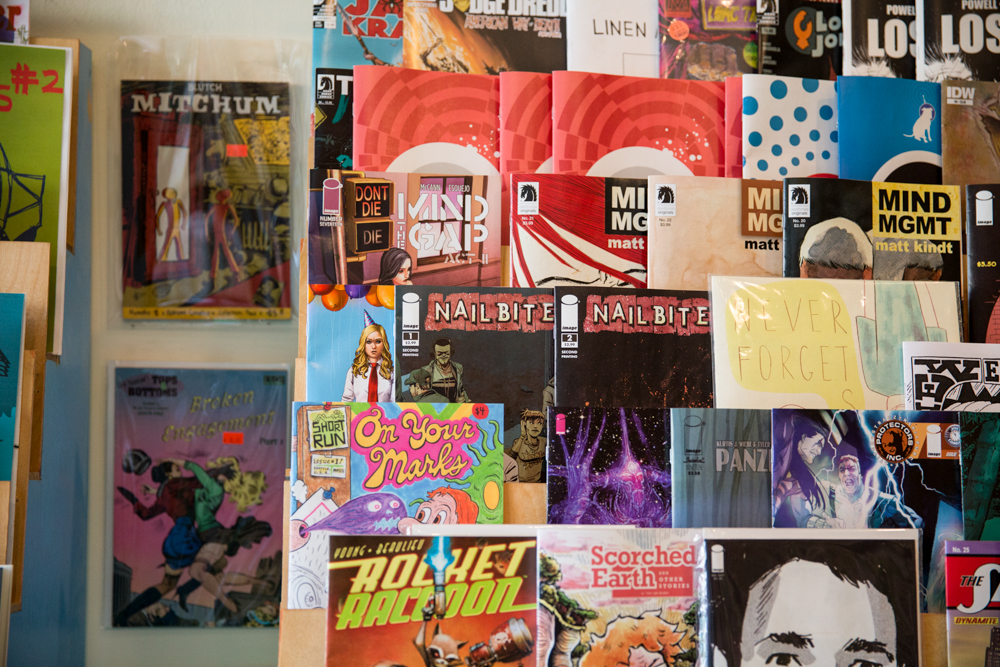 When did you first become interested in comics? What comics were you most interested in this period?
My mom bought me a copy of Cracked Collector's Edition #52 while we were on a family road trip when I was 8. I was staring at the cover in the store so she thought I wanted it, but actually it scared the shit out of me.  I was surprised when the inside ended up being stupid jokes and wasn't scary at all. It was a while before I got another comic, but it was always humor stuff for me—mainly Cracked and MAD (although I liked Cracked better), Wacky Packages stickers, novelty items like fake barf and joy buzzers. I also loved fake blood. I would put fake cuts on my forehead or whatever before going to my friend's house to play video games. Total dork!  That sort of mayhem came back later in the form of punk rock. I started getting more serious about the comics around age 12 and would get my dad to take me to all the different comic stores listed in the yellow pages. Eventually I haphazardly purchased Neat Stuff #2 at a cigar smoke-filled comic shop in Orlando, Florida, introducing me to Fantagraphics. They ended up being really important to me, going on to publish game-changing stuff by Dan Clowes, Chris Ware, Dame Darcy, and on and on.
I think it's rare to have a comic book shop that also stocks great zines and art books. You either have a comic book store with some mainstream art books or an art bookstore with a small section for comics like Persepolis. (I like Persepolis but it's not Night Business.) How do you choose what goes into the shop?
I'm looking for interesting stuff all the time, and people who make comics and zines are looking for me. We have an open-door policy that anyone making a visual book can sell it at the shop. They tell us the price and get paid when it's sold. This is cool because it helps randomize the content of the store beyond my personal interests. You have a semi-curated situation, where I'm bringing in stuff that sits well together, plus weekly mainstream comics like Batman, plus people walking in with the book they made or sending mystery mail. We encourage it!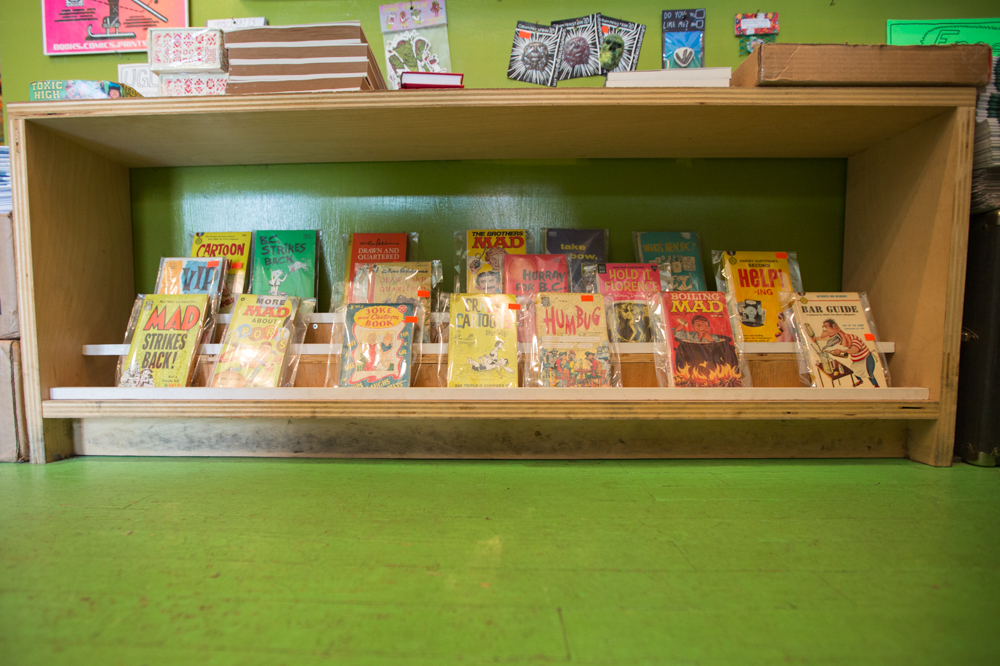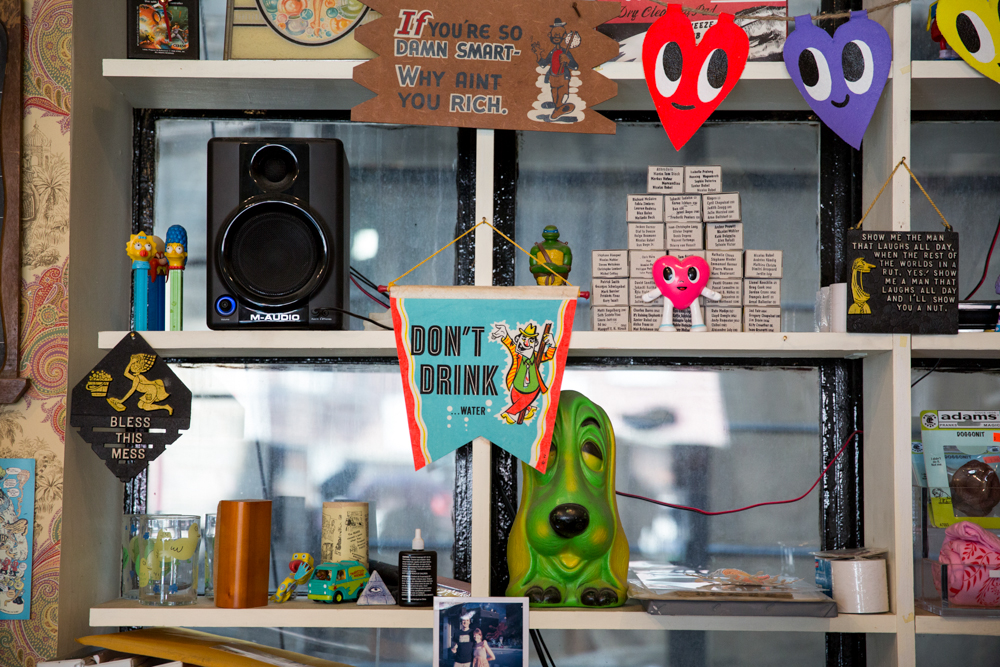 It seems that Desert Island has become more than a store, and is also a meeting place and community. The last time I was there, Benjamin Marra happened to walk in, and we talked for a while, and he ended up hanging out with us at an art gallery the next day. Was it one of your goals to build a community or did this happen on its own?
It's literally a dream come true. I wanted to have a place somewhere between an art gallery and a record store, where people can come together over their love of the art, and actually afford to take some of it home. It pretty much happened! It's like a gallery of affordable art in—mostly—book form, with good music playing on the stereo.
What are your five favorite comics, books or zines in your store right now?
That's tough! I'm just going to name the first five things I think of: 1. Hopital Brut #10 by Le Dernier Cri (an insane handmade book from France with 100+ artists). 2. This One Summer by Jillian and Mariko Tamaki (coming of age story with unbelievable art by Jillian). 3. Ballad by Blexbolex (unbelievable art book masquerading as a fairy tale). 4. Worse Things Happen at Sea by Kellie Strom (super-detailed accordion book of giant sea creatures attacking historical ships). 5. How to Talk to Your Cat About Gun Safety by The American Association of Patriots (An informative guide to a subject most of us never even consider).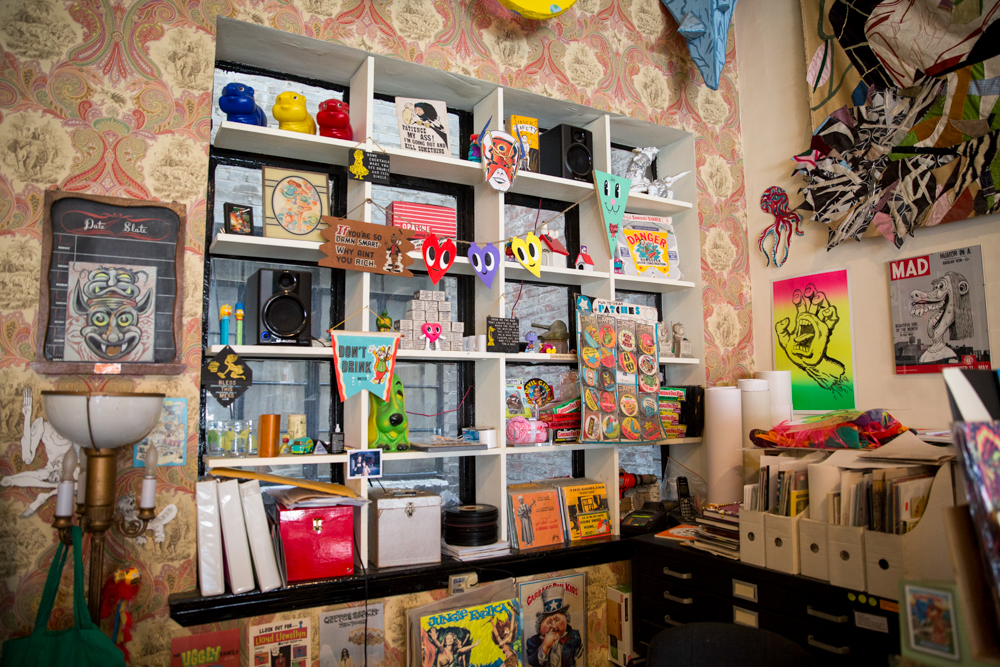 Can you tell me a little about the store newspaper Smoke Signal?
It's basically a free comic book I edit and publish through the store. The goal is to make something so awesome that people would happily pay for it, but keep it free. Most free things are bullshit or 100 percent ads or worse. This is supposed to be a bunch of awesome comics and illustration by known and unknown people, printed huge in newspaper format, and distributed free in New York every three months. It rules. We're up to issue 19, and the current one has Art Spiegelman, David Shrigley, Esther Pearl Watson, Cowboy Henk, and lots of other stuff. I edit it just like I run the store: I'm looking for A+ content at all times, and people are simultaneously approaching me with their work. We stir it all up in a pot and see what floats to the top.
I noticed Ron English just did a book signing at Desert Island. What else is coming up at Desert Island?
Anders Nilsen is signing on August 4th. One of my all-time favorite artists in any medium.
Best piece of advice?
Add something to the world that makes it better!
::