I grew up in Long Beach, emotionally invested within the West Coast scene that made heroes out of the people coming from my neighborhood. For all of us, Death Row Records was the label that shifted the direction of where hip-hop was moving. It always left an impression on my movements within this world to see an independent label – ran by a black man who owned his masters – highlight and fast track into success a sound that was endemic to my surroundings. Its quick rise and fall has always been a topic of contention in serious music circles. While major releases such as The Chronic and Doggystyle are usually the first to be mentioned, Death Row has many releases that got lost in the major label shuffle: 2pac's murder and the imprisonment of label founder Suge Knight – a move that ultimately led to the loss of their distribution deal with Interscope and consequential marginalization of the West Coast sound. With that in mind, and to connect with the recent collab we here at The Hundreds have manifested for our loyal following, we present five long overlooked and neglected classics you probably have never heard of – all to be found in the renowned Death Row discography.
::
NECESSARY ROUGHNESS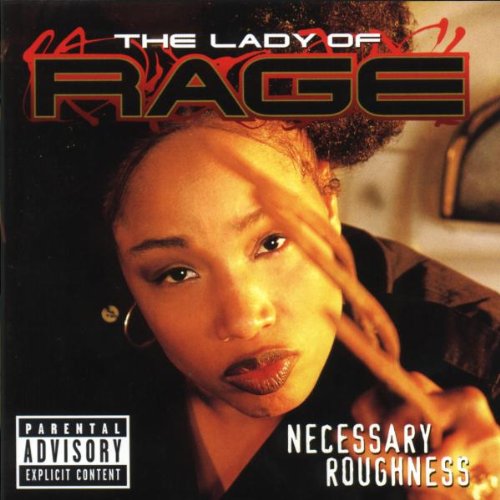 Farmville, Virginia native Robin Yvette Allen better known as The Lady of Rage took the world by storm in '94 with her hit "Afro Puffs" on the Death Row-produced Above the Rim soundtrack (arcades around the country had to have helped make that joint a hit with its Street Fighter references). Originally supposed to be released right after The Chronic and then pushed back right after the Dogg Food album, The Lady of Rage's debut release suffered from the legal woes that afflicted the label, following the murder of marquee star 2Pac (who features here on "Big Bad Lady") and the probation violation of label head Suge Knight. I always enjoyed the minimal production style used here by Daz Dillinger who had become the head producer at Death Row during this time with the departure of Dr. Dre. I also like the fact that this one of the few Death Row features to collaborate with East Coast producers such as DJ Premier and Easy Mo Bee at the time. With the vigorous vocabulary and taking the rest in her flow atypical of East Coast MCs, it made sense for to have such a wide repertoire.
Lyrically, Lady was ill on the mic ("Not Onyx but I can definitely slam you!"), maybe coming too hard for the sensibilities and expectations of the street-obsessed suburban demographic that ate up much of the output of the LA gangster rap imprint. While tracks like the head nod anthem "Get With the Da Wickedness," the fake patois ill Premier-produced "Microphone Pon Cok," as well as the futuristic "Rough, Rugged & Raw," featuring Snoop Doggy Dogg and Daz definitely show the potential of this record, this was another commercial failure that was followed by Lady of Rage leaving the label. Although featuring in later work such as the dope "You Know My Steez Remix" by Gangstarr, she would find a new future in acting, appearing as a recurring character in the hit series The Steve Harvey Show as well as a classic role as Day Day's nemesis and Craig's potential love interest in hood favorite Next Friday.
::
CHRISTMAS ON DEATH ROW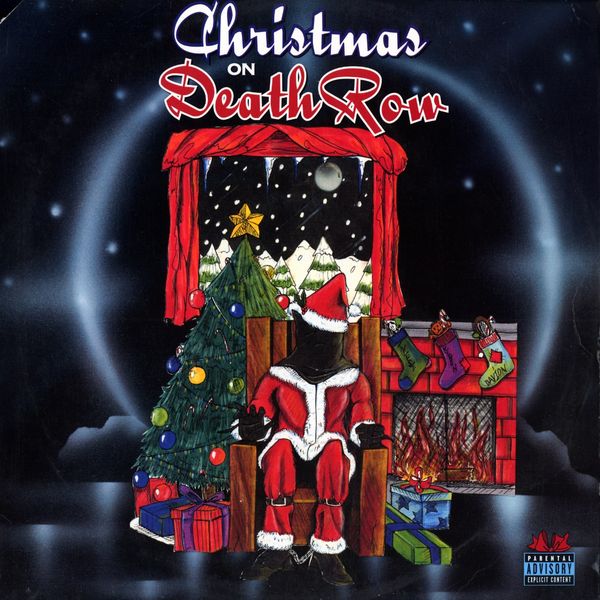 Christmas albums were once a heavy industry standard of the times, labels pushing their marquee stars to put together an album of covers of Christmas classics just in time to have them out in the market in the lowest-selling quarter of the year (real '90s kids had that Mariah tape on lock as a stockings stuffer). So whenSuge Knight assembled the whole Death Row roster to do Christmas on Death Row, the label's retake was nothing special, except for the fact that this was Death Row gangster rap incarnate recently dropped from their Time Warner distribution deal for being… well, too gangster for lack of a better word. In theory, a family album based purely on Christian themes by a label the FBI warned the country about was bound to be a disaster (and commercially it was selling only 200,000 copies). But what came about instead was an unsung classic of the later G-Funk era right before the imprisonment of label head Suge Knight, marking one of the last collaborative projects worked on by the whole original hardcore lineup. The album was made in the wake of Dr. Dre leaving to start what would become Aftermath, so production is primarily handled by Daz Dillinger and in-house engineer Kevyn Lewis.
The album starts off with the impressive "Santa Claus Goes Straight To The Ghetto," Snoop Dogg and his LBC Crew silkily glide through the haunting horns of the Isaac Hayes' "Do Your Thing" sample, even mentioning Santa stealing presents and smoking weed as Nate Dogg takes the listeners on a journey through their neighborhood. I feel like the soulful interpretations on this album by the R&B members steal the show from the rappers, particularly "Peaceful Christmas" by Danny Boy (famous for the hooks he sung on 2pac's opus All Eyez on Me) and the epic gospel rendition of "Silent Night" done by 6 Feet Deep, B.G.O.T.I., and Guess. Nate Dogg's "Be Thankful" though really takes the cake – sounding more like a cut from his, at the time, delayed G-Funk Classics, Vol. 1-2 than a joint on a Christmas album, hitting deep with lyrics like "All of the pains life brings sometime we need to sing till we all leave." Next time you head home for the holidays, find a copy of this and have a touching moment with your familia provided by the Row.
::
GANG RELATED, THE SOUNDTRACK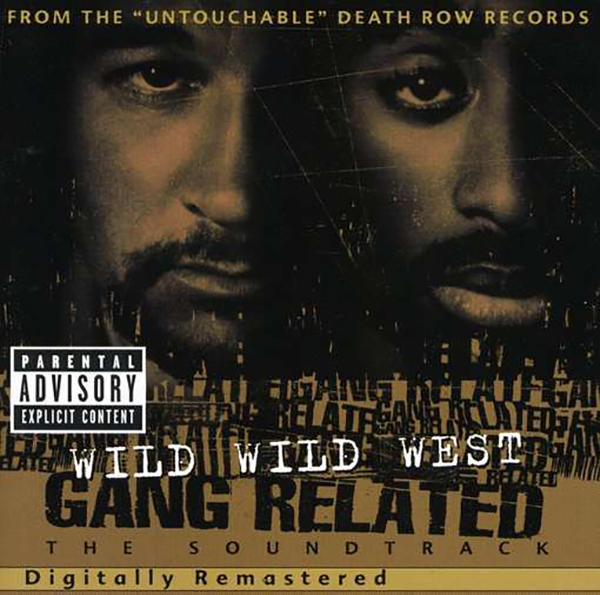 I don't think the perennial maverick Tupac Shakur (who was reading for a Jedi role in the next Star Wars movie at the time) thought his last movie in life would be with Jim Belushi. Gang Related tells the story of a two corrupt cops who kill their drug connect and then try to frame a homeless dude played by Dennis Quaid, which in '97 with the Rampart scandal slowly unfolding, showed that life oftentimes does imitate art. A minor '90s hit in a crime-obsessed era, what was more impressive was the double platinum double album soundtrack that Death Row pulled together around it. With two star driven soundtracks already under their belt (street basketball's classic Above the Rim and a classic deal with the devil's Murder Was the Case), it wasn't hard for Death Row to have the West Coast stand out for this major release with cuts by Ice Cube, 2Pac, Dogg Pound, and even a young Tech N9ne.
I have to say, at the time my dad and I slept on this record probably because the Gridlock'd soundtrack was so weak, but this is an underrated later addition to the Death Row discography. The G-Funk sound can be predominately found on this record with the top tier of Death Row's in-house production team (Johnny J, Daz Dillinger, as well as QDIII). Here, you can find rare Pac joints that sound the way they were originally meant to, unlike many of the later compilations (allegedly retouched with vocals by Tha Realest who makes his debut on "A Change To Come"). Just for the fact that there are so many gems on here that were never released, like the rare, jazzy version of Nate Dogg's epic "These Days", J Flexx's anti-prison pro-Suge "Free'M All" ("What Suge do that Clive Davis hasn't done?"), or even the soulful throbbings of Jackers on "I Can't Fix It." What always throws me for a loop is how dope the Tech N9ne feature "Questions" is. I've never been a big fan of the Kansas City bandit, but that joint bangs so hard with that new wave vibe (that would materialize towards the later '90s) that it wouldn't surprise me if maybe producer QDIII was kicking it with Death Row affiliates Swing Mob, home of a young Timbaland.
::
RETALIATION, REVENGE AND GET BACK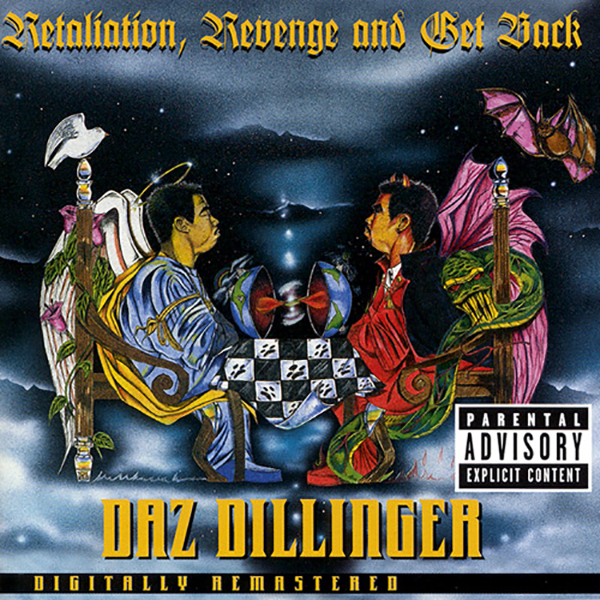 Daz Dillinger is one of the greatest but more overlooked producers to ever come out of the West Coast. Arguably, along with Dr. Dre (who featured the young Long Beach wunderkind on The Chronic, recording him then under the moniker Dat Nigga Daz), Cold 187um, and DJ Quik – Daz Dillinger is one of the prime architects of what we identify as the G-Funk sound. He's the man behind such hit singles as "2 Of Amerikaz Most Wanted," "Ambitionz Az A Ridah," and "I Ain't Mad At Cha" off of 2pac's Death Row debut and Diamond Certified grand slam All Eyez On Me. With the departure of Dr. Dre, Daz would soon find himself as the head producer for Death Row, handling the production of Gang Related, Lady of Rage's Necessary Roughness, Nate Dogg's G-Funk Classics, Vol. 1., as well as Snoop's last Row-related record Tha Doggfather. The death of rising star Tupac Shakur and the jailing of label head Suge Knight, along with the mass exodus of most of Death Row's top tier artists (including Daz's Dogg Pound partner Kurupt) left the new head of operations in a precarious position to maneuver from.
Left as the preeminent artist on a dying label with legal woes, 1998's Retaliation, Revenge and Get Back was Daz's debut solo release outside of the Dogg Pound, and is known as the last G-Funk album, as the West reoriented itself away from the musical style that it helped make famous. Major labels simultaneously attributed the sonic aesthetic with the violent conflict that came out of the press-instigated East Coast–West Coast beef of the mid '90s that left rappers 2Pac and Biggie Smalls dead. This album illustrates the growth of the musicality of the Long Beach virtuoso, who, with the exception of two or three joints, uses live instrumentation for the entire project, filled with the bizarre baselines and funky chord progressions that helped make him famous.
This was a Long Beach hood anthem emblazoned and pronounced in the streets. I remember buying this at VIP Records on MLK and seeing the tape at the Del Amo Swap Meet, popularized by the summer classic "In California" featuring Lady V (famous for her feature on "To Live & Die in LA"). With strong features from the likes of Snoop Dogg, Too Short, WC, Kurupt, B-Legit, and others, the album peaked at #8 on Billboard and sold over 84,000 copies its first week. But lack of promotion by the failing label quickly led to it dropping off the charts and Daz leaving to create his own label. One of my favorite posse cuts that always get slept on is the intro to Retaliation "Gang Bangin' Ass Criminal," featuring the charismatic Kurupt and neo-funk lord Soopafly teaming up with the oft-forgotten LBC Crew (consisting of Bad Azz, Tray Dee, and a young Techniec).
::
TOO GANGSTA FOR RADIO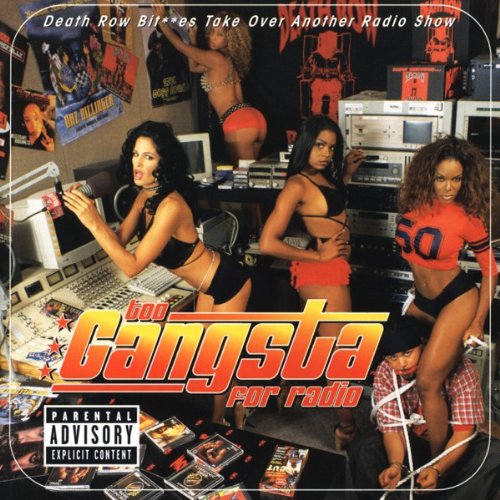 This would have been just another mediocre compilation made at the turn of the century by a no-longer-relevant label – if not for the fact that this was a Death Row comp filled with nothing but diss records towards all former Row artists (at this point, basically everyone who had made the label famous). Too Gangsta for Radio was true to its name, nothing charting on the radio besides the lost 2pac gem "Thug Nature." This was coming from a very enraged place as an incarcerated Suge Knight watched his artists move on to labels that greatly imitated the business and sonic model that he had created with Death Row (Snoop to No Limit, Dre to Aftermath). Eminem, Dre, and Hitman get dissed on the conspicuous record "Fuck Dre" by 2pac soundalike Tha Realest, while Mac Shawn comes after Snoop's throat on "Real Type Gangsta." Even posthumously, 2pac hits hard with a leftover track from the Makaveli recording sessions at Dr. Dre – and randomly Jay Z – on the second joint "Friends" produced by QDIII.
Many remember this later Row record as marking the rise of a young Long Beach lyrical genius by the name of Crooked I ("The best thing to happen to LA since Phil Jackson!") who later gained critical acclaim as a member of Slaughterhouse. The Lox still at war with Bad Boy Records hopped on with "In Too Deep," which features one of my favorite Sheek Louch verses: "The only nigga hard enough to look up to me is my dick!" This comp is also said to have sparked the war of words between former Dogg Pound members Daz and Kurupt. Daz left the label after the disappointing record sales of his debut Retaliation album and engaged in a long, drawn out legal battle with the label over production royalties – only to see his best friend Kurupt return to run the label as Vice President and diss him repeatedly throughout this anthology.
In 2014, where disses only appear on social media and not on wax where they belong, this album would be a good example to show someone how issues in this culture was formerly solved (talking to Snoop & Iggy there).